olidhomes.com – As a room for gathering with family and having dishes, the look and comfort of the dining room are important. The dining room should adjust the home interior so that it will look harmonious and balanced with other rooms. A new insight into dining room decorating will help you to remodel this room. Even, you can make it looks formal or informal. And, in this article, we have provided 18 Formal Dining Table Ideas and How to Design It. So, let's check it out!
1. Modern Dining Room with Stylish Lighting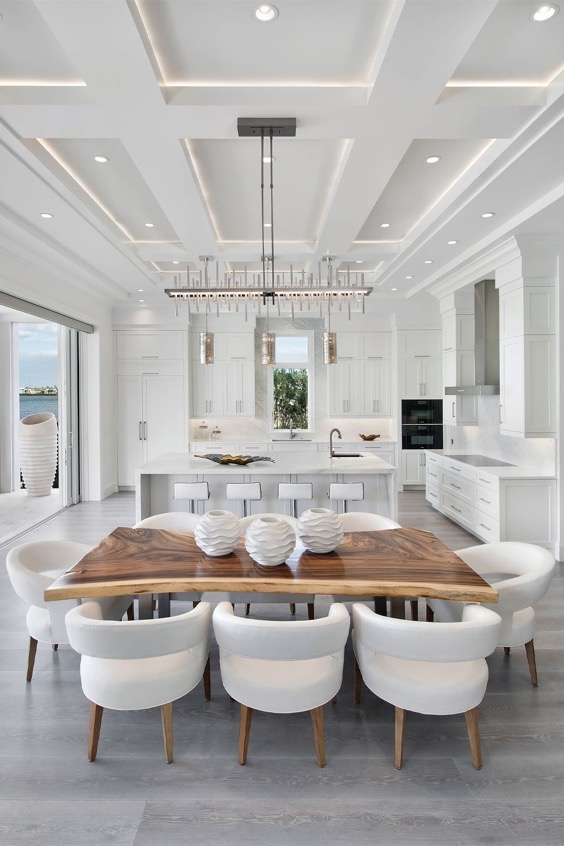 This is a modern dining room. This room is interesting and spacious. It uses an open space design that allows you to see other rooms. This white dining room is stylish. The lightings on the ceiling are the best part of it. They create a sparkling impression on the ceiling.
Moreover, this dining room has a nice formal design. A formal dining room has a neat design with more than one chair. A most formal dining table is designed for a special event. This white dining room is versatile. You can dine at this table or make a small birthday party in your home. It will be a nice choice to welcome the guests.
1 of 18
2. Use A Rectangular Table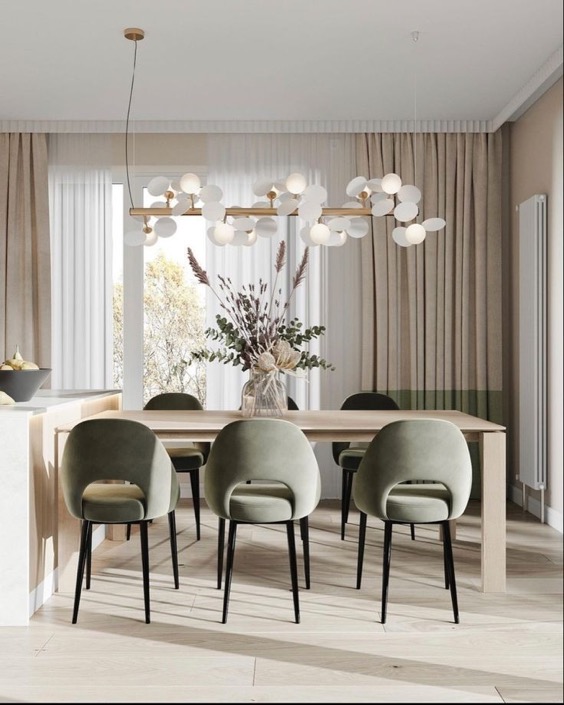 A rectangular table is a popular choice for a formal dining table. The rectangular table will bring a wider impression. Also, it fits well in a large and open space room. You can put some chairs around this table. Thus, you will have a proportional dining room.
Look at this idea. This formal dining room uses a solid wood table. The pale brown color is stunning to match soft green chairs. These are comfortable armchairs that have a curvy line on the backrest. Moreover, this dining room has an Art Deco white lamp on the ceiling. You will love this formal dining room.
2 of 18
3. Contemporary Dining Table for 6 People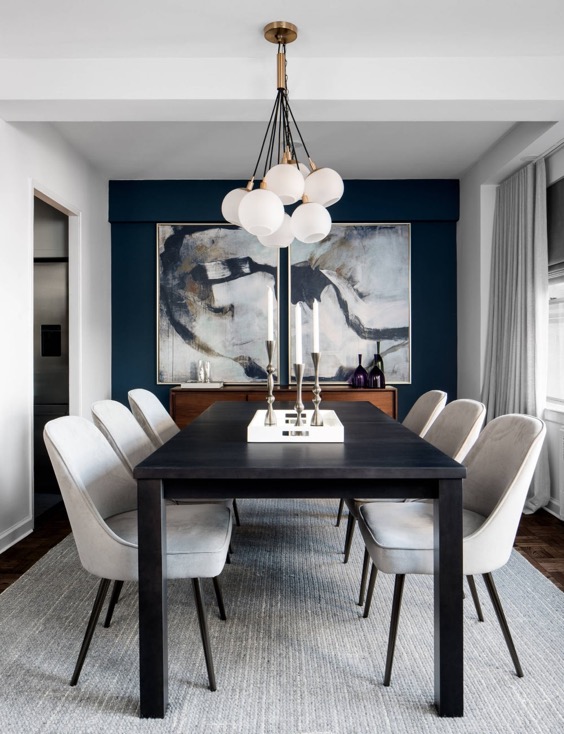 Contemporary is a classic design. It fits any dining room. You can see it in this idea. This is a Contemporary formal dining room. It is elegant with deep color. The deep brown table is the largest scale in this room. It gets ivory white chairs that look catchy.
This dining room has an attractive table design. There is a white candle holder in the mid of the table. The three candles are useful to enliven a romantic nuance. Moreover, this dining room can load six armless chairs. The whole room is elegant to welcome the guests, especially the painting on the wall.
3 of 18
4. Add A Large Carpet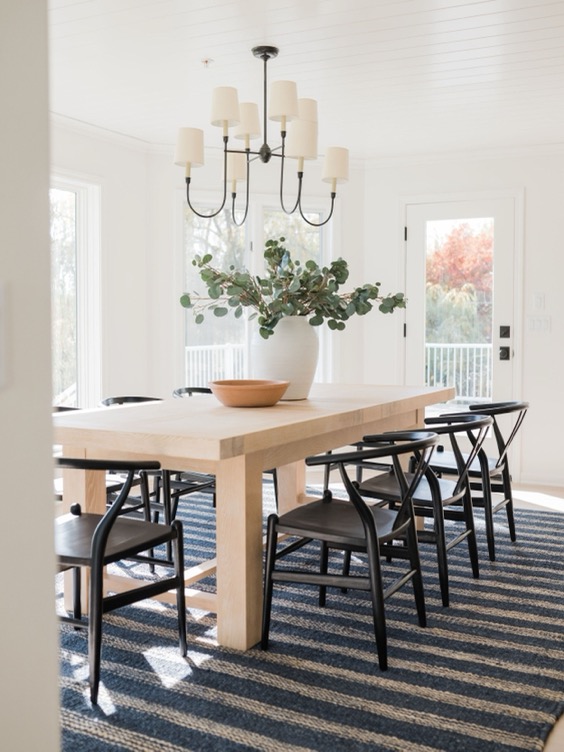 Let's try a chill design. This is a formal dining room with wooden chairs. These are eight chairs for a rectangular wooden table. This dining room set is on a large carpet. The stripped motifs are striking to decorate the floor.
Also, this carpet will span the width of the dining room. It makes a nice design. The rug texture is useful to prevent a slippery floor. Moreover, this dining room has a catchy design with an ornamental plant. You can hang an attractive chandelier to complete the interior design.
4 of 18
5. How to Match Square Table and 6 Chairs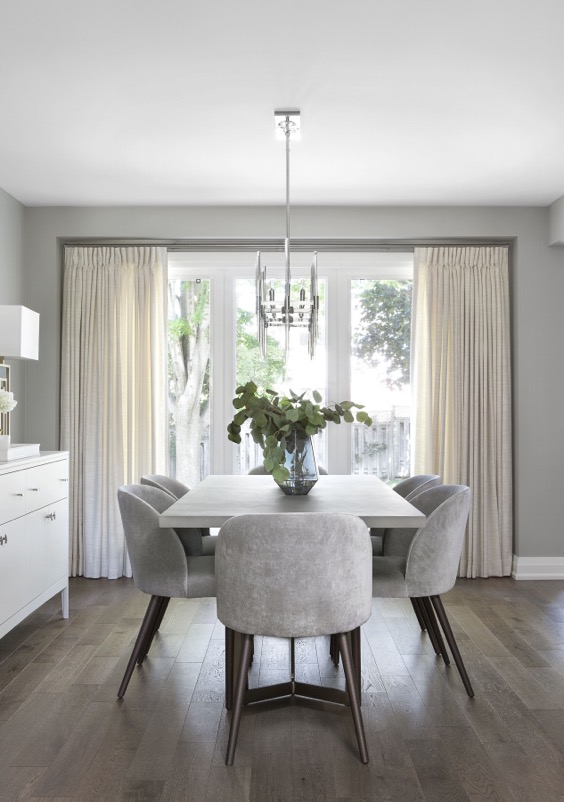 The dining table is an important element. You need it to put dishes and beverages. Before remodeling your dining room, look at this idea. It is a square dining table. This table is versatile and fits well in a narrow or large room. You will love this table to remodel your simple design.
Besides, this elegant dining room has no areal rug. These grey chairs are stunning to match the square grey table. This small dining table is stunning for a formal meeting or having dinner with family. If you have six people at the house, arrange these chairs with 2-1-2-1. Two chairs are facing two chairs, and vice versa.
5 of 18
6. Farmhouse Design for A Round Table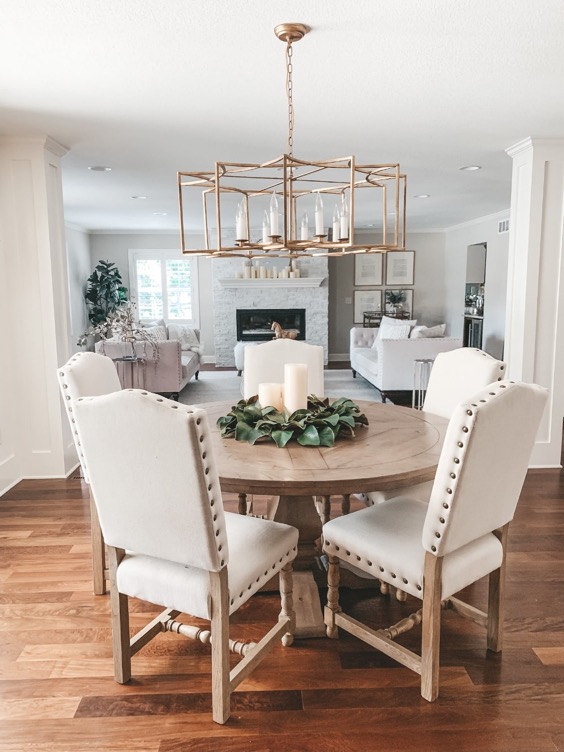 This a round table for a dining room. It is a versatile element because you have it in a large or narrow room. Look at this Farmhouse dining table. There are ivory white chairs. These classic chairs have carving feet. This detail is beautiful to make it classy.
Besides, the wooden round table is simple. This dining room will not take up lots of space. You can design in a small room as well. For the dining table design, put an ornamental plant on it. The green accents are stunning to sweeten the ornamental plant. Also, hang a beautiful chandelier to light this dining area.
6 of 18
7. Transitional Dining Room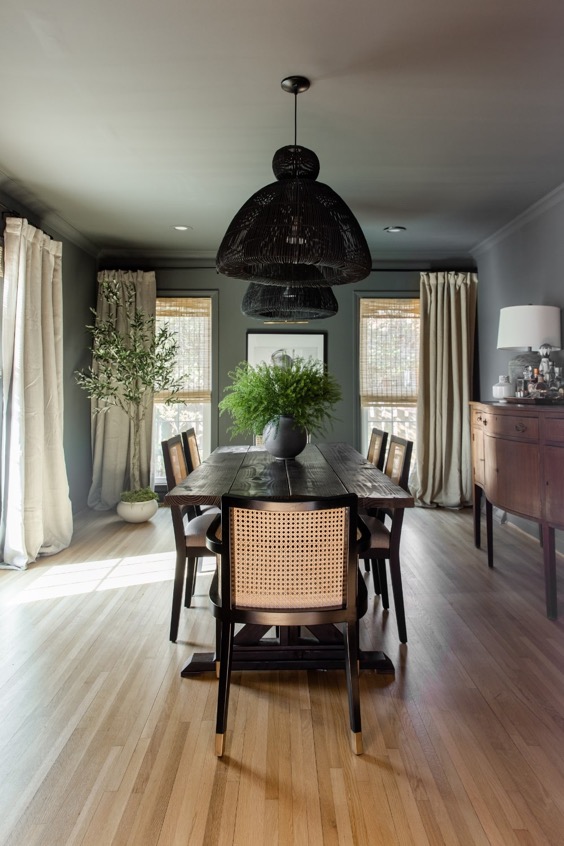 A transitional design represents more than one design. You will see the transition through a certain element. This room is elegant. The deep wooden dining table and chairs are interesting. This rectangular table is a focal point in this room. It represents both Contemporary and Mid-Century design.
Meanwhile, the room has a modern design. The long curtains are stunning to cover the large glass windows. You can add a blind or transparent lace on every window. Besides, the cabinet in this room is classic. It is elegant to complete the traditional nuance. Thus, this formal dining room will give you the best design for you.
7 of 18
8. Add A Charming Chandelier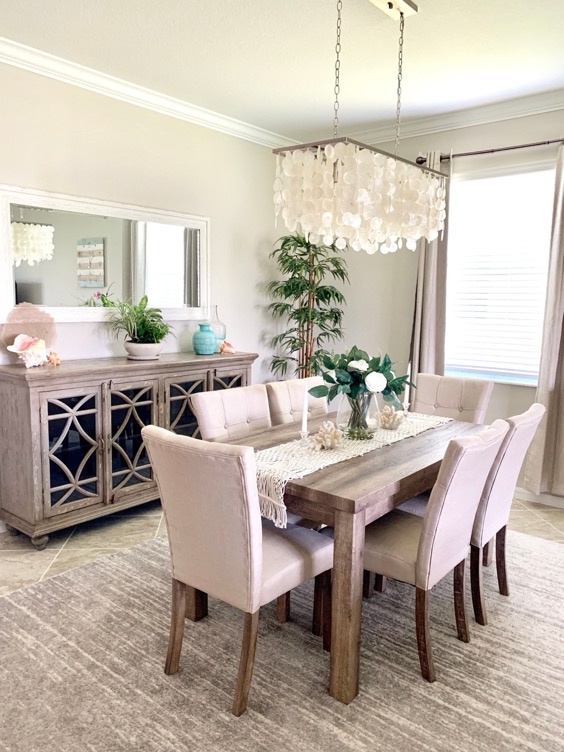 The lighting is a must-have thing in every room. Some people use a chandelier to light their formal dining room. This is simple and only needs a source of light. Also, you will find many designs of charming chandeliers to remodel your dining table. Choose a chandelier that fits your dining room interior.
Here, is a charming chandelier for a neutral dining room. There are white lamps that make a group. This chandelier hangs on the right spot. It has an ideal height for a dining table. Moreover, this dining room has a stunning design. The pale pink chairs are best to match a wooden table.
8 of 18
9. How to Design A Proportional Area Rug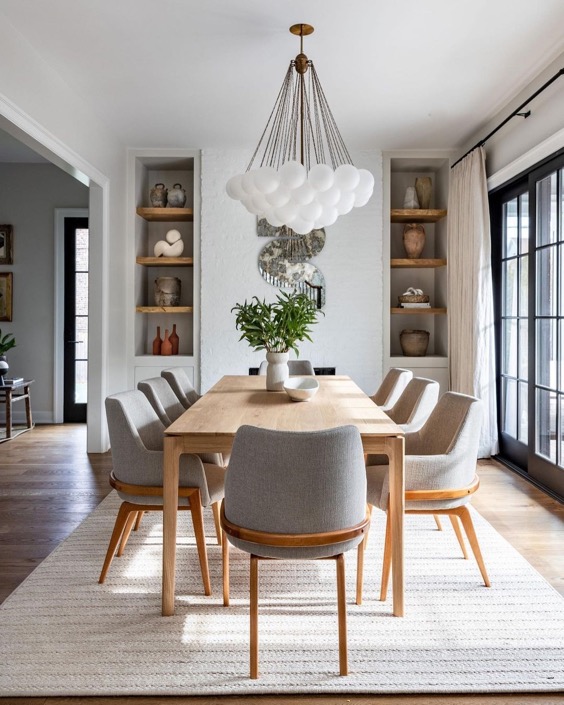 This is an additional element in a formal dining room. An areal rug brings an elegant impression. It enlivens a neat design to do a formal meeting or event. Thus, you need to choose an elegant rug that represents your dining room. Also, ensure that this rug is large.
It is better to choose a rug which has few inches left. Do not use a rug with a limited size because it narrows your dining area. The large rug is safer than the narrow rug. This large rug allows you to move your chair freely. Otherwise, if you could not buy a large areal rug, you can skip this element.
9 of 18
10. Rectangular Table to Adjust The Room Width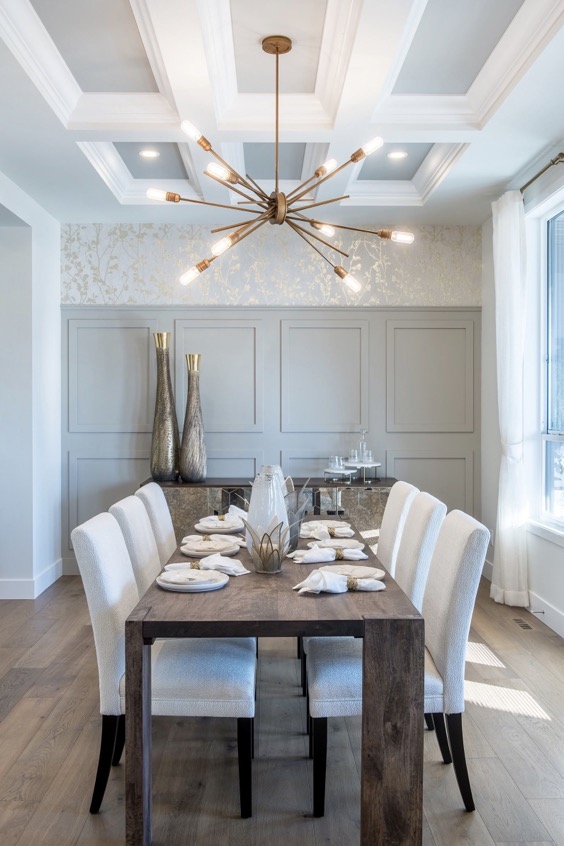 Wood is a classic element. You will have a natural accent by using wood in your room. This wooden dining table is an important element. The rectangular size fits a large dining room. Also, this long accent always brings a wider impression.
Besides, you can arrange decorations freely. Ensure this dining table has enough space to put your dishes and beverages. Moreover, choose a calming dining table set, like white velvet chairs. This rectangular table can load 6-8 chairs on its sides. For your notes, the more chairs you get, the more space to take up.
10 of 18
11. How to Choose The Dining Table Decor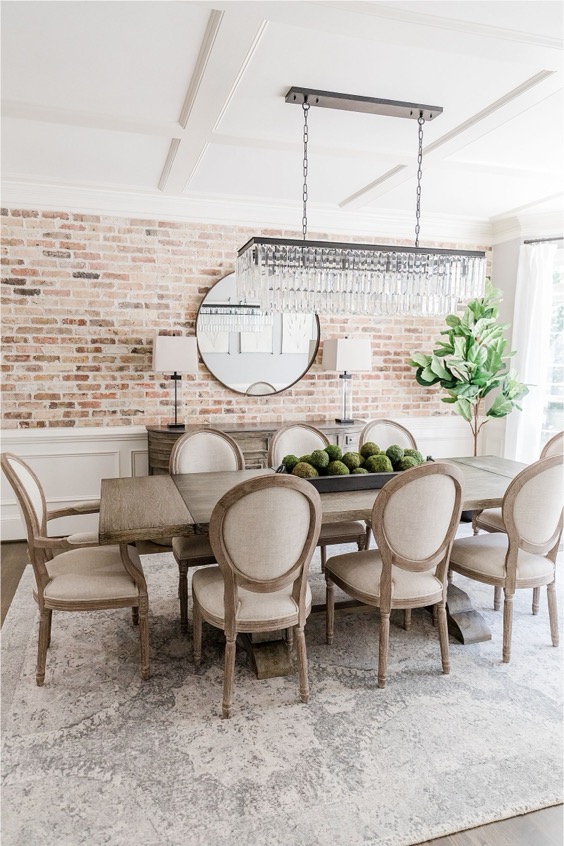 The dining table is an important element in the dining room. It is where the chairs will make a nice design. If your dining room is large, you can use a rectangular table. This table will take up some space, so your dining room will not be empty. It even makes it looks longer.
Otherwise, if you have a narrow dining room, then choose a round dining table or a square table. The size of these tables also depends on the room width. You need to spare some inches around the dining area, so you have enough space for traffic. After that, you can put a decoration on the table.
11 of 18
12. Pros and Cons of Armless Chairs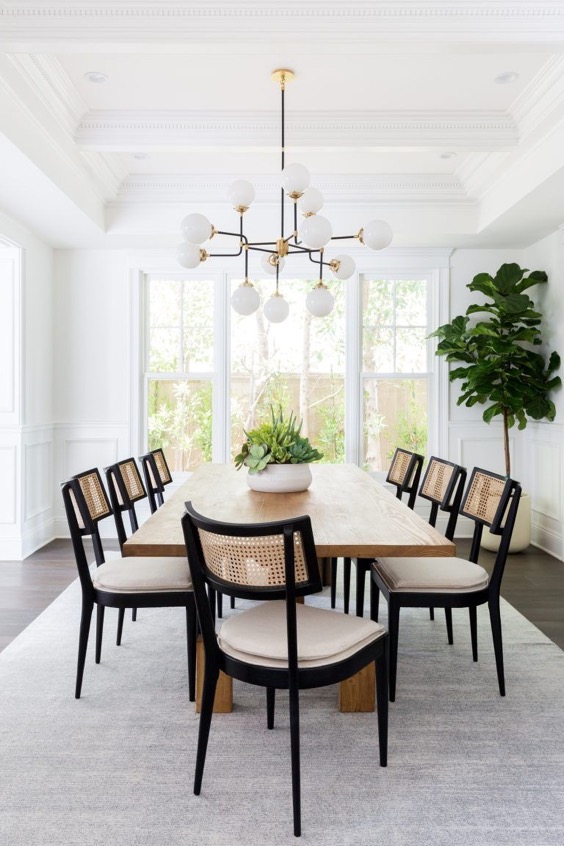 The furniture in a dining room will determine the impression. Every element in this room is important. You need to consider the comfort and function of furniture. An armless chair is simple and fits any space. It is easy to move and will not declutter the room's interior.
Despite that, an armless chair is not comfortable for some guests. They could not enjoy the moments after having dinner for more than three hours. The armless chair has no place for their hands to lie on. Nowadays, many designs of adjustable armchairs. You can choose the low armchairs or the high ones. Moreover, the different material gives a different comfort.
12 of 18
13. Choose A Proportional Lighting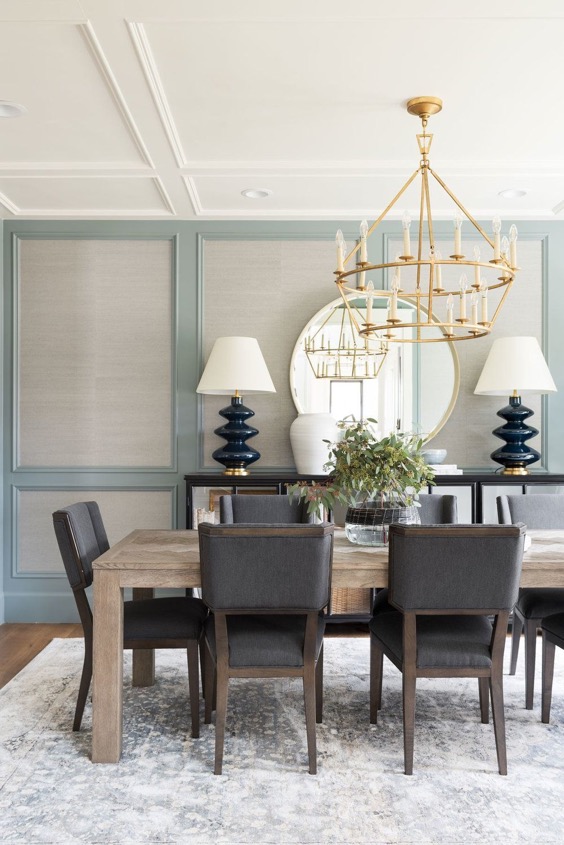 The lighting is a must-have element in a formal dining room. This element will bring a certain ambiance into the room. Let's see this idea. This dining room has an elegant chandelier. It contains many candle-like lamps. The brightness is medium.
This chandelier hangs on the ceiling. The ideal height of the chandelier to the dining table is about 90 Centimeters. Also, the brightness of the lamp is important as well. So, you need to consider these two things before installing lighting for your dining table. In addition, you can put versatile lamps, like table lamps.
13 of 18
14. How to Choose The Right Armchairs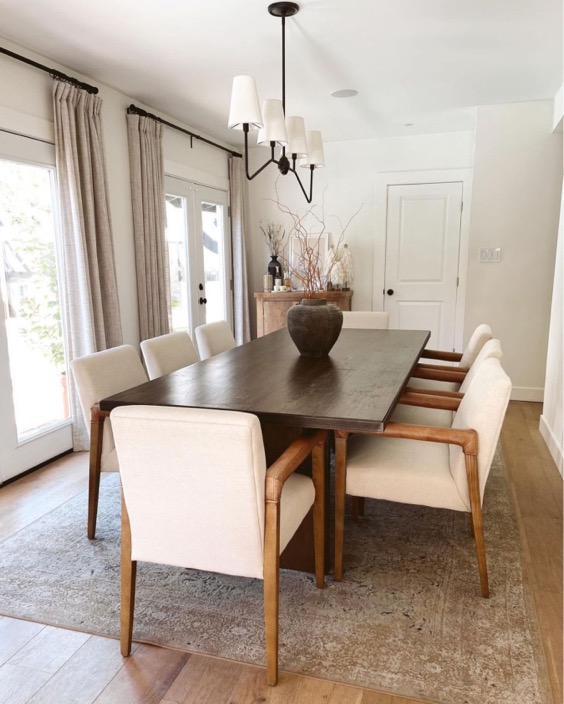 The dining chairs are beneficial to bring comfort. You need to find the best chair that fits your need. A formal dining table needs armchairs. Look at this idea. The armchairs have a formal design. There are eight chairs around the rectangular table. They fit well to decorate this dining room.
The first thing is measuring your room. You need to know whether your room is large or narrow. A large room fits any armchairs. Meanwhile, the narrow room is better to have chairs with thin arms. Ensure that the armchairs will not declutter the interior design.
14 of 18
15. Luxurious Table Design for Formal Party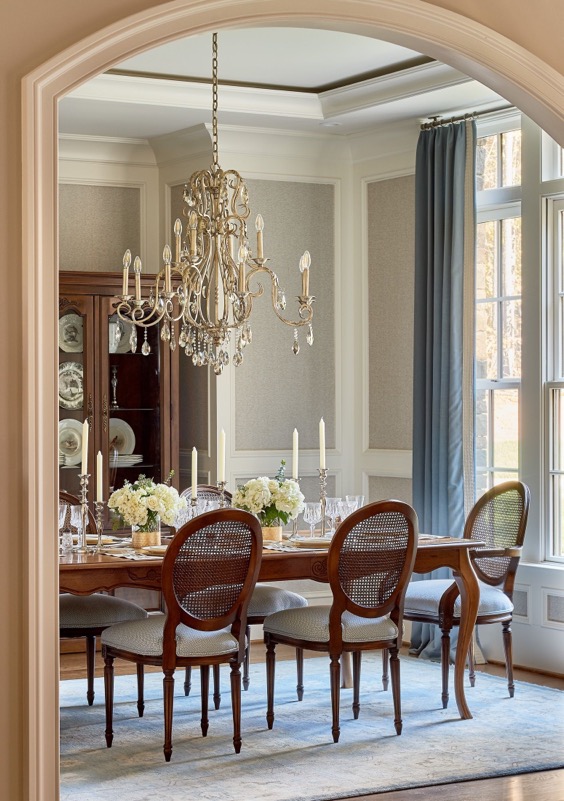 This is a fresh design for a formal party. The decoration is catchy. You will love the dining table set for this room. There are classic armless chairs. The white ivory seats are elegant. These chairs match a rectangular shiny table. There is a curvy pattern on the table which makes it elegant.
Moreover, this luxurious table gets beautiful decor. There are white flowers as sweeteners. Having a few candles are romantic and classic for a formal moment. This formal dining table has a neat design for every chair. Also, the guests will see a charming chandelier above the table.
15 of 18
16. Rectangular Table for 6 Chairs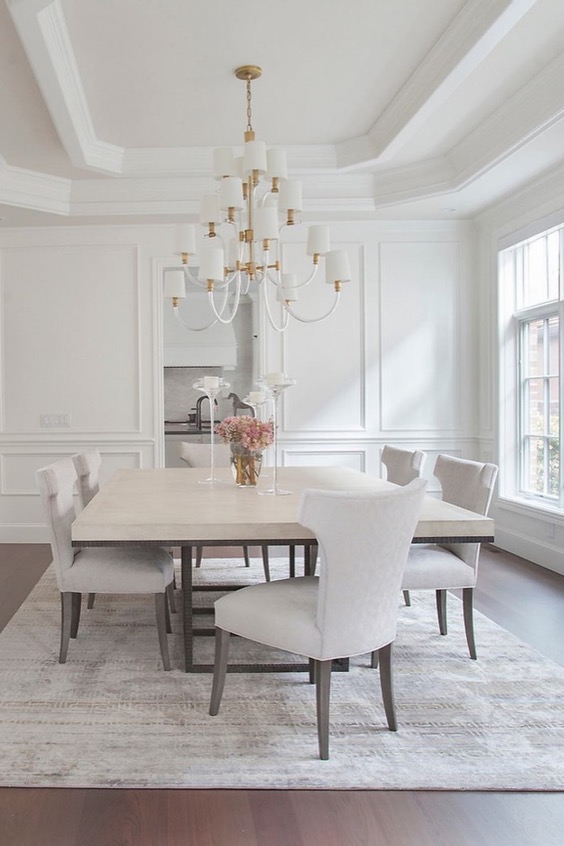 The shape of the dining table depends on the room size. The dining table brings a different function based on its shape. Look at this idea. This dining table is square and loads six chairs on the sides. It is easy to arrange these chairs with 2-1-2-1. If you need two more chairs, then add one chair on both sides.
This idea is interesting. The calming white dining room is on an area rug. The grey-white rug represents a neutral impression. Also, the chandelier is white as well. It has golden accents which make a beautiful appearance. This idea is nice to design a formal dining room.
16 of 18
17. How to Create 3 in 1 Table Decors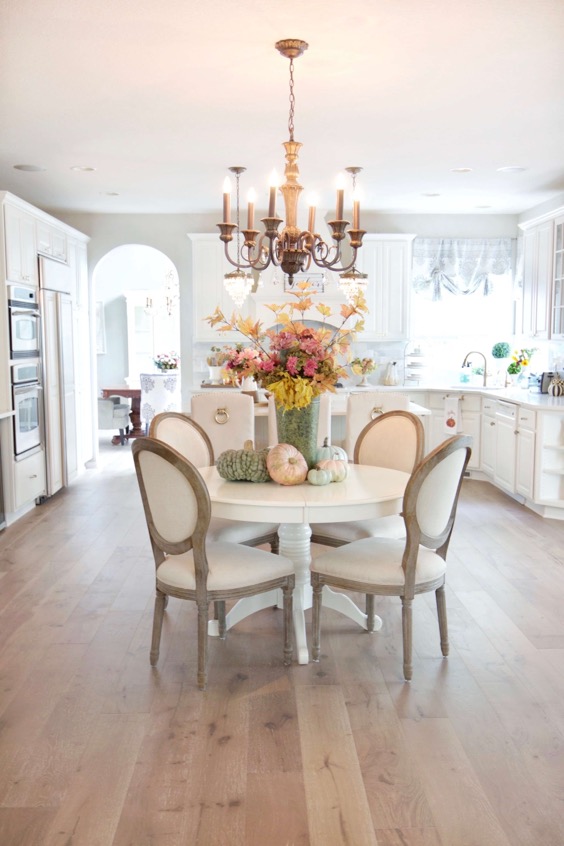 Every detail in a home interior will make a difference. If you have done the dining table arrangement, then look at the table design. The dining table is interesting to have a decor. You need to remember 3 in 1 rule. If your table is small, put three small things in one spot. They look better to put on the middle.
Meanwhile, the large dining table can load one decorative item on it. Ensure that these decorations will not dominate the dining table. The small items that you can add are straight ornamental plants, small cacti, or dining table ornaments. Besides, do not put many items on a small table. It will dominate the table and you have small spaces left.
17 of 18
18. Luxurious Classic Dining Room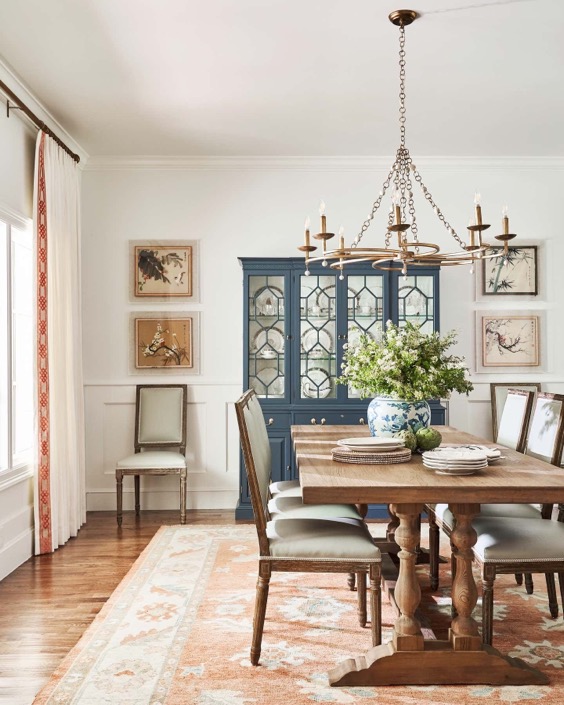 A classic design will take you back to the golden past. Many classic pieces of furniture are stunning to use in nowadays. It makes your home interior looks antique. This is a luxurious classic dining room. The classic chairs are catchy to put around the rectangular table.
This table has an attractive wooden table. It has curvy feet with a thick design. Moreover, this dining table is on the area rug. It protects the floor from scratching when moving the table and others. Also, this formal dining room has an old-style chandelier. Near the dining table, you will see an antique cabinet.
18 of 18
Final Words
These are the formal dining room ideas. All of them are stunning to remodel your old dining room. Many things that you need to consider before decorating the dining table. There are dining tables, chairs, lighting, and a rug that bring a different nuance. Also, always measure the room size before installing big or large furniture in the dining room. Hopefully, this article will inspire you to design an interesting dining room.