You spend nearly one-third of your life sleeping, and much of that is in your bedroom. So why not make it a space that's uniquely yours? A space that reflects your personal style and provides the functionality you need to get a good night's sleep. After all, a good night's sleep is essential to your overall health and well-being. From finding your personal style to choosing the perfect bedroom essentials, we'll guide you through the process of redoing your master bedroom.
Decide What Design Style You Want
Choosing a design style for your master bedroom redesign is essential. With a specific style in mind, you can unify your space and give yourself direction as you shop for new furniture, paint colors and décor. Not sure what style is right for you? Here are some popular design styles to help give you some ideas:
Modern – This might be your style if you're drawn to clean lines and simplicity. Modern design is all about function over form. Think minimalistic furniture with a focus on functionality.
Mid-Century Modern – This style takes its cues from the 1940s, 50s and 60s. Mid-century modern design is characterized by sleek lines, organic shapes and bold colors. If you're looking for a retro-chic feel, then mid-century modern is definitely worth considering.
Contemporary – An ever-evolving style that reflects the latest trends. If you like to stay up-to-date on the latest styles, then contemporary might be the way to go. However, remember that what's considered "contemporary" today might be out of style tomorrow, so be prepared to change with the times.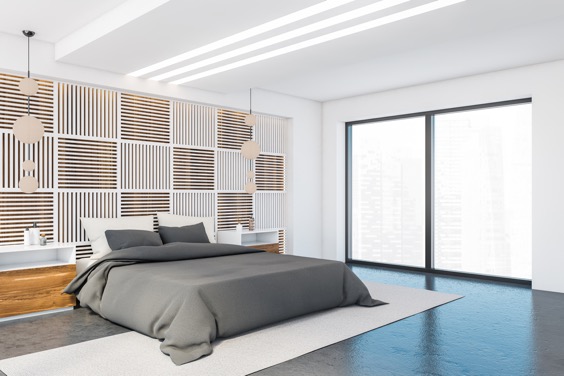 Urban Style – Urban style combines elements of both contemporary and industrial design. If you live in a city or an urban area, then this style might already be reflected in your surroundings. Urban design is all about mixing different textures and materials to create an edgy yet sophisticated look. It's also a way to soften industrial touches, making your room more livable and inviting.
Minimalism – As the name suggests, minimalism keeps things simple and uncluttered. If you prefer not to have a lot of stuff around, then minimalism might be the perfect style. This doesn't mean that your bedroom has to be boring — you can still have personality by choosing unique pieces that reflect your style while still adhering to the minimalist aesthetic.
Bohemian – This design style mixes different patterns, textures and colors. If you're someone who loves mixing various prints and patterns, then bohemian might be the perfect style for you. Just make sure not to go overboard — too much of anything can make your space feel cluttered and chaotic rather than chic and stylish.
Choose a Color Scheme
After you've decided on a design style, it's time to choose a color scheme. This will help you narrow your choices regarding furniture, paint colors and décor. Here are some color scheme choices that make an excellent fit for a bedroom:
Neutral – A classic choice that can be easily mixed and matched. Neutrals are perfect if you want a timeless look that never goes out of style. We recommend using warm neutrals, such as beige or light brown, to create a cozy and inviting space.
Calm – If you want a relaxed and tranquil atmosphere, consider using calming colors like white, cream or light blue. These colors are perfect for creating a serene and peaceful retreat.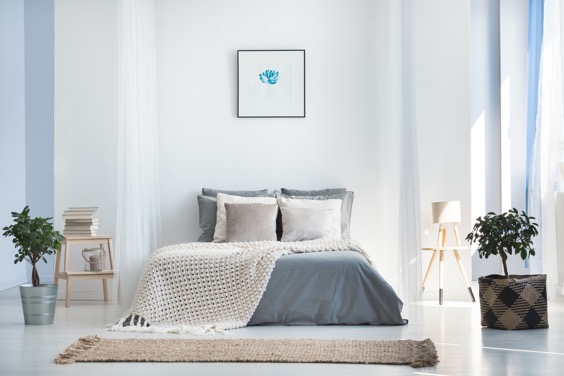 Monochromatic – If you want a sleek and modern look, consider a monochromatic color scheme. This involves using different shades of the same color throughout your space. For example, you could use various shades of blue or green. These days, many people are perfecting this look with grays, blacks and whites.
Bold – If you want to make a statement, consider using bold colors. This is a great way to add personality to your space. Just make sure not to go too overboard. Too much color can be overwhelming, which is contrary to a bedroom's goal — to be a calming space.
Choose Your Furniture
Once you've decided on a design style and color scheme, it's time to choose your furniture. This is where you'll really start to see your vision come together. When choosing furniture for your master bedroom redesign, keep the following in mind:
Size – Make sure to measure your space before you buy any furniture. You don't want to end up with pieces that are too big or too small for your room. And, of course, the most crucial component is your bed. So, before shopping for mattresses and bed frames, take accurate measurements.
Function – Consider what you'll be using your furniture for. Do you need a dresser to store clothes? A nightstand to hold a lamp? A bench at the end of the bed for extra seating?
Storage – If you're short on storage space, look for pieces that have built-in storage. This could be a dresser with drawers or a bed frame with underneath storage.
Window Coverings and Accessories
Now that you've chosen your furniture, it's time to accessorize. This is where you can really get creative and have fun with your design. Start with your window coverings. This is a great way to add some color or pattern to your space. If you want to keep things simple, you could go with neutral-colored curtains. Or, if you want to make more of a statement, you could choose brightly colored drapes or an interesting pattern. If curtains aren't your thing, you can also choose to go with blinds or shutters.
Next, move on to your décor. This is where you can really show off your personality. Choose pieces that reflect your style and make you happy. For example, consider hanging some paintings or photographs on the walls if you love art. You could incorporate plants into your space if you're a nature lover. And if you're a homebody, you might want to add some cozy touches like throws and pillows.
Finally, don't forget the details. These are the things that will really pull your space together and make it feel complete. Think about adding some new hardware to your dresser drawers or a new light fixture to your ceiling. You could also add some fresh linens to your bed for better sleep. Whatever you choose, make sure it reflects your style and ties the whole space together.
Don't Forget About Adjoining Spaces
For those lucky enough to have walk-in closets and ensuite bathrooms, these spaces should be considered when redoing your master bedroom. After all, they're adjoining rooms and should flow together with the rest of your design. When redesigning your closet, consider what type of storage you need. Do you want shelves for folded clothes? Hanging space for dresses or suits? Drawers for underwear and socks? Once you've determined your needs, you can start planning your layout.
And when it comes to your ensuite bathroom, think about what design you want. For example, will you need spa bathroom accessories like a soaking tub and a separate shower? Or will a simple design with a double-sink vanity suffice? No matter what type of space you're working with, remember to keep your overall design style in mind. This way, your bedroom, closet and ensuite bathroom will flow together and create a cohesive look.
Have Fun with It!
Bedroom design can be tricky. But with careful planning and thought, you can create the bedroom of your dreams. Just take your time and have fun with the process. After all, it's your space, and you should love it!