A long-standing trend, open shelving like contemporary and minimalist floating shelves are a fantastic way to make a space more aesthetically pleasing and modern in appearance.
However, open shelving is only visually appealing if you know how to style such spaces. After all, cluttered, open shelves do nothing to elevate a space.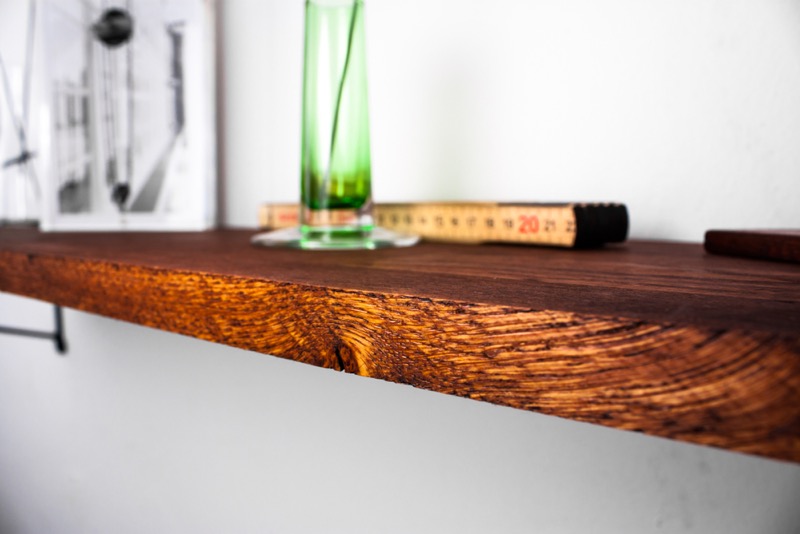 If you are looking for ways to maximize the appeal of your open shelving units, look no further. Here are eight open shelving styling tips to beautify your space.
1. Prioritize Balance
Like so many things in life, balance is important to achieve. While your open shelf styling strategy will be largely intuitive, attaining a balance of items should be something that you keep in mind all throughout the process. This concept should be your guiding light.
This means that you will want to consider looking at shelves individually and as a set (if there are more than one on the wall or in the room), as well as consider the size of the items being placed on shelves.
2. Group Items Strategically
This once again speaks to how you can bring balance to your open shelves. When styling open shelves, it is important to group items strategically to strike a balance, as well as to make sure that the shelves aren't too uniform in appearance.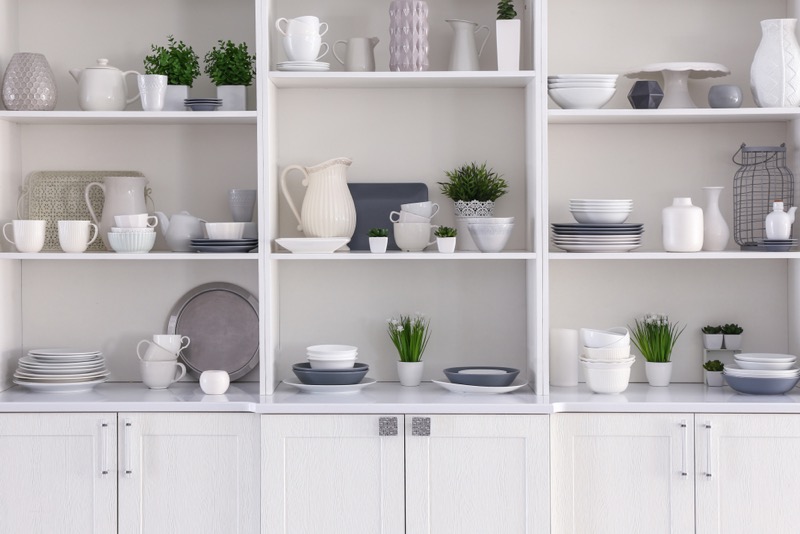 Therefore, you will want to consider the size, shape and color of the items being placed on each shelf and group items in a way that makes your shelves both interesting and balanced.
Don't cluster too many similar items together. Instead, space things apart to serve the aforementioned goals.
3. Disperse Textures and Colors
Again, when it comes to grouping items strategically, you don't want to have too much of one color or texture in a single area or on a single shelf. Therefore, it is important to break such items up and space them according to your shelving situation.
That said, mixing textures and tones can be a bit tricky for some people. A great trick to dispersing items evenly is to create diagonal lines of like items – if your shelving situation will accommodate such a practice.
If not, mix and match different items, using the concept of balance as your north star. Then, take a step back, analyze and make any adjustments that you deem necessary.
4. Add in a Splash of Color
Moving away from the items on the shelves to the shelves themselves for just a moment, a fantastic way to add some intrigue and drama to your open shelving is to paint them. The color can either match or contrast against the color palette of the room, thereby drawing even more attention to your shelves and their styling.
By painting your open shelves, you can add tons of style and character to your room with a minimal amount of effort.
Alternatively, if you have open shelving units, such as cabinets without doors, you can paint or even wallpaper the backboard to achieve a similar effect.
5. Integrate Some Greenery
While we are on the topic of color, now is the perfect time to discuss the use of plants on open shelves. No matter if it is something long trailing or short and stout, plants are ideal for bringing some color and depth to your open shelf styling strategy.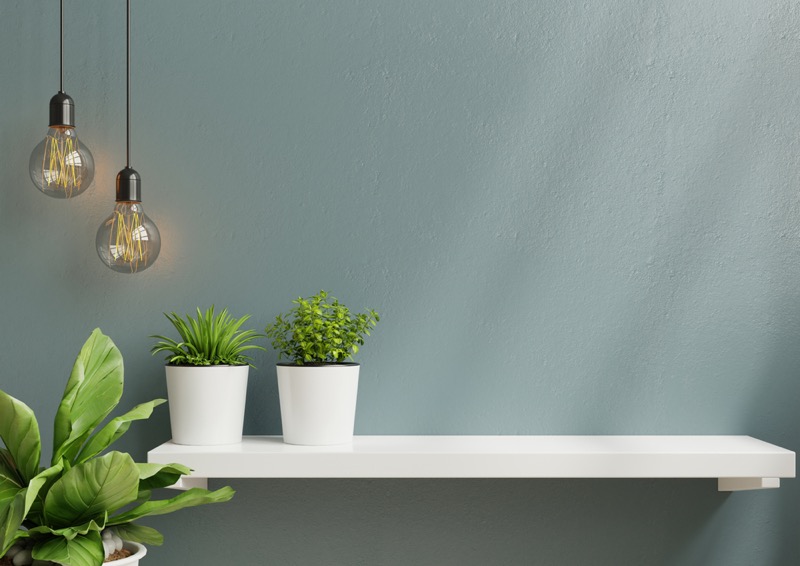 Plus, houseplants can improve your home's air quality and make it smell better, so there's that advantage as well.
6. Highlight Antiques
If you are the kind of person who likes to shop for antique hardware, vintage trinkets, and adores all sorts of artifacts from other times, then open shelving is the perfect place to display your antique finds.
This is a perfect aesthetic for those who are into that rustic or farmhouse style and will add tons of charm and character to any space.
7. Careful Not to Overcrowd
Between trying to mix and match different textures and colors, striking the right balance of large, small and medium items, integrating plants and the like, it can be easy to overcrowd your shelves. If this happens, all of the lovely items you have placed won't have any room to be appreciated or shine.
Therefore, when you are styling your open shelves, remember to let things breathe a bit. Open shelving is all about achieving a more minimalist, airy feel for a room and overcrowding your shelves completely kills that vibe and just makes the room feel cluttered.
8. Feel Free to Be You
The best part of styling open shelves is that you can break any one of these rules if it will put a smile on your face. So, make the most of your open shelving by adding your own unique twist on things and making them truly your own.
Achieving Stylish Shelves
There are a variety of ways that you can style your shelves and infuse various rooms with character, color and drama. Use the tips listed here to guide your open shelf styling journey and spruce up any space in your home.