Your new apartment may look sparkling clean, but it's never a bad idea to give it a good deep clean before moving in. Doing so ensures that everything is sanitary and gives you a clean slate for your new home. Plus, cleaning all the nooks and crannies before moving all your furniture and belongings in is much easier than trying to do it after. Take advantage of what will likely be your only opportunity to clean with nothing in the way. Not sure where to start? Check out these tips on cleaning your apartment before moving in!
Light candles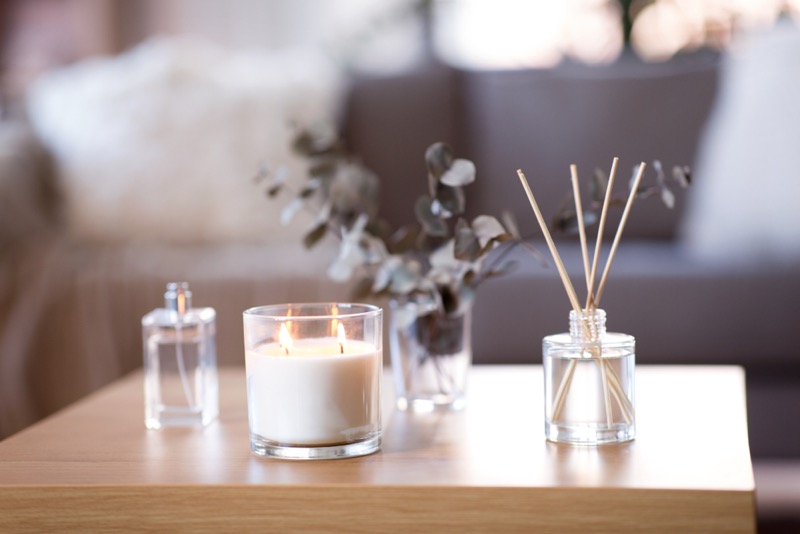 Before you dive into cleaning, light some candles. The candles' warmth and pleasant aroma will instantly make your new apartment feel more like "home" while making it smell cleaner. And if you use citrus candles, the invigorating scent can give you the energy boost you need to tackle deep cleaning. A reed diffuser is an excellent alternative if you prefer not to use candles. They smell amazing and last several months. Plus, you never have to worry about accidentally forgetting to "put out" a diffuser.
Start at the top
When you want to give your new space a thorough cleaning, starting at the top and working your way down is your best bet. As you clean, dust and debris will make their way down to the floor thanks to gravity. Start by dusting ceiling corners, overhead lights and ceiling fans. Then, work your way down. Wash walls, windows, baseboards and, finally, floors.
Clean toward the door
In addition to cleaning from the top down, start a the point farthest away from the main entryway. This is especially important when cleaning floors. It doesn't make sense to vacuum or mop right in front of your door if you will be making frequent trips in and out while cleaning the rest of the apartment.
Freshen up the appliances
If your apartment came furnished with appliances, you'll definitely want to clean and disinfect them before use. Even the dishwasher needs a bit of TLC. Run a hot water cycle with a cup of white vinegar on the top rack. Then, run a second hot cycle after sprinkling about a cup of baking soda over the bottom rack. Disinfect the microwave, oven and fridge. Remove shelves, knobs, racks, etc. and give them a good soak in your sink or bathtub. Then, scrub them clean or run them through your dishwasher.
Deep clean the bathroom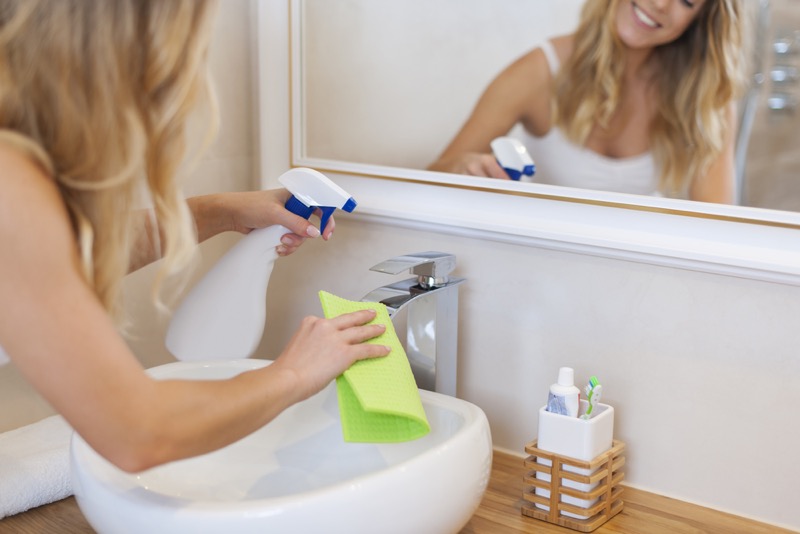 While your landlord (hopefully) already gave your bathroom a deep cleaning before your move-in date, it's always good to clean it again before bringing in your belongings. Bathrooms attract a lot of gunk and grime, and you definitely don't want to be living with previous tenants' messes. Sanitize the room from top to bottom, including the walls, shower, bathtub, sink, counters and toilet. Clean high-touch surfaces like light switches, door handles, faucets and toilet paper holders. Buy yourself a new toilet seat. They're inexpensive and easy to install, and you'll feel a lot cleaner if you don't have to sit on someone else's old toilet seat.
Scrub the cabinets.
Cabinets are often neglected during cleanings and, many times, they aren't cleaned sufficiently between tenants. Since you'll be eating off of plates stored in those cabinets, give them a good scrub before loading them up. Remove all crumbs and debris, then disinfect them inside and out. Don't forget to sanitize the cabinets in other areas of your new home. You don't want to store your personal care items or medications in a disgusting medicine cabinet.
Clean the closets.
Once you fill them up with your clothes, accessories and other odds and ends, you probably won't see the far corners of your new closets again until you decide to move out. Take advantage of the opportunity to give them a good deep clean before loading them up. Dust the corners and get rid of any cobwebs. Consider covering the shelves with removable shelf liner or vinyl. If there aren't any shelves, invest in closet organization products you can easily remove later.
Disinfect high-touch surfaces.
Unless you are moving into a brand-new apartment, hundreds — maybe even thousands — of people have touched every surface in your new home. Light switches, countertops, doorknobs and even the thermostat are all places where germs love to lurk. It's a time-consuming process, but disinfecting all of these high-touch surfaces is the best way to ensure that you are moving into a clean, sanitary environment.
Make the floors sparkle.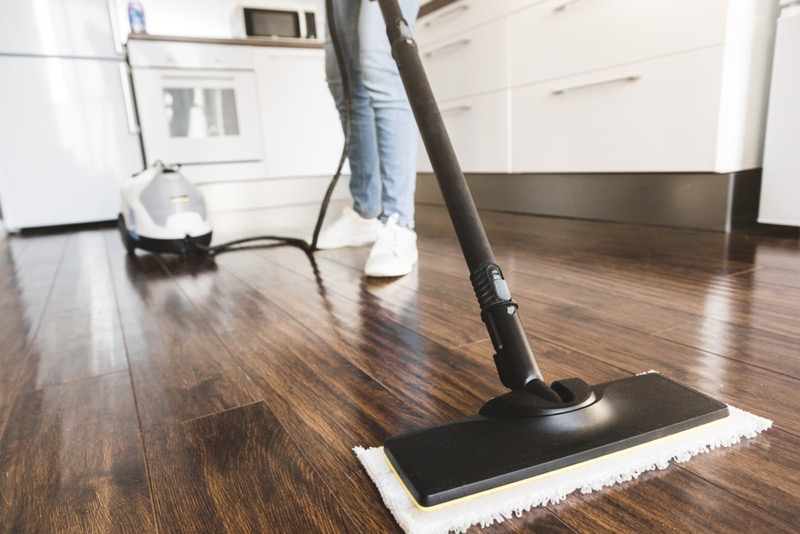 Cleaning the floors is the final step in getting your new apartment move-in ready. Once you've cleaned and sanitized everything else, you'll want to give your floors some attention to remove all traces of the previous tenant. If your new place has hardwood, laminate or tile floors, a steam mop is a quick and easy way to eliminate germs and make surfaces sparkle. Deep cleaning carpet is a bit trickier. In many cases, renting a carpet cleaner from a local hardware or grocery store is sufficient. You might need to call in the professionals for bigger messes, though, or if the previous tenant was a smoker or had pets. Talk to your landlord about reimbursement if the carpet is unacceptably dirty.
A new apartment is a blank canvas and an opportunity for a fresh start. Your landlord should have the unit thoroughly cleaned before your move-in date, but even professional cleaners sometimes overlook things. Give yourself the freshest start possible by deep cleaning your apartment before moving your belongings in. In addition to ensuring that there aren't any lingering germs or traces of the previous tenant, giving the apartment a good cleaning will make you feel more comfortable and at home in your new rental.