If you're anything like me, your kitchen is the heart of your home. It's where you gather with family and friends, cook fabulous meals, and enjoy life. But as much as I love my kitchen, there are always ways to improve it. And with the latest technology advances, there are now more cool features than ever before that can make your kitchen the envy of your neighborhood.
1. A Kitchen Island.
It can be a great addition to your kitchen if you have the space for a kitchen island. A kitchen island can provide extra counter space, storage, and seating. It can also be a great place to put a stove, sink, or other appliances. If you want to add a kitchen island to your home, here are some cool features you should look for:
Counter space: A kitchen island should have plenty of counter space so you can prep meals or do other tasks.
Storage: Look for an island with cabinets or shelves for storing pots, pans, and other kitchen items.
Seating: Some islands have built-in seating so you can enjoy a meal or snack in the kitchen.
Appliances: If you want to include appliances in your island, ensure enough space and electrical outlets to accommodate them.
2. A Convection Oven.
A convection oven is a kitchen appliance that uses circulating hot air to cook food evenly. This oven is ideal for cooking large roasts, casseroles, and desserts. You can find convection ovens in both gas and electric models. Some newer ovens have a convection setting that can be used with any cooking mode, while others have a separate convection mode.
3. A Double Sink.
If you have the space for a double sink in your kitchen, you should take advantage of it! A double sink is excellent when you have many dishes to wash or if you need to wash something significant. Plus, it's just nice to have two sinks so you can have one for washing and one for rinsing.
4. Ample Storage Space.
One of the essential features you need in your kitchen is ample storage space. You can achieve this in several ways, such as installing more cabinets, adding shelving, or remodeling your kitchen with the help of kitchen remodeling in Washington dc.
No matter how you achieve it, having ample storage space in your kitchen is essential. It allows you to keep your cooking supplies and ingredients organized and within reach. Plus, it minimizes clutter, so you can focus on preparing meals without being distracted by a messy kitchen.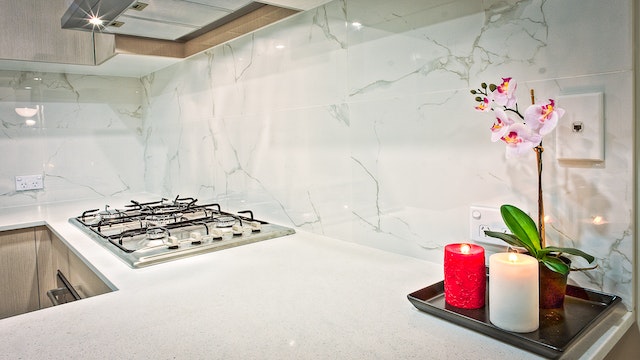 5. Energy-Efficient Appliances.
When it comes to appliances, energy efficiency is critical. Not only will energy-efficient appliances save you money on your utility bills, but they'll also help reduce your carbon footprint. Look at the annual energy consumption (AEC) rating. An appliance's energy in a year is typically displayed in kilowatt-hours (kWh): the lower the AEC rating, the more energy-efficient the appliance. You can also consider the features of the appliance. Energy-efficient features include automatic shut-off, articulating spray arms, and sensors that adjust water and cycle time based on load size. These features can help reduce water and energy consumption without sacrificing performance.
6. A Water Filtration System.
A water filtration system is a great way to ensure your family's access to clean drinking water. Various types of systems are available on the market, so it is essential to research to find the one that best meets your needs.
One of the most important things to consider when choosing a water filtration system is the size of the unit. The size will dictate how much water can be filtered at once and how often the filter will need to be replaced.
Another important consideration is the type of filter that is used. Various options are available, such as carbon filters, reverse osmosis filters, and ultraviolet filters. Each type has advantages and disadvantages, so selecting the one that will work best for your particular situation is essential.
You can also decide where to install the water filtration system. Some units can be installed under the sink, while others are designed for whole-house filtering. Once you have determined your needs, you can begin shopping for the perfect water filtration system for your home.
Conclusion
When it comes to cool kitchen features, there are a few must-haves that we think everyone should have in their home. From an indoor herb garden to a hands-free faucet, these features make your life easier and add a touch of luxury to your space. If you're looking to upgrade your kitchen, be sure to consider these six cool features!