Olidhomes – Tiring activities do make us imagine what it would be like to relax in a comfortable and calm place. Relieve stress and fatigue and start activities again feeling happy and refreshed. Some people may choose to go to the mountains or the beach for a soothing and comfortable atmosphere. In fact, the house can be the most comfortable place. Having a backyard at home can be used to create the most comfortable place. Its location outside will make this place feel fresh with the natural air.
Not only for relaxing, with the right decoration, but the backyard can also be used as a fun place to hang out with family and friends. And in this article, we have provided 15 Best Decor Ideas for Turning The Backyard into A Comfortable Place for Relaxing and Gathering. So, let's check it out!
Balinese Gazebo Full of Interesting Cultural Elements
Bali Island is one of the islands in Indonesia where the culture is still very strong. If you visit the island of Bali, not only are the beaches good, but the houses there are still traditional houses. Teak wood is the main material with its very interesting carvings.
One other interesting thing is the gazebo with natural nuances that is so thick that it becomes a soothing resting place.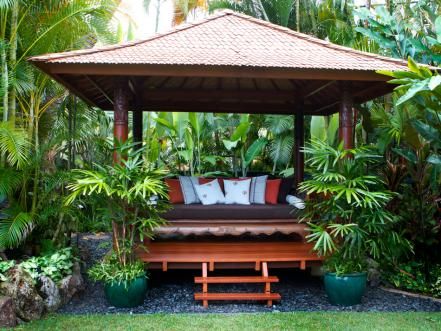 Gazebo made of teak wood will make it last a long time. Teak wood is the strongest wood against anything. When exposed to continuous rainwater, wood will not be brittle. However, of course the price of this wood is relatively high.
Because the texture of the wood is so hard, decorating the gazebo with a soft mattress is an interesting idea to make it feel comfortable. The addition of several pillows with beautiful colors and motifs makes it look attractive in your backyard in your house.
Some greenery makes this place look fresh. You can feel the calming atmosphere clearly. This place will be a comfortable place for relaxing and also gathering with your family, especially when it rains.
Fun Place for Kids with Playground in The Backyard
The backyard is not just for adults. For those of you who have children, make your children feel happy by playing in the backyard of the house.
Making a backyard into a children's playground will be one of the things that can make your children feel happy and comfortable when they are at home.
Private Place for Children to Play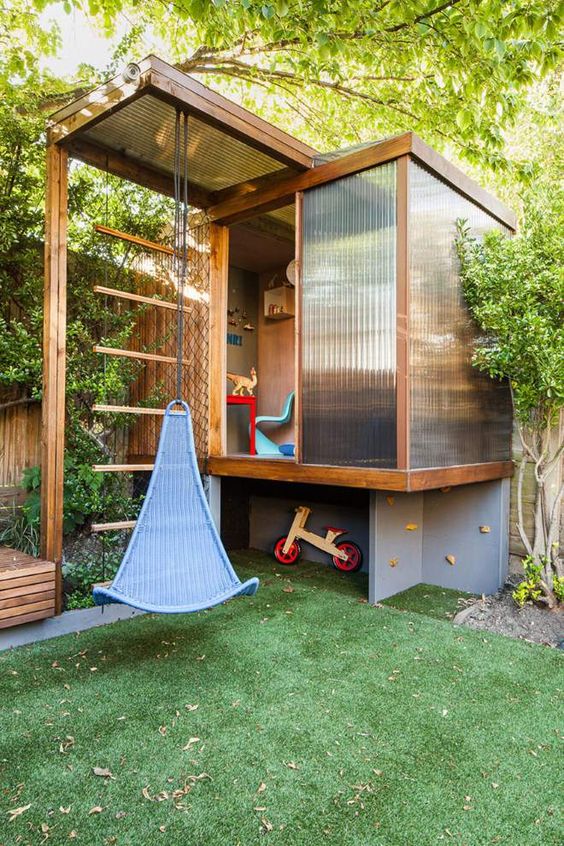 Children also need their private place so that they feel comfortable. Making a small room in the backyard is an interesting idea for children to play and also rest there. Also add some of the child's favorite rides, such as swings and slides.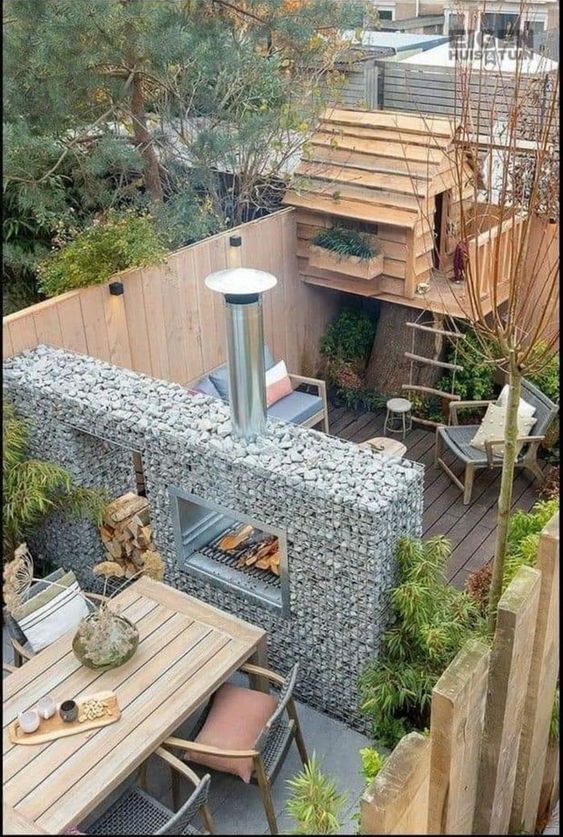 If you feel that the backyard is too small to provide a place for children to play, a small wooden tree house is an interesting idea to choose. You can take advantage of the large trees in the backyard so that it will not take up space in the backyard and make the small backyard feel cramped.
Hammock to Make It Cozier
Nothing is more cool than relaxing and pampering yourself in the sun. For those of you who like sunbathing, this one idea will be very interesting to apply to the backyard.
Decorating the backyard with a hammock creates the most enjoyable place to relax. Adding a pillow there makes this place even more comfortable for relaxing.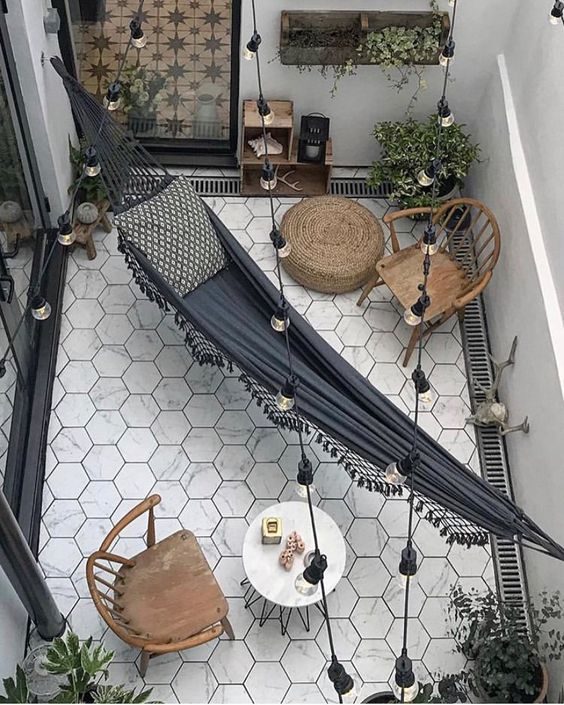 Enjoying the morning air and the morning sun lying down on the hammock will help heal your tired self. And at night, it will be a lot more pleasant. Looking up at the beautiful stars and moon in the clouds.
Hammocks are better tied to strong tree trunks. However, if your backyard does not have trees, you do not need to worry. You can choose a wall instead of a tree.
Warm Lighting for A More Intense Night Atmosphere
What's more fun than spending time with loved ones? Night time is the right time to be enjoyed with a lover. To create a romantic atmosphere, present warm lighting. This will help build a more intense atmosphere in the backyard.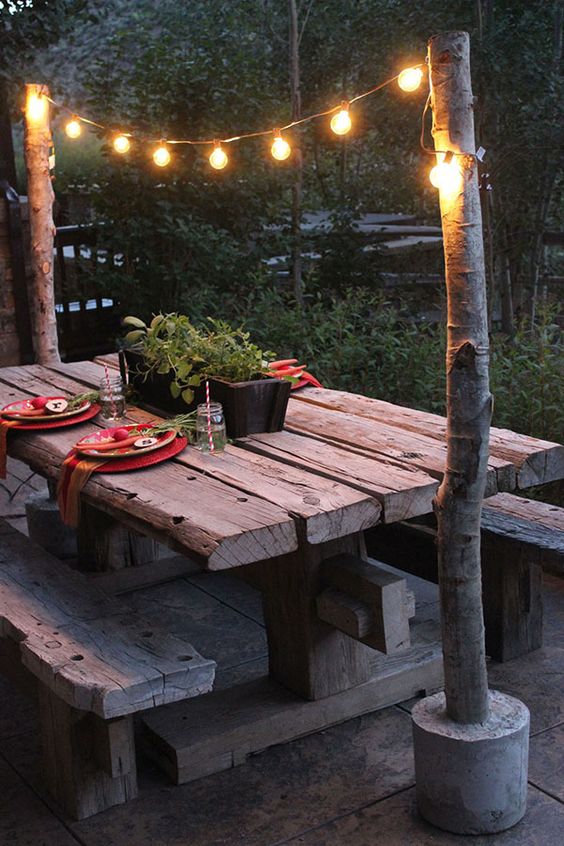 This one lamp is certainly familiar. Instead of making the place bright, string lights are used as decoration to make it look charming.
String light with warm lighting is a great choice for use as a backyard decoration. Hang a string light on a wooden pole. String lights hanging just above the table can make this a romantic place to have dinner.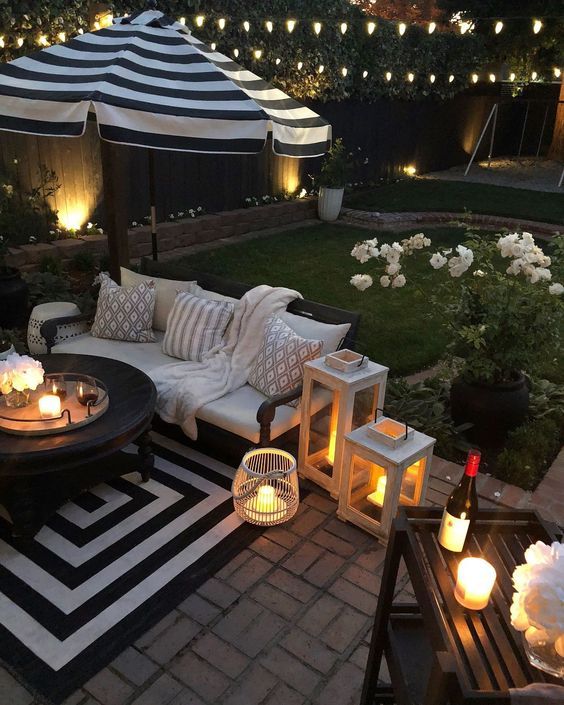 You can also get an intense and romantic atmosphere from using candles. Place a few candles scattered on the spot of the backyard, such as around a sofa in the backyard.
Aromatherapy candles are an attractive option to use. The fragrance from aromatherapy candles not only brings a romantic and intense atmosphere but also gives a soothing fragrance.
Enjoy The Hot Water in The Jacuzzi
Soaking in hot water is the best way to unwind and relieve fatigue and stress due to heavy activities. Soaking in hot water is usually done in the bathroom. Collect water in the bathtub and then take a dip. But, what if you soak in hot water with a soothing natural atmosphere? This of course will be much more fun.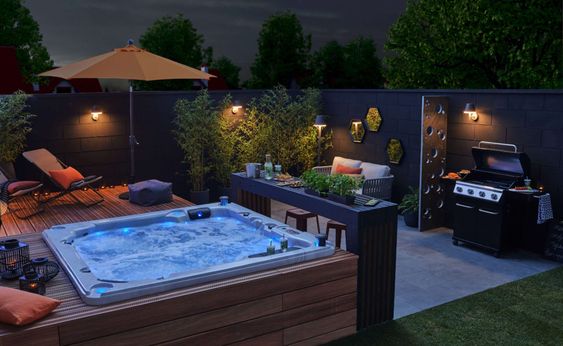 Try to use the backyard to be the most comfortable place you want. Presenting a jacuzzi in the backyard is an interesting idea that you can apply.
Soak in the jacuzzi while enjoying the calm night atmosphere. Coupled with the presence of some green plants that make our minds relax. The warm lighting on the backyard walls really helps to liven up the atmosphere. In this way, backyard will be the main destination that you will come to for relaxing.
Decking for Small Outdoor Living
The living room is the first room we will meet when we enter the house. However, what if there are two living rooms in one house: a living room and an outdoor living.
Outdoor living will give a different atmosphere to the guests who come to your house. Green grass in the backyard can make guests feel comfortable.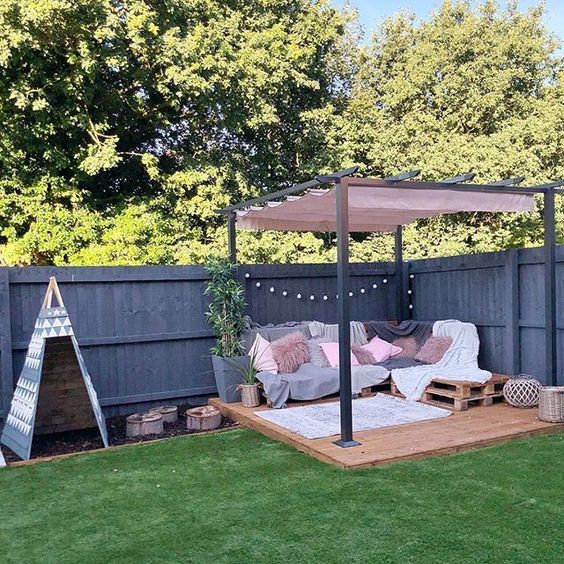 Create a single spot in the backyard with decking to reveal outdoor living. It is also a great way to create a clean spot when it is raining. When it rains, the water on the ground will certainly be uncomfortable to step on. And with decking, this problem will not happen.
Also, build a foundation of iron or wood to make a roof on this spot. So, you do not have to worry when the rain comes. Your gathering time will not be interrupted.
Barbecue in The Backyard
It's incomplete to gather with family and friends on a long holiday if you don't do a barbecue. Enjoy the gathering time by eating delicious food. The breeze in the backyard really evokes a comfortable atmosphere.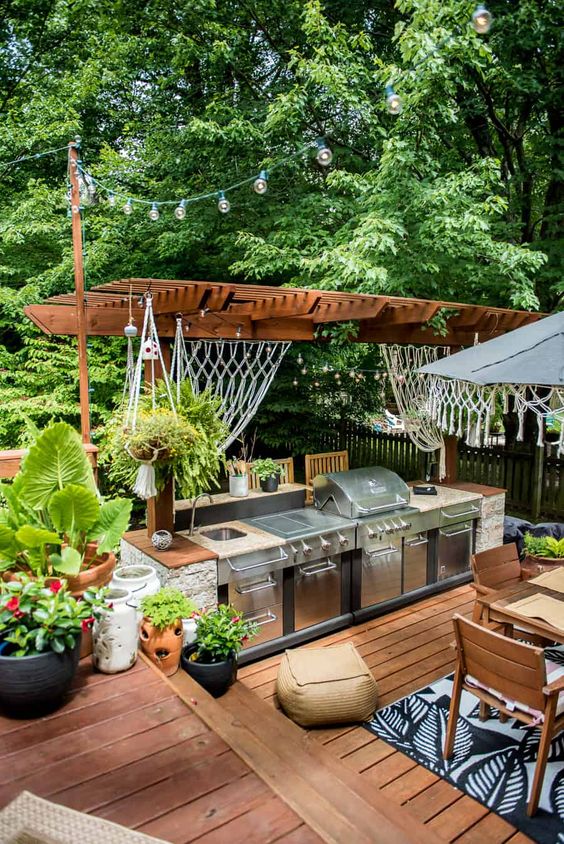 Instead of just presenting barbeque tools in the backyard, why not make an outdoor kitchen in this place? For those of you who like to cook, this will certainly be more interesting.
In this outdoor kitchen, you can immediately put on some plates and glasses which will make you more practical. No more going back and forth to the house just to get cutlery. The sink in the outdoor kitchen is also very helpful for cleaning dirty cooking and eating utensils.
Warm Up the Backyard with Fire Pit
One of the reasons why people do not use the backyard at night or in winter is because of the cold air which makes this place uncomfortable. So, warm up the backyard with a fire pit is an idea that can make the backyard a comfortable place for relaxing and gathering.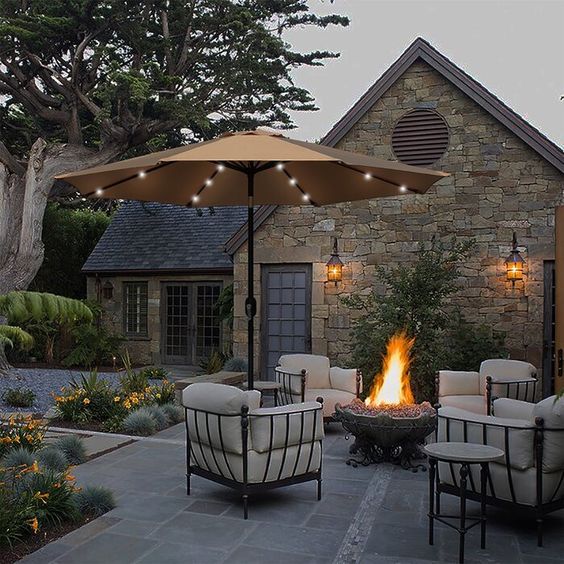 Placing some chairs around the fire pit to make the people sitting there feel evenly warm. Light from a fire can also create a warm and cozy atmosphere. Suitable for gathering with family and friends at night.
Fireplace in The Backyard
Looking at the fire in the fireplace by chatting with loved ones will be very helpful to relieve fatigue all day. So, besides the firepit, you can also decorate your backyard with a fireplace.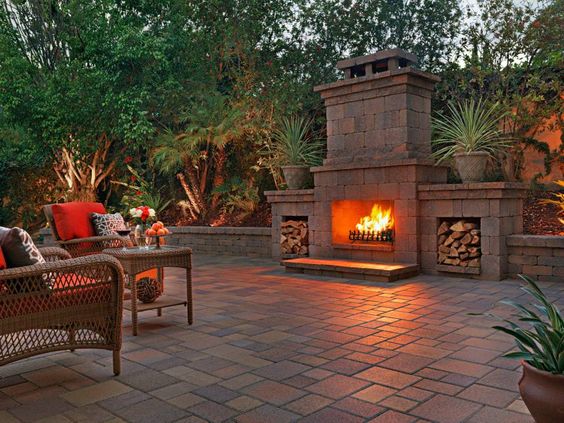 Create a fireplace on the backyard side. Then put some firewood next to it. Then, put a few chairs facing the fireplace. So that you can be comfortable sitting on the bench for a long time, add soft cushions and cushions to the chairs. Also, present a coffee table to put your warm drinks and delicious food.
Outdoor Cinema at Your Own Home
Who here has a hobby of watching movies? Gathering with family and watching favorite movies is indeed a fun activity. So, how about creating a backyard as a gathering place as well as a place to watch great movies?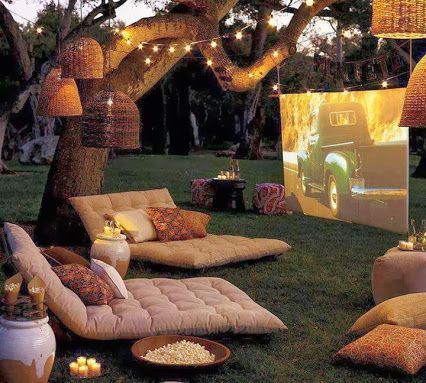 Try decorating the backyard with white fabrics or banners spread across the walls or tied to the sides of wood or foundation. Then aim the projector infocus on this white cloth/banner as a screen for watching a movie.
The soft chair cushion is accompanied by a pillow as a complement to complement your backyard comfort.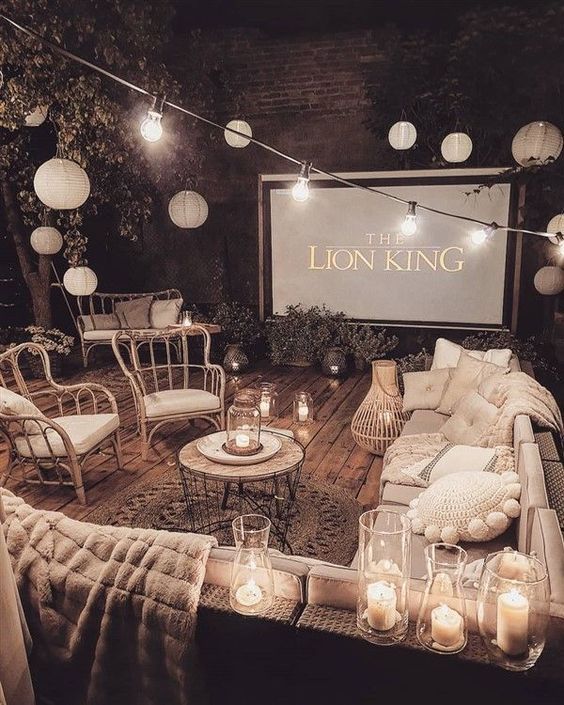 As a final touch, some decorations from candles, lanterns, or string lights will really help to liven up the atmosphere. The warm lighting from these items will give a warm and intense atmosphere to the backyard.
Hanging Chair As The Cozy Spot for Relaxing
Often we see our grandmother or grandfather sitting in a rocking chair while shaking their bodies to make their minds relax again. However, nowadays rocking chairs may be very outdated. And the hanging chair is a replacement item for the rocking chair.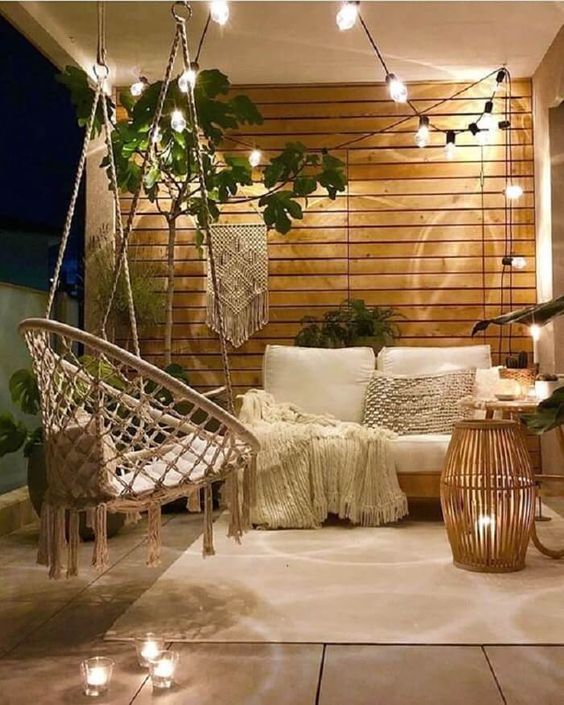 Decorating the backyard with the hanging chair is tantamount to create a cozy spot in this place. When hanging the hanging chair, make sure that the foundation is strong. If you want something safer, a hanging chair can also be an option.
Add a soft cushion and pillow to make it feel more comfortable when you sit on it. You can also add a blanket if you want.
Conclusion
A fresh backyard atmosphere with green plants and also a gentle breeze makes this place very suitable as a place to rest. In fact, the backyard can also be used as a space to gather together with family and friends. In order for the backyard to feel comfortable and attractive, the right decoration is needed. And in this article, we have provided 15 Best Decor Ideas for Turning The Backyard into a Comfortable Place for Relaxing and Gathering.