Olidhomes.com – If we look at 2020, there are a lot of minimalist houses that are offered to the public. The more affordable price makes minimalist houses sell well in the property industry. However, some homeowners still often make do the decorating mistakes in small rooms in the interior of their minimalist home. But before we get into this discussion, there are several advantages of a minimalist house that you will get:
More affordable prices,
Easy to clean,
A warm atmosphere is easier to create,
Easy to organize, and so on.
However, there are some disadvantages of a minimalist home, such as the existing rooms tend to be smaller.
A small room if not decorated properly can feel cramped and stuffy which can make a home uncomfortable. Therefore, you must know in advance what mistakes are often made when decorating a small room.
And in this article, we have provided Decorating Mistakes That Are Often Done in Small Rooms. So, let's check it out!
Do Not Pay Attention To The Size of The Furniture
Furniture is something that must be used in the room. If in a large room you can use whatever furniture you like, but this will be different when you choose furniture to fill your small room.
In a small room, you are required to pay attention to the size of the furniture that you will use. Try not to use large furniture.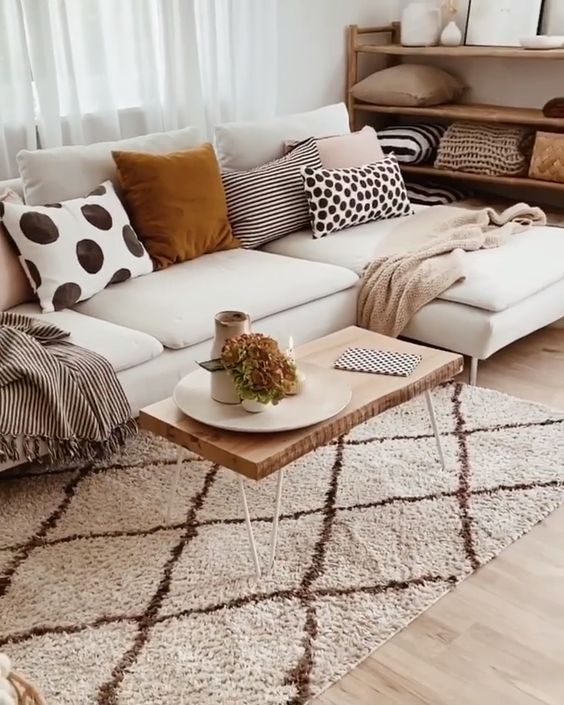 The main goal when decorating a room is to create comfort. To make a small room feel comfortable is to make this room feel spacious. So, using furniture with large size will actually make the room look full.
However, also do not just use small furniture. This will have no effect on a small space.
It would be better to use furniture with a minimalist design and different sizes. Instead of using a lot of small furniture, it would be better to use just one piece of furniture with a medium-size and minimalist design.
Choosing The Dark Colors in A Small Room
For those of you who like a dark concept room, it is better not to apply it to a small room. Small rooms that tend to seem cramped and stuffy shouldn't be given a dark color. This is because making the dark color the base color of the room will make the small room look smaller.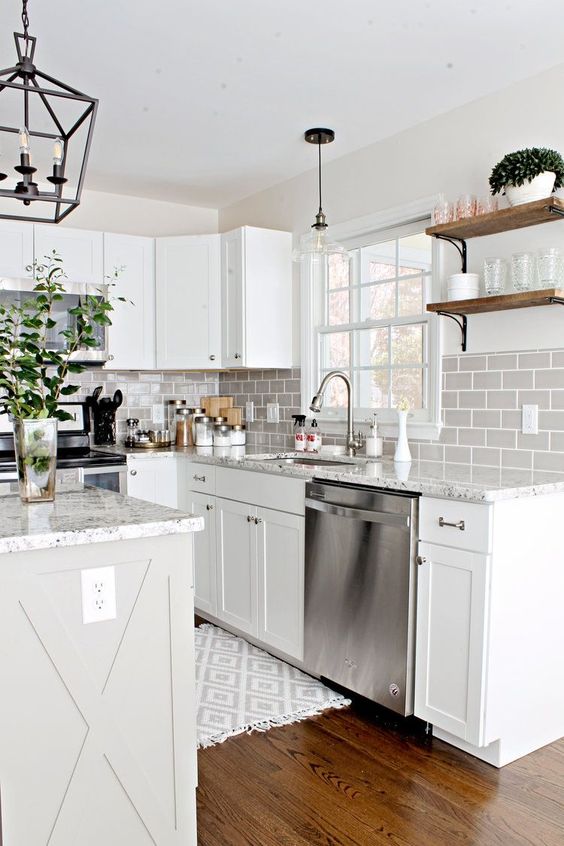 Small rooms really need a bright appearance. And white is an alternative color that can be used as the basic color of a narrow room.
The white color will give the illusion of spaciousness in a narrow room so that the room will be a comfortable place to relax.
Using Partition As A Room Divider in A Small Room
Some minimalist houses are made with the concept of open-plan rooms. The goal is to make the house feel less cramped.
And this is the decorating mistake that is often done by people, that is using the partition as a room divider. Maybe some people assume that using partitions is an interesting idea to separate rooms from one another. In fact, the use of partitions only makes a small room feel cramped.
Instead of using partitions as room dividers, how about giving the illusion of dividing each room in one-room?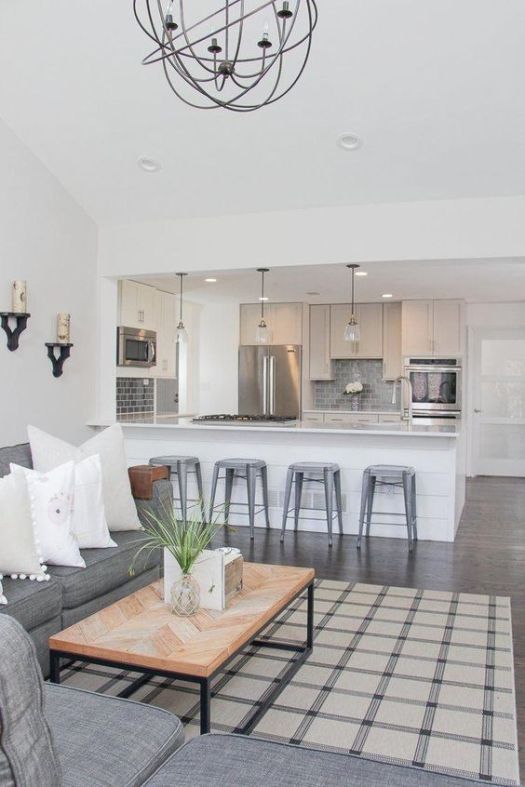 Rather than using partitions, using the carpet is much better. Use the carpet to create a single spot for the room. For example, a carpet to indicate that that's where the living room is.
Or, you can also use different flooring. Like the living room with white tile floors and a kitchen with wooden floors.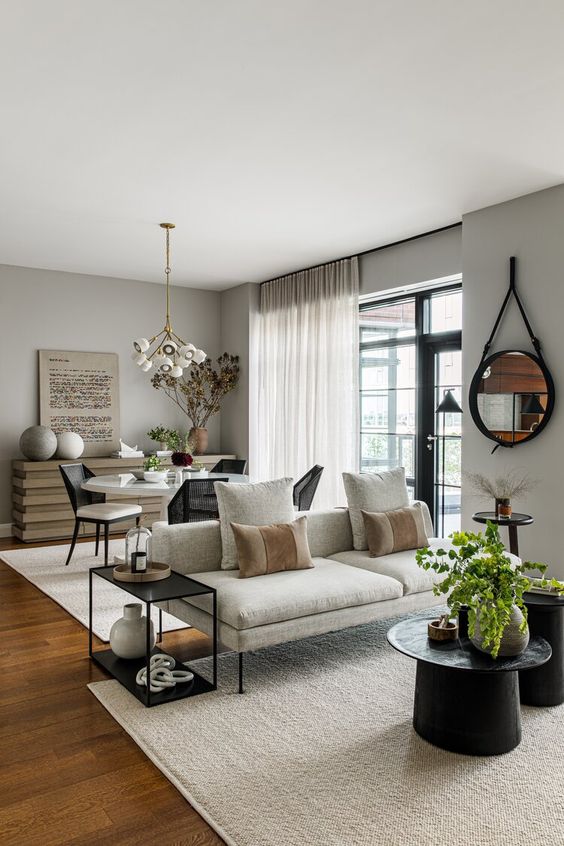 Not only that, but pendant lamps can also be used to give the illusion of a different room. As we know, nowadays there are many types of pendant lamps with various interesting shapes. You can use different pendant lamps in the living room, dining room, and also kitchen.
Skimping The Lighting of The Small Room
There are two types of lighting that can be used to illuminate a room: natural lighting and artificial lighting.
Some people may save a budget when decorating a room by choosing a small window and also using dim lights. This is certainly not very good for a small room.
Small rooms really need excess lighting to give the homeowner a sense of comfort. So, make sure you are not skimping on the lighting of the room.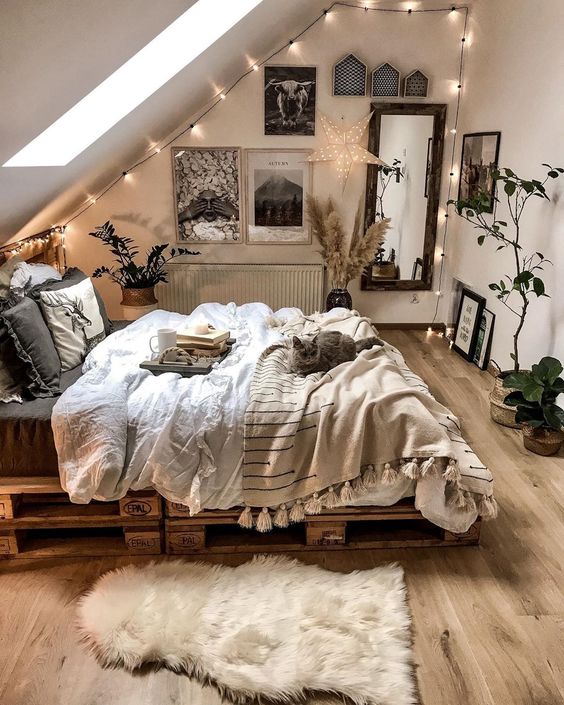 To save on the electricity budget in your home, you can take advantage of natural lighting by choosing a large window. To make the room look maximum bright, skylight windows are the right choice for use in a small room.
For wall windows, you can choose tall windows to give the illusion of height to the walls of your house. So that the small room will feel more spacious.
And for artificial lighting, use bright lights so that the room still feels comfortable at night.
Hanging Curtains Right Above The Window
The use of windows is indeed the best way to maximize natural lighting in the room. But unfortunately, the use of windows can also interfere with your privacy in the house. So, curtains are indispensable.
However, the use of curtains can block sunlight from entering the house so that the room does not get the maximum light. Therefore, try to use two curtains: net curtains and thick curtains.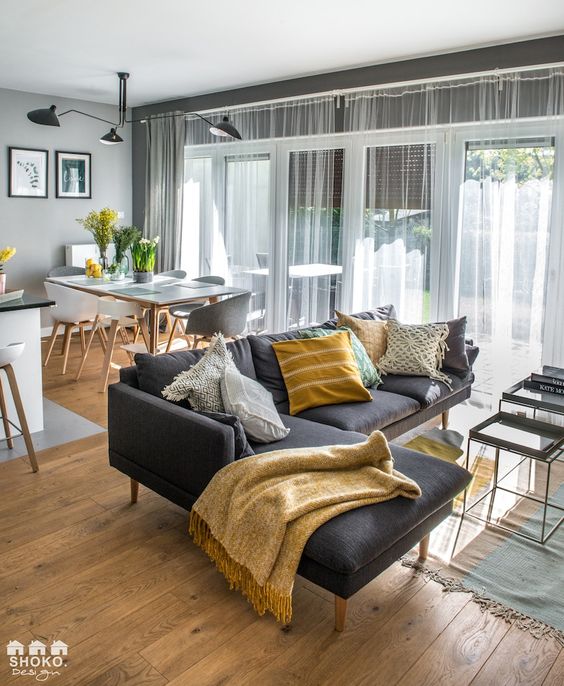 And the decorating mistakes in small room often occur here, that is hanging curtains right above the window. This method can make the walls of a small room look short. So, try to hang the curtains closer to the ceiling so that the walls look taller and create the illusion of space in a small room.
And to make a small room look comfortable and attractive, use curtains with soft colors and without motifs.
Decorate The Small Room by Using Tiles with Various Motif
One of the ways to make a small room feel spacious and comfortable is to make the room look as minimal as possible. Not using too many decorations sometimes makes people prefer to present motifs to the room, such as using tiles with various motifs. And this is a mistake that often done in decorating a small room.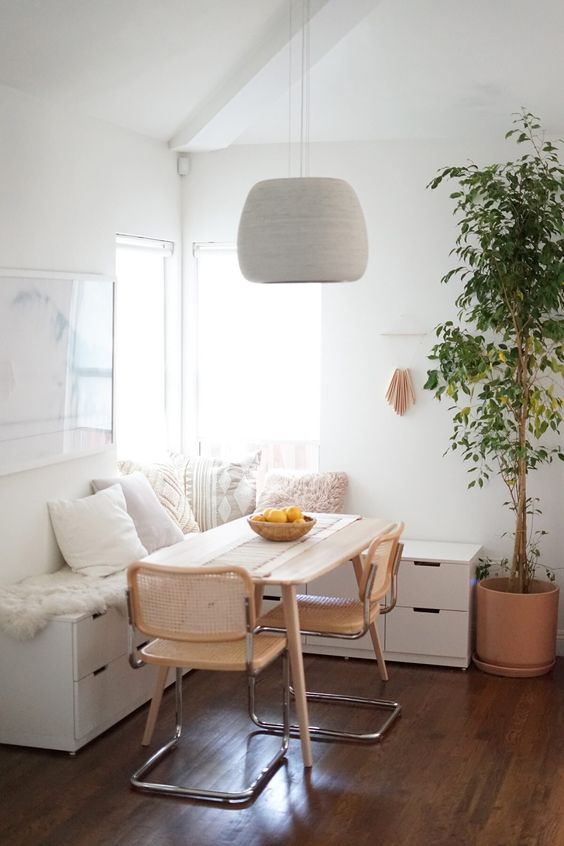 The use of various ceramic floor motifs makes a small room look crowded and messy. So, try to use white tiled floors.
If you want to give an attractive motif, wooden floors are highly recommended. Woodgrain can make a small room look warm and sweet.
Using Too Many Colors in A Small Room
The next decorating mistakes that is often done in a small room is using too many colors. Playing on color is indeed a powerful way so that the room doesn't look boring. However, because a small room must be made to look minimalist, try to reduce the use of color. One to three colors is enough to make this room look attractive.
The use of color is also one way to create the atmosphere you want. In bringing the warm atmosphere into the small room, earth tone colors are highly recommended.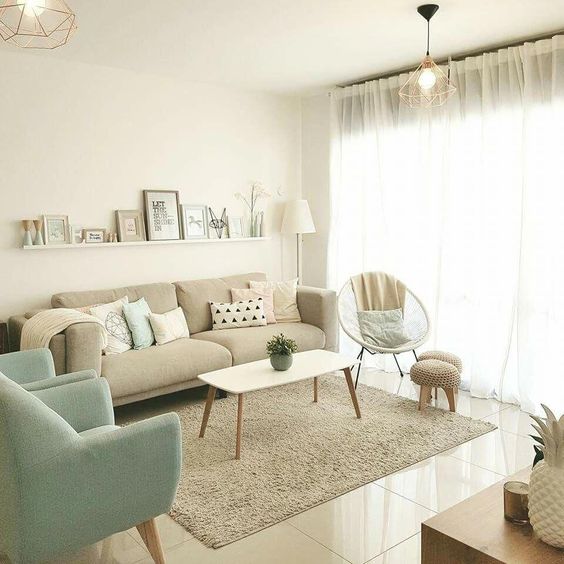 Here are the colors that can make a room feel warm and cozy:
White is a neutral color and is an effective color to make a small room look naturally bright. By making white the basic color of the room, you can decorate the room with other colors without worrying that the room will look quirky.
Decorating a room in beige is the main key to bringing a warm atmosphere into the room. The combination of white and beige will give a cute and minimalist look.
To give a more defined and mature appearance, gray can be chosen as a small room decoration. Try to choose a gray color on items made of fabric.
Conclusion
Care is needed in decorating a small room. Because mistakes in decorating a small room can make the room look unattractive and uncomfortable. And those are Decorating Mistakes That Are Often Done in Small Rooms. Let's create a small cozy room at home. Good luck all!