Olidhomes.com – Having a pet is the perfect solution to overcome loneliness in our life. In fact, pets become part of our family. Love and care for it wholeheartedly. Even, pet lovers decorate their homes properly. The goal is of course to make fur children feel comfortable at home.
For those of you who have pets, the comfort of the house is not only considered for humans. This is because animals can also feel uncomfortable at home. Therefore, it is very important to pay attention to home decor in detail.
And on the article entitled "This Is How Pet Lovers Decorate Their Homes", you will find out how to make your beloved pet feel the maximum comfort in the house. So, let's check it out!
Wall Climbing Walls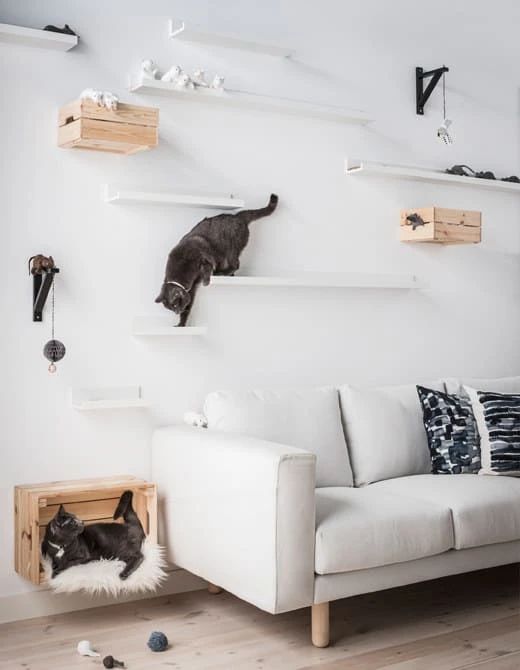 Keeping animals in the house means that you are ready to share their home with them. Here, you cannot be selfish only concerned with your comfort. You also have to pay attention to the comfort of your pet.
For those of you who raise cats, at least you provide a place to play for them. One of them is a place for them to climb.
If your room is small, you don't need to worry. Walls are a great spot for decoration. You can install floating wall shelves. Don't put any decorations on it. With this, your fur family will feel happy to be in the house.
Cat Tower in The Bedroom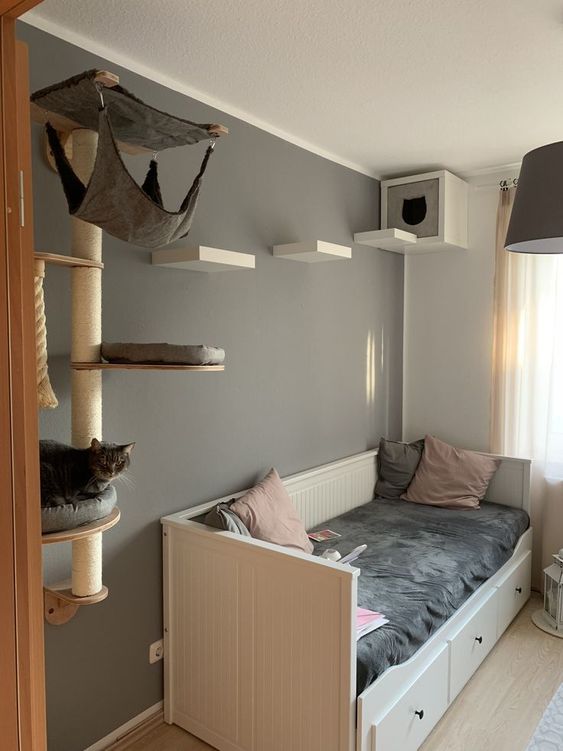 Sleeping with pets is really fun. If you are one of them, of course, you have to share the bedroom with them.
Usually, cats will prefer to sleep on wooden planks rather than sleeping on a mattress. Besides that, cats are also animals that need time to be alone. Therefore, cat lovers usually hang the cat house on the top of the wall.
So that cats can go to their house, the floating wall shelf is used as a place for them to stand. Here you can also be creative by providing cloth or other toys that will make your cat feel good.
Sticking A Cat Scratching Mat on Couch Table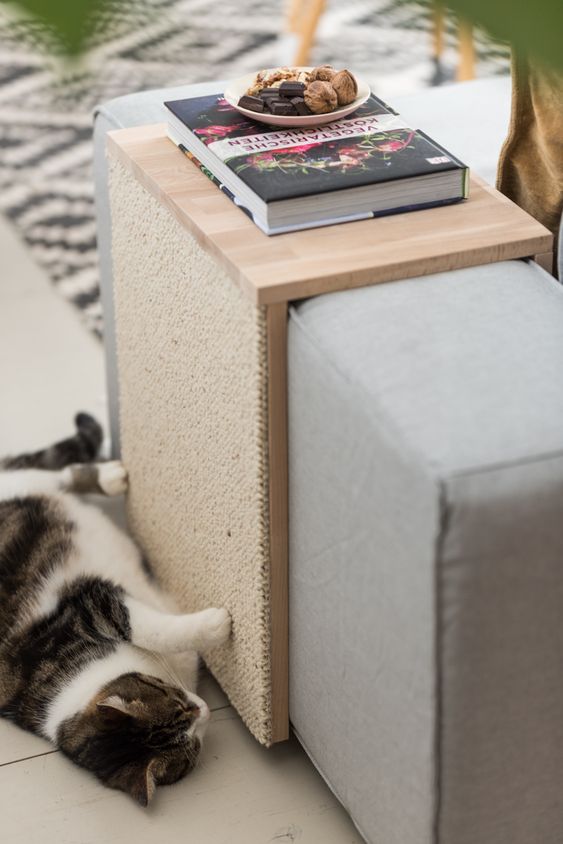 Scratching is a cat habit that we cannot avoid. Therefore, usually the sofa will be the spot and the first item that is damaged by them. This of course cannot be prohibited. Because this has become their instinct.
Usually, pet lovers decorate their homes by sticking a cat scratching mat on the couch table. With this, cats will know which spots they can scratch. This is very useful for making the sofa in the living room long-lived.
If you want to stick a scratching mat on your table, make sure that it fits the width and height of your table. Don't leave the sides slightly exposed if you don't want your table beret.
Wooden Rack Equipped with Burlap Rope on The Side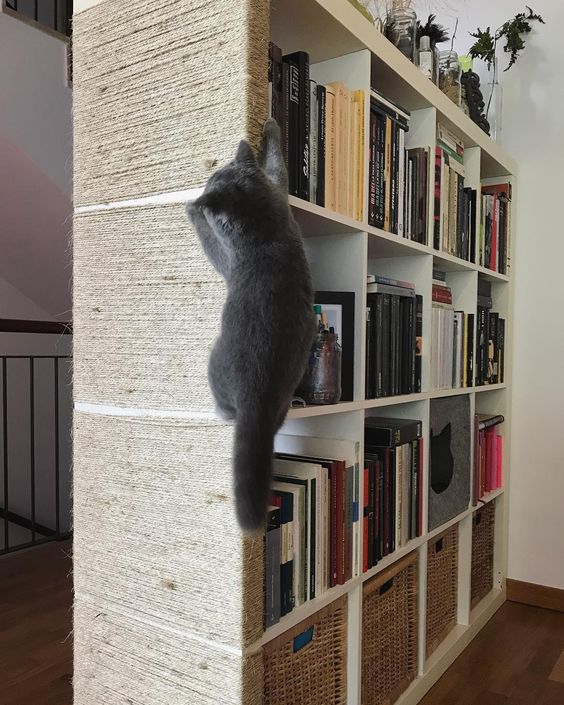 The cat hobby that likes climbing is indeed a headache. But sometimes there are some of their very adorable behavior. Makes us unable to get upset and angry.
Usually, pet lovers decorate their homes with burlap rope wrapped around some of the furniture at home, such as tables, wooden poles, and even racks.
As in the picture above, wooden racks are used to store several items and also as a room divider. And pet lovers also make it a place for their cats to play. With a rope wrapped around the side of the rack, cats can stretch and scratch as they please.
Cat Condo in The Corner of The Room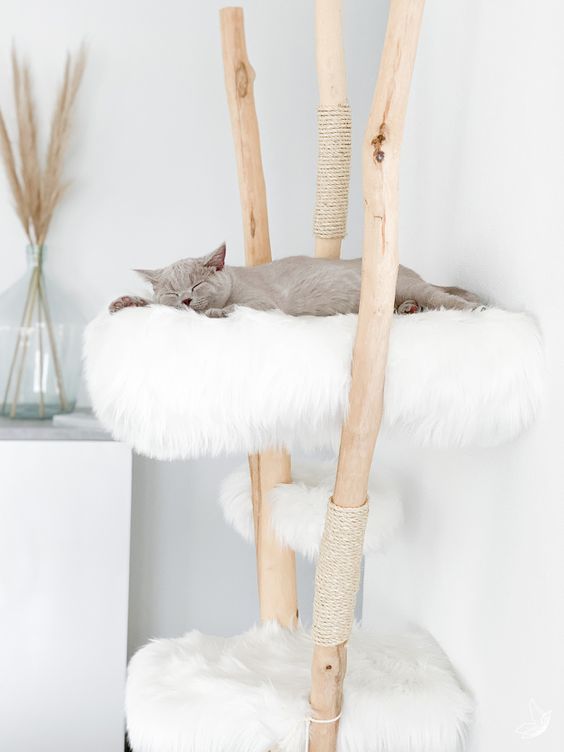 Pet lovers decorate their homes as comfortably as possible for their pets. And for cats, a pet condo is indispensable.
Pet condos are the best solution in providing a place for them to play and rest. Usually in condo paint, there is a burlap rope bandage and a comfortable little house for them to sleep in.
Currently, there are many condo paint designs that you can choose from. Here, you can also use condo paint as an interior decoration. So that the room is not only comfortable for your fur family but will also look more attractive.
Attractive Dog Food Plate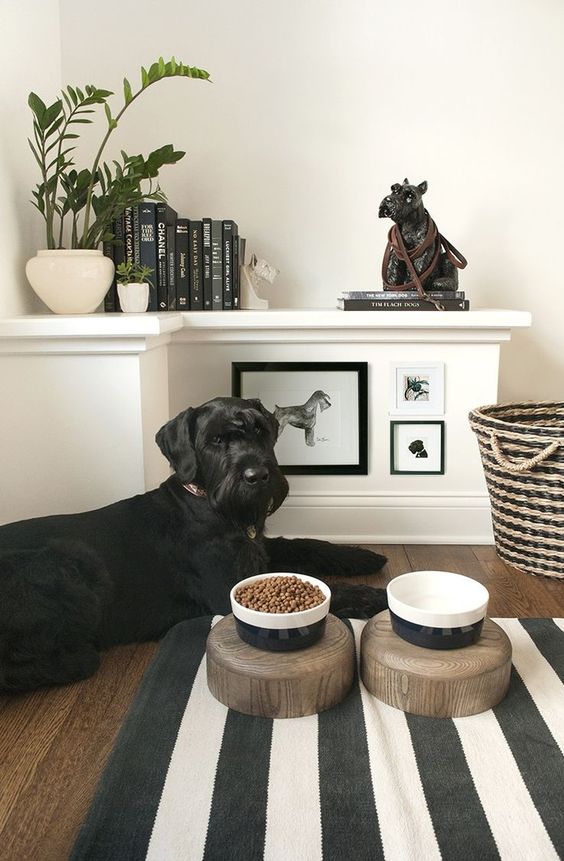 The item that must be used when raising animals is a food plate. Providing a food plate is essential so that your animals know where to eat and drink.
And at this point, we're going to turn to dogs.
In providing a dog food plate, you can choose an attractive appearance. Like colors that match the color and interior design of the room. So, besides being a place for them to eat and drink, these items can also be used to add value to the beauty of a room.
Create A Cozy Spot for Dog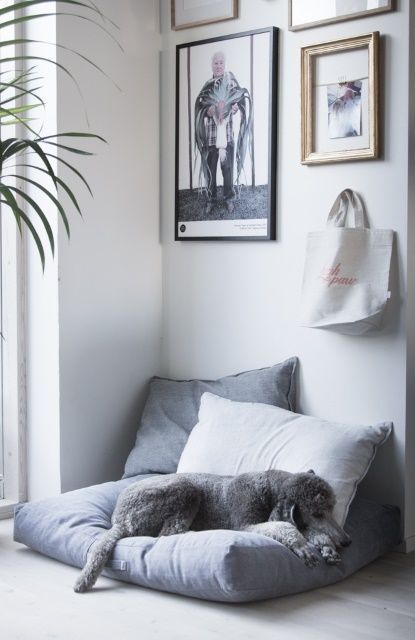 Pet lovers decorate their homes with care. Besides providing comfort for pets, they also emphasize the beauty of the home.
Creating a comfortable spot is not only for humans but also for dogs. As in the picture above. This beautiful dog looks so comfortable sleeping on a soft surface.
The corner of the room is deliberately made with a comfy chair mattress and several pillows that make it feel comfortable. By taking advantage of the corner of the room, you can move freely without worrying about disturbing your dog's rest.
Placing Bed Next to The Window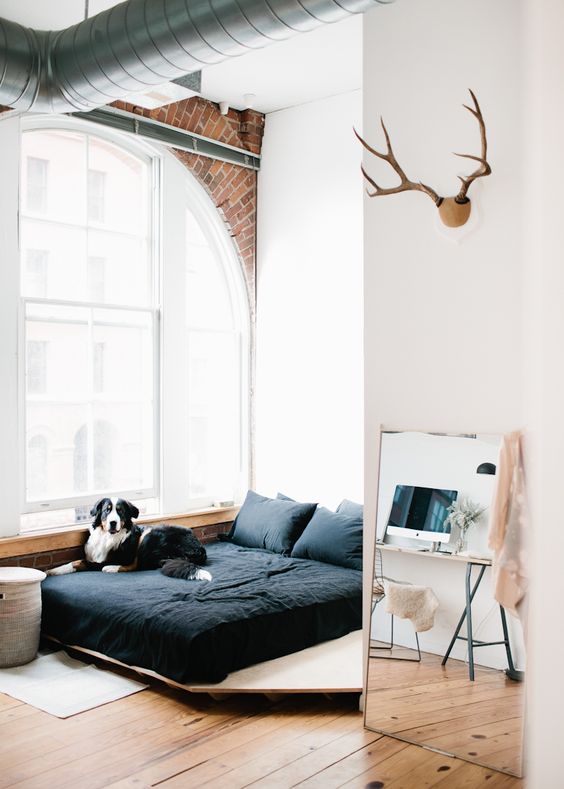 Dogs are just like humans. Sometimes they really like looking at the beautiful scenery from the bedroom. Therefore, placing the bed next to the window is part of How Pet Lovers Decorate Their Homes.
It would be nice to rest and gaze at the scenery with a pet. This is very helpful for relieving stress and fatigue at the same time. You can also invite your dog to chat. That way, your relationship with your fur family will get better.
Often being on the mattress sometimes makes their hairs stick to the sheets and blankets. So, to keep your bedroom clean, make sure you vacuum your bed regularly.
Utilize The Coffee Table as A Dog House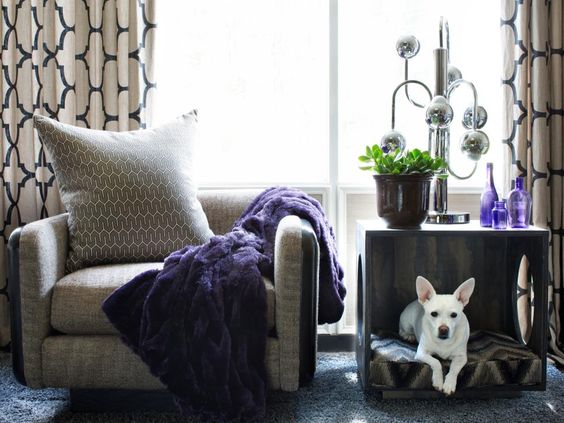 The next of Pet Lovers Decorate their homes is to utilize the coffee table as a dog house.
Dogs are animals that love to follow us wherever we go. And as the room that is used most often, it is very important to make the living room a comfortable room for them.
You can choose a table that has space in the middle. Put a soft mattress for them to sleep and rest. In this way, you can chat casually and comfortably with your loved ones without worrying about the comfort of your pet.
Provide Place for Them Bathing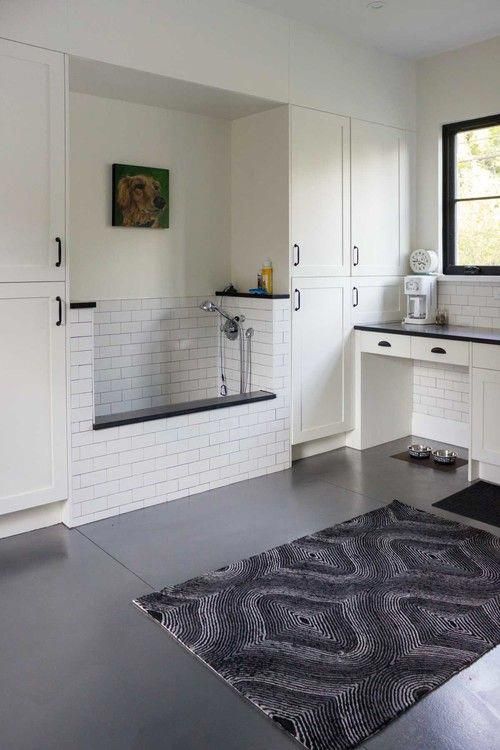 Indeed, there are many pet shops that provide grooming services. However, of course, this will cost more. Therefore, it would be great to bathe our own pets. On the other hand, we can also strengthen relationships with our pets.
So, the next of How Pet Lovers Decorate Their Homes is to provide a place for them bathing. You can create a separate room or combine it with your bathroom.
Making it is not that difficult. You just need to set a higher limit (maybe knee-high in adults) so that the pet does not escape easily when it is bathed.
Leaving A Little Space in Laundry Room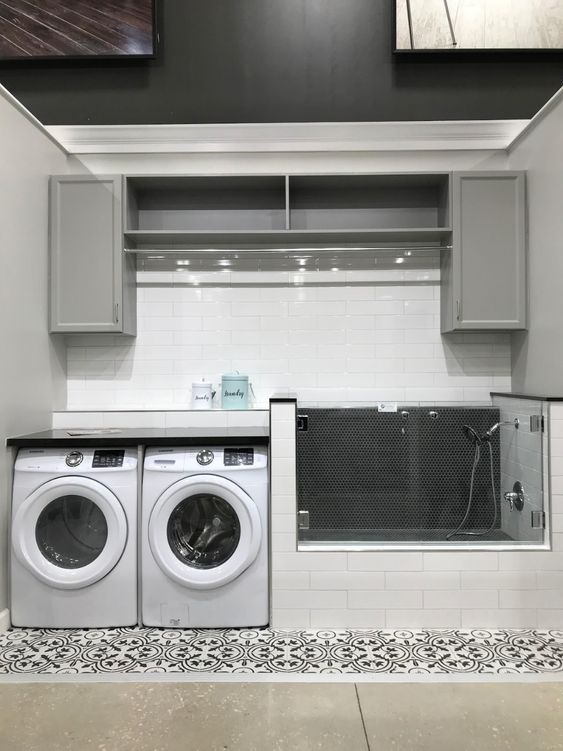 There are only one or two washing machines in the laundry room. So, there will be a lot of space left in the room. And usually, pet lovers will use this space as a bath for their pets.
Pet baths are usually raised higher so that you don't have to bend over when washing your pets. And so that the water does not wet the floor, glass is installed as a barrier. That way, the laundry room will still be clean and comfortable.
Animal Rest Spot in Laundry Room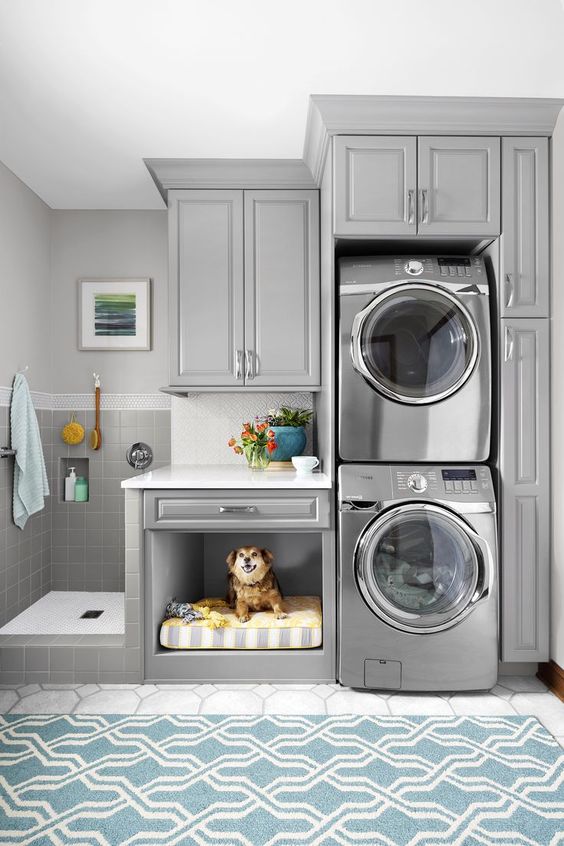 Besides making a bath for our pets, we can also create a place for our animals to relax. That way, the space in the laundry room will not be wasted.
As in the picture above. The table is made as a place to put soap or fold clothes. However, at the bottom, we can find something interesting, which is a very comfortable dog rest area.
Soft mattresses are used so your dog can rest and sleep. That way, you can do laundry while being accompanied by your pets.
Wooden Pet Gate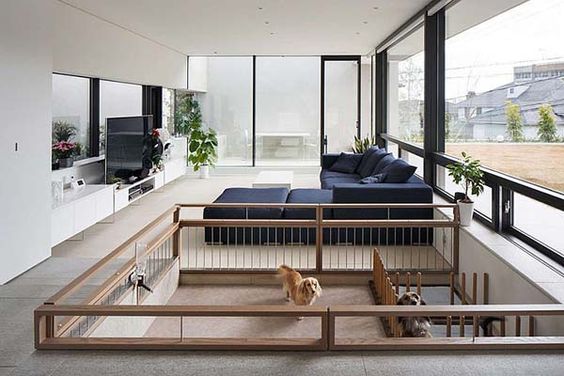 Sometimes there are some guests who don't like and are afraid of dogs. Of course, as homeowners, we must make our guests feel comfortable. So confining our dogs is the way to go.
So, the last of How Pet Lovers Decorate Their Homes is to use a pet gate. Indeed, using this one item can make the room seem cramped. However, if you install it in the right spot, the room will not feel cramped, it will actually look attractive.
Like in this one picture. Japandi living room is not that big. However, the pet gate is used in the corner of the room. The choice of wooden pet gate fits perfectly with a Japanese-style living room.
Conclusion
Knowing How Pet Lover Decorate Their Homes is very important for those of you who want to keep animals at home. Because, when you have decided to have a pet, you are ready to share your home with them. Here, you can't just put your comfort first. But you also have to make sure that your animals are comfortable and happy to be in the house.