olidhomes.com – Winter is coming! It is time to change your bedroom decor. Cold air in winter often enters through windows and doors, making the bedroom feel cold and uncomfortable. Therefore, you need the right decoration to keep the bedroom warm so you can still feel comfortable there. And, in this article, we have provided 10 Tips to Make Your Bedroom Warm in Winter that will help you. So, let's check it out!
1. String Light with Warm Lighting
The first of 10 Tips to Make Your Bedroom Warm in Winter is to use string lights. Lighting is one of the factors that affect the atmosphere and appearance. And, string lights are becoming a popular item for decorating a room to make it look attractive.
The string light can make one spot in the bedroom look stand out. And, you can make the bed area as the first spot in the bedroom. Therefore, install a string light adjacent to the bed.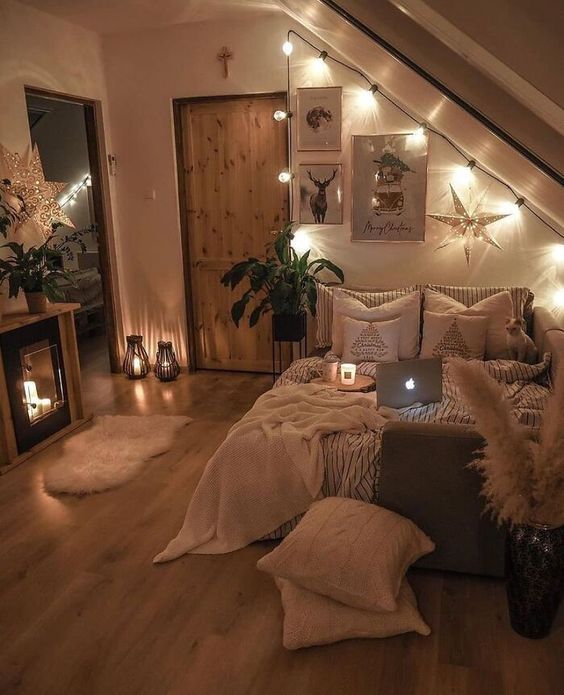 In addition to beauty, string light can also affect the comfort of the bedroom. You can choose string lights with warm lighting to bring warmth to the sleeping area. This would be perfect as a winter companion at night. The warm lighting also provides serenity which makes the bedroom feel more comfortable.
2. Doing Layered Bedding
Winter is the season with long holidays. So, you can take advantage of this long holiday by relaxing in your bedroom. You can hibernate to prepare yourself for the next season. So with this, the bed is an important area.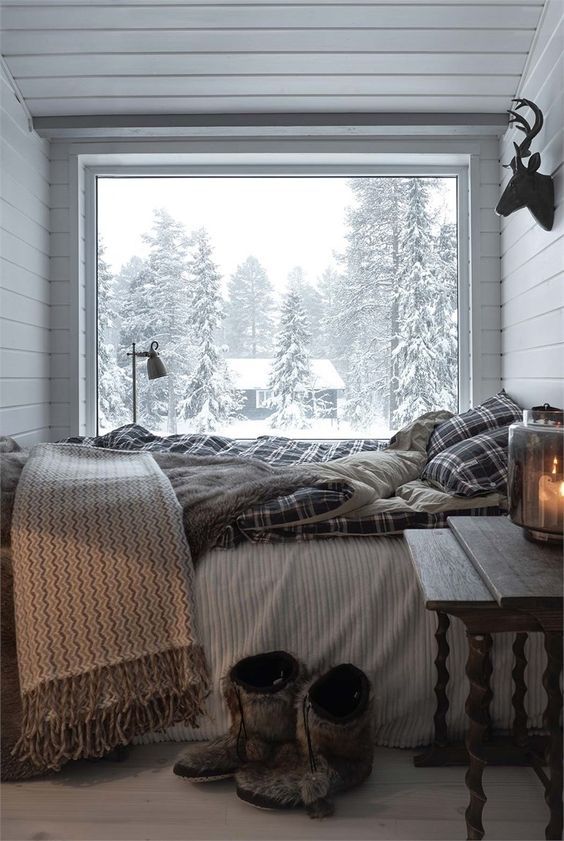 Indeed, in winter the bed becomes a sensitive area. This is where you will spend your rest time in winter. You need to make your bed as comfortable as possible in winter.
Actually, it is quite easy to make a bed feel comfortable in winter. You only need to make it warm with layered bedding. The outer layer the thicker. For the last layer, you can add thick blankets, bed covers, wool blankets, or sheepskin blankets.
3. Add Christmas Decorations to The Bedroom
The next of 10 Tips to Make Your Bedroom Warm in Winter is to add Christmas decorations into the bedroom. In winter there is a big Christmas day which has become a culture to celebrate. There will be lots of shops selling Christmas items such as wreaths, Christmas trees, Christmas balls, and so on.
Usually, Christmas decorations are applied to rooms for gathering such as living rooms, family rooms, or dining rooms. However, it does not matter if you want to apply it to your bedroom. Christmas decorations can bring warmth to the bedroom atmosphere so that the bedroom will feel comfortable in winter.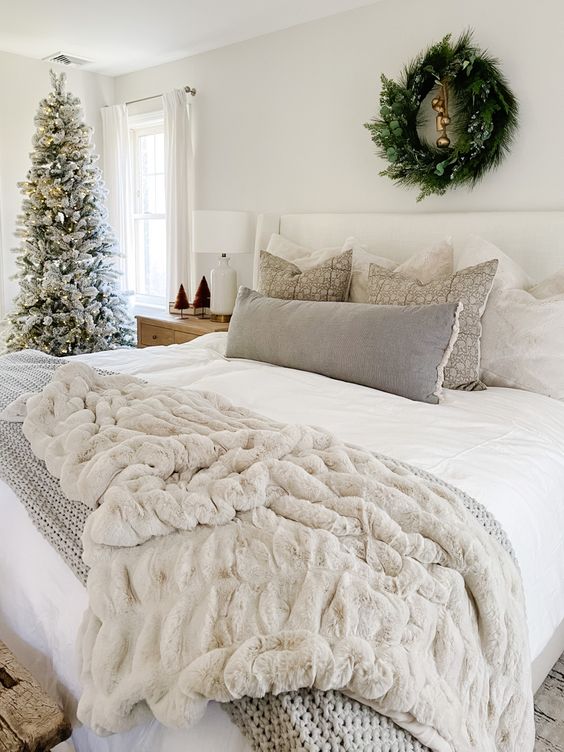 You can make a Christmas tree as decoration for the corner of the room. Choose the one adjacent to the window so that natural light will directly hit the Christmas tree and make it look attractive. Decorate the Christmas tree with cotton wool that looks like snow and Christmas balls.
For the bed area, you can decorate the wall near the bed with wreaths. You can also add string lights there to make it look more attractive at night. Choose string light with warm lighting to make warmth present in the bedroom well.
4. Table Lamps for Bedside Table
The bedside table is not only a place for you to put your things easily. However, you can also make a bedside table an area that can bring an interesting impression and of course warmth to your bedroom in winter. That way, the bedroom will feel cozy.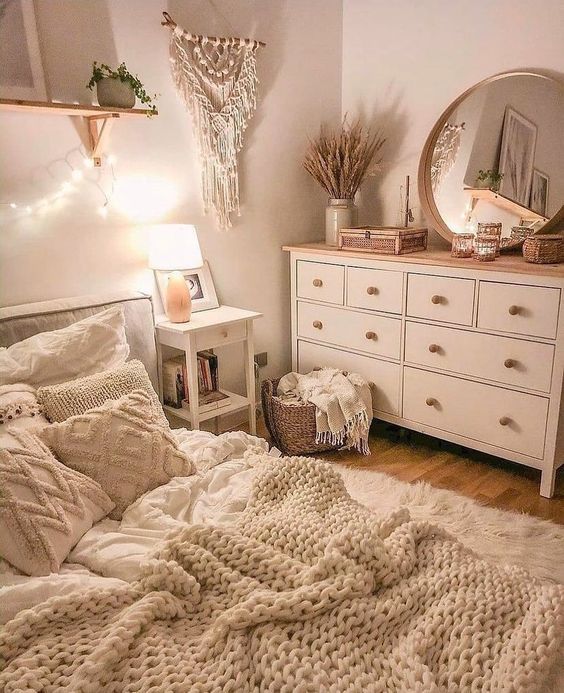 On the side table, you can put small table lamps. Choose bright yellow lighting. This lighting will bring warmth to the bedroom.
Make table lamps lighting the main lighting of the room. Therefore, choose a lamp that has a bright light so that using just one lamp is enough to make the bedroom bright and warm at night.
5. Scattered Candles in The Bedroom
Not only light, but you can also illuminate your bedroom with candle lighting. Candlelight is the most powerful way to bring warmth into the bedroom. It is just quite troublesome. However, the results obtained will be far more optimal.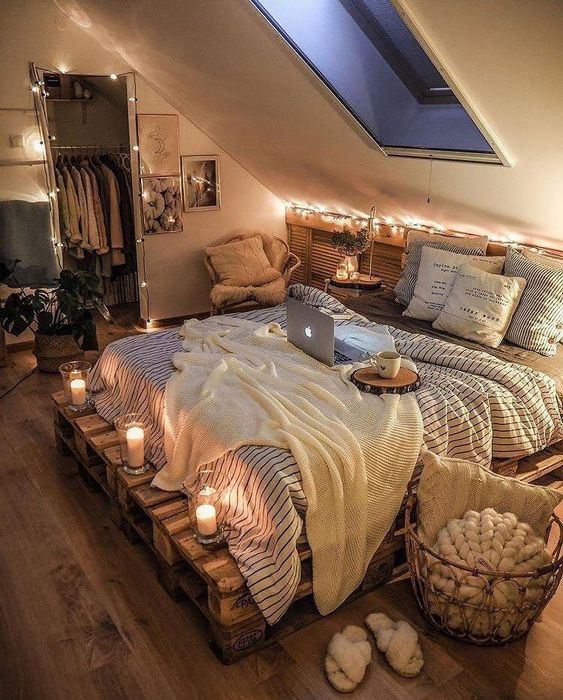 We recommend you use some aromatherapy candles to light up your bedroom. Besides the light that warms the atmosphere of the bedroom, the fragrance given by aromatherapy candles can give you peace and make you feel more relaxed. With this, the bedroom not only looks attractive but also feels very comfortable in winter.
6. Place Wool Blanket on The Bed
Fabric made from wool is very effective to keep you warm when the cold season arrives. This fabric comes from animal hair. Usually derived from sheep wool but some wool also comes from camels, alpacas, and certain types of goats.
In making the bedroom feel warm in winter, blankets made of wool are very important. You need to buy one or two wool blankets and place them on the last layer of your bed.
You can make it a blanket for you to sleep on or make it a robe for drinking hot cocoa by the bedroom fireplace. This will relax you more and also make you feel nice and warm in winter.
7. Using a Rug or Carpet Under The Bed
Not only the bed, but the floor is also a sensitive area in the bedroom. Even though the floor is made of wood, in winter it can feel cold. Therefore, to make the bedroom comfortable in winter, you also have to make sure that the floor is warm enough for you to step on and walk on.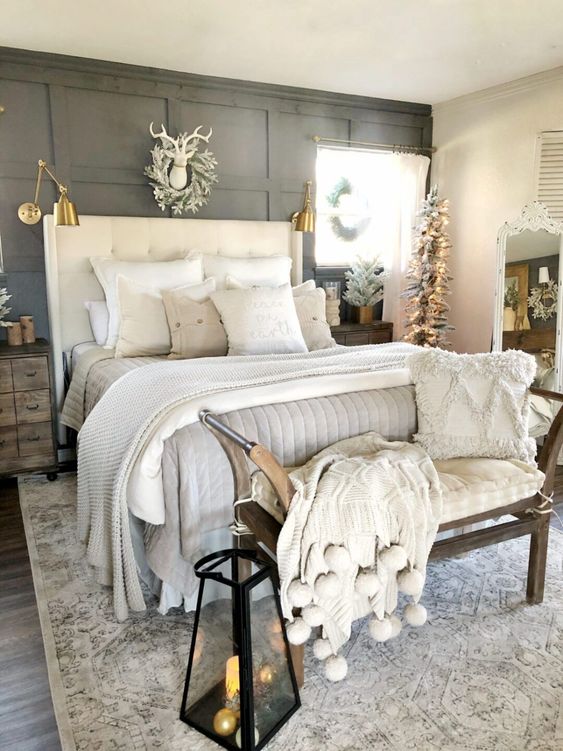 To make the floor feel warm, you can use carpet. Lay down a carpet right in the bed area because this is the main area where you relax or do activities.
Use a carpet of the right size (not too small and not too big). Besides warming up the room, the use of carpet can also make a small bedroom feel wider. That way, a small bedroom will feel more comfortable.
8. Use Sheepskin Rug
The next of 10 Tips to Make Your Bedroom Warm in Winter is to use a sheepskin rug. This one rug has a soft and thick texture. So using a sheepskin rug will make you feel warmer.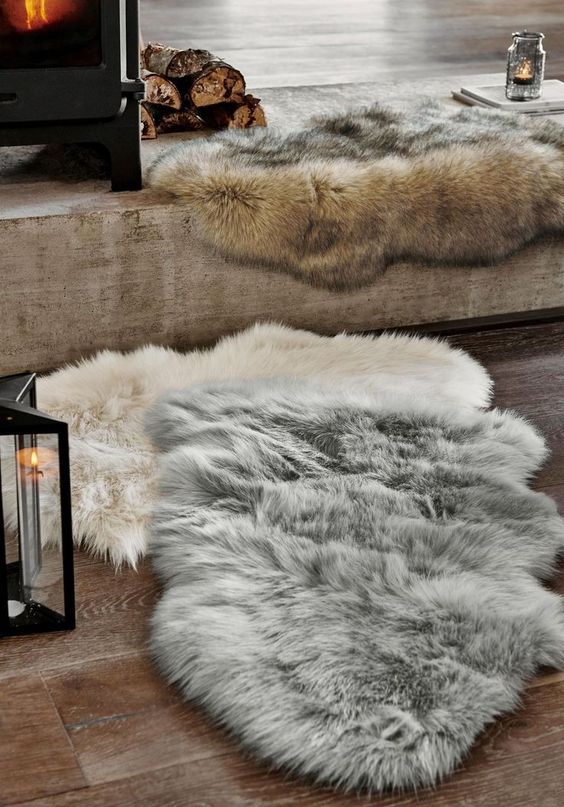 Due to the small size, you can put it on the bed to make you feel warm there. Or, you can put it on the carpet as an area to relax. You just need to put it in the corner of the room and put a throw pillow there and take a book. And done! The sheepskin rug becomes a cozy reading nook in the bedroom during winter.
9. Add a Heater Near Your Bed
The fireplace is a mandatory item that must be used in winter. With a fireplace, the warmth of the room will be well maintained. However, in the bedroom, there is rarely a fireplace.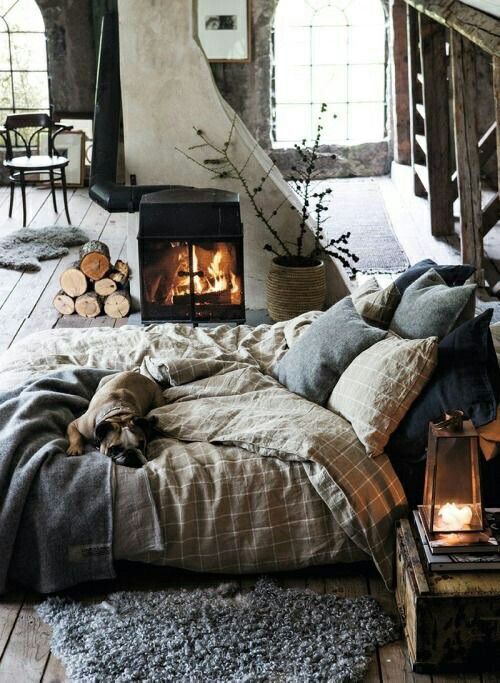 It does not matter if the bedroom does not have a fireplace. This is because you can use a heater. You can place this item near the bed. However, do not get too close because it will be very hot.
There are two types of heaters that you can use:
Traditional Heater,
Electric Heater
We recommend that you use an electric heater because it is more practical. However, if you want to save your energy bills more, you can choose a traditional heater. This heater does not use electricity but wood as a fuel source.
10. Use Warm Colors for Your Bedroom
When winter arrives, it is a sign you need to revamp your bedroom. You need to redecorate your private room. Starting from replacing furniture with wooden furniture or replacing wall paint with warmer colors.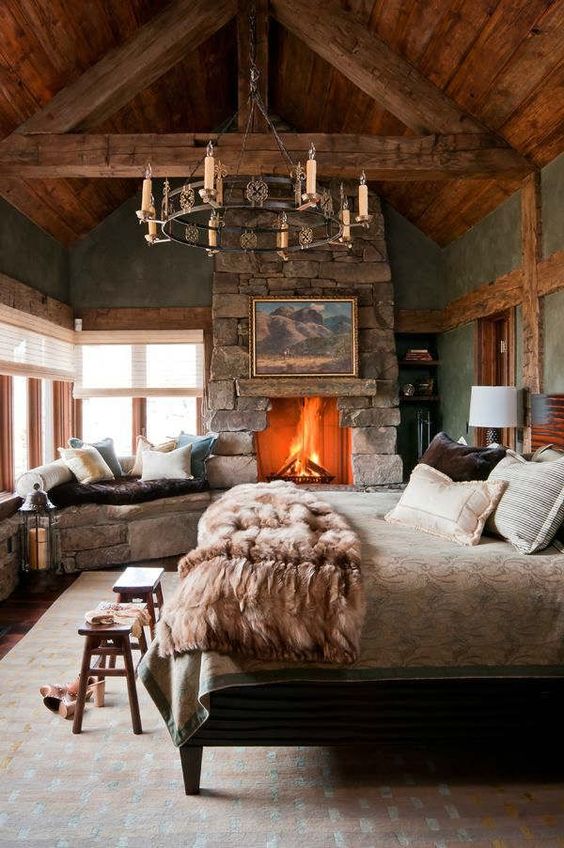 Color selection not only affects the beauty of the room but also comfort. You can choose earth tones to bring a warm natural nuance into the room. For example, choose brown as the main color and beige as the decoration. However, if you want to keep the room bright, you can still use white as a room decoration.
Final Words
Winter is a good time to rest in the bedroom and hibernate. Therefore, the warmth of the bedroom is a point that must be focused on. It is important to keep the bedroom warm in winter. That way, the bedroom will still feel comfortable. And, the points above are 10 Tips to Make Your Bedroom Warm in Winter. So, happy trying, and good luck everyone!