Olidhomes.com – The garden is one of the places in the house where its existence is very important. The garden is not only a place to give a fresh green impression to your home. But more than that. Feeling the fresh air makes this place the most comfortable place for gathering with family and friends. Besides the fresh air, sometimes the calm lighting of the outdoor lamp types also evokes a romantic atmosphere in the garden.
The view from the garden may often go unnoticed. In fact, the beauty of the garden will give more value to your home. Besides that, a beautiful garden will also be a perfect place to relax and calm down.
In decorating the garden, care is needed. You have to pay attention to the size, layout, decoration, accessories, and lights. So, decorating a garden is not just about growing crops and giving away a plot of land.
For those of you who want to have an interesting and more dramatic outdoor, try playing on lighting. There are some lamps that can be chosen. To make it easier for you to choose which lights are suitable for your outdoor, here we have provided Outdoor Lighting Types and Benefits of Using It. So, let's check it out!
1. Path Lighting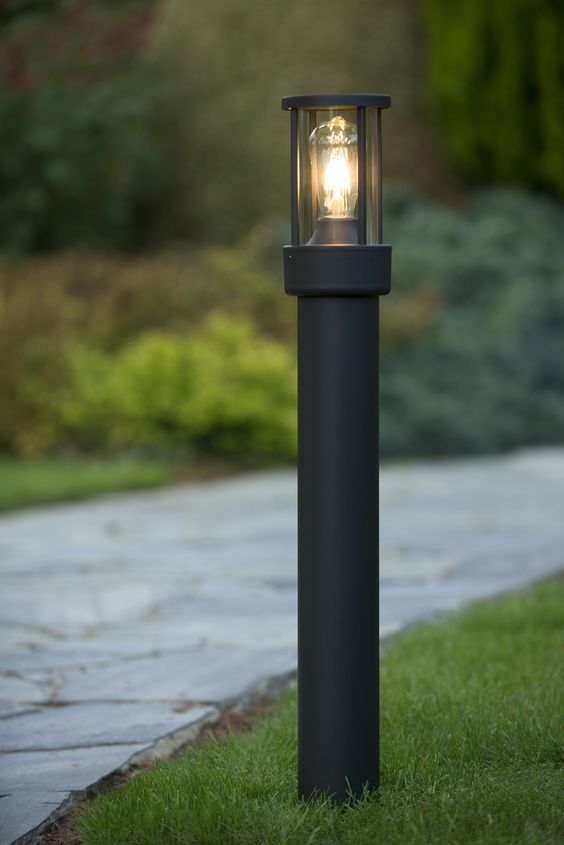 For those of you who want to have a garden with an elegant and modern look, try using path lighting as a garden lighting source at night. The design of path lighting is very minimalist and simple, so it will look beautiful and fit into a modern garden concept.
Path lighting is usually used at the edge of the road area in the park. This is one of the outdoor lamp types that is used to illuminate the streets in the park. That way, you can walk without worrying about tripping or falling.
There are two models you can choose from to decorate your outdoor:
1. Bollard Lighting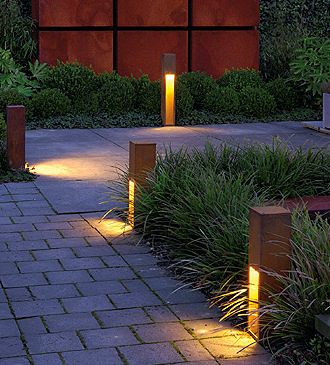 This model lamp is usually used in a fairly large garden. Bollard lighting has an excellent ability to light a path in a garden at night.
2. Spike Lighting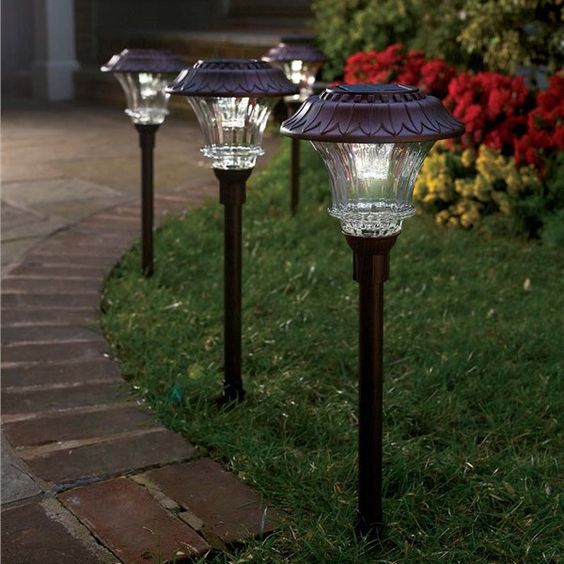 Spike lighting is a garden lamp that is often used more for decoration functions. Its attractive appearance can make the garden look more beautiful and aesthetic. When viewed from the lighting, spike lighting is fainter than bollard lighting. However, using this lamp can help you save bill electricity. Because most of the spike lighting uses batteries or solar power.
2. Down Lighting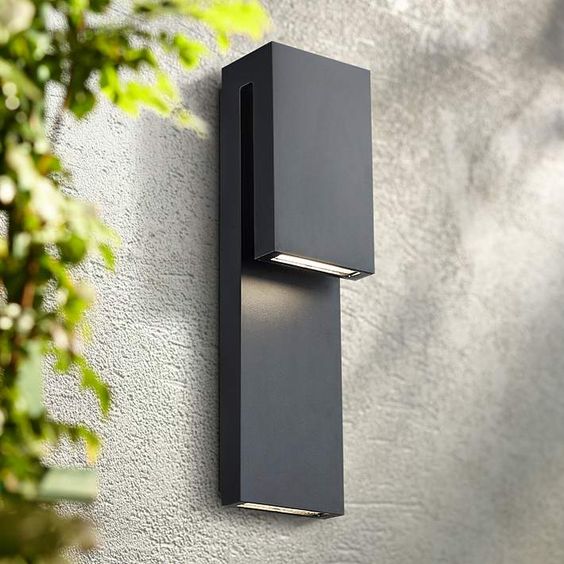 As the name suggests, the lighting from this lamp is directed towards the bottom of the garden. Usually used to show interesting things in the garden, such as green grass, flowers, or garden accessories.
Using down lighting is great for small gardens. The wall is the spot used to hang the lamp. So, using down lighting will not take up space which can make a small garden feel cramped. That way, the garden will look bright and still feel comfortable.
In hanging down lighting, you can adjust it to the size of your garden. The higher the lamp is hung, the bigger the circle of light will be.
This lamp can also be hung on a tree. Slightly tilting the light will make it look like a gorgeous moonlight. With this, the garden will become a beautiful place at night.
3. Spot Lighting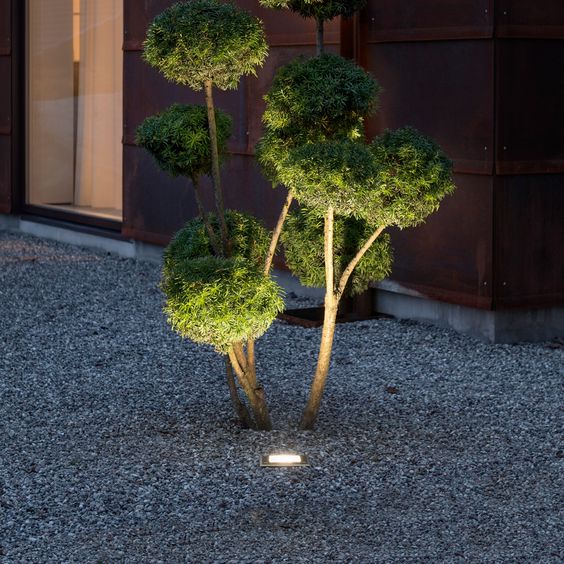 Spot lighting is best one of outdoor lighting types that can be used to focus on a single spot in the garden. The light range of this lamp is very narrow. So, spot lighting can be used as additional light.
What's interesting about this lamp is that it is planted in the ground. It is as if the ground was emitting light from within. It is one of the outdoor lamp types that really interesting to use to make the garden look more aesthetic.
The advantage of this lamp is that it has lighting with a variety of colors. With this, the garden at night will look beautiful.
Spot lighting has two variations that you can choose from and match your garden:
1. Well Light
Well light, a lamp planted on the ground. Only leaving the lamp surface to illuminate one spot in the garden.
2. Pond Light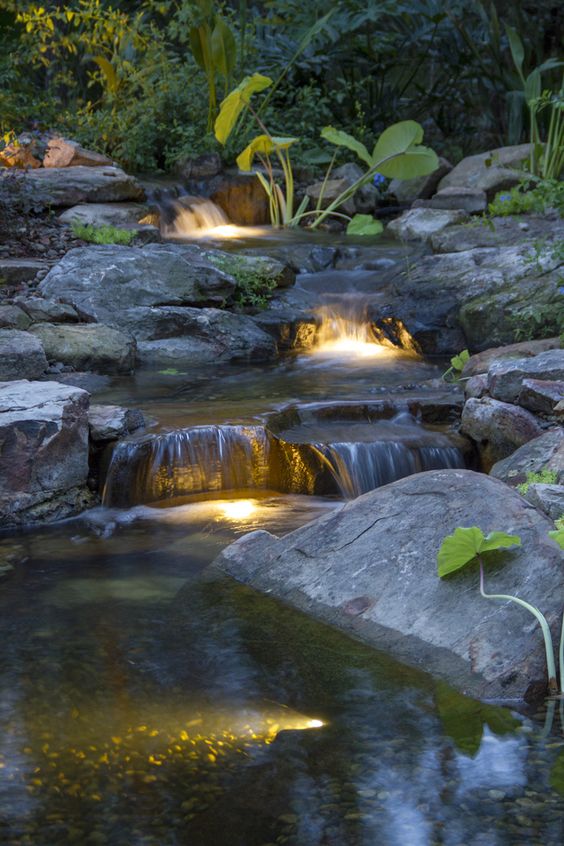 Just as the name suggests, this lamp is used in water or ponds. Its function is of course to make the pool visible in the dark of the night. For those of you who have a fountain or swimming in the garden, you can also use it to make it look beautiful at night.
4. Flood Light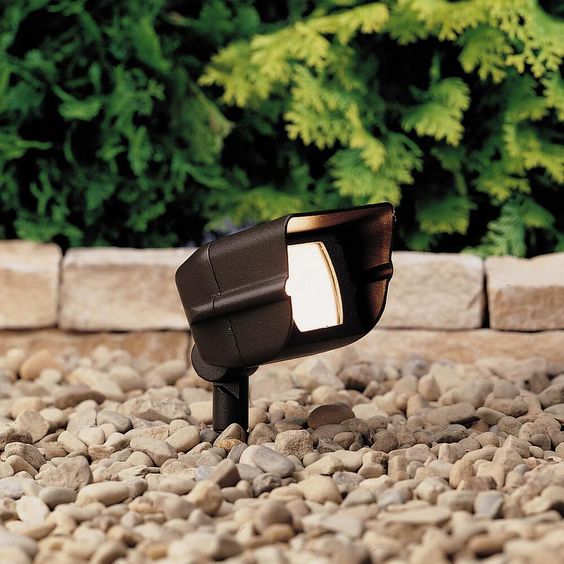 Flood light is one of outdoor lamp types that has a high light intensity. So, compared to spot lights, they are much better at lighting up the room.
Unlike spot light, flood light is usually used to show the architectural impression at outdoor. Usually, this lamp is used to show statues or other accents in the garden. You can also direct the flood light towards the walls of the house to reveal the beautiful carvings on the walls.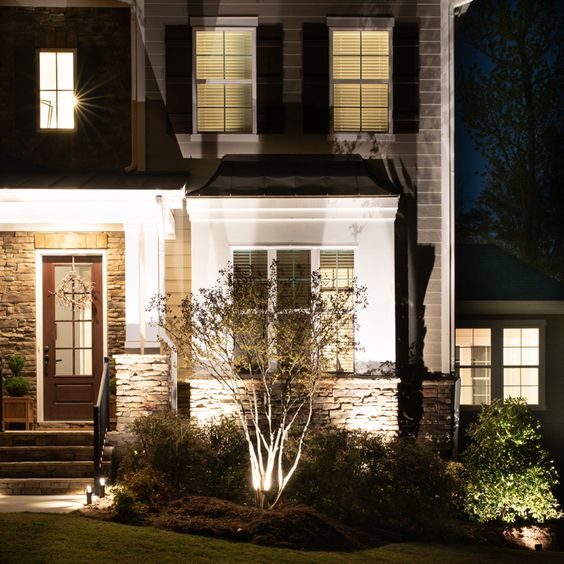 Not only that, but you can also use a flood light to show the colorful flowers in the garden. With this, the flowers which are bathed in light can give the garden a beautiful look as it should be.
5. Shadow Lighting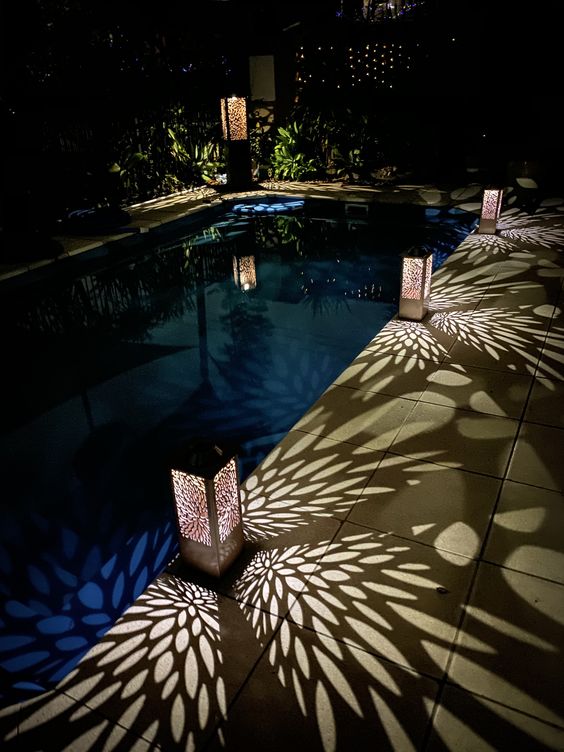 Just like the name suggests, these lights provide a shadow that makes the garden look very beautiful at night. This light is great for highlighting the existing spots in the garden.
This lamp can work well when installed on the side of a pool or a wall. The beautiful shadows generated from the shadow lighting make the water in the swimming pool look so beautiful. And placing it near the wall is an interesting idea in making the walls in the garden look attractive and attract the eye.
6. Deck and Step Lights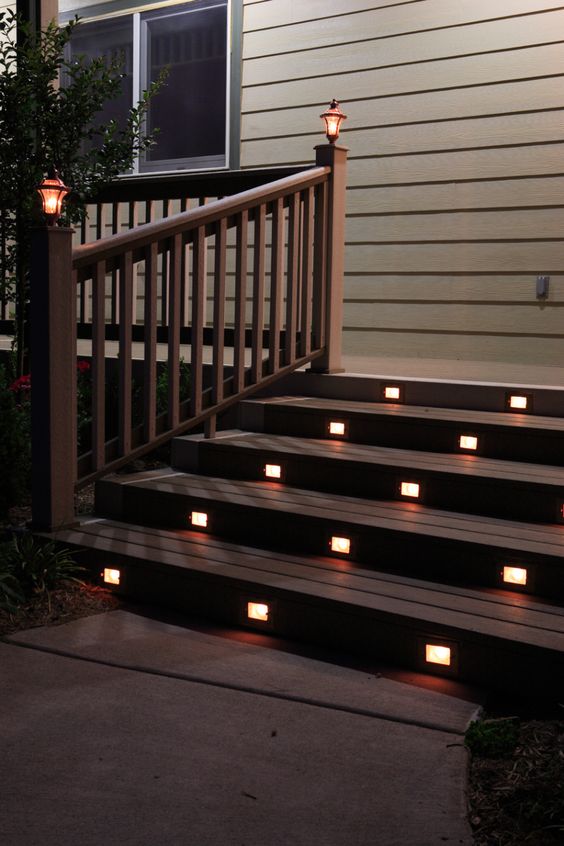 Have you ever felt afraid of falling while walking on dark stairs? If so, it would be better to use deck and step lights on each step.
Deck and step lights is the best one of outdoor lamp types that can work perfectly in lighting the way. Besides that, the lighting from the deck step lights also gives an attractive impression to the garden in your house.
Almost the same as spot lighting, it's just that this type of lamp is planted on a wooden staircase to make it look bright and beautiful at night.
The use of this lamp can actually not only be used on outdoor stairs. You can also use it to give an attractive impression and also give more lighting to the stairs in the house.
In installing this lamp on the steps, make sure you install it correctly. Do not let the light get out of the stairs. Because it can be dazzling and make people unable to see clearly. The effect is of course very dangerous.
7. In Ground Lights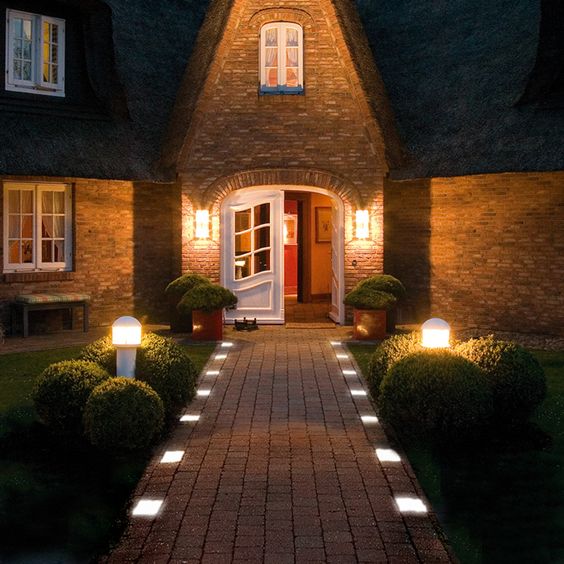 At first glance, it might look like a spot light because this lamp is also planted in the plant and leaves only a flat surface. However, in terms of lighting, in ground light does not have intense light. Instead of lighting up the garden, these lights are only used to set boundaries on the path in the park.
The use of this lamp is only to give an aesthetic impression to the garden. Usually installed on paving or decking. You can use the IP68 type ground light to illuminate the swimming pool. This lamp can survive even when exposed to water.
There are many variations of in ground lights. Not all of them can withstand water. So, make sure you know clearly when buying to be aware of a short circuit in electricity.
8. String Lighting and Lantern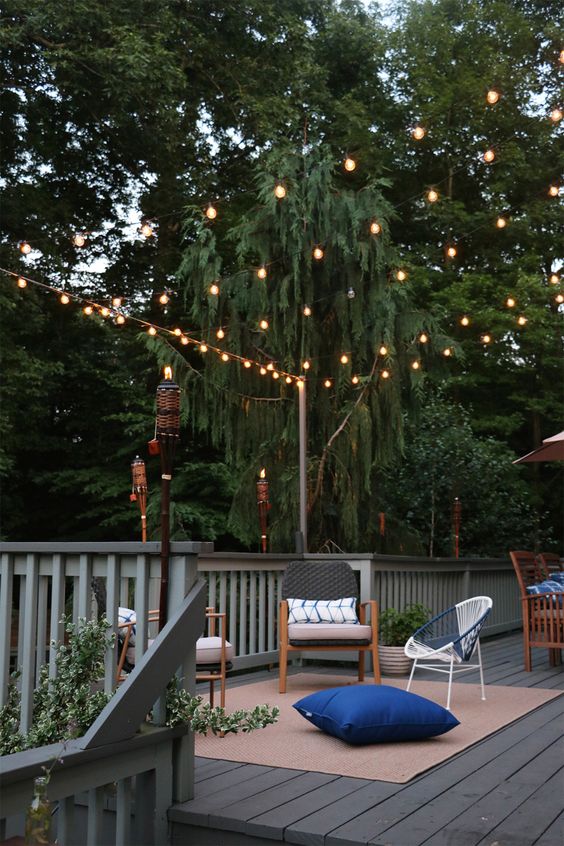 This one lamp is already familiar. The string light is an additional light that can be used as decoration and also additional lighting for outdoor and indoor. The use of these lights can indeed make a place look drastically changed.
The advantage of this lamp is that it has a variety of colors. It is suitable to be used as garden decoration for certain parties or events. However, if you want a warm, calm, and comfortable atmosphere, string light with warm lighting is highly recommended.
Lantern lighting is similar to string lights (used by hanging), except that each lamp has a beautiful lantern, which can give the garden an aesthetic and unique impression.
9. LED Candle Light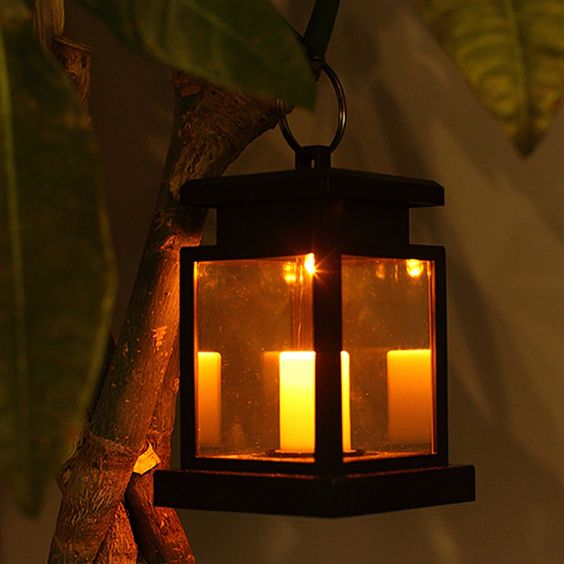 Candlelight is indeed the best of outdoor lamp types in creating a romantic and intense atmosphere. Apart from that, candlelight can also do a great job of creating a warm and calm tone. But unfortunately, candle lighting does not last long. Besides that, using candles as lighting is also dangerous because it can cause fires.
So, for those of you who want to bring candle lighting to the garden but of course one that can last a long time and is also safer, LED candle light is the most appropriate type of lamp to choose. This lamp will also not be affected by the wind. It's easier to use, right?
To beautify the LED candle light, you can put it in an attractive container or lantern. And then hang it on a pole in the garden. This lamp is great for beautifying the garden at home. However, if you are using this lamp, do not expect this lamp to provide good lighting for the garden in your house. Because the use of this lamp is more for decoration.
10. Pier Mount Light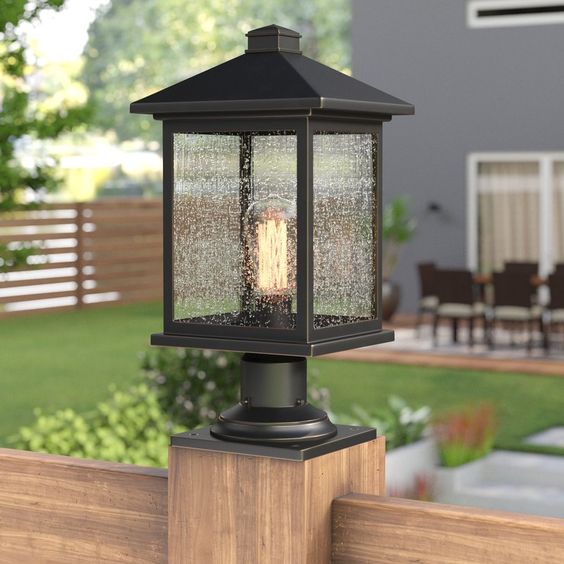 This type of lamp is usually installed at the entrance or pillar in the house. The lighting from the pier mount light is not too bright. This lamp is used to add aesthetic value to the garden at home.
The advantage of a pier mount light is that it has a variety of designs, starting from minimalist and modern to even classic. This is certainly very easy for you to decorate the garden. Make sure you have a pier mount light with a design that suits your garden.