olidhomes.com – Industrial designs may be more popular for cafes and restaurants. However, this one design is also interesting to apply to the interior of the house. Industrial interior design will provide a cooler, firm, and masculine atmosphere. It is suitable for those of you who prefer a home interior with a more mature appearance.
Black, brown, and brick red are the main colors of industrial style. These colors also make a room with an industrial design look dark. Not only that, the iron elements that characterize this style also often make the room look stiff. So, many people find it difficult to decorate an industrial-style room.
And this article is deliberately made to help those of you who have difficulty in decorating an industrial-style room. So, here are Effective Tips to Get Rid of Stiff Look in Industrial Interior Design you can follow. So, let's check it out!
1. Maximizing Natural Lighting
Industrial design originally came from the European community who used abandoned factories to become comfortable places to live. So, do not be surprised if an industrial-style house will have a window with a large size, just like in a factory.
Large windows actually have an important function for this design. Incoming natural lighting can help to remove the stiff impression of an industrial style. The dark colors in this design will look more alive when exposed to sunlight.
So, make sure you do not decorate the windows in your industrial home. Maximize natural lighting to make the interior look attractive and feel comfortable.
2. Presenting Attractive Other Colors to The Interior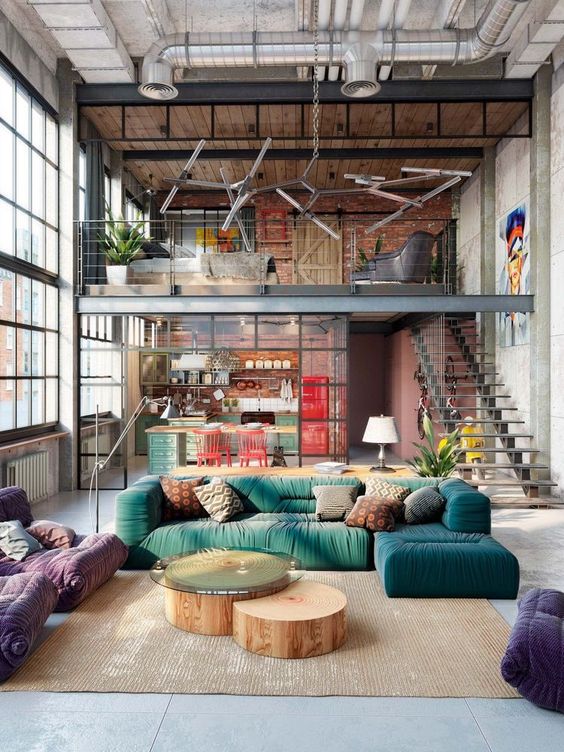 The main colors used by industrial design are black, brown, gray, and white. So, most likely the interior will look stiff and boring. Therefore, to remove the stiff look in industrial style, you can present other attractive colors.
As in the picture above, where the green and purple colors give a different impression for an industrial-style apartment. Plus the natural lighting from the large windows makes these colors look even more stunning.
3. Hang The Beautiful Wall Art on The Wall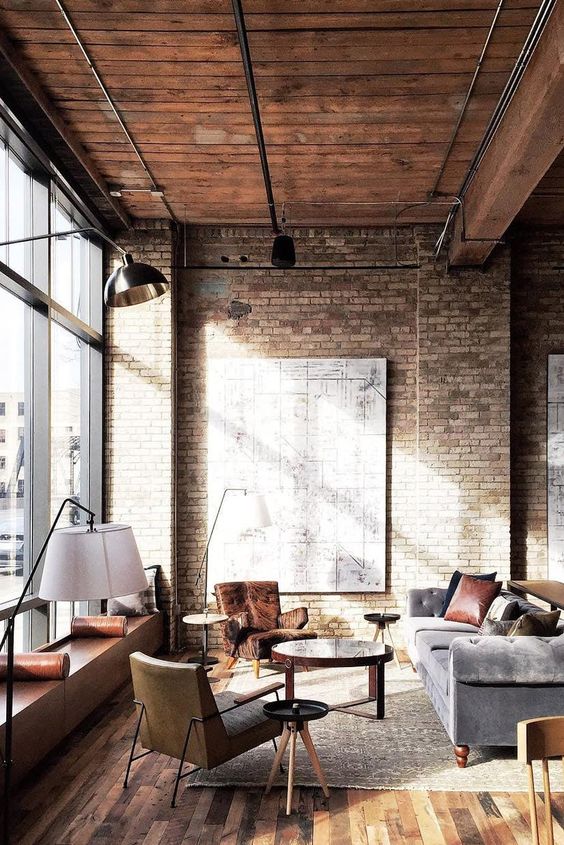 The whole house certainly needs decoration. There are many kinds of decorations that you can choose from, such as statues, beautiful wall art decorations, and so on. And for those of you who want to get rid of the stiff look in industrial style, using decorations is the easiest way to do it.
In industrial interior design, the exposed brick wall has become a hallmark. The color and texture of the walls are actually enough to make the room look attractive. However, if you want to get rid of the stiff impression in the room, you should hang beautiful large wall art on the wall. Besides eliminating the stiff impression, this can also make industrial interiors look more aesthetic.
4. Large Pendant Lamp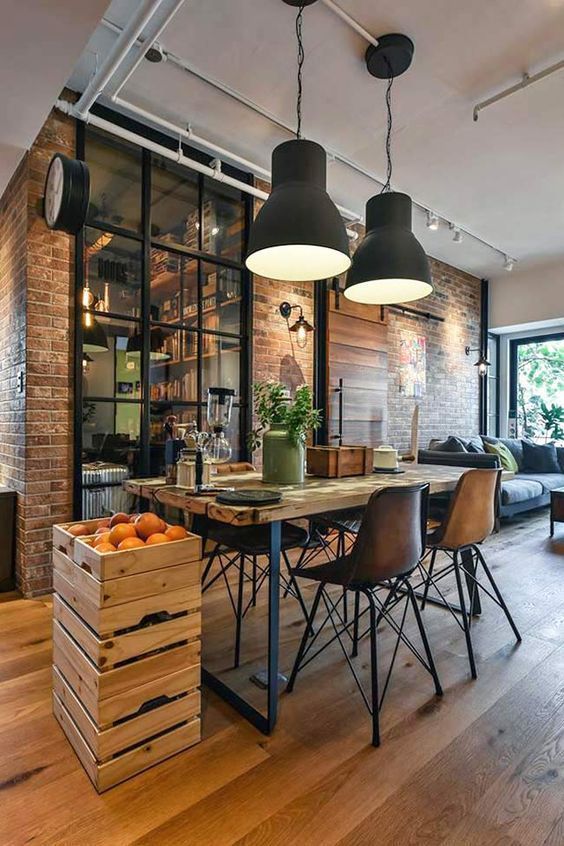 Lights are an important part of the house. In addition to providing lighting in the dark, you can also use lights. You can use this item to remove the stiff impression of industrial style.
As seen in the image above. Imagine if there weren't two large pendant lamps hanging in the industrial dining room. Surely the room will look stiff and even unattractive.
Two large black pendant lamps that hang right above the dining table make this area look more aesthetic. The warm lighting on the pendant lamp also creates a warm atmosphere that makes the industrial dining room feel more comfortable.
5. Greenery with Plants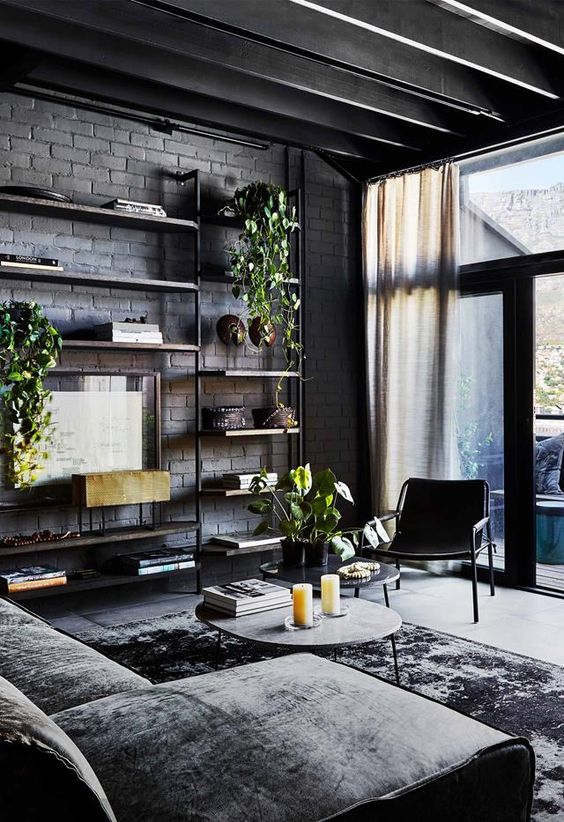 In terms of color, industrial design tends to use neutral or natural colors. Not only that, natural lighting is also made more dominant. So, it is okay if you want to add other natural elements to the room.
If you are thinking of bringing plants into an industrial-style room, then do it now. The natural green color of the plant really helps to remove the stiff impression of this design.
Some green plants have the ability to absorb harmful substances in the air. With this, the cleanliness of the air in the room will be maintained. So the room will feel fresher, relax, and comfortable.
6. Add More Texture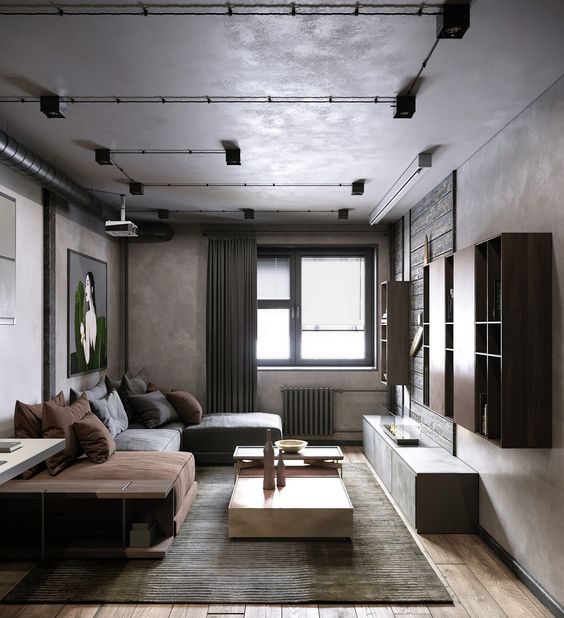 The colors brown, black, and gray coupled with iron elements are indeed common characteristics of industrial design. This is also what makes this design look masculine, cool, and mature. However, you will feel the stiff atmosphere more clearly. If you do not make a quick makeover, your home will become a boring and uncomfortable place.
So, the next tip to get rid of a stiff look in industrial interior design is to add more texture. You can use cloth carpets, fabric furniture, and some pillows. However, do not bring too much fabric material so that the cool impression of the industry is maintained.
7. Make White More Dominant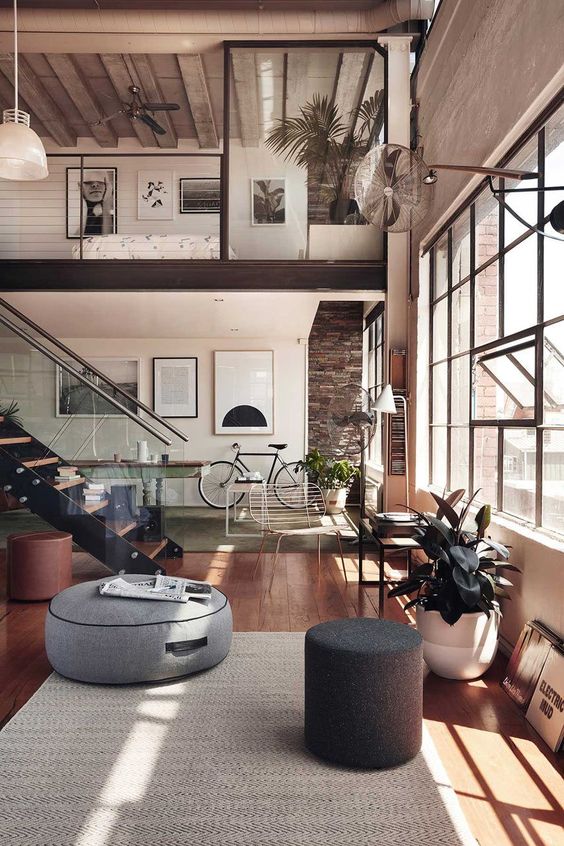 For those of you who prefer to have an industrial-style residence with a smoother and less rigid appearance, this tip is perfect for you to follow. Make white more dominant is very effective in removing the impression of firm and dark.
This tip is very safe to try. This will not remove the industrial feel in your home. As long as you keep exposing exposed pipes and some concrete walls. You can also add iron elements to emphasize the industrial look.
8. Granite Floor for Glossy Effect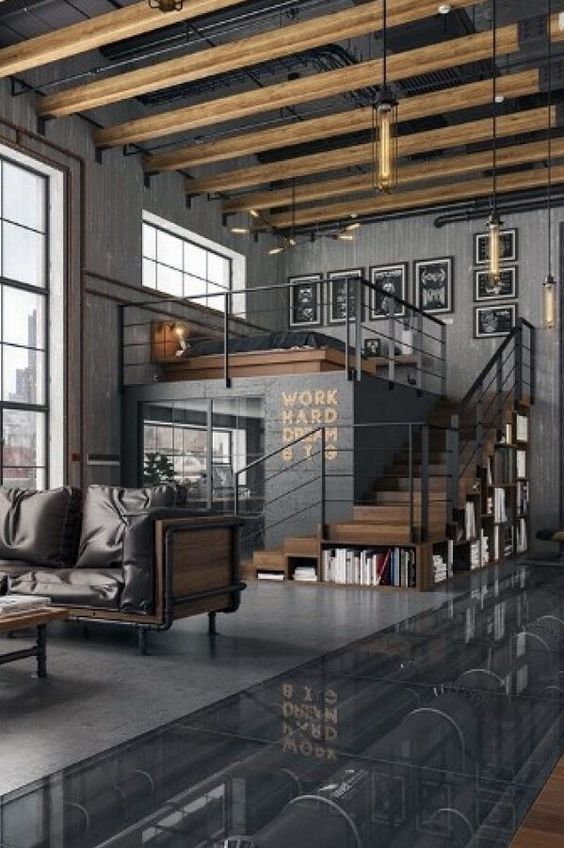 This one tip might erode your wallet. Because the price for granite is not cheap. However, believe me, the glossy effect of granite will give a different impression. It can also remove the stiff and firm impression of the industrial style.
There is no need to apply granite floors to the entire interior. Just apply it to a part of the floor. With this, your industrial room will look cooler and more adorable.
The glossy effect of granite also makes the room look more luxurious and elegant. So, maintain this look by not using too much stuff there. Also, hang the bulb pendant right above it for a more luxurious granite look.
9. Wooden Wall for Calmer and Warmer Feel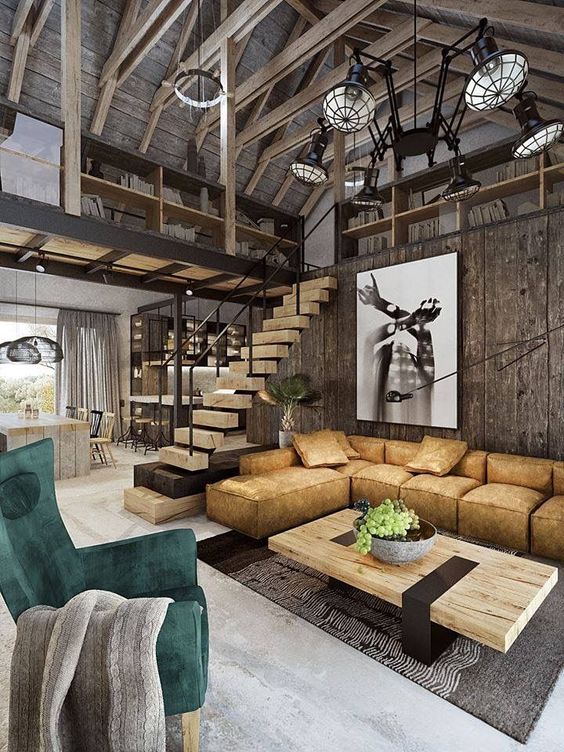 Iron and wood are the elements that are most often used in industrial design. For a cooler and masculine look, you can add more iron elements. However, usually black iron will give a stiff effect to the room. Therefore, wood was chosen to make the room feel calmer and warmer.
It's okay to make the wood element more dominant. The texture and brown color of the wood make the room feel more comfortable. As in the picture above where the wooden wall shows off the beautiful texture and color of the wood. So that the industrial-style room looks more aesthetic.
10. Roll Out The Rug on The Floor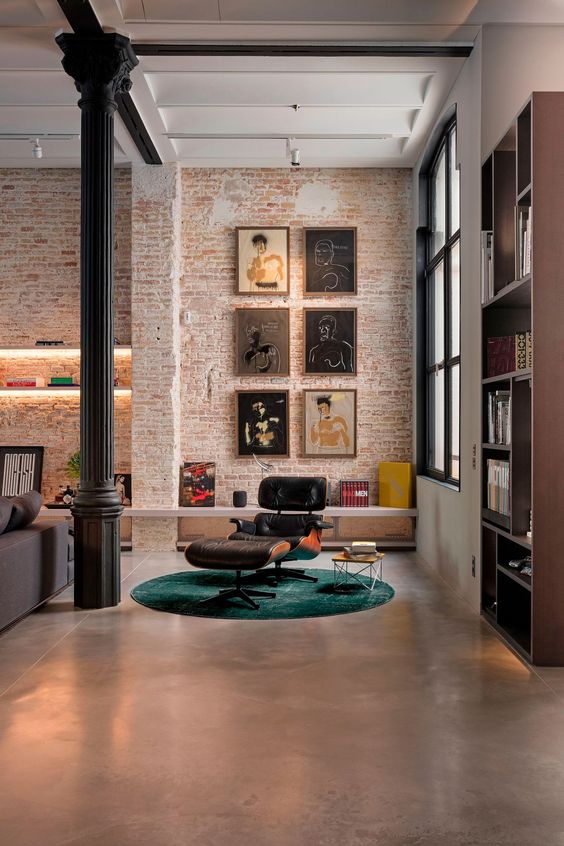 The floor in industrial interior design, usually the floor is made of concrete or cement. So that the gray color in the room will look more natural. However, sometimes the concrete or cement floor makes the room seem stiff.
To get rid of the stiff impression in the room, you can roll out the rug on the floor. It is the last tip that we share with you.
This tip is quite easy and simple. You only need to use the rug to decorate one area of the room. The dark green rug like in the picture above makes the reading area feel more attractive and aesthetic.
Conclusion
Industrial interior design is indeed very interesting. So, this one design no longer only exists in cafes and restaurants, but also at home. Dark colors combined with iron and wood elements make an industrial-style room look charming. However, sometimes a stiff impression is present and is difficult to avoid. And in this article, we have provided 10 Effective Tips to Get Rid of Stiff Look in Industrial Interior Design. So, let's make your industrial house style look more aesthetic and feel cozy. Happy trying and good luck guys!