olidhomes.com – Do you want to give a fresh and modern impression to your dining room? If so, then industrial dining room design is the right choice. Natural colors with dark shades will give a different sensation to your dining room. Plus some natural elements make the room feel warmer and more comfortable. And in this article, we have provided Industrial Dining Room Design Ideas & Inspiration that you can use as a reference. So, let's check it out!
Both Dining Room and Cozy Workplace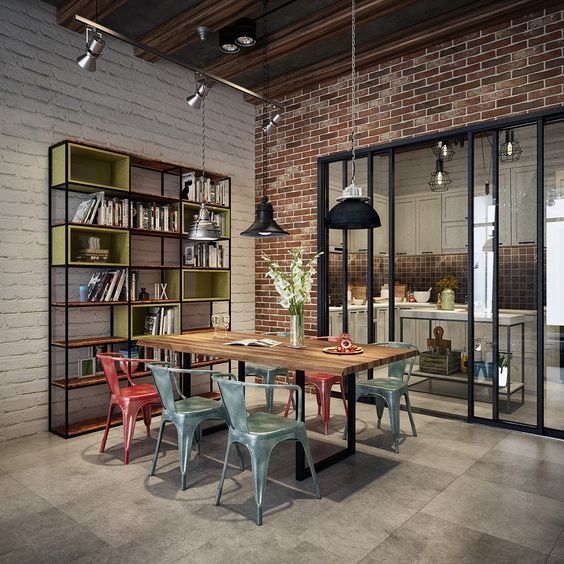 When the dining room is usually used as a room to eat food, the inspiration this time made the dining room a comfortable place to work. The black industrial rack design is used to put some books and displays that make this room look attractive. Another interesting thing is the blue and red metal bench. This makes the dining room look very attractive like the industrial-style cafes that you often encounter.
Black and White Industrial Dining Room Design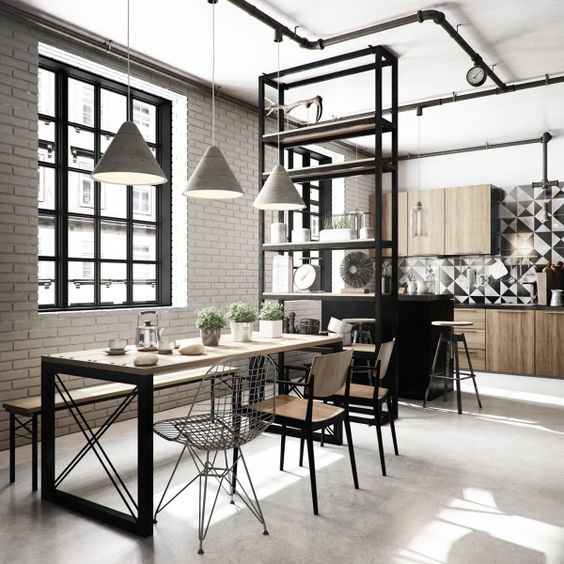 The main characteristic of industrial design is to use neutral colors that tend to be dark. However, dark colors are not very suitable for a small room. And also some people prefer a room with a bright appearance. If you are one of them, then the black and white industrial dining room is an idea that will inspire you.
The white exposed brick wall makes the room appear brighter. And to maintain an industrial style, this dining room applies black color to the iron elements. So that the nuances in the room still look cooler and masculine.
Bare Concrete Wall and Floor is Everything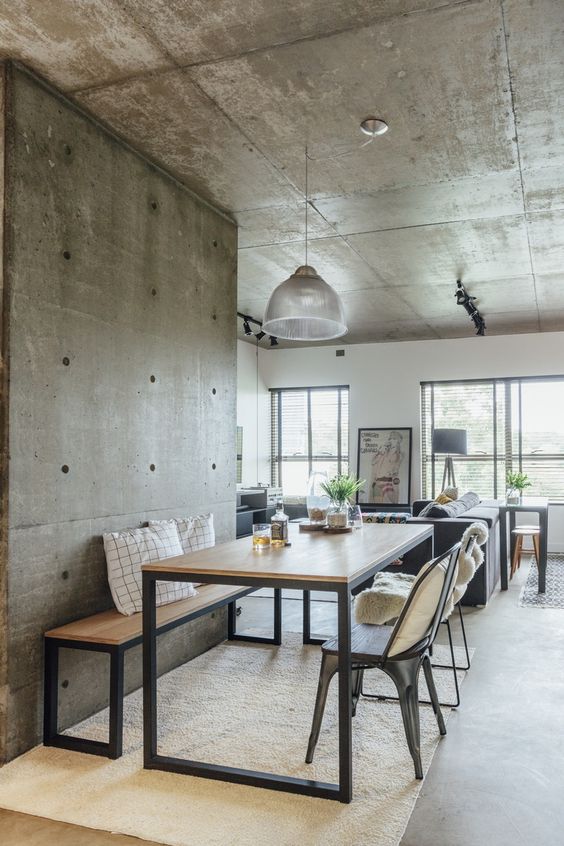 Some people may find the difficult to apply industrial design to the dining room. In fact, there is the easiest way to make an industrial look bold in the dining room. On walls and floors, you simply apply bare concrete. Let the natural gray color of the concrete give a cool effect to the room. Also, presents elements of wood and iron to make it look perfect.
Industrial Light Bulbs Hanging Right Above the Dining Table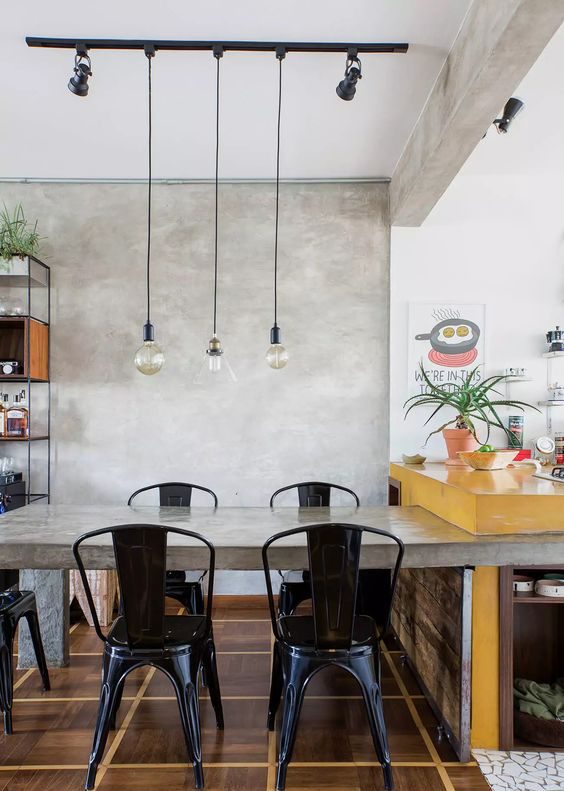 It may seem trivial, but lights are something that also affects the appearance of your room. For industrial dining room design, it would be better to use industrial-style lamps.
As the main item, you can use the dining table to emphasize the presence of bulb pendant lights. You can hang the bulb pendant lights right above the dining table. Besides emphasizing the industrial style, it also makes the room look more attractive and adorable.
Fresh Industrial Dining Room Design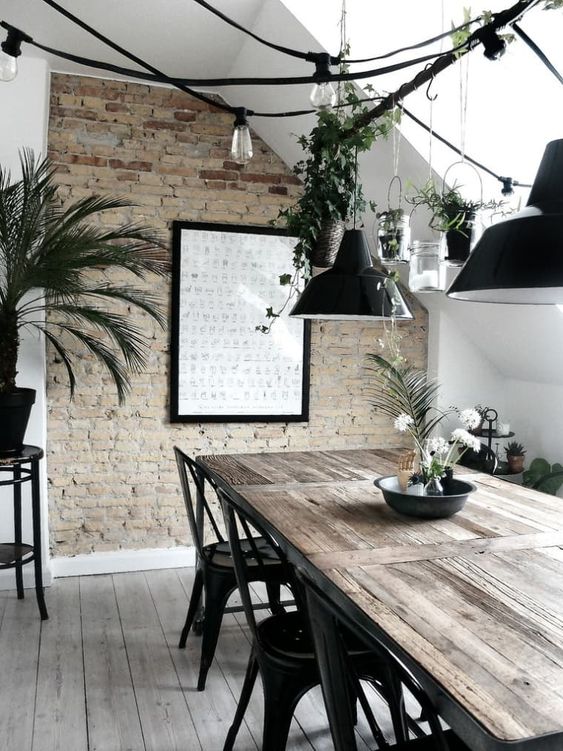 Plants are important items that can increase the comfort of the room. So, your greenery industrial dining room design with plants is a great idea.
Brick walls, wood, and plants are the right combination to give a soothing natural feel. Place plants in several spots to give the perfect fresh impression.
Warm Natural Light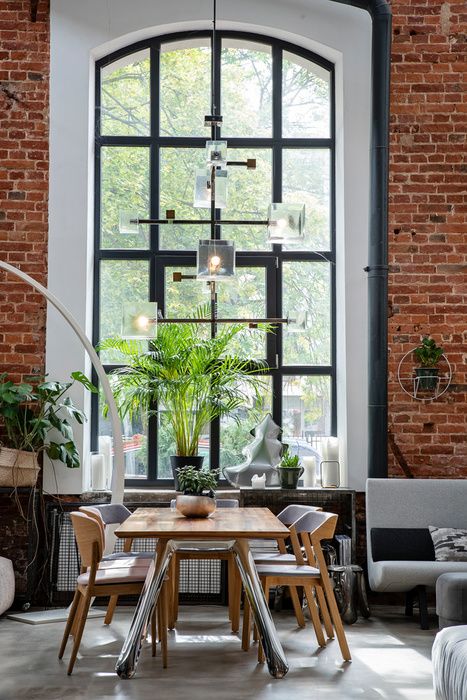 Large windows that are left exposed without decoration are the main characteristics of industrial design. Thus, natural lighting will enter the house freely. And placing the dining table and chairs right next to the window is an interesting idea that you can try. Natural lighting will provide warmth that makes the dining area more comfortable.
Modern Industrial Design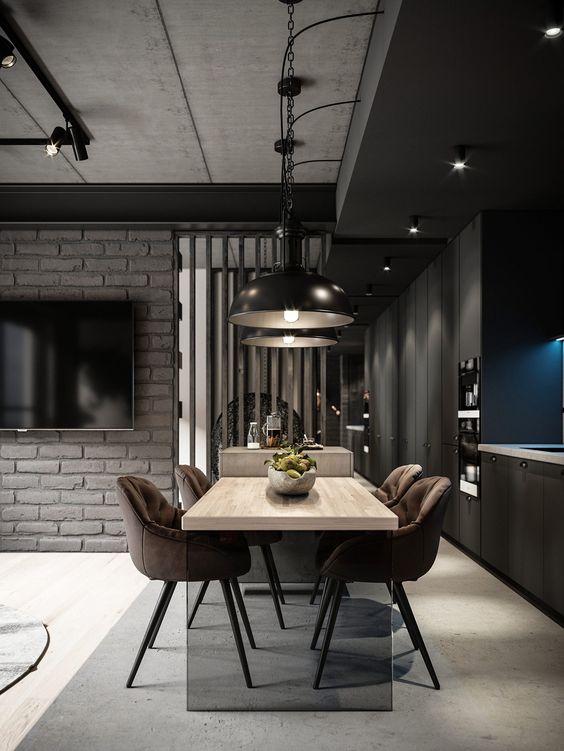 Modern industrial dining room design is the next inspiration that you can choose. The minimalist concept combined with neutral colors gives a different atmosphere.
In this idea, you will feel a dining room with a cold and masculine feel. The black cabinet gives a firmer but calming effect. And wood elements are still chosen to give a warm touch to the room. The modern look is also clearly visible from the minimalist and modern design dining chairs. Not only that, the side walls with mirrors and timber also give a more attractive appearance.
Minimalist Industrial Design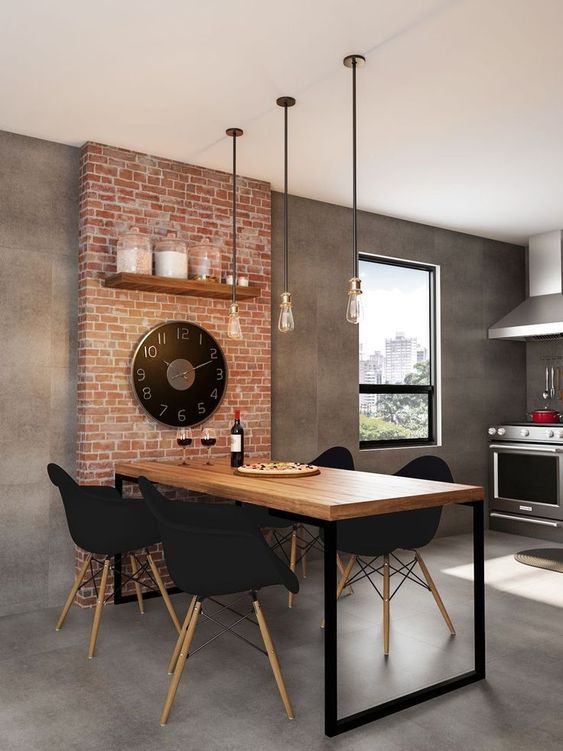 The minimalist concept is also very appropriate to be combined with industrial design. As we can see in the picture above, the little furniture in the room gives more free space. And this is what makes the room feel more comfortable.
The concrete wall and floor provide a natural gray color that looks glossy when exposed to natural light. On some sides of the wall, the exposed brick wall is applied to give more color so that the dining room does not look stiff. This industrial dining room design also looks more mature and cool with the presence of black on the bench, table legs, and also the wall clock.
Simple Industrial Dining Room Design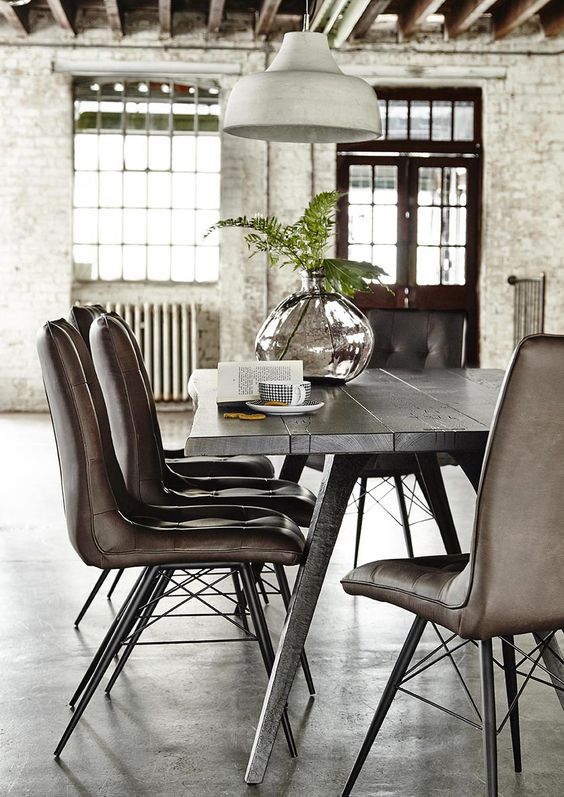 The nuance of industrial design is masculine and cool. So, you don't need too many items to make the industrial room look attractive.
As in the picture above, the dining room may look simple. However, you can still feel the real comfort. Brown chairs are very fitting to accompany a black table. A little plant decoration on the table and a simple pendant lamp are enough to make this room look adorable.
Vintage Industrial Dining Room Design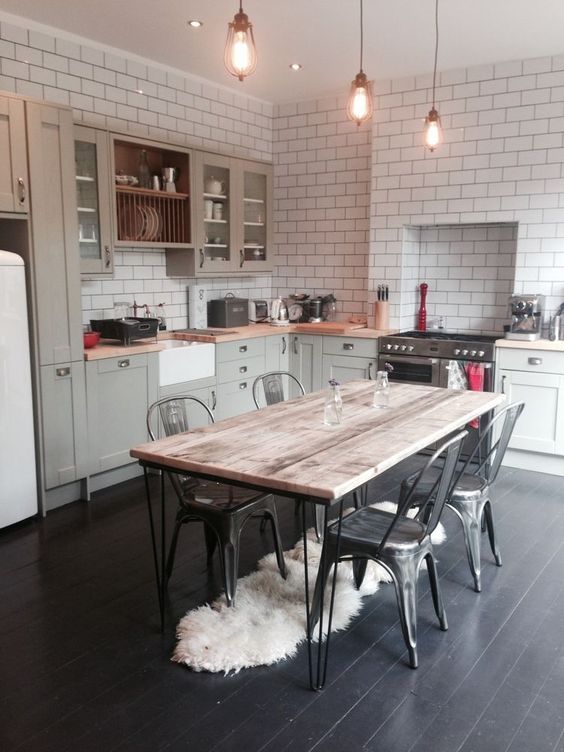 You can use industrial style with vintage style as inspiration. This idea is perfect for those of you who want to have an industrial dining area with a bit of an old, smoother feel.
A vintage-style kitchen cabinet makes the room look more calm. And in the dining area, industrial style is applied vertically. Starting from the black wooden floor, the wooden table and black dining chairs are black, and at the top hangs an industrial bulb pendant.
Industirial Dining Room in White Nuances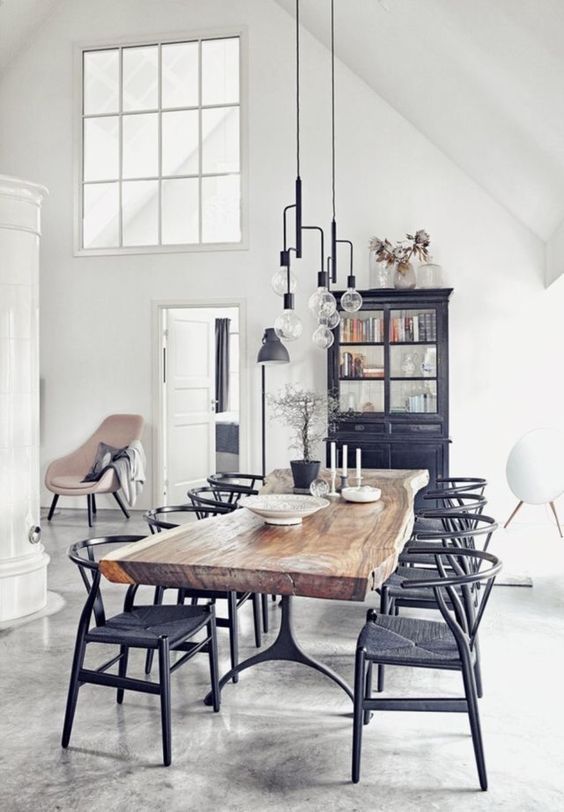 Industrial doesn't always look dark and masculine. Like this idea, industrial comes with a brighter appearance. White is the main color for the industrial dining room. However, this does not at all reduce the industrial concept which looks more mature. This is because wooden long tables and black dining chairs are still chosen to fill the dining area. And right above it are bulb pendant lights that emphasize the industrial style in this room.
Elegant Industrial Dining Room Design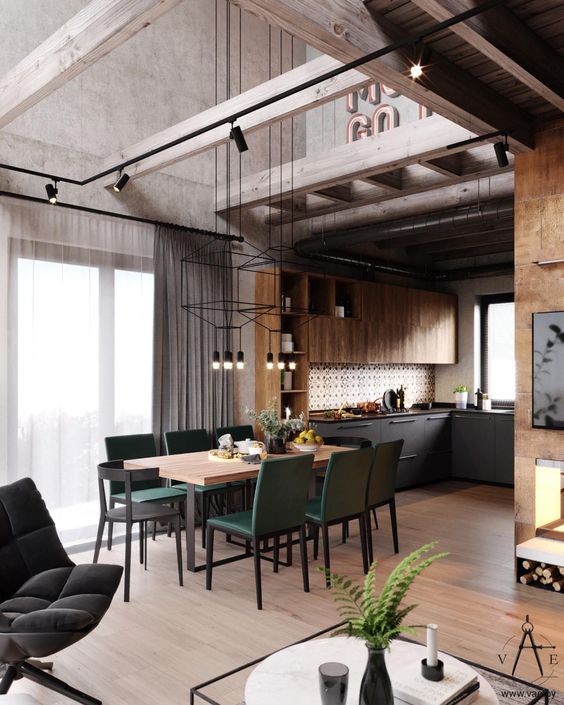 Industrial design is indeed present from people who use abandoned factories as a place to live. So, industrial style may look a little outdated. However, you can also make this one design look elegant.
Usually, industrial style uses wood with a rough surface, but this time, I prefer wood with a smooth surface. With this, the appearance of the wood will look more glossy when exposed to light. And the design of the bench and table also looks more modern and minimalist. The dark green color gives a more perfect elegant effect.
White Exposed Brick Wall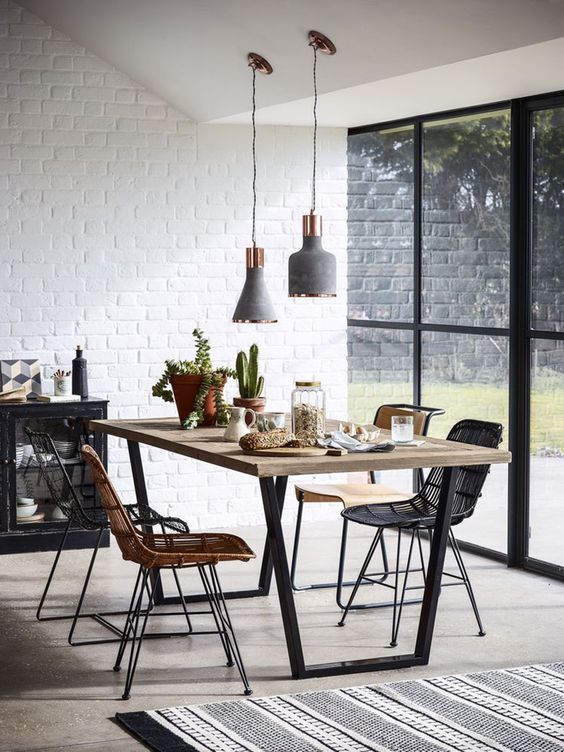 For industrial style, of course exposed brick wall is no longer a foreign thing. In fact, exposed brick walls are often an alternative to make industrial style look bolder. Usually, the orange or red color of the brick will be left alone to give the room a more attractive appearance. However, you can also paint it white. So that what is visible is only the exposed brick wall texture that makes the room look beautiful. This one inspiration is perfect for those of you who want to have an industrial dining room with a bright appearance.
Wooden Fruit Basket for More Aesthetic Appearance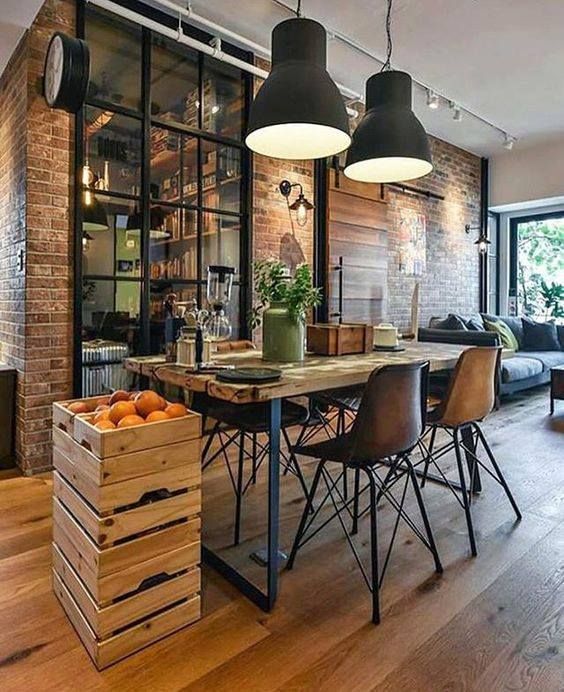 In serving fruit, maybe you will choose a fruit basket and place it on the dining table. However, this will take up space in your dining table. So, choose another way of serving fruit in the dining room. Like stacking wooden fruit baskets as high as a table. This idea is an interesting thing to try. Stacks of wooden fruit baskets will make the industrial dining room look more aesthetic.
Outdoor Dining Table and Bench Set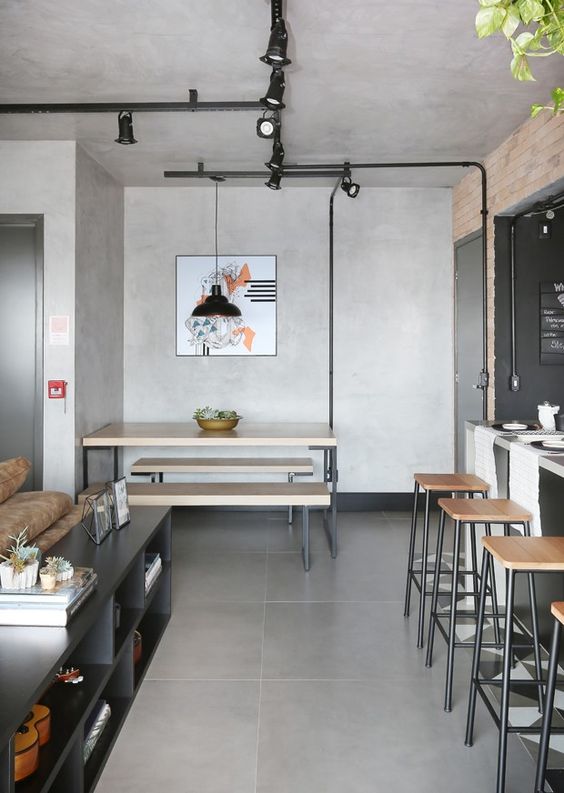 Want to give a different and anti-mainstream look? You can try this idea. You can move the outdoor dining table and bench set in your backyard, which you can move indoors. Place this furniture in an empty corner of the room to feel comfortable. Decorate with plants or baskets filled with fruit so it doesn't look too simple. With this, you can enjoy a comfortable minimalist dining area.
Conslusion
The dining room may only be used as a room to eat food. However, some people often use this room as a place to gather or work. Therefore, having a comfortable and attractive dining room is the main thing. And the points above are 15 Industrial Dining Room Design Ideas & Inspiration that you can use as a reference. So, have you found the right dining room for your home?