olidhomes.com – Designing your bedroom to look luxurious is not a bad idea. Instead, having a luxury bedroom design will give a different impression. As a room to rest, let yourself be pampered with a luxurious atmosphere.
There is plenty of decoration you can choose in having a luxury bedroom. And maybe it will make you confuse in choosing which one is suitable for your room. However, make sure you choose the right decoration to have the perfect bedroom.
We deliberately created this article for those of you who are confused about designing your luxury bedroom. In this article, we have provided some images and tips that will help you a lot. So, let's check it out!
1. Oversized Headboard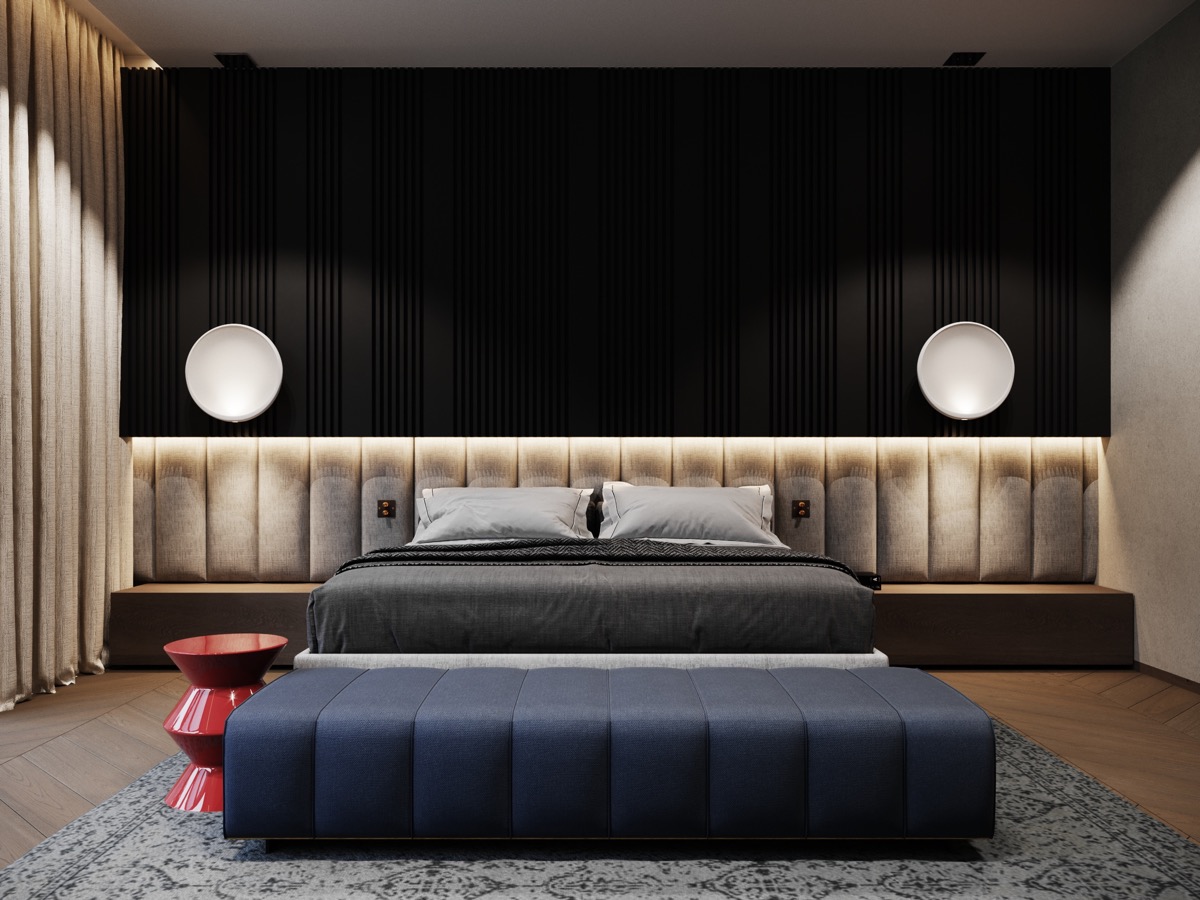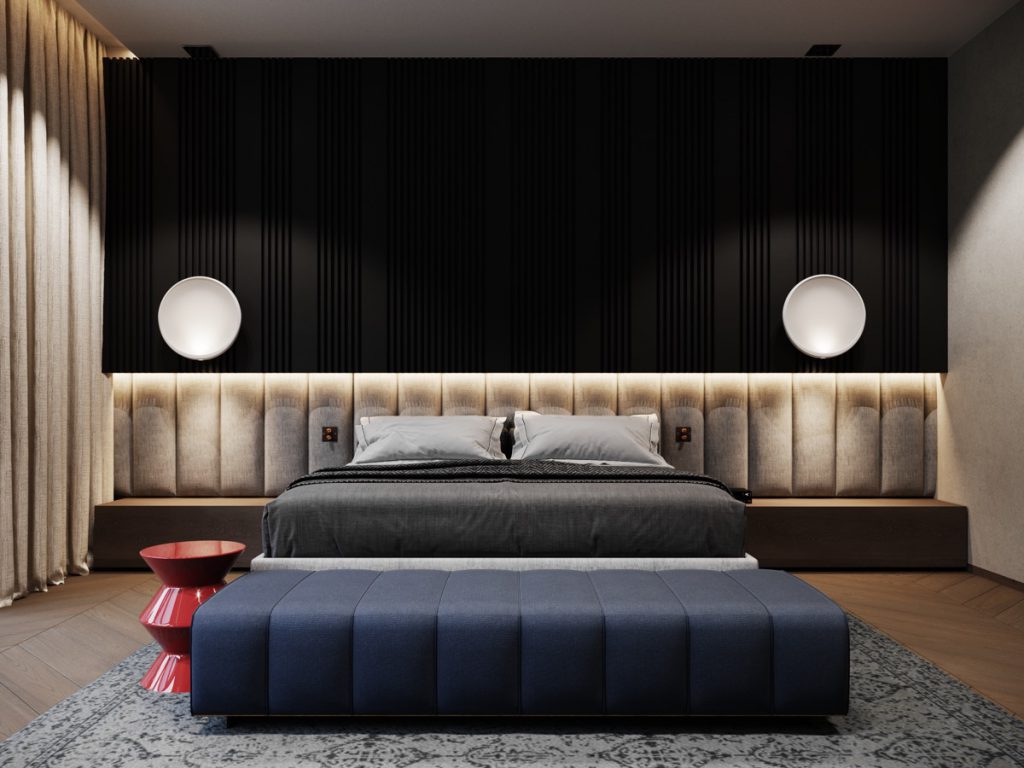 This room does look minimalist. However, the oversized headboard gives a different impression here. The jet-black color on the walls gives a more assertive effect to the room. Pendant lamps and also LED lighting are very helpful to make the room not look dark.
The plush cushioning on the walls brings a warmer atmosphere to the room. In addition, the ambiance of this room also feels more comfortable. The warm lighting from the LED lights really helps evoke a calm warm feel.
2. Luxury Bedroom Design for Teenager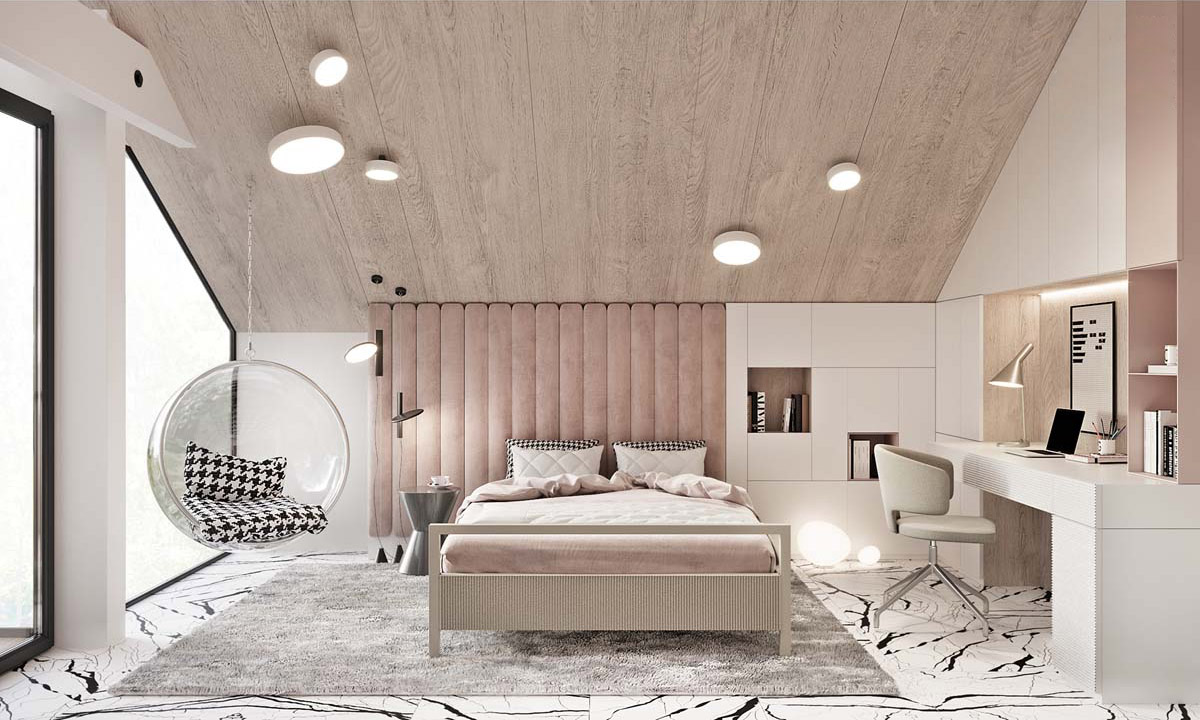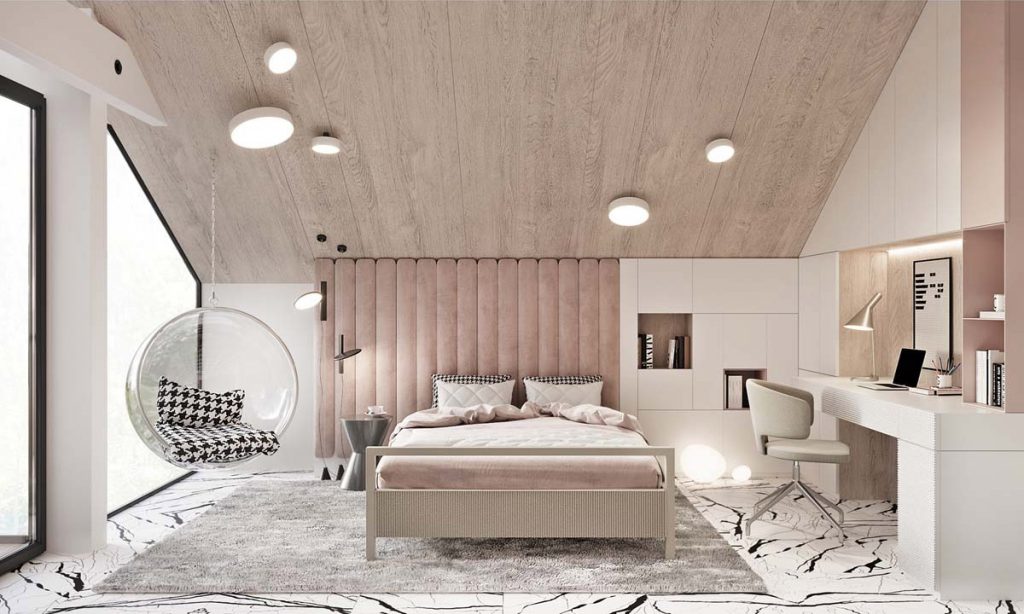 Who said luxury bedrooms are only for adults? In fact, this picture proves that teenagers can also enjoy it.
Because for teenagers, this luxury bedroom is designed with soft but bright colors. Thus, the atmosphere of the room will feel more pleasant. Not only that but the bedroom is also given brighter lighting to make it look more alive.
The expensive look is clearly visible in this room. Plush cushioning on the walls and black and white floors with abstract motifs make the room look perfect. Plus, there is an acrylic swinging chair that gives an attractive impression to the room.
3. Texture Utilization is A Bold Statement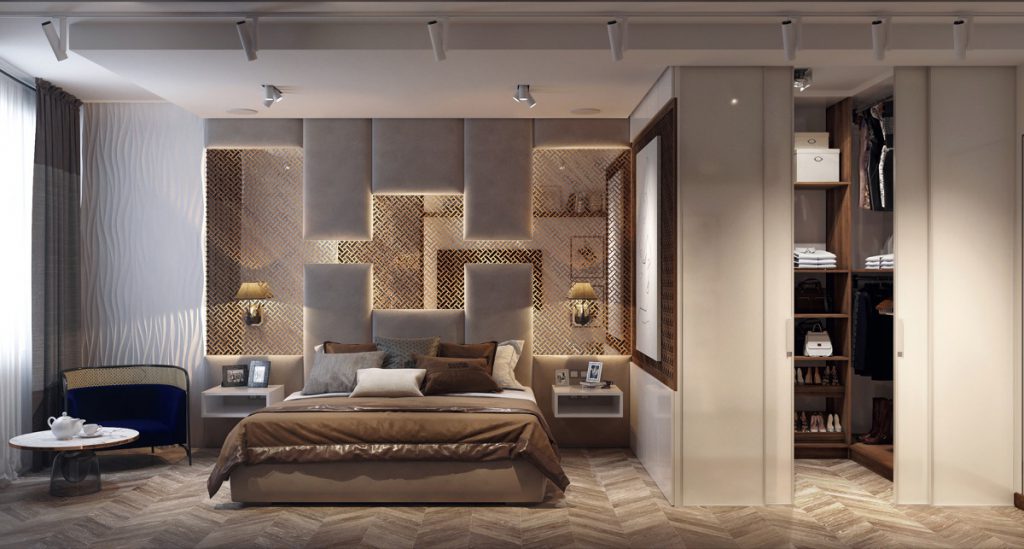 To give an interesting impression and result, this room utilizes a variety of textures. Some of these textures also provide a visually pleasing bedroom.
The mirrored backboard with a beautiful motif is the main focal point. This mirror also makes the room look more luxurious. Coupled with LED light with warm lighting that makes the walls look more striking in the room. The effect given is really very interesting. The walls are also given a gray cushion to slightly dampen the striking appearance of the mirror and LED lighting. The perfect combination, right?
4. Open-Concept Closet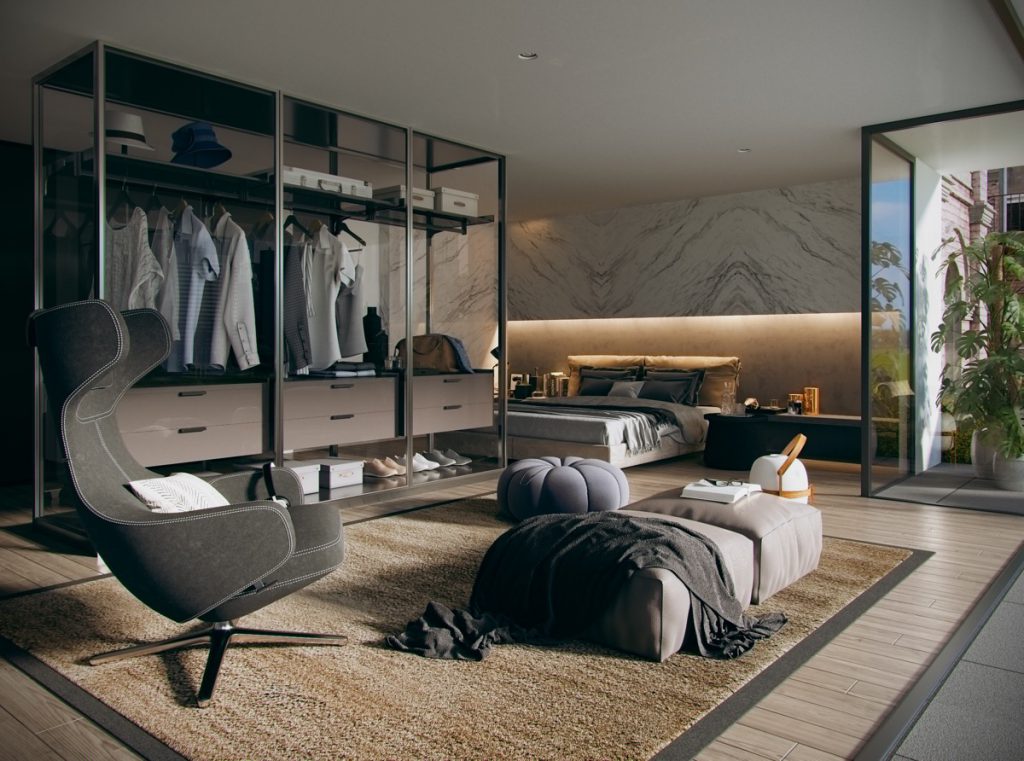 The number of items that can interfere with the appearance of the room, makes the closet a place that is often hidden. However, this luxury bedroom design prefers something different and anti-mainstream. Where this bedroom carries an open-concept closet.
To make the bedroom still look beautiful, the closet is arranged as neatly as possible. Hanging clothes actually make the room look more aesthetic.
Right in the middle of the room, there is a brown carpet as an area to relax. It can be seen from the several soft seats that make this area very comfortable. So, you can sit and consider what clothes you will wear. Very interesting to try right?
5. Luxury and Fresh Bedroom Design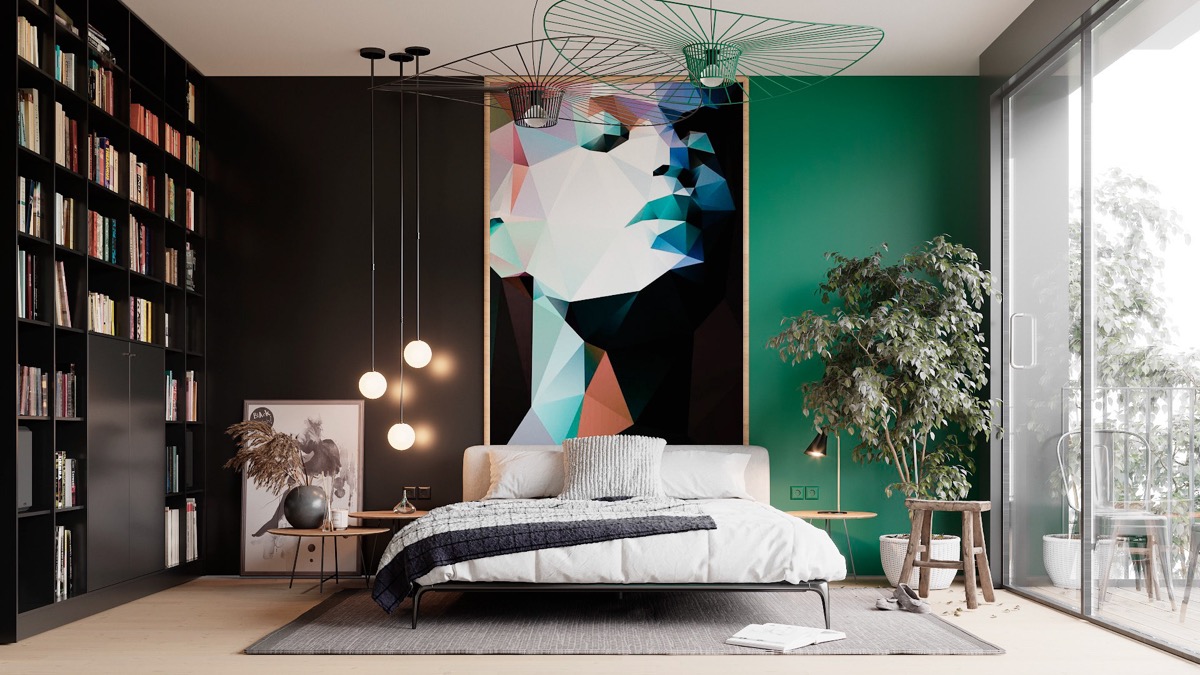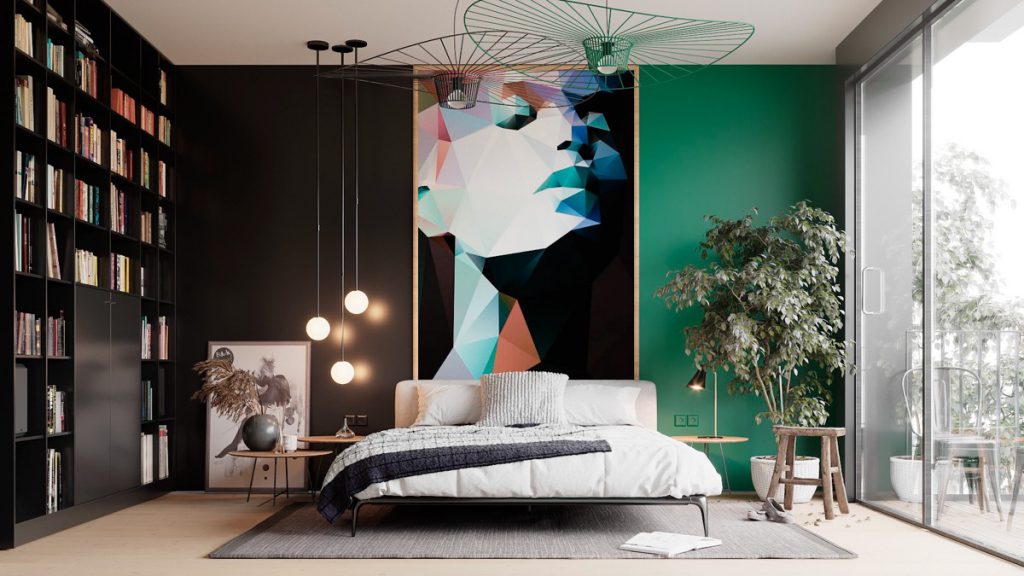 The application of black color is indeed complicated. In addition, black is also believed to be able to make the room look darker and seem cramped. Therefore, black is the color that is most often avoided. However, this luxury bedroom nails it.
In this room, the black color is intentionally positioned in a spot exposed to direct natural lighting. That way, black will not make the room seem dark and cramped. Not only that, but the black color exposed to natural lighting also builds a calmer atmosphere in the bedroom. With this, the bedroom will feel more comfortable.
The green wall on the right side of the bedroom makes this room feel fresher. Coupled with plants that make it look more perfect.
A large painting that rises to the ceiling gives a more modern and luxurious effect to the bedroom. Some of the colors in the painting give a more cheerful and contemporary look. So, the bedroom looks more attractive.
6. Glass Partition That Makes It Look Glamour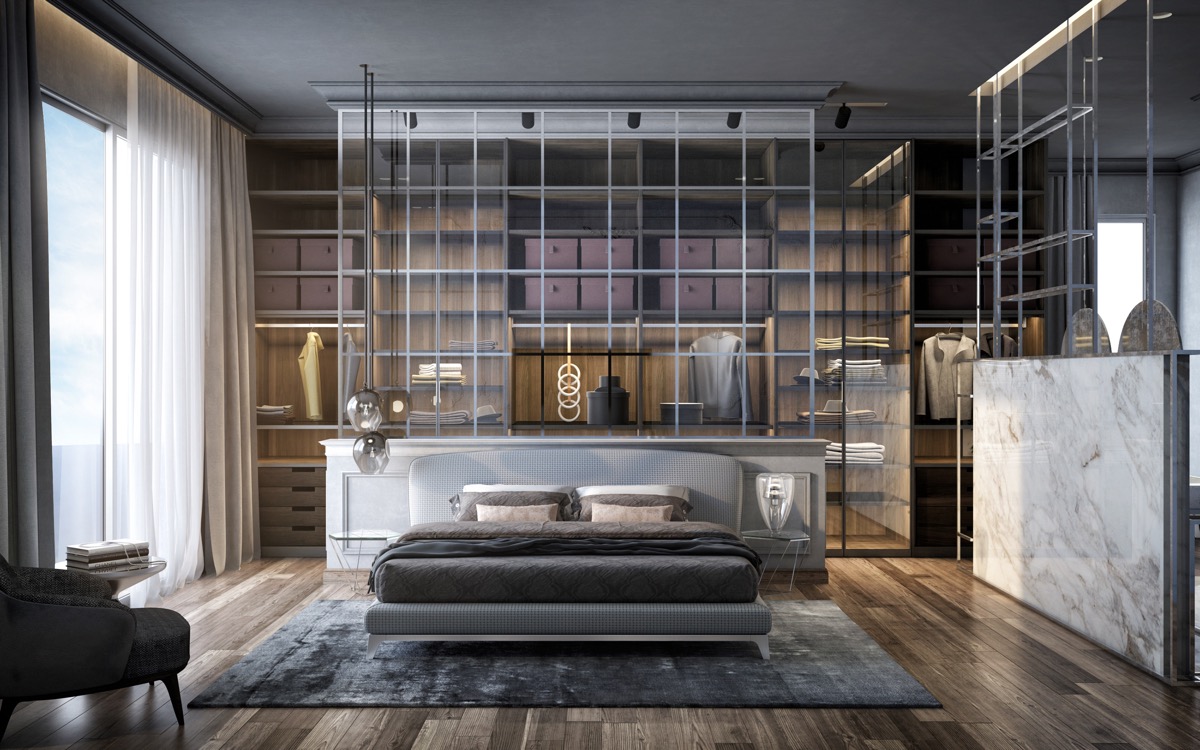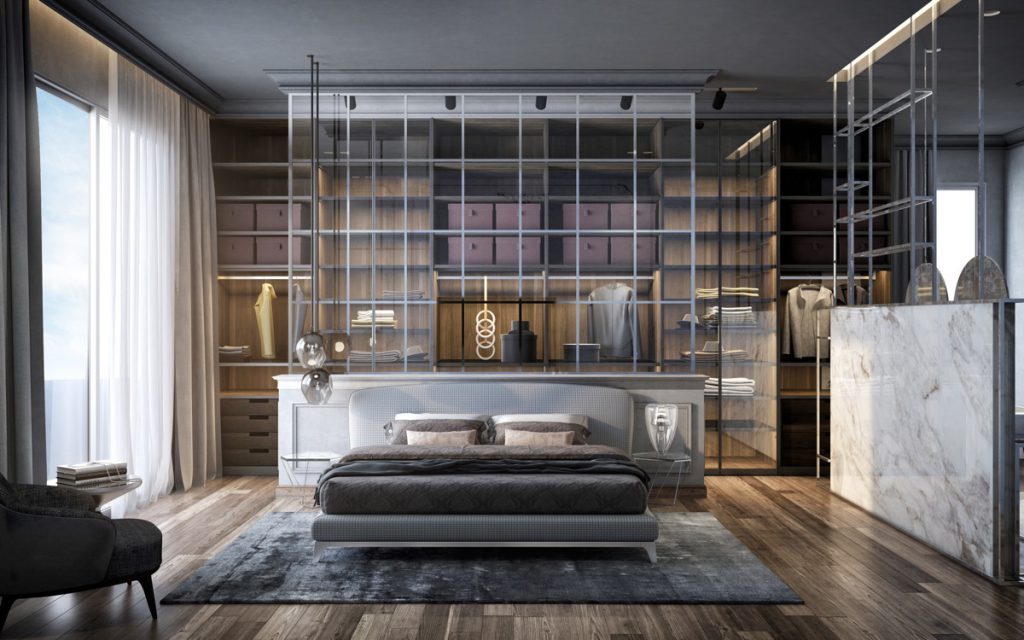 Usually, the wardrobe will be in a different room. Rarely to unite wardrobe with the bedroom. However, this luxury bedroom design actually unites the wardrobe and bedroom.
To provide a boundary between the wardrobe and bedroom area, this bedroom uses a glass partition. Its placement is right in the middle of the room in order to create a more luxurious appearance. The use of a glass partition will also not make this room cramped.
7. Feel More Spacious in Luxury Bedroom Design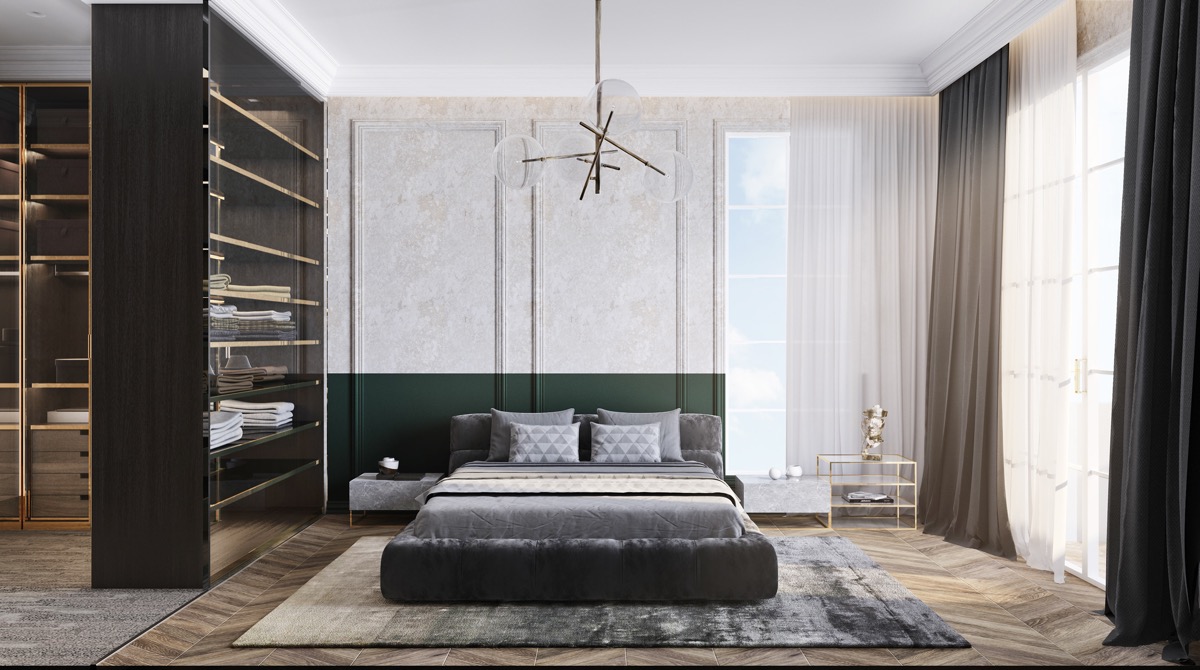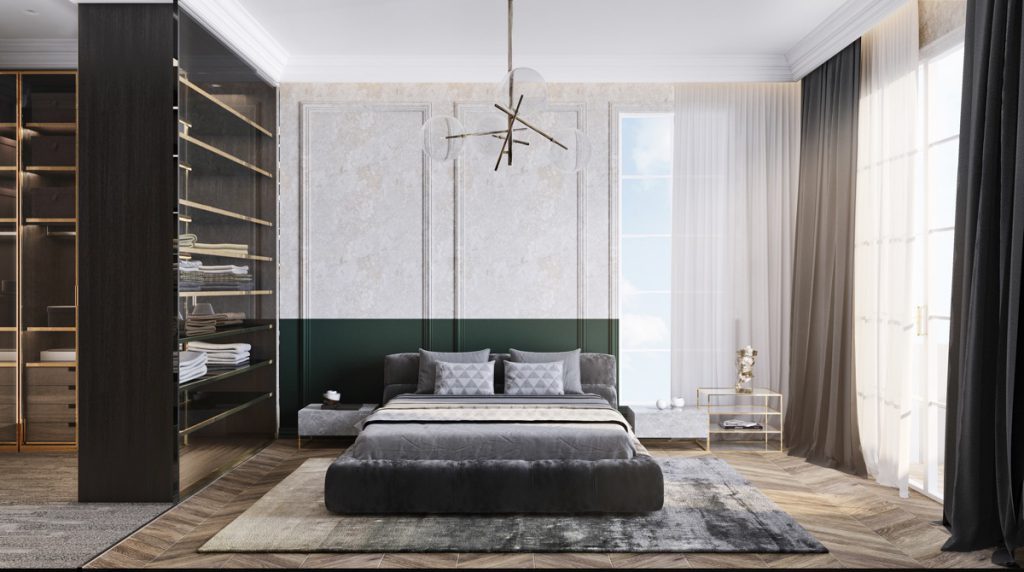 In creating a luxurious appearance in the room, it does not mean that you present various kinds of objects at exorbitant prices. In fact, the room will look more glamorous if there is more empty space available there.
Like in this one picture. There is only a bed, carpet, table, and pendant lamp. For storage, a glass shelf is used which is also used as a partition. The room also feels more spacious with the curtains hanging close to the ceiling. This is a common way to make the windows in the bedroom look taller.
The pendant lamp used in this room is very minimalist. However, the gold color of the pendant lamp gives an elegant and luxurious effect in the bedroom.
8. Minimalist Luxury Bedroom Design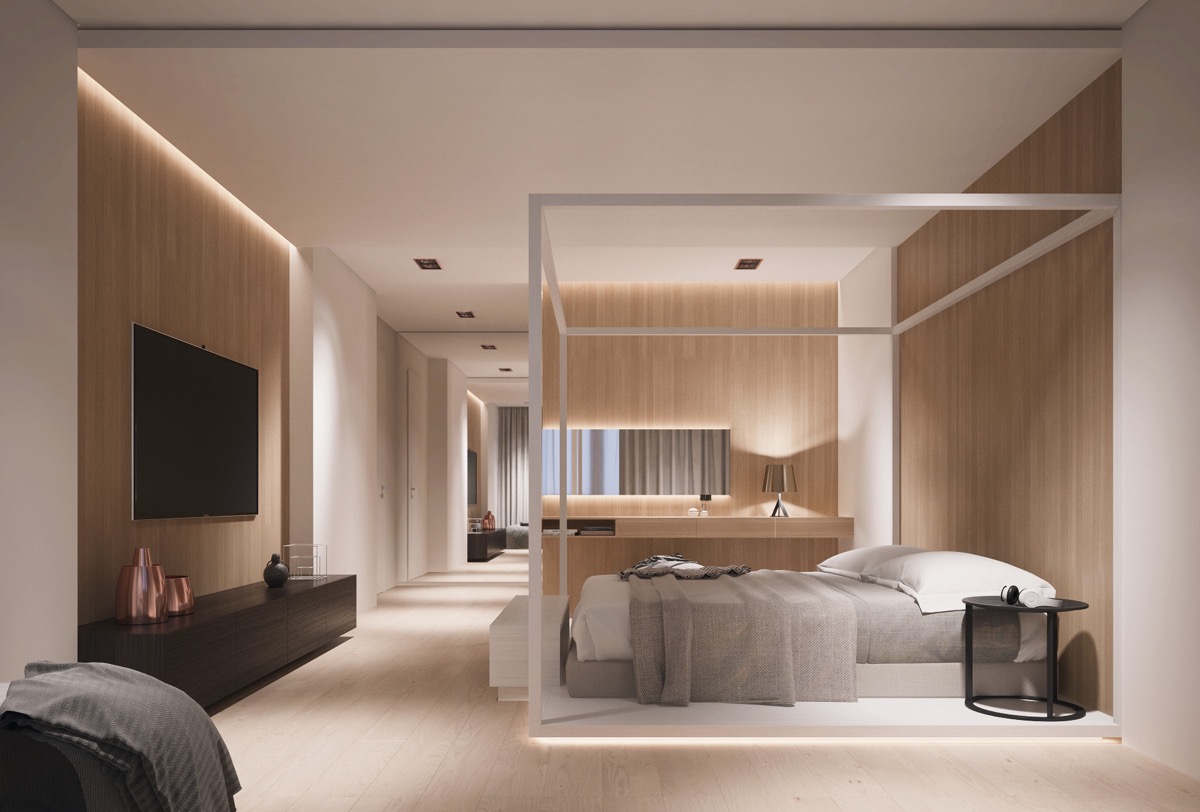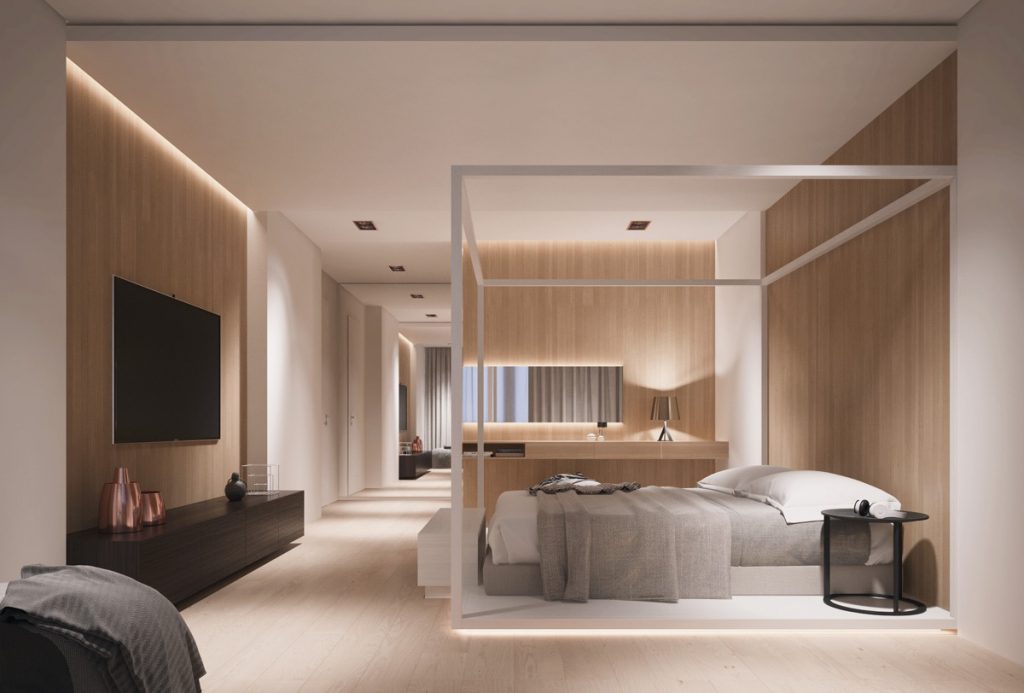 Nothing is more relaxing than a minimalist bedroom. Even though it has a minimalist concept, this bedroom looks quite luxurious.
In this room, white is the dominant color. So, the bedroom will look brighter naturally. In addition, the wood element is also very helpful to create a calm natural feel. Not only that but a warm atmosphere is also created and makes this luxury bedroom feel so comfortable.
To give an expensive and elegant effect, some spots are decorated with black such as a round bedside table, TB table, LED TV.
Although this room looks very minimalist, it doesn't look stiff or boring. This is because LED lighting is used to soften stiff lines in the bedroom. The warm lighting from LED lights also really helps build a warm and calm feel in the bedroom.
9. Marble for A More Dramatic Effect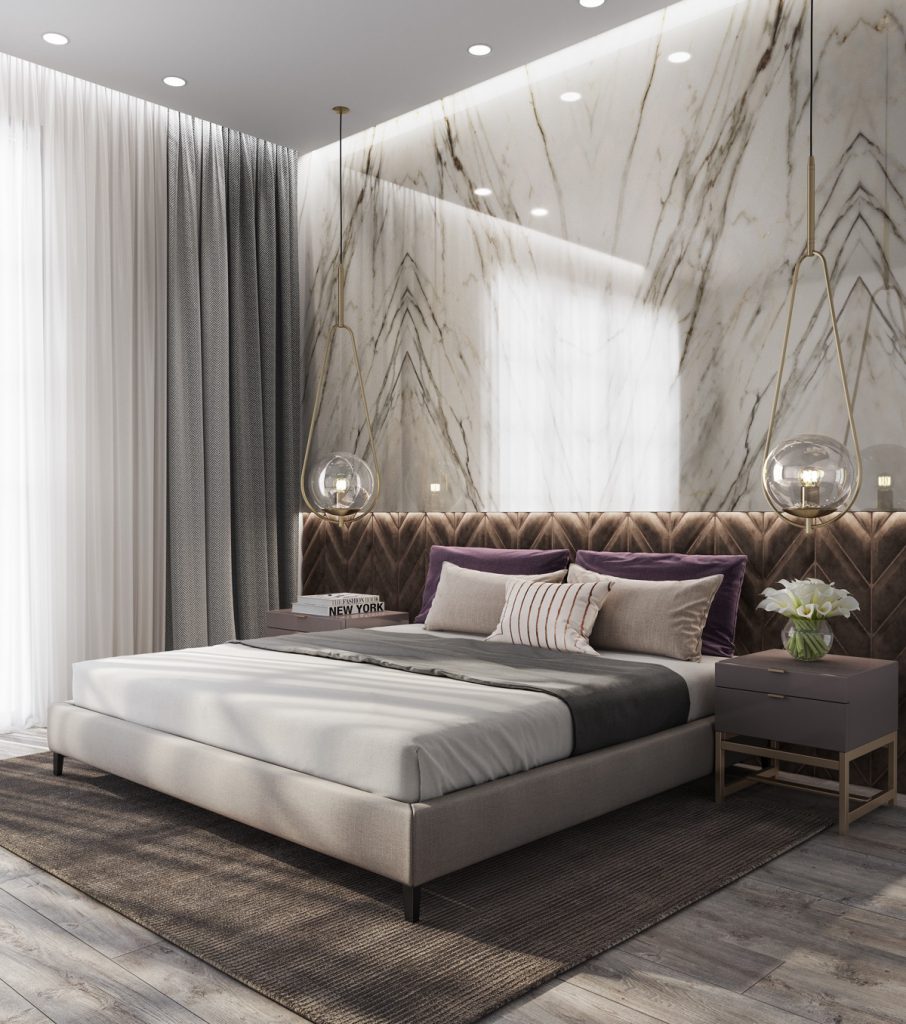 In creating a more luxurious appearance, nothing is as good as marble. Colors, glossy appearance, and beautiful abstract motifs really change the appearance of the bedroom. Although the bedroom looks very minimalist and simple.
This one luxury bedroom design chose marble as an accent for the headboard wall. White marble is perfect for making the bedroom look brighter. Recessed lighting and pendant lamps are also very helpful in making marble look more elegant in the bedroom. In addition, the window is also installed with a net curtain where natural lighting can still enter beautifully and hit the marble surface.
10. Luxury Bedroom Design with Asian-Inspired Wall Art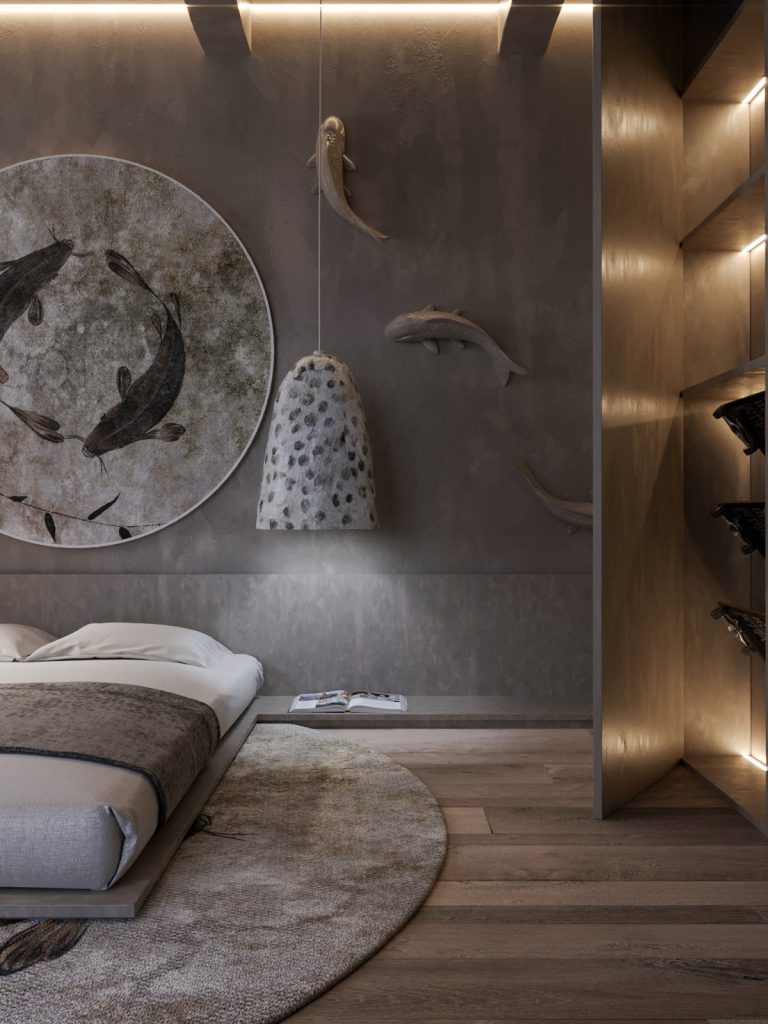 This one bedroom does not have many colors. However, the 3D wall art used in this room is able to make the bedroom seem so attractive.
This one bedroom carries a koi fish theme to provide maximum serenity. We can see koi fish on the walls and also the floor of the room. 3D koi fish pasted on the wall looks very beautiful. Not only that, but the round carpet with koi fish images also plays an important role in the beauty of this room.
Conclusion
After reading this article, you will understand that luxury bedroom design is not only about items at exorbitant prices. Luxury bedroom design can also have a minimalist concept. With calm colors, it can make the bedroom look very attractive. Not only that, some decorations such as playing on textures, wall decorations, or using several types of lights can also make this room look more perfect. This method is also able to make the bedroom feel more calming and suitable for relaxing. So, you can relax very comfortably with expensive shades that spoil the eyes. So, have you decided which luxury bedroom design fits yours?