olidhomes.com – Making the room look attractive is certainly not enough to make it feel comfortable. A comfortable room should also feel fresh. A fresh room will also feel more alive. So, you will not feel bored even if you are in the room for a long time. And this is why you need to know which fresh room decoration is suitable for your room.
Decorating a room should not be arbitrary. There are several important things to note. Such as color adjustments, concepts, themes, designs, and more. Make sure you decorate your room properly. This is because decorating mistakes can make a room look weird and feel uncomfortable.
So, for those of you who want to have the room of your dreams, this article will help you a lot. Here, we have provided Great Decoration Ideas to Give Fresh Impression to The Room. So, let's check it out!
1. Oak Chest of Drawers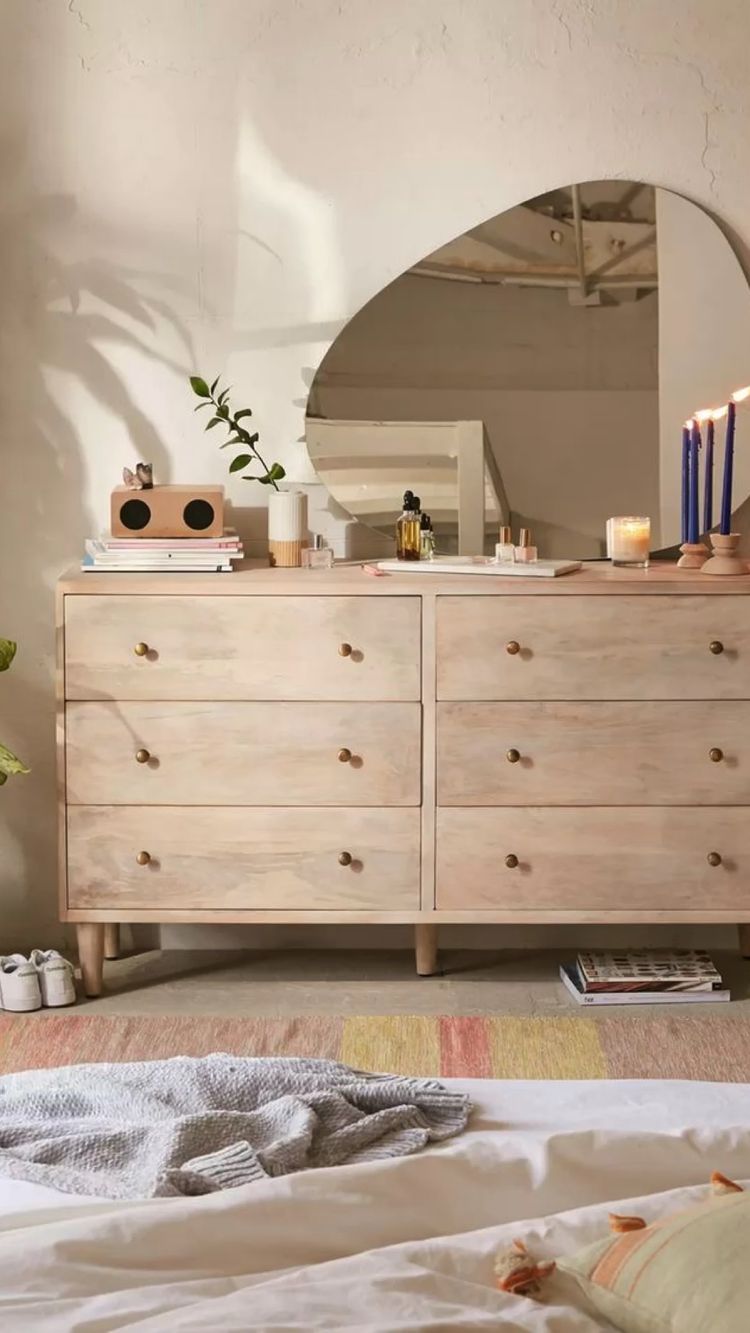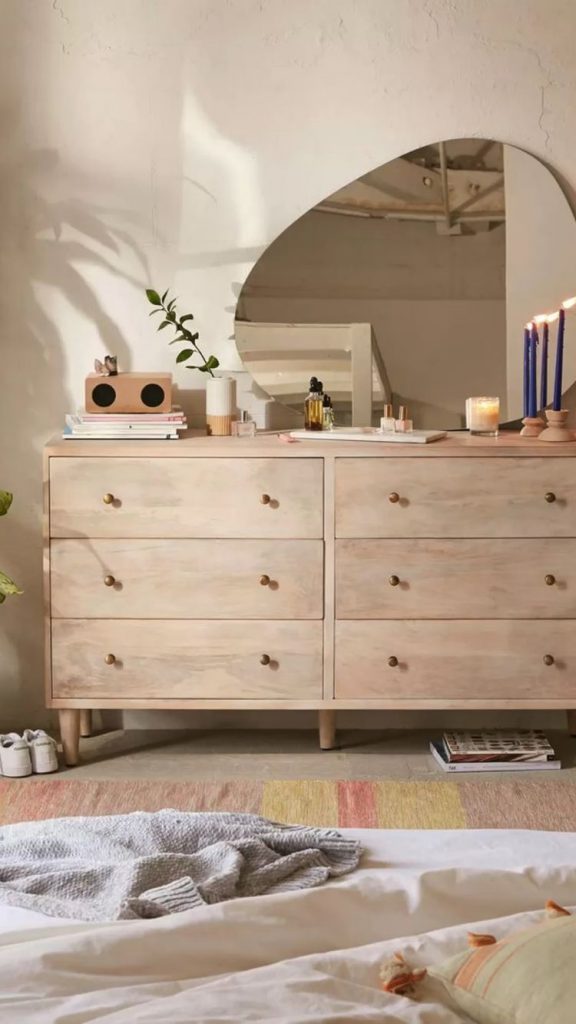 In storing clothes, people may prefer to use a wardrobe. However, using this furniture will take up a lot of space in the bedroom. A wardrobe is much better to use in the walk-in closet.
In the bedroom, the chest of drawers is much more practical. This one piece of furniture is enough to store some of your clothes in the bedroom. The use of a chest of drawers gives more space which makes the bedroom feel fresher.
Not only that, but the oak chest of drawers is also the right idea for the bedroom. Placing this furniture on a wall that is exposed to sunlight can make natural light directly hit the wood surface. This is great for giving a calm, warm, and fresh effect to the bedroom.
2. Fresh Room Decoration with Large Plant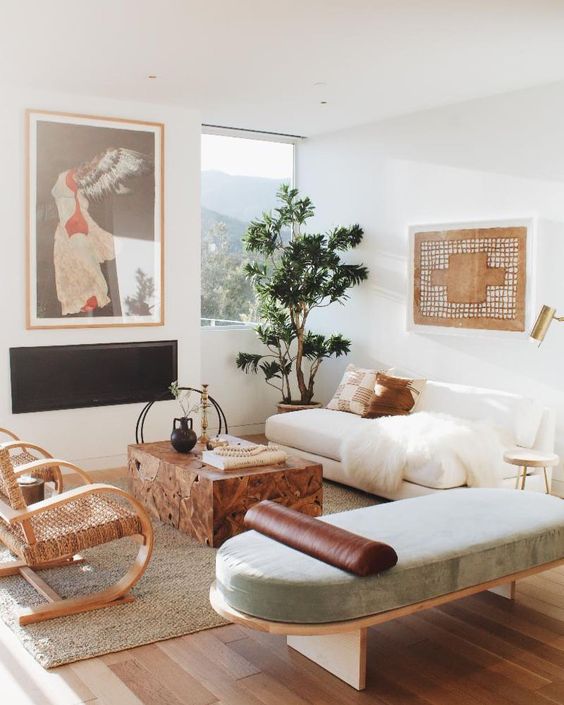 The use of plants is an alternative way to make the room feel fresher. Plants are indeed an important item that must be in the room. With the presence of plants, the room will feel more alive.
To make your room feel fresh, you can choose a corner of the room. This is a spot that is often empty and difficult to decorate. Therefore, take advantage of plants to beautify while giving a fresh atmosphere to the room.
You can place the large plant in the corner of the room near the window. That way, even though they are indoors, plants can still get sunlight to keep growing.
3. Fresh Pink Room Decoration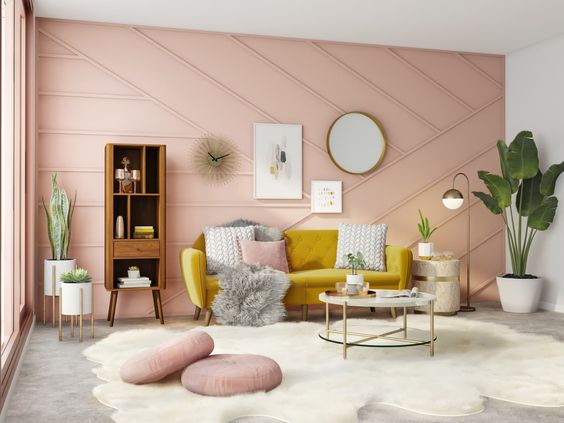 Pastel pink color is very appropriate to make the room look soft, calm, and bright. Not only that, but this is also a very suitable color when combined with green. We can see in the picture above when some greenery seems to blend with the pink in the room. The combination of these two colors gives a fresh effect to a calm and soft room. Be a very interesting decoration to try, right?
4. Natural Hues is Great for Fresh Room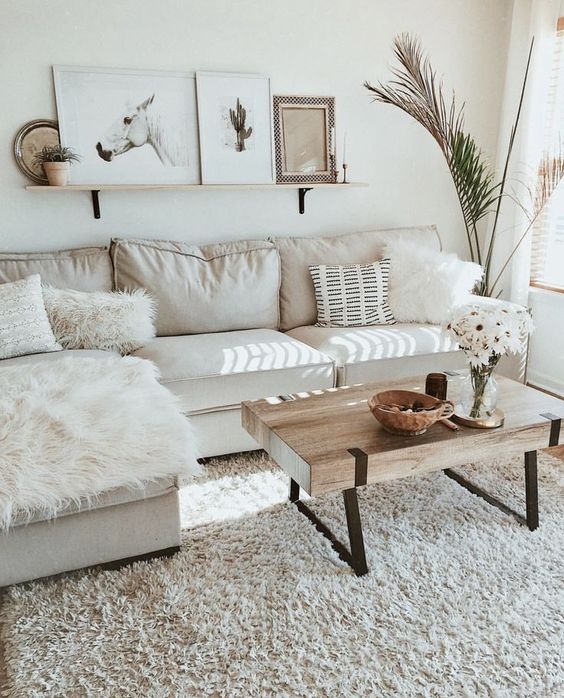 In making the room feel fresh, natural hues are the right choice. Natural hues can work well in presenting the natural atmosphere into the room. White, beige, gray, and green are also able to convey calm. So, the room will feel so comfortable. It is suitable to make a fresh room with natural hues decoration as a room to relax and unwind.
To make this one room feel calmer, you can minimize the furniture in the room. It would be better to apply a minimalist concept in this room. That way, more space will be available which makes the room feel more comfortable.
5. Utilizing The Natural Lighting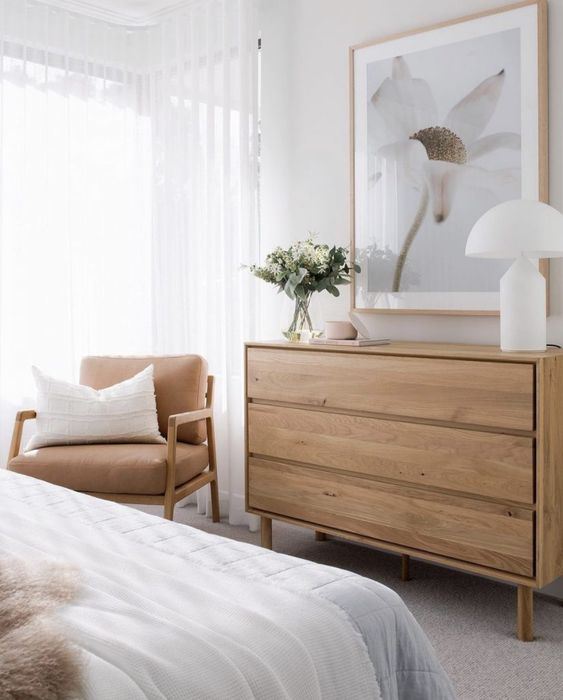 Natural lighting is an important element to make a room feel fresh and natural. So, make sure you do not close your windows or use decorations that block natural light from entering the room.
The use of curtains is very important to maintain privacy in the room. However, during the day make sure you open the curtains of your room wide. Or, you can also use a net curtain. This item is very suitable to be used as a window decoration. In addition, the net curtain also does not block natural lighting that enters the room.
6. Fresh Small Bathroom Decoration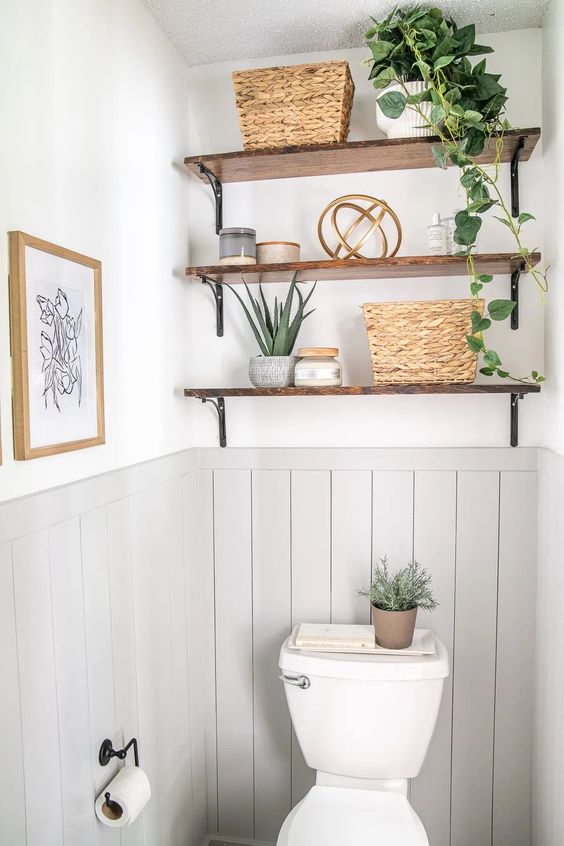 The bathroom is indeed the room that is rarely decorated. In fact, a narrow bathroom looks very impossible to decorate. Whereas, as the room that is used most often, the comfort of the bathroom is also very important.
There is no need to make the bathroom look aesthetic like other rooms. The most important thing is that the bathroom feels fresh and comfortable. And plants are the right decoration to make this room feel fresh.
Take advantage of the side walls to give a fresh impression to a small bathroom. You can install a floating wall shelf and put some small indoor plants there.
7. Fresh Dining Room Decoration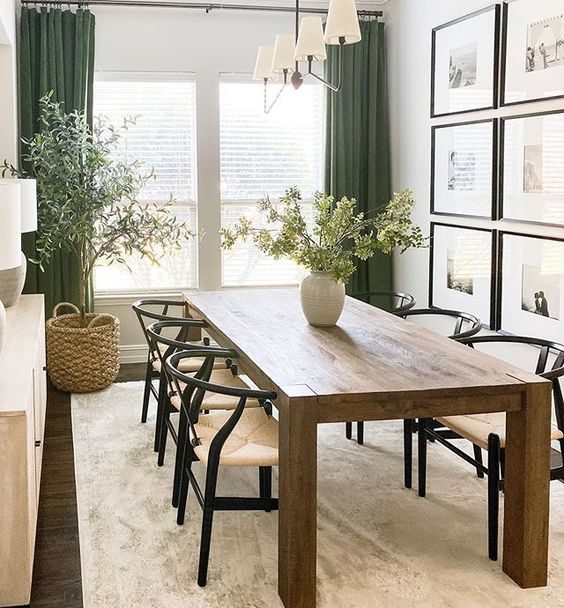 Besides being used as a room to eat, the dining room is also often functioned as a room to gather with family and friends. Therefore, making this room look attractive and comfortable is very important.
In making the dining room feel fresh, present the color green in several spots. Green curtains will make the room appear more stand out. Plus a large plant in the corner of the room emphasizes the green impression in the dining room. On the dining table, there is also a small green plant which is also a decoration that adds beautiful value to the room.
8. Fresh Coastal Living Room Decoration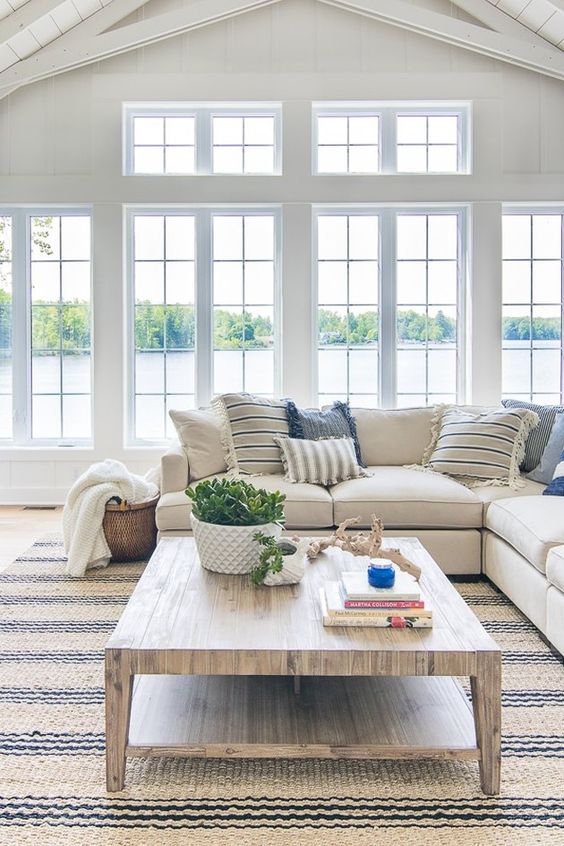 The interior design that can make the room feel fresh is Coastal Design. Blue, beige, and white colors provide a beach atmosphere that feels calm, cheerful, and refreshing. The help of natural lighting also makes these colors look more alive. And also a little plant decoration makes this coastal living room more perfect.
9. Kid Bedroom in Gray Nuances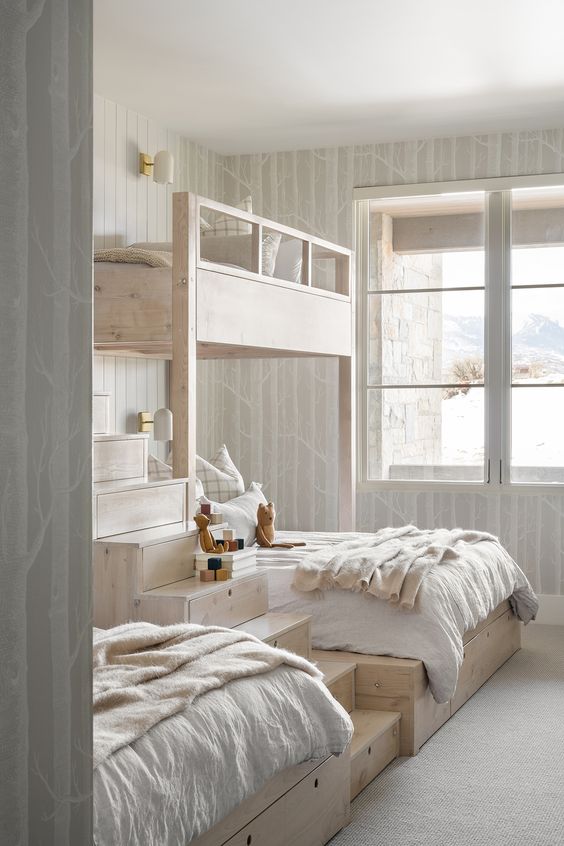 Kid's rooms are supposed to feel comfortable and quiet. It would be better to apply colors that children like. Not only that, but these colors must also make the atmosphere in the bedroom feel more alive.
Kid bedroom in gray nuances is an interesting idea to choose from. Bedrooms like the picture above provide maximum tranquility for children. Gray wallpaper with white bamboo motifs makes the bedroom walls look very attractive. The windows are also left exposed without decorations to maximize natural lighting in the room. With this, the gray color will look more fresh and alive.
10. Green Decoration in Some Spots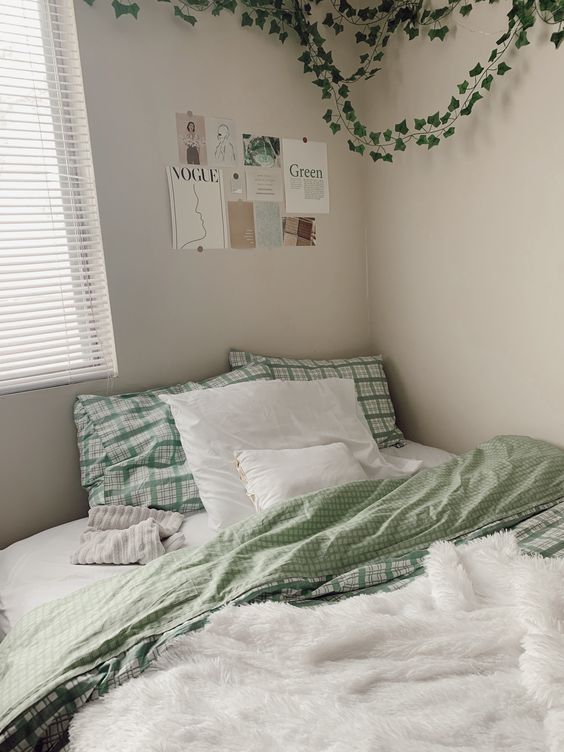 Green is indeed the right decoration to make the room look fresh. Like the bedroom in the picture above. The green color is applied vertically. Starting from the green bedding and pillow sheet with a beautiful plaid motif. Further, on the wall, there are several green posters that make the wall look attractive. And right above it, hang artificial vines that give a fresh feel to the bedroom.
11. Beautiful Sofa with Flower Motifs
A white sofa with floral motifs makes the living room look more colorful. The beautiful flower colors of the sofa give a fresh impression to the room at home. Not only that, but this sofa also evokes a more cheerful atmosphere in the living room.
A little touch of yellow in the form of a blanket makes the sofa look even more authentic. Beautiful blue pillows also decorate this sofa and make it feel cozy.
Also, give a floor lamp right beside the sofa. With this, you can make this area a cozy reading nook.
12. Beautiful Art Wall for Living Room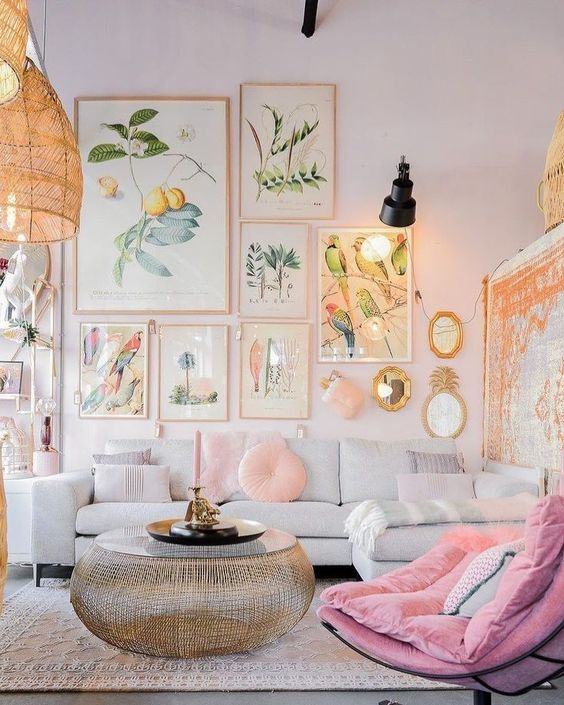 As a place to gather and welcome guests, the living room must be made as attractive as possible. Therefore, make sure that you have a suitable decoration for the living room. Instead of just giving an aesthetic and attractive impression to this room, it would be better to use decorations that can make the living room look fresher.
Paintings of plants, birds, and fruit give a different feel to the living room. Coupled with the pink color that decorates the living room. The combination of attractive wall art with pink color really evokes a fresh and cloudless impression in the room. However, even so, the feel of this one room is quite soothing.
13. Beautiful and Fresh Kitchen Decoration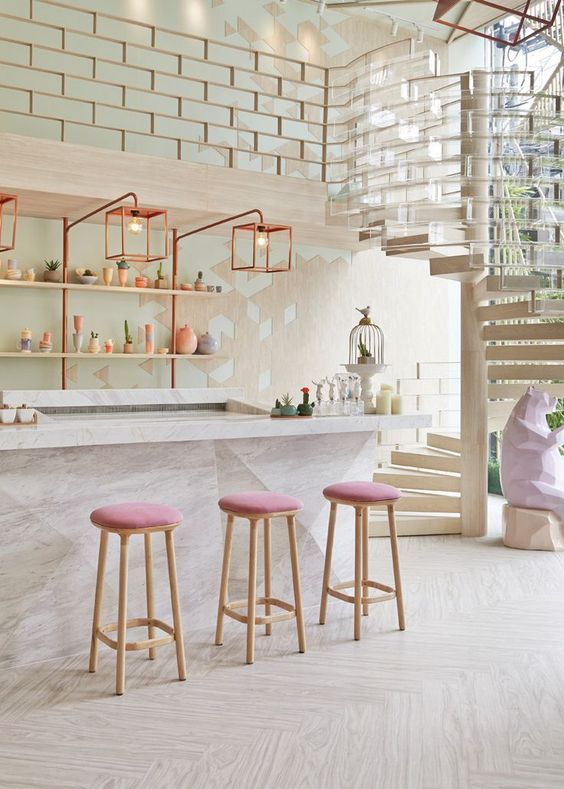 This kitchen looks like a cafeteria, doesn't it? A very beautiful mix of neutral colors. Mint green and pink blend perfectly with the wood elements used in this kitchen. Plus cute decorations on display on the kitchen backsplash. Hanging pendant lamps with an aesthetic shape also play an important role in the appearance of this kitchen. An attractive shape of a pendant lamp makes this kitchen look more aesthetic. The warm lighting from this lamp also lamp evokes a calming, fresh tone.
Final Words
Bringing a fresh impression to a room in the house is very important. As a place to live, the house is not only made attractive. You should also try to bring a sense of comfort to your home. And one of them is to give a fresh impression in every room. And this article will really help you in having the comfortable home you dream of. The 13 points above are Fresh Room Decoration Ideas that you can follow and apply to the interior of your home. So, happy trying and good luck all!