Olidhomes.com – The bedroom is indeed the most difficult room to arrange. The abundance of stuff overwhelms us. In fact, as a place to sleep and rest, the bedroom needs to be made comfortable. Not only that, but the beauty of the bedroom must also be considered. Choosing simple ways to organize your bedroom is the right choice. In this article, we have summarized it in 10 Simply Ways Organize A Small Bedroom. So, let's check it out!
1. Cubbies As Side Table
From now on, make friends with cubbies. You can double the function of cubbies as a storage area as well as a side table for your bedroom. Put some items on top of and inside the cubbies. It is recommended to use baskets for the inside of cubbies. Besides being able to put more items, it also makes the cubbies look tidier too.
So, using the cubbies is the first of simply ways organize a small bedroom. Trust me, the bedroom will be far from clutter.
2. Prefer to Choose Pendant Lamp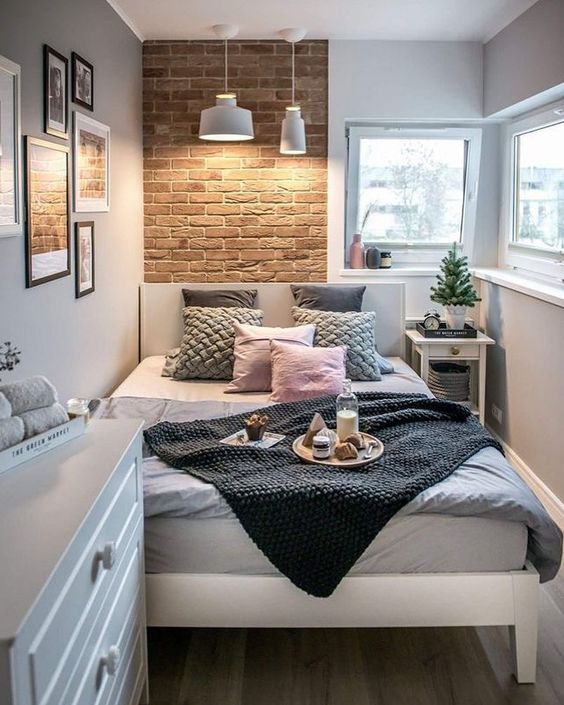 If there is no space in the bedroom, try to avoid using floor lamps. Indeed, floor lamps are very interesting to be a room decoration. However, currently, there are many types of lamps to choose from, one of them is pendant lamps.
Choosing the pendant lamp becomes the second of 10 simply ways organize a small bedroom.
You can find pendant lamps with interesting types and shapes. Choose a pendant lamp with a minimalist design to fill your small bedroom.
3. Double Table-Up Function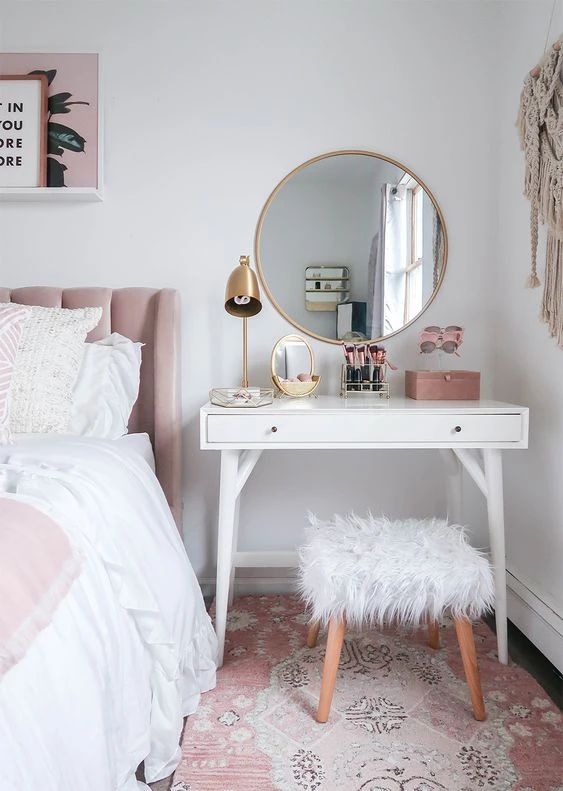 The main key in organizing a small bedroom is not too much presenting the furniture. It's certainly hard to stop ourselves from using a lot of items in the bedroom. However, for the sake of having the dream bedroom, you are required to control your desires.
If you can use one item for two functions, why not? Try to make a double table-up function. You can make the table as a tableside and also as a dressing table. Add a mirror to the wall for a perfect result.
Choosing a table with drawers will help you purge the clutter. The drawer is a great storage area for clumping up a few small items that really distract the look of your room.
4. Platform Bed with Storage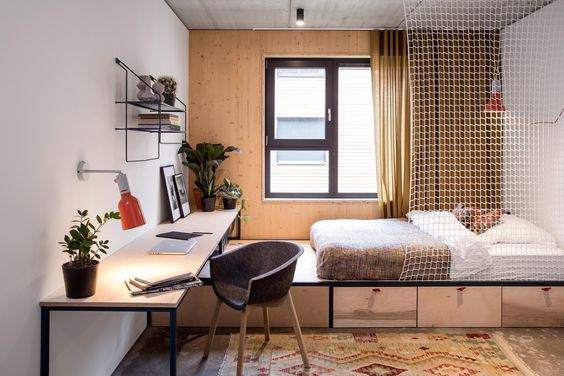 Using a platform bed with storage in the bedroom is also the next of 10 simply ways to organize a small bedroom. No need to use a cupboard in the room anymore. Take advantage of the existing drawers on the platform bed as well as possible. Make sure the clothes are neatly folded before putting them into the drawer. This is very useful so that the clothes that go into the drawer are much more.
5. Placing Storage Cart Beside The Bed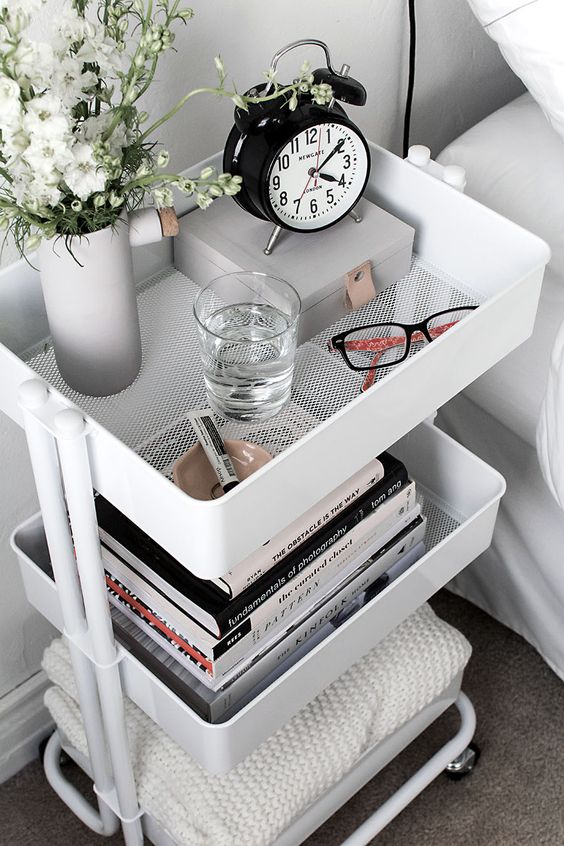 Do you like to read books before sleep? If you do, put your favorite books by the bed to make it easier for you when you want to read.
Instead of using a side table, a storage cart is much more appropriate. In one space there are three storages which will be very useful. The top of the storage cart can be used as a storage area for your stuff. And the middle part is to put your books. And the bottom as blanket storage.
6. Hanging Overdoor Organizer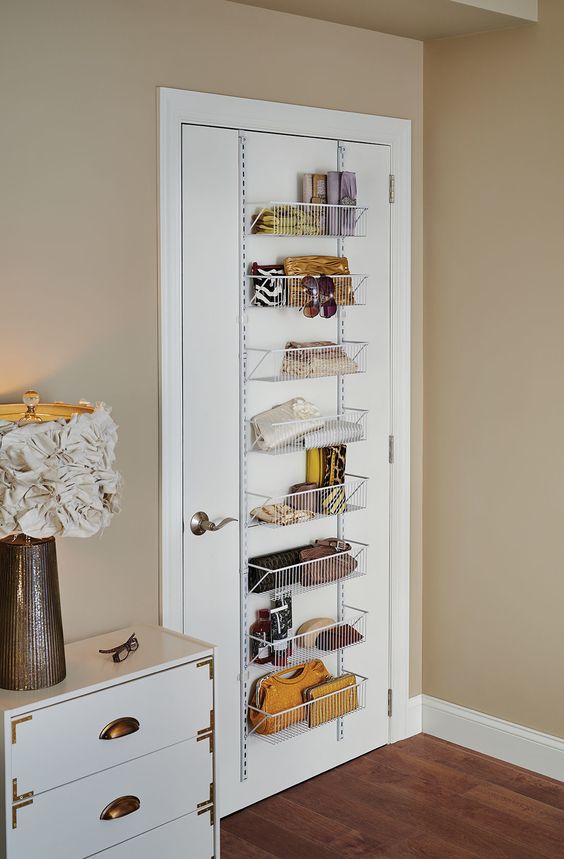 Still have a lot of items but the storage area is full? Try not to immediately use the bedroom wall area. Because this will only make the small bedroom look full.
There are still other spots in the bedroom to choose from, such as the door. Hanging overdoor organizer there. After that, you can put some of your things. Make sure you put it neatly so that the bedroom does not look cluttered.
7. Above-The-Bed Shelving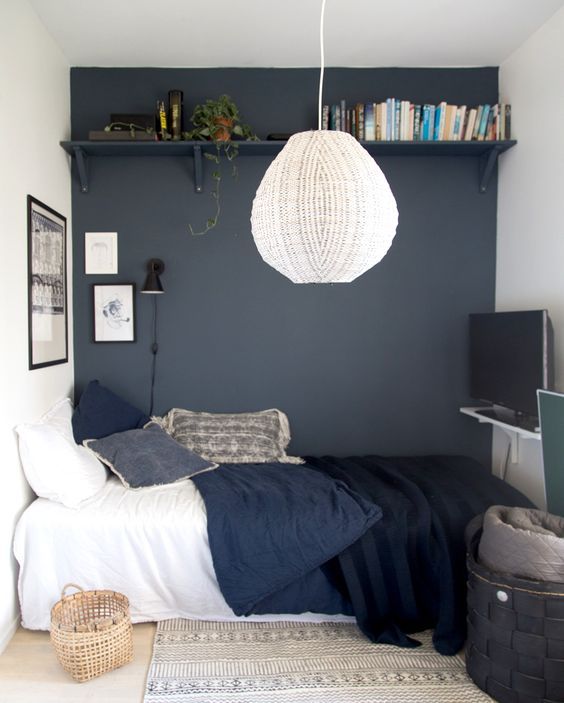 The next simply ways organize a small bedroom is above-the-bed shelving. This one will create a storage area while giving your bedroom beauty.
Make sure the wall to hang the floating wall shelf is empty to avoid the appearance of a full bedroom. Put on some displays to make it stand beautiful. And part of the floating shelf to put some items that you often use, such as books.
Hang the floating wall shelf slightly closer to the ceiling can create the illusion of a tall wall. In this way, your small room will feel more spacious.
8. Mirror Storage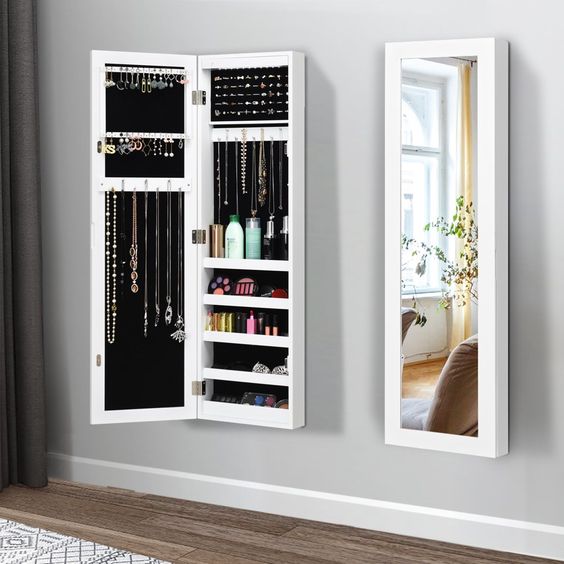 The mirror is indeed an item that should be used in the bedroom. Instead of using this item for mirroring, how about making a mirror as a storage area too? Choosing mirror storage is one of the simply ways organize a small bedroom.
For ladies, you can put your jewelry safely here. Some make-up and brushes can also be placed in mirror storage. This makes it very easy for you when you are doing make-up.
9. Makeup Vanity with Floating Wall Shelves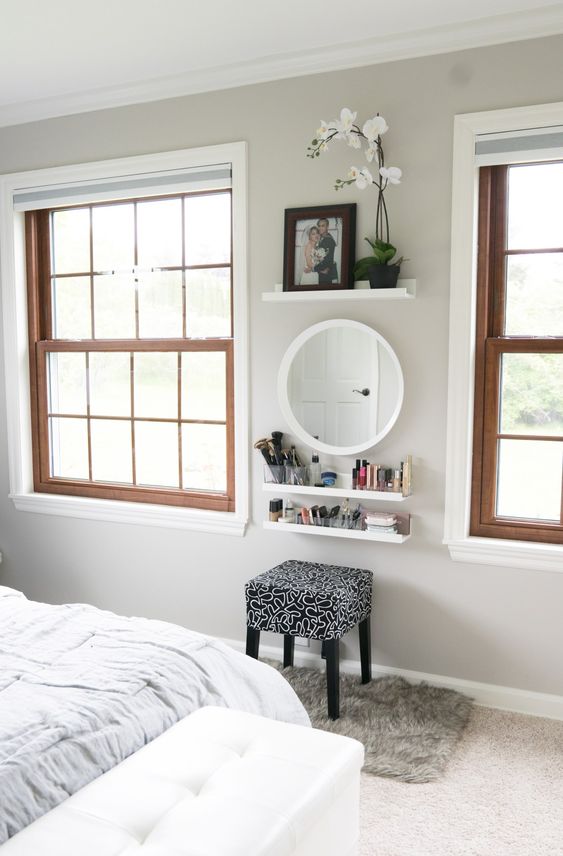 Having a lot of makeup tools has become a common thing for girls. Unfortunately, this can bring a headache to you when arranging your makeup tools to make them look neat. Maybe placing the vanity table will make it easier to arrange makeup tools. But, the use of a vanity table certainly takes up a lot of space in the small bedroom.
In creating a makeup vanity for small spaces, you can utilize the function of floating shelves. Hang the floating wall shelves a little lower and for the center of the wall hang a mirror. Do not forget to give a small stool so that you are comfortable when you make up.
10.  Using Clothing Rack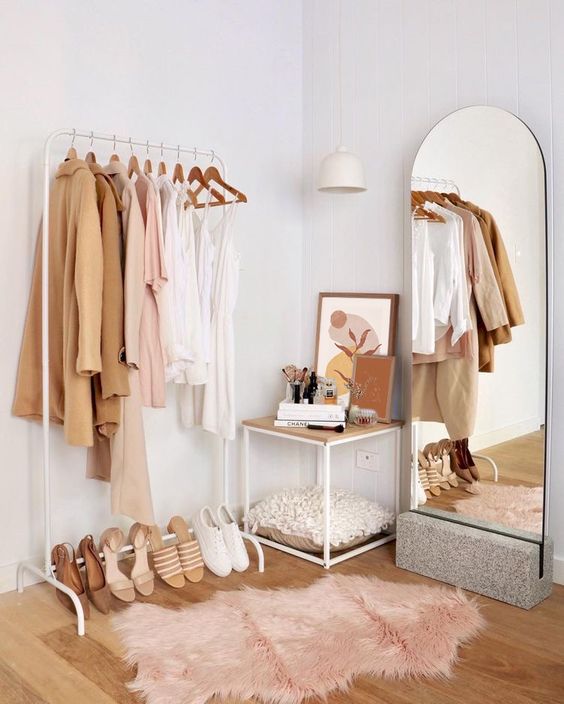 Nothing is greater than organizing your stuff also make the room look beautiful at once. Display your clothes by using the clothing rack. Hang them neatly for a more beautiful and organized look.
Using the clothing rack will also make it easier for you to pick up the clothes you want to wear. Also, you will find out more quickly which clothes are ready to be donated.
Conclusion
Arranging a small bedroom is more difficult than arranging a large bedroom. You have to using a variety of items but must make the bedroom feel roomy. The goal is to make the bedroom feel comfortable. And the most important thing about arranging a small bedroom is how you clump your items. There will be lots of items scattered in the bedroom. So, to keep the small bedroom comfortable, you have to Create A Free Room with 10 Simply Ways Organize A Small Bedroom.