Olidhomes.com – Having a Japandi bathroom is an interesting idea to get the perfect tranquility when you are in trouble or a tiring activity. Perhaps the bathroom becomes the smallest room at home. However, this room is the perfect room for you to calm down. Rest yourself by soaking in the warm water and enjoy the real serenity of Japandi Design.
The Japandi Design become popular. This design can indeed be said to be very new because it was first introduced in 2017. Even so, Japandi Designs entered the hearts of homeowners very quickly. A calm atmosphere is so perfect to make a home a comfortable place to live.
Emphasizing more natural nuances and also a minimalist appearance, making the bathroom not only feel so calm but also can spoil your eyes and mind. Being in the Japandi bathroom for quite a long time, believe me, after leaving this room you will find yourself relaxed.
So, getting interested in Japandi Design? And want to apply it to the bathroom in your home? Let's check these Japandi Bathroom Tips and Tricks: The Perfect Ways Bringing Tranquility to The Room!
Adding The Natural Elements
Natural elements are indeed the best in creating a natural feel in the room. There are four most popular natural elements: bricks, rattan, wood, and natural stone. And among these four elements, Japandi Design chose wood and natural stone.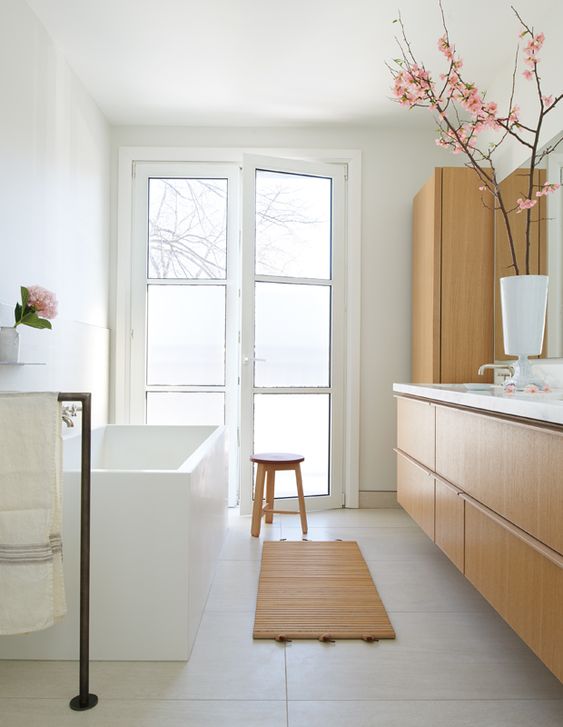 So, if you want to have a perfect Japandi bathroom, make sure that you decorate this room with wood and natural stone. Maybe you can choose bathroom furniture made of wood, such as oval bathroom mirrors with wooden frames, washbasins tables that are made from wood, and many more.
The wood used in Japandi Design is also not careless. The Japandi itself has a bright appearance so that the room will appear more alive, and to support this, Japandi chooses wood with a light color. A glossy or matte wood surface is your choice.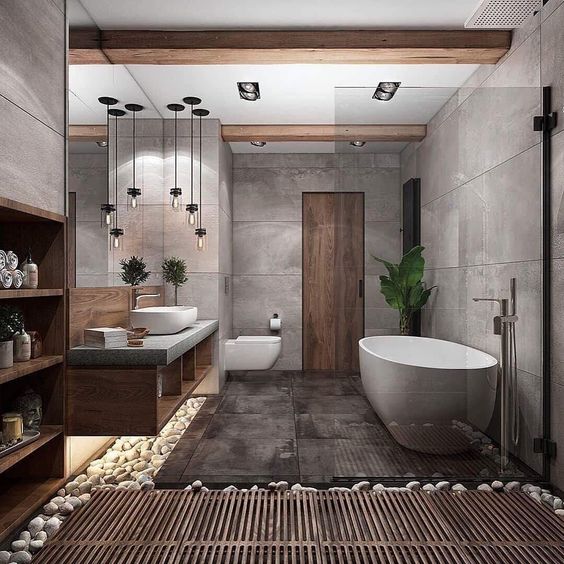 And for the natural stone, maybe you can use this one element to give an interesting accent to your small room. Applying natural stone on some floors or bathroom walls will give the effect of a cooler and calmer feel.
In addition, natural stone is also the right element for a bathroom because it is not easy to grow moss and has a strong texture so that it will last a long time. For treatment, natural stone does not have special treatment. This will make it much easier for you to take care of it.
Giving A Little Contrast Hues to The Room
For the sake of creating a calm and neutral room, natural hues are a mainstay. However, if you feel that natural hues make the bathroom seem boring, this is a sign that you should give a little touch of contrast hues for the bathroom.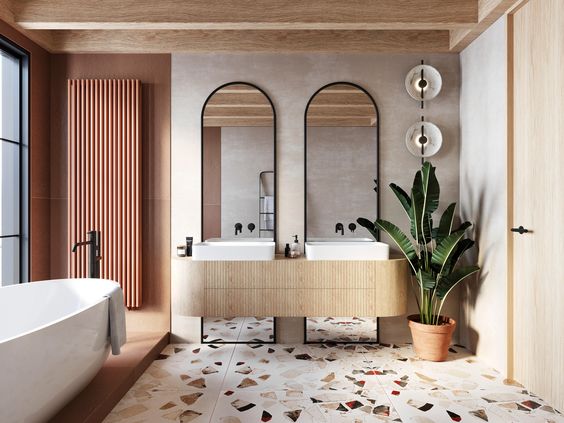 The presence of contrast hues in the bathroom will give a fresher and more lively appearance. One example is the terrazzo floor. With an ivory base color that is given a touch of red, black, and beige, it makes the bathroom floor look very enticing. This is the right choice to give an attractive impression on the Japandi bathroom without losing the minimalist and natural impression of the room.
Another decoration that you can choose is a painting with contrasting colors. Given that the Japanese design applied a minimalist concept, the walls of the room will definitely be empty. Therefore, give an interesting painting to make the bathroom is the right trick you can follow to make the bathroom wall look adorable.
Presenting The Natural Lighting
Japandi Design really needs natural lighting to make it looks alive. The only way to bring natural lighting to the room is to install windows. However, installing windows in the bathroom may be considered risky. Like, your privacy might be compromised.
However, you no longer need to worry about installing windows in the bathroom. Your privacy will be maintained as long as you use curtains on the windows. You can close the bedroom window with curtains when you want to take a shower.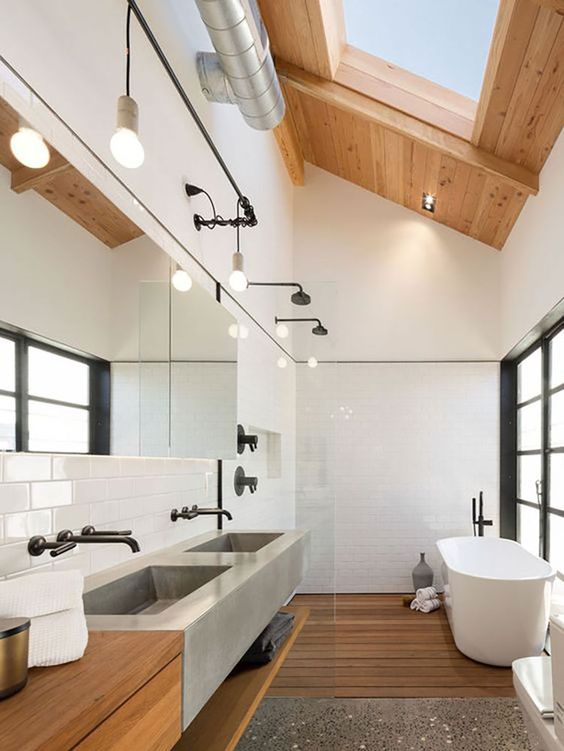 There are also bamboo blinds that are easier to use. You only need to pull the rope when you want to close or open it. In addition, the color of bamboo will also help in giving a natural impression to the Japandi bathroom. So the room will look more harmonious.
And, if you still do not want to install a window on the bathroom wall. This is not a problem. Because the skylight windows can be used as a second option. Probably, installing skylight windows does cost more. However, it is guaranteed that this will be very safe for your privacy. Not only that, natural light entering through the skylight window can illuminate the bathroom better.
Choosing Plants As The Bathroom Decoration
The minimalist concept does not mean the room is left empty without decoration. In fact, a room without decorations will look stiff, unattractive, and boring. And if you want to have a beautiful and fresh Japandi bathroom, you can choose plants as the bathroom decorations.
Japandi itself is an abbreviation of Japanese and Scandinavian. Where the Japanese concept relies more on natural elements in it. Therefore, indoor plants can be said to be an important decoration for this design.
Besides being the main decoration, plants in the bathroom can also maintain the humidity of the air there. In addition, the air will also be clean and you will feel more relaxed when relaxing in this room.
In choosing plants for the bathroom, make sure you do not choose plants that are careless. As we know that the bathroom is a room with a high level of humidity. And, not all plants can survive in this room. So, make sure before buying plants, you research first what plants can live in a humid room.
Minimalist Modern Electronic Design is The Best Choice
The use of a water heater in the bathroom is no longer an anti-mainstream thing. In fact, almost every bathroom has a water heater installed. It really helps you when winter comes. In addition, this will also make it easier for you to produce warm water in the bathtub. With this, soaking in warm water is no longer a difficult and troublesome thing.
There are many water heater designs to choose from. However, for the Japandi bathroom, make sure you choose a water heater with a minimalist design. So, when the water heater is hung on the wall, its appearance will blend with Japandi Design. It's great to make the bathroom look harmonious.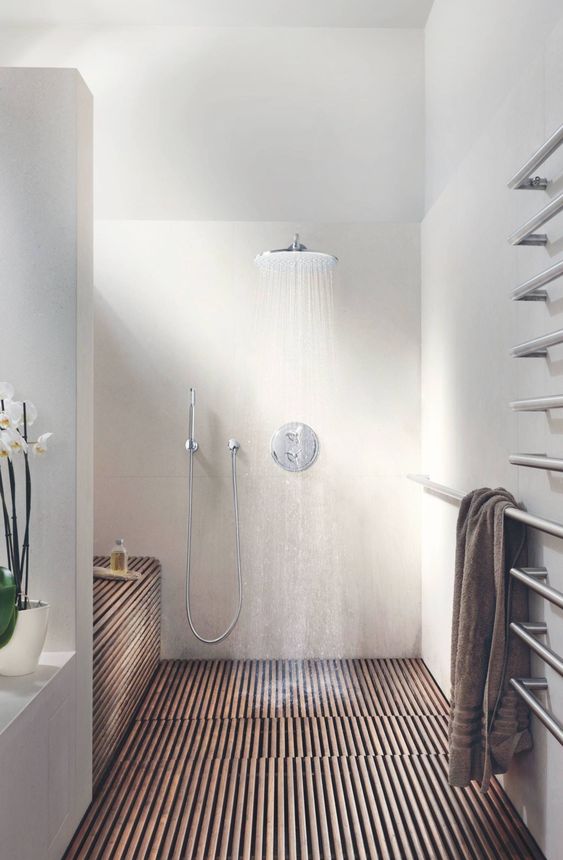 Electronic bathroom equipment is not only a water heater, but there are also shower valves, scales, and so on. For the selection of electronic bathrooms, a minimalist design is the best choice!
Final Words
Being the smallest room in the house does not mean we do not focus on the beauty and comfort of this room. Despite being the smallest room, in fact, the bathroom is the room that is used most often. In addition, the bathroom also becomes the perfect place to escape for a while from the chaos and tiring activities. Soaking in warm water will really help in making yourself more relaxed. And of course, the atmosphere of the bathroom also plays an important role. With this, it would be better to create a calm bathroom atmosphere by relying on Japandi Design. The natural hues and elements from Japandi are perfect to bring tranquility to this room. And in this article, has provided Japandi Bathroom Tips and Tricks that will help you to have the perfect bathroom in your home.