Olidhomes.com – Oval bathroom mirrors may be one type of mirror that is considered too traditional. However, because of its sweet and simple shape, this mirror is still used today to decorate bathrooms.
Probably, the bathroom is the room that is most small or narrow at home. Even so, it becomes the room that is most often used. So, maintaining the beauty of this room is something you have to do.
There are plenty of ways that can be chosen to make this humid room look attractive. Starting from complicated ways to the easy ways.
For those of you who don't really like to be bothered, choosing the easiest way is the right option. And using the oval bathroom can be a mainstay.
Because of its very simple and minimalist shape, the oval mirror is suitable for use in all bathroom designs, especially bathrooms with a minimalist or modern design.
The lines in the room with a minimalist or modern concept will look too clear and firm. So, if you do not decorate it properly, this small room will look stiff and unattractive. So, by hanging the oval bathroom mirror on the wall, the curved lines from the mirror will give a softer effect to this room. So that you will have a minimalist bathroom that looks so adorable.
There are two designs of oval mirrors that you can choose to decorate your bathroom: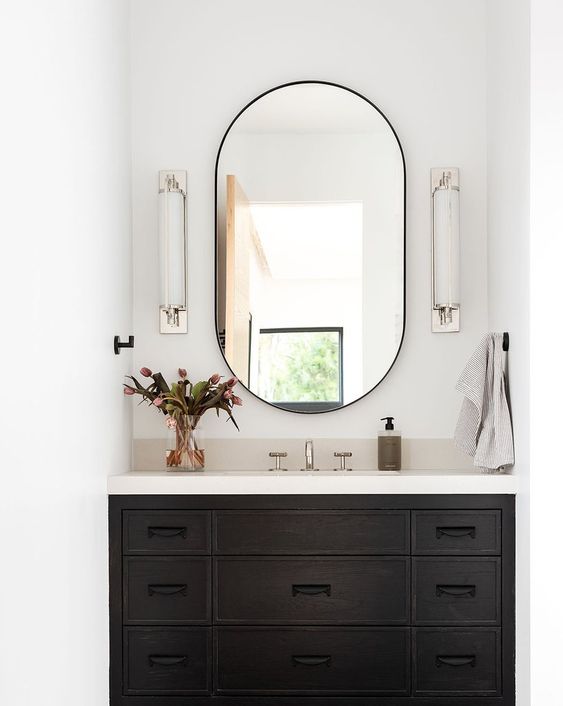 For those of you who want to give color touches into the bathroom, then an oval mirror with a frame can be used as an option. Frames with attractive colors will certainly give a more attractive impression to the bathroom.
The most popular mirror frame color is black. This color is indeed very good for giving a firmer and mature impression to the room. A Black mirror frame will look prettier when hung on the whitewashed wall. White and black are the right combination to make the interior look harmonious.
Frame mirrors made of wood without a paint finish are also another popular item for decorating bathrooms. The wood color will present a natural brown in this small room. The effect also goes to the bathroom atmosphere. The wooden elements can create a warmer and more calm atmosphere. In this way, you will feel cozy in this room. And for those of you who want a softer bathroom appearance, this one mirror can be a mainstay.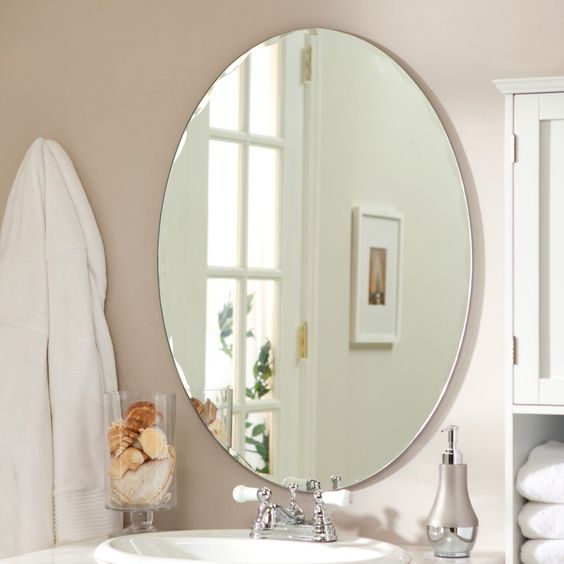 Furthermore, to give the bathroom a more minimalist and modern impression, it is highly recommended to choose an oval bathroom mirror without a frame. The design of the oval mirror will look very simple and make the bathroom look minimalist. This is perfect for giving an attractive look to your bathtub or shower area.
For size problems, this oval bathroom mirror is sold in various sizes. Whether it's an oval mirror with a frame or without a frame, you have to choose the right size of it. Maybe you can choose a mirror with a bigger size for a small bathroom. This is the best way to give the illusion of spaciousness in a small room. In addition, the reflective nature of mirrors can also work well to make the small bathroom look bright. So that there will be no more words "cramped" or "stuffy" in this room.
At this time, you can easily buy oval bathroom mirrors. There are many online stores that sell them. However, make sure you choose a trusted online store. Maybe you can take your time to see and pick which stores are highly rated and sell good quality goods.
The drawback of buying goods at an online store is that the goods that arrive often do not match expectations. Sometimes the low price offered is very tempting. However, behind that, there was an item of very low quality. So, instead of you regretting it, it's better to buy a mirror at a reasonable price or even more expensive. Because there is a price there is quality.