Olidhomes.com – Decorating the house is one way to make the house look attractive. Many people spend a lot of money to make their homes as beautiful as possible. In fact, decorating the house is not only using expensive items. You can also make something interesting that you can display in your home. This is the best way to make your home look attractive without taking a lot of money. So, for those of you who are interested in it, here we have provided 18 Easy and Budget-Friendly Home DIY Ideas You Should Try. Let's check it out!
1. Hanging Pot from Coconut Shell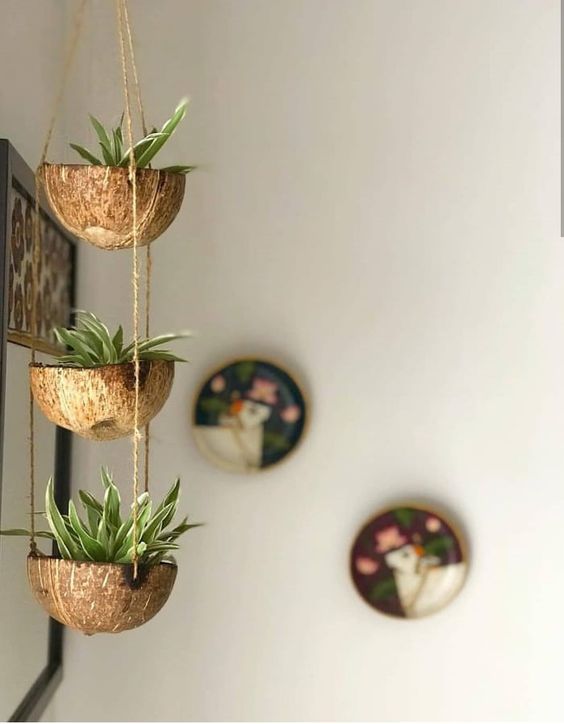 The first of 18 Easy and Budget-Friendly Home DIY Ideas You Should Try is hanging pot from coconut shell. The materials used in this DIY one are very easy to find and get. In fact, you do not even have to spend any money. Just use things you already have in your house, like rope and plants.
You can tie a coconut shell in a semicircle with a rope. Then, fill it with soil and small plants. So, it be is a very attractive and environmentally friendly hanging pot.
2. Wood Pallets for Plant Shelf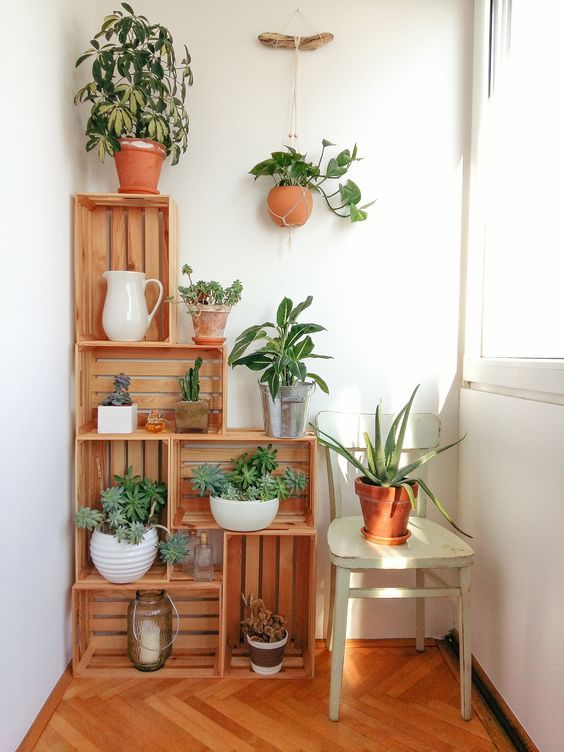 Wood pallets are indeed used as a place to store fruit. However, the function of wood pallets is not only that. You can also make it an attractive decoration for the corner of your house.
As in the picture above where the function of wood pallets is changed into a place to display plants. Wood pallets arranged vertically and horizontally produce a very attractive appearance. In order for wood pallets to stick firmly to each other, you can glue them.
3. Attractive Table Desk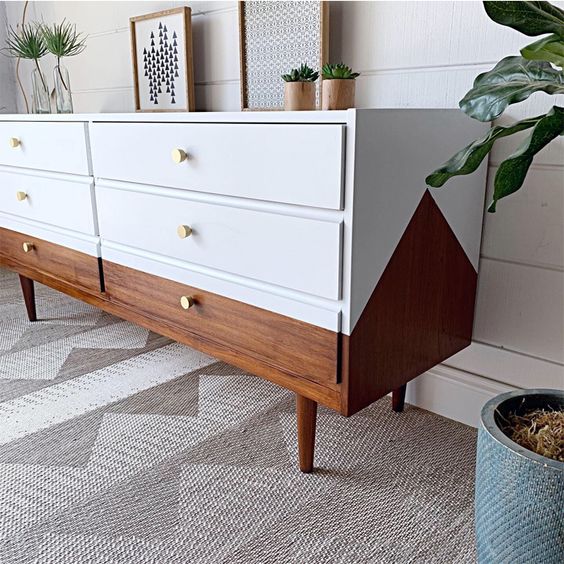 The table desk is the best storage place at home. You can use it to store some of your clothes or other items. And on the tabletop, you can make it an area to beautify the room. Attractive displays on the table desk will make the room look pretty.
If you feel bored with your wood table desk, you can try this DIY. You can paint the top of the table desk almost to the bottom. So that the wood color will still appear and the paint color will give a more different nuance to the room.
4. Utensils Container DIY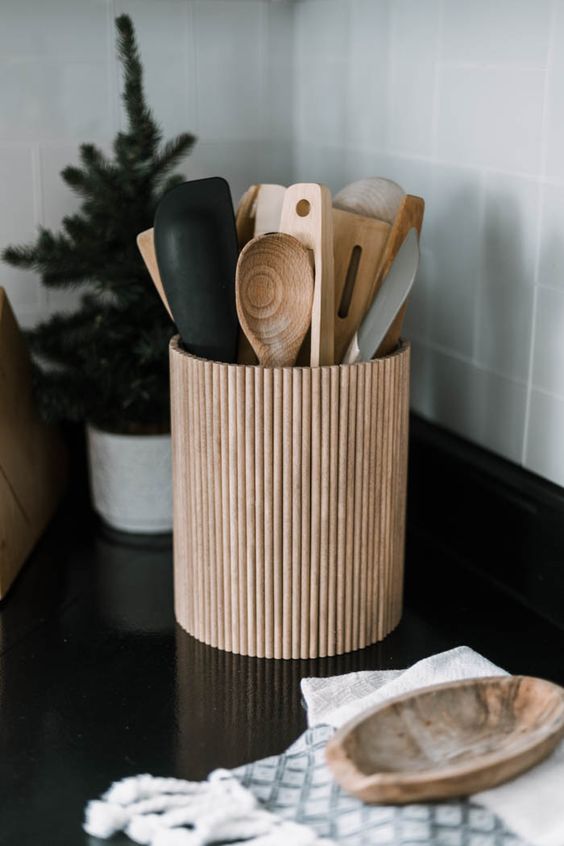 The kitchen is a room that has so many appliances. One of them is cooking utensils. If left alone, the kitchen will become a dirty and messy room. In fact, in making the kitchen feel comfortable, you have to maintain the cleanliness and tidiness of the kitchen. Therefore, make sure you provide the utensils container.
No need to use expensive container utensils. You can also create a utensils container that is attractive and budget-friendly. All you need here are used cans, glue, and wooden twigs. First, apply glue to the twig and stick it on the used can. Make sure the entire surface of the can is well covered with twigs.
5. Hanging Floating Shelf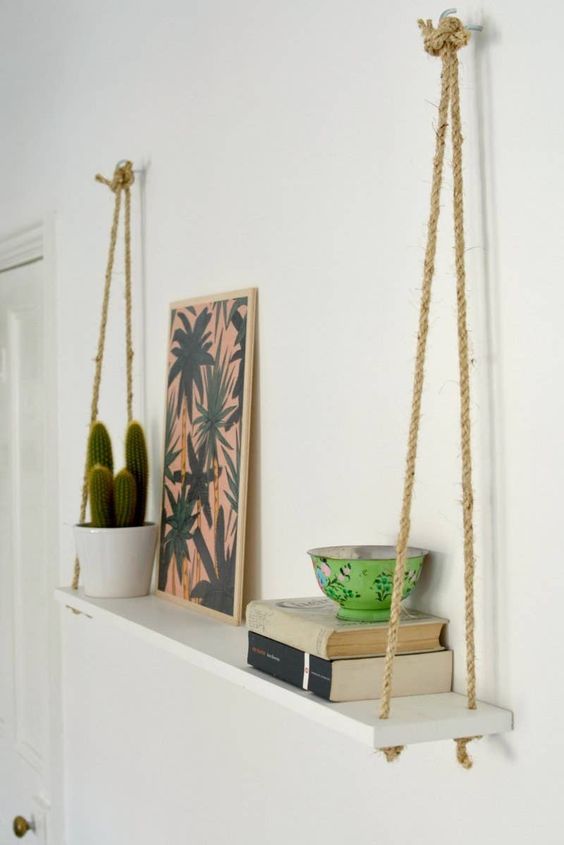 Floating wall shelves are indeed the most important part of the house. This is an item that will really help you to decorate the walls more easily. You can even use this item as a place to put things to make it tidier.
For those of you who want to decorate your room on a budget, you can try this one DIY. Only rely on wooden planks and ropes to have an attractive floating wall shelf.
For a more interesting result, you can paint the wooden board with white paint. Then make two holes on the right and left sides. And the last is to insert the rope into the hole and tie it as tight as possible.
6. Hanging Nightstand DIY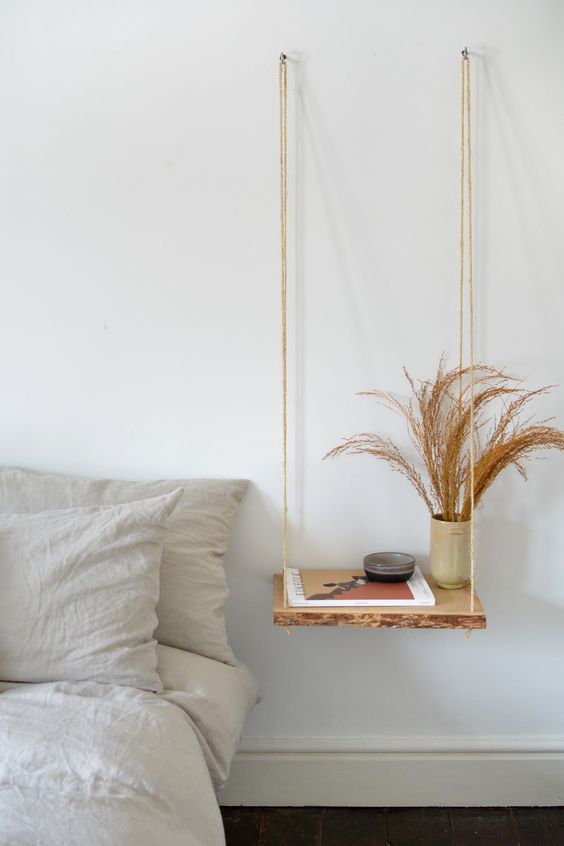 The next of 18 Easy and Budget-Friendly Home DIY Ideas You Should Try is a hanging nightstand DIY. Actually, the way in making a hanging nightstand is the same as the DIY above. And the materials you need are thick wooden boards and rope. It is just that the wooden board you use in this DIY is much wider and not long.
7. Ladder As Blanket Hanging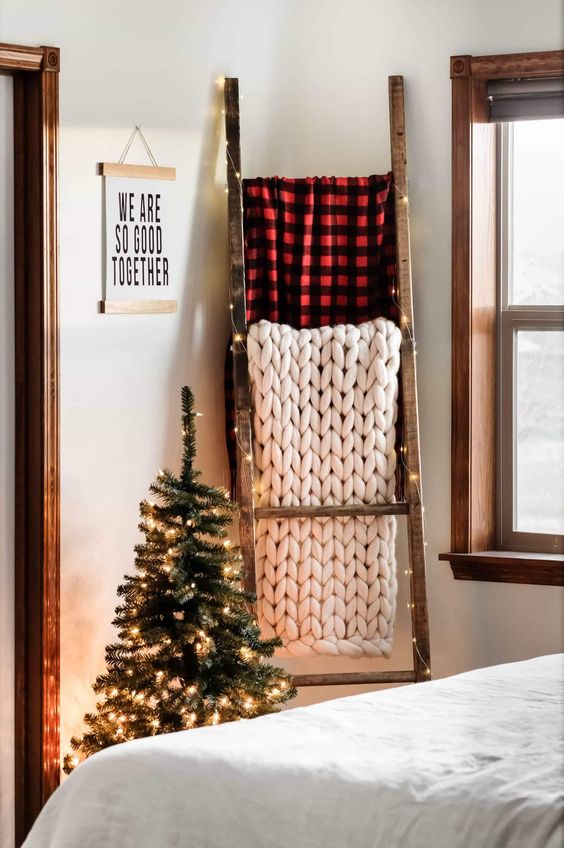 Winter is in sight and it is time for us to prepare some thick blankets in the room. If the blanket is usually folded neatly on the mattress, there are other ways you can choose to make your bedroom look attractive. For example, using the ladder function as a place to hang blankets. This is also an interesting idea in decorating the corner of the room to make it look beautiful.
To make the ladder look beautiful in the corner of the bedroom, you can decorate it with string light. Just wrap the string light on the left and right sides of the ladder. And let the warm lighting give an interesting impression to your bedroom in winter.
8. Candle Lantern on A Budget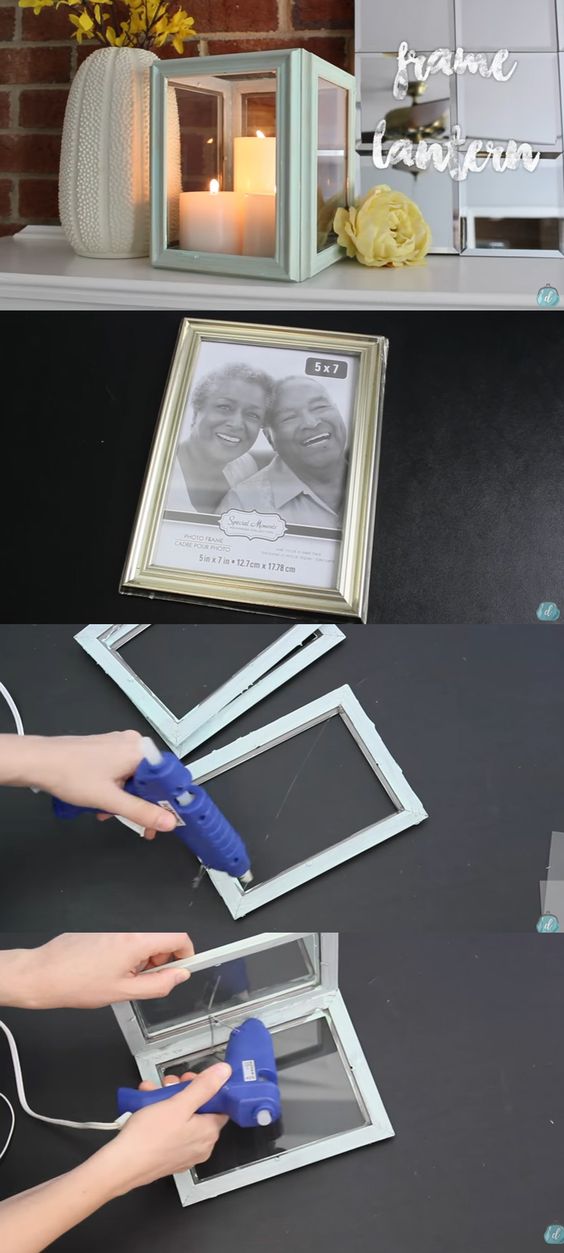 There is nothing more beautiful and calming than the light of a candle in a lantern. This is a decoration that enhances the beauty of the room while presenting a warm yet comfortable feel. To have it, you can take advantage of unused frames. You can glue the frames to each other to form a cube. For more interesting results, you can repaint the wood frame as you wish.
9. Glass and Natural Stone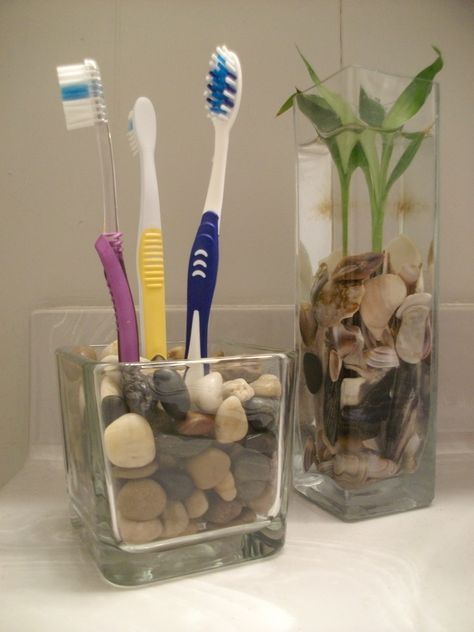 This is the easiest and cheapest way to decorate a room. All you need here is a glass and a small natural stone.
Fill the glass with natural stone until it is full. And make this a place to put toothpaste or makeup brushes.
You can also add plants and add natural stones up to half a glass. To avoid damaging the plant, make sure you insert the natural stone carefully. Then fill it with clean water so that the freshness of the plant is maintained.
10. Fresh Beach House Decors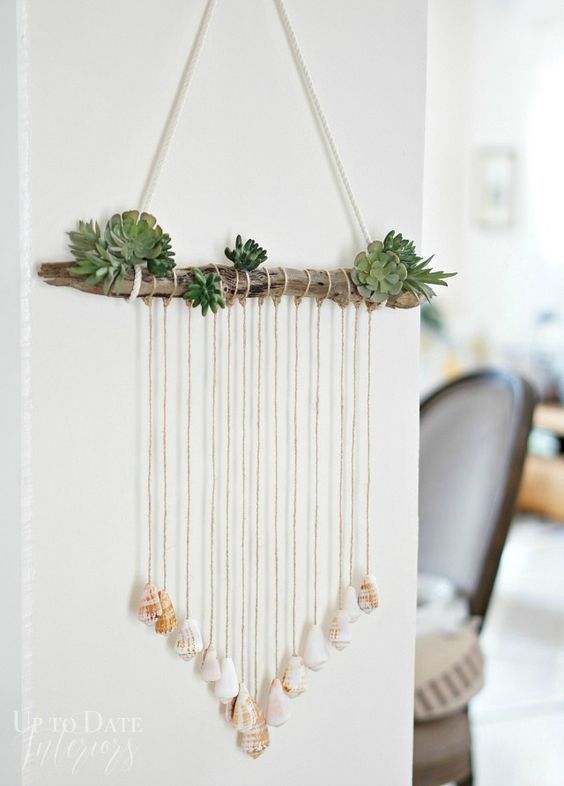 This one is a coastal-style decoration. The shells were tied with ropes and hung from strong branches. On the twigs, fake leaves are also given so that it looks more fresh, natural, and attractive. And hang twigs on the walls of the house. This will really help to make a blank wall look beautiful in no time.
11. Bookshelf DIY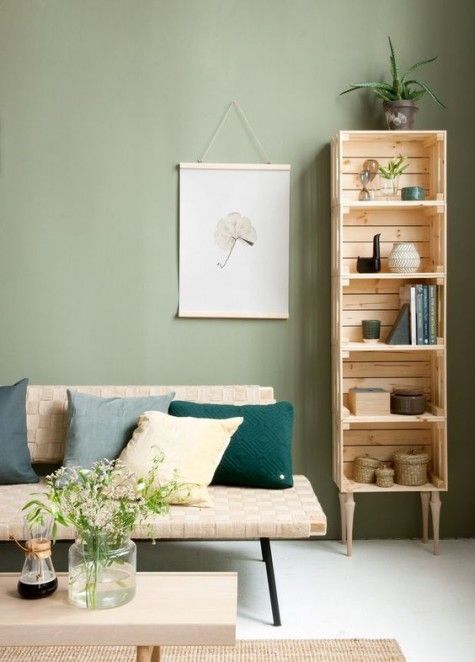 For those of you who like to read and want to bring books to the living room, this DIY is perfect for you to try. Wood pallets are arranged vertically so that they look like shelves. For a more interesting result, you can paint it with the color you want. However, if you want to let the wood show its natural color, then paint is not needed.
Adding legs to the bottom of the shelf will make it look taller. However, it is okay if you want to skip this stage.
12. Sofa Coffee Tray Couch Arm Stand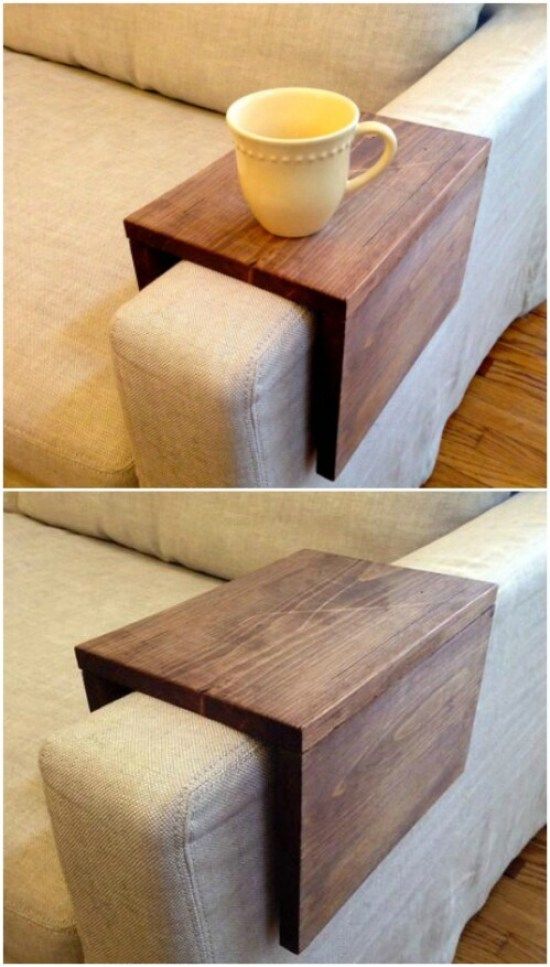 Enjoying coffee in the morning is indeed a fun and relaxing activity. There is another way that you can choose to enjoy the morning with coffee, which is sitting on the sofa and putting coffee on the arms stand.
So that coffee does not spill easily, what you need here is a coffee tray couch. We can make it from three planks glued together tightly to form a small table. And then tuck the wood on the arms stand.
13. Wall Candle Holder on A Budget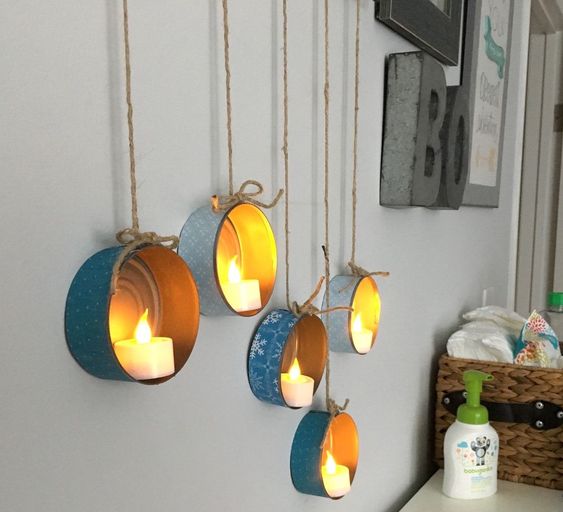 Have an old can at home? After seeing this DIY one, maybe you will think twice about throwing used cans in your home. Because you can turn out the used cans into very interesting and authentic wall decorations.
Used cans that have been repainted and drawn with interesting motifs are then tied with rope and hung on the wall. For a prettier result, hang the cans at different heights. And the last step is to put a candle in each can.
14. Wall Bookshelf from Old Ladder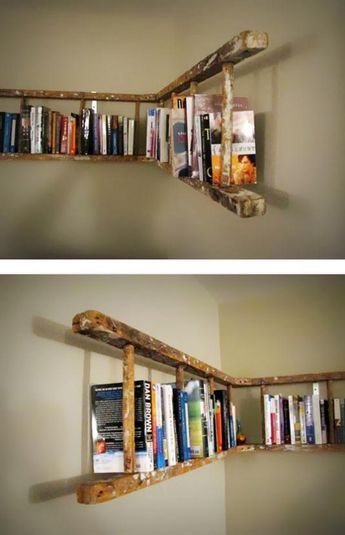 Try not to throw away the old ladder that is old and unused. Because you can turn the old ladder into an attractive and anti-mainstream wall bookshelf.
The method is quite easy. You just need to hang the ladder on the wall. Leave a gap between the wall and the ladder so that books and ledges rest well there.
To make the stairs look fresh and new, you can paint them with the paint you want. However, if you want to give the impression of an old rustic style to your interior, then you can directly hang it on the wall.
15. Plant Table Wood Pallets DIY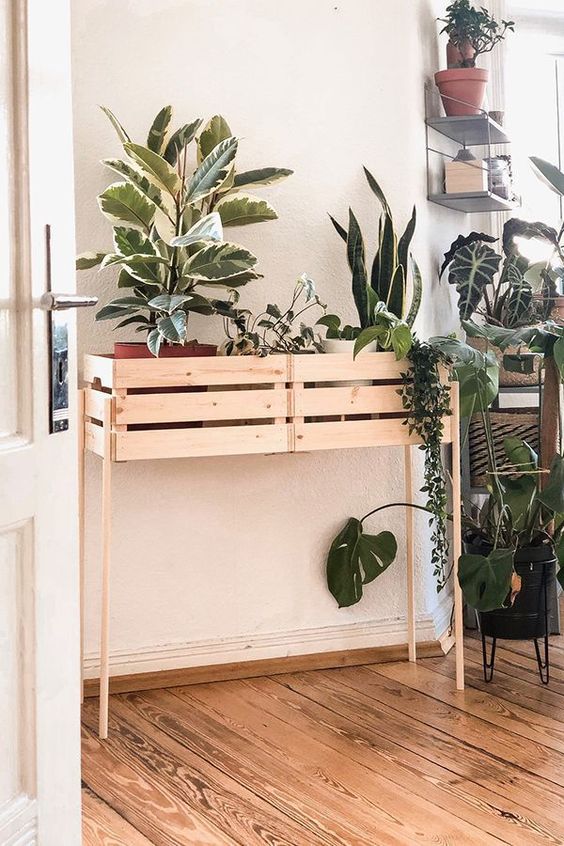 There are many interesting ways to make wood pallets as storage areas. As in this DIY, which makes a wood pallet as a container to put plants.
Two wood pallets are stacked and glued tightly together. Then to make it look taller and look more stand out, made four legs as a support. Then, put some plants into the wood pallet. You can use it to decorate the entranceway so that it will look attractive and captivating.
16. DIY Rope Basket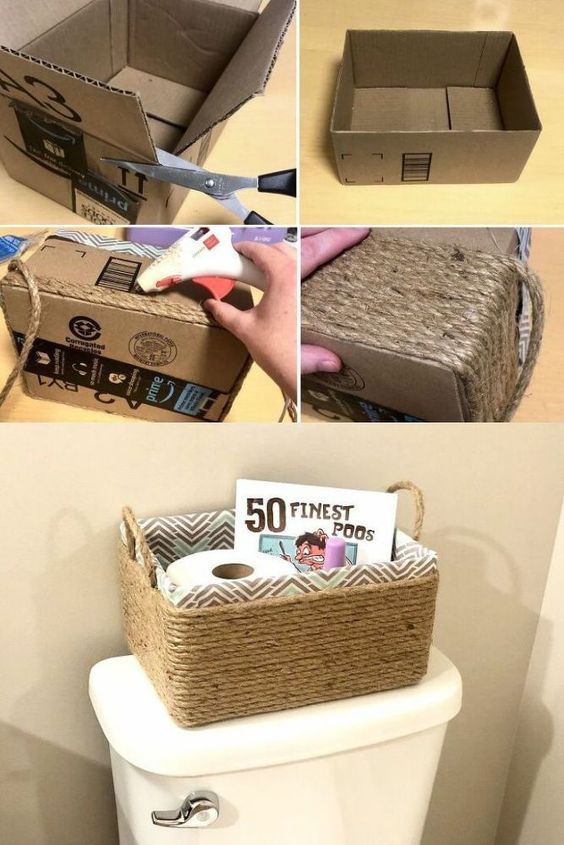 The next of the home DIY ideas you can try is a DIY rope basket. We firmly believe that anyone reading this can DIY this one. The items used are very simple. And how to make it is also quite easy.
The items you need here are cardboard, glue, and rope. You just need to cover the surface of the cardboard with rope. Try to do it as neatly as possible so that the results are much more optimal.
You can use this DIY rope basket to put some things in a cupboard or maybe a tissue in the toilet.
17. Clothespin Memo Board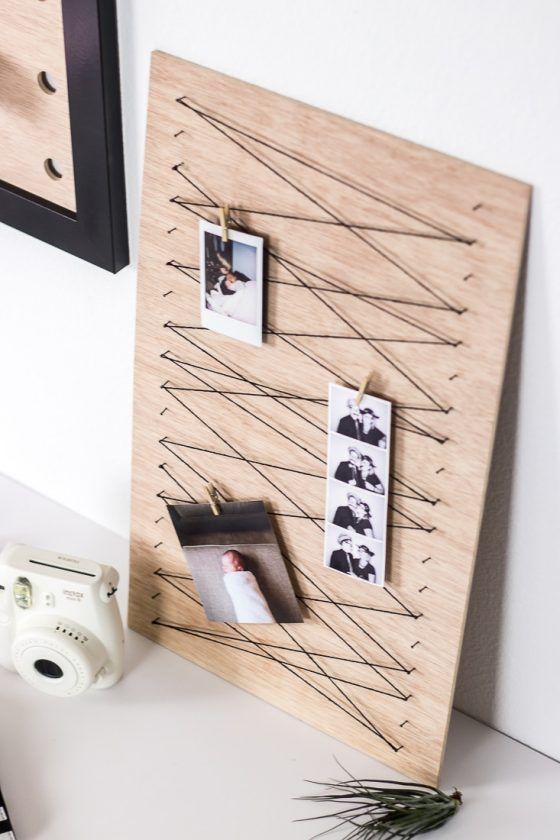 It's time to move on to desk decoration. You can use a clothespin memo board to hang some memorable photos with your friends or girlfriend. This will be very helpful in improving the mood when doing tasks or work.
In making clothespins is quite easy. The materials used are also very simple. Here, you only need a wooden plank, nails, and black thread.
First, stick the nails on the left and right sides like the picture above. Then connect each nail with black thread. And finally, tie the thread tightly.
18. DIY String Art Christmas Stocking Holders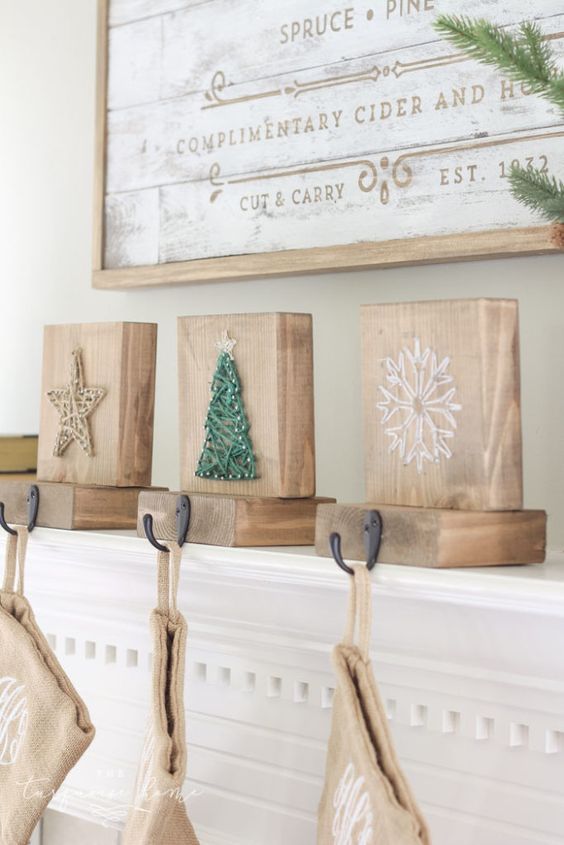 The last of 18 Easy and Budget-Friendly Home DIY Ideas You Should Try is DIY string art Christmas Stocking Holders. This will be a decoration that you will love in welcoming Christmas. As we know, hanging stockings on the fireplace have become an old culture. And to make it look attractive, we can prepare two pieces of wood and glue them like the picture above. To get rid of the plain side of the wood, we can draw the front or make some creativity out of thread wrapped around a nail.
Final Words
The decoration is needed to make the room look attractive and not boring. You don't need expensive decorations to make your home look authentic. You can make decorations that are more interesting, creative, and also cheaper. And in this article, we have provided 18 Easy and Budget-Friendly Home DIY Ideas You Should Try. So, happy trying and good luck all!