olidhomes.com – Comfort in the workspace is the most important part. A comfortable workspace can make you more focused on pursuing tasks or work. And, one way to make your workspace feel comfortable is to keep it clean and tidy. Therefore, you must understand how to organize your workspace.
Important to get workspace organizer ideas. This not only helps you in making your workspace neat but also beautiful. And, in this article, we have provided 16 Ideas for Workspace Organizer you can follow to declutter your desk. So, let's check it out!
1. Box Files and Floating Storage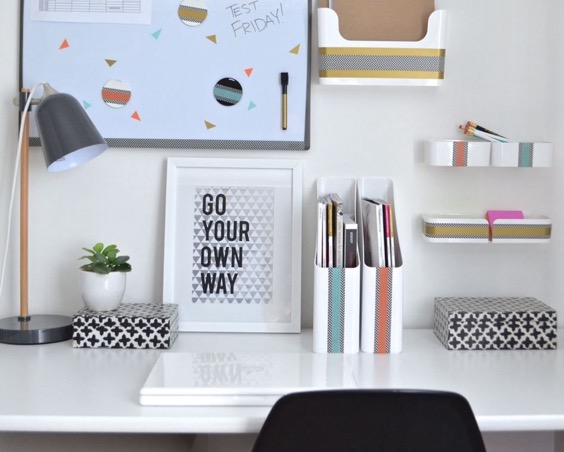 An organizer on a table can declutter the look. Also, it makes a workspace more beautiful. The common type of organizer is a box file. It is a simple organizer with a vertical shape. Thus, you can put some box files to hold your books. Also, it is useful to save other files on your workspace. It is more interesting if you choose the colorful box files. Even, you can pick the color that connects to your home design.
Moreover, it is a nice idea to add another organizer. For example, you can install a wall organizer. A small organizer is also nice. You can stick them on the wall. Thus, decorate it with colorful accents.  The wall organizer is useful to hold the stationery. Also, you can add more organizers on the wall, if you have more things in your workspace table.
2. Mini Storage with Three Drawers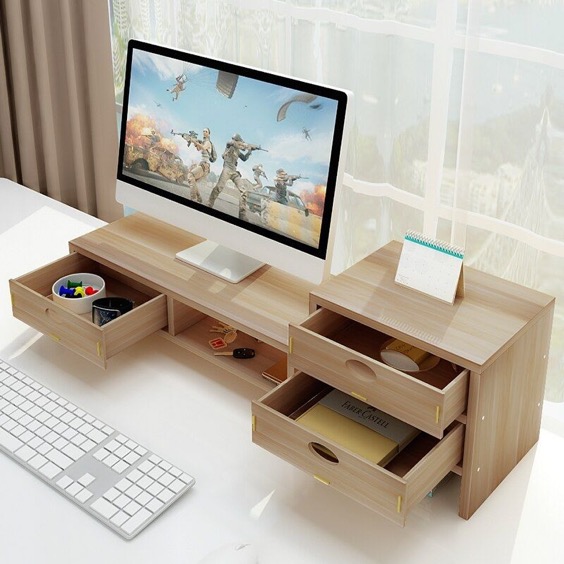 The wooden material is an essential element. Some people like to use wooden materials in their rooms. This material is simple, natural, and strong. Thus, the wooden organizer can be your choice to complete your workspace. It has lightweight. So, it is easy to move this organizer to any spot. Moreover, this organizer has three drawers. It offers some storage to keep your stationery.
This mini storage does not pick up the space. It even, makes your workspace looks more simple. The wooden organizer has a simple design. You will see a special place to put your computer. Then, it has a drawer below it. This drawer is useful for saving your keyboard or any smaller thing. Besides, the three drawers are useful to hold your things.
3. A Wooden Storage with Six Compartments and Two Drawers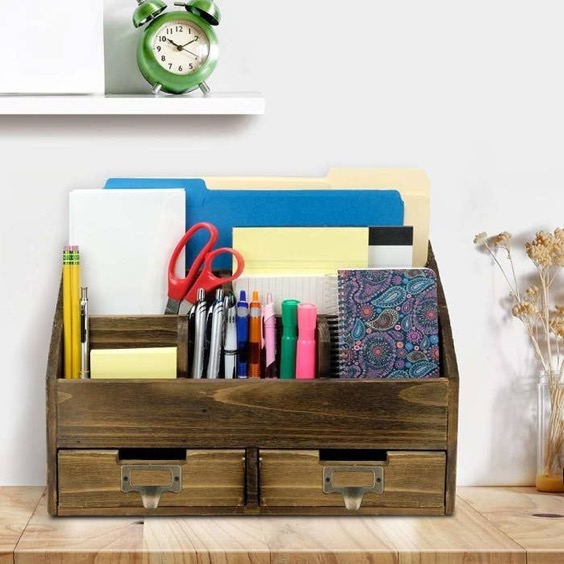 Natural material has a warm impression. Wooden material is a common material to decorate a room. Even, most furniture is made of wood. Thus, you can pick this wooden organizer to upgrade your workspace. It helps you to keep your stationery and books. This wooden organizer has a natural color. It will decorate your workspace with attractive wooden patterns.
This wooden organizer has six compartments. This storage is useful for books, files, drawers, and other stationery. Besides, this wooden organizer has two small drawers. It looks interesting and simple. You can let this organizer has a natural brown color. In addition, this organizer will fit any workspace design.
4. Using Multiple Pencil Holders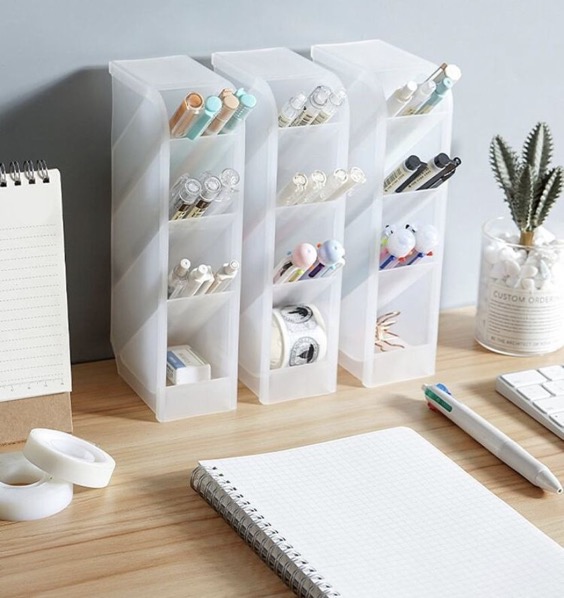 Some people need stationery while working in the workspace. The pencils and pens make this table look cluttered. Thus, it needs a pencil holder. If you have lots of pencils of different types, you can pick this organizer. It is a simple pencil holder with multiple parts. Thus, you can categorize your pencil for every place. This pencil holder is easy to access. Even, you don't need to mess the table with your pencils.
These multiple pencil holders are simple. It has a transparent color. Besides, you can decorate this pencil holder to make it beautiful. This pencil holder is interesting to get some accompanies. For example, you can put a small ornamental plant. Then, arrange your things in the workspace tidily. You can sort them based on the important ones. Makes sure that it has a lovely arrangement.
5. Industrial Bookshelf with A Simple Design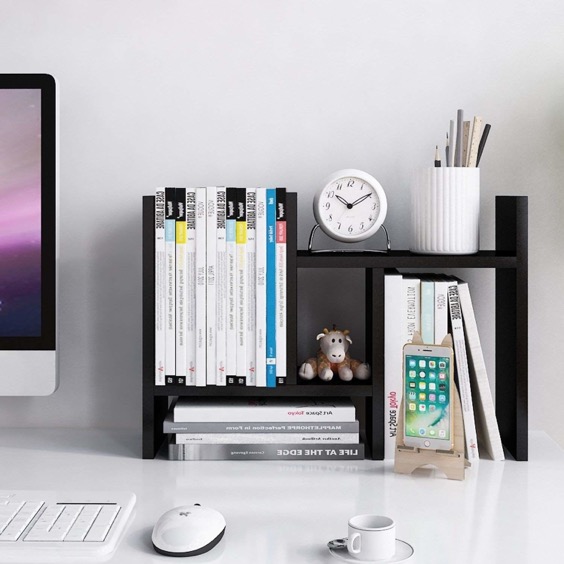 An interior design brings a certain nuance. You may never see an Industrial design. It has unique characteristics that you will love. For example, this is an Industrial organizer. This is a black organizer with a simple design. You will see the simplicity of the storage. It is a small organizer, but catchy to decorate your workspace.
Besides, this Industrial organizer is easy to move. Thus, you can change the location where you want it. Maybe you can put it near the computer or on the edge of the table. Therefore, you need to consider the position to efficiently the space on your table. In addition, you can decorate this organizer with small decorations. Put a small accent in the smallest organizer.
6. Shelf Desk Organizer from Bamboo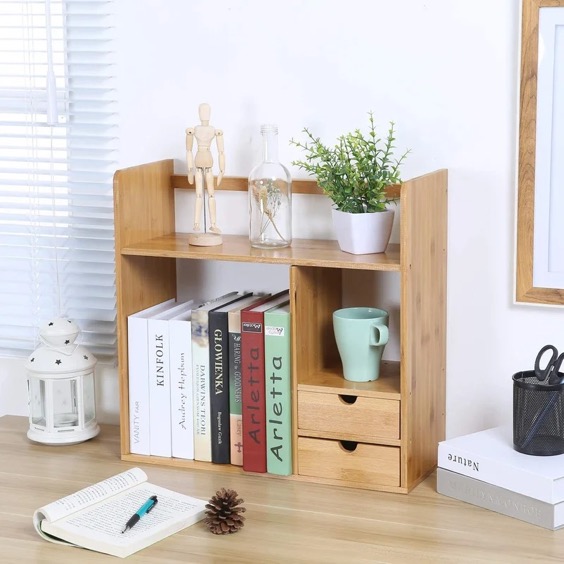 Most wooden materials are useful as furniture. This is one of wooden furniture. Let's see the organizer that is made from Bamboo. This natural material is interesting for creating an organizer. Thus, you can use this organizer to arrange the stationery in your workspace. It has a natural color and Bamboo patterns. This organizer looks interesting to put near your window on the workspace table.
Besides, you can add some items to decorate this storage. The bamboo organizer is stunning with some decorations. Also, it looks natural to load an ornamental plant. Then, add another decorative thing like a cute miniature. Moreover, put a useful room fragrance on this organizer. It will change the atmosphere in your workspace.
7. Multiple Mini Organizers with A Floating Shelf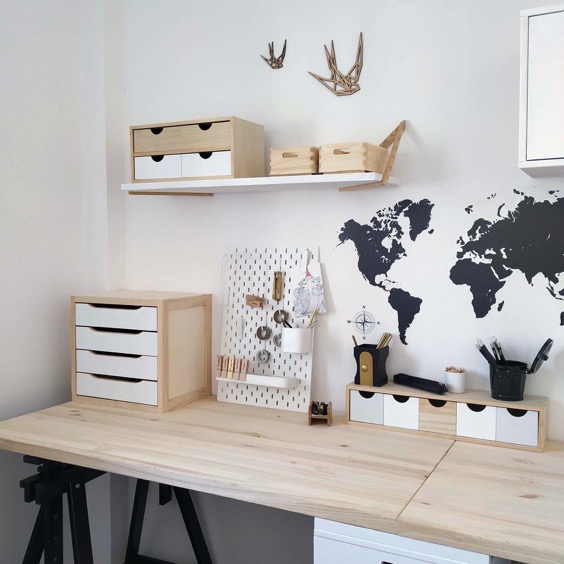 The furniture design can change the impression of a room. Some furniture is useful. Here, we have an idea of organizers in a workspace. This workspace has multiple organizers. These small organizers are cute and useful. Also, it is stunning to use the same theme. The frame is made of wood. Meanwhile, the drawers are attractive with white colors.
Besides, there is also a floating shelf. This wall shelf has a calming color. It is useful to load some organizers. This workspace is tidy and clean. It has a medium table but is clean and neat. You need to sort them to create a clean and tidy impression. Then, always keep the things inside the organizer to declutter the messy look.
8. An Aesthetic Organizer with Elegant Drawers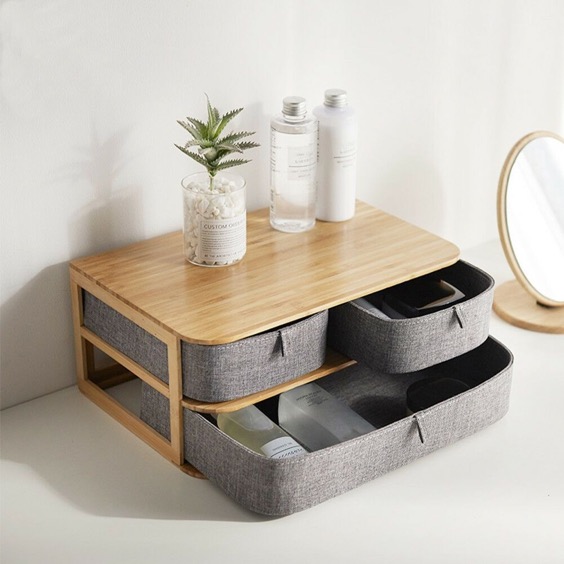 Some organizers are stunning. The wooden organizer is the interesting one. It has a warm color and a natural impression. This organizer has some drawers. Every drawer has a greyish cover. It is a fabric layer. The wooden material and grey fabric make a good combination. Even, this organizer is stunning to put in another room. For example, you can take it to your dressing table.
Furthermore, this organizer has a glossy surface. It looks stunning when reflecting the lights. Meanwhile, the drawers have different sizes. The small drawer is useful to save stationery. Then, the biggest drawer is useful to keep your books. You can add more things inside the biggest drawer.
9. An Adjustable Organizer from Wooden Material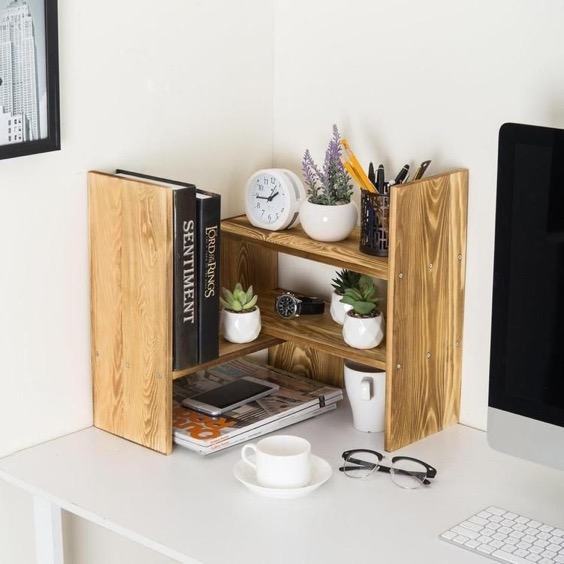 The wooden material is interesting. It is also useful as furniture. In this idea, the wooden organizer is simple and versatile. It doesn't take up your space. This wooden organizer adjusts the corner spot on your workspace table. It consists of three wooden planks. Every plank is useful to load books and files. Also, this wooden organizer is interesting with some decorations.
These are ornamental plants on the wooden plank. Moreover, it loads some interesting items, such as a pencil case, a small clock, and a book. This wooden organizer is a nice storage for a simple workspace that doesn't need lots of things. Also, this organizer is catchy to put near the computer and the wall.
10. Minimalist Storage with a Simple Bookshelf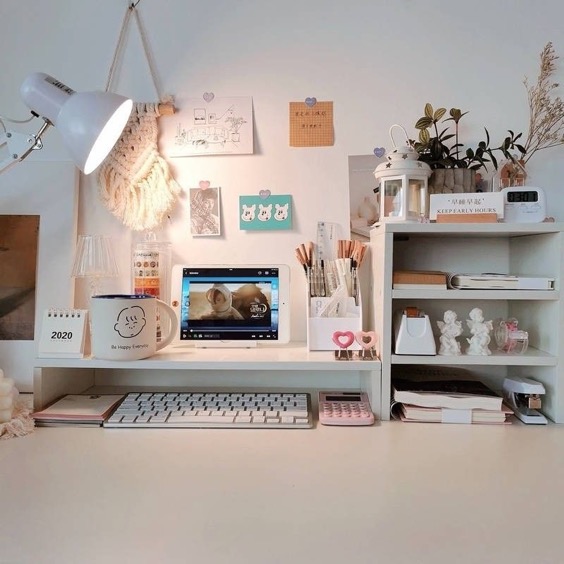 Storage in a workspace is important. You can arrange your items in this storage without cluttering the workspace. This workspace looks stunning and aesthetic. The minimalist storage is catchy. It has some space to keep things. Moreover, the white storage is attractive to put in any workspace. This storage looks interesting to complete the decoration.
Furthermore, this minimalist storage loads many small things. These things are interesting. It consists of books, stationery, small miniature, and ornamental plants. Moreover, the biggest plank is useful to load a computer. Then, you can save the keyboard in the lower part. This storage will keep your workspace tidy and clean.
11. A Versatile Wooden Shelf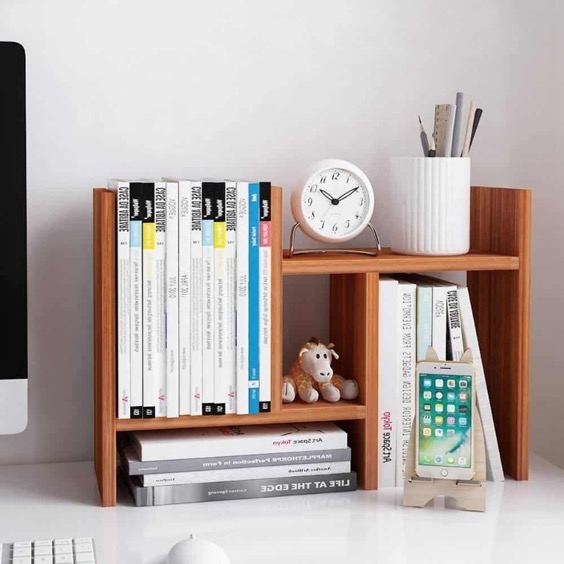 A workspace design will determine the mood when working at home. Thus, you need to decorate it with an attractive design. Here, we have an idea for the versatile organizer. It is a wooden storage with minimal space. However, the things inside this storage are various. There are books, an ornamental plant, a pencil case, and other decorations. This storage will complete the workspace design.
Also, it has a natural wooden color. It looks impressive to place this storage near the white wall. Besides, it is interesting to put some white items to give contrast. Maybe you can arrange a small clock near a white pencil case. Then, arrange the white books and other decorations. Thus, it will be a nice storage to save your items.
12. Using Some Organizers to Declutter A Workspace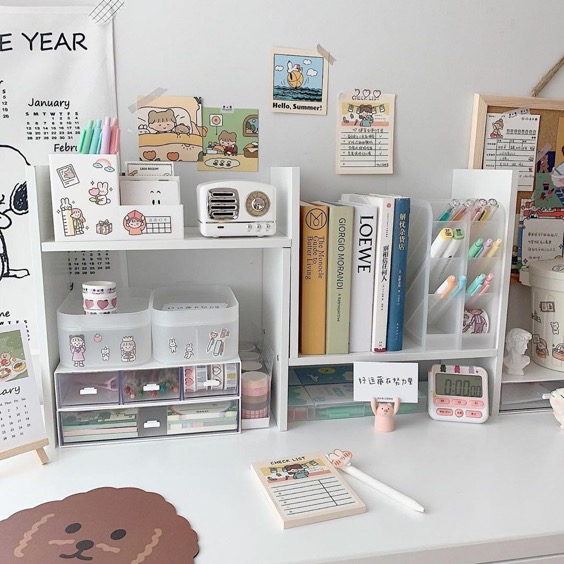 The main function of an organizer is decluttering things. Moreover, it is a useful thing to put on a  workspace table. If you have a large table, you can put a wooden frame as an organizer. Then, add some organizers inside the frame. Let's see the nice arrangement in this organizer idea. There are some organizers, such as pencil cases, small boxes, pencil holders, and box files.
Thus, you can arrange lots of things in this organizer. Moreover, it is fine to have a bunch of pencils and a pen. They will put tidily in a pencil holder. Meanwhile, the books in this organizer are inside the box. The box is vertical and easy to take a book from it. Then, this organizer arrangement will change your mind to have lots of things in the workspace. Now, you have a solution to keep it tidy.
13. A Black Wire Basket to Categorize Your Files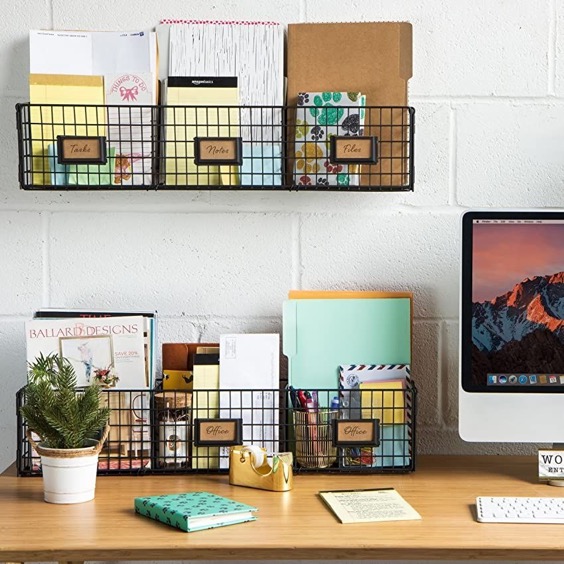 The Industrial materials are stunning. It uses raw elements and dark colors. Let's see this Industrial wire basket. This wire basket is a simple organizer. It can load some items inside the basket. Thus, you can categorize the files in every basket. Then, put a name tag on the wire basket to mark the category. Moreover, you can arrange the wire basket vertically. So, it won't fill the whole workspace.
Besides, the wire basket is easy to move. You can change the position when you redecorate this workspace. This organizer idea will be useful if you always put the thing inside it. Moreover, this workspace looks interesting to have some ornamental plants. Maybe you can pick a small succulent to grow indoors.
14. Desk Organizer with Stationery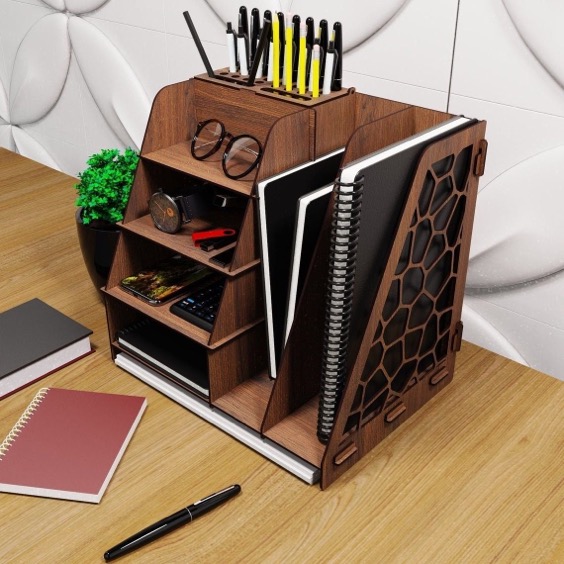 The attractive design of an organizer can change the decoration of the workspace. It is useful to arrange the items in your workspace tidily. Let's pick this organizer as an example. This organizer has a simple appearance. It uses wooden material that brings a warm impression. Besides, this wooden organizer has some space.
There are two boxes for files. Every box can load more than three books. Then, it has four vertical spaces. You can put your small books inside it. Also, arrange your book notes, phone, or glasses on it. Meanwhile, the top space is unique. It has a small holder for your stationery. Even, you can stand some pencils inside the holder.
15. Natural Wood Organizer with Pen Holder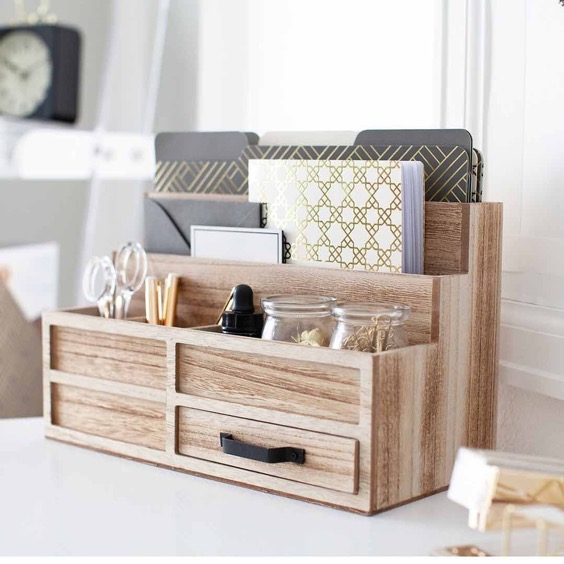 A workspace will need an organizer to keep the thing tidy. This organizer is interesting to put on your workspace. The wooden organizer will be a natural accent on your table. Thus, put this wooden organizer to declutter the workspace. This medium organizer is cute. It has two boxes to keep the books.
Meanwhile, the other organizers are interesting. There are a small drawer and some small holders. The drawer is useful to save small things, such as a small watch and book notes. Also, the other holders are useful to hold the pencil and stationery. In addition, you don't need to color this organizer, because the natural color is interesting.
17. Classic Wooden Desk with Smokey Grey Color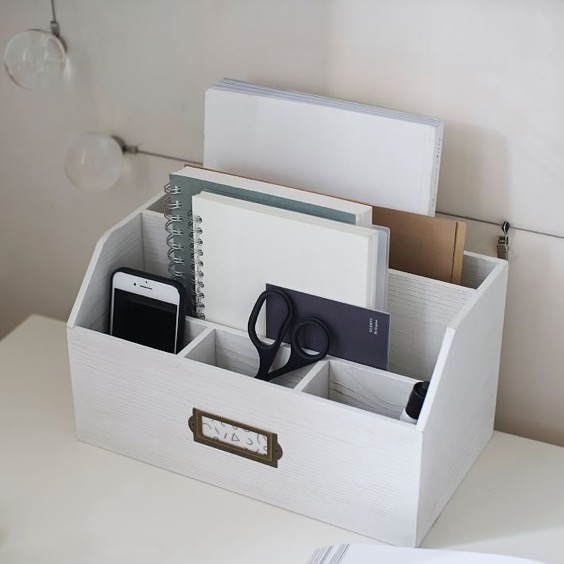 The minimalist design has fewer patterns. It has a simple design and uses natural colors. This is another minimalist organizer. It has some spaces which consist of two bookholders and three smaller holders. This organizer uses a naturally smokey grey color. Thus, you can choose this organizer to tidy up your workspace.
Moreover, this organizer is stunning. This natural color can decorate your workspace without cluttering the design. Besides, this organizer is easy to move. It has a natural design as a simple box. Thus, you can take this organizer to any room without moving the things inside it. This organizer will be a nice option to tidy up your workspace.
Final Words
These are our discussions about the workspace organizers. Every organizer has a special function. Also, those organizers are stunning with various designs and colors. However, the key to keeping your workspace tidy isn't just an organizer. You also need to always clean the workspace and put the things in your organizer. Then, it will make your workspace still clean, tidy, and attractive. We hope this article will inspire you to use an organizer for your workspace. Happy decorating!