olidhomes.com – Not only beauty, the comfort of the bedroom is also a point that you must pay close attention to. In making the bedroom feel comfortable, of course you have to maintain the tidiness of the room. Therefore, it is important to know bedroom organizer ideas.
It is undeniable, the bedroom has a variety of items that if not paid attention to will make the appearance messy. Starting from clothes, books, small items, and so one.
We created this article to help in maintaining the tidiness of your room. Here, we have provided 20 Bedroom Organizer Ideas you can follow. So, let's check it out!
1. Cubbies Also Bedside Table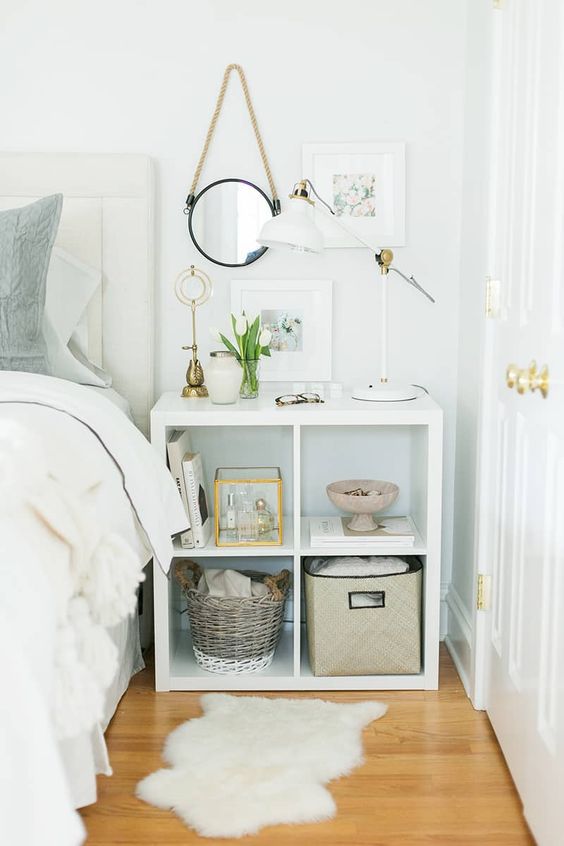 The first of 20 Bedroom Organizer Ideas is a cubbies also bedside table. Actually, bedside is an optional item where if you do not use it it is fine. However, it would be better to use this item. With a bedside table, you can put things near you while sleeping, such as your smartphone, alarms, night lights, plants, and so on.
Instead of using a bedside table to place lights or plants, it would be better to make the bedside a place for more storage. In this idea, cubbies are used as bedside tables. There are four extra storage areas for you to put some of your stuff there.
2. Mini Rack for Your Desk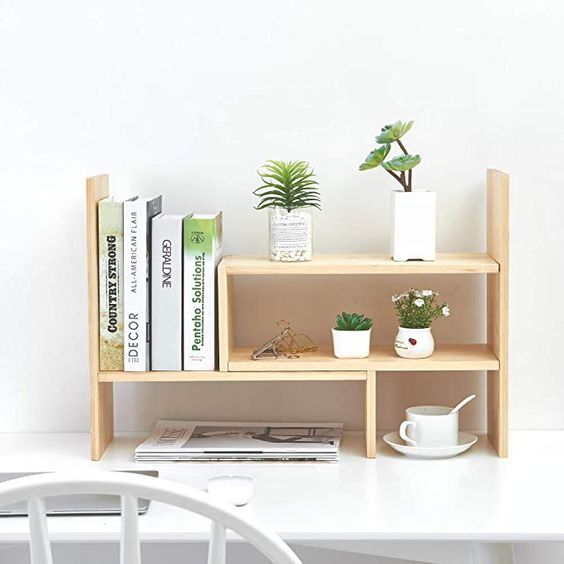 Desk is a work or study area. Of course convenience is needed here. And, as a study area there will be lots of things there starting from books, stationery, to a few small plants as decorations.
In making the workspace look neat, you can use a mini rack. And this is the second of Bedroom Organizer Ideas you can follow. You can neatly put some books and magazines there. The rest, you can put writing utensils or small displays that add an interesting impression to your work/study area.
3. Boxes for Your Drawers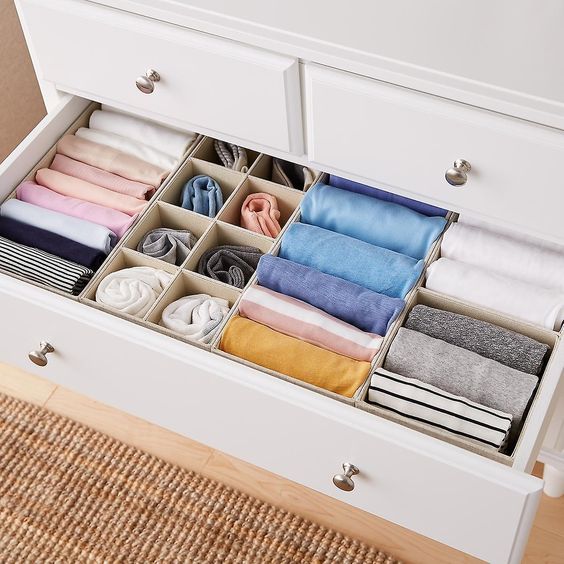 Drawers are the perfect storage space. All your items can be stored there so that it makes the bedroom look tidy. However, that does not mean you just put all your items there. The drawer area is also important to make neat.
In this idea, boxes are used to organize your stuff. You can make it neater and more organized. For example, small boxes for socks and other boxes for your t-shirts or sleep pajamas.
4. Floating Vanity Station for Corner Room
The corner of the room should never be left empty. You can use the corner of the room as an area to make up yourself. Here, you can install a floating vanity station to provide more space. This one idea is perfect for small bedrooms.
The area under the vanity can be a place to store benches. With this, there will be more free space for you to move. With this also, the bedroom will feel more comfortable.
5. Door Rack for Your Bags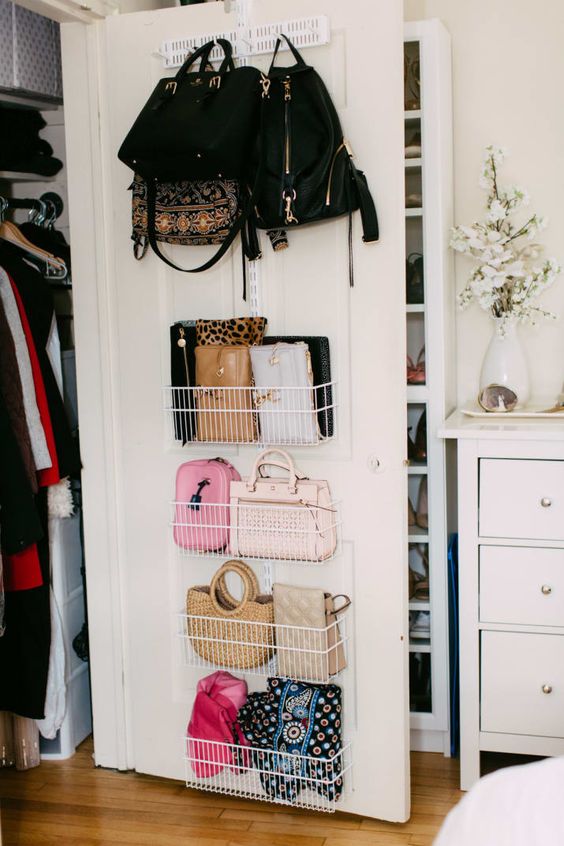 For those of you who have lots of bags, do not put this in your closet because it will only take up space. You can store your bags in the closet door. And of course, you need additional items in the form of door racks.
Install the racks from the area below the door to the area above. That way there will be more storage space for you to put all your bags here. Try to put the bag neatly. You can sort from bag size to bag colors.
6. Long Floating Shelves for Extra Storage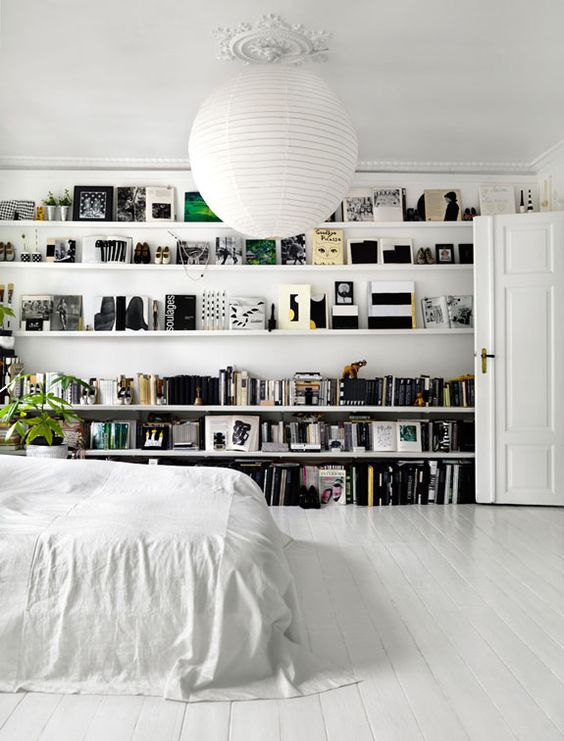 As previously explained that the bedroom as a private room will have a lot of stuff. If you use a lot of cupboards, the bedroom will feel cramped. So, to work around this, you can use long floating shelves and install them horizontally on one side of the wall as shown in the picture above. There, you can put all your items be it CDs or your favorite books. Put all your things neatly because this one spot will affect the appearance and comfort of the bedroom.
7. String Floor Shelving as Mini Library in Bedroom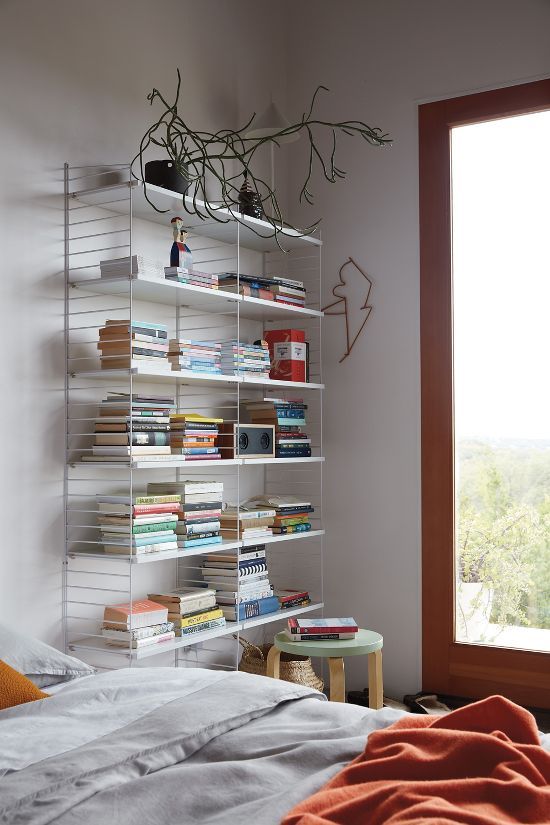 It does not matter if you want to make your room a comfortable area to relax and read your favorite books. You can insert a mini-library to your bedroom like the picture above. And, it becomes the next of 20 Bedroom Organizer Ideas.
You can place string floor shelving right beside the bed. Choose a spot next to the window. With this, natural light will make you feel comfortable in this reading area. Also put a chair to relax in the corner of this room.
8. Bookshelves Bed Framed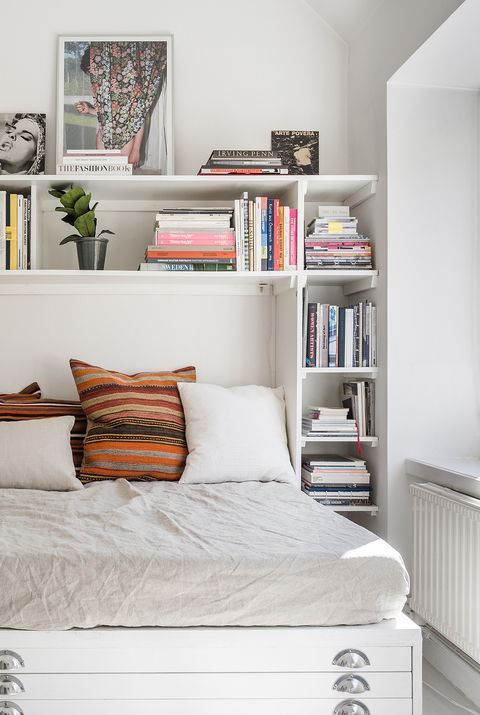 For those of you who like to read and make it a hobby, this one idea is perfect for you. You can install bookshelves like forming your bed frame like the picture above. And this is where you put all your books.
This one idea will also make it easier for you to pick up the book you want and put it back when you want to sleep. With this, you will feel more comfortable reading in your bedroom.
9. Bench also More Bedroom Storage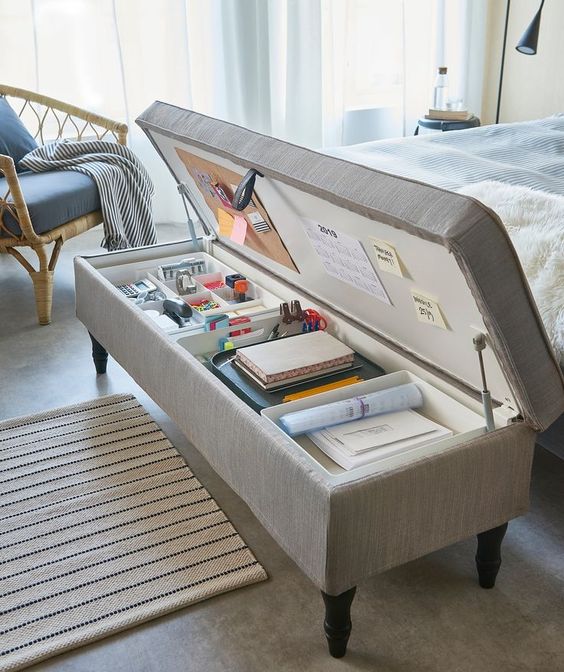 Bench is an optional item that you can bring to your bedroom. You can use this one item as a relaxing area. That way, the tidiness of the bed is maintained properly.
However, the bench is not just an item for relaxing. You can make it more than that, like making it more storage in the bedroom. With this, choose a bench that has a storage area and can be opened and closed. Here, you can put your small items that you think can make your bedroom look messy.
10. Clothing Rack for Clothes That Are Often Worn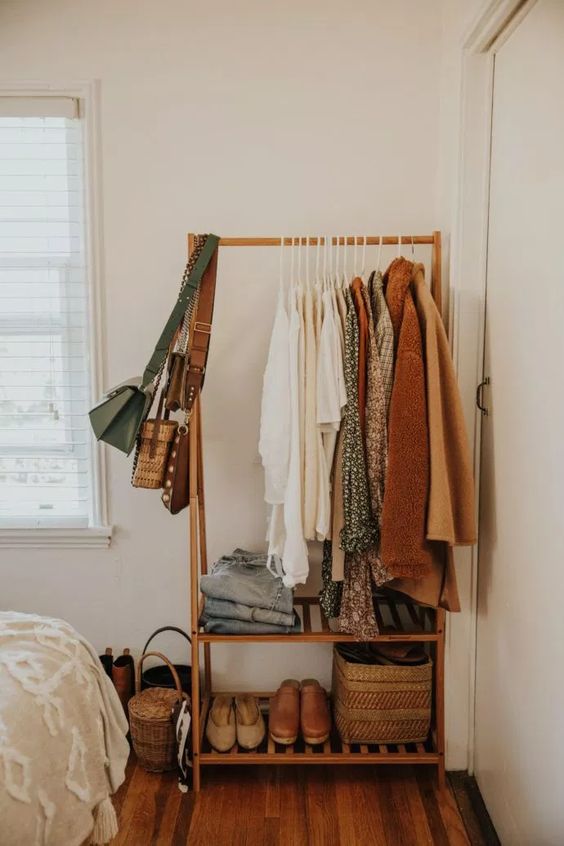 Usually, there will be favorite clothes that are often used. And keeping them in the closet can make it difficult for you to get them back because they get mixed up with other clothes. So with this, it is important to use a clothing rack.
Not only clothes, you can also put your shoes and some of your bags there, as shown in the picture above. And, you can also use a clothing rack as an item to decorate your bedroom corner.
11. Cubbies as A Room Divider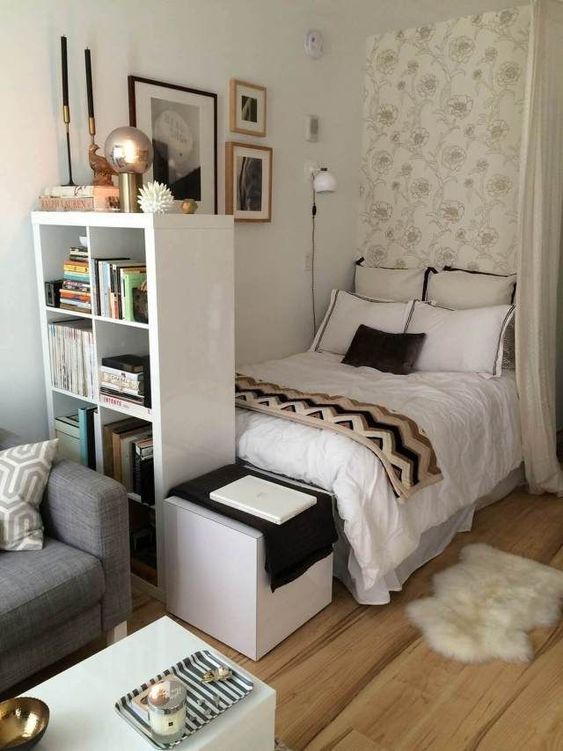 For tall cubbies, you can use it as a room divider. And, this is the next 20 Bedroom Organizer Ideas you can follow. Here you can also put some of your items, starting from books to night lamps. Also put some decorations to add an interesting impression to the bedroom.
You can apply this one idea to your small bedroom or studio apartment. With cubbies as room dividers, the room will not feel cramped. On the contrary, using cubbies as a room divider can make a small room feel more spacious.
12. Acrylic Box for Your Underwear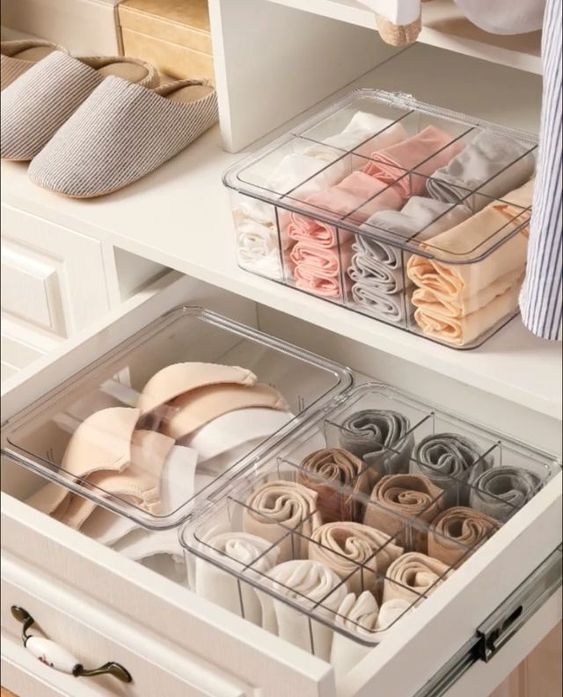 Not only clothes, underwear must also be well organized. As we can see in the picture above where underwear is neatly stored in an acrylic box. The acrylic box has a clear appearance that can make it easier for you to choose the underwear you want to wear.
You can put this acrylic box in a drawer so that the tidiness of the drawer area is maintained.
13. Place All of Your Make Up at One Spot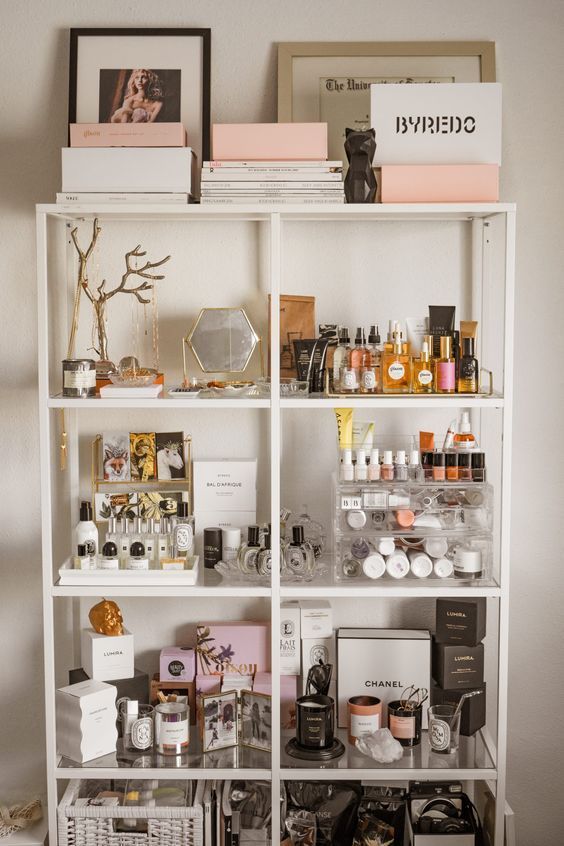 For women, one lipstick and powder is not enough. Even, some of them have several foundations with different shades and also some eyeshadows that may be almost the same color. And, if you are one of them, then keeping all your make-up neat is an obligation.
Instead of putting it in a drawer, you can put it on an open shelf. Besides making it easier for you to pick up what you want to use, make-up is also a decoration that adds to the aesthetic value and beauty of the bedroom. Therefore, arrange all your make-up neatly on the rack.
14. Jewelry Box to Make It Tidier in The Drawer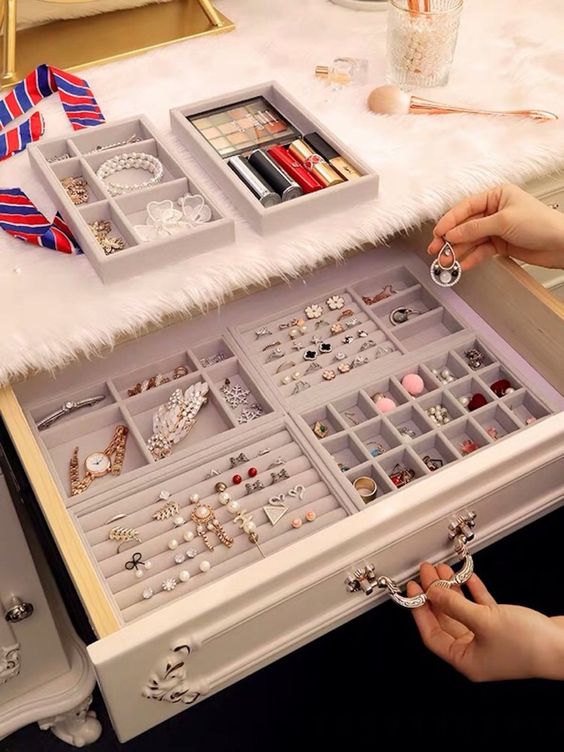 Besides make-up, women also often collect some jewelry. With its small size, if you make one of your pieces of jewelry, it will be difficult for you to get the jewelry you want to use. Therefore, try to use a jewelry box like the picture above. And, it becomes the next of 20 Bedroom Organizer Ideas you can follow.
Choose one or two drawers for you to put the jewelry box. Put all your jewelry neatly there. Separate rings, earrings, bracelets and necklaces. That way, you can more easily know which one you want to use.
15. 3 Cart As Bedside Table also Storage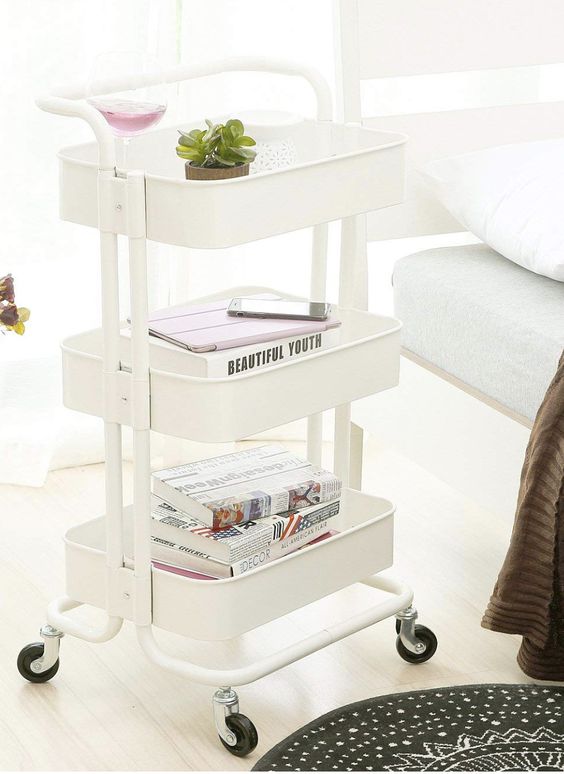 Besides cubbies, making a cart as a bedside table is also an interesting idea. You can choose three carts that can store more items. Also, choose a cart that has a small road on its legs so that it is more practical to move it around.
You can use the bottom area of the cart as a storage area for books. Center area to put magazines or blankets. And, the upper area is for placing decorations such as small plants which can add to the beauty and freshness of your bedroom.
16. A Bedside Caddy to Store Your Small Items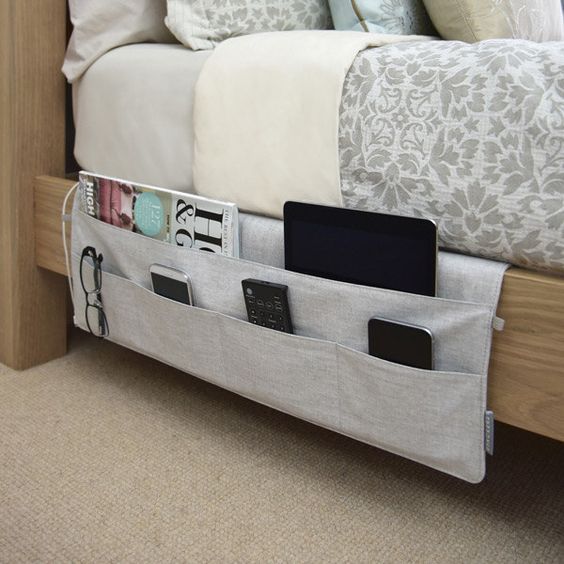 Using a smartphone or tablet before going to bed has become an activity for people nowadays. And, putting it on the bedside table will make it look full. Besides that, this can also make the bedroom look a little messy. Therefore, using a bedside caddy is the right idea.
In the bedside caddy, you can store not only your smartphone and table but also your TV remote, magazines and glasses. Very practical and simple right?
17. Make Your Under Bed as More Storage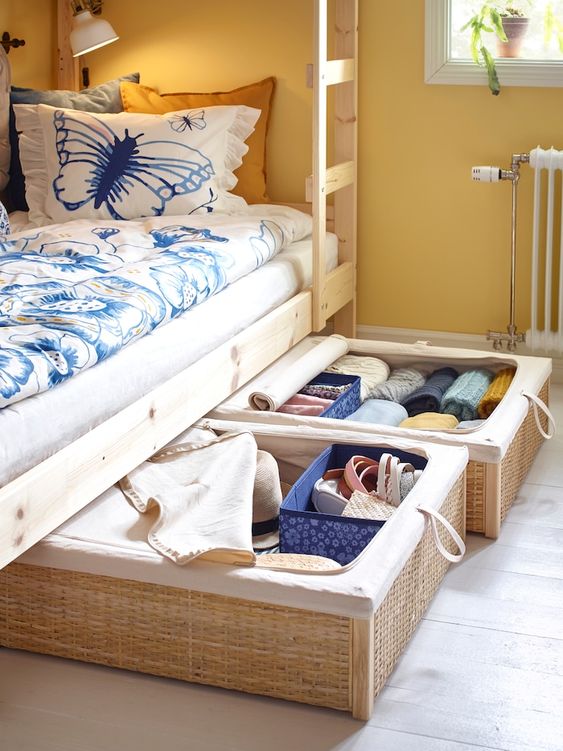 The area under the bed is a shame for you to miss. You can use the area under the bed as more storage. And this is the next of 20 Bedroom Organizer Ideas you can follow.
Considering that the area under the bed is often a nest of dust, you can use bins and baskets that have covers. That way, your things will stay clean and free of dust. Also choose bins and baskets that are large but still adjust to the width of your bed. With this, you can put more stuff there.
18. Make The Wall as Shoes Place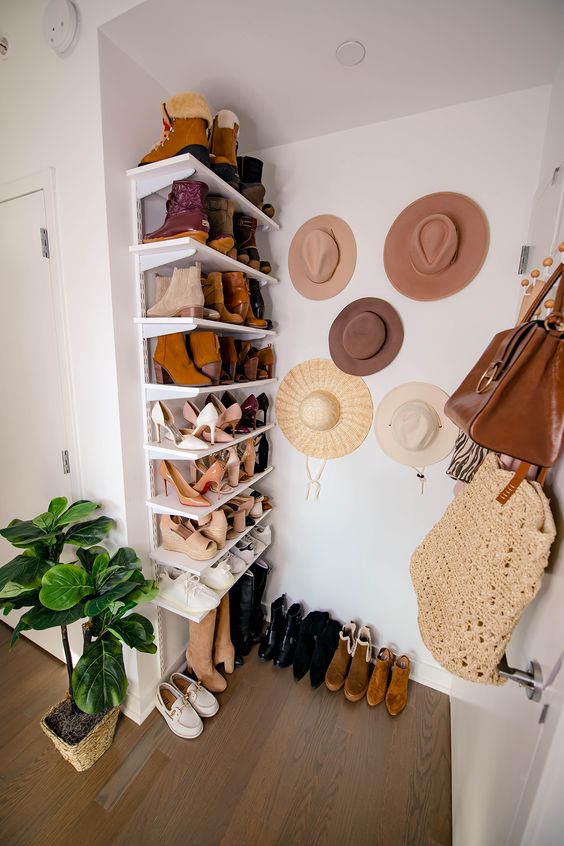 Do not use the closet to put all your many shoes. The closet is only used to store clothes. And, for shoes, you can store them in different places.
You can make a corner of the room as a place to store all your shoes. Install the floating rack on the bedroom wall. Put all your shoes neatly like the picture above.
19. Use Bins and Baskets to Make The Closet Tidy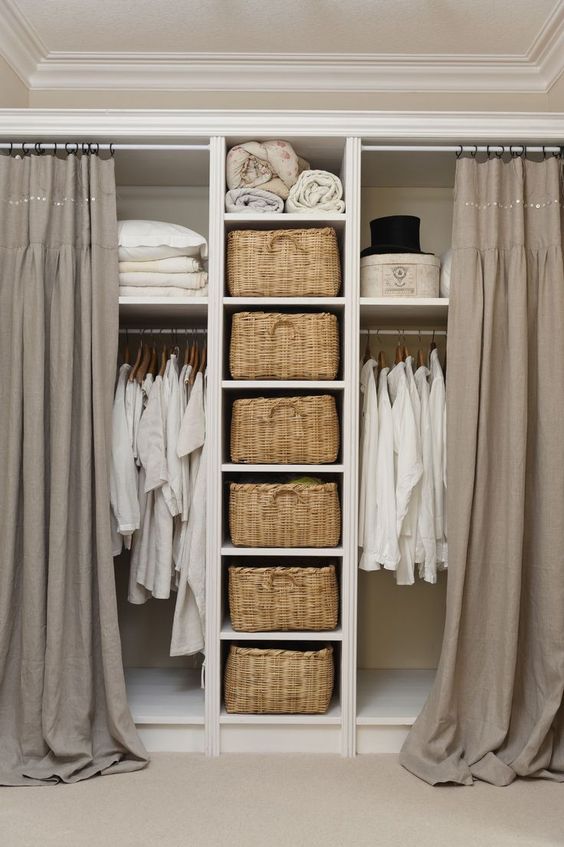 Due to limited space, hang only a few clothes that are important. For other clothes like t-shirts or pajamas, you can fold them and put them in a drawer. Or, you can also use some bins and baskets to store your clothes. With this, there will be more clothes that can be stored.
Place bins and baskets in small areas in the closet. Make the bins and baskets visible to give the bedroom a more inviting feel. So, with this, bins and baskets are not only a place to store clothes but also a decoration to add value to the beauty and aesthetics of the bedroom.
20. Fold Clothes Properly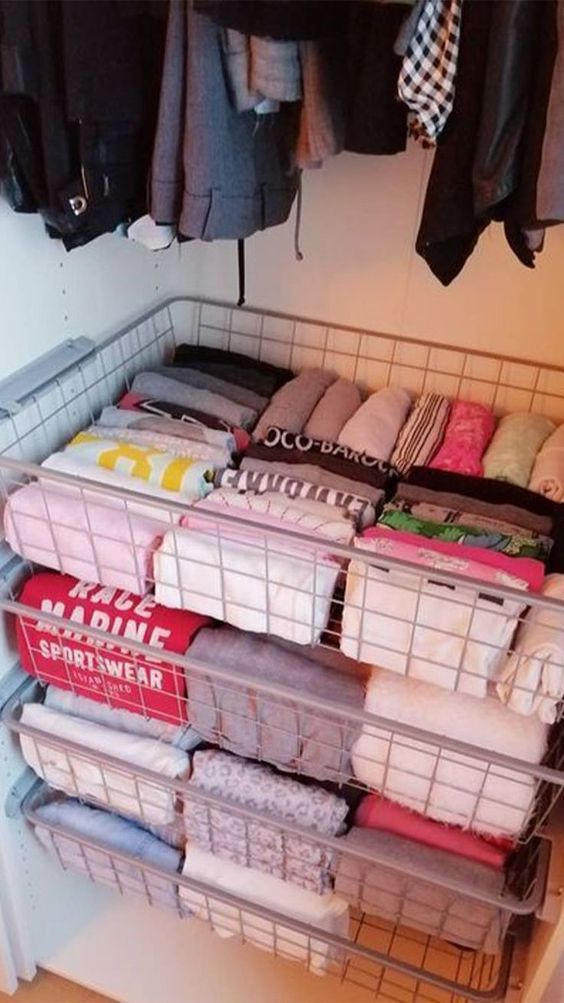 Do not hang all your clothes in the closet. For some clothes you can store in baskets like the picture above. So that you can store more clothes, make sure you fold your clothes properly.
You can fold your clothes into small shapes. Place in baskets horizontally or vertically. Adjust the space in the baskets. And done! Your baskets are ready to be put in the closet.
Final Words
In order to maintain the comfort of your bedroom, you need to ensure that the tidiness of your bedroom is well maintained. Because, a comfortable bedroom is not only a beautiful bedroom but also a neat bedroom. And, the points above are 20 Bedroom Organizer Ideas for those of you who want to Maintain The Tidiness of Your Room. So, happy trying all!