Olidhomes.com – Having a mini library at home is an interesting idea in creating a comfortable reading place. You can put all your books here. And this will make it much easier for you to find the books you want to read. So, for those of you who make reading books a daily routine, knowing mini library ideas is important. There are plenty of mini library ideas that look beautiful and cozy. And here, we have summarized it in "Best 15 Mini Library Ideas for Your House". So, let's check it out!
1. Mini Library in The Corner of The Room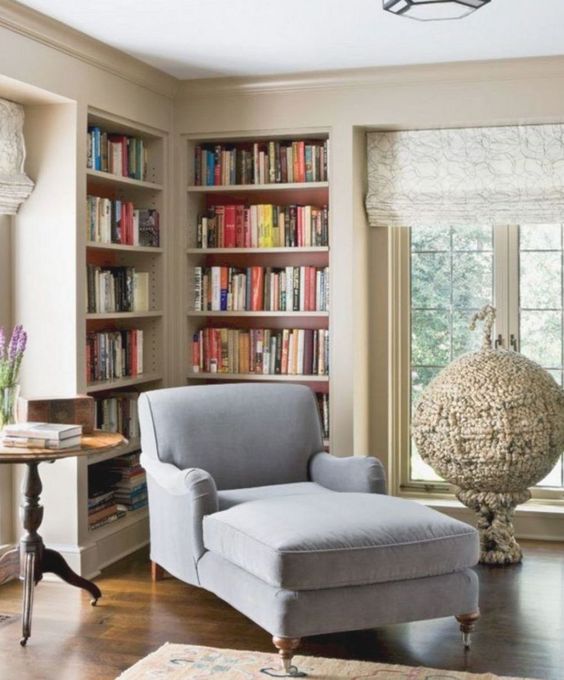 The corner of the room is the most difficult part to decorate. And the safest way that is often chosen by people is to decorate it with plants. In fact, you can create a cozy mini library in the corner of the room.
You can create a wall shelf as a place to put books. You can also decorate it with a comfy sofa as a place to read. Also, present some decorations such as statues or tables equipped with flower vases on them. That way, the mini library in the corner of the room not only feels comfortable but also looks beautiful.
2. Small Room for Mini Library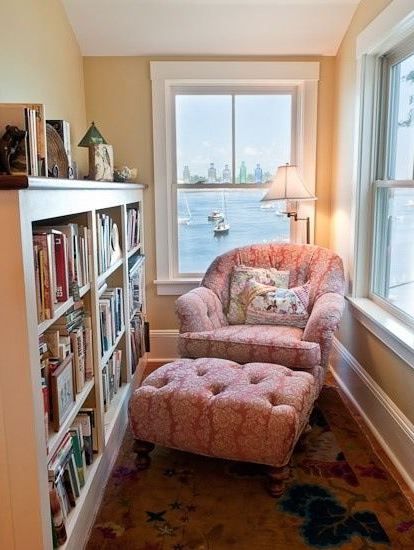 Have a small space at home? Make sure you do not use it as a warehouse. Because you can use this small space to create a mini library in your home.
To take advantage of limited space, use lower-size cubbies. So, at the top, you can make it as a decoration area that can make the mini library look beautiful.
Do not forget the small comfortable sofa for reading. Also, put a reading light on it as seen in the picture above. That way, you can use this mini library as a comfortable reading area for the evening.
3. White Nuances Feel More Spacious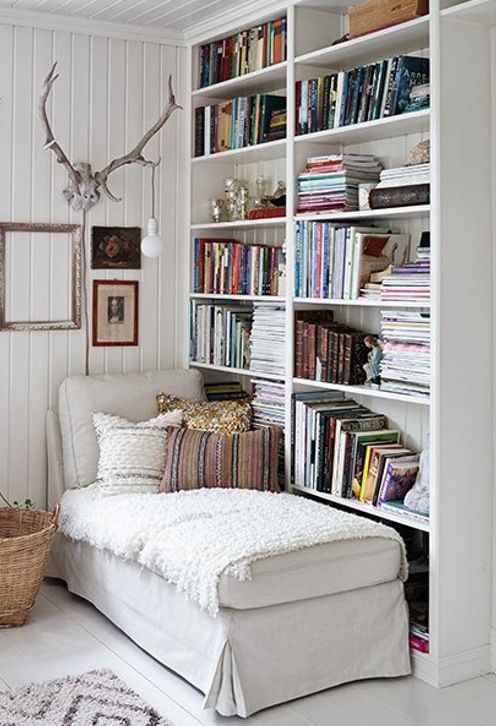 White is indeed a mainstay color for small rooms. This color can make the room look brighter. In addition, this color is also able to make a small room look wider.
White color is able to eliminate stiff corners. Also, this color has the property of reflecting light. Thus, light entering through the window will hit the white surface and reflect it back into the room.
4. Utilize The Edge of The Door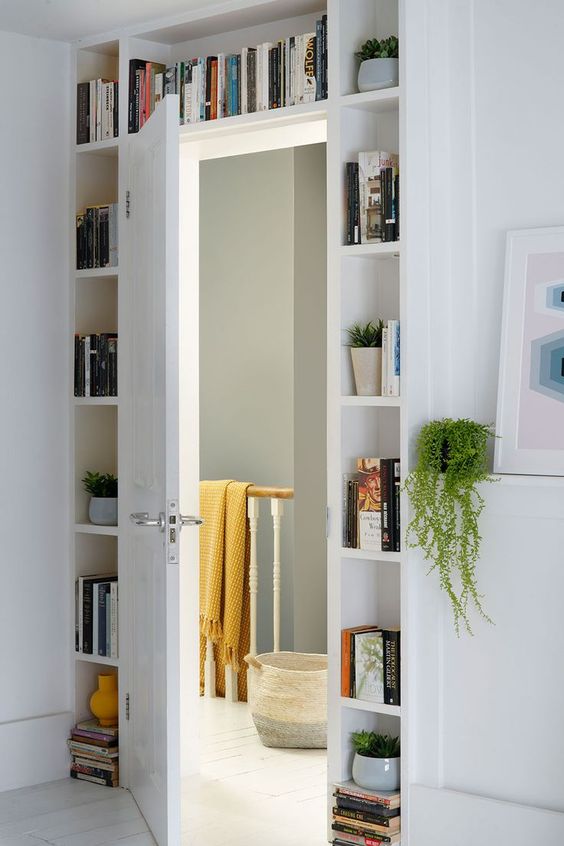 Do not have to worry if there is no more room that you can use as a mini library. Because you can take advantage of several areas in the house. For example, like the picture above that utilizes the edge of the door.
You can make a wall shelf on the right, left, and top of the door. And then put your books there. Decorating it with small plants can make it look attractive. So, the display is not too stiff and serious.
5. Feel Relax with Beautiful View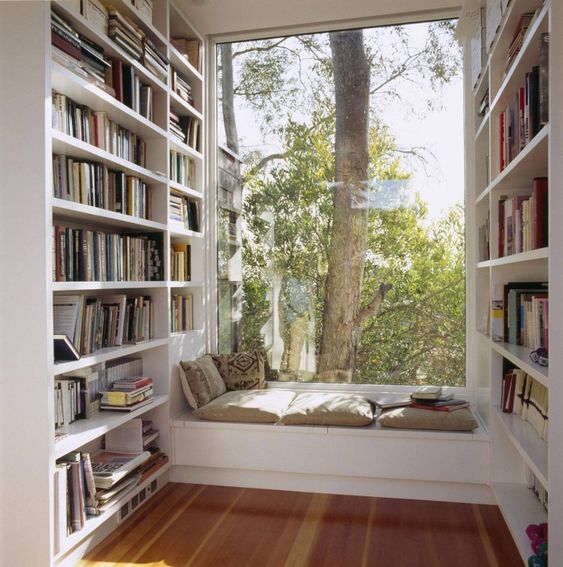 There is nothing more enjoyable than reading a book while accompanied by a beautiful view. Like the picture above which uses a large window to display a beautiful view outside the house.
You can make a seating area and decorate it with soft cushions. Also, present a pillow so that reading a book feels more comfortable.
6. Elegant Mini Library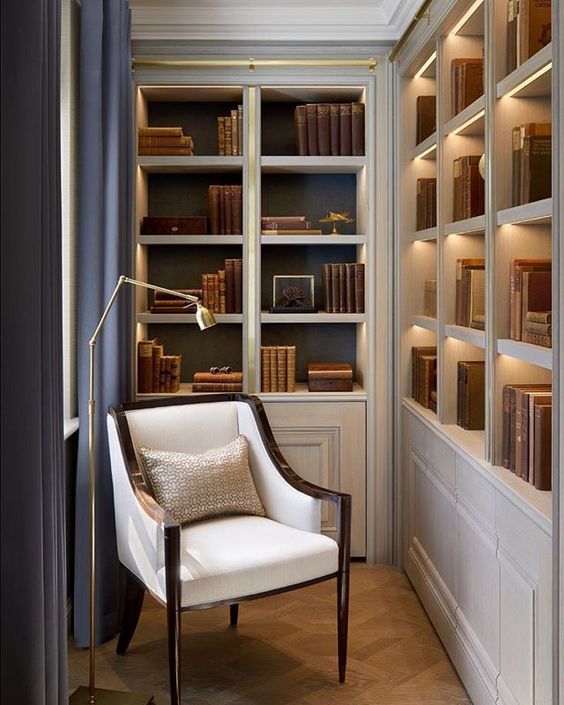 Even though it is small and narrow, you can make the mini library look elegant. You can choose a minimalist concept for your mini library. Choose neutral colors like white, navy, and black.
White color to make the mini library feel and look wider. Navy color to give a more masculine and cool look. And black color to give a firm side that makes it look mature.
The LED lamp with warm lighting installed on the bookshelf makes it look more attractive. Warm lighting here has an important role in giving an elegant look to this place.
7. Under The Stairs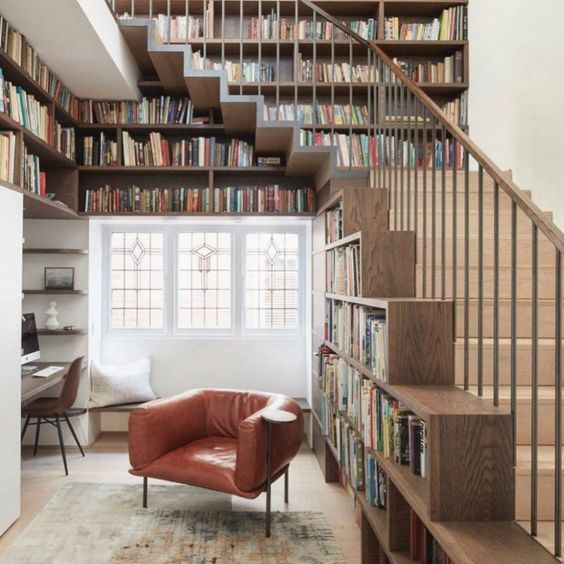 You can use the space under the stairs to have a mini library at home. You only need to add cubbies or bookshelves as a place to store books.
The existence of a window in the area under the stairs is a support to make this area a comfortable place for reading. So, you can place the comfy sofa there.
You can also create a cozy workspace there. Rely on floating tables to save space. And use the wall as a storage area or decoration.
8. Mini Library in The Bedroom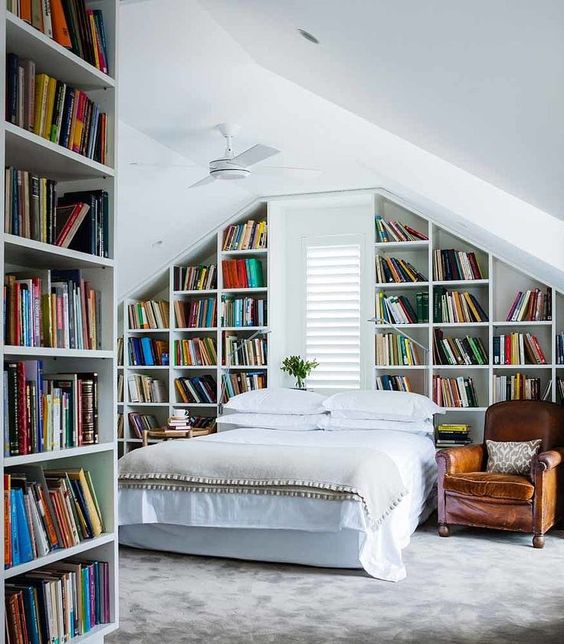 Do not just have to create or separate a room to have a mini library at home. You can also make your precious room a comfortable area for reading. As in the picture above, the bedroom functions as a mini library.
Wall bookshelves here are very helpful in storing so many books. Right next to the bed, we can see there is a small sofa that is so comfortable as a reading area. Thus, the tidiness of the bed will be maintained.
9. Attic for Mini Library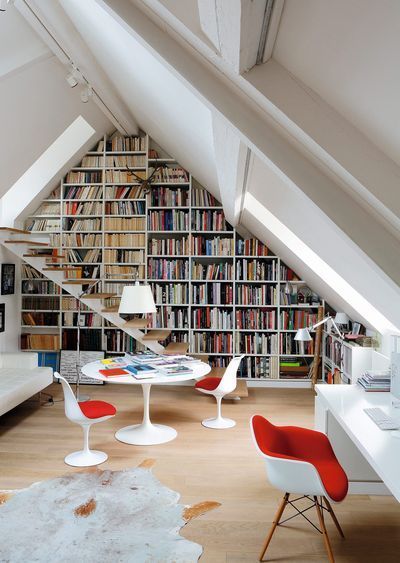 Usually, the attic is often an abandoned empty room. Thus, rats often appear in this place. So, instead of making Attic a gathering place for dust and rat, it would be better to use it as a mini library.
The most important thing here is the wall shelves to put your books on. And next that is not less important is the presence of natural lighting. Therefore, you should use skylights here.
To make the Attic feel comfortable, make this place look naturally bright. White is the most reliable color to get rid of the stuffy and cramped in the attic. And give another quirky color like red for an attractive attic mini library.
10. Loft to Add More Space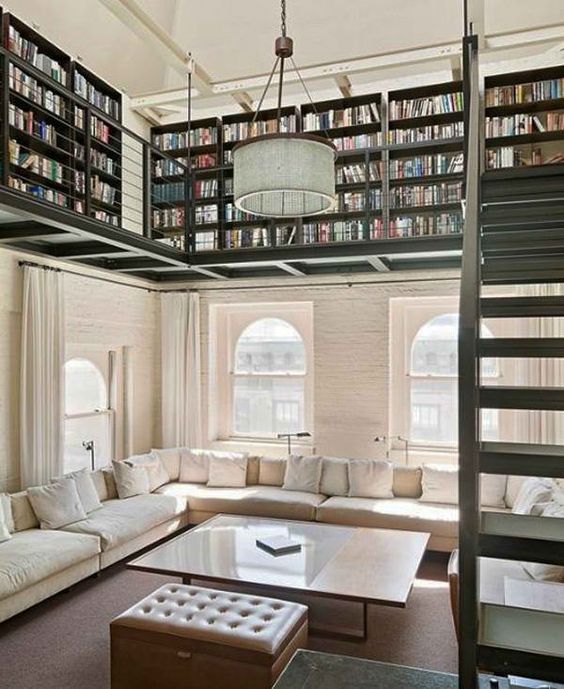 If there is no longer an area that you can use to create a mini library in your home, then making a loft is an interesting idea that you can try. With a loft, more space will be created in the room. And you can use it to create a mini library at home.
11. Mini Library in Entry Way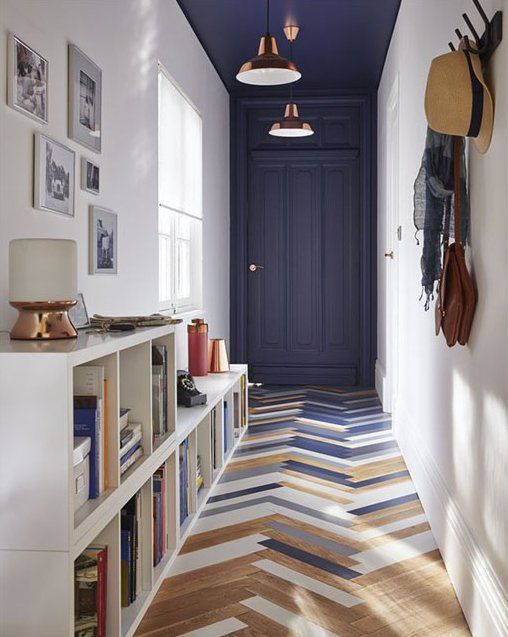 No need to create a special room in creating a mini library. Due to it being small, you can take advantage of an empty area in your house, such as an entryway.
Cubbies become a reliable item to put books. And at the top, you can use this area as a decoration. So that the entryway will look more adorable and attractive.
12. Mini Library in Dining Room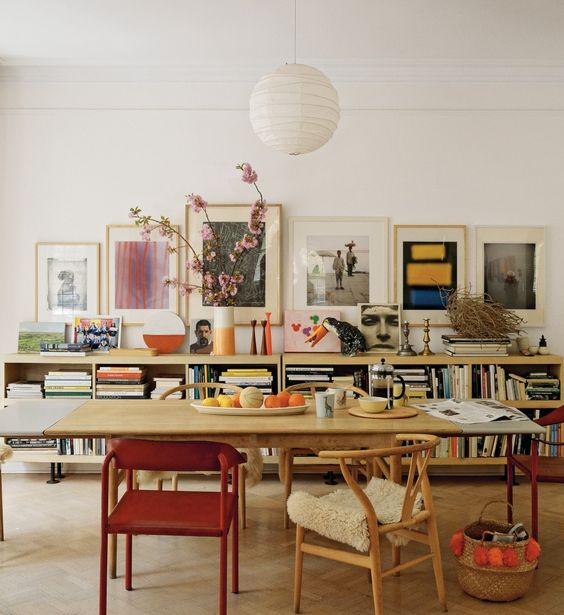 The dining room is not only a place to enjoy delicious food. As seen in the picture above, you can also use this room as a mini library.
Cubbies as a place to store books are placed parallel. So that the dining room looks more spacious. And at the top, you can put some interesting decorations to add to the beauty of this room.
13. Mini Library in The Living Room
You can use a comfortable sofa or chair in the living room not only as a place to sit for guests. You can also use it as a comfortable reading place. Therefore, placing the cubbies in the dining room is the right idea. You can put your books here as well as use the top area of ​​the cubbies as a decoration area.
14. Feel Fresh with Plants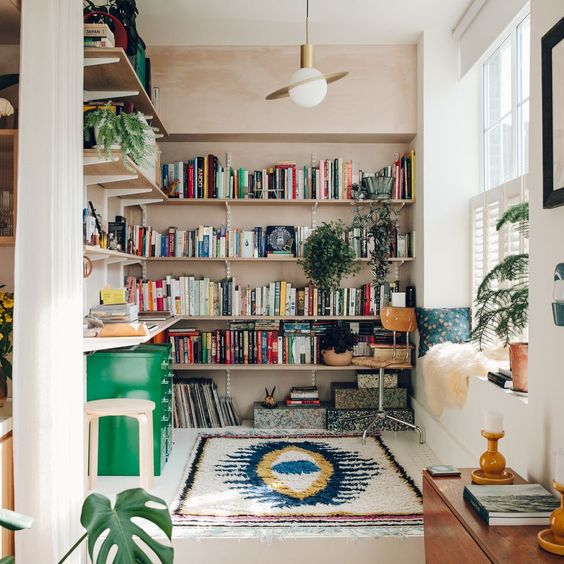 Reading a book or studying in the mini library may be a headache. Therefore, the presence of plants here is very important. Plants can make this small room feel fresher. Not only that, but the presence of some plants is also able to remove the cramped and stuffy feeling in a small room. In this way, you can feel more comfortable in your mini library.
15. Mini Library at Home Office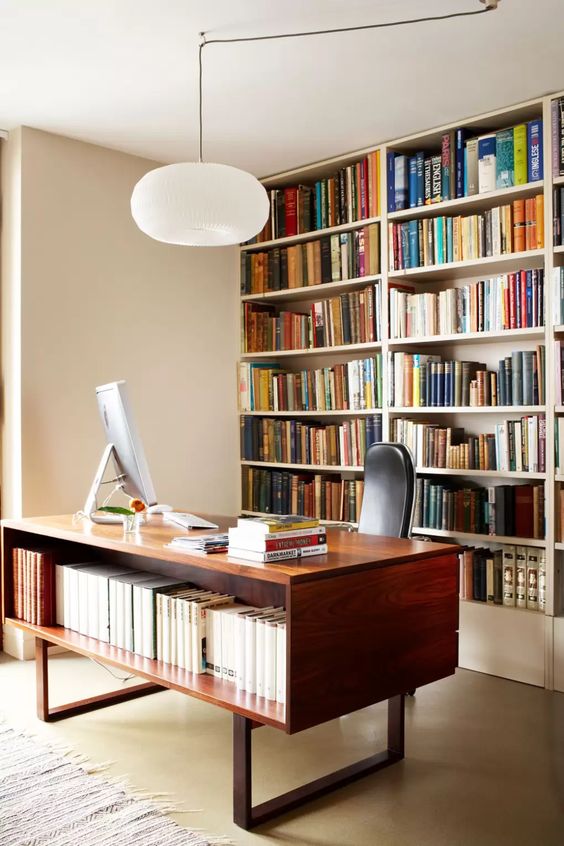 The last of Best 15 Mini Library Ideas for Your House is a mini library at the home office. Because there are comfortable tables and chairs, you can make it a comfy place to read or study.
The home office just needs to be decorated with a bookshelf. Place the bookshelf right behind your desk. With this, you can easier pick up the book that you want.
Final Words
Books at home are very dear to be stored in boxes or drawers. Therefore, you have to make a mini library in your house. And the points above are the Best 15 Mini Library Ideas for Your House. You can use these points as your reference in creating the mini library you want. So, make sure you choose the right idea. Good luck guys!