olidhomes.com – As the main room when entering the house and also a place to welcome guests, of course, the appearance of the living room must be considered as well as possible. The living room is a room that we have to decorate as beautifully as possible. Start from a spot that is immediately visible to the eye, namely the wall. You can change the wall color, put on some displays, or attach a wall decal. A wall decal is one of the simple ways to remodel your living room wall. It uses wall stickers, wall vinyl, or wall tattoos. Thus, it has different patterns and colors to suit your style. And, in this article, we have provided 19 Wall Decal Ideas for The Living Room to Display Your Creative Design. So, let's check it out!
1. Watercolor Flowers for Wall Decal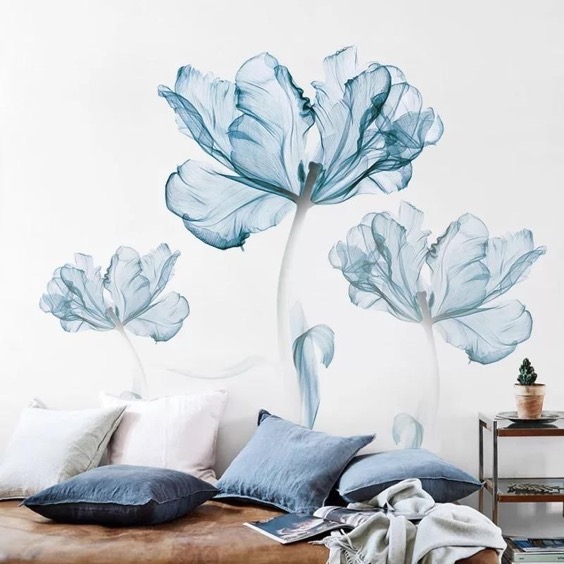 The first of 19 Wall Decal Ideas for the Living Room is the watercolor flowers. It adopts the flower's appearance. This design represents the flowers on a breezy day. You can see the edge of the petals and how they stand. It looks charming to have a group of watercolor flowers.
There are three flowers in this wall decal. Every flower has a transparent appearance. Also, it represents the rich shades of blue on the white wall. You will see their beautiful design that matches the living room design. There are blue and white cushions on the tufted brown sofa.
1 of 19
2. Watercolor Vine Flowers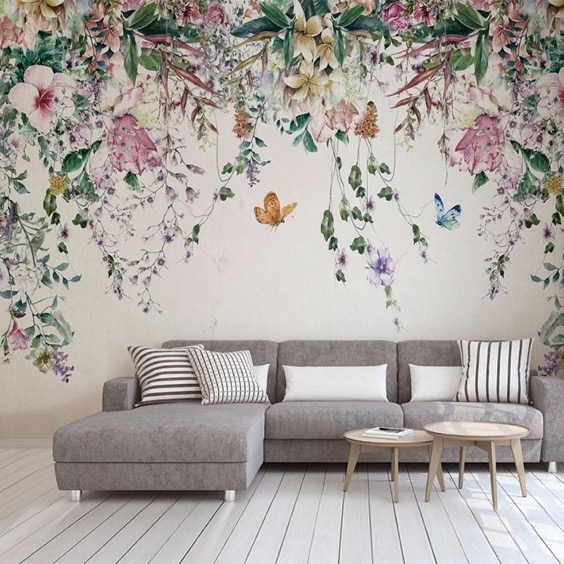 Watercolor has many designs to decorate your living room wall. Here, the watercolor wall decal with vine flowers is designed. This watercolor wall decal has a complicated design. The vine flowers represent a jungle-like design. It can be your natural accent on the wall, even though it is just a wall sticker.
Moreover, this wall decal has rich colors. There are pink, yellow, and pink flowers on the wall. It looks in contrast to green leaves. Besides, this wall decal dominates the upper side of the wall. It brings dramatic scenery to your living room.
2 of 19
3. Circle Wall Decal with Boho Accent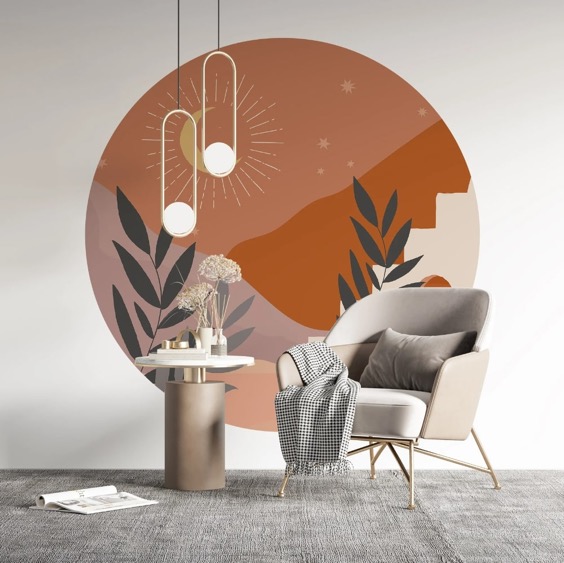 This is a circle wall decal. It takes earthy tone colors. This wall decal is in wallpaper form. Besides, some people choose to paint them directly on a wall. Both are stunning to decorate your living room with a natural image.
Look at the scenery inside it. The earthy tone accents create a mountain scenery. There are brown mountains and a few green plants. Also, you will see the sun between the mountains. This wall decal is suitable for a Boho living room. Thus, you can put Boho furniture, like pendant lights, and add modern chairs.
3 of 19
4. Natural Brown for Curvy Patterns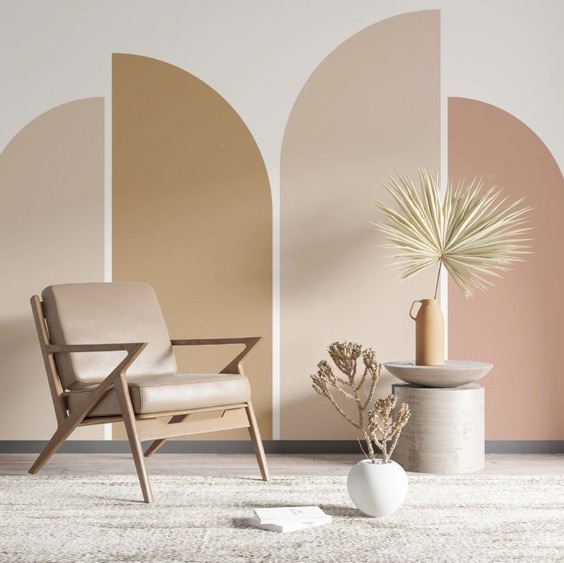 The brown room will emerge with a neutral impression. There are brown colors in any spot. Look at this living room. The brown wall decal is catchy. These geometrical designs are simple for a minimalist living room.
Also, you can adjust the furniture, like the chairs and tables. This wall decal will freshen your living room interior with neutral colors. You can add ornaments like an ornamental plant or a few wall displays. Maybe adding a brown carpet for your living room. It will be an aesthetic spot to spend time with family.
4 of 19
5. Boho Nursery Wall Decal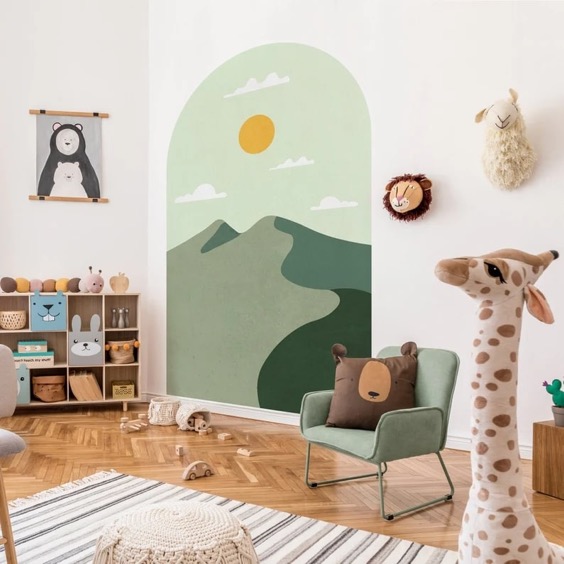 The wall decal can update in any room. Besides your living room, you can apply a wall decal for a nursery. Add rich colors to create a cloudless impression. If the nursery is near the living room, then you can decorate a little part of a wall. Then, let the other wall empty.
This idea will create a focal point on a wall. Look at this idea. People near this living room can see the beautiful design of the wall decal. There is outdoor scenery on a wall. The wall decal uses lots of green colors that adopt nature.
5 of 19
6. Minimalist Wall Decal with Lines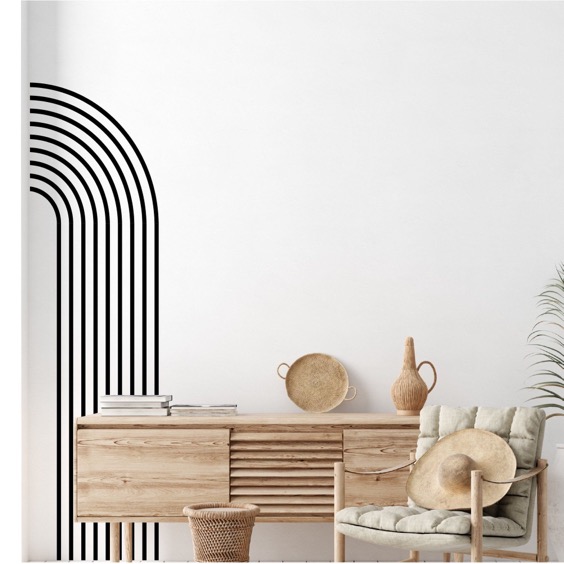 Minimalism is a popular home design. Many people apply this design to create a simple interior. This design has a neutral color with minimum accents. Here, is the minimalist wall decal for a simple minimalist living room. It only has black curvy lines.
This line is attractive to add a little accent on a plain wall. Also, the wall decal only shows a half pattern. In addition, this living room has a few ornaments near the wall. There are brown vases from rattan. It matches the rattan table and a wooden chair.
6 of 19
7. Vine Plant with Birds and Butterflies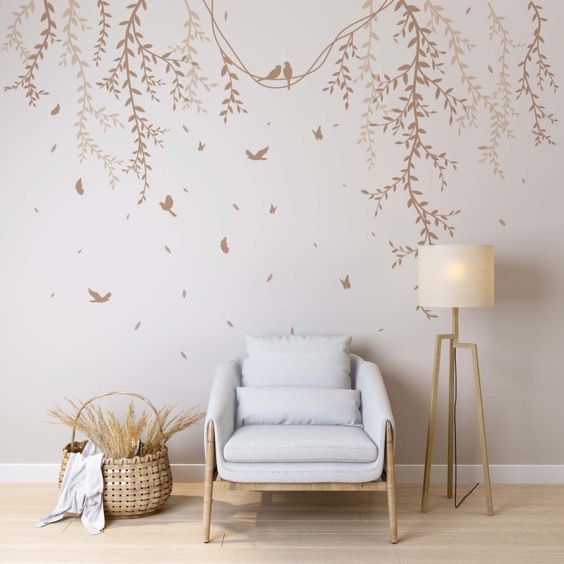 Copying the image of nature will improve your interior design. This living room has a catchy pattern on the wall. It is a wall decal with vine plant designs. There are small leaves on vines that drop from above. It represents the natural look of a vine plant.
Moreover, this vine plant gets a few birds and butterflies. These plants are stunning to copy the real image of nature. This wall decal is stunning for you who love the simple idea. It doesn't have rich colors and simply uses mono color. You will love them to update your living room.
7 of 19
8. Wall Painting with Blue Shades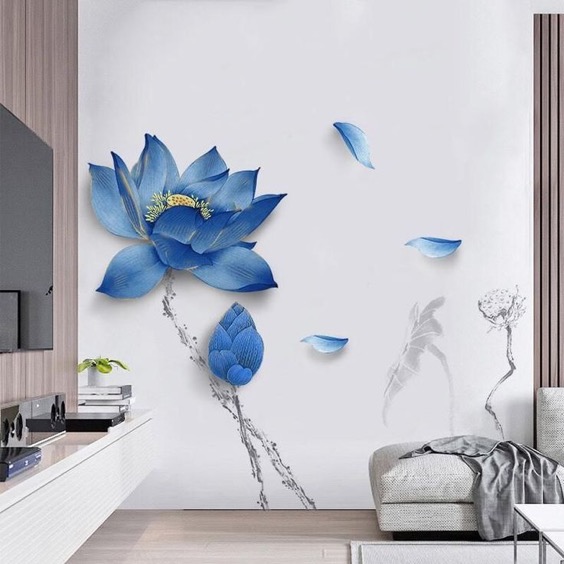 Having realistic paintings can bring a new look. It enlivens the natural impression in your living room. Look at how stunning this idea is. It uses the blue flower with shadow. The big flower can be a focal point on this plain wall.
Besides, it looks real as you touch the surface. This wall decal is more interesting to have modern furniture. There is a comfy sofa with a comforter. This room uses a grey theme, thus it has a few grey accents as well. It does not need other colorful accents, because the wall decal will shift the focus in this room.
8 of 19
9. Simple Blue Tree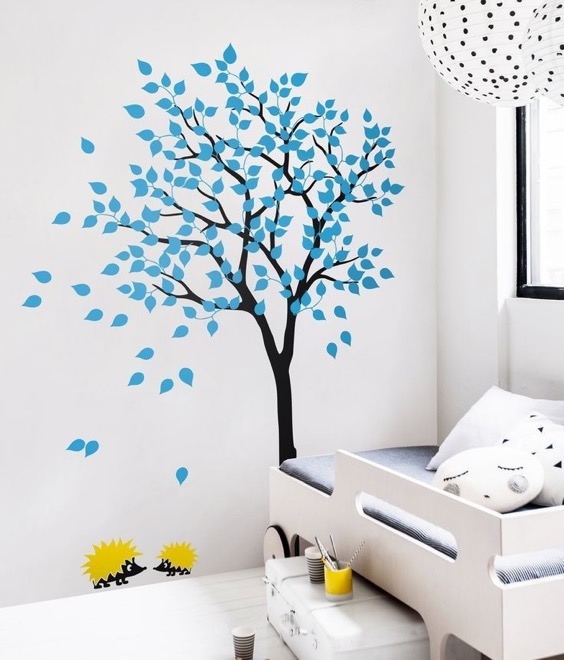 It is another blue wall decal. This idea represents the blue tree with blue leaves. The image of falling blue leaves is stunning. It looks like the image of a spring season. This wall decal is interesting to put in any room, especially in the living room.
Moreover, this wall decal has little animals on the lower wall. It brings a natural image of outdoor nuance. This design is interesting to decorate the corner of a room. Also, the blue color is more striking on the white wall. Thus, determine this design to decorate your living room wall.
9 of 19
10. Dinosaur Wall Decal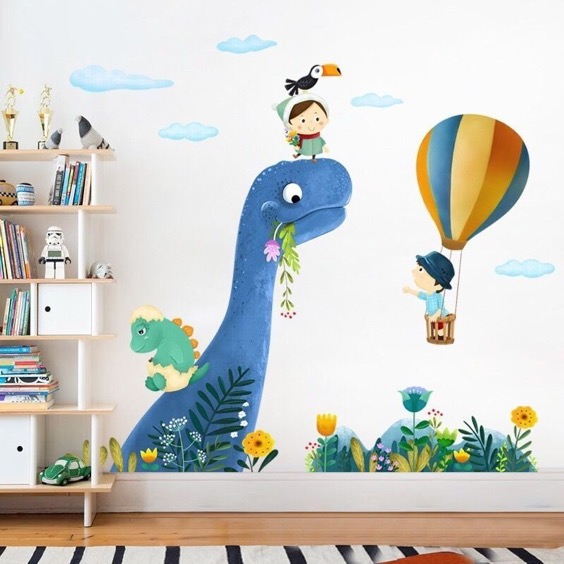 Try a striking design for your calming living room. The Dinosaur wall decal will change your living room decor. These colorful accents are interesting to enliven dreamy scenery. There are cute Dinosaurs with little kids. The painted designs are stunning to show the story of a wild adventure.
Besides, this design offers rich colors. The Dinosaur wall decal is interesting to decorate a living room that shares spaces with a nursery area. Despite this, you can draw the Dinosaur's appearance with another one. Maybe you can design an elegant Dinosaur that represents real nature.
10 of 19
11. Monochrome Flowers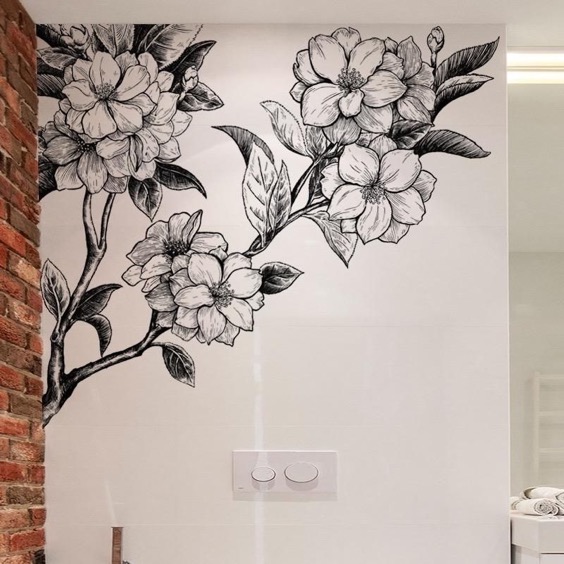 The monochrome design is a popular theme for home interiors. It has an elegant impression with mono-colors. For example, pick the monochrome theme for your wall decal in the living room. It looks interesting to draw black accents on the white wall. You can install the monochrome wall decal in the corner of the room.
Moreover, many patterns that you can choose from. There is a floral design with black colors. Look at this design. It looks like a floral sketch on the wall. The black stem emerges from the raw brick wall. This wall decal delivers a natural story of a living plant. It will be a focal point in your living room.
11 of 19
12. Curvy Green Shades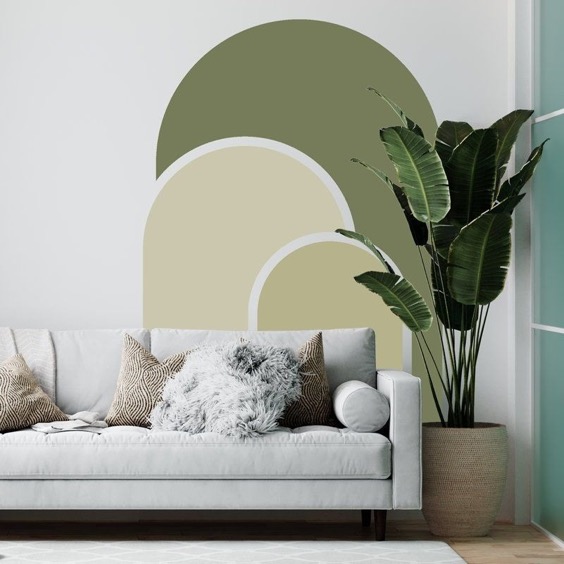 Curvy shapes have an interesting design. It creates a half circle with straight lines. This idea is interesting to improve your geometrical accents in the living room. The best way to design this wall decal is on the bright wall paint. Then, the wall decal can be a focal point on the wall.
The green shade is a common choice to improve a natural impression. It offers many shades that bring a calming atmosphere. Here, are the green color with different shades. Every color has a clean line that separates it from other shades. This wall decal is simple and easy to design on your living room wall.
12 of 19
13. Earthy Tone Wall Decal for Desert Accent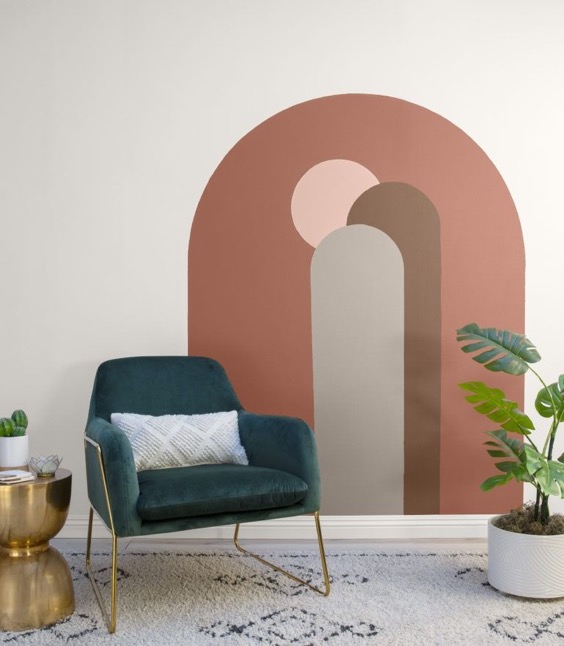 Another favorite color for home design is an earthy tone. It is a natural color that promotes the earth's shades. Most of them are brown, terracotta, and other soft browns. The earthy tone is interesting to combine with other colors like natural green or soft yellow. Both are stunning to create a sweet duo.
This wall decal represents the earthy tone vibe. It brings a desert-like accent to their design. Look at this idea. It has cacti accents on the terracotta accent. There are brown and green cacti. Also, you will see the sun behind both succulents.
13 of 19
14. Palm Leaves Wall Decal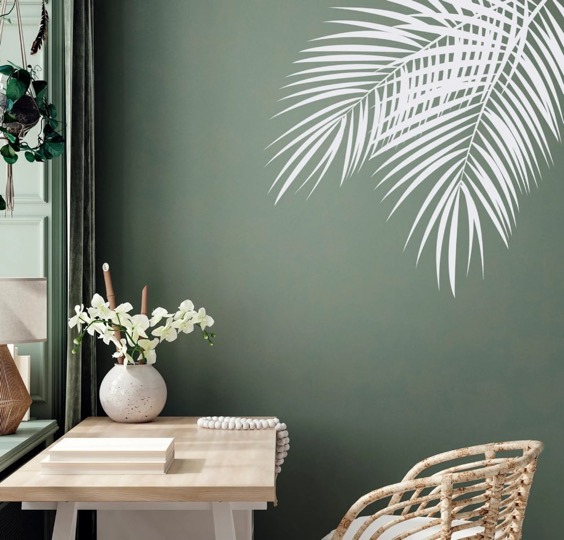 A tropical plant can bring a different nuance. It enlivens the desert-like atmosphere through their appearance. The palm tree is an indoor plant to bring tropical nuance. You can adopt it as a wall decal for the living room. The palm has long leaves with pointed tips.
Look at this idea. It has a creative design by having two colors. The main color is green wall paint. Meanwhile, the palm tree image is adopting its natural appearance. This wall decal is fresh and interesting. It is not difficult to design this wall decal for the living room.
14 of 19
15. Lotus Flower Wall Decal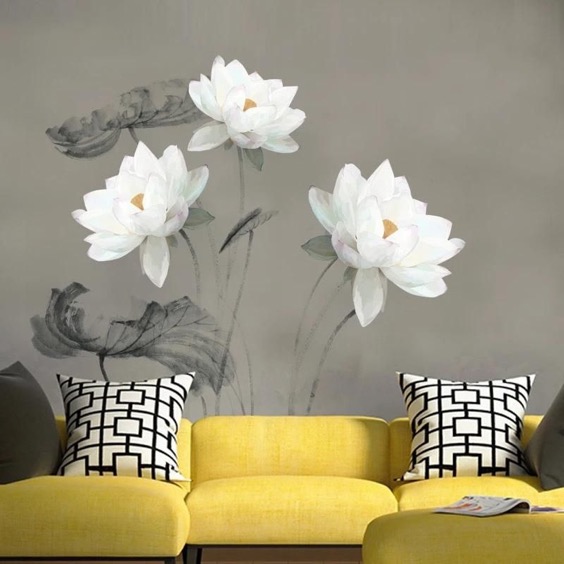 It is another flower wall decal. Lotus will be a lovely pattern on your living room wall. It represents a clean atmosphere with its beautiful appearance. The white flowers can bring a taste of the outdoors. Use dark wall paint to create a contrasting background before drawing white Lotus.
Then, draw some Lotus on the wall. The three Lotus in this idea is stunning. Every Lotus has a different size. The curvy stalk represents their natural growth. Also, the dark green leaves are interesting to bring a lovely pattern.
15 of 19
16. Colorful Living Wall Decal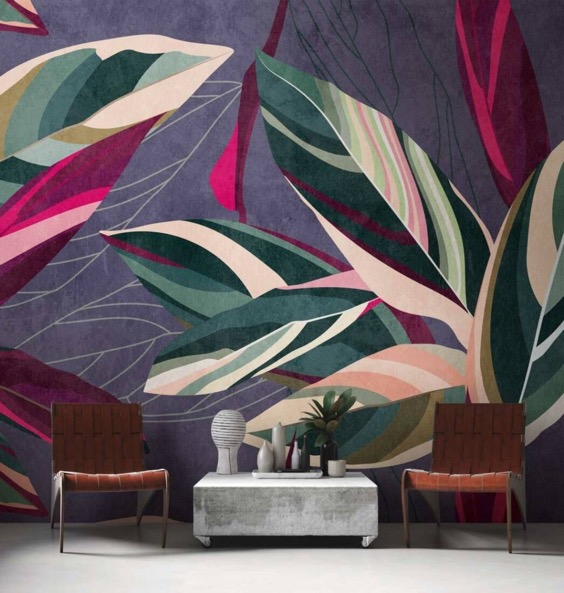 Try to combine more than two colors. It is a creative idea to create an interesting wall decal. This living room has a colorful wall. There are magenta, white, green, and brown. The image of a colorful plant can enliven the plain wall.
Look at this idea. It shows the ornate design of the leafy plant, like Peperomia. The colorful leaves can fill the whole wall with a big image. Also, it matches the living room furniture. There are red chairs and a short white table.
16 of 19
17. Painted Scenery for An Attractive Accent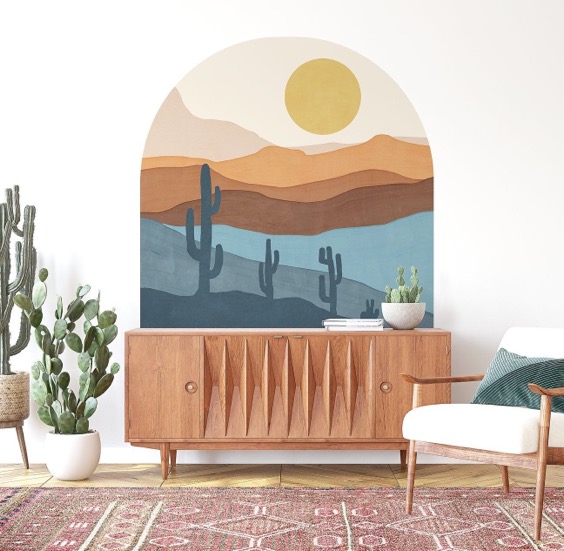 Nature brings creative ideas to people's minds. Here, you can try to update your living room with painted scenery. It is a watercolor wall decal. The image of nature in this idea is simple. You don't have to draw them in detail. It takes a simple line to create a natural image.
Moreover, this wall decal uses earthy tone colors. The mountain image is blue and the cacti are green. Behind the blue mountain, there are brown mountains. These colors create an aesthetic image as a wall decal. It creates a punchy look in your living room.
17 of 19
18. Soft Brown Wall Decal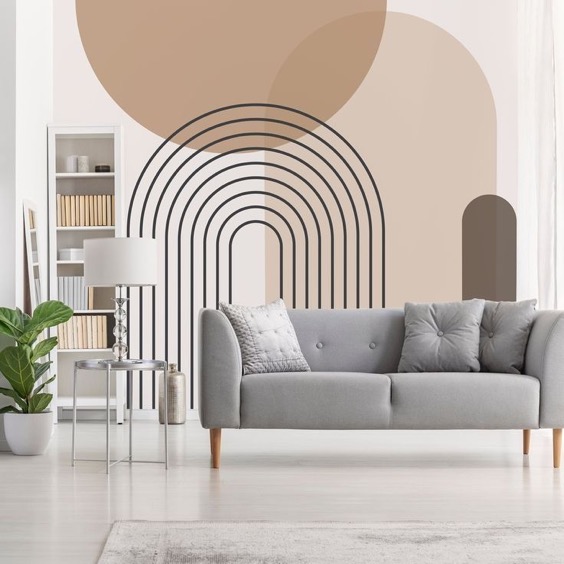 The shades of brown will invigorate your living room interior. The brown theme is perfect for a neutral wall decal. It is a combination of soft brown colors on the light brown wall. The brown accent is darker from right to left. It has a curvy tip with straight lines.
On the left side, you will see the black curvy lines. It is the contrasting accent on the wall. The black line creates a different pattern on the wall. If you want to apply this wall decal, paint your wall with neutral color first. Then, attach these colors to get a lovely design.
18 of 19
19. Tropical Wall Decal with Rich Colors
Lots of colors will transform a living room impression. This is a striking tropical wall decal. These are tropical plants on the wall decal. Many tropical plants offer attractive and ornate appearances. For example, there are Caladium, Peperomia, and Hibiscus.
Moreover, you can add other images of tropical plants that you love. Look at this catchy living room. The wall decal becomes a focal point in this room. Their rich colors can attract attention to the wall. Besides, this wall deal is interesting to match the orange leather sofa.
19 of 19
Final Words
These are the ideas for wall decals. Many creative designs will update your living room interior. Some wall decals are striking and others are calming. The points above are 19 Wall Decal Ideas for The Living Room to Display Your Creative Design. You can pick the most attractive one that fits your style. The key to getting an interesting design is the consistency of the theme. Always put the furniture that will not clutter the artistic wall. Hopefully, these ideas will inspire you to design the wall decal for the living room. Good luck!