Olidhomes.com – Who does not want a beautiful bedroom? Of course, everyone wants it. As a private room, the beauty of the bedroom must be considered. And applying bedroom wallpapers is an alternative way to change the look of this room dramatically.
Making the bedroom look simple can indeed make the bedroom feel calmer. However, sometimes a concept that is too minimalistic actually brings a stiff and boring appearance. And wallpapers can overcome this by giving the room interesting colors, textures, and patterns without making the room feel full.
For those of you who want to have a bedroom that is not boring and looks attractive, so Let's Beautify Your Bedroom with These Wallpaper Ideas!
Earthy Botanical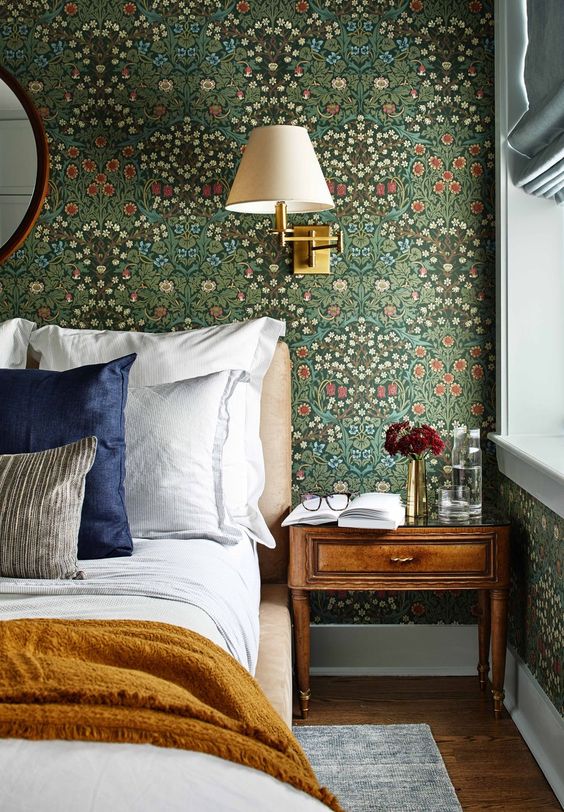 Want to have a bedroom with a fresh atmosphere? Try an earthy botanical application. The floral pattern on the olive background is great for greenery your bedroom. This will reduce the formal appearance so that the bedroom will feel more comfortable and casual.
Geo Wallpapers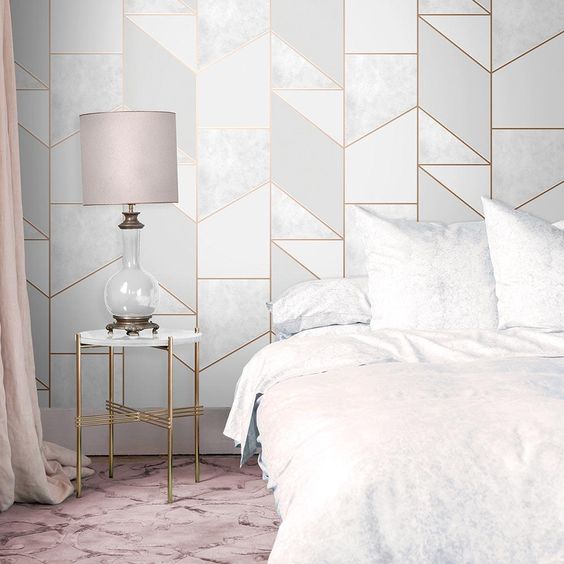 This can give a classy and elegant look to your bedroom. Gray wallpaper with gold stripes is very effective in making the walls look more aesthetically pleasing. The combination of these two colors is also very fitting to be applied to a pink bedroom.
Textured White Marble Wallpaper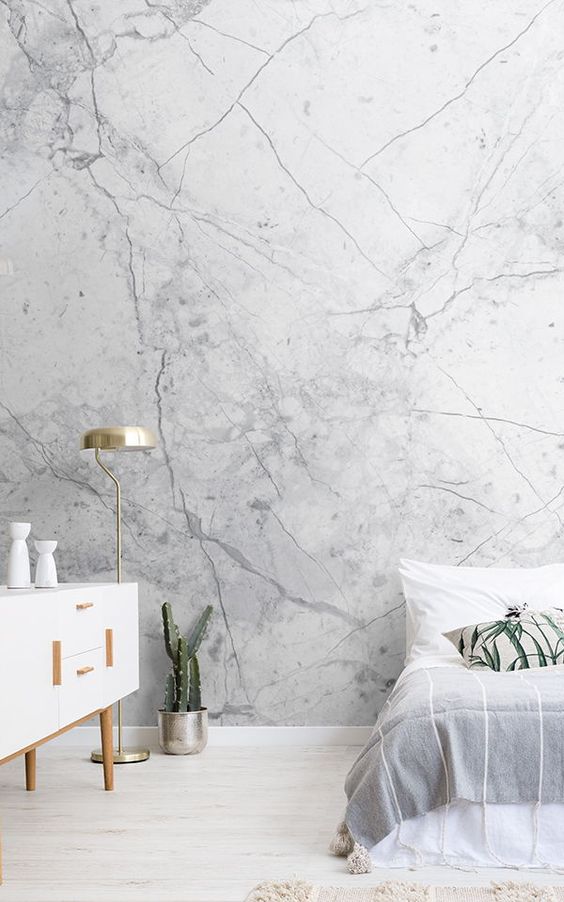 Want a cooler and more luxurious look? Textured white marble wallpaper is an interesting idea to apply to the bedroom. Especially for a minimalist bedroom, it will look more alive. Not only that, but wallpaper can also work well to get rid of the stiff and boring impression that is often present in rooms that are too minimalist or simple.
Exposed Brick Wall Bedroom Wallpaper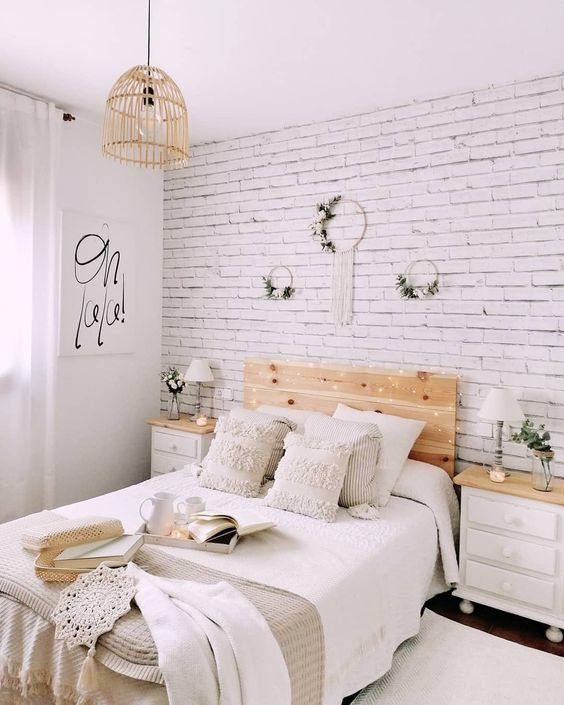 The next idea that can be chosen is exposed brick wall wallpaper. The application of this wallpaper is very helpful for giving texture to the bedroom walls.
This one wallpaper comes in various colors (adjusting the exposed brick wall color which is often applied to home interiors), namely white, brick red, orange, and plaster.
3D Exposed Brick Wall Bedroom Wallpaper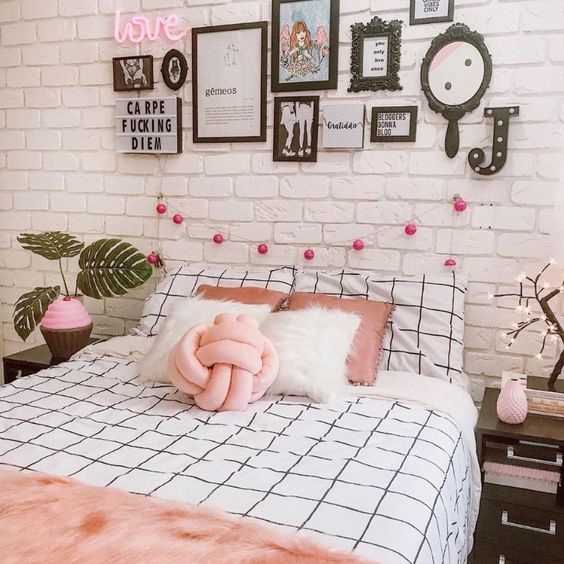 At first glance, it might look like a real exposed brick wall. However, in fact, this is just a bedroom wallpaper that is pasted on. The 3D exposed brick wall is perfect for giving texture to the bedroom walls. With this wallpaper, the bedroom will look beautiful even though it is a simple and easy way.
Stripe Wallpaper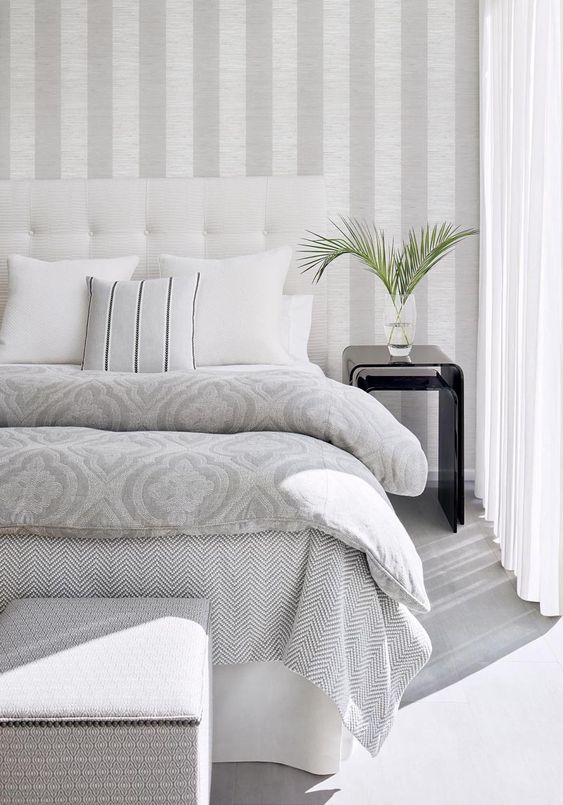 A bedroom that is simple and looks attractive, why not? This one wallpaper can be used to create your dream bedroom. Stripe wallpaper is great for making plain walls look more colorful. The stripes pattern will not make the bedroom look full. So, you can still feel the serenity of the minimalist concept.
Texture Neutral Wallpaper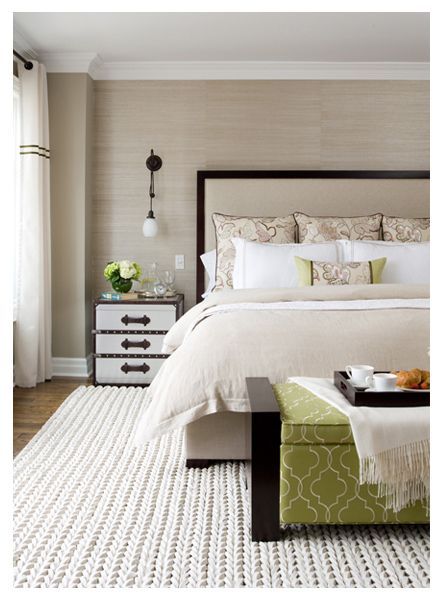 This one wallpaper can help you to bring a natural look into the bedroom with a smooth texture. Even though it looks simple, believe that this wallpaper can make your bedroom look different. The bedroom will look more attractive, calm and also warm.
Cute Floral Kid Bedroom Wallpaper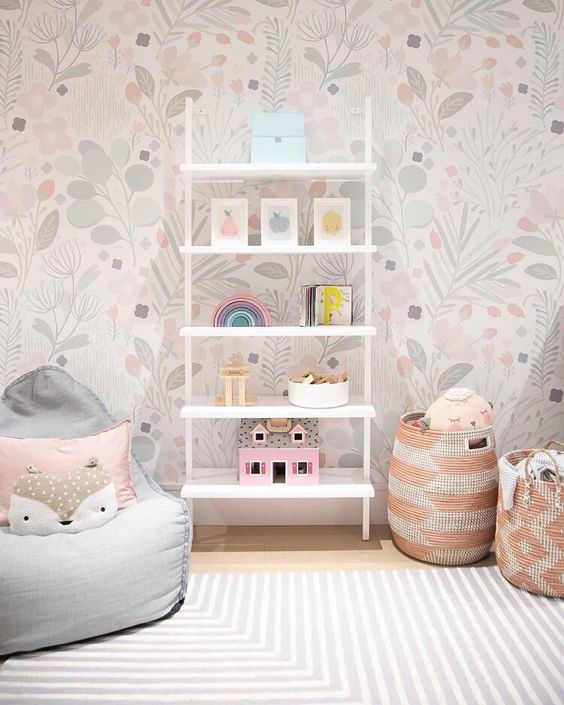 Children are very easy to feel in their room. So, what we have to do is to decorate your kid room as attractive as possible. However, it would be better to find out what your child likes first.
For girls, usually they will like the cute and dominant look in pink. And cute floral is the right wallpaper to apply to their bedroom. Pastel colors are perfect for giving a soft look to a room.
Monochrome Wallpaper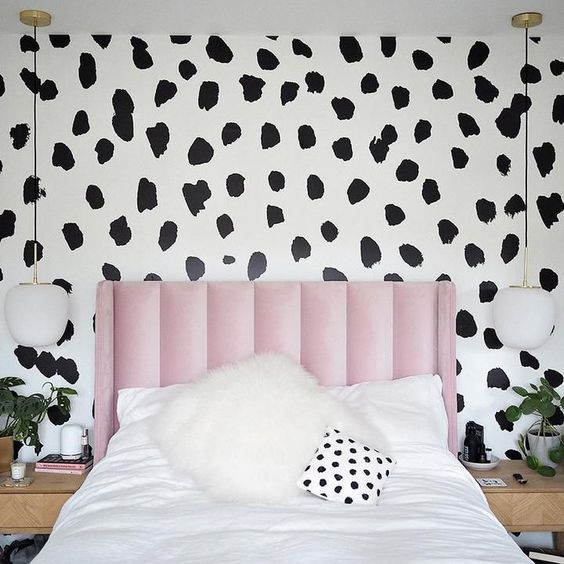 Black and white are the mainstay colors because this color can match the bedroom design that you apply. White as the main color of the wallpaper can make the bedroom look bright. And black is an interesting combination that can make your bedroom walls look more aesthetic.
Cityscape Wallpaper for Colorful Bedroom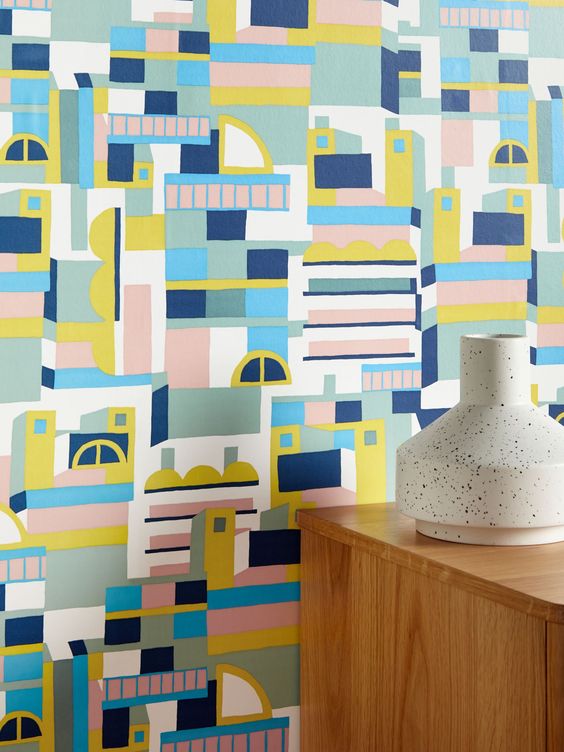 If you prefer a colorful bedroom, this wallpaper will catch your eye.
Cityscape wallpaper has a wide variety of colors. Usually consists of more than three colors. It is more interesting to apply in a simple bedroom. Although there are not so many items, wallpapers can change the atmosphere and appearance of a bedroom very drastically.
Masculine Bedroom Wallpaper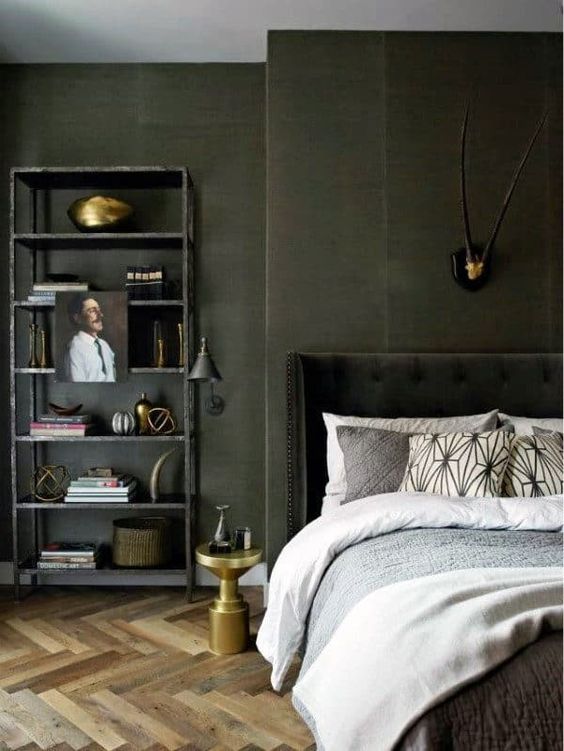 For men, of course, they will avoid the soft and cute appearance. Men do tend to look more mature and masculine. If you are one of them, this wallpaper is great for your bedroom.
Olive green wallpaper can make a bedroom appear masculine and dimmer. Wallpaper with a fabric-like texture can reduce the glossy appearance that will come from reflecting sunlight or lights.
Cool with Icy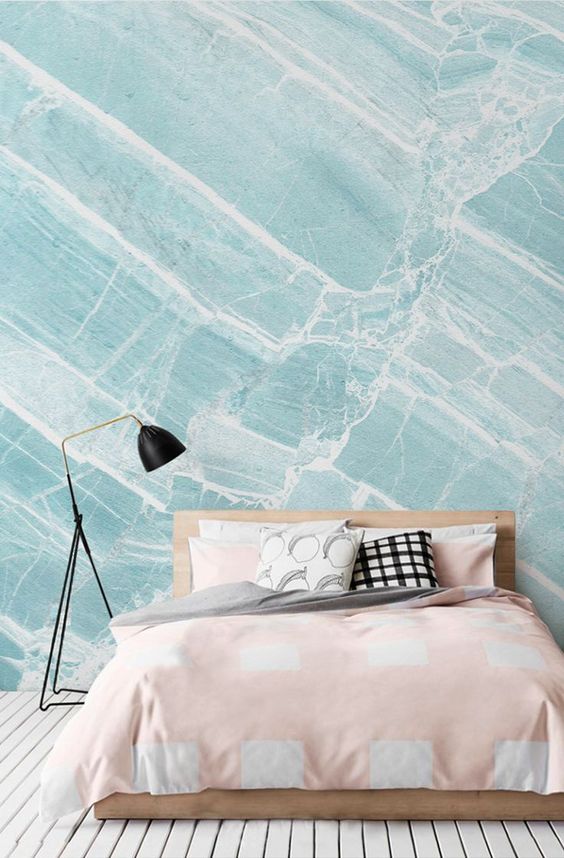 This bedroom looks simple but attractive. Icy colors on the walls give a big enough effect to the appearance of this room. Even though it seems simple, there is only a bed and floor lamp, but the icy wallpaper pattern makes this bedroom look beautiful and not tacky.
Feeling Soft with Pastel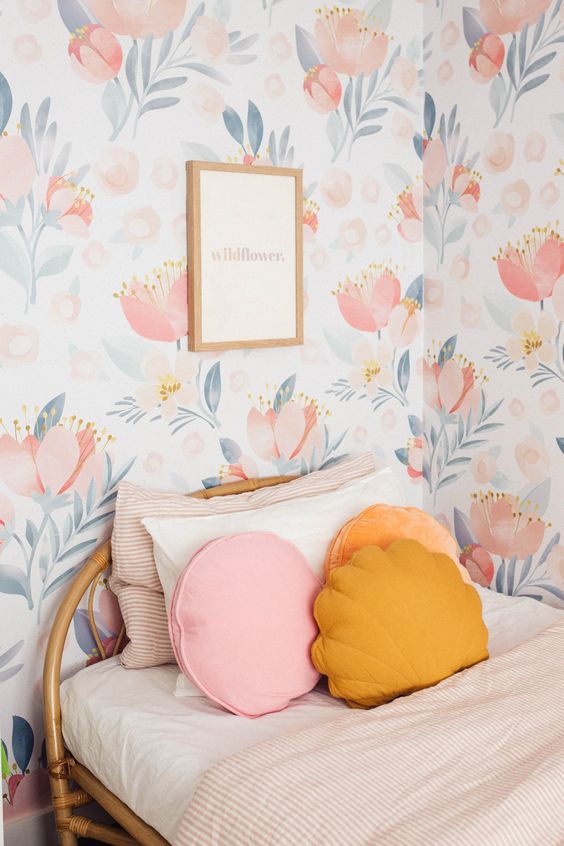 Pastel colors are indeed the mainstay of colors in making a room look soft. Pastel wallpaper is the right idea for those of you who want a bedroom that looks cuter. Even though it consists of several pastel colors, you do not need to worry about your bedroom looking tacky. Because no matter how much pastel colors on the wallpaper will not make the bedroom look full.
Tropical Bedroom Wallpaper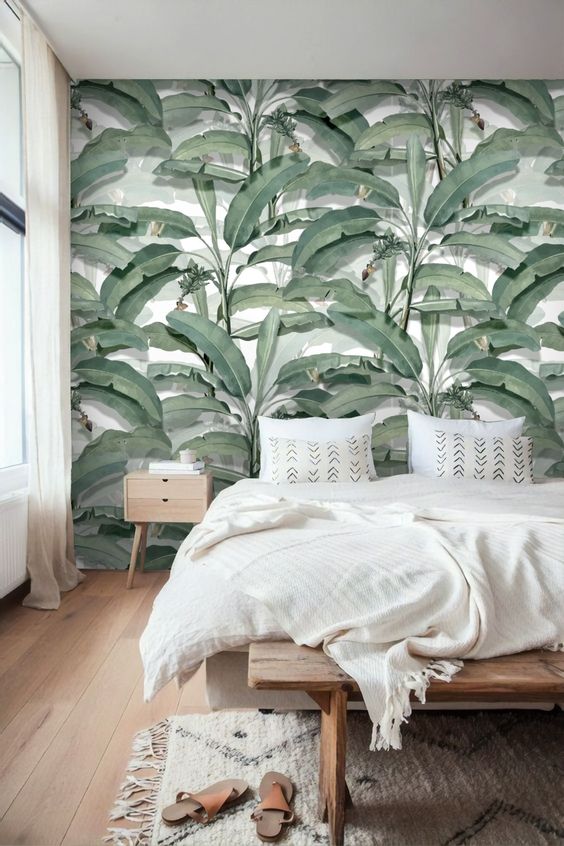 Want to welcome the summer that is approaching soon? Try to start from a room that you care about, such as a bedroom. You can redecorate your bedroom to welcome a pleasant summer.
No need to bother repainting the entire bedroom wall. You can choose tropical wallpaper and apply it to one side of the bedroom wall. This is enough to give a different look to your bedroom.
Lavender for Pretty Bedroom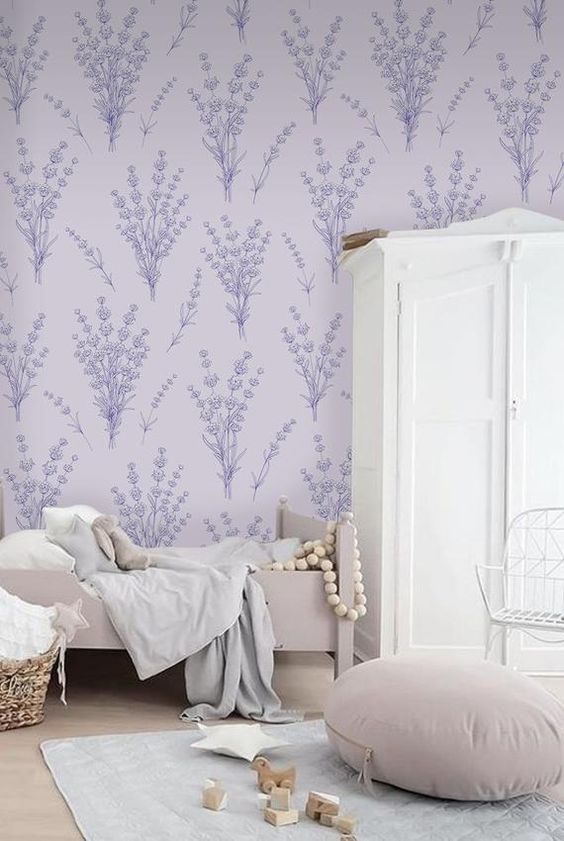 Soft colors and a beautiful and simple appearance make this wallpaper suitable for both adult and children's bedrooms. Pastel purple can make a bedroom look soft and girly. Perfectly goes with grays and whites. With this, the bedroom will look stunning.
Hero Bedroom Wallpaper for Man Bedroom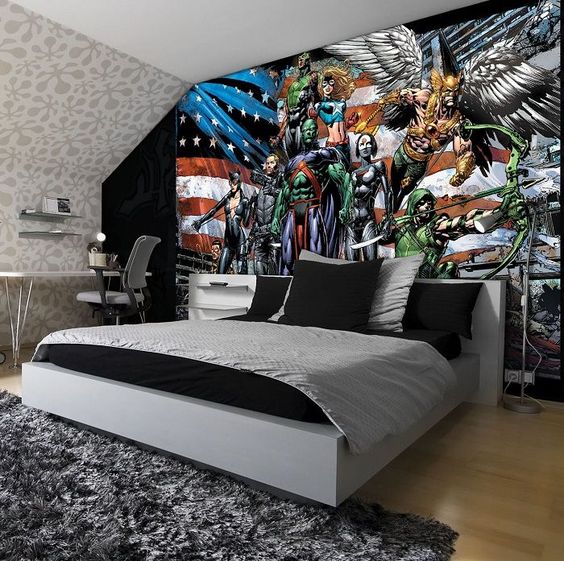 Bringing things you like into the bedroom is the right way to make the bedroom look less bored. And hero wallpapers are a mainstay for men in making their bedrooms look attractive and aesthetic. The hero wallpapers indeed do look more childish, so if you want to apply this wallpaper to your boy's bedroom, it can make your son happy in their bedroom.
Conclusion
The wall is the main spot in the room that has a big effect on the appearance of the room itself. So, giving a touch to the wall is the most powerful way to make a room look attractive. There are several types of wallpapers available that make it very easy for you to match them with the design of the bedroom. And in this article, we have provided the best bedroom wallpapers ideas for those of you who want to beautify your bedroom.