Olidhomes.com – A small bathroom is more challenging. A narrow room is very difficult to decorate. Therefore, by applying one of the small bathroom ideas, you can have your dream bathroom.
Sometimes, being a small room makes the bathroom often overlooked. Bathrooms are often abandoned. In fact, the bathroom is the room that is most often used. Besides that, an attractive bathroom can also improve your mood in the morning.
Having a small bathroom that is attractive and comfortable is not difficult. As long as you decorate it as well as possible. Not only that, but references are also an important factor. And in this article, we have provided Small Bathroom Ideas That Look Enticing and Stylish that can be your references. So, let's check it out!
Luxurious Small Bathroom
The luxurious look does not just apply to large rooms. You can make a small room look luxurious.
As in this one idea, use marble to give a luxurious effect. A marble is applied to part of the bathroom wall. It is the glossy and gleaming look of marble that makes a bathroom attractive.
The effect of using marble is enough to make a bathroom look bright. So, the small bathroom does not feel too cramped. And you can feel comfortable in this room.
Due to the light effect, wood elements are used to give it a slightly dim appearance. Wooden elements are applied to the walls and floor of the bathroom.
If we look at the left side of the wall, we can find wall plants that make a small bathroom look fresh. The combination of plants and wood elements brings a calm natural feel to the small bathroom.
Rely on Tiles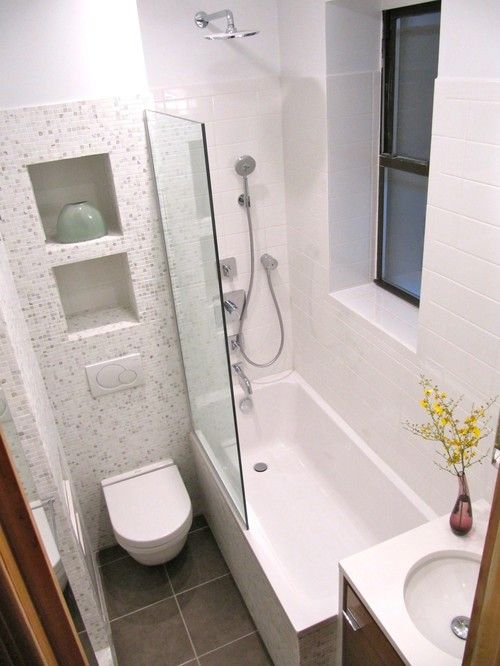 Narrow space means there is little room to decorate. We cannot use a wide variety of items for the bathroom. Therefore, you can rely on tiles. The striking look of tiles leaves the bathroom in need of anything else.
Relying on the wall is the right idea. As the main focal point of the room, the walls control the appearance of the room. The room looks attractive without feeling cramped.
In this one idea, white tiles are used for the walls. White is an alternative color for a small room. A small white bathroom will feel more spacious and comfortable. The cramped and stuffy taste which is a disease of the small room, will not be present in your bathroom.
Two different tile motifs are used. On the walls of the bathtub, more plain tiles are selected. And for the rest, the walls are applied tiles with small colored squares. That way, the small bathroom will not look stiff.
Minimalist Small Bathroom Ideas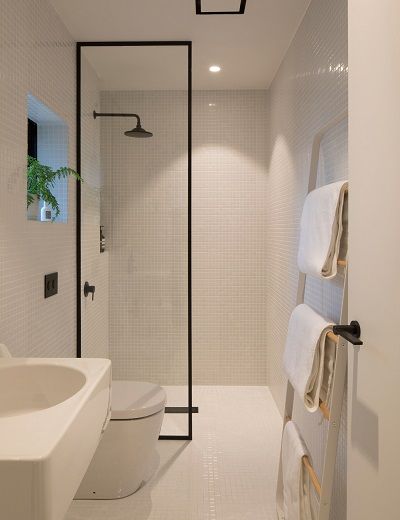 The minimalist concept is most suitable for small rooms. A clean, clutter-free look will make a small bathroom look more spacious.
In this idea, the walls and floor of the bathroom are applied to the same tiles. A single sink floating vanity was chosen to provide more cavity in the bathroom. The closet used in the bathroom is also minimalist in design.
Instead of using a bathtub, this bathroom prefers to use a shower. There is also a divider between the space for dry spots and wet spots. That way, the minimalist small bathroom still looks clean and tidy.
An attractive appearance comes from a wooden ladder which is used as a place to hang towels. This is a very practical way. You only need to lean the ladder on the bathroom wall.
Terrazzo Make It Look Beautiful and A Little Colorful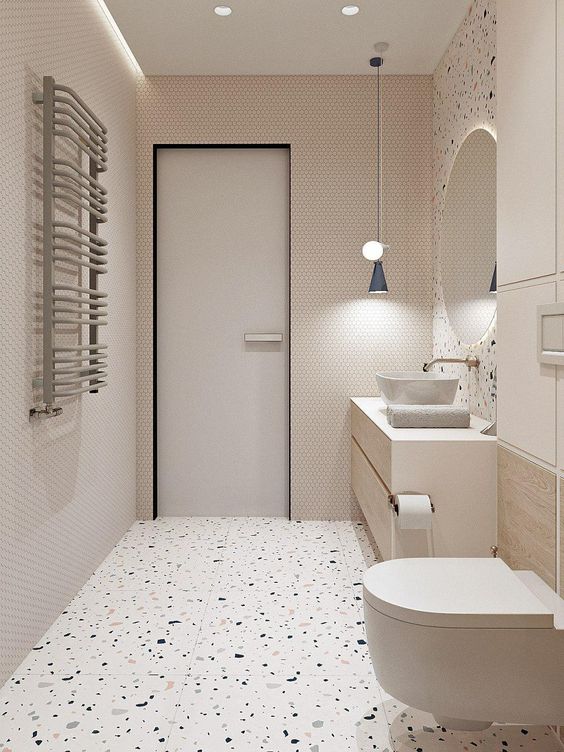 Small bathrooms do not always have to look minimalist and plain. Like this one small bathroom idea.
To make the bathroom appear more colorful, terrazzo was applied to the bathroom floor. On the wall, the mirror spot is applied too. So that the spot appears more standout and stylish
Wood elements in bright colors were chosen to give a warm impression to the bathroom. The combination of wood elements and neutral colors gives a soothing feel. Do not forget that the maximum lighting makes these colors look more alive.
This one idea is perfect for those who prefer a minimalist look with a view that is not too plain.
Bathroom Mirror Cabinet for Smart Storage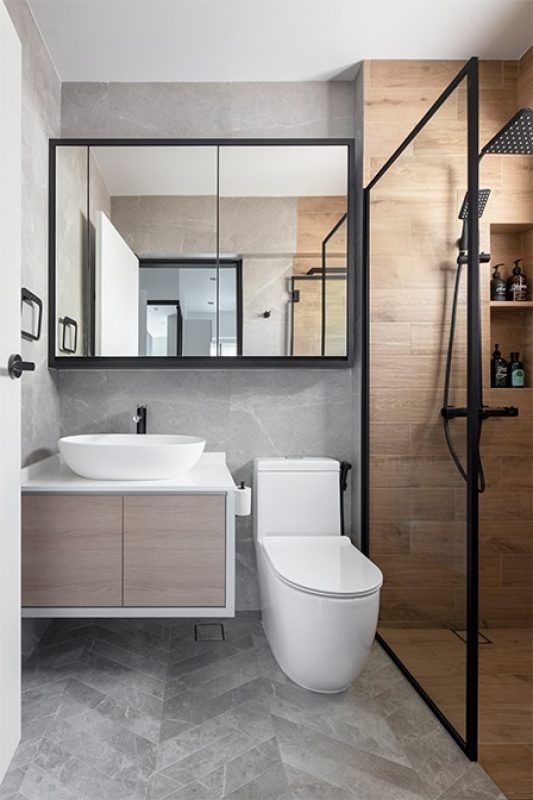 In the bathroom, there are some small items that make the bathroom seem messy. Besides disturbing the appearance of the bathroom, this scatter also makes a small bathroom uncomfortable.
So, for those of you who want to have a stylish and comfortable small bathroom, you can apply this one idea.
The use of bathroom mirror cabinets is the right idea to apply to a small bathroom. In a small room, it is better to use multifunctional items, where one item can have two functions. You can still benefit from the mirror as well as put some items there. That way, the small bathroom will look neat and clean.
The bathroom mirror cabinet is chosen with a black frame. That way, the mirror will look firm and stand out in the bathroom.
A Touch of Inked Florals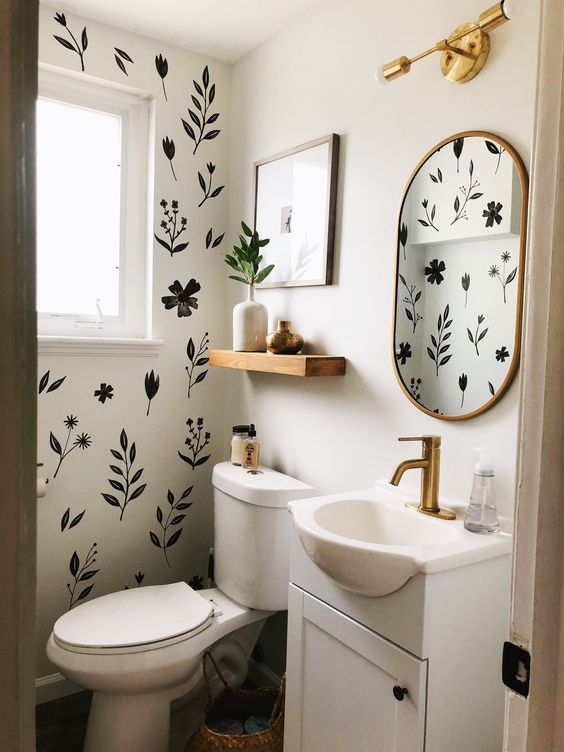 White is indeed an alternative color for a small bathroom. However, a white bathroom sometimes seems stiff. Even, it looks not interesting. Therefore, it is necessary to give touches of creativity. In this way, the bathroom will not look plain and stiff.
A touch of inked florals is one of the small bathroom ideas that can be used as an option. The white walls will look attractive with black flower motifs.
No need to apply inked florals to the entire bathroom wall. Because this will only make the bathroom look weird and striking. So, try to get inked florals on one side of the wall only.
Small Bathroom Double Up as Laundry Room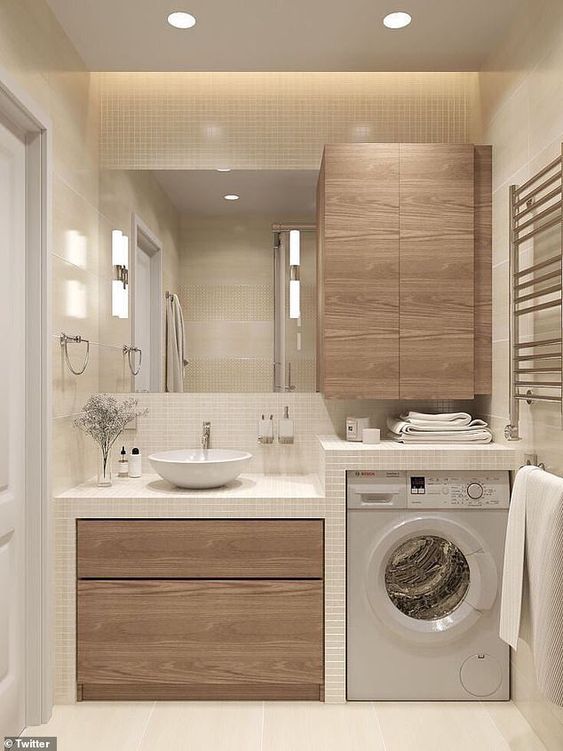 There is nothing more pleasant than having two functions in one room. As in this one idea. A small bathroom doubles up as a laundry room. This idea is arguably quite interesting to implement.
To make a small bathroom feel comfortable, usually, a simple concept is a mainstay. Not using so many things in the bathroom. However, if you decorate it properly, a small bathroom will look stylish and attractive.
No need to hesitate to double up the function of a small bathroom as a laundry room. You also don't need to worry about discomfort in the bathroom. You can place the front-load laundry right under the bathroom sink or table. This is a surefire way to take advantage of every detail in a small bathroom.
Conclusion
Even though it is the smallest room, the bathroom is the room that is most often used. Therefore, the comfort and beauty of the bathroom must still be considered. Some of you may have difficulty decorating your small bathroom. The first thing you need is a reference. And then surefire tips on decorating the small bathroom. And in this article, we have provided Small Bathroom Ideas That Look Enticing and Stylish that can be your references. You can choose one of them according to your taste. So, congratulations on having a small, comfortable and attractive bathroom!