olidhomes.com – The appearance of Japandi Design is minimalist. So, it looks like decorating it is very easy. In fact, decorating Japandi Design is not arbitrary. There are a few things to note. However, of course, there are simple Japandi interior decors that will make it easier for you to decorate the Japandi room.
The Japandi design is indeed interesting. Two cultures combined into one. Gives a touch of harmony between East and West. Scandinavian and Japanese styles can give a calm sensation to your room. Not only that, the minimalist concept fits perfectly with today's homes. This is what makes Japandi designs so popular even though they are fairly new.
So, if you are one of those who like Japandi design, in this article we have provided simple Japandi interior decors. It would be an easy way in making the interior look pretty and minimalist. So, let's check it out!
Plain Window and Glass Door
Japandi design is one of the designs that is able to convey a calm atmosphere into the interior well. With a minimalist concept and very very simple decoration, this design is able to make the room feel more comfortable. It's just that, because the concept is very minimalist, the room can feel stiff. However, there is no need to worry, because natural lighting is relied on to eliminate the stiff impression in the room. With this, the Japandi interior design will look beautiful and also feel comfortable.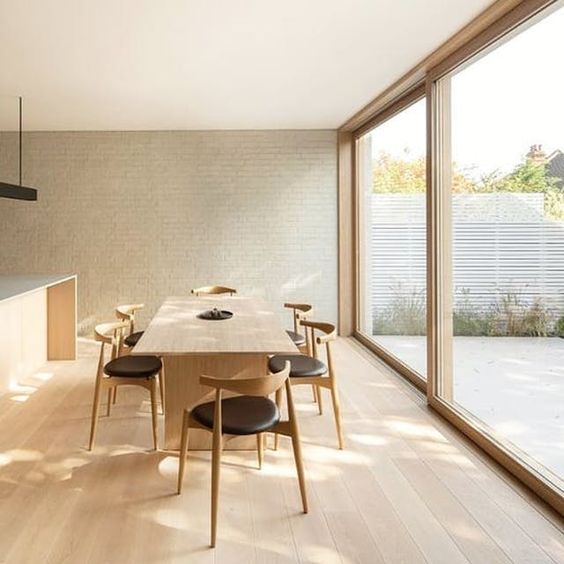 To maximize natural lighting in the room, this design prefers to use glass doors and large windows. To give a thicker Japanese impression, wooden elements are often chosen as glass door and window frames.
So that natural lighting can enter the room freely, glass doors and windows are left exposed without any decoration. There is no use of bamboo blinds, curtains, or other items that can hinder lighting from entering the room. It has also become one of the simple Japandi interior decors. Where to make the room look beautiful and attractive, there is no need to use troublesome decorations.
Navy Table Cabinet As Displays
Japandi Design really rarely uses wall decoration. This design prefers to make the walls of the room look plain. So, the minimalist concept in the Japandi design looks perfect.
However, a room without decoration is also not good. There are at least one or two decorations to make the room look attractive. In addition, a room without decorations also seems stiff and boring. So, decoration remains very important for the room.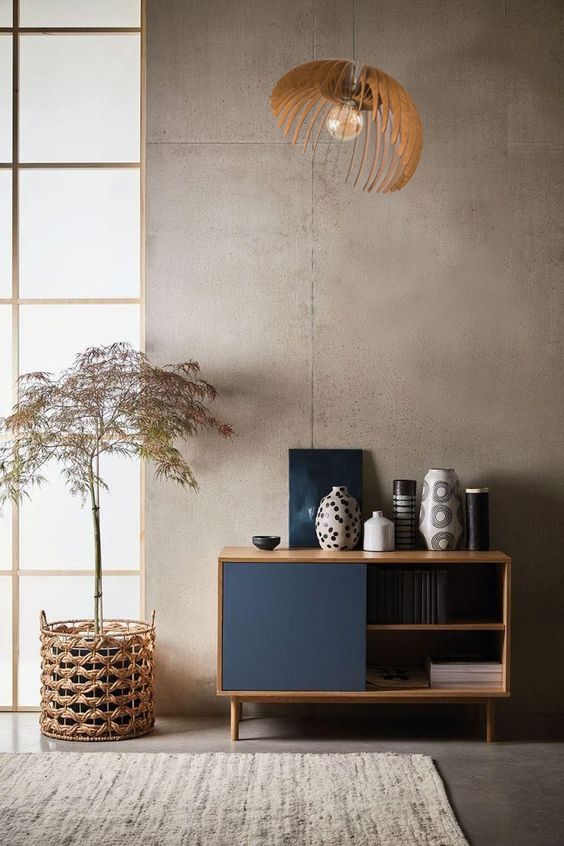 The next of simple Japandi interior decors is using the navy cabinet as displays. You must often find small Japanese-designed pottery on the internet, right? Try to buy four or five for display. Put these potteries on the table cabinet. This will create an interesting spot in the room. And for the drawer, use it as smart storage to store small things. So, the Japandi room will look neat and beautiful.
Bulb Lights Make The Japandi Bathroom Looks Dramatic
In Japandi design, the natural lighting indeed becomes the main lighting. However, it does not mean that the Japandi room does not need artificial lighting. The lamps are still used to make the room look bright even at night. In addition, the light from lamps can make the room look dramatic during the day.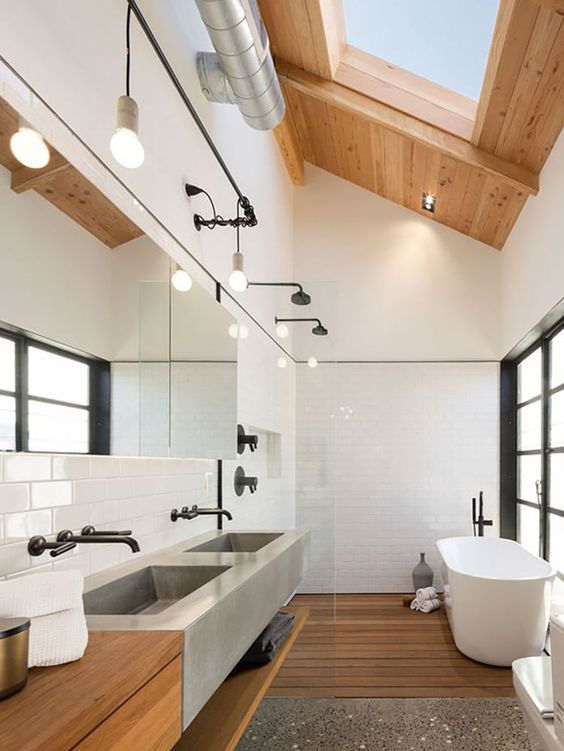 There are many types of lamps you can choose from. However, the most suitable lamps for use in Japan in the bathroom are bulb lamps. This type of lamp is most often found in Industrial designs. However, because of its minimalist appearance, you can also use this lamp for a Japandi-style room.
Installing several bulb lamps in the bathroom becomes a simple decoration to make your Japandi bathroom look attractive and dramatic. The natural lighting from the lamps also can balance the wood and make the room feel soothing and relax.
Attractive Floor Lamp for Dining Room Japandi Design
In a minimalist concept room, it is better to use items that have two functions. Like the floor lamp in the dining room. The simple floor lamp design makes the dining room an attractive spot. Especially for the open-plan concept dining room. In addition, this item is also the main lighting at night. Placing the floor lamp in the Japandi interior becomes the simple decors that will make this room look beautiful.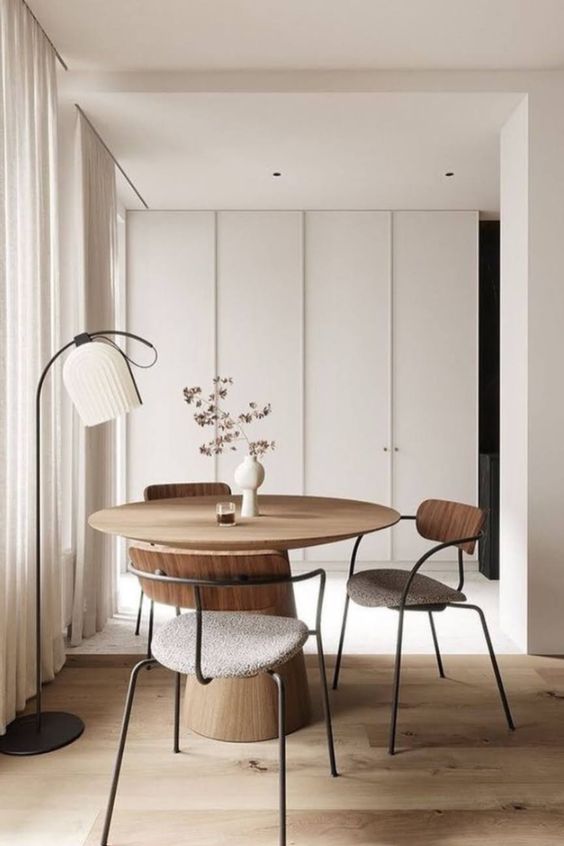 The black lamp post with a white lamp cup is perfect for Japandi designs. Black color will give a more assertive effect. With this, the floor lamp will look striking even though it is at the end of the table. The white cup makes this lamp look simpler. Gives a calmer look to the room. It would be better if you provide a lamp with warm lighting. This will really help the wood elements in giving a calm and warm feel to the room.
Twig and Round Pottery are Perfect Combinations
Want a simpler decoration but can give a dramatic effect on the Japandi interior? You can choose this one decoration as an option.
Twig and round potter usually become the decoration for Japanese-style houses. So, using this decoration in the Japandi room is a good idea.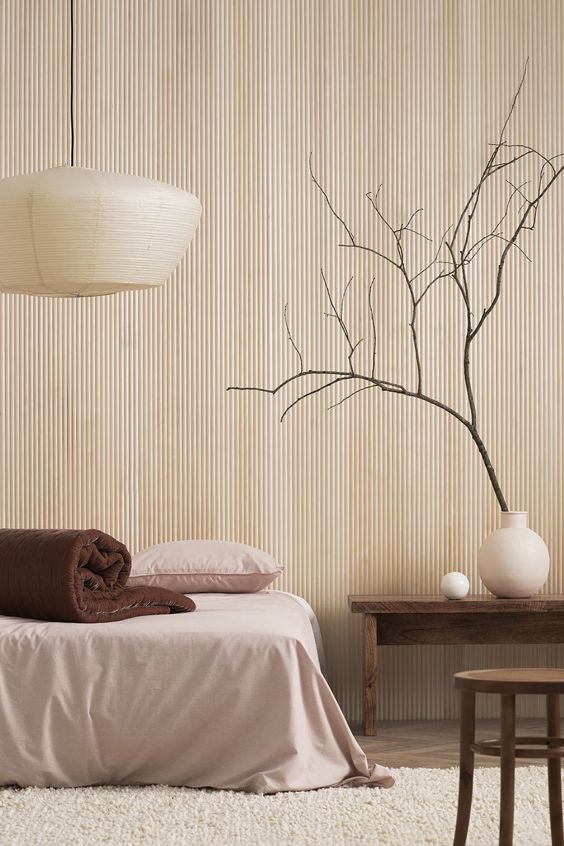 In this decoration, you only need a twig and round pottery. For twig, of course, you can find it easily. There are many items on this one in the yard. Choose a twig with an aesthetic form. If it's too long, cut a little twig the way you want it. Then, don't forget to clean.
For the container, round pottery is the perfect complement. The round shape is very fitting for a minimalist concept. And you can put a cleaned twig into this pottery. Put it in the right spots, such as a table in the sampling bed, dining table, or coffee table in the living room. This decoration is indeed very simple but can make the room look so beautiful.
Conclusion
Japandi design is indeed more carrying a minimalist and simple concept. The room is decorated to a minimum. The goal is to create a tranqualitly and relaxing atmosphere. It's just that, a room without decorations certainly looks stiff and boring. So, it would be better to keep decorating the Japandi interior with the right decorations. No need to bother choosing difficult decorations. Because in this article we provide some Simple Japandi Interior Decors that you can choose from. So, let's make a Japanese-style interior into a beautiful and certainly comfortable room.