Olidhomes.com – Each design has its own color, so does the Japandi design. So that for you who are interested in Japandi design, it is so important to know Japandi room paint colors. That way, you can apply this design one step more easily.
Japandi design itself is indeed being hype lately. This design first appeared in early 2017 but quickly entered the hearts of its fans. Rich with natural nuances that can make the interior of the house feel so calming and comfortable.
What's interesting about Japandi design is that this design combines two cultures into one, that is East and West culture. The Japandi itself is an abbreviation of Japanese and Scandinavian. In which they have one thing in common, that is a minimalist and natural concept.
Some of you who are familiar with this design, maybe you just know that this design is dominant with beige, brown, and white colors. In fact, there are still many other colors to choose from and of course can make the rooms in your house look more aesthetic and far from the "bored" word.
And in this article, we have provided Japandi Room Paint Colors Inspiration that you can choose to Let Japandi Design Shows Its Character. So, let's check it out!
Laurel Green Colors, Look Soft but Make The Room Feel Fresh
First of all, there is laurel green color. This color can be used as the first option for those of you who prefer the room to appear soft but feel fresh.
Laurel green colors are perfect when paired with wooden furniture. The natural color of the wood will combine with the laurel green colors and create a bolder natural feel in the room. With this, the room will feel more calm and comfortable.
In applying this color, you must pay attention to the natural lighting that enters the room. This is because the application of laurel green colors is not suitable for dark spots. Therefore, make sure you choose a spot that is exposed to direct natural lighting to make this color display its natural and fresh side.
Make The Room Feel Alive with Baby Blue
In choosing colors for Japandi design, you must know beforehand that Japandi design itself has a bright appearance. Besides maximizing natural lighting for the room, this design also prefers bright colors, one of which is baby blue.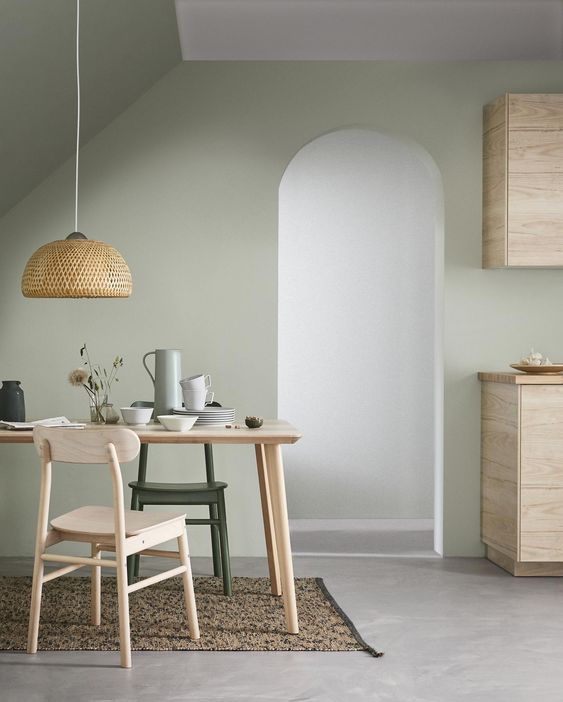 So, baby blue is the next Japan in the paint colors room that you can choose. This color is perfect for giving a sweet and soft side to the room.
You can apply this color to some walls in the room. You can combine it with white for a brighter room look. Or, you can also combine it with beige for a warmer and calmer result.
Blue Navy for A Little Elegant Look
In Japandi design, it does not just have to be bright colors. You can also choose slightly darker colors for the room. Such as blue navy.
Blue navy becomes the next of Japandi room paint colors. The application of this color will give a slightly more elegant appearance to the Japandi room design. The minimalist concept of this design will strongly support the navy blue to give a more dramatic effect to the room.
In applying this color to the room, you must underline one thing: the room must still look bright. With this, you are not allowed to apply this color too much in the room. Especially if the room does not get natural lighting perfectly.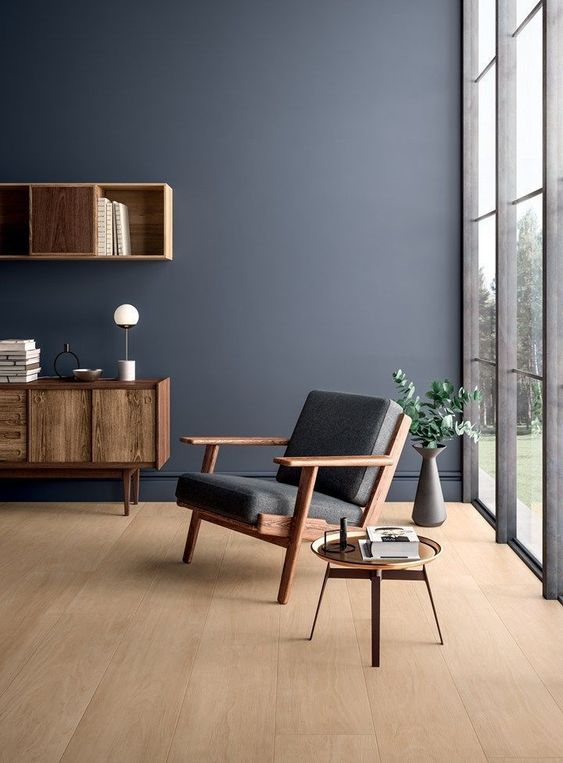 Actually, it is perfectly fine to paint Japan on the room wall with navy blue paint, as long as the walls are exposed to direct natural lighting. For example, you paint the right wall next to the window with blue navy. This is a requirement that you must admit.
Besides that, in choosing furniture, make sure you do not use furniture made of dark wood. Because this will only make the room look dark and take away the character of the Japanese design itself.
Grey in A Calm Nuances
Beige, brown, and white are very popular colors of the Japandi design. These three colors are indeed an alternative in presenting a serenity feel like houses in Japan.
Because the Japandi design is a combination of Japanese and Scandinavian, so it's fine if you want to use Scandinavian colors for the Japandi interior.
There are four very popular Scandinavian colors: white, beige, black, and gray. And of these four colors, what we will discuss now is gray.
Gray may be rarely chosen because it can make the room look a little darker. However, this will be fine if the room gets maximum natural light.
Choosing gray as becomes next Japandi room paint colors is a great way. The gray color itself is able to produce a cool and calm feel to the room. So you will get a different sensation in your room.
Ivory Color, Bright and Soft at Once
The next of Japandi room paint color is ivory. This one color is part of the white color group. It's just that, ivory will not give a bright effect to the room as produced by white.
Ivory itself is another color that can be chosen in creating a bright but soft room. So that the atmosphere of the room will feel calmer. With this, ivory paint color is most suitable to be applied to rooms that are used for relaxing, such as bedrooms and living rooms.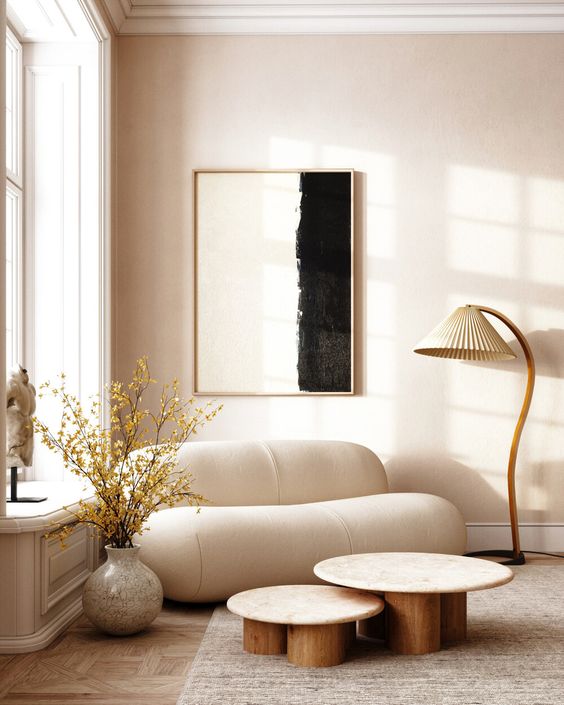 Being part of the white color group makes this color a neutral color. So, you do not have to worry or confusing about presenting other colors in an ivory nuanced room.
Wall displays with gold frames can make the ivory color appear more expensive. Black is also a good combination to give a more assertive effect to a Japanese-style room. Here, you are also allowed to give a touch of other colors that are more contrasting to make the room look more attractive, alive, and aesthetic.
Beige for Calm and Warm Room Appearance
To give warmth to the room, brown color is often used as an option. However, painting the walls with brown paint will certainly result in a dark room. Therefore, beige can be another alternative. This color will give a warm and calm effect to the room. So that the room will be more comfortable.
Beige paint itself is indeed a favorite in Scandinavian designs. And for the Japanese, usually the beige color is presented in wood elements. However, in Japandi design, you are allowed to paint your room wall with beige paint.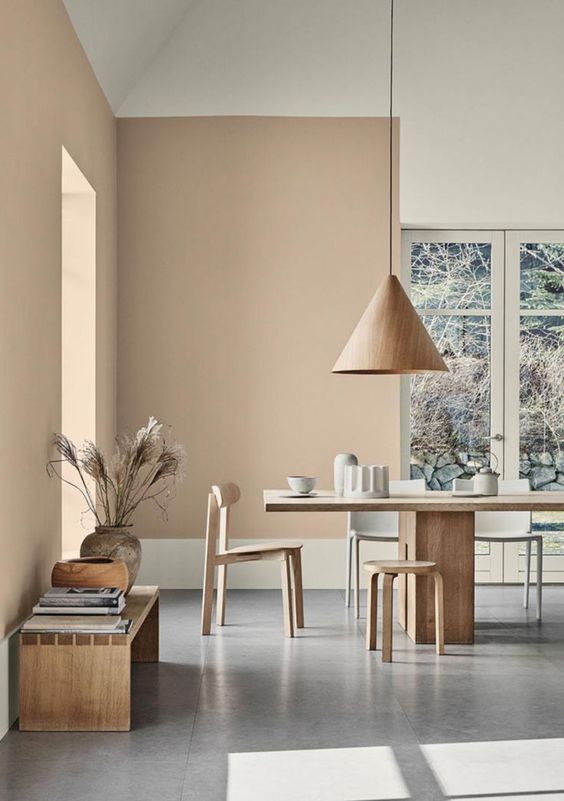 Natural lighting which is the main lighting for Japandi interior design really helps the beige color in giving a warm feel to the room. Here, you no longer need to provide wall displays. Let the beige-washed wall show a soft and calm look into the room clearly.
To make the room feel warmer, you can also choose furniture made of light wood. The natural beige color of the wood will blend with the beige-washed wall and make the room look more harmonious.
Minimalist design furniture is also great to make the room feel so calm and soothing. It is so perfect for those of you who want to have the perfect room for resting and unwinding.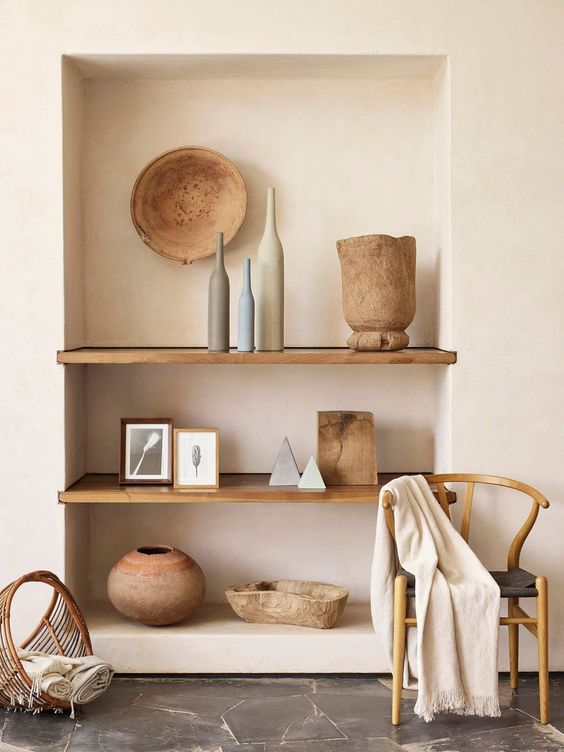 Final Words
In the Japandi designs, you may find rooms with white shades more often. This color is indeed an alternative color in making the room look naturally bright. Besides that, white is also a great color in presenting natural nuances which is a characteristic of the Japandi design.
However, a white room sometimes looks so boring. And in the Japandi design, it is perfectly permissible to provide other colors which we have listed above. By choosing these colors, a Japandi room design will look more attractive and more alive without losing the character of the Japandi design itself. So, what are you waiting for? Let Japandi Design Shows Its Character in your house.