Looking for the best gas fireplace for your home this winter and wondering which one to choose? No worries! Here, we help you with the top 5 gas fireplaces which would make the best choice for your home.
Gas fireplaces are a beautiful centrepiece in your home with unique and exciting features. They provide the same heat and aesthetic benefits as wood-burning fireplaces but with more safety.
Gas fireplaces are more efficient, reliable, compact, and they require less maintenance than wooden fireplaces. Most importantly, they are cheaper compared to wood fireplaces.
Before jumping in to buy a gas fireplace, there are a few things to keep in mind, like fuel type, model, features, cost, and others.
This guide helps you with the list of some best gas fireplaces and makes an informed decision.
Before moving onto the list, know the different types of gas fireplaces.
Gas Fireplaces Types
Direct Vent Gas Fireplace– Mostly used in modern homes, these gas fireplaces provide comfortable, steady warmth to your home with ultimate safety. They provide the best air quality, are easy to use, and are efficient in staying warm.
Ventless Gas Fireplace– These fireplaces provide excellent heat efficiency with no venting system. As the heat can't escape through the vent, they keep all the warmth inside your home and consume less fuel. These are best for people who need more warmth than an aesthetic look.
B-Vent Gas Fireplace– B-vent Fireplaces are hardly used today as they have complex installation requirements and are very inefficient. They look the best among other types of gas fireplaces and are mostly used for aesthetic purposes.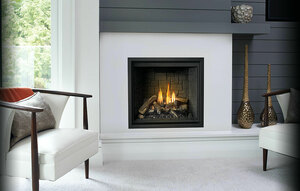 Check out the top gas fireplace models and see what they offer.
1. Napoleon Elevation X 42″ Direct Vent Gas Fireplace
With a BTU of 45000, this fireplace is the premium offering from Napoleon's gas fireplace platform.
It provides excellent warmth to your home with a deeper set firebox, creating a more accurate and impressive fire display.
This gas fireplace has the glowing Endless Embers electric ember bed coupled with high-definition log sets to give a realistic experience.
Another striking feature is that this gas fireplace disperses heat evenly to feel the same warmth wherever you are, either near or far from the fireplace.
Features:
Remote control included controls flame modulation, split-flow, ember bed lights, and blower
Log and Glass Burners
Clean face design with full firebox flame
eFire Bluetooth App
Proflame II Remote control
Optional Glass Guard
Zen front available in both Black & Charcoal
Ten decorative brick kits include MIRRO-FLAME™ Porcelain Reflective Radiant Panels, Westminster™ Standard and Herringbone, Newport™ Standard, Old Town Red™ Standard and Herringbone, Ledgestone Antique White, Glacier Herringbone and Standard, as well as Black Illusion Glass.
Heat circulating blower
Optional Dynamic Heat Control™ and Dynamic Heat Control™
Presidents Lifetime Warranty
2. Faber Matrix 5126 Bay View Gas Fireplace
This Faber Matrix Bay View gas fireplace helps you create the unique atmosphere and look you desire for your unique space.
With this fireplace, you can enjoy the stunning flame effect from different angles.
The Faber Matrix line is a real eye-catcher for your home! With this gas fireplace, you can create the fire of your dreams, exactly as how you like it. Starting with a basic fire, you can add different elements.
It has different back walls, the Symbio light module, non-reflective glass, and much more.
Its patented Log Burner 2.0 delivers a complete, fascinating flame effect where you can immerse yourself for hours. It provides robust flames even at a low setting.
The unique Symbio light module creates a realistic glow in the ember bed. Also, it creates a sleek look with the fireplace glass flush against the surround.
3. Regency Grandview G600C Traditional Gas Fireplace
It's is a one-of-a-kind gas fireplace packed with unique features and specifications.
The Regency Grandview gas fireplaces are designed to maximize choice, and its customization lets you pick and choose everything to get the fireplace of your dreams.
Key Features of G600EC Traditional Gas Fireplace:
Largest and best viewing area in its class with clean front design
Proflame II GTMF remote control
Rear or top vent for versatile installations
Variety of designs- from a log grate and traditional style log package to contemporary, modern crystal tray
It's cool wall system allows any finishing material right to the edge of the fireplace
Standard top-down and ember-bed lighting
Flame height adjustment control
4. Superior 40″ Gas Direct Vent Fireplace – Millivolt – DRC2040
The Superior Millivolt DRC2000 Series gas fireplace provides excellent value without compromising on quality or design.
It offers an array of standard features, increased performance, and state-of-the-art technology to ensure many years of beauty and warmth.
This gas fireplace meets all 2015 ANSI barrier requirements and is available in 33", 35", 40", and 45" radiant smooth-faced models.
Features:
This gas fireplace comes with a dedicated top or rear flue configuration
Millivolt or electronic ignition with battery backup
A beautiful flame rising through reflective black crushed glass media
Up to 65.5% AFUE
It runs even during a power outage
This gas fireplace includes a standard barrier that meets 2015 requirements.
Black painted interior
Optional blower and remote controls available for all models
Standard tempered glass
Durable textured powder coat finish
20-year limited warranty
5. Empire Comfort Systems DV Linear 60-Inch Fireplace
This gas fireplace is ideal if you are looking for a more extensive set with a bold look.
This 60-Inch Multi-function Empire Comfort Systems DV Linear gas fireplace is large enough to become a focal point in your home.
Powered by natural gas, this fireplace is 60-inches long, 50.37 inches high, 21.5-inches deep, and 79.62 inches wide.
It can generate up to 46000 BTUs of heat and provides an excellent effect with ceramic glass and a dimmer light below the floor. It also has a barrier screen to keep your children, pets, and other family members safe.
This direct vent-free gas fireplace also comes with a multi-function remote packed with excellent features.
Selecting the Perfect Gas Fireplace for Your Home
The market has a lot of other gas fireplace varieties to choose from with distinct features and dimensions. Browsing online and comparing the above gas fireplace types will give a fair idea of choosing the best gas fireplace you need.
However, here is a short, quick tip for choosing your ideal gas fireplace.
If you are looking to refurbish the stylistic appeal of your home, opting for a B-vent fireplace would be the best choice. A ventless fireplace would work best if you live in a place with harsh climatic conditions to keep yourself warm and cozy.
Besides, the structure of the vent and your electronic device placement play a vital role in deciding the type of gas fireplace you need to fit in your home.
Safety Precautions for Gas Fireplaces
Here are a few essential safety tips for gas fireplaces.
Always pay attention to clearance zones.
The rooms should be well-ventilated.
Double-check the safety screen barrier.
Schedule annual maintenance.
Upgrade to a double glass heat barrier.
Keep children and pets away from danger.
Never let the gas fireplace run for more than 2-3 hours at a time.
Consider all these options and make an informed decision before buying the best gas fireplace for your home.