olidhomes.com – When you were little, of course, you wanted your dream bedroom. Whether it is a bedroom with the concept of a forest, mountain, space, and so on. It does not matter if you do not have this for your childhood. You can start to make a dream children's bedroom for your kids. There are many very interesting ideas and decorations for a child's bedroom. And, in this article, we have provided 26 Kids' Room Decors & Ideas for those of you who want to Create A Fun and Comfortable Room for Your Kids. So, let's check it out!
1. Slide in The Room, Why Not?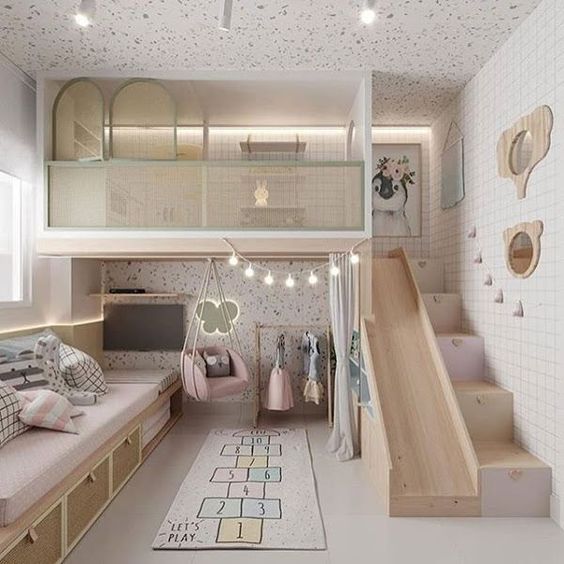 Children really like playing in the playground. And, one of the rides they like the most is the slide. So, it would be great if you, the parents, could present slides in your kid's room. That way, they will feel happy and comfortable in their bedroom.
You can build stairs to the child's bed. Turn each stairway into storage by building a drawer. And, right beside the steps, you can build a slide made of wood. Make sure the slide surface is smooth and slippery so that it is safe for your child to use.
2. Small but Full of Comfiness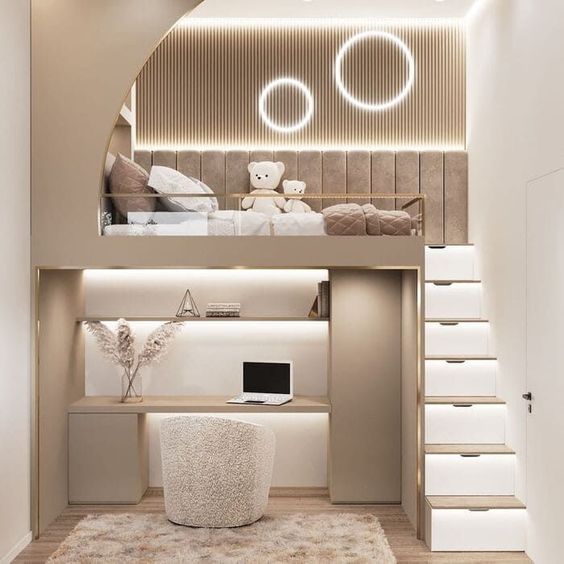 Do not worry if there is a small room in your house. You can turn this small room into a comfortable children's bedroom.
Choose white as the main color to give a bright effect. This color can also make a small room feel larger. And also, the room will be far from disturbing cramped and stuffy feelings. Combine white with beige. The combination of these two colors will bring a warm and calm feel that can make the bedroom feel comfortable.
In the upper area, you can make it a bed. Bed decoration with some cute dolls. While the lower area is a place to study.
So that this small bedroom feels comfortable, apply a minimalist concept. Avoid using displays or excessive decoration. Here, you can play with the lighting to make the appearance more attractive, such as installing LED lights on the ceiling, shelves, and stairs.
3. Make It Look Soft with Pink Pastel Color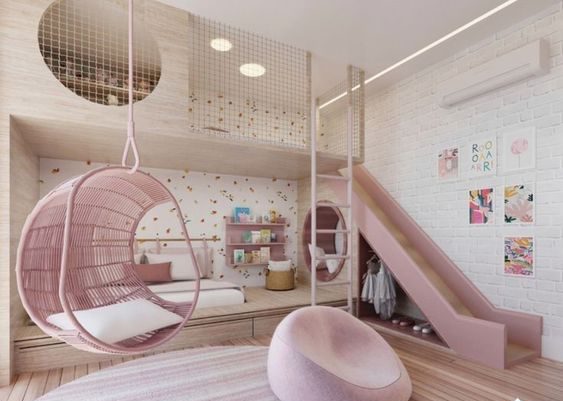 Pink is the favorite color for girls. Applying pink to the bedroom will make them feel comfortable and happy there. Apply pink on the big spots so they stand out and are clear. You can apply this color to slides in the bedroom, swing chairs for children to relax, bean bags as the most comfortable spot, and rugs.
4. Feels Like Above The Clouds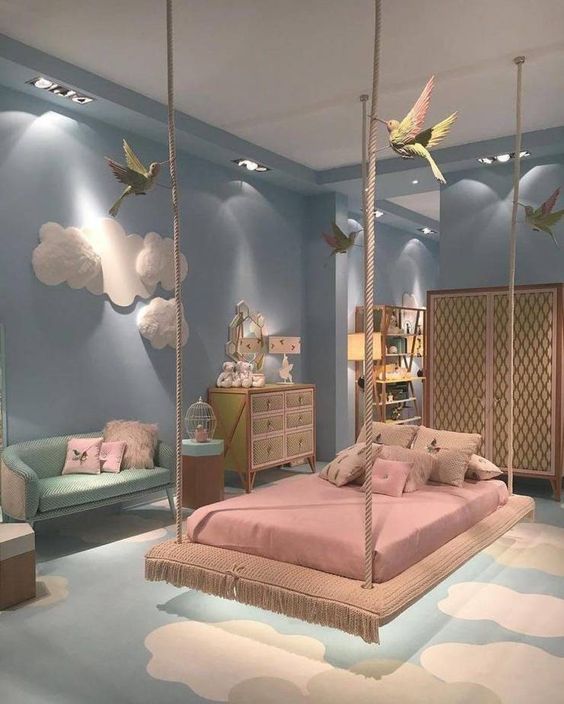 Who would have imagined that there was a big and beautiful palace in the sky? To feel you are in a palace above the sky, you do not need to go there. You can create a place that makes you feel above the sky. And, it becomes the next of 26 Kids' Room Decors & Ideas you can follow.
Blue is the main color chosen for the bedroom. Images of clouds on the floor and walls make the bedroom feel like you are above the sky. Also, selected a swing bed that can give the effect of floating sleep like the one in the cartoon.
5. Playroom as Well as Bedroom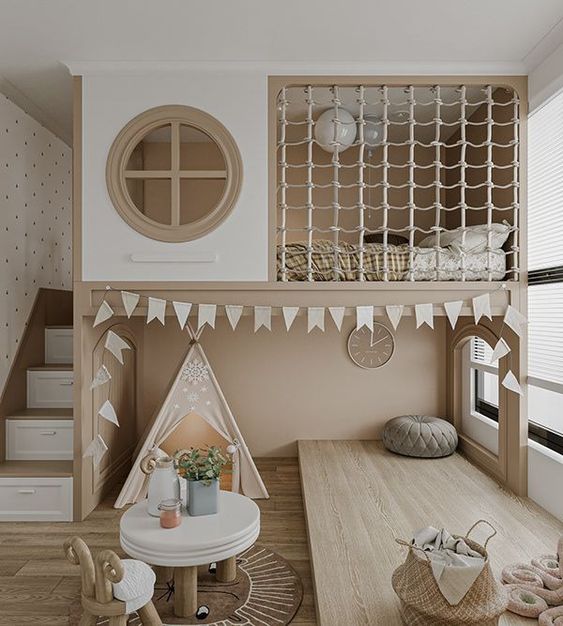 Children really like to play. They often spend more time playing than other activities. Therefore, in creating a comfortable and fun bedroom for children, you can create a playroom there. It will be the next of 26 Kids' Room Decors & Ideas you can follow.
The combination of beige and white gives a soft effect to the appearance of the room. What's interesting about this idea are the nets in the bed area that make it easier for children to see outside. There is also a circle window that makes the bed a small home for children to rest. And, the lower area is used as a place to play. There is a small stage as a playground. In the corner of the room, there is a small tent that can be used as a place to relax or read a book.
6. Present The Freshness with Green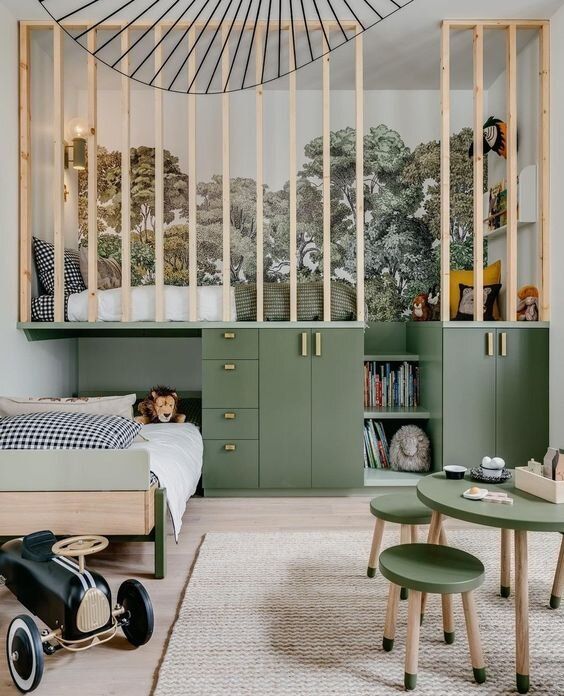 Make the atmosphere of a child's bedroom feel fun by presenting a fresh feel. No need to put plants in the room. You can simply apply green and make it look like the dominant color.
On the wall area, you can draw some trees which are also decorations that give an attractive and aesthetic effect to the appearance of the bedroom. With a white base color, the tree pictures on the wall look to stand out.
The area under the bed is used as a small cupboard for storing children's clothes. Stairs are also made as open shelves to put reading books. With more beds, this one child's bedroom idea really inspires those of you who have two children or twins.
7. Animal Wall Mural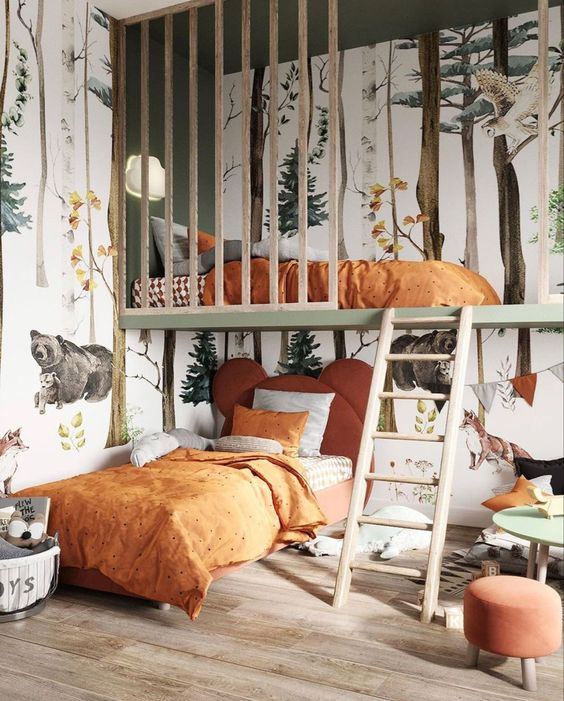 It does not matter if you only use the necessary items. However, make sure the room still feels crowded so that the atmosphere feels more pleasant and lively. Besides using an orange bed sheet to create a cloudless atmosphere, you can also apply an animal wall mural. This is also one way to introduce animal names to your child.
8. Make The Atmosphere Like in The Forest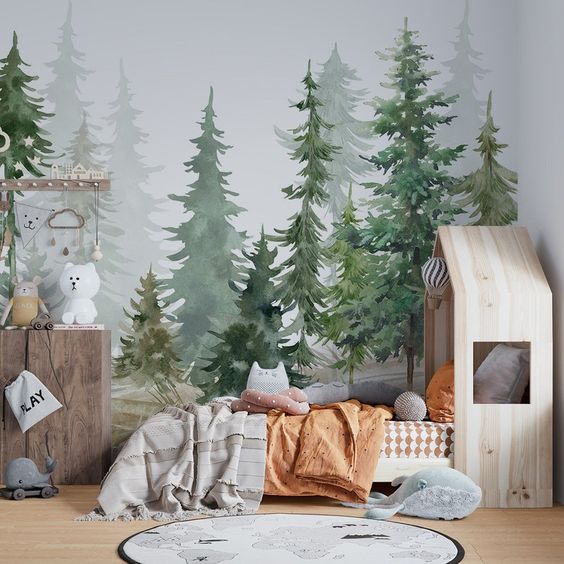 Children often imagine camping in a forest where wolves live there, just like in cartoons. Therefore, to strengthen their imagination, you can make their bedroom with a forest atmosphere. On the wall area, you can apply a wall mural with a picture of trees that seem to be covered by mist. Also, use furniture made of wood such as cupboards or beds to add to a more natural forest atmosphere.
9. Action Figures Decors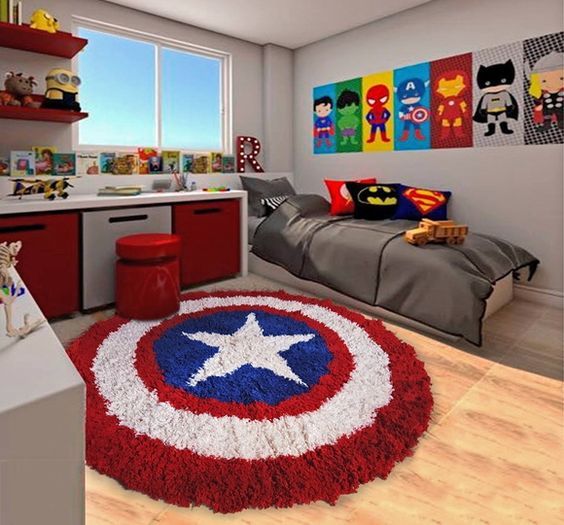 If your child likes action figures like Batman, Superman, and other heroes, this can be an inspiration for a child's bedroom. You can make a bedroom with an action figure theme to make your child feel happy to be there. Use colors that match your child's chosen action figure. For example, if your child likes Spiderman, then use white, red, and black. Or, if your kid likes Batman, then you can choose black, gray, and white. Adjusting the color will give a harmonious appearance to the room and minimize the occurrence of collisions between colors that can disturb the beauty of the bedroom.
10. Relaxing and Pleasant Galaxy Atmosphere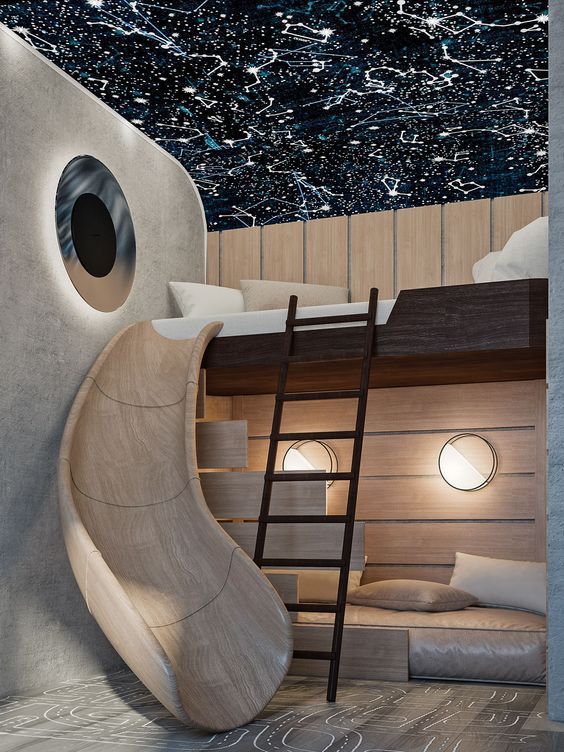 Some children have dreams of becoming astronauts. And, if your child is one of them, making their bedroom feel like they are in a galaxy is a way to make them feel comfortable and happy to be in their bedroom.
Make the ceiling look like a galaxy. Make black the main color and white splatters that look like stars.
You can apply a minimalist concept to provide peace. Choose gray as the main color and combine it with the brown color of the wood. Wood material will really help to warm the bedroom and make it comfortable.
11. Build A Small Tent in The Corner of The Room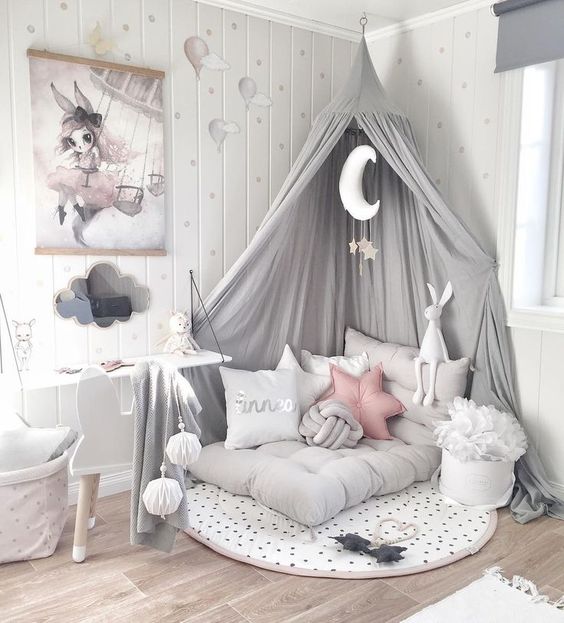 Children really like to play. Therefore, make sure you separate the play area and the area for children to rest or sleep. That way, when children feel tired, the area for them to rest is still neat and clean so that children can rest comfortably. And, this is the next of 26 Kids' Room Decors & Ideas you can follow.
You can choose a corner of the room as an area for children to play. Make a tent using cloth. Use rugs and seat cushions to make you feel comfortable. You can also add pillows and some dolls to make it look fun.
12. Warm and Soothing Minimalist Kids' Bedroom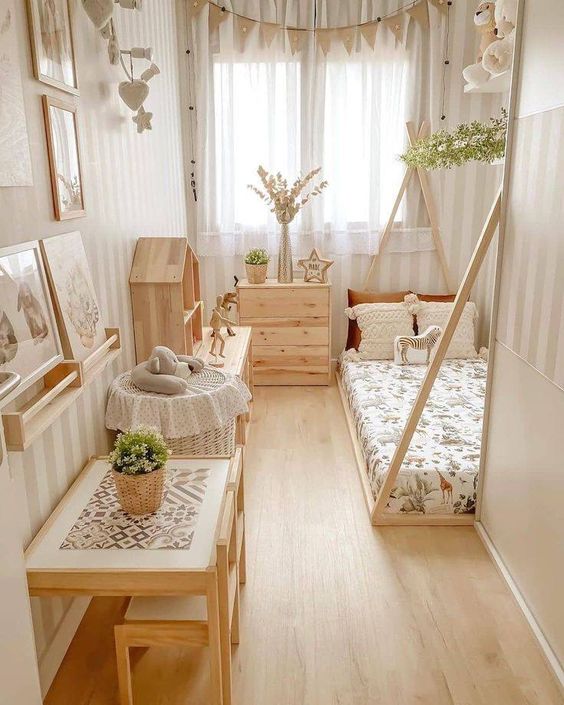 Even though it's small, you can turn it into a comfortable children's bedroom. Choose white and beige to decorate the room. Make sure the room gets maximum lighting. Install large windows in the bedroom. Instead of covering it with thick curtains, it would be better to use sheer white curtains. That way, natural light can still enter the room freely and make the bedroom look bright.
The use of white and beige colors makes the look so soft and warm. You can maintain it by using light wood furniture. Also, decorate the bedroom with synthetic plants such as vines for bed frames and small plants for tables. That way, the bedroom will feel fresher and livelier.
13. Sleep and Play in The Same Room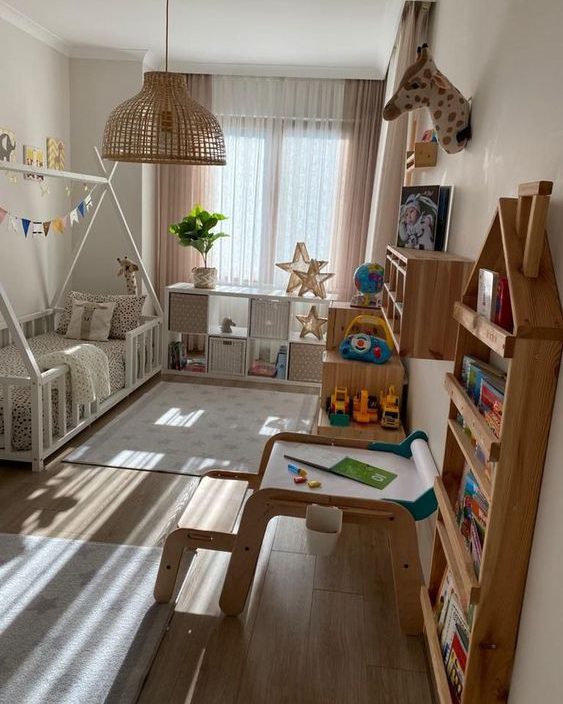 Instead of making the bedroom an area for resting, you can also use this room as an arena for your child's activities. It becomes the next of 26 Kids' Room Decors & Ideas you can choose from. Use cubbies or open shelves as a place to store their toys. Arrange the rug on the floor so that children can play more comfortably.
To hone children's creativity, you can also make a small table. Put some writing or drawing equipment there. Right beside the table, you can create a bookshelf in the shape of a house made of wood. Put some of your child's favorite reading books.
14. Name in Neon Lights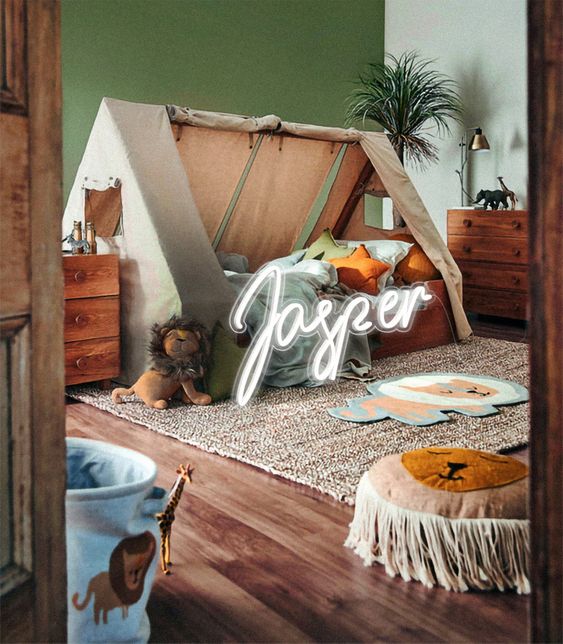 Besides comfort, beauty is also an important point for a child's bedroom. Make sure that you decorate the child's bedroom properly and correctly. There are many decorations that you can choose to add to the beauty and aesthetic value of your bedroom. One way is to use lights as decoration.
You can choose the name in neon lights as a bedroom decoration. You can customise the neon light according to your child. Make this lamp decoration for your bed by placing it next to your bed. Adjust the size of the child's bed. Make sure the size is not too small and not too big. Also pay attention to the description of the lights. Do not choose a lamp that is too bright because it can be dazzling.
15. House-Shaped Bed Feels Decors with String Light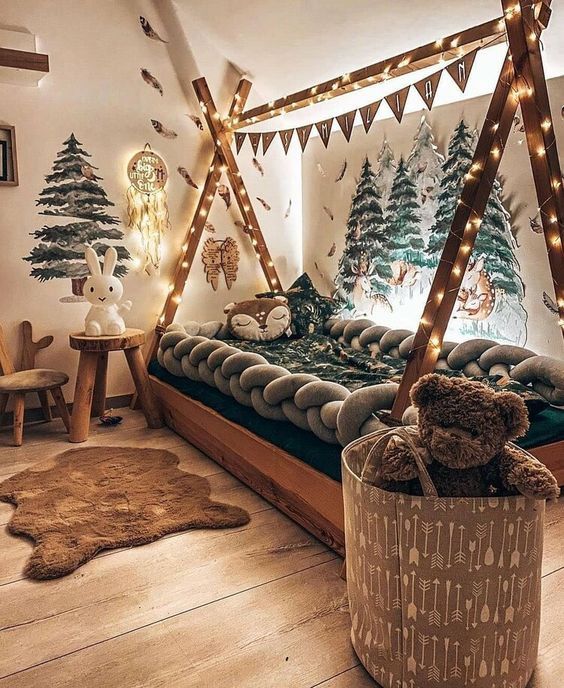 The bed is the main item in the bedroom. So, choose a bed with an interesting shape like a tent. You can make it look aesthetic by giving it a special touch in the form of the right decoration. Choose string light and wrap it on the top bedframe. When turned on, it gives such a beautiful effect, especially at night. With the slightly dim yellow lighting, the atmosphere becomes so warm and serene. That way, children will feel comfortable when they are in their bedroom.
16. Shared Kids' Bedroom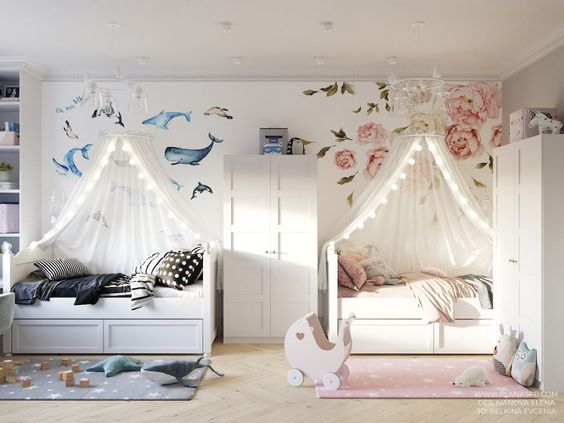 One bedroom can be used for two children. If your child's gender is the same, then you can use the same color for the bedroom. However, if your child's gender is different, you need to adjust the appearance of the bedroom. As in this one idea that chose blue as the male area and pink as the female area. As a barrier, a small white cupboard is used which is placed in the middle of the boy's and girl's areas.
In the girls' area, the look is made more girly by using stickers with pink roses to decorate the walls. And, for the boy's area, stickers with pictures of whales and dolphins are used. Not only that, but the toys or dolls on the rug are also different. Seen dolls for girls look very cute with soft colors.
17. Boho Bunk Bed Design for Kids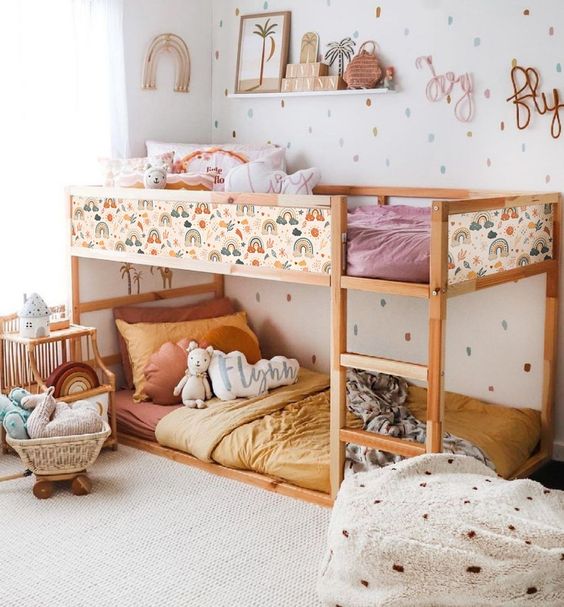 Boho bunk bed design for kids is the next of 26 Kids' Room Decors & Ideas you can choose from. This one-bedroom idea can be used by two children at once. The use of a bunkbed provides two beds that can be used by two people. It is just that the bunkbed used is indeed lower to maintain the safety of the child. So, children can go up and down the ladder more comfortably.
The bunk bed with a boho design has a lively motif that changes the bedroom atmosphere to be more fun. Also add some decorations that add beauty and a fun impression to the room, such as displays of coconut trees, knitted names, and small circles in beautiful pastel colors. Don't forget some cute pillows and dolls.
18. Simple Black and White Kid's Bedroom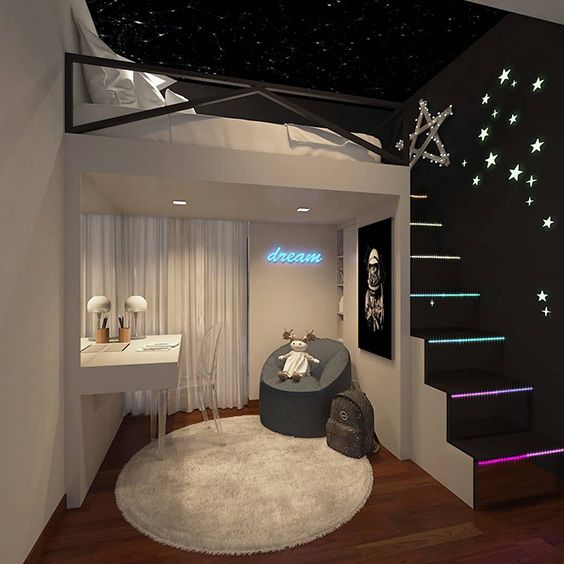 The area under the bed is used as a place to study and do children's assignments. So applying white in this area is the right choice. A white desk, white rug, and white sheer curtain make the look harmonious.
The area of the stairs to the ceiling is made of jet black. So that when you climb one step to bed, you will feel like you have moved to another place, namely the galaxy. Along the wall up the stairs, you will find beautiful stars that glisten in the dark. The ceiling is made shiny like stars twinkling in the sky. Provide peace for children when they want to sleep.
19. Kid's Bedroom with A Tropical Theme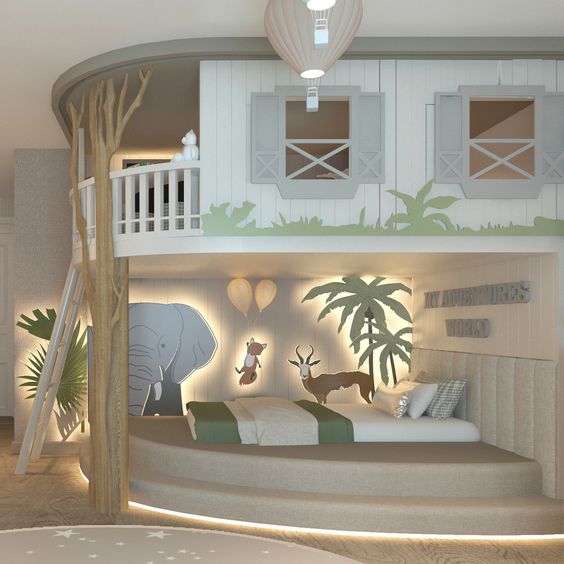 Make a child's bedroom feel calm and fresh at once by applying a tropical theme. Create some coconut trees on the wall. You can also present several animals such as elephants, deers, squirrels, and so on. Make these accents look beautiful on the wall by placing LED lights around the object. That way, the coconut trees and some of the animals on the wall will be seen more clearly even though they are covered with bedding.
20. Bed and Reading Nook at Once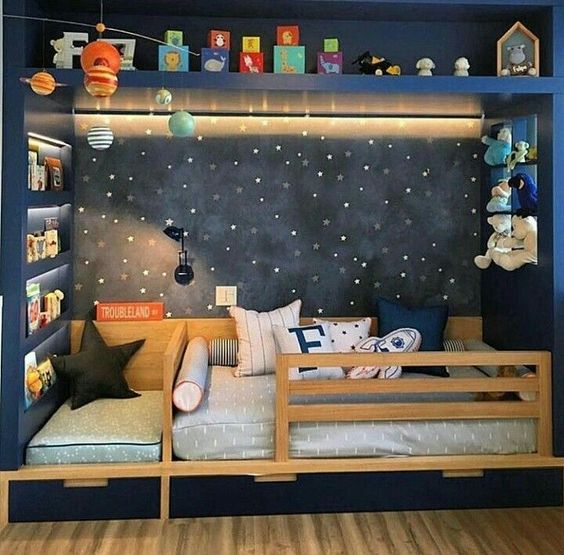 Making a bed as a reading nook is an interesting idea for you to try. And, this is the next of 26 Kids' Room Decors & Ideas. You can custom the bed with the length following the width of the wall. In some spaces, you can make it a reading nook by providing a wooden border. Make a bookshelf in there too and put some fun reading books on it. You can also make this spot look attractive by installing a white LED light inside the bookshelf. On the wall area, you can install black wall lamps. This will really help to make children feel comfortable when reading.
21. Wall Panel for Simple Bedroom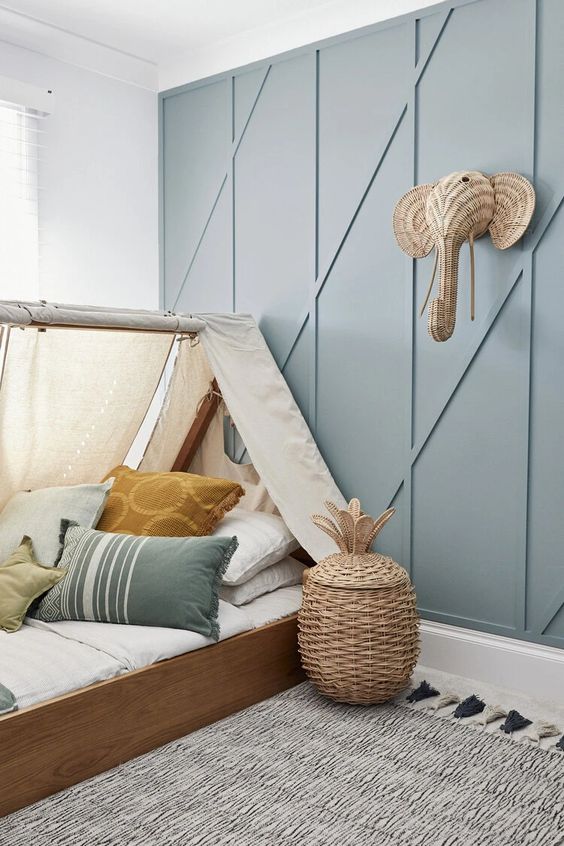 A child's bedroom does not always have to be decorated as much as possible. You can also make it simple and minimalist to support a calm atmosphere. That way, children will feel more comfortable when relaxing and resting in their bedroom.
Even so, beauty remains a point that must be prioritized. It does not matter if you want to remove some of the displays in the bedroom. You can replace it by playing against the wall. You can apply wall panels to provide texture that can make the walls look attractive. Apply soft colors like pastel blue which can maintain a simple but sweet effect on the bedroom.
22. Pretty Rainbow Wall Accent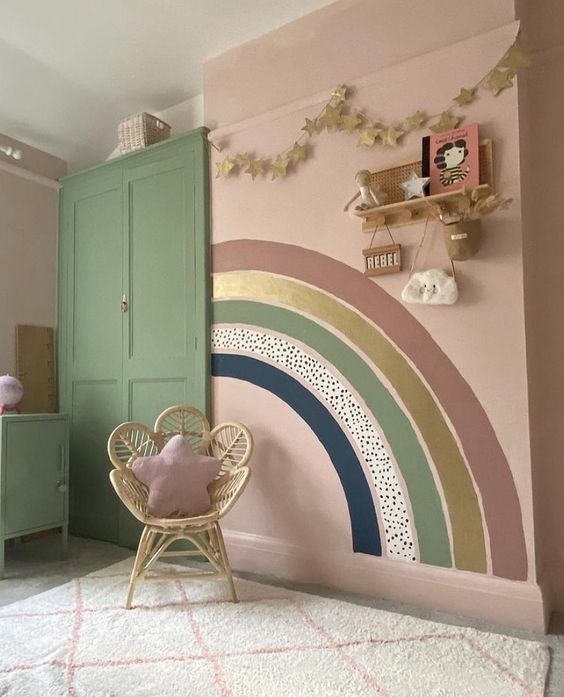 You can present Rainbow, which is a favorite of kids, in their bedroom. You can make one side of an empty wall interesting by drawing a rainbow there. The beautiful colors of the rainbow can also add value to the beauty of the bedroom. Not only that, the atmosphere of the bedroom also changed to be more pleasant.
Because rainbow colors are bright colors, you can use soft colors as a base color. The soft pink color is suitable for your daughter's bedroom.
23. Space-Themed Room for Kids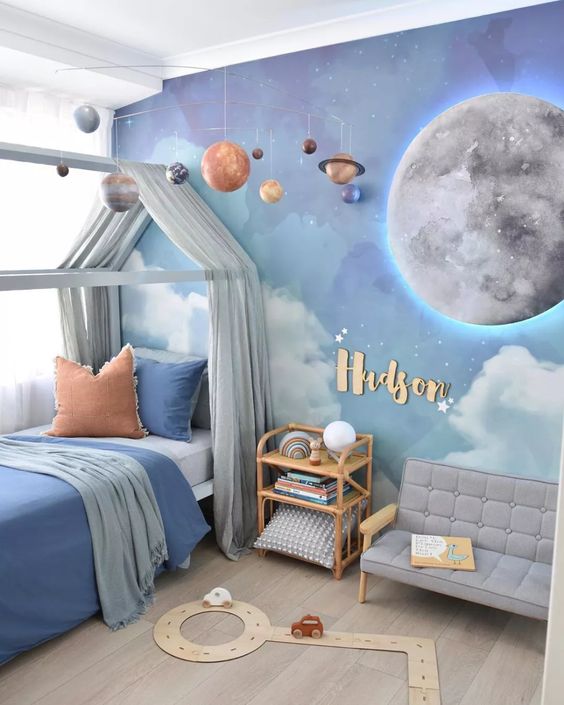 If your son has aspirations to become an astronaut, then support him by making his bedroom-themed space. You can make the side of the wall as if it were above the clouds. Blue as the base color with white strokes with clouds makes a simple bedroom look so beautiful. You can also make a large circle to serve as the moon. Furthermore, for decoration, you can hang a space-themed display. This is also the best way to introduce the names of the planets in this universe.
24. Kid's Room With Racer Concept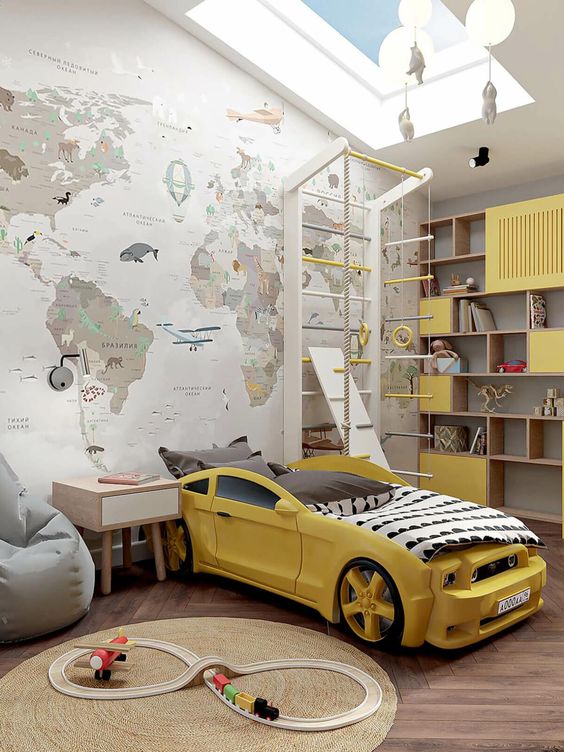 We do not understand what children often dream of. But, if your son dreams of becoming a racer, then you can use this as inspiration. You can make your son's bedroom a racer theme.
Choose a yellow car-shaped bed to make it look stand out in the bedroom. You can also enlarge the yellow color scale by applying it to the shelves on the wall. Combine yellow with gray for a slight dimmer look and a calmer atmosphere.
Skylight windows that are installed in the bedroom are very good at maximizing lighting. Natural light makes the colors in the bedroom look clearer and more vibrant.
25. Attractive Space Lamps Design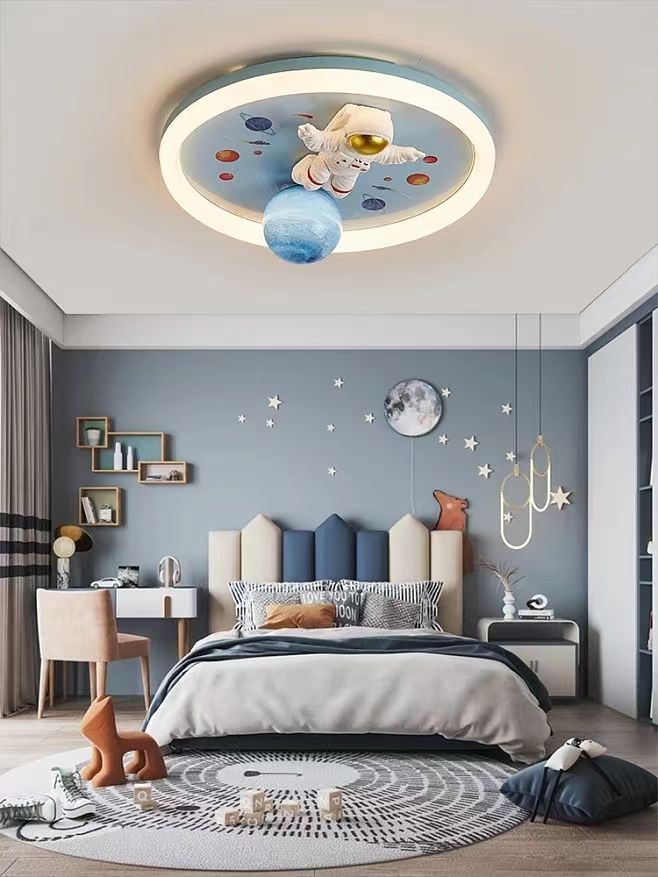 In making a kid's bedroom not only comfortable but also attractive, you have to pay attention to every corner and every item that you present there. Starting from bed designs, headboards, desks, benches, shelves, rugs, toys or dolls, and lamps.
Space lamps design you can choose for your kid's bedroom. There is a small astronaut right in the middle which is a decoration that makes the bedroom look so attractive. With the ring light that surrounds it, it will be aesthetic at night. The boy will really like this.
26. Blackboard as Well as Wall Accent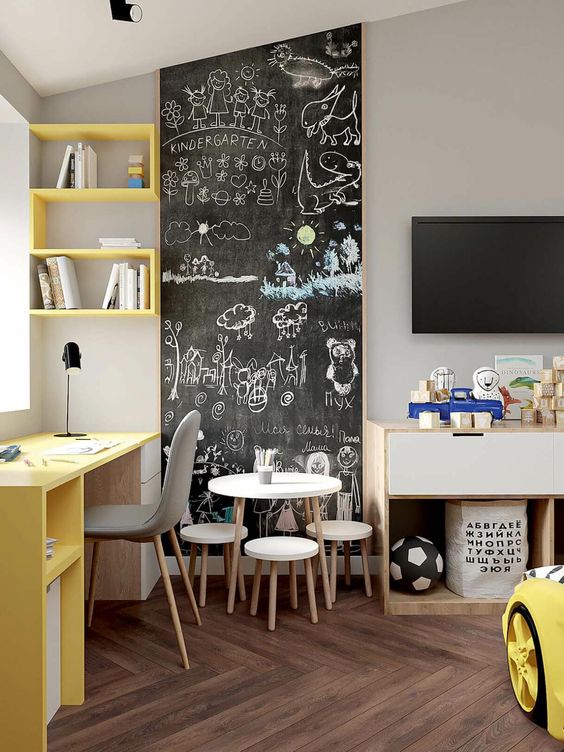 The last of 26 Kids' Room Decors & Ideas is a blackboard as well as an accent wall. As we know, children really like to draw. And, not infrequently the wall becomes a media outlet for their creativity. This of course makes us have to clean the walls or repaint them. Therefore, it is very important to provide the right medium for them to draw. You can install a blackboard that soars up to touch the ceiling. This is where the child will start drawing and making the wall look attractive.
Final Words
Comfort is indeed the main thing that you should pay attention to in the bedroom. However, for a kid's bedroom, you also have to pay attention to the look and atmosphere. Make sure you make the child's bedroom feel fun. And, the points above are 26 Kids' Room Decors & Ideas you can choose from. Choose one that suits your child's preferences. So, good luck everyone!