olidhomes.com – For those of you who want to have a simple design but look stand out and interesting, an L-shaped kitchen design can be relied on. The L-shaped kitchen is interesting to design in any home. It uses an L countertop to create a simple and accessible kitchen. Many people use this kitchen model to make save on space. Most L-shaped kitchens are stuck on the wall and make a clean line. And, in this article, we have provided 19 L-Shaped Kitchen for Your Lovely Home and How to Design It that can be your reference. So, let's check it out!
1. Light Grey L-Shape Kitchen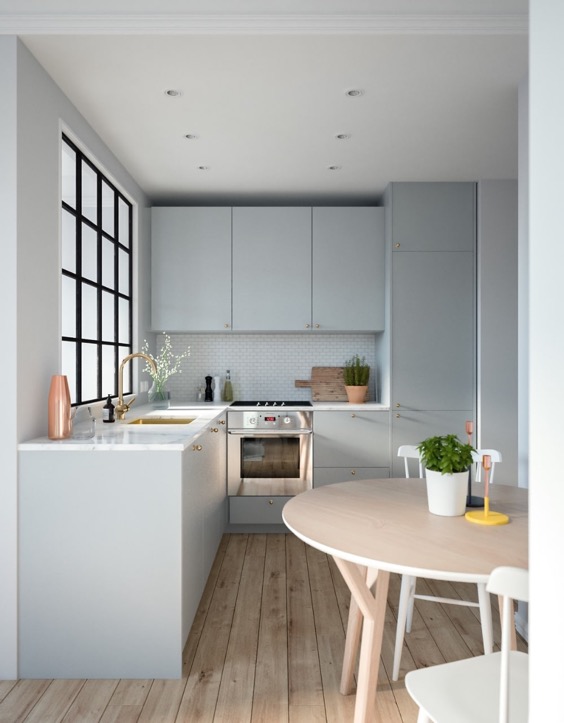 Light grey is a popular color to make a bright impression. Using this color in your kitchen will help you to improve brightness. You can match it with other bright colors like white and light brown. This idea has a large glass window. It invites sunlight into the kitchen naturally.
The light grey wall cabinet is the focal point in this kitchen. Then, the white countertop is stunning on the grey cabinet. Moreover, this kitchen has brown floors. This wooden floor is versatile. It looks interesting to match any color.
1 of 19
2. White Brown Kitchen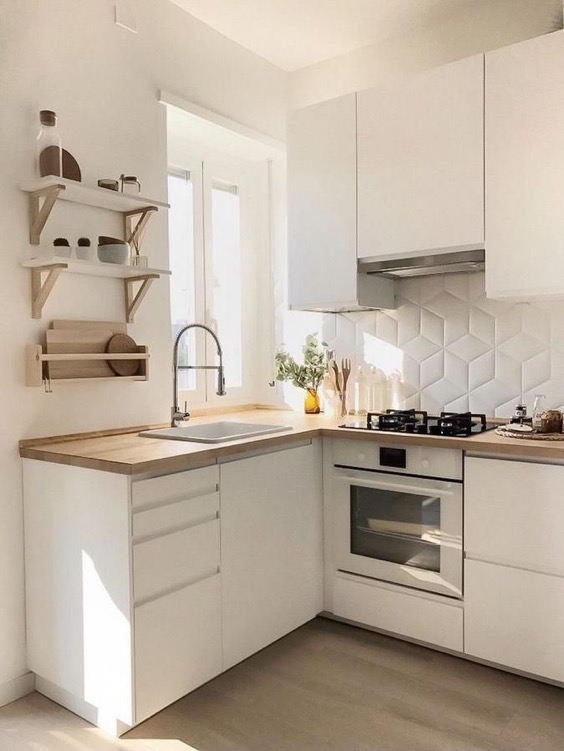 A neutral color is interesting to beautify a room. This design is identical to soft colors, like white, brown, green, and grey. Let's see this L-shaped kitchen. It has a neutral impression with white and soft brown colors. The white color is dominating the backsplash and kitchen cabinet.
Besides, the brown color is on the countertop. The timber patterns are natural to enliven the calming nuance. This L-shaped kitchen is attractive to install in a narrow room. The white wall cabinet is simple without door knobs. Meanwhile, there are two wall shelves on another wall. This L-shaped kitchen has an ideal sink against the sunny window.
2 of 19
3. Use An Electric Stove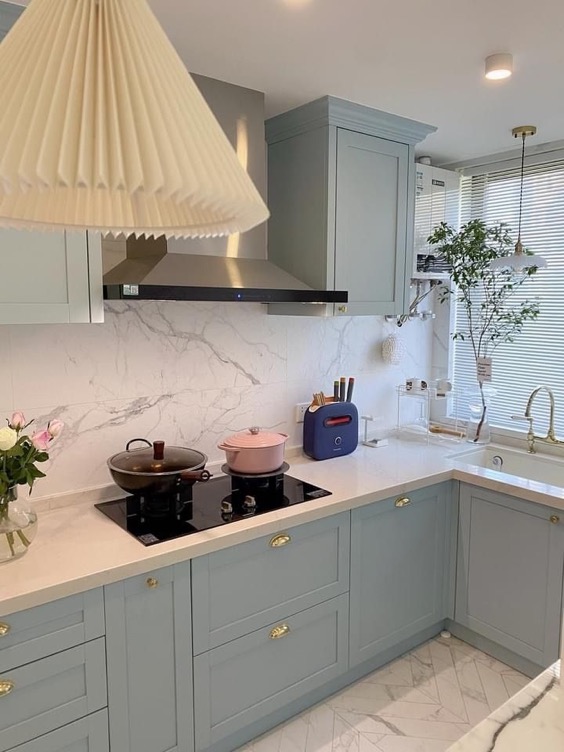 The stove is a must-have element in the kitchen. Many types of stoves that you can choose for your kitchen. This L-shaped kitchen uses an electric stove. It is a simple stove with a soft surface. Some types of stoves are gas, electric, induction, and downdraft.
Moreover, you can choose how many cooktops to install in your kitchen. The two cooktops are enough for a small family. The more you install the cooktops, the more you can cook meals on them. Besides the stove, this kitchen has a beautiful interior. The white wall is catchy to pair with pale turquoise color.
3 of 19
4. Stunning Backsplash Design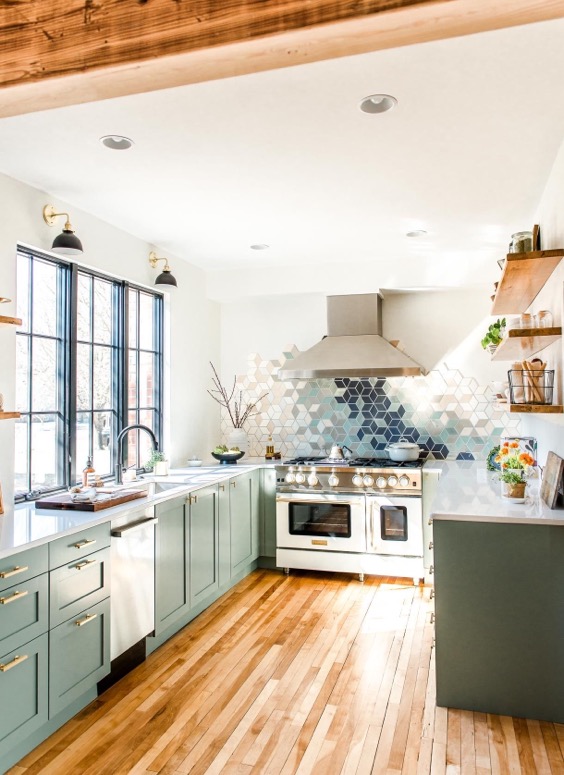 Some elements in the kitchen are important to beautify the interior. This kitchen has an eye-catching backsplash. It looks interesting to decorate an empty wall in the kitchen. Geometrical navy patterns are striking to put on pale green patterns. This decorative backsplash decorates one side wall, while another side is a large glass window.
The L-shaped kitchen is more stunning with a long countertop. It creates a long kitchen without blocking the kitchen traffic. Otherwise, this L-shaped kitchen improves brightness indoors. The light colors for the interior and sunny windows are the key. You can add some colorful accents like ornamental plants and kitchen appliances.
4 of 19
5. Energetic Green x White Accent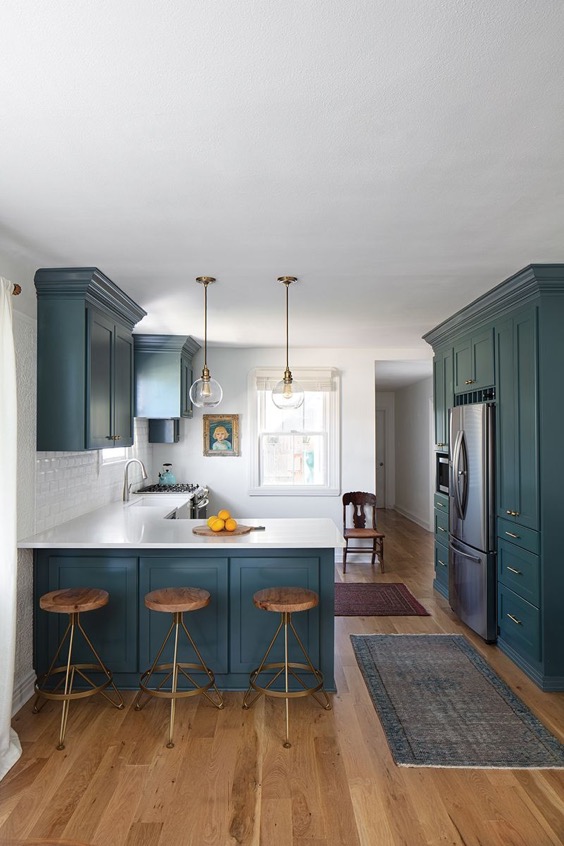 White is a versatile color. You can pair this with any color. Here, an L-shaped kitchen with white and green colors. This kitchen uses deep green color as the accent color. There are deep green cabinets, a wall cabinet, and a kitchen cupboard. You can save the kitchen appliances and classify them in every cabinet.
Meanwhile, the white color is dominating the white wall. The white ceiling is useful to brighten the kitchen. It has two windows to invite sunlight. Moreover, the white countertop is the best part of this L-shaped kitchen. It looks clean with only a group of oranges on the kitchen table and a blue teapot in another corner.
5 of 19
6. L-Shape Kitchen for A Small Room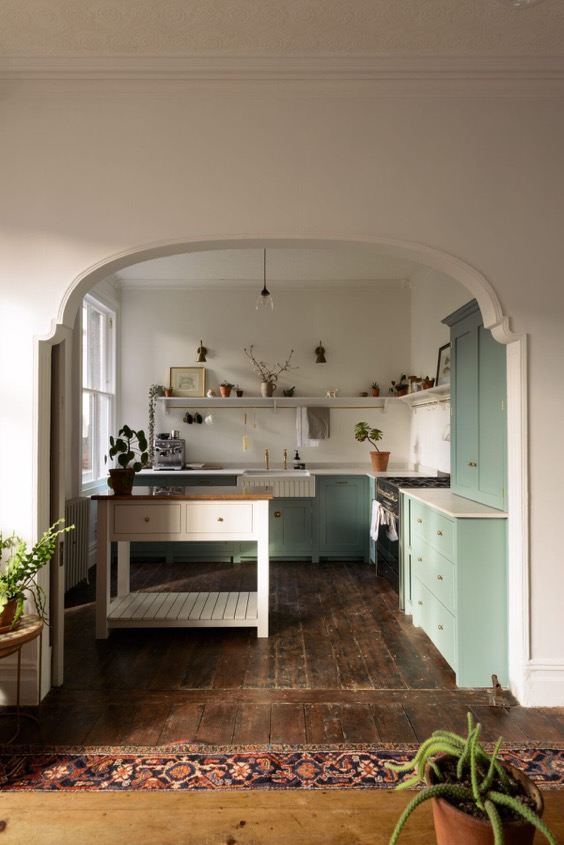 A small house needs a special design. It should contain all important rooms in a limited space. An L-shaped kitchen is an ideal choice to install in a narrow room. This kitchen will not take up a lot of space. It even goes well in a small room.
This idea is the smallest room, but it has a fitted space. It uses an L-shaped kitchen to make a kitchen way while cooking meals. There is a small kitchen island in the mid room. You can move the island if you want to. Besides, this L-shaped kitchen enlivens a classic impression with its pale green dan white color.
6 of 19
7. Modern Kitchen with White x Light Grey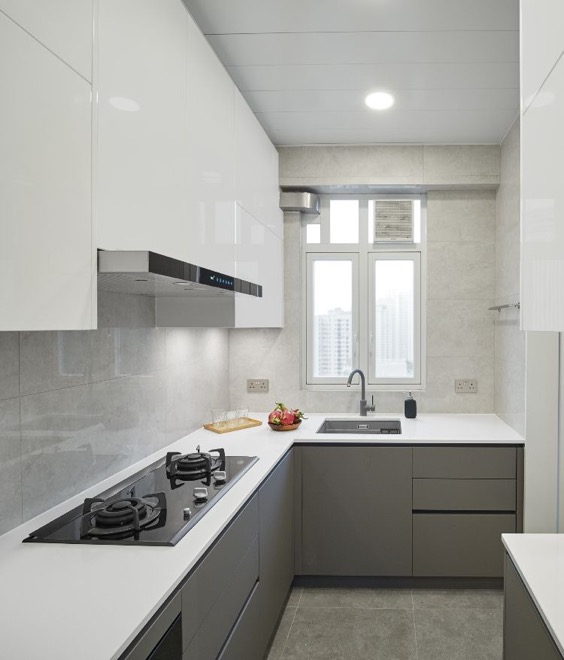 A white kitchen brings a calming nuance. It matches well with light grey color. This kitchen uses a white color that dominates the backsplash and wall. Like the previous idea, this L-shaped kitchen is useful to fill a narrow room. This kitchen has a narrow countertop which makes it the best place to prepare meals.
Besides, this L-shaped kitchen has a soft accent by the kitchen cabinet. The light grey cabinet is a little accent on the white kitchen. This cabinet has a minimalist design without doorknobs. The doorknobs can clutter this narrow design. Moreover, it has a vertical window that invites sunlight inside the kitchen.
7 of 19
8. Shinny Cabinets for A Narrow Kitchen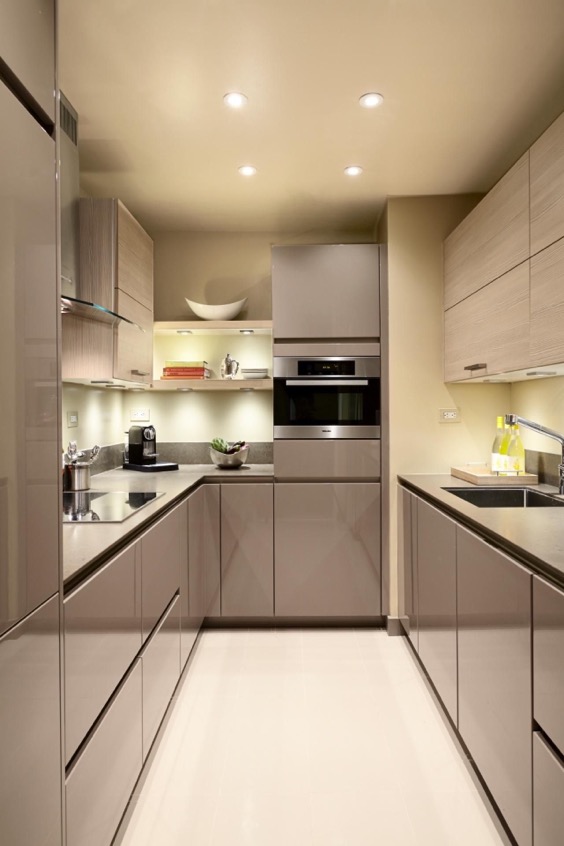 A narrow room kitchen needs something to fit the size. You will love this shiny cabinet that reflects the kitchen. The shiny accents are useful to lessen a narrow impression. It also brings an elegant impression to the room. You can choose your favorite color.
Here, the elegant pink cabinets are catchy. These cabinets are attractive to reflect everything, like kitchen lamps and your feet. Moreover, this kitchen has some white lamps beneath the wall cabinets. The more lights in this room, the more you get a better design. You can install these lamps with spaces between them.
8 of 19
9. Farmhouse L-Shape Kitchen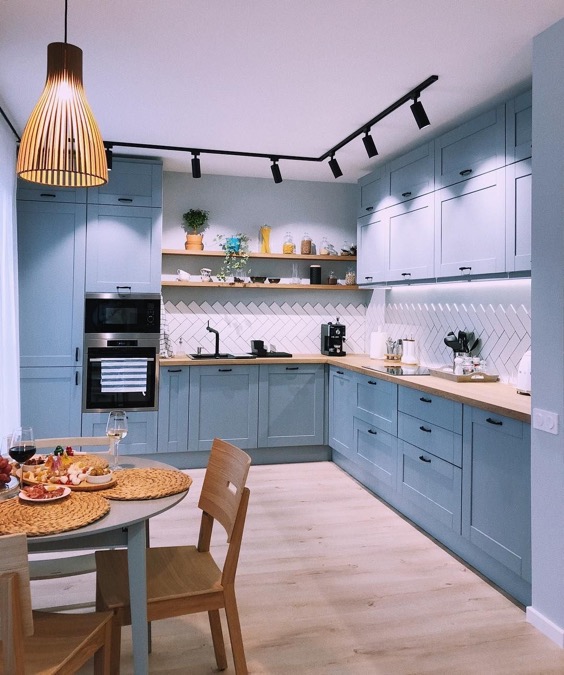 A farmhouse design is identical to a classic farmhouse in the past. It uses natural elements like white, blue, and geometric patterns, like this idea. This L-shaped kitchen is white and blue. The white geometrical backsplash represents an zig-zag old pattern. Also, every cabinet door has a geometrical frame, which enlivens an old style of furniture.
This L-shaped kitchen is near the dining room. It has a large kitchen way. The L-shaped design fits well on both wall sides. Moreover, the white and blue dining room is catchy to pair this kitchen. You can add a small plant to decorate the countertop. Also, add a few kitchen appliances to sweeten the design.
9 of 19
10. Modern L-Shape Kitchen with Marble Backsplash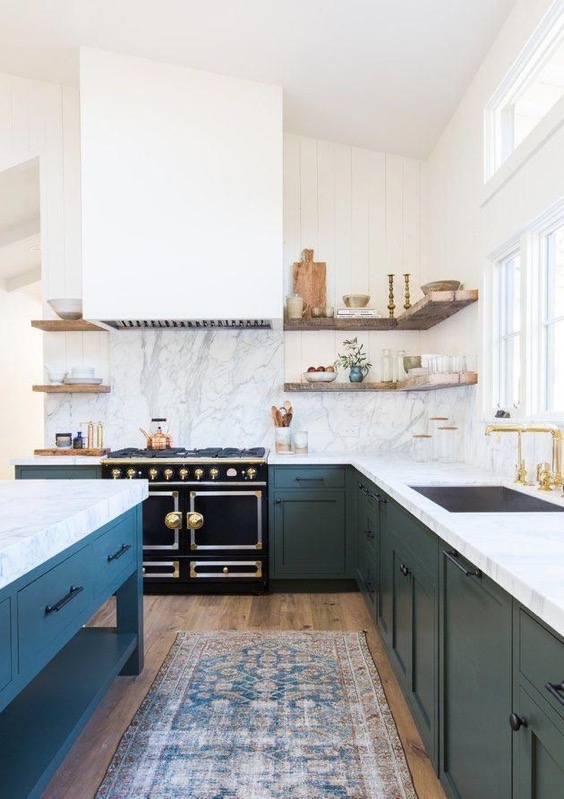 Marble is a popular element to create a luxurious impression. People use this element to complete their interior design. Here, is the L-shaped kitchen with some marble accents. Look at the backsplash. It has a bright white marble with natural lines.
The backsplash and countertop have the same material. The marble countertop is perfectly designing the kitchen cabinet. This L-shaped kitchen has a few wooden wall shelves. You can make it simpler by installing some floating cabinets on the wall. Also, keep the countertop always clean to make a neat impression.
10 of 19
11. Compound Neutral Colors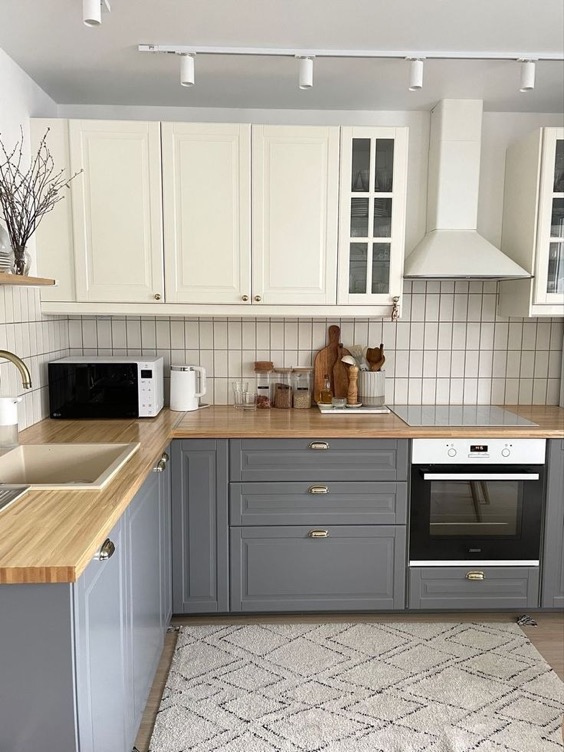 This is an L-shaped kitchen with a few neutral colors. There are light grey, white, brown, and black accents. The bold white color is dominating the upper part. Meanwhile, the colored parts are on the countertop and floor. This L-shaped kitchen has a classic design. The backsplash design is simple and represents an old style.
The moderate grey cabinet is a bit dull to match the brown countertop. Here, you need not worry, the items on the countertop will help you make it better. There are wooden kitchen appliances on the countertop. Also, you can put a microwave and arrange some glasses on it. This is nice to grow some plants or add a few fake plants as a sweetener.
11 of 19
12. Minimalist L-Shaped Kitchen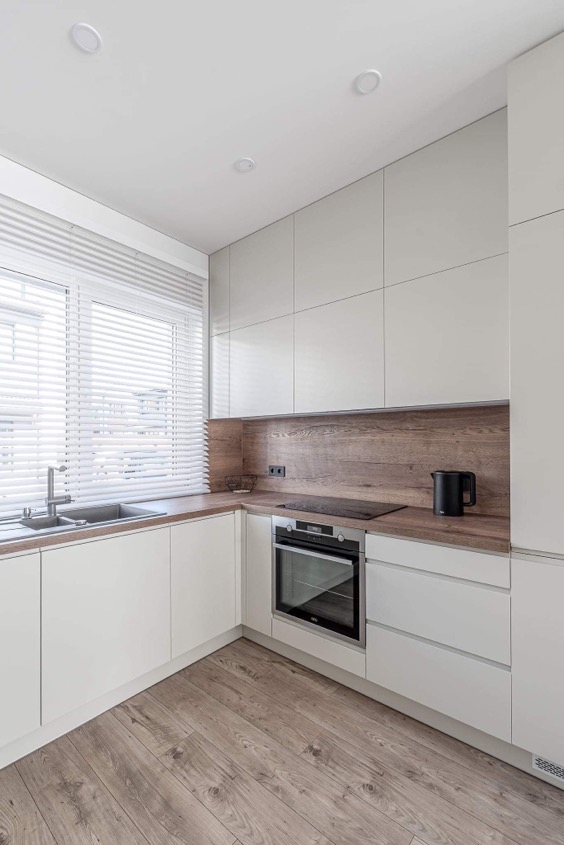 Minimalist design is one of my favorite designs. It has a simple design with neutral colors. This L-shaped kitchen uses a minimalist design. It barely has kitchen appliances on the countertop. You can see the clean countertop with only a black teapot.
Besides, this L-shaped kitchen has a minimalist cabinet on the wall and beneath the countertop. The electric stove is an ideal choice for people who love a clean impression. You do not need to clean it hard because you can use a soft cloth to wipe its surface. This kitchen model is best for you who want a simple kitchen with few kitchen appliances.
12 of 19
13. Simple Kitchen X Patterned Floors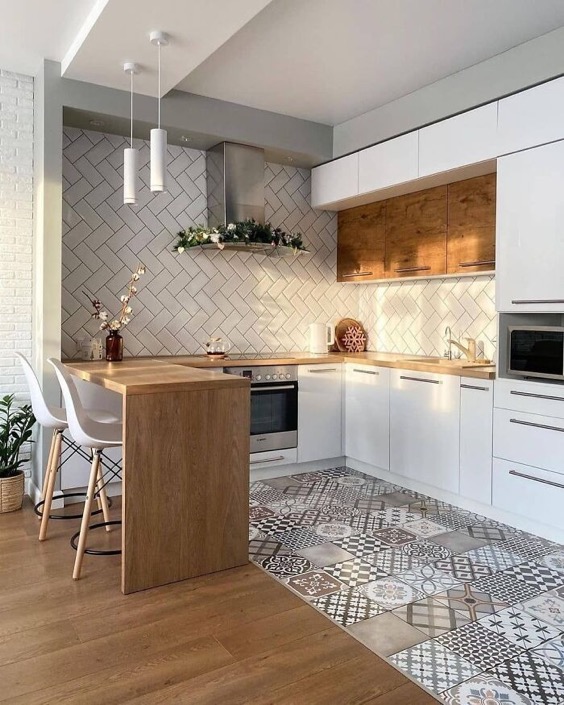 It is one small kitchen. This white kitchen has a catchy design. It may look narrow but enough to prepare simple meals. Two small stoves are enough to install in this kitchen. Also, the countertop is not large but can load some kitchen appliances.
Then, look at the floor design. The patterned floor is interesting to decorate this kitchen. A white base with brown accents is stunning to enliven the artistic impression. Moreover, this L-shaped kitchen has a small island. You can serve the meals on it before taking them into a dining room or enjoy the meals on the spot.
13 of 19
14. Lovely White Kitchen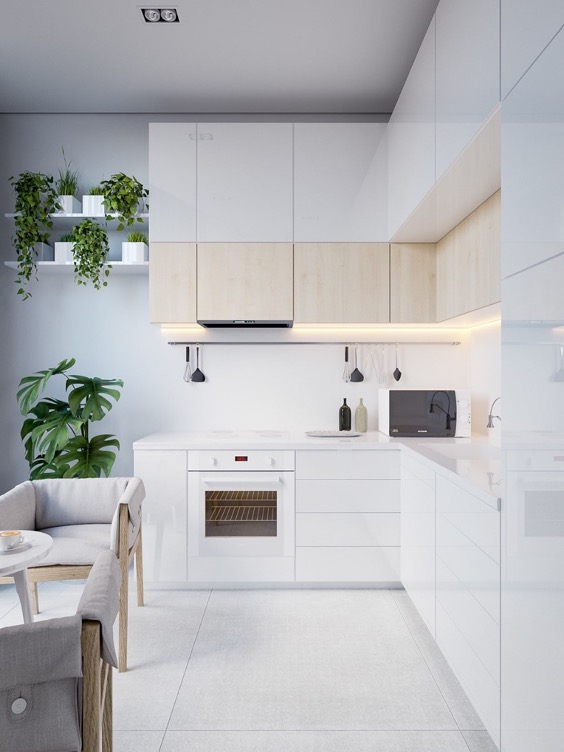 White color is ideal to enliven an airy impression. It adds brightness to your interior. All white accents are perfect to create a minimalist L-shaped kitchen. Look at this idea. This L-shaped kitchen is narrow. Besides, it looks airy and spacious.
The entire room is dominated by white accents. Even the dining room is neutral beige, which matches the white kitchen. Look at the kitchen cabinets. These are minimalist with no knobs or transparent doors. The light brown color is catchy to enliven the simple design. In addition, grow some indoor plants to sweeten your white kitchen.
14 of 19
15. Art Deco Island for L-Shaped Kitchen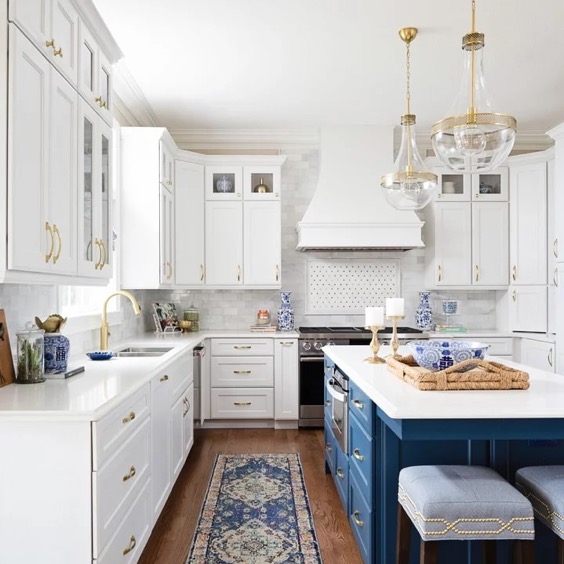 Art Deco is a classic design. Some people use this design to bring the popular striking design from the past. Art Deco is identical to striking colors and strange accents. This L-shaped kitchen is an example of Art Deco style in a kitchen. This Art Deco island will attract attention to the room. It matches the L-shaped countertop with deep blue color.
Besides, this Art Deco island has the same white countertop, which matches the kitchen. The whole kitchen is white. Even the kitchen cabinets are white with golden knobs. The elegant accents, such as blue-white jars, are stunning for decoration. Moreover, add an eye-catching carpet to decorate the kitchen way.
15 of 19
16. Classic Layout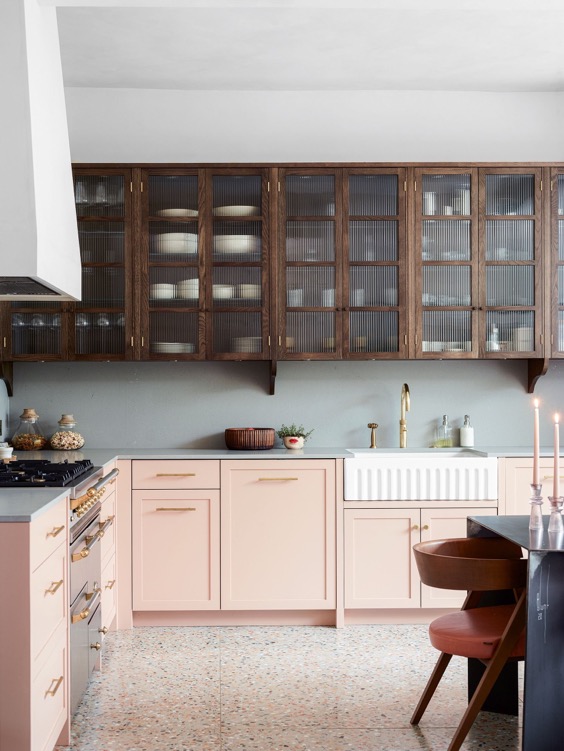 A classic layout is another design from the past. It enlivens an old vibe with certain accents. Here, is an odd combination of pink and brown accents in this kitchen. Both are stunning with a calm hue. The backsplash is calming grey, which separates pink and brown accents.
This L-shaped kitchen has wooden dark brown cabinets on the wall. There are vertical lines on glass doors, that bring out a classic nuance. Then, you can show off the glass collections inside the cabinets. For the kitchen countertop, there is a nice decoration from left to right. Also, this classic kitchen is versatile, so you can install an electric or gas stove on the countertop.
16 of 19
17. Green Cabinet and Monochrome Floors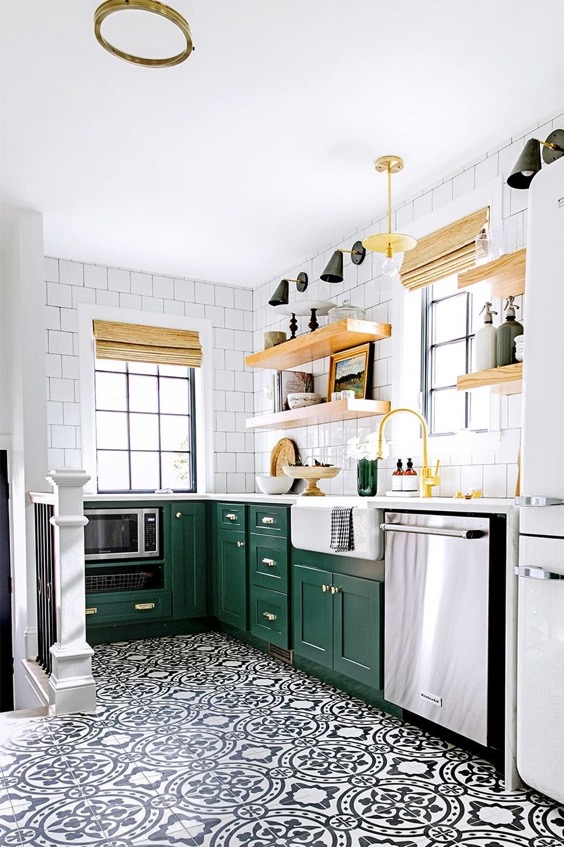 A striking green is a color to decorate a classic interior. This color can bring an old Art Deco style. Besides, some people take it to point out a certain accent. This L-shaped kitchen is striking with a dark green cabinet. It looks striking to decorate the white countertop.
Moreover, this kitchen's dweller installs beautiful flooring. The monochrome design is perfect to make a strange impression on the floor. Also, this eye-catching accent will replace the kitchen carpet. Besides, this L-shaped kitchen is useful to install in the corner of your home. It fits well on both walls.
17 of 19
18. Mid-Century Modern Kitchen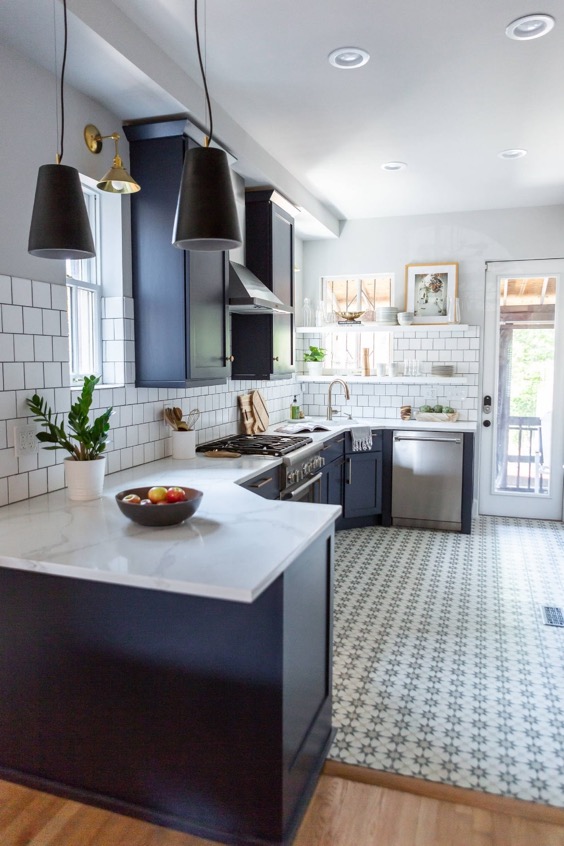 Mid Century design will bring a different nuance to your kitchen. This classic design is interesting with some old furniture, textures, and accents. Let's see this L-shaped kitchen. It has a larger countertop on the corners. Also, this countertop almost looks like a large U-shaped kitchen. This design adapts the room's size.
Let's take a look at the countertop decoration. There are a few kitchen appliances with a space. It has a green plant on every corner. The left corner is versatile as a kitchen table, while the right corner is useful to prepare meals. On the mid part, there is a wall kitchen cabinet in blue classic color.
18 of 19
19. Black Countertop for L-Shaped Kitchen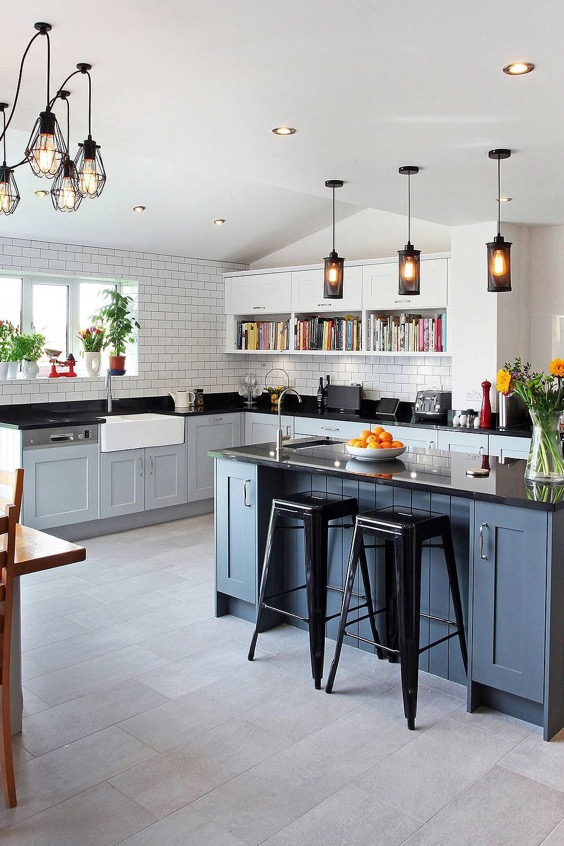 Do you like Black color for your home interior? If you do, try this idea in your kitchen. This black countertop is interesting to bring an elegant impression. It looks catchy to pair with some colors. This kitchen is large and has a long countertop. It is on a light grey cabinet.
Some kitchen appliances on the countertop are black as well. The first side wall has a big white wall cabinet. It loads many kitchen appliances on the doorless parts and inside the shelves. Meanwhile, another side wall is useful to thrive on plants. Some green indoor plants will refresh your kitchen.
19 of 19
Final Words
L-shaped kitchen can be a mainstay to make the kitchen look simpler but stunning. This one shaped kitchen is also very suitable to be applied to a narrow kitchen. This is because the L-shaped kitchen will provide more free space which can make a small kitchen feel more spacious and comfortable. Not only that, the L-shaped kitchen also fits any home design. The important elements are the layout, stove location, kitchen window, sink and kitchen cabinet. Thus, make sure that you take notes on that plan. Hopefully, this article will help you to design a stunning L-shaped kitchen.