Olidhomes.com – Having a big house is certainly a dream for people. Living in a spacious house is indeed more comfortable. However, that does not mean a tiny house could not be a beautiful and cozy place to live. With interesting ideas, you can create a dreamy residential for yourself.
No need to be discouraged for those of you who have a small dwelling. In fact, there are several advantages that you will get, such as easy cleaning, no need to use large quantities of items, feeling warmer and intense, affordable prices, and so on.
So, for those of you who have a small dwelling and want to make it feel cozy, here we have provided 15 Dreamy Tiny House that will Make You Happy Living in A Small Place to live. So, let's check it out!
1. Beautiful View Enhance A Cozy Nuances of A Tiny House
There is nothing more relaxing than gazing at an interesting sight over a warm drink. As in the picture above. The wooden bench is chosen to present a warm rustic theme. To make it feel cozy, a soft mattress is put on it. Not to forget, several pillows with attractive colors attract the eye.
You can see the beautiful view from the porthole window. The addition of flowers right next to the window makes it look prettier.
2. Fresh Feel Living in Small Place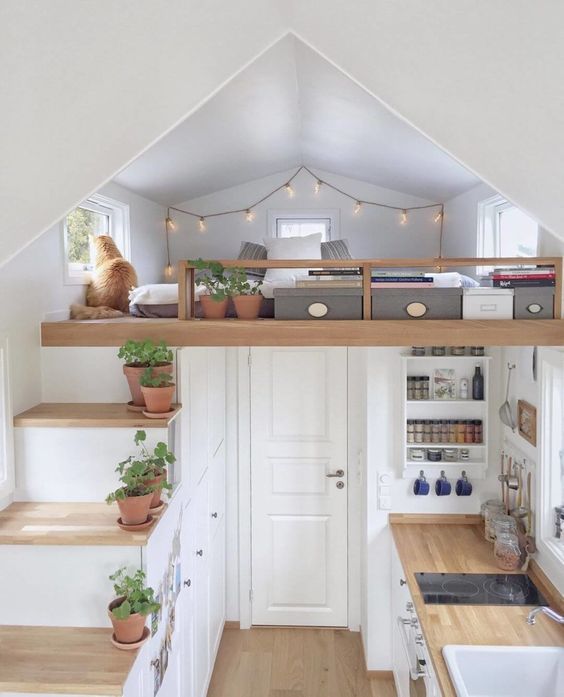 Plants are indeed the right decoration for the room. The fresh green color can cover up feeling bored in the room. It is just that, in the small interior we could not use large plants. However, you do not need to worry because you can choose small plants to decorate the small house interior. Stairs are a great place to place some interesting little plants.
3. Feeling Woodsy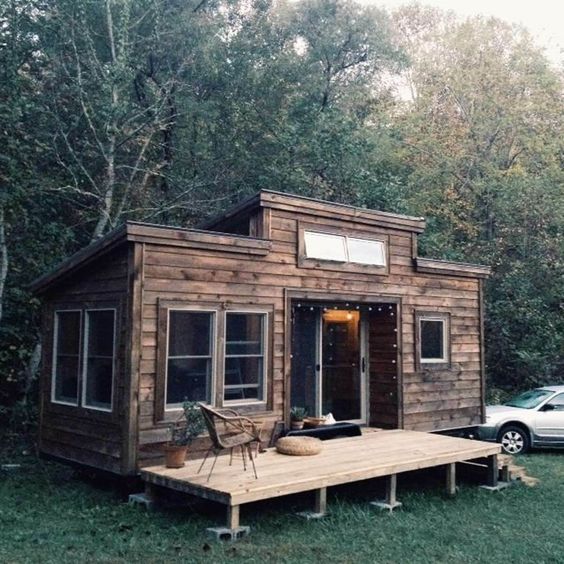 The woodsy tiny house is an interesting idea to serve as an option. The house surrounded by trees will provide a very calm atmosphere. The use of wood elements creates a warm and simple rustic style. Having a small stage in front of the house is the best spot to spend time in the morning and evening.
4. Bigger Space with Loft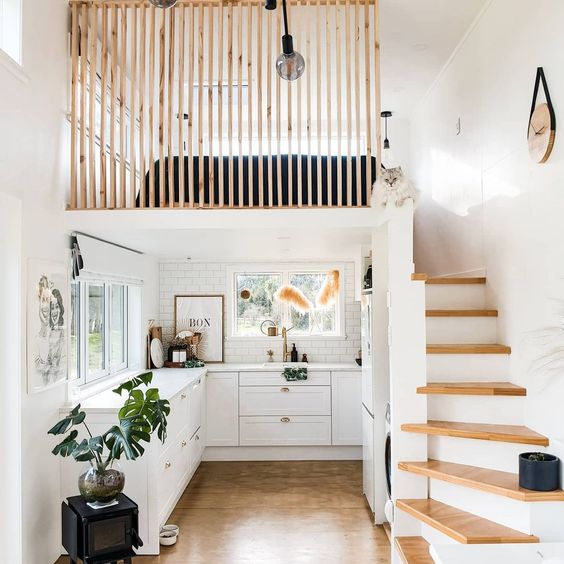 The loft is indeed a mainstay for creating more space in narrow rooms. The upper part becomes a comfortable bed, while the lower part is a comfortable kitchen. With white as the base color, the tiny place will feel more spacious. Installing timber on the loft is the best way to reveal the most comfortable spots in the house.
5. Warm Wooden Nuances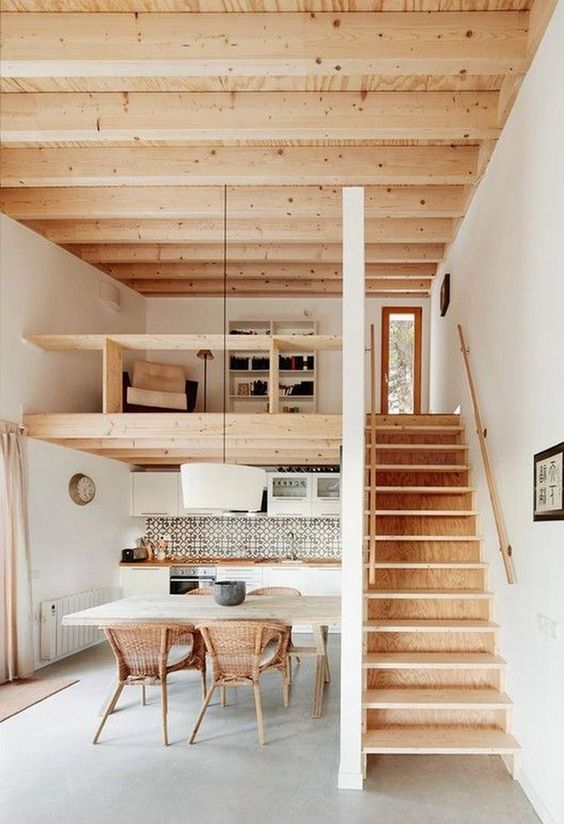 It is time to throw away about cramped and stuffy little houses. By presenting warm nuances into the house, you will have cozy tiny places to live. Wooden elements are the best options to choose from. Beam ceiling, wooden stairs and loft provide a serene warmth. The light wood selection also works well with white to make the tiny place of residence look bright perfectly.
6. Rooftop Becomes Best Spot for Relaxing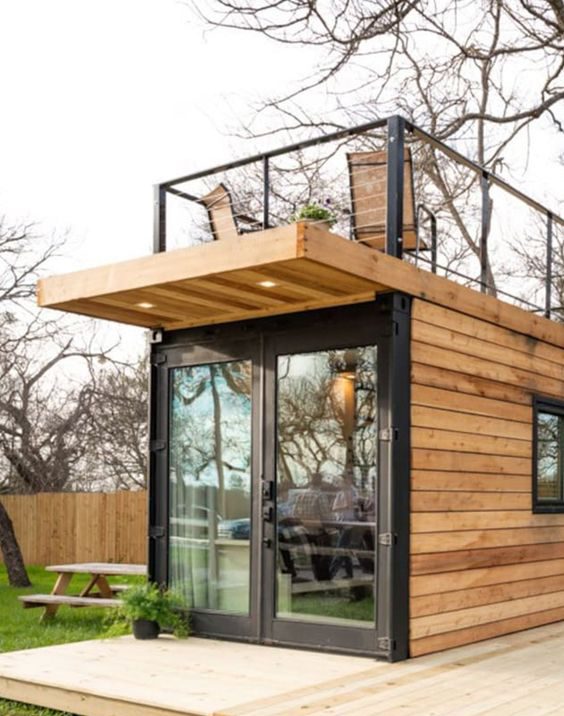 There is nothing more fun than having the most comfortable spot in the house. As in this one idea. A rooftop is created as a place to relax. With two chairs and a small coffee table to complement the comfort of the house. And here you can see and enjoy sunset and sunrise clearly.
7. Maximum Lighting Makes It Cozier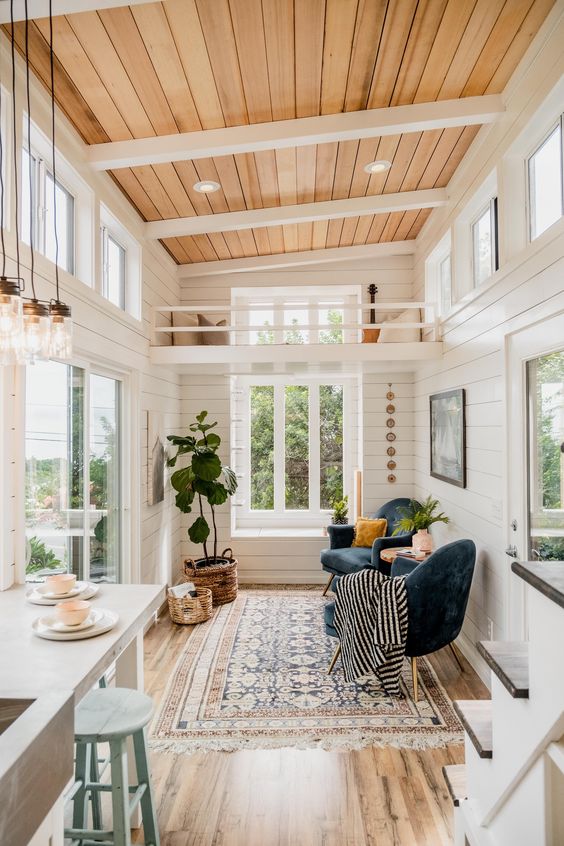 Indeed, there are many types of windows that you can choose from. However, a picture window and awning window are the best options that you can use.
Maximizing natural lighting at the tiny dwelling is the best way to make it feel cozy. The natural lighting can make the house feel more spacious and away from the cramped and stuffy taste. Which of course this will make the tiny house a comfortable place to live in.
These two types of windows are the recommended window types. Because besides maximizing lighting, these both windows can make air circulation in the house run well.
8. Beautiful Ceiling Covered The Plain Look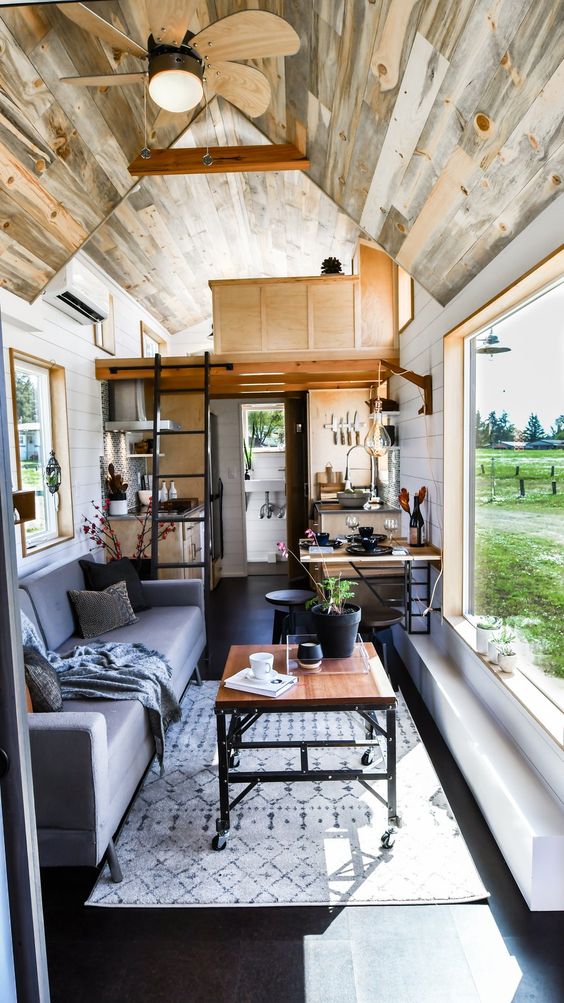 For the tiny house, it is advisable to look white and plain. Especially for the walls. However, a plain appearance sometimes makes a house look so stiff and seemingly ordinary. Therefore, utilizing the ceiling is the best idea to make the mini dwelling look beautiful.
Letting wooden elements show off their original texture and color can change the ordinary house dramatically. The addition of the fan lamp is also an interesting idea. Instead of just using lights to light up the house, it would be better if you use the item that can make the air inside the house cool.
9. Rustic Tiny House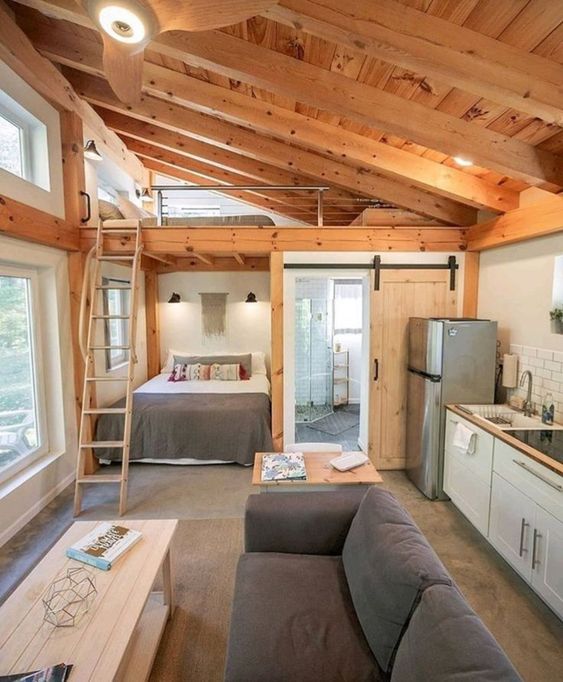 Want to have a quiet and comfortable place to live? Rustic design is the right interior design to be applied to a tiny house. Wooden elements and carpet flooring make it feel so warm. The combination of gray provides a calm atmosphere and is soft to these small spaces. Natural lighting help is perfect for making a rustic tiny house feel alive.
10. Create A Private Place with Sliding Door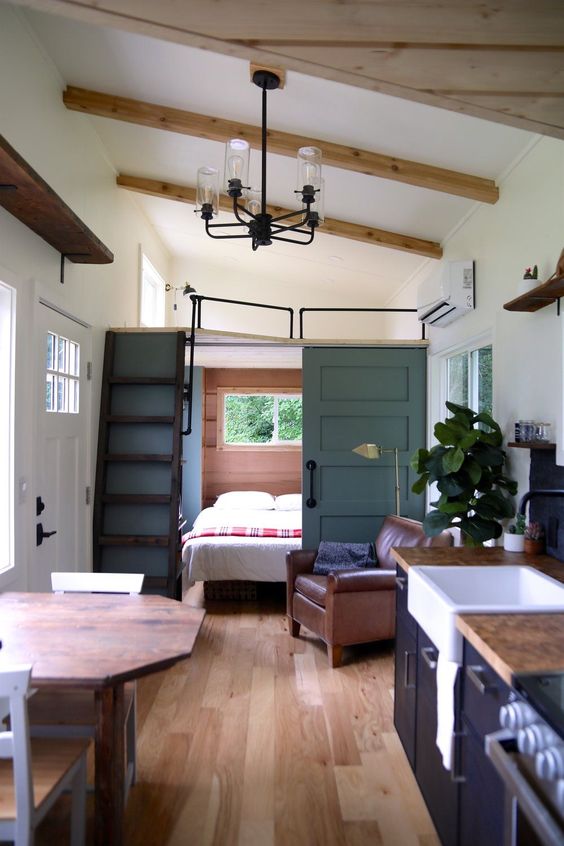 It is very important to have a private room in the house. Even though we live alone, sometimes we do not know when guests will visit. Therefore, it is better to hide your private space properly.
Unfortunately, the use of doors is indeed more avoided for the tiny room. However, to get around all of this, you can choose a sliding door. The use of it will not take up space in the house. So, you can still use the space in the tiny place well. Like placing the single sofa and floor lamps to create a cozy nook.
11. Stairs as Storages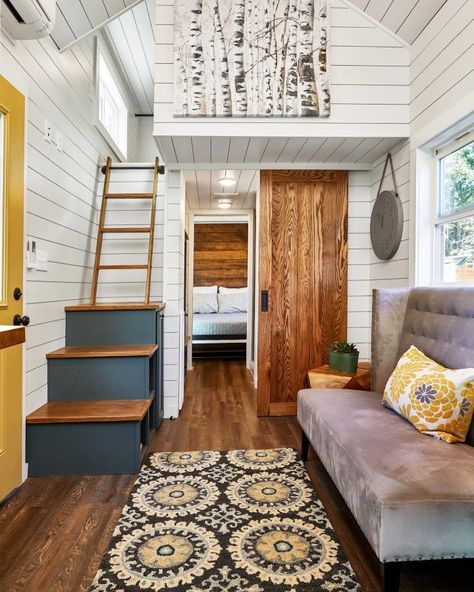 To make the small dwelling feel cozy, you certainly have to be creative. Instead of using a cupboard as a storage area, it would be better to take advantage of something that is already in the house. Like a ladder.
You can make a ladder an attractive storage area. Like using the side of the stairs as an open shelf. Here you can put your shoes and sandals on, and so on. That way, the tiny dwelling will look tidier and cleaner.
12. Cubbies on The Loft for Tiny House Smart Storages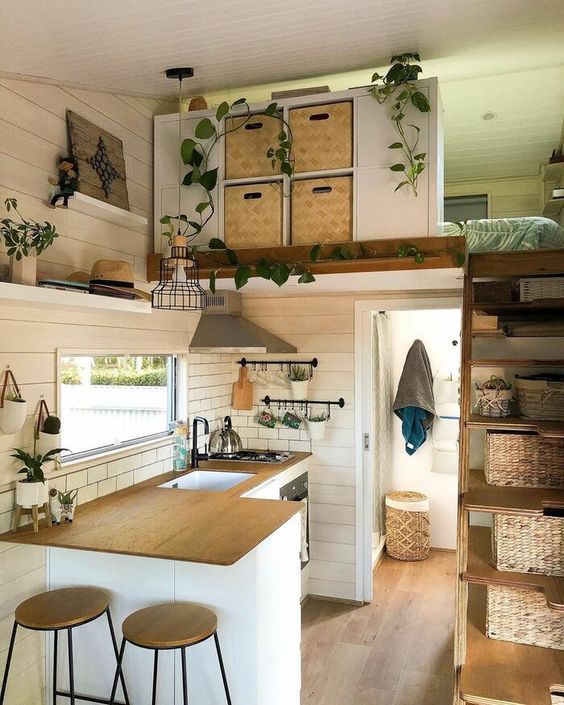 If the stairs are full and you still have some things to store, this idea might be something you can choose. In the loft, sometimes it is left empty or lined with wood. However, on this one idea cubbies are used to fill in the edges of the loft.
For making the small house neat, it would be better to use some rattan basket. You can also organize your stuff to make it easy to find. Besides that, this idea can also create a private place in the your small house. The cubbies with some basket will neatly cover the bed in the loft.
13. Ladder for Providing More Space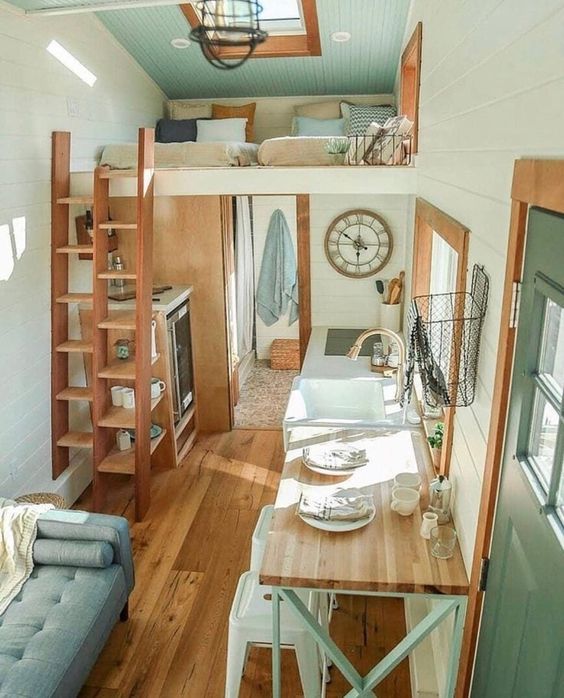 Stairs can indeed be used as storage in a small house. However, using stairs can indeed take up space. So, if you want to provide more space in your place, the use of a ladder is the best idea to be applied. Even though it could not be used as storage, the cavity in the ladder will make the tiny residential feel more spacious.
14. Coastal Tiny House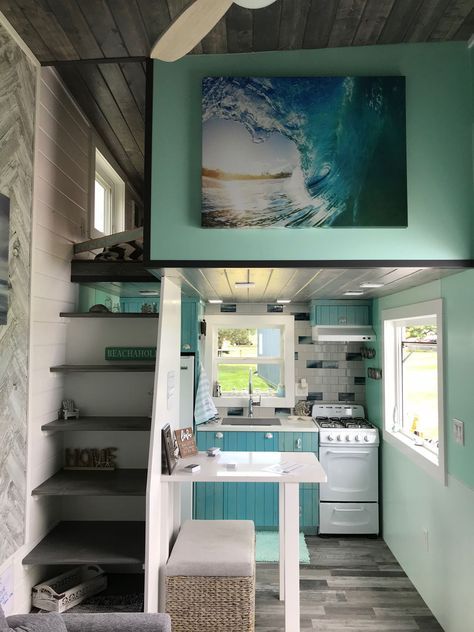 The beach atmosphere is great to make your soul relax and calm. Therefore, it's no wonder that the beach is often a destination for a vacation.
Instead of having a vacation to the beach, it would be great if you brought a comfortable beach atmosphere into your home. And a coastal tiny house is an interesting idea to choose from.
Shades of blue add a fresh effect to the small house. Combined with attractive coastal decorations, such as sea paintings, emphasize the atmosphere of the sea at home. The help from natural lighting is very influential on the comfort and beauty of the interior of the house. It makes a coastal mini house feel more lively.
15. Tiny House with Simple Look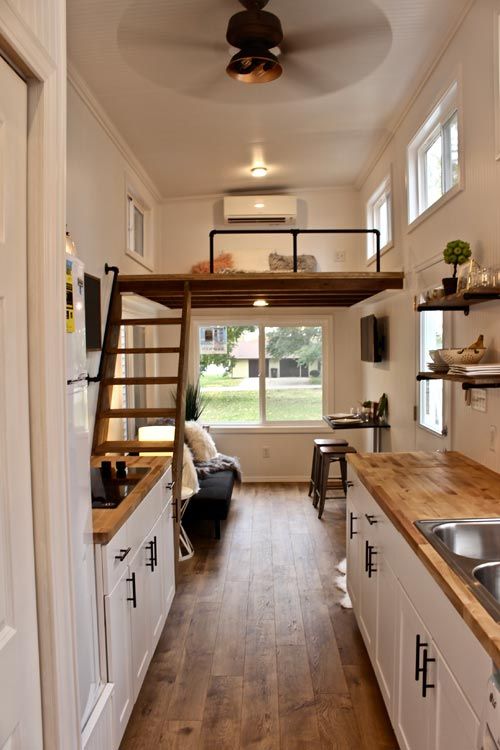 Who here prefers a simple interior? This one idea will certainly attract your attention and interest. With minimal furniture, it will make the small house feel more comfortable. There will be a lot of space available and give the house more space. Minimalist furniture makes this little house look cuter. Combined with warm lighting it provides the perfect warm and calm atmosphere.
Conclusion
No need to feel inferior to owning a small house. Because there are many benefits that you can get from living in a tiny house. You also do not have to worry about the annoying cramped and stuffy feel. If the tiny place was properly decorated, this residence would feel more comfortable than any other place. And in this article, we have discussed the about 15 Dreamy Tiny House that will Make You Feel Happy Living in A Small Place. So, have you decided which idea you want to apply for your tiny house?