Olidhomes.com – As a result of the houses that are minimalist, there is not enough space available for the laundry bedroom. In fact, the laundry room is an important room at home. And all houses must have this room.
If you really don't have more space in your house, then to have a laundry room in your house, you can take advantage of the remaining space. It is okay for a little space because the laundry room does not require too much space. As long as you decorate it properly.
So, if are looking for some references in having a minimalist laundry room, you are so lucky to read this article. Because here, we have provided the best decoration ideas for you who wanna Having A Minimalist Laundry Room in A Narrow Space. So, let's check it out!
Mudroom and Laundry Room
It is a clever idea to combine a mudroom and laundry room.
So, a mudroom is an additional room that is often at the back of the house. It can also be said that the mudroom is another way into the house.
In the mudroom, usually, there are several storage places to put some items after from outside, such as raincoats, boots, and so on. Because there are only these items, of course, there is still a lot of space in the mudroom. And you can take advantage of this space for having a laundry area.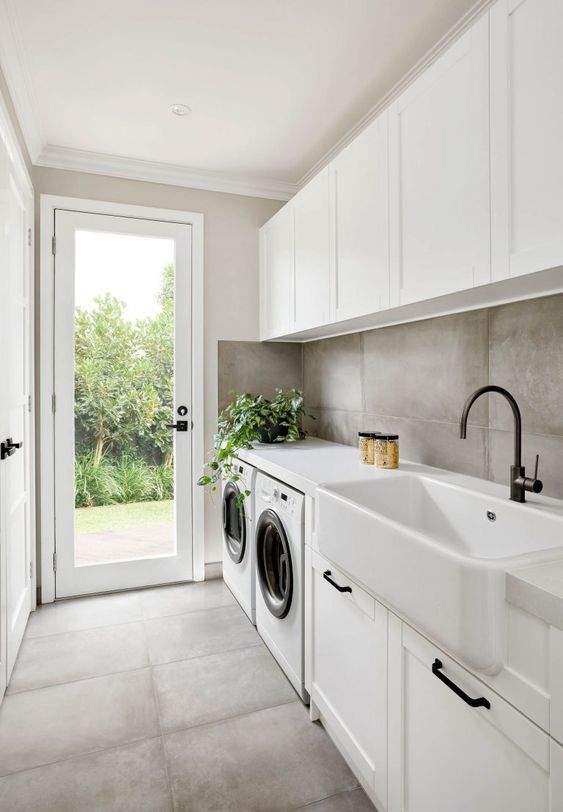 Using front-load laundry is better than top-load. Because at the top you can apply a floating table or make the top of the laundry machine a table to put some soap and other washing equipment. However, it would be better to use a floating table. That way, you can put some displays that can make this room look attractive, like plants.
Beautiful Wallpaper
Due to limited space, the laundry room should be kept to a minimum. Try not to provide displays that can make this room look full.
However, sometimes making the room look very minimalist precisely makes it seem stiff and unattractive. So, to work on it, you can give an interesting touch to the wall of the room. Like applying a beautiful wallpaper.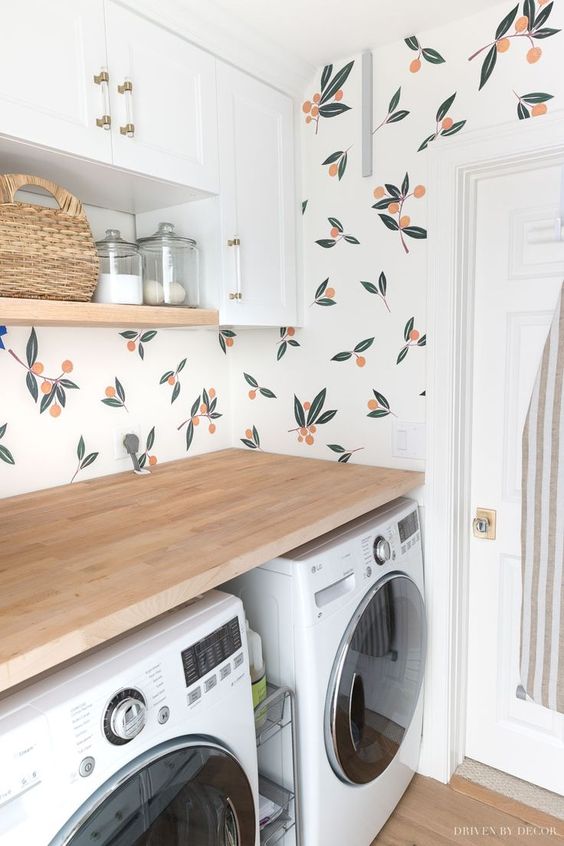 It becomes an interesting idea to use wallpaper for small laundry spaces. With beautiful motifs and colors, the laundry room will feel more pleasant. You also don't get bored easily when you are in this small room. That way, laundry will be a fun activity.
Bright and Fresh Laundry Room
The narrow space is very easy to feel cramped and stuffy. This is why small or narrow rooms will be made as bright as possible.
White is the right alternative color to choose for this room. By making white the basic color of the laundry room, this narrow room will feel naturally bright.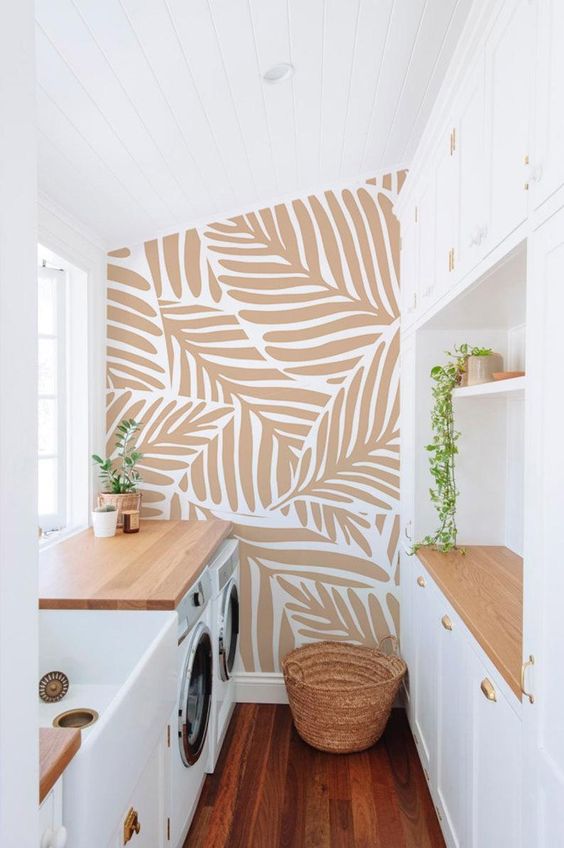 Maximized natural lighting also affects the brightness of the room. Natural lighting enters through the window and hits the wall. Because white reflects light, the room will look brighter. Not only that, but this small room also feels more spacious.
A little plant decoration in the small laundry room makes this room feel fresher. In this way, this room is no longer bored anymore.
Floating Wall Shelves and Some Small Baskets
The most important thing about having a small room is how we make it a free-clutter room. With this, the room will feel more comfortable and more beautiful.
Because there will be so many items that will be stored in the laundry area, the thing you need to prepare is a place to store these items. Don't let things get scattered on top of the laundry machine.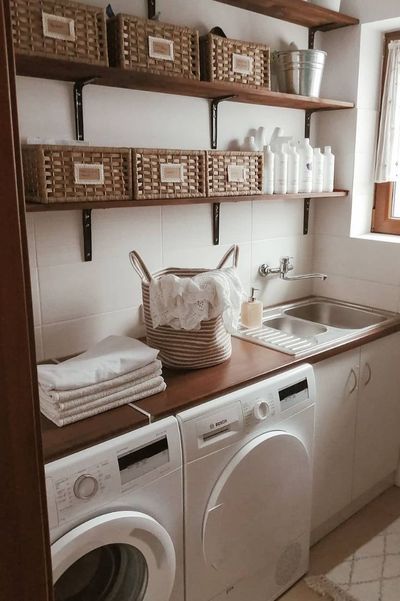 Because space is very limited, try to take advantage of the wall area. It would be a good idea for this room. You can use floating wall shelves and make it like a wall rack.
In order to make the stuff can be neatly arranged and also make the laundry room look beautiful, use some small baskets. And make sure you organize your stuff well so that it will make it easier for you to find the items you are looking for later.
Multifunctional Laundry Room
There is nothing better than leveraging one room into several functions. As in this one idea. Where the laundry room is used as a place for laundry, ironing, and also washing your face, or brushing your teeth.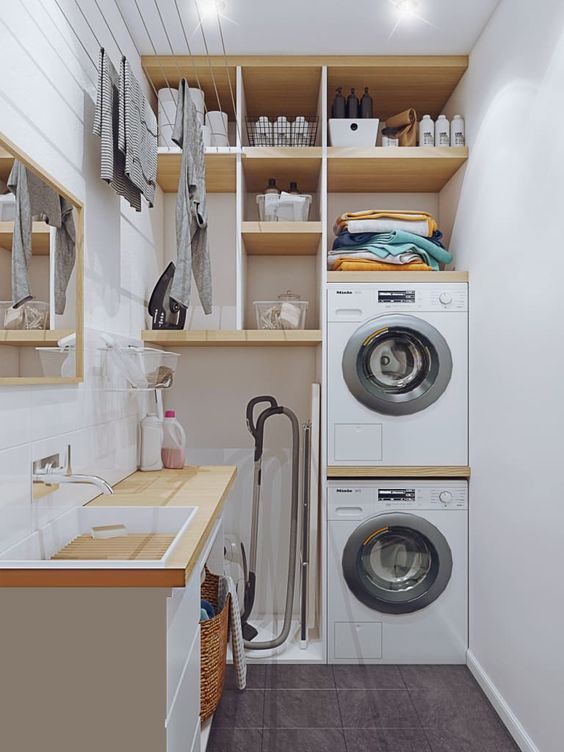 Vertically stacked front-load laundry machines give more free space to the room. And you can take advantage of these spaces for placing some stuff, such as folding the ironing board or making a rack to organize some stuff.
On the front, we can see the sink which can be used as a place for washing your face and brushing your teeth. Right above it is a clothes hanger that can be used for drying when after washing.
Laundry Space in Bathroom
It's the right idea to set aside the laundry room in the bathroom. With this, you no longer have to worry about the floor getting wet or dirty from water. Because it's easy to clean. Besides, the wet bathroom floor is no longer a problem.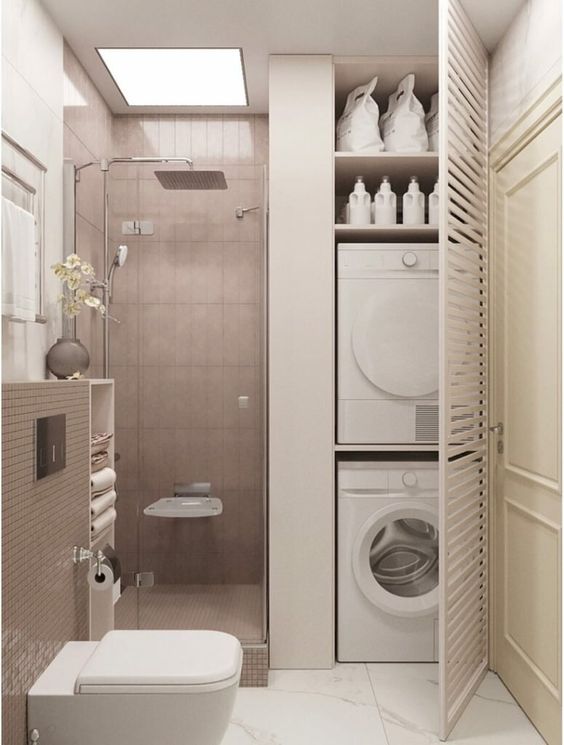 You can create laundry space in the bathroom vertically. This is the smartest way to save space there.
Stacking front-load laundry machines. And, at the top is made a place to put some equipment for washing. Or you can say that you like making a wall cupboard to be used as a laundry place. Giving the door slits can make it look more attractive.
Hide The Laundry Room with Sliding Door
The existence of a laundry room in the bathroom or other rooms sometimes makes the room unattractive. As if to show that the house does not have enough room for a laundry.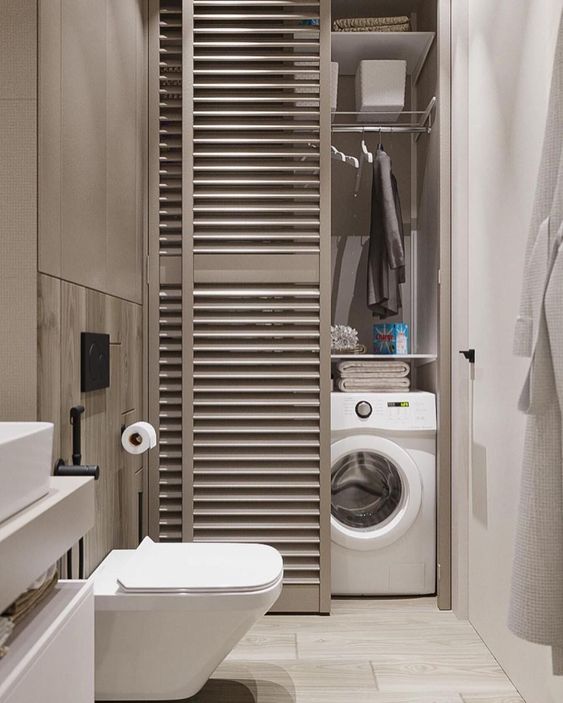 Therefore, hiding the laundry area would be much better. You can choose a sliding door to cover the laundry area. By using a sliding door, there are still areas that will not be taken up. That way, there will still be free space available in the room.
Add The Rod to Hang Damp Clothes
In the washing machine, there is a drying system. However, this is not enough to make the clothes dry completely. Usually, the clothes stay damp. And if you let it, your clothes will smell bad.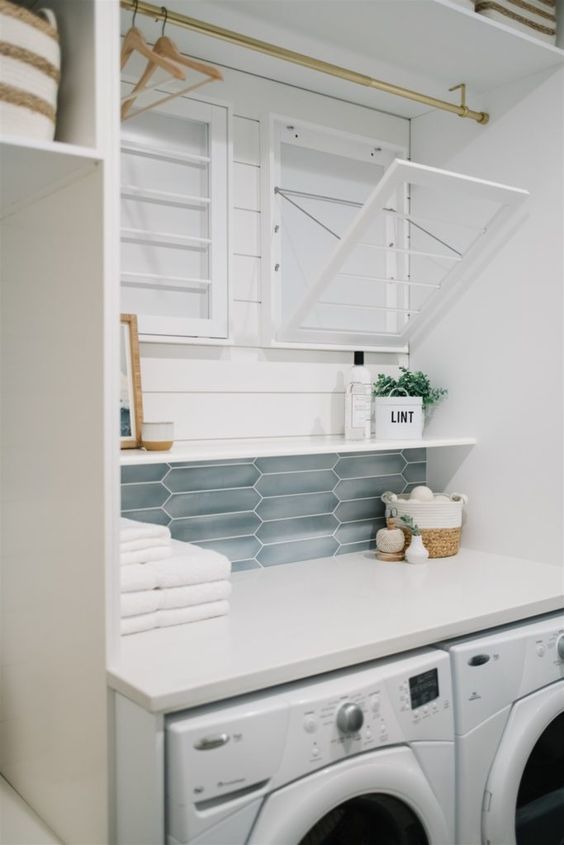 It is better to hang clothes after washing. And let the clothes dry completely.
Some of you might choose to dry clothes outside the house or balcony. However, not all residences have this. So, you have to hang your clothes in the small laundry room. By adding the rod to the wall cabinet, you can hang your damp clothes there. Much easier and more practical, right?
Gray Wall Tiles Beautify The Small Laundry Room
Making it look simple and minimalist is too good to make the small room look not full. That way, the small room will feel more spacious and comfortable. However, a display that is too simple is also not good for the room. Because it will make it look stiff and boring.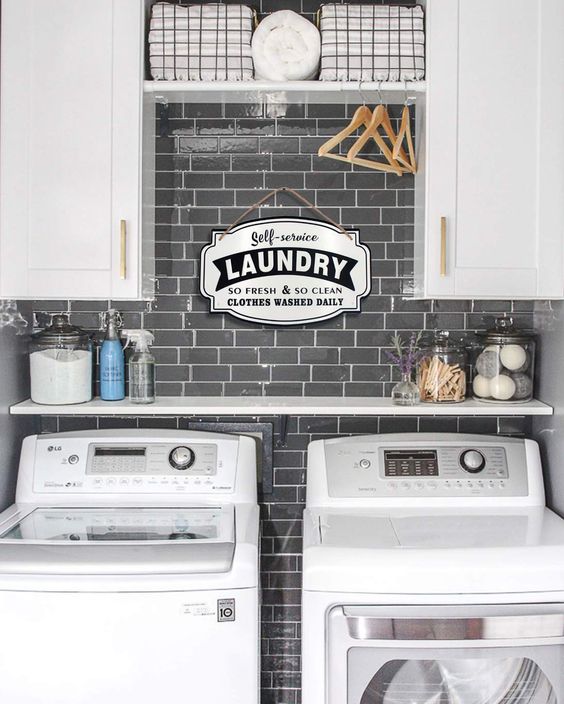 So, if you want to make your small laundry room feel comfortable and also look attractive, you can install great wall tiles in this room. There is no need to apply it to the whole wall of the room. you can choose one spot on the wall. In this way, the minimalist small laundry will look more beautiful.
Ivory and Navy are Great Combinations
White is indeed an alternative color that can make the laundry room look bright. However, if you want to make this room look softer, ivory is another color that can be used as an option.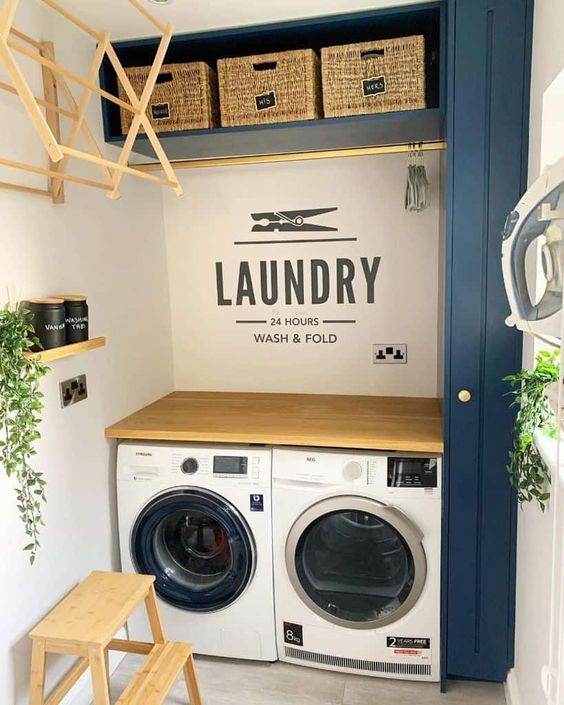 Combining ivory with navy is an interesting idea to try. The soft look from the ivory and the firm impression from the navy will make your small room look so attractive.
To make it look more adorable, you can add some decorations such as plants and others. In this way, the small laundry room will not look stiff and boring.
Conclusion
Every family needs a laundry room. However, not all houses provide sufficient space for laundry. Because currently the houses are minimalist, so free space in the house is also limited. And fortunately, to have laundry at home, you do not need a lot of space. You can take advantage of the existing space even though it is narrow. It might seem a little challenging, but if you have read this article, you do not need to worry anymore. Because the article entitled "Having A Minimalist Laundry Room in A Narrow Space" will help you in having a laundry space in your small house.