Olidhomes.com – Knowing the tiny bathroom decoration tips is essential. Especially, for those of you who want to have a beautiful bathroom. And then the limited land is a problem you face.
As we know, today's homes are made very minimalist. However, because of the affordable price, this house is quite a in demand lately. In fact, a minimalist small house has become a popular place to live.
However, the land in a minimalist house is also limited. And if you don't decorate it properly, then the rooms will feel cramped. In addition, the rooms also look bad.
Being the most cramped room, of course decorating the tiny bathroom is challenging. However, you don't have to worry. This article will help you to have a great room in a small house. And here, we have provided Tiny Bathroom Decoration Tips. So, let's check it out!
Spacious Illusion by Adding A Mirror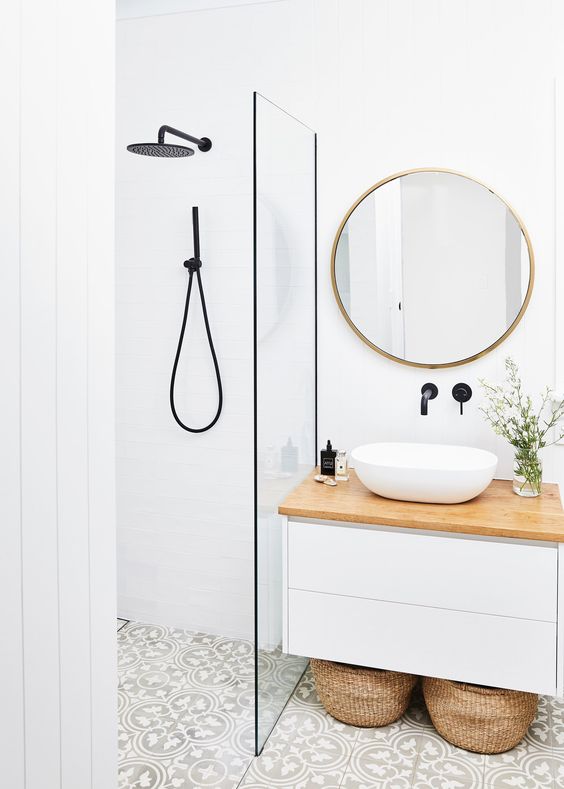 Mirrors are a must-have item in your bathroom. This item is really very helpful. Brushing your teeth and washing your face will be much easier. However, the function of the mirror more than that. Mirrors also have an effect on the comfort and beauty of the room.
There are various types and sizes of mirrors to choose from. And if you want to make your tiny room look great, we recommend you choose the large-size mirror.
The large-size mirror will provide more shadow in the bathroom. Which will make your tiny room look more spacious.
In making the tiny room look more minimalist, you can choose a large oval-bathroom mirror. With frame or without frame depending on your taste.
Remove The Curtain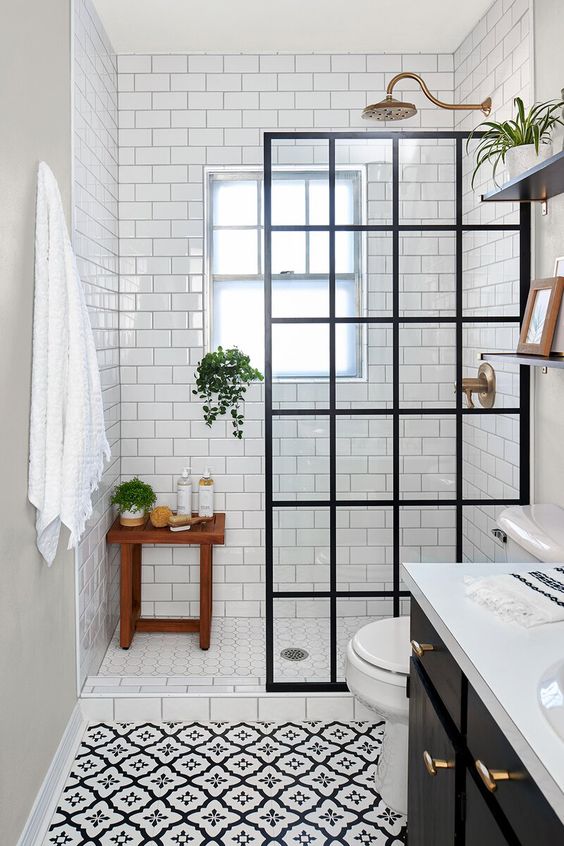 There are two options for the bathroom. That is a shower and bathtub. Due to limited space, maybe you will choose a shower. However, it is okay to use the bathtub for the tiny room. Plus, soaking in the bathtub is fun. Especially, when you feel tired. Soaking in warm water is the most perfect thing.
To keep the dry area in the bathroom from water, we usually rely on the curtain. However, the use of curtains in tiny rooms is not appropriate. It can make the room narrower.
So, the next decoration tip is to remove the curtain. It would be better to change it with glass. With this, the room will be more open. Then, the bathroom will feel more spacious.
If you want to have a minimalist bathroom look, this tip is fit for you. The glass divider will give a clearer line in the bathroom.
Maximize The Use of Space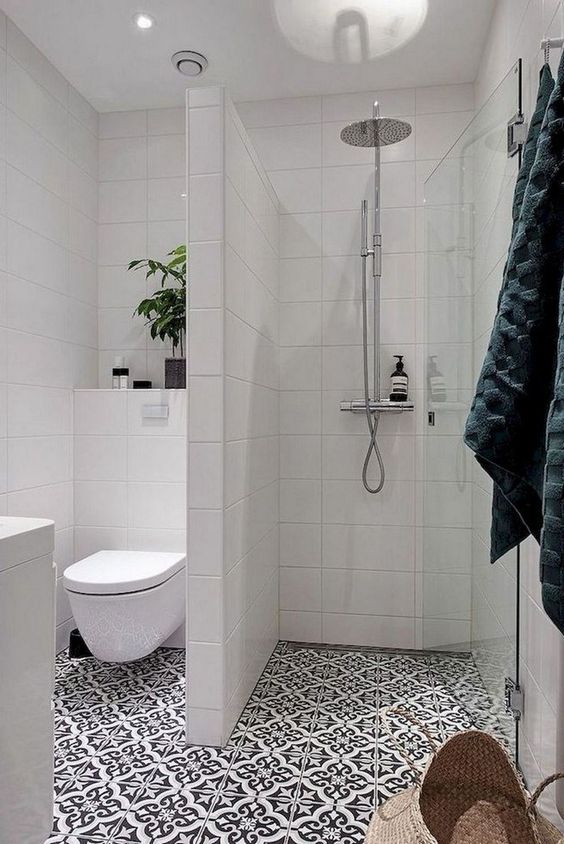 Maximize the use of space. It becomes the most challenging thing. So, the next tip you have to follow is to maximize the use of space. The goal is of course to get rid of the cramped feel.
For sinks, you might be able to use wall hang basins. This will give more space to the bottom area. And you can use it as storage. Maybe you can add some baskets. This would be a good storage area. Here, you can store some bathroom stuff. It's also a great way to make a room look tidier.
There are other ways you can follow. That is you can limit the toilet and shower area. Try to make the toilet area narrower. That way, there will be plenty of space for a shower. So that you will feel more comfortable when bathing. It's also a great way to provide some privacy in the bathroom.
Try to Apply Natural Hues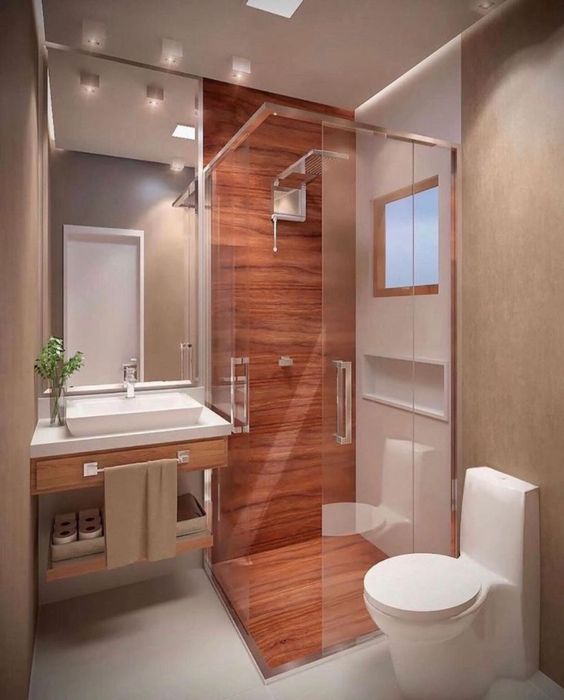 The application of color is very important. It because it plays a role in the look and feel of the room. Therefore, make sure you choose the right color.
In making a tiny house look great, a bright color is often used as an option. However, don't just focus on this one thing. If you want to make your tiny room look pretty, we recommend you choose natural hues.
Besides makes the room looks great, natural hues also perfect to make the room cozy. The natural nuances will appear clearly. It's great to make the bathroom feel soothing. So that you will feel comfortable when soaking to relieve stress.
In having a cozy and pretty bathroom, maybe you can take a peek at the Japandi bathroom. This design has a perfect combination between natural elements and hues. With this, you will have a perfect room for relax.
Apply Minimalist Concept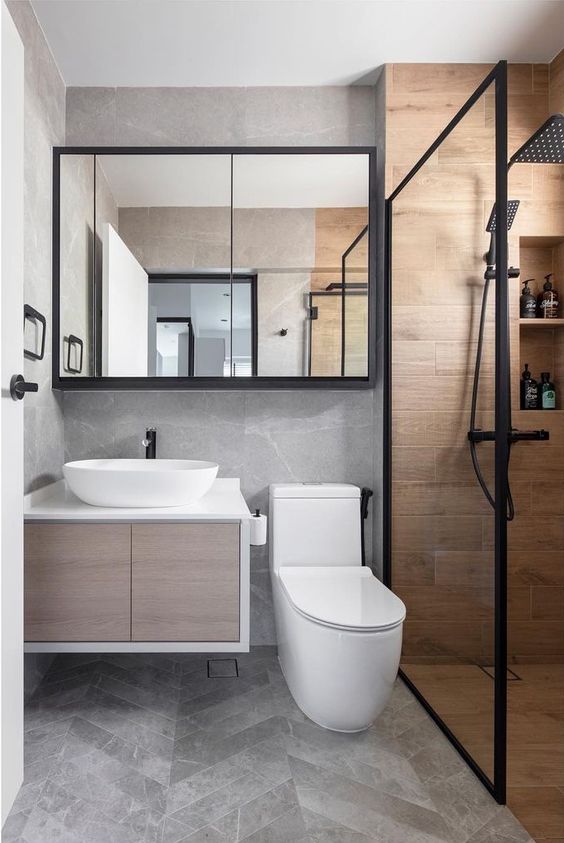 Due to limited land, you have to make the bathroom look minimalist. Try to filter the use of furniture. You can use the makeshift furniture to fill your bathroom. And also, try to not using some decorations in this room such as a big plant, bathroom rack, and others that will take up space.
In this tip, you can replace the shelf with a mirror with storage. This will go further in saving space. In addition, there is no small stuff that can be seen. This tip also great to be applied for you who want to make this small room look neat and clean.
Make It Look Stylish with The Right Decoration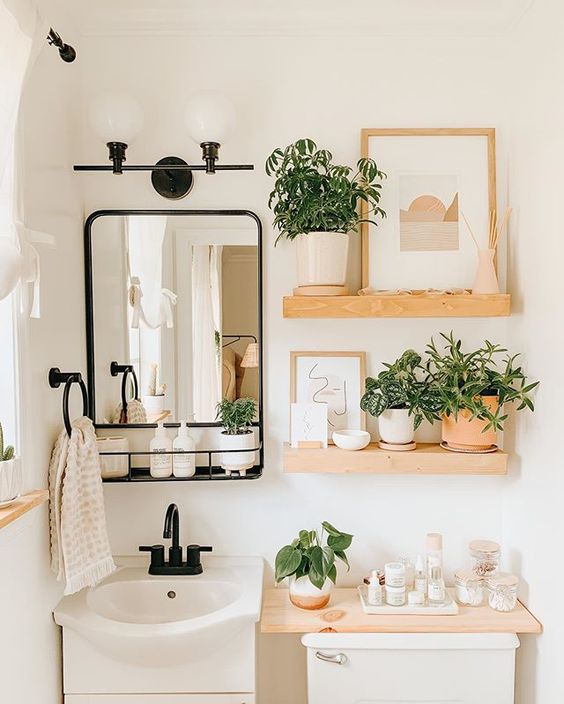 It's great to apply a minimalist concept to the tiny bathroom. But, it does not mean letting the room look stiff without display. You can still use the display. That way, this small room still looks attractive.
However, decorating the small room is not careless. Not all displays can be used. You have to choose the right one.
Like in the picture above. Small plants are the right display to use. The use of small plants will also not take up space. You can put it on a window or floating wall shelf. The green color of the plant gives a fresh impression to the room. It's great for disguising the firm lines of a minimalist concept.
Create A Wall Niche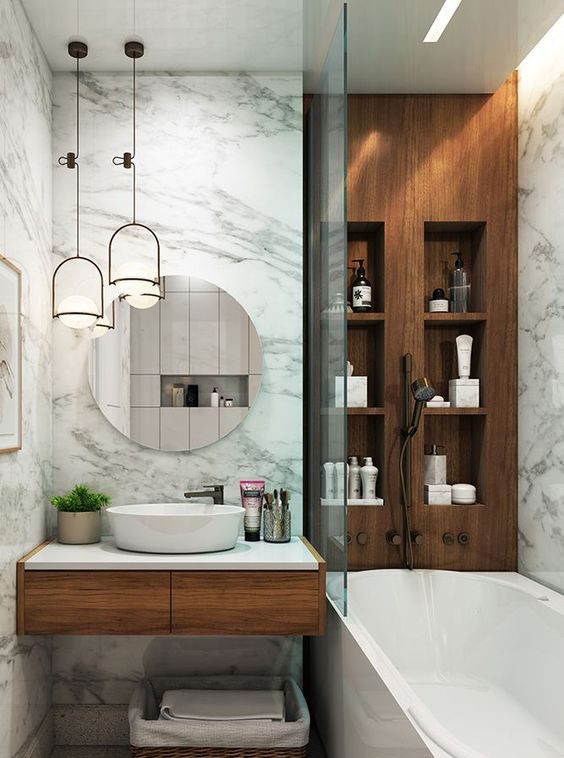 The next tip is to create a wall niche. It looks very difficult, but creating a niche wall is very easy. You only need to request the construction department or home designer.
There are many benefits of wall niche you can get. Like you can make it as additional storage. Or you can also use it as a decoration to make the room look aesthetic. Probably, you can add some beautiful bottles. In placing it, try to make it look neat. The look of it will make a small bathroom look attractive.
Because the bathroom is often used as a place to relax, make a niche wall as a safe place to put aromatherapy candles is a great way. With this, the candles will not be exposed to water.
Maximizing The Lighting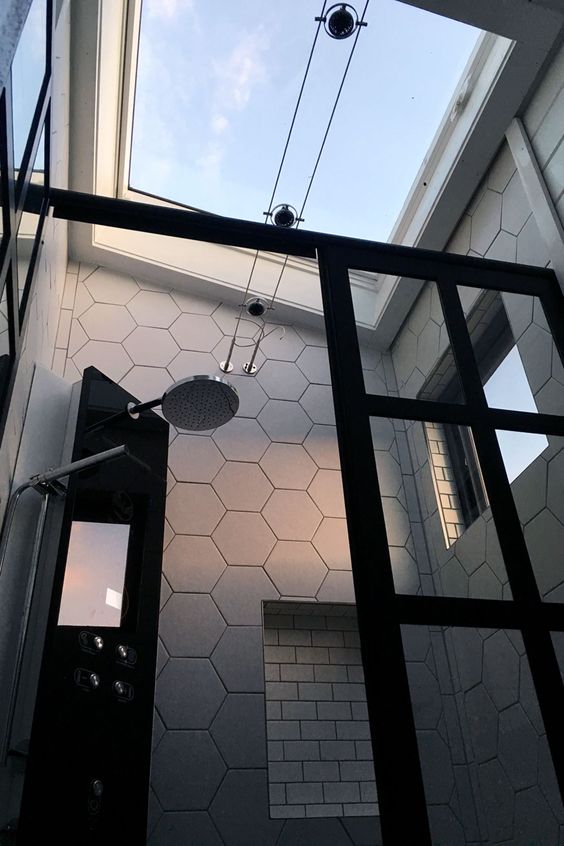 Be it natural lighting or artificial lighting, both must be presented in the tiny bathroom. A light aid will go a long way in getting rid of that cramped and stuffy feeling.
To bring natural lighting to the bathroom, the window is an item that can be used. The use of windows may feel strange. Because it can be very disturbing to privacy. However, these such issues can be overcome. You can install curtains or bamboo blinds.
To stricter your privacy, you can choose a skylight window. With this, no one can peek into your bathroom. In addition, this one window is also the best at emitting light. Being on top will make the incoming light spread out perfectly.
Next, there is artificial lighting. There are several types of lamps to choose from. However, try to choose the type and size that suits the area of the room. Do not use a lamp that is too big. Because this will only make the small bathroom feel narrower.
For lighting selection, white light is the best. This is great for getting rid of the cramped and stuffy feel. In addition, the white light from the lamp will give a beautiful reflection in the mirror. So that a small bathroom will look more attractive.
Final Words
Having a small bathroom is not a bad thing. Even though space is limited, you can still make this one room look attractive. And this will come true if you understand how to decorate a tiny bathroom well.
There are plenty of ways to decorate the tiny bathroom. And in this article, we have summarized it. The points above are the best Tiny Bathroom Decoration Tips. In this way, having a great room is totally not hard.