olidhomes.com – The first step in decorating the interior of the house is choosing an interior design for your house. The choice of interior design will be very helpful and make it easier for you to choose colors, furniture styles, and also displays for the room. However, because there are many types of interior design styles that you may encounter later, you may be misled and indecisive in making a choice. Therefore, before choosing, it would be better to know all the interior designs.
In this article, we have provided 15 Types of Interior Design Styles that can make it easier for you to choose one of the best for your home interior. So, let's check it out!
1. Modern Interior Design
There are still many who are confused about the difference between modern design and contemporary design. Because both have almost the same characteristics. However, modern interior design is very different from contemporary interior design. Modern interior design broke out in the early to the mid-20th century. Meanwhile, contemporary interior design is a contemporary design.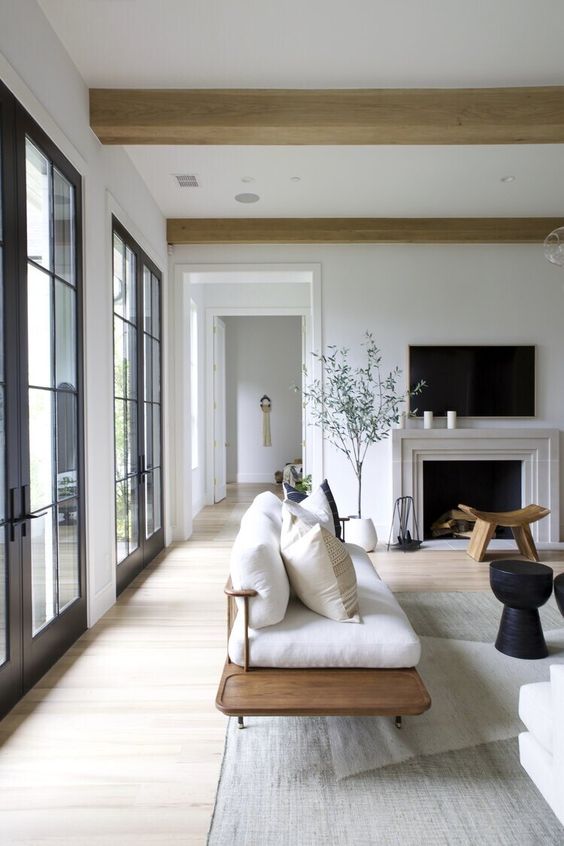 Modern interior design carries a minimalist concept to display a clean room. Functionality is an important point that is focused on this one design. In this design, the interior is made as perfect as possible.
Another characteristic of modern design is the use of color. This design appears simpler with the use of earthy colors (earth tone). Therefore, modern-designed interiors usually have a calm atmosphere that makes homeowners feel comfortable.
2. Contemporary Interior Design
In the previous point, we have given a little explanation about contemporary interior design. So, this design is always changing and following the current trend. Contemporary interior design can also be said as a design that is always developing. Therefore, this design is difficult to define with certainty.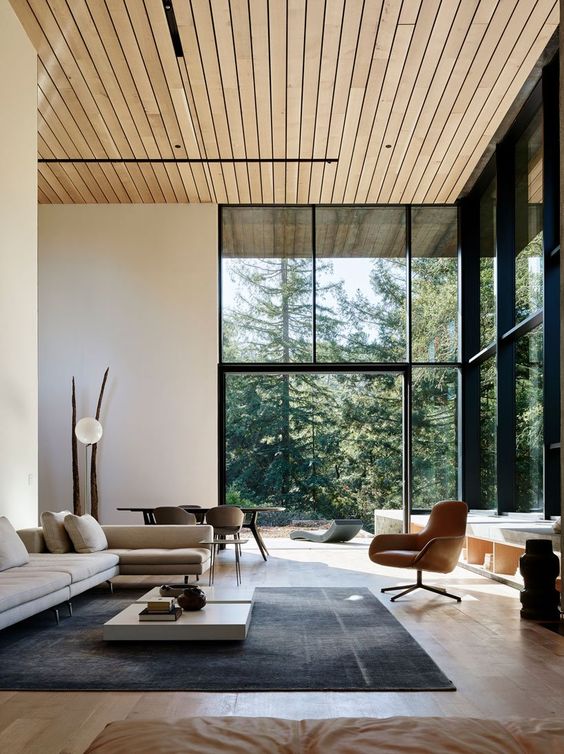 In contrast to modern designs that focus on functionality and a minimalist impression of the room. This one design focuses more on what is trending right now.
In color selection, contemporary designs usually tend to choose neutral colors such as white, beige, gray, and soft blue. With this, the interior will be much safer and easier for you to decorate.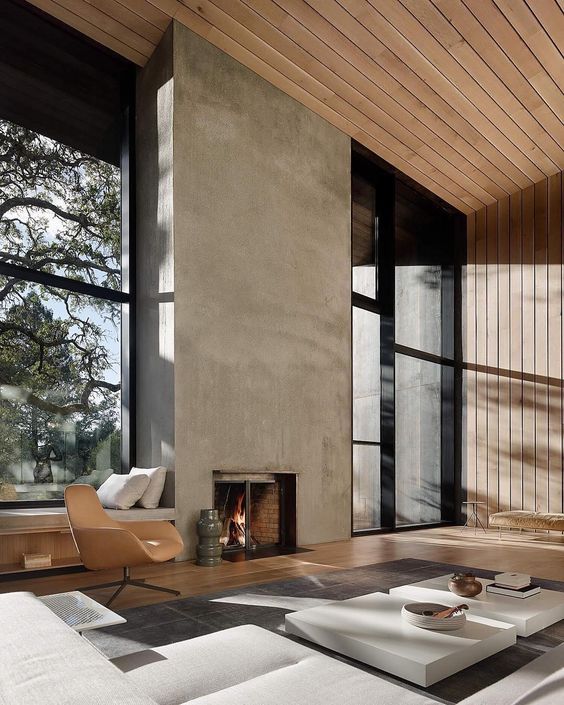 One of the characteristics of contemporary style is that it has curved lines that give a subtle side to the room. And also, usually, this one design has an environmentally friendly impression. It can be seen from the use of sunlight for the main lighting and also some very environmentally friendly furniture.
Contemporary designs prefer wall decorations with a small amount but larger in size. And also some motifs are present in several spots such as rugs, pillow sheets, and so on.
3. Mid-Century Modern Interior Design
Mid-century modern interior design was present in the 1930s and was popular until the 1960s. In fact, until now the modern mid-century is still attached to the hearts of many people. A touch of neat and modern lines combined with vintage-style furniture produces a room that looks so attractive.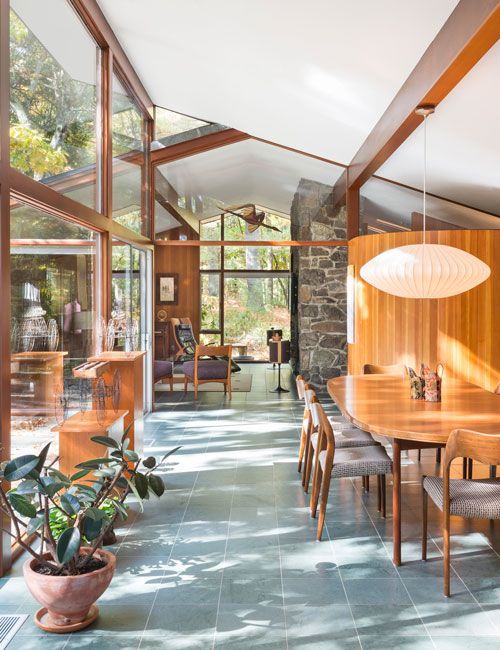 This design does not use beautiful motifs such as flowers, leaves, and so on. So that the room looks clean. And, in making the room look attractive, mid-century modern design tends to choose motifs with neat lines in organic and geometric shapes.
For color, mid-century modern interior design usually tends to choose neutral colors such as white, brown, beige, and black. Not infrequently also some modern mid-century-style rooms have contrasting colors as decorations.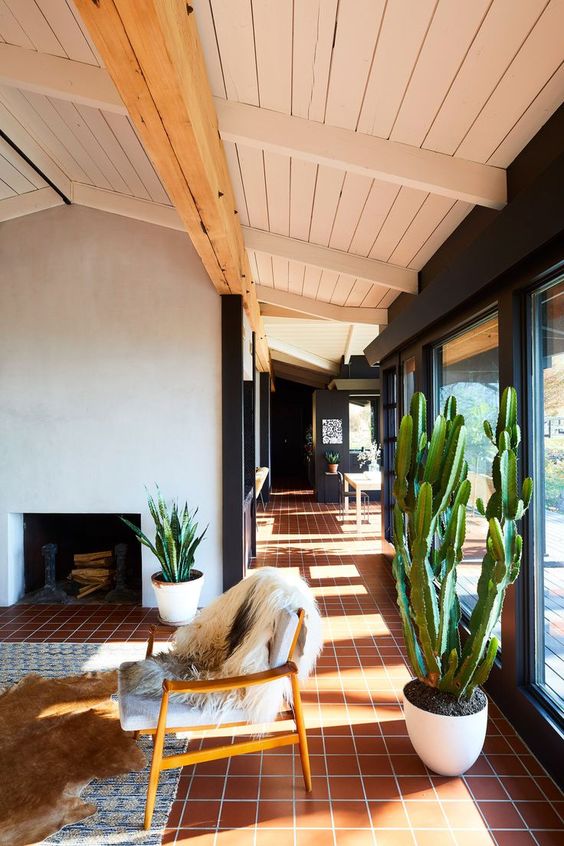 Because there is a transition from traditional to modern times, the materials used in this one design are also affected. The combination of traditional materials (such as wood) and non-traditional materials (such as vinyl, plastic, glass, and metal) makes it look attractive.
4. Minimalist Interior Design
Initially, this design was present in the 20th century and still continues today. This is because many people are interested in this one design for the interior of their home. This design results in a clean and tidy room that makes it feel comfortable.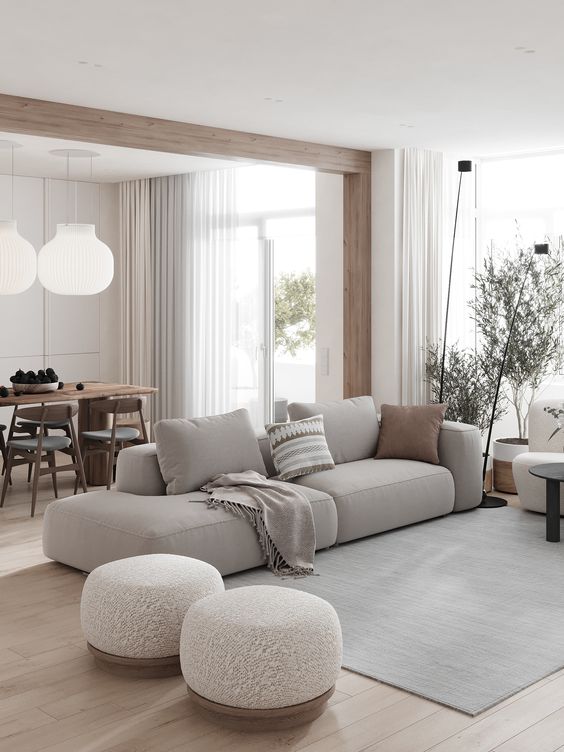 Low furniture, clean lines, and hard surfaces are the basic principles of minimalist interior design. However, as time went on, many people incorporated more colors and textures into it. Which of course makes the minimalist interior design look more attractive.
One of the things why a minimalist interior design can make a room feel comfortable is the use of items that are only needed. So, the concept is more functional. However, each item that is present has its own essential value which still makes the room look attractive and far from boring.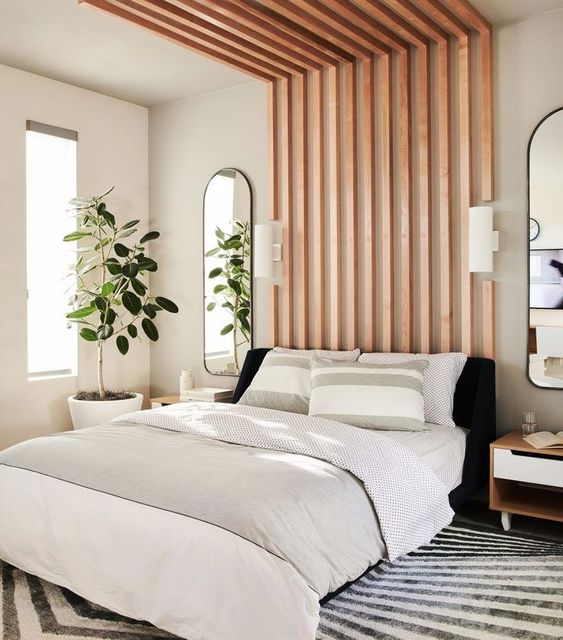 You can apply this design to any room size. However, for those of you who have a small house or room, you can use a minimalist interior design as a solution. Because the use of makeshift items and very simple decorations can provide more space that can make a house or small room feel more spacious.
5. Scandinavian Interior Design
One of the most popular contemporary designs is Scandinavian interior design. It's actually quite easy to get to know Scandinavian interior design itself. This is because this design has its own characteristics and is very simple. Which will make it easier for you to remember.
Scandinavian-style houses usually have large windows. This one design does carry a natural concept, including the lighting of the room. This design does maximize natural lighting for the room which makes the room feel warmer.
Another warmth that you can feel in Scandinavian designs comes from the use of wood and fabric materials. The natural textures and colors of wood are very effective in changing the ambiance of the room to be warm. And the use of fabric makes the warmth of a Scandinavian-style room even more perfect.
Another characteristic of Scandinavian design is the use of neutral colors such as white, black, beige, brown, and gray. Because it focuses on a bright display, white is often the choice as the main color or the basic color of a room.
And lastly, for decoration, Scandinavian designs tend to use decorations that can make the room feel fresh like plants. This one design also often uses a few very simple wall displays. The motif of stripes or boxes is a mainstay to add aesthetic value to a room.
6. Shabby Chich Interior Design
The next of 15 Types of Interior Design Styles is a shabby chic interior design. This design has an antique and unique appearance due to the use of old and shabby-looking furniture. Strong character is in the use of color. Shabby chic design uses soft colors so that it displays a very clear feminine side. Therefore, this one design is most in demand by women.
You can also feel the soft and sweet appearance from the presence of a vintage style in it. Vintage-style furniture has subtle curves that make the stiff lines of the room disguised.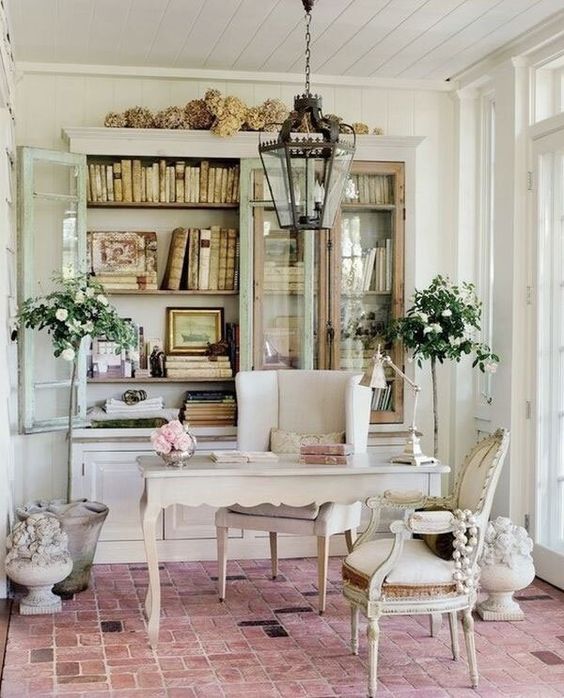 What makes shabby chic look more attractive and very feminine is the use of floral motifs on several items such as sofas, throw pillows, curtains, and so on. Some real flowers are also placed in beautiful vases as decorations that beautify the appearance of the room.
Usually, shabby chic designs have a bright look because they rarely have dark colors in them. This design tends to use pastel colors with bright shades. Plus natural lighting as the main lighting that makes the room look more lively and comfortable.
7. Industrial Interior Design
Who does not know industrial interior design? This one design is one of the most popular types of interior design. Indeed, this design has existed for a very long time, namely in the 19th century. However, because of its strong character and interior appearance that is different from the others, this one design is still often chosen as the interior of today's homes.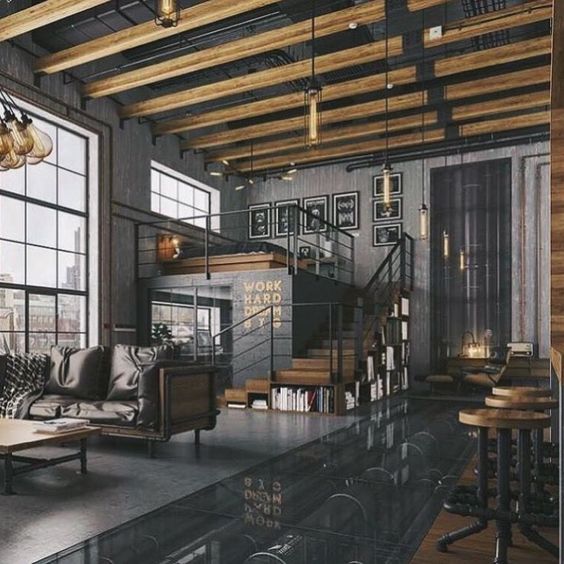 Industrial design has the impression of being unfinished. We can see from the exposed brick wall or plaster brick wall, some furniture made of unpolished wood, visible pipes on the walls and ceiling, and so on.
The colors that industrial designs often choose are colors that tend to be dark, such as black and brown. Not infrequently white is also present as a neutralizer and gives a little brightening effect to the room.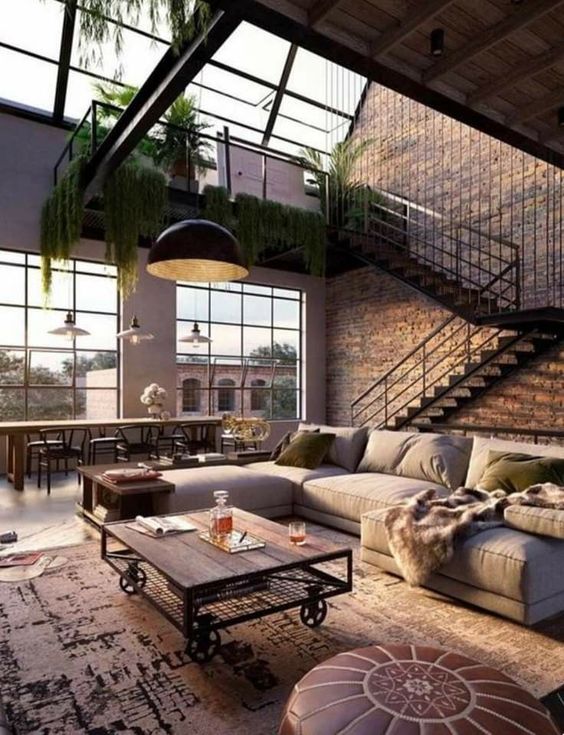 The dominant metal, iron, aluminum, and black colors make the industrial-style room tends to be cold. However, natural lighting as the main lighting brings a little warm nuance that makes it a balance.
8. Farmhouse Interior Design
Want to have a comfortable, warm and peaceful home? If so, then you can choose a farmhouse interior design as an option for your current home interior. This design may look like houses in villages, but farm house designs are also suitable for houses located in urban areas.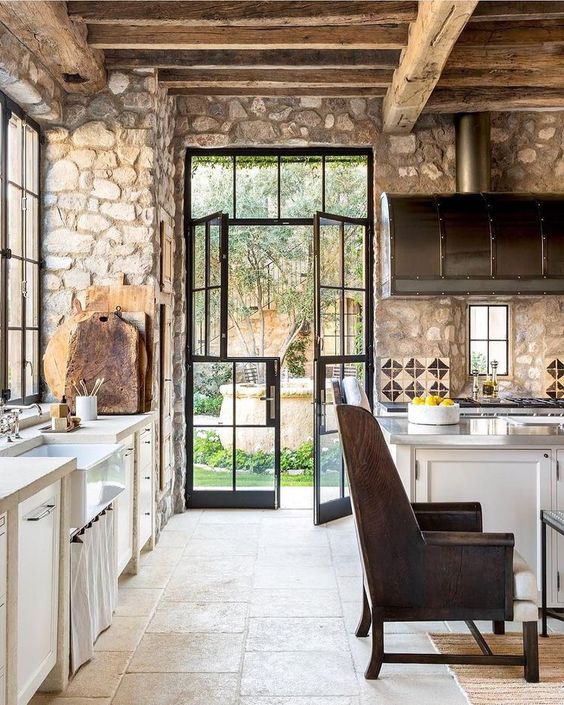 In creating a warm atmosphere, the farmhouse design chose traditional materials in the form of wood, bricks, and natural stone. Not only that, color is also a very important part here. Farmhouse Design chose warm neutral colors such as white, brown, gray, and beige. Not infrequently, black is also present to give a bit of a firm and calm effect to the room.
For its own appearance, farmhouse designs tend to look soft. This design chooses vintage-style furniture to fill the room. The subtle curves of the furniture make the stiff lines of the room covered.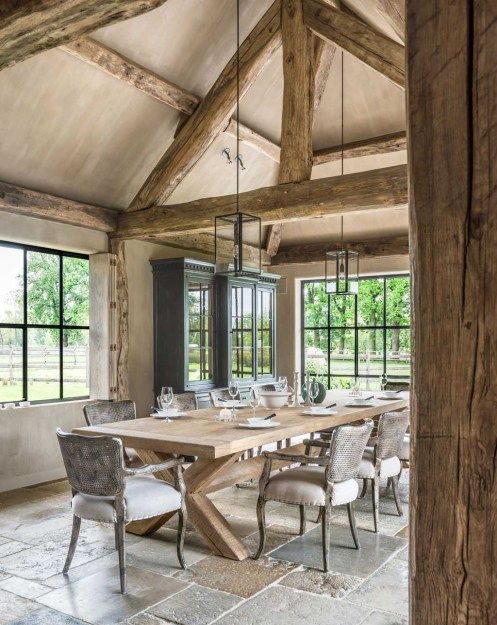 And lastly, as a cover and complement, plants become mandatory decorations for farmhouse designs. The green color of the plant can evoke a calming fresh atmosphere. Not only that, but the presence of plants also makes the room feel more alive and more comfortable.
9. Boho/Bohemian Interior Design
Boho/bohemian interior design is the next of 15 Types of Interior Design Styles. Initially, this design was created by the Gypsies. These people were known as nomads until they finally left the city of Bohemia in Central Europe.
Due to constant travel, residents took whatever they could find. Therefore, the Boho or Bohemian style tends to be free and irregular. However, this design has a distinctive look such as ethnic and vintage style.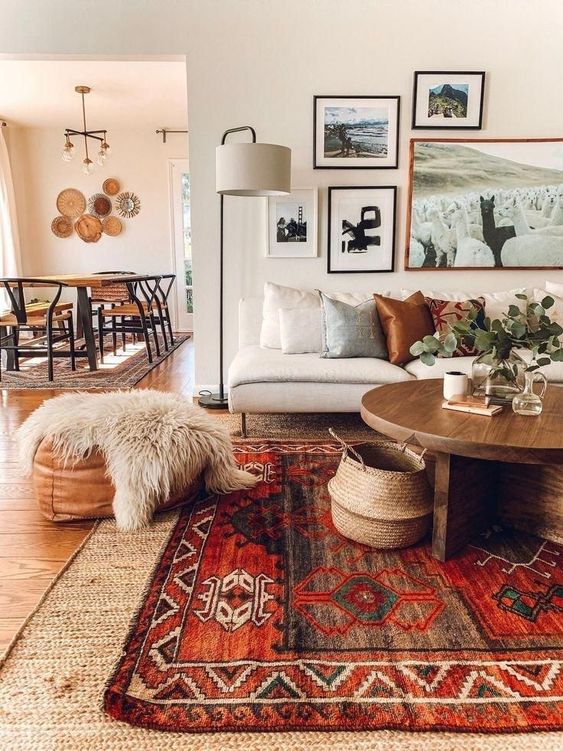 Boho or Bohemian designs can be considered as bold designs in the use of color. Various kinds of bright colors are present and look so harmonious in the room. Plus some ethnic-style decorations on wall decorations, furniture, and various items that make the room look more attractive. Plants are also an additional decoration that gives a fresher and more lively effect to the room.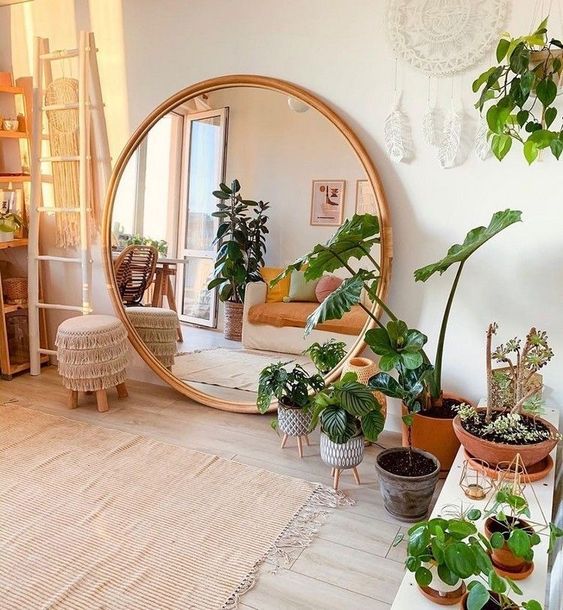 The impression of a Bohemian or Boho design is cool. However, what's interesting about this design is that it doesn't look rigid. On the contrary, this design has a more cloudless and warm atmosphere due to the dominant use of fabric materials. Not infrequently, some items and furniture made of wood and rattan also fill the room and make it warmer and more comfortable.
10. Coastal Interior Design
The atmosphere of the beach and the sea is the inspiration for the coastal interior design. Therefore, this design tends to use white, blue, and beige to fill a room. In addition, decorations related to the beach and the sea such as seashells, artificial seahorses, miniature ships, etc. also present to decorate the room.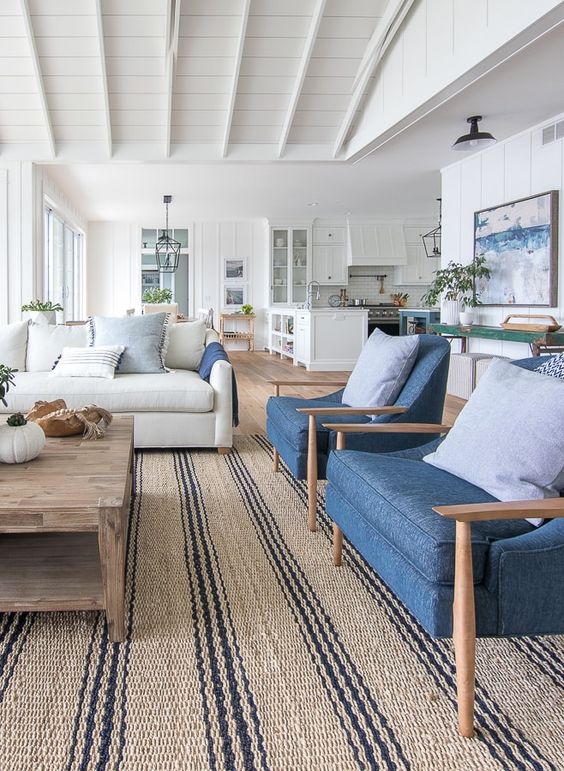 White is the color most often used in coastal interior design as the main color. Therefore, a coastal design room usually has a bright appearance. In addition, wide door openings and the installation of large windows make natural light enter the room more optimally. With this, the white color will look brighter and livelier in the room.
Coastal interior design is very anti on furniture or items with glossy surfaces. This is because glossy surfaces can reflect sunlight and make the room look excessively bright. Which, of course, will greatly disturb the comfort of the eyes and also the beauty of the room.
11. French Country Interior Design
French country interior is the next design of the 15 Types of Interior Design Styles that has a traditional look. This design focuses on elegance, warmth, and beauty. Not infrequently French country style houses seem feminine.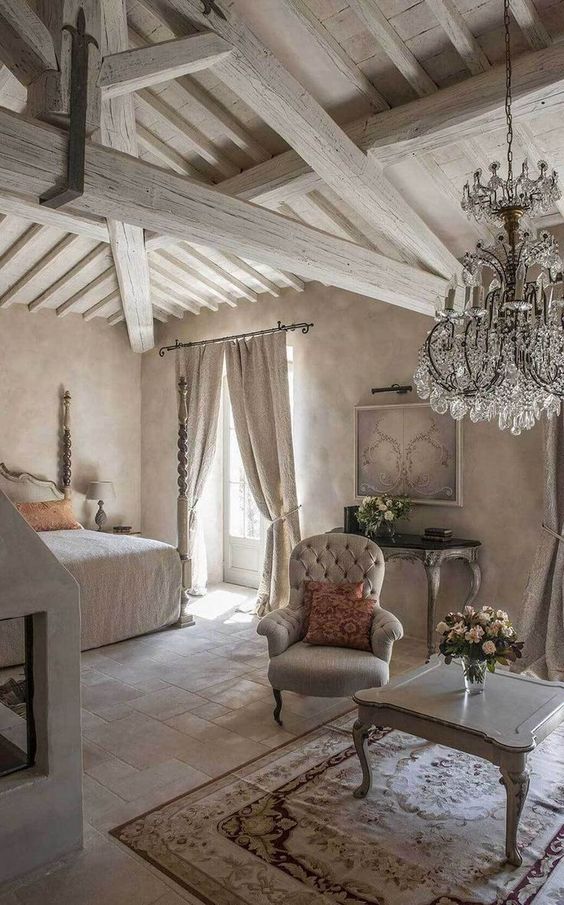 The main materials used in the French country interior design are wood and natural stone. These two materials give a warm and calm feel to the house. Natural impression that makes this design more traditional. However, french country interior design with a modern concept is no less interesting for you to make as an option. The interior will look different with a sleek but still traditional look.
This design carries a vintage style that gives a feminine and sweet side to the interior. Curved lines on the arch doors, windows, and furniture make the room far from being stiff and sharp. With this, the interior atmosphere will feel calmer.
12. Japandi Interior Design
The next of 15 Types of Interior Design Styles is a Japandi interior design. This design is indeed relatively new because it appeared in 2017. However, this design has managed to become one of the favorite designs that are widely chosen as interior design houses today.
Japandi stands for Japanese and Scandinavian. So, the appearance given by this design is simple, minimalist, and full of warmth and serenity.
Japandi design has a natural feel that is so thick. Wood is the main material in this design. Timber is often a mainstay for room decoration, either as a room divider or wall and ceiling decoration. Wood textures and colors are the best for creating a warm feel in the room. In addition, Japandi interior design utilizes natural lighting as the main lighting of the room.
The furniture in the Japandi-style room is deliberately made low to give the room a more simple and minimalist effect. The walls will also look taller and make them look taller.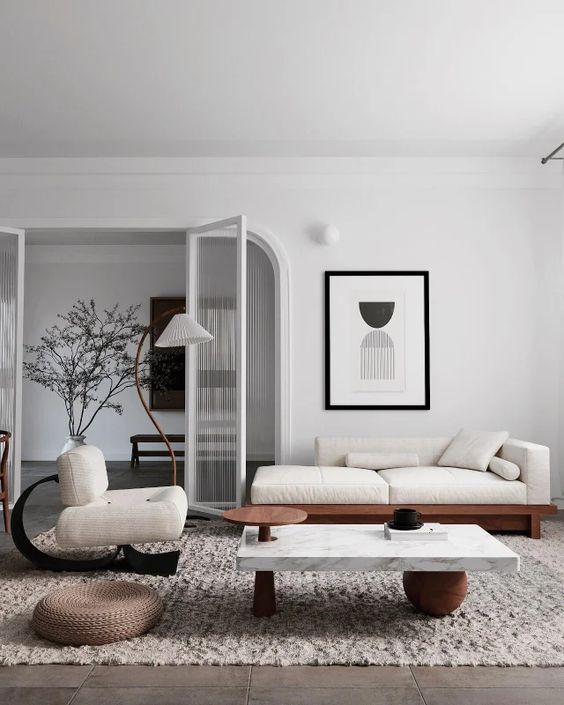 Because it is a combination with Scandinavian design, of course, the Japandi-style interior is not only filled with wood and brown materials. Several Scandinavian colors are also presented, such as white which is often the main color, gray which gives a cool and calm impression, and black which gives a firm but calming effect.
13. Mediterranean Interior Design
Each region has its own building character. Likewise, Europe has the Mediterranean as one of the popular interior designs. This design carries a slightly rustic style that shows a thick natural impression but still has a very thick European look.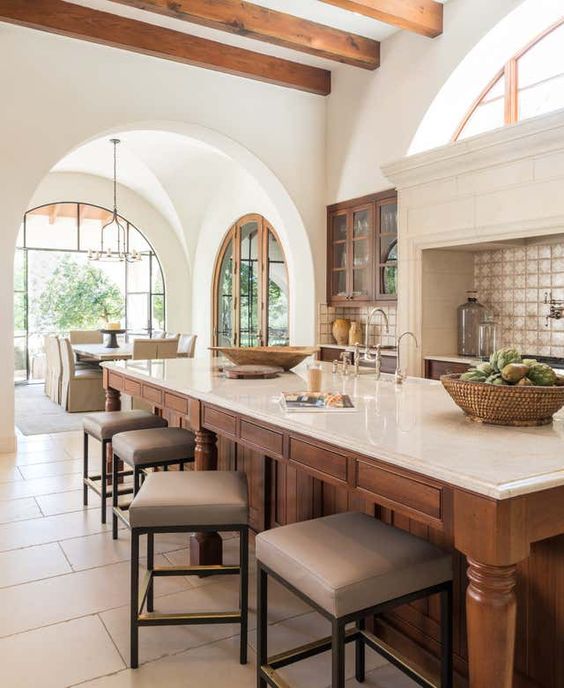 What makes Mediterranean interior design interesting is the combination of various colors. However, the room is still relaxed and friendly. Usually, the colors that this design often chooses are colors that can give a fresh effect to the room such as white, blue, green, and brown.
The thick natural nuance of the rustic design provides warmth and tranquility that makes the room feel comfortable. And for the soft visuals it comes from a touch of vintage style. Usually, this design uses vintage-designed furniture to display curved lines that can eliminate stiff and firm lines in the room.
14. Rustic Interior Design
Rustic interior design becomes the next of 15 Types of Interior Design Styles. In the previous points, rustic interior design is often mentioned. This design has warmth and serenity with natural nuances being the main thing to focus on.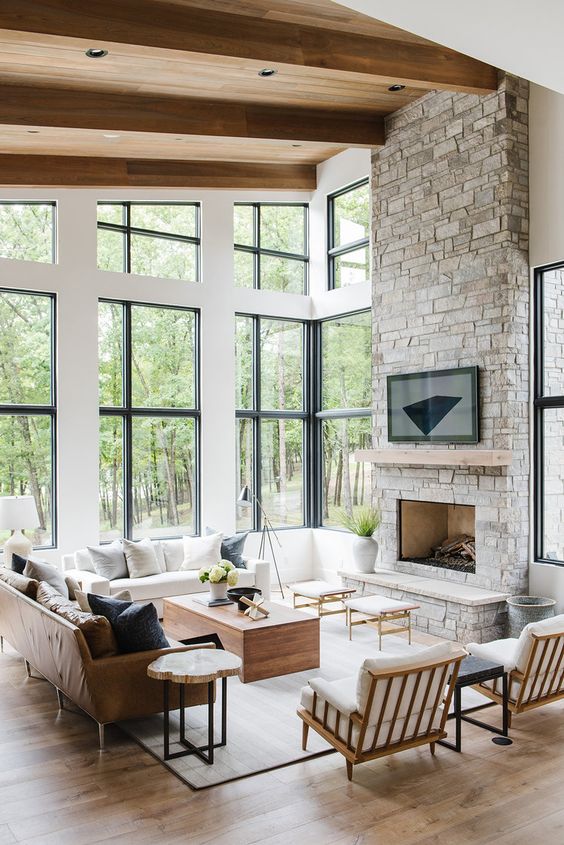 In emphasizing the natural feel and look in the room, natural materials are a mainstay. Wood and natural stone are the materials that are most often present in a rustic-style room. However, this one design also often features bricks to give a natural red texture and color to the room.
Plants are the main decoration that is important in this design. The rustic-style room has plants in several spots. The green color of the plant gives a fresh effect and makes the room feel more alive. Not only that, sheepskin rug has also become one of the popular decorations of rustic design.
15. Hollywood Glam Interior Design
The last of 15 Types of Interior Design Styles is a Hollywood glam interior design. This design was quite popular in the 1930s and became a favorite design of the Californian community in the mid-20th century.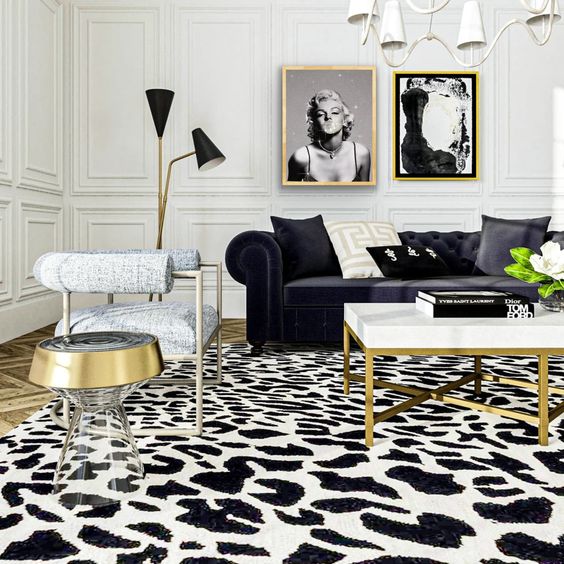 Hollywood glam interior design has an expressive appearance. This design focuses on tidiness, contemporary style, luxury and toughness. This is what makes Hollywood glam interior design look so attractive in the eyes of the public.
In displaying the impression of luxury in the room, this design relies on large furniture. In addition, the gold color is also more dominant. Lighting games such as various types of lamps are also one that makes the room look luxurious.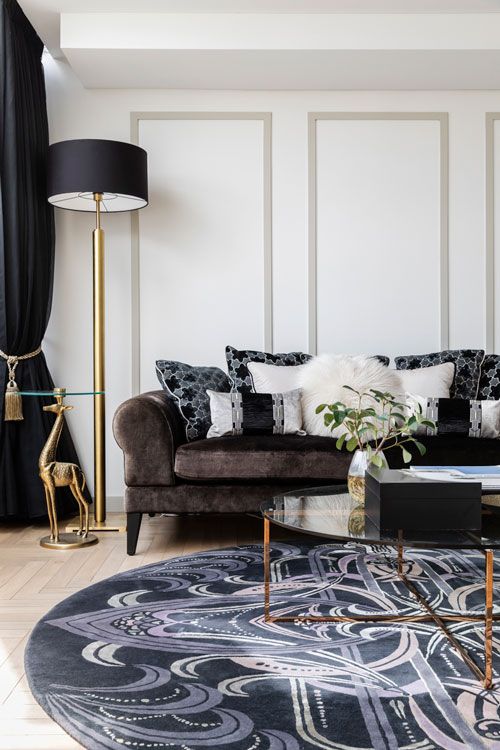 Gold and metallic colors are the color palette in this design. And as a counterweight, the room is given a little touch of neutral colors.
For materials, this design relies on marble and granite to make the impression of luxury more viscous. Crystal balls, large paintings, and sculptures are the main decorations that complement Hollywood glam interior design.
Final Words
Determining the interior design is the first step in decorating the interior of the house. By choosing an interior design for your home, decorating the room will be much easier. The choice of color is also no longer a thing that will make you feel a dilemma because every interior design has its own color character. And the points above are 15 popular Types of Interior Design Styles. Choose one of them that you like and fits your character. So, happy good luck!