olidhomes.com – Don't you think about having a comfortable and pleasant work area? This is all you can get if you do it. It would be interesting to use a narrow area as a place to work. With a minimalist small table and comfortable chair, it is enough for the workspace. It's just that, the decoration and arrangement really affect the comfort and beauty. So, here we have provided 15 Small Workspace Ideas You Will Love. Let's check it out!
1. Simple But Cozy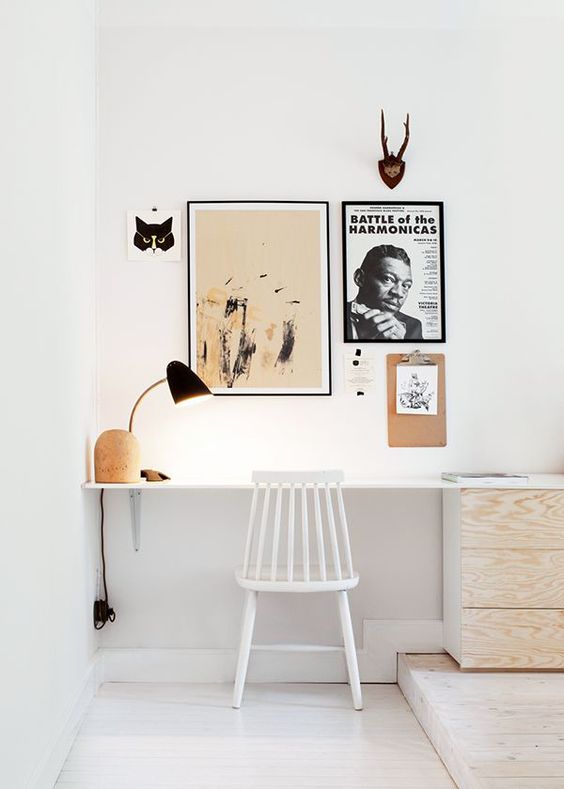 Nothing is more appropriate than a simple concept for a narrow area. Desks and benches with a minimalist design make it look cute. The table lamp is perfect for accompanying you to work or study. Plus a humidifier increases the comfort of the workspace.
Although it looks simple, this one idea will not make you bored in your work area. Interesting simple decorations on the walls make the atmosphere feel a little more pleasant. The white nuance makes other colors in the workspace area look more dominant.
2. White Nuances Small Workspace Ideas
The white concept is indeed the most appropriate for a small or narrow space. All-white walls and furniture will make a small workspace feel more spacious. So, the cramped and stuffy feeling will not be present in your study area. Give a contrasting color such as black to eliminate the impression of stiffness. So that white nuances small workspace will look more attractive.
3. Minimalist Small Workspace Ideas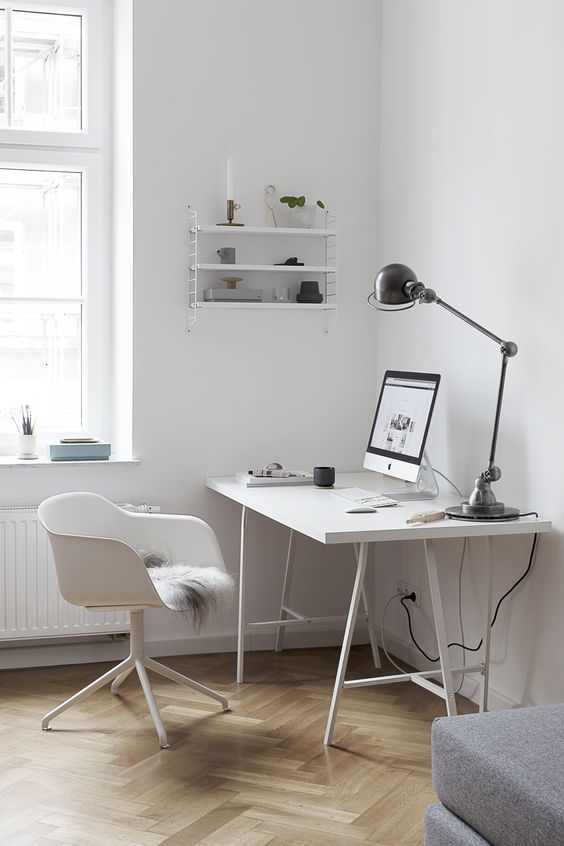 The next idea is a minimalist small workspace. A desk and chair in a minimalist design may look simple, but this actually makes a small workspace look so charming. The iron table lamp is a decoration that makes it look more attractive. The small workspace also feels more comfortable with a sheepskin rug on the chair.
4. Feel Warm in Earth-Tone Hues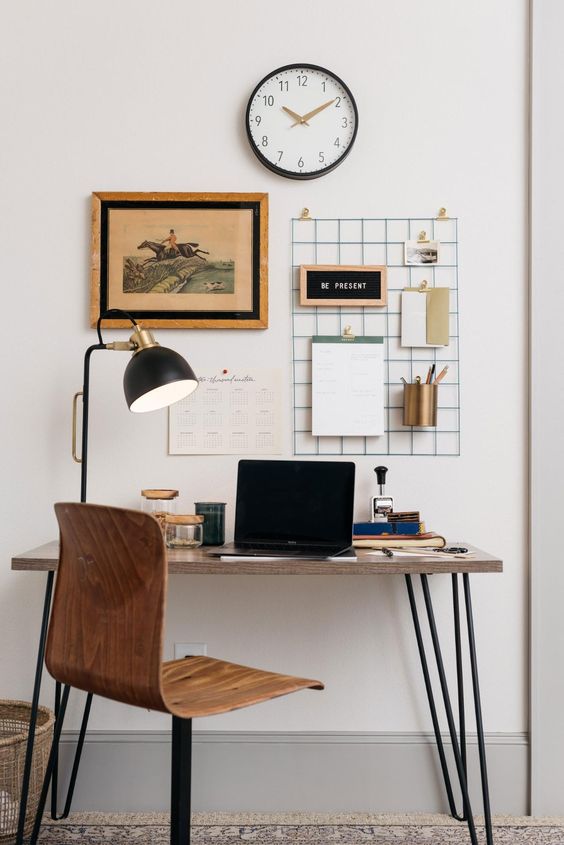 Wood is an element that you can rely on to bring a warm, natural atmosphere to your small workspace. The color and texture of the wood can make a small workspace feel so comfortable. Not only that, but this one study area also looks attractive from the table legs and chairs made of black iron. Several other black decorations also provide a calming contrast effect for this place.
5. Floating Wall Table is Everything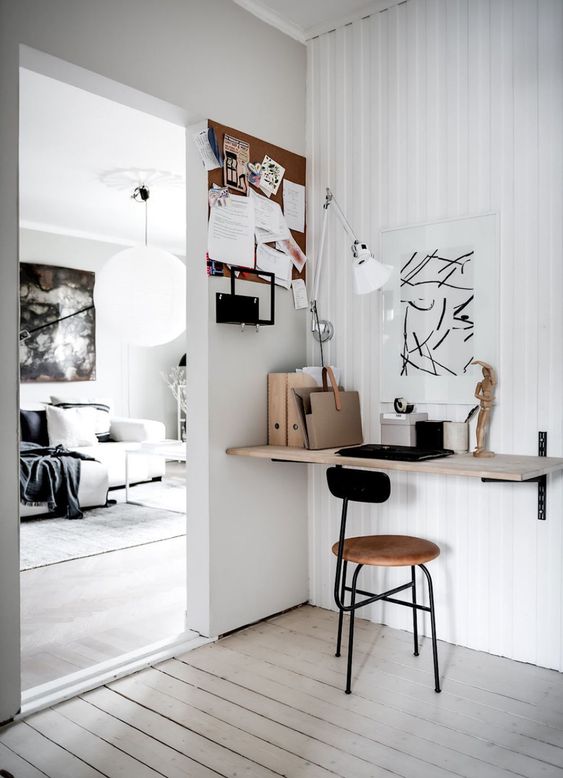 Who says creating a workspace has to bring a table? If the presence of the table is felt will take up space in a small area, it would be nice not to use it.
You can replace the form of a table with a floating wall table. It will be much more practical and functional. Also, pair a minimalist small stool that makes it look so simple. And do not forget some decorations on the table and walls to keep it looking attractive.
6. Small Workspace in Cozy Place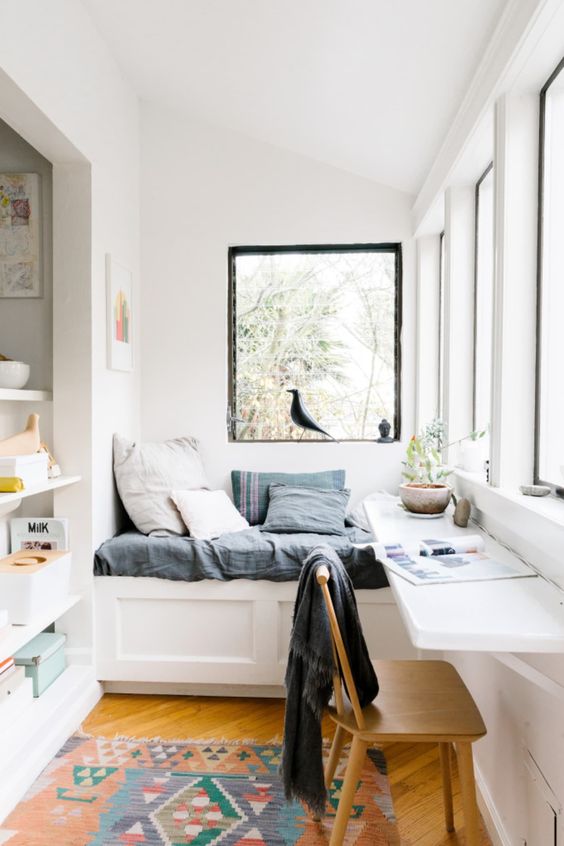 There will always be a favorite place to relax in your home. And presenting a workspace in this place is the most appropriate thing. You can still enjoy the most comfortable place at home while studying or working.
It doesn't need anything complicated. Just install a collapsible floating wall table. So, when you don't use it, you can fold it back. This will be very helpful not to take up a lot of space in a narrow area.
7. Fresh Workspace Ideas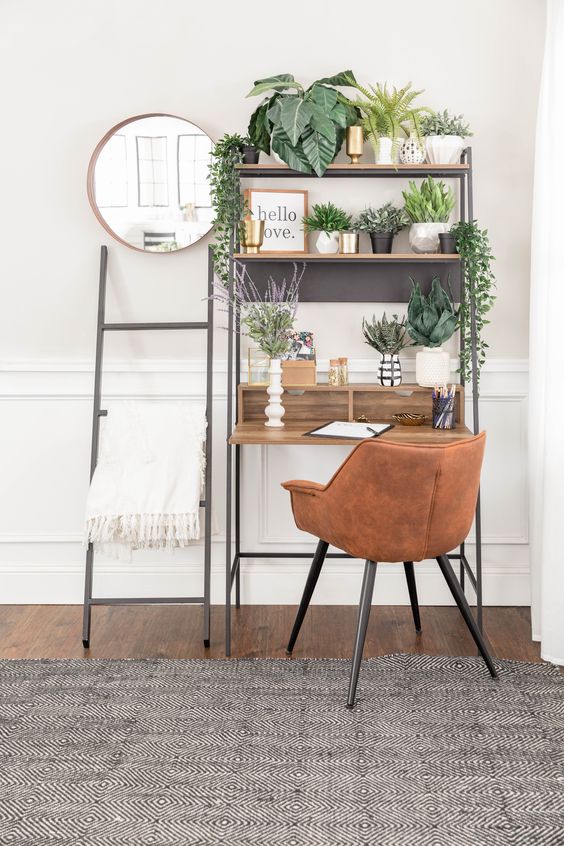 Fresh shades will greatly affect your creativity. So, bringing a fresh feel to a small workspace is the next idea you can choose.
In creating a fresh atmosphere in the room, plants are the experts. Indeed, there will not be much space in a narrow area to put plants. But don't despair. A desk that has a shelf is the solution.
Indeed, shelves are usually used to store important books or documents. However, in this idea, it would be nice to change the function of the shelf. You can put some fresh plants on it. Also, put some interesting displays to make the workspace still look beautiful and beautiful.
8. Attractive Floor Lamp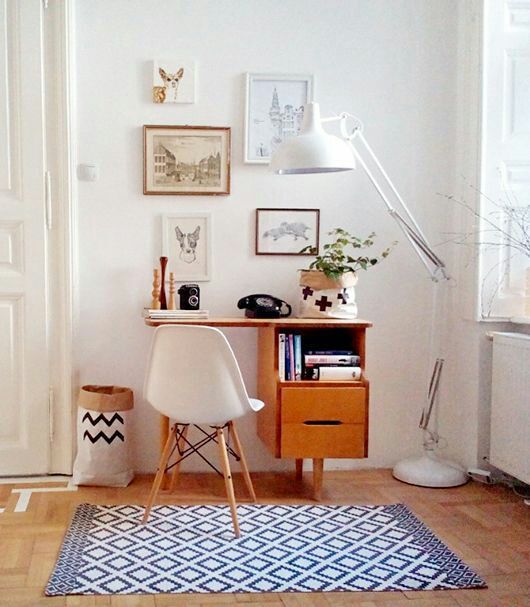 Small tables and standards are the most appropriate for use in small workspaces. With this, there will be more available space. So the workspace will be far from annoying cramped and stuffy feeling.
Because it is small and fairly minimalist, there must be something interesting to make it look beautiful. For example, a stunning floor lamp.
This floor lamp is a decoration that makes a small workspace look so attractive. Not only that but the floor lamp can also be used as a reading lamp. So, you do not need to put a floor lamp that makes the table narrower.
9. Pink Small Workspace Ideas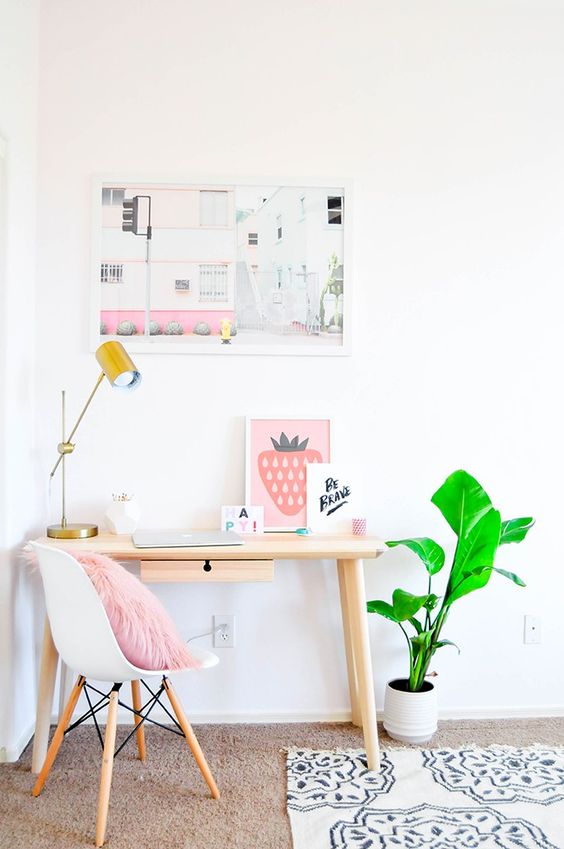 For women, the sweet and feminine look will certainly look more charming. So, for those of you who want to have a cozy and sweet workspace, you can apply this one idea.
Pink pillows, some pink decorations on the table will give a sweet girly feel to the workspace. Even so, this will not make the workspace look childish. Because on the table there is a gold floor pendant lamp that makes it look more mature.
The green plants beside the table also make this cute workspace feel more fresh and calm. The dominant white color in this place makes the green, pink, and wood colors look more alive and adorable.
10. Ladder Shelf Desk Style
The table you usually see is probably a wooden plank that has four legs. And this is the most mainstream table used to fill the workspace. However, in this idea, the workspace looks very interesting.
Ladder shelf desk style gives a unique impression to the workspace. Not only that, having only two legs, will leave a lot of space for this narrow area. So, small workspaces won't feel cramped or stuffy.
This small Scandinavian workspace also looks very charming with several displays on the shelf desk. Green plants make the workspace feel fresher and calmer.
11. Hidden Workspace Ideas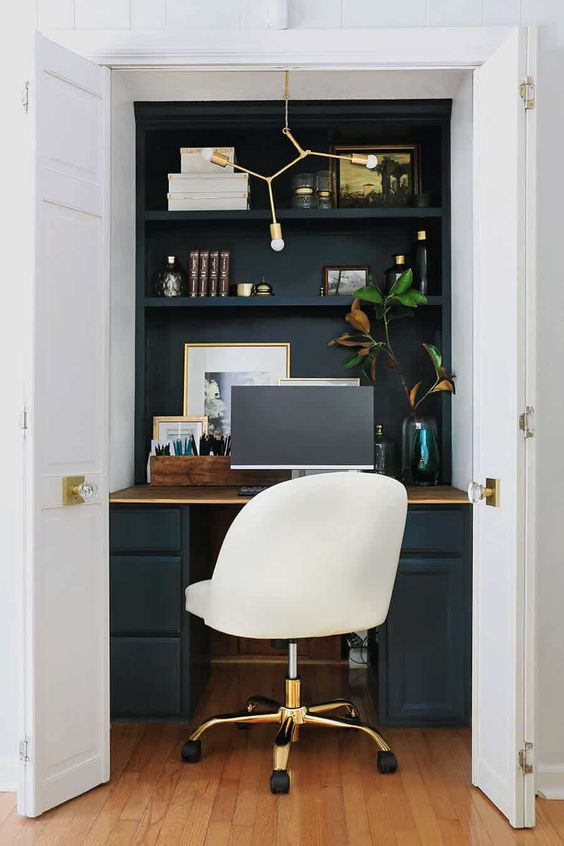 Workspace is not an area that you use 24 hours a day. Usually, you will use this area for work or study. So, when not in use, you can remove it from your home.
How to? This workspace idea will answer it. This idea is indeed very interesting and also anti-mainstream.
There is a small room with a folding door that is made as a comfortable workspace. Equipped with a pendant light that makes it seem like a room. So, when the workspace is not needed, the door can be closed tightly. This idea is perfect for a minimalist concept house.
12. Many Books in Only One Area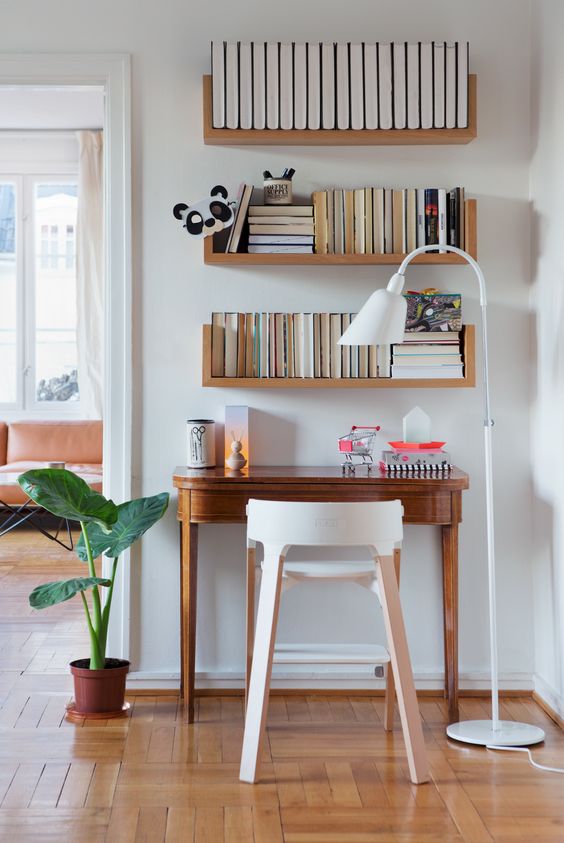 As an area for learning, of course, the workspace will have a lot of books. And for a small workspace, it may not be enough to bring a bookshelf there. Therefore, the only way is to take advantage of the function of the wall.
If usually the wall is used as a spot to increase the beauty of the room, but this time the idea was made as a storage area. Three floating shelves are hung vertically. So there will be three storage on the wall that you can use as a place to store your books.
13. Black Cupboards on The Wall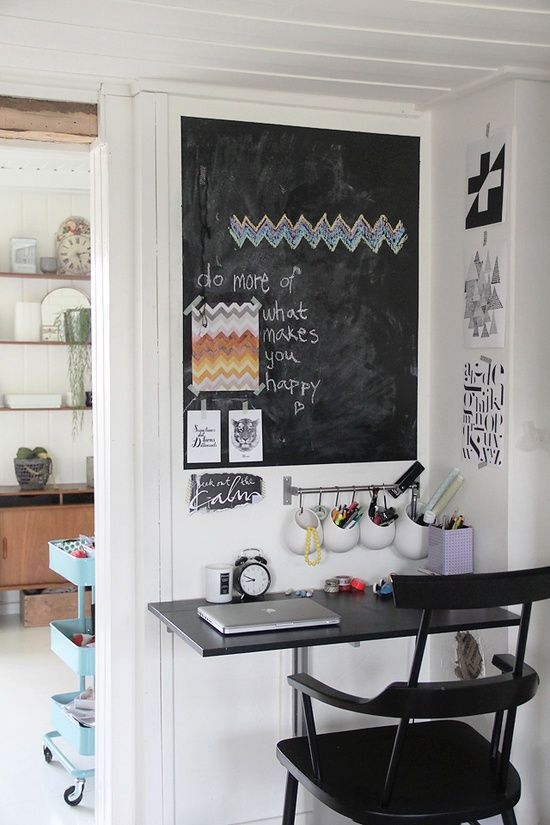 Aside from being an area for studying or working, the workspace is also often an area where you put your list of activities or tasks. And usually, the wire grid will be preferred for wall displays as well as a place for your activity list. However, for those of you who want to try something more interesting, maybe you can use a black cupboard like in the picture above.
There are benefits that you can get from using a blackboard, such as you can draw according to your wishes or you can also delete and replace the list with a new one. So, there will not be a lot of paper waste in your workspace.
14. Workspace in Kitchen Ideas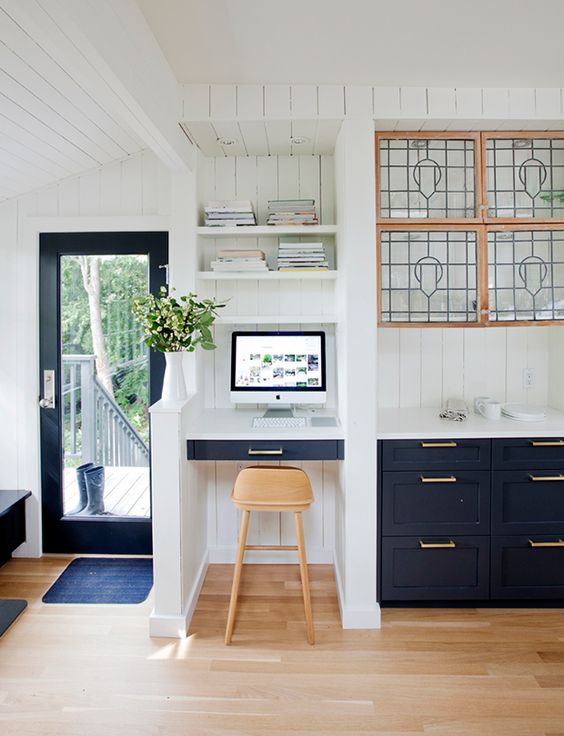 Workspace is usually in the bedroom. However, this is not a benchmark. You can create a workspace anywhere. As in this one idea where the workspace is made right next to the kitchen.
The modern concept of the kitchen does make the kitchen look clean and tidy. So, there are not many items that make the kitchen uncomfortable. Therefore, creating a workspace in this area is fine.
Here, you can also work while enjoying a hot coffee or a delicious bowl of instant noodles. This will make working and studying more comfortable.
15. Cozy Corner of The Room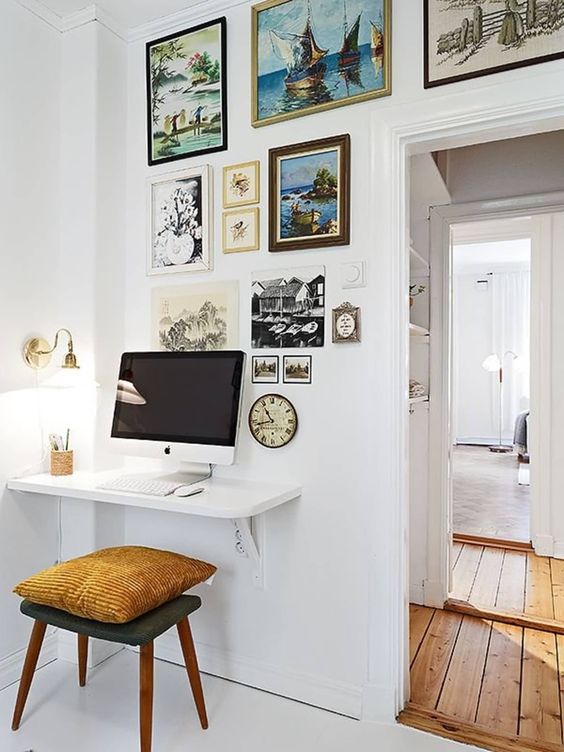 As already explained, creating a workspace does not only have to be in the bedroom. You can also make it in the corner of the room like in the picture above.
A floating wall table is the right choice to fill the corner of the room. Similar colors to the walls will make the corner of the room not look narrow.
In addition, a minimalist bench with pillows makes the corner of the room feel more comfortable. Working and studying in the corner of the room also feels more comfortable with additional lighting in the corner of the wall.
Conclusion
Workspace is an area that must be in the house. With a workspace, you can focus more on work and study. However, sometimes the narrow space makes it difficult for people to have a comfortable workspace. And the points above are 15 Small Workspace Ideas that you can use as a reference. You can even choose one or two of the ideas above that interest you to apply them to your home. So, happy trying and good luck all!