olidhomes.com – As a homeowner, of course, you want a comfortable and pleasant atmosphere. And, making the atmosphere of the house fun is actually quite easy. You only need to make the rooms in your house look colorful. However, there are not just any colors that you can choose and combine. This is because some colors can collide and interfere with the appearance and atmosphere of the house. Therefore, through an article entitled "23 Colorful Room Decor and Tips", we will help you in creating a fresh and cloudless home. So, let's check it out!
1. Small Fresh Colorful Living Room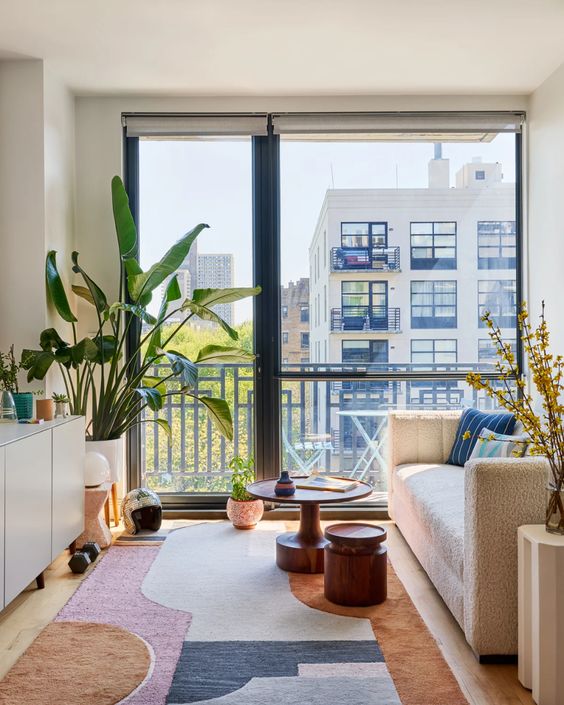 Never get discouraged if you have a small room. Because you can make this room as comfortable as possible by bringing a pleasant atmosphere. And, it becomes the first of 23 Colorful Room Decor and Tips you can follow.
Keep white as the main color to make the room look bright. Besides that, the white color will also help provide a wider visual effect for the small room.
Decorate this room with a colorful rug like the picture above. You can also use throw pillows in other colors. And, if you want something more natural, you can place plants in the corners of the room to give off a natural green color. You can also decorate the coffee table next to the sofa with beautiful yellow flowers.
2. Fresh Mid-Century Room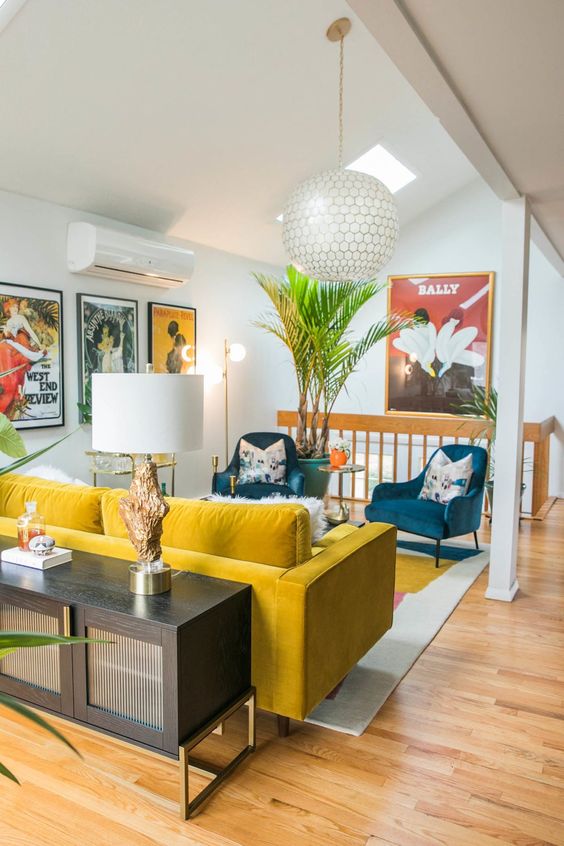 Mid-century style does use vibrant colors. So the atmosphere often becomes cloudless. However, the mid-century still focuses on concepts that are more minimalist or simple.
Here, to make the cloudless living room feel fresh, you can make the yellow and dark blue look stand out. Also, add some plants as a room decoration.
Keep selecting white as the main color to neutralize the look. And, if you want to bring a more cloudless atmosphere, you can play with graphic shapes for the rug or throw pillows. Or, you can also decorate your walls with colorful displays like the picture above.
3. Full of Color Reading Nook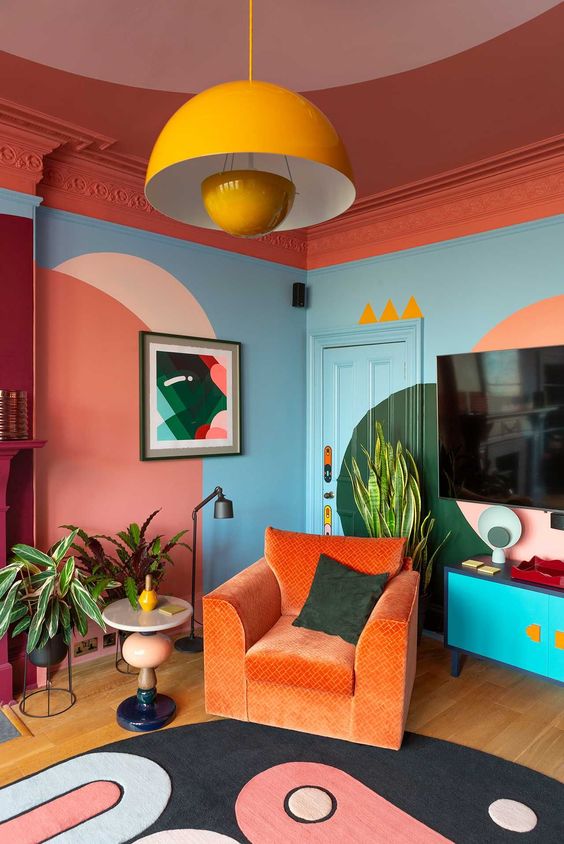 It does not matter if you want to leave white as the main color of the room. Like the picture above where the main colors are blue and orange so it gives a very colorful display effect. You can play with polygon shapes to add a more attractive impression to the room.
The decoration used in this one idea is fairly simple. The yellow pendant light makes it look stand out with its fairly large size. A rug with a combination of black and white and pink gives a firm effect but still looks soft in the room. And lastly, a natural touch in the form of plants gives the reading nook a natural green color which makes it feel fresh.
4. Looks Great With A Few Pastel Colors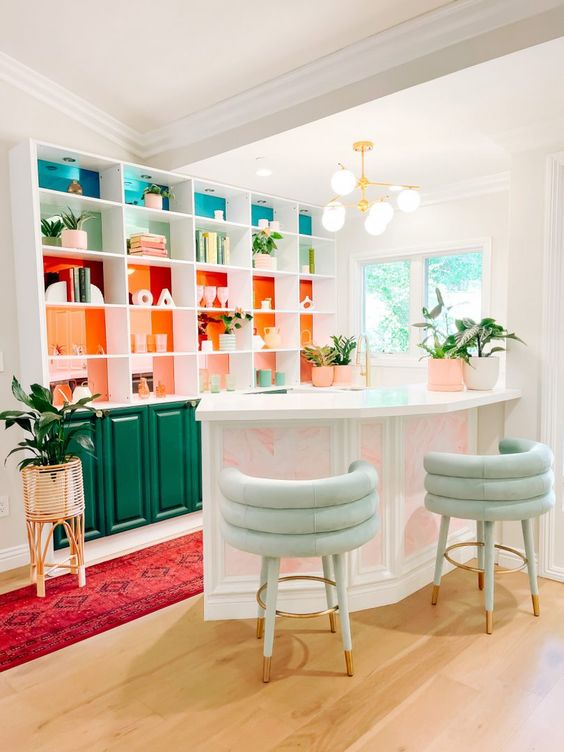 Want to make your room look colorful but still soft? Then, relying on pastel colors is the solution. You can use some of the pastel colors that you like to decorate the room.
If we look at the picture above, the small home bar looks great thanks to a consistent mix of pastel colors. The pastel green color gives a fresh effect and the pastel pink color makes it look a little pretty and feminine.
It's okay if you want to bring a few vibrant colors to make this room look a little firm. You can apply different colors on the open rack. And, give the final touch in the form of some refreshing green plants to create a comfortable fresh atmosphere.
5. Boho Living Room Design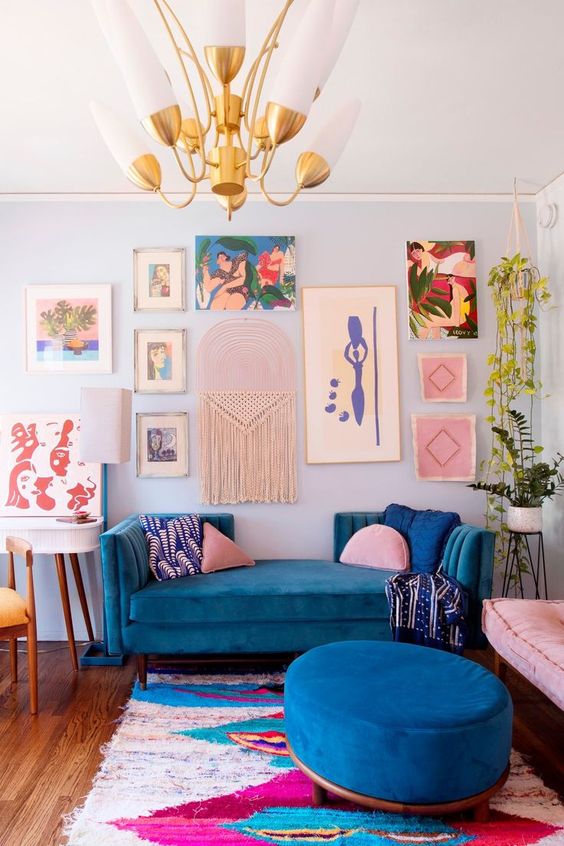 The next of 23 Colorful Room Decor and Tips is a boho living room design. Navy is the main color which makes it look neutral and firm at once. It is just not as firm as black. With a touch of pink on the other sofas and also some wall displays, the look becomes sweeter. Plants in the corner of the room make this colorful boho living room feel livelier and fresher. And for the final touch, decorate the room with a rug with a distinctive boho motif.
6. Colorful Open-Plan Concept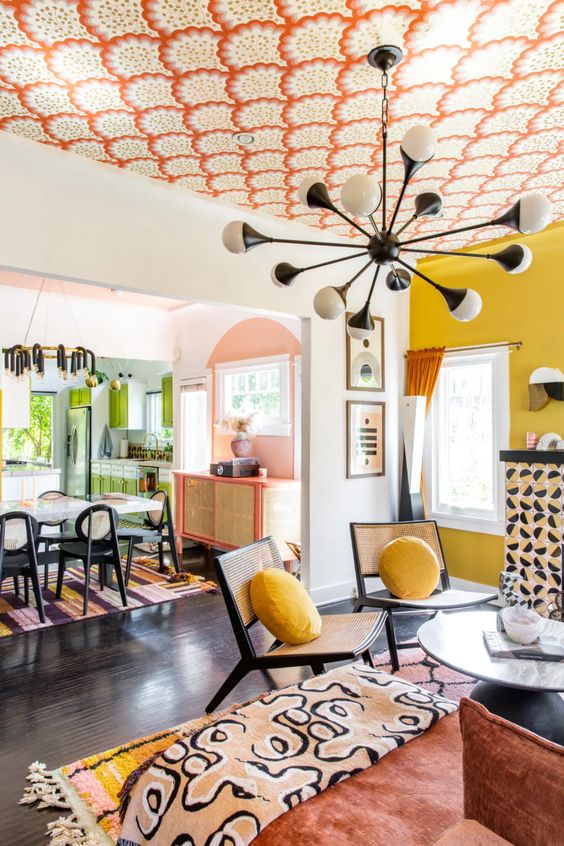 The combination of yellow and white is the best to give a colorful and fresh effect at once for the room. As in the picture above where white is the main color that makes the room look neutral. So, when you present white there, then that color will stand out more.
A throw pillow in the shape of a yellow circle looks beautiful on a chair. And some of the walls are also painted yellow which makes the room more harmonious. Other yellow colors can also be found on the rug that adorns the floor.
The use of different colors in each room can be a visual barrier. Like the picture above which uses pink for the dining area and green for the kitchen. Using rugs with different colors and motifs can also separate rooms and make the house look more attractive and colorful.
7. Soothing and Cloudless Bedroom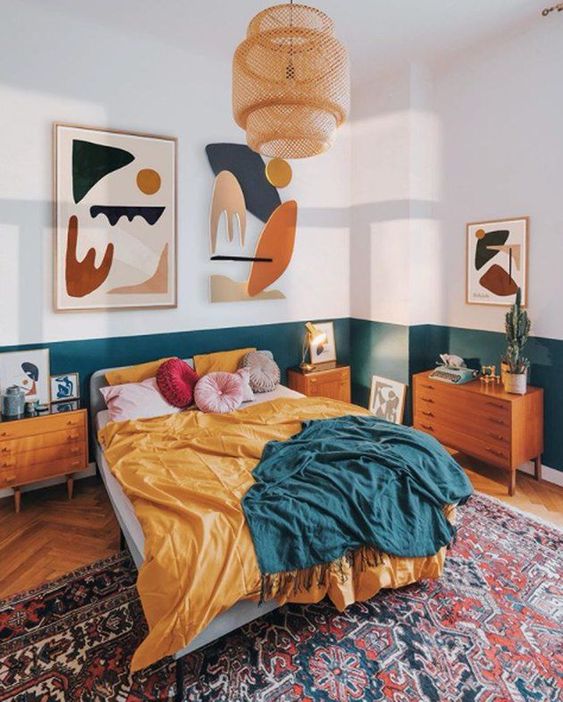 In this one idea, the use of earth-tones is further strengthened to produce a calmer atmosphere. With white as the main color, the other colors that are there appear more clearly. The help of sunlight from the window also makes the colors come alive.
The yellow color of the bedding gives a cloudless and fresh effect at once. There is also a green color that makes the fresh impression thicker.
The wood material is deliberately polished to produce a deeper brown color and a smoother texture that refines the appearance. From these colors and textures, warmth is well present in the room. You just need to make it perfect by decorating the room with a carpet.
8. Feminine Look with Fresh Feel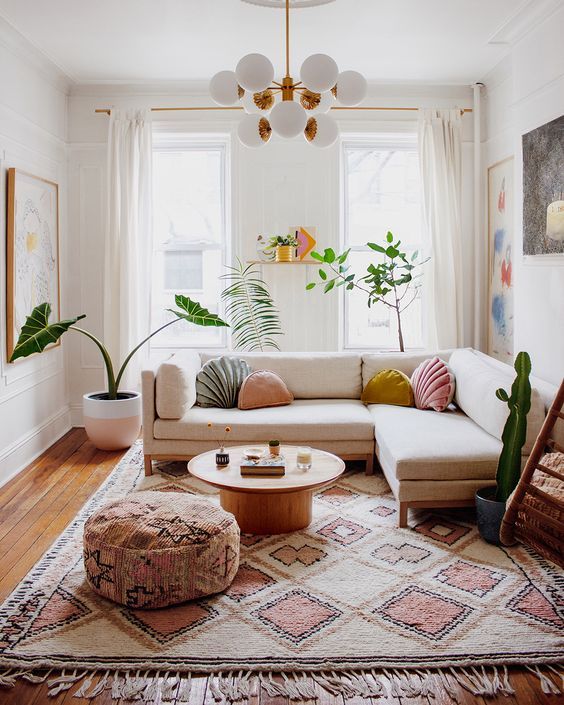 This small living room feels cozy and spacious because of white as the main color and also the help of sunlight coming in through the window. Besides that, low-profile furniture was chosen to give the effect of a taller wall. The room is also decorated as simply as possible to create more free space so you can move freely in this room.
With pink decorations, the small living room appears softer and more feminine. Make this room look colorful with simple things like yellow, pink, and gray throw pillows. Or, you can also use wall displays in white and blue.
Rugs with boho motifs in white and pink make this room look harmonious. The room also feels fresh thanks to some green plants such as cactus plants and so on.
9. Feel Fresh with Green and White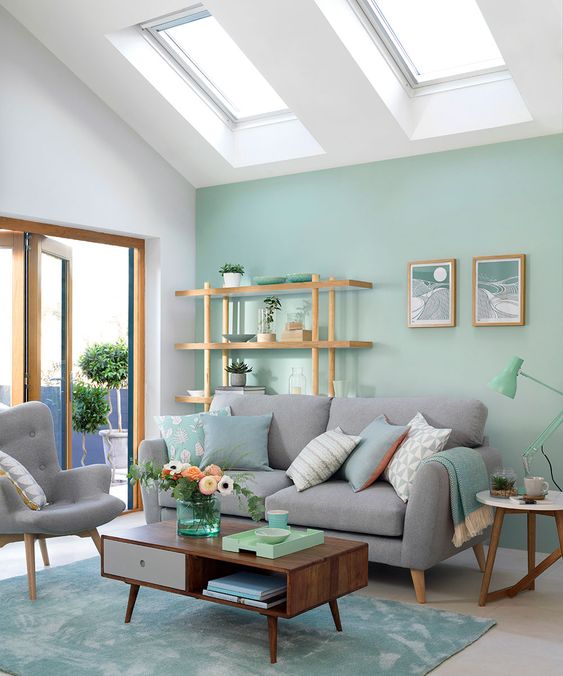 By using three colors, you can make the small living room look colorful. White and green colors give a fresh effect to the room. Moreover, the room was also decorated with a number of plants on open shelving and flowers on the coffee table.
You can choose a gray sofa to fill the living room. Gray is a neutral color that can go with any color. Make the sofa look pretty with some green and white throw pillows with interesting patterns. And finally, give a special touch to the floor with a green velvet rug.
10. Bright Boho Living Room with Beautiful Motifs and Colors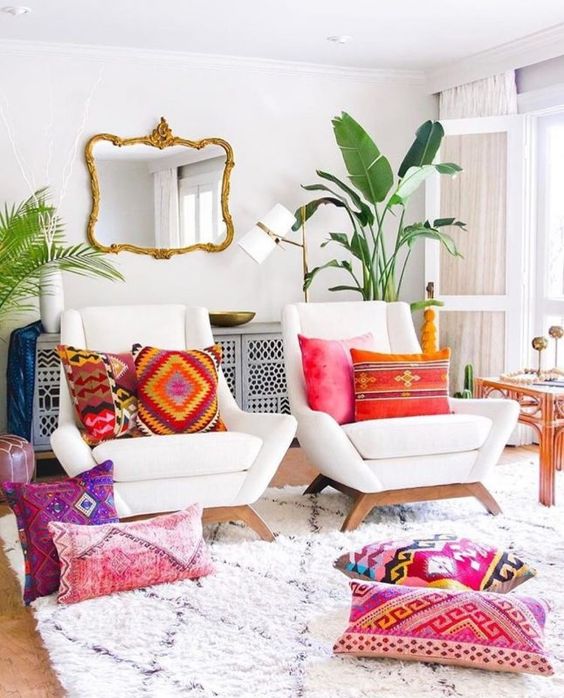 Boho design has a distinctive motif that can make a room feel fun. As in this one idea where a room with white nuances looks cloudless and colorful with the use of boho-patterned throw pillows. Actually, pink is the main color on the throw pillow. However, several other colors that were present, although a little, succeeded in making it look more attractive and colorful. And, this becomes the next of 23 Colorful Room Decor and Tips you can choose from.
11. Elegant Colorful Room with a Feminine and Fresh Look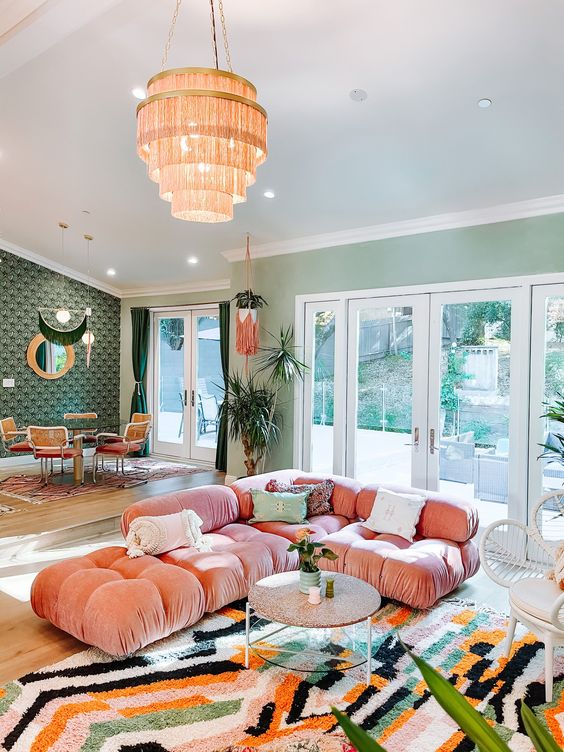 You can also make a colorful living room look elegant. And, this is the next of 23 Colorful Room Decor and Tips that you can try at your home.
Decorating the living room with a sofa layer made of velvet. Choose a soft pink sofa to make it look sweet and pretty. Next, present vibrant colors through the rug. Choose colors that can give a fresh effect to the living room, such as black, white, orange, green, and pink.
Here, you only need to light up the room with natural lighting. Besides being very helpful in making the colors in the room look alive, the velvet material of the sofa will also become more glossy and give an elegant effect to this simple living room.
12. Beautiful Ceiling-Painted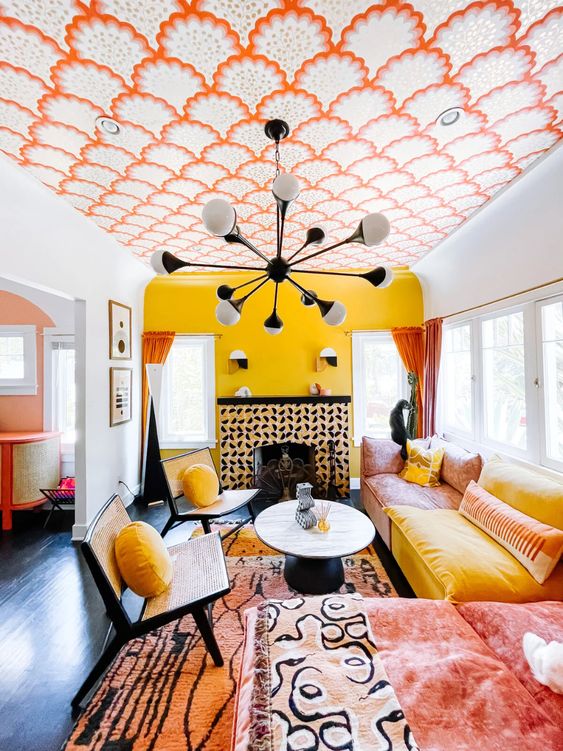 It is okay if you want to make white more dominant in order to make the room look bright naturally. You can paint only one side of the wall yellow. And, let the yellow color dominate by choosing a sofa and throw pillow in the same color. What's interesting about the picture above is the ceiling which is painted with a beautiful simple motif. By adding an interesting pendant light, your colorful living room will be perfect.
13. A Little Minimalist Look with A Few Colors in It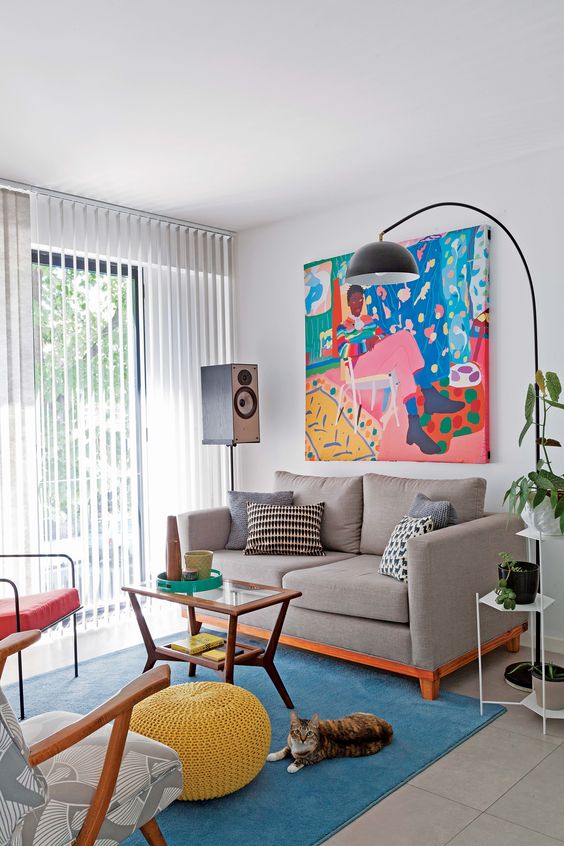 This colorful living room is so simple with white as the main color. Indeed, the white color is deliberately made dominant so that this small room becomes bright and far from feeling cramped and stuffy.
A gray sofa goes great with white to neutralize the room. So that when you put up a wall decoration with a colorful one, it will look clearer. You can also use a yellow round chair which you can use as a decoration that adds to the beauty of the room. Lastly, a blue rug made from velvet that will look glossy when exposed to light.
14. Fresh, Minimalist, Soft, and Feminine at Once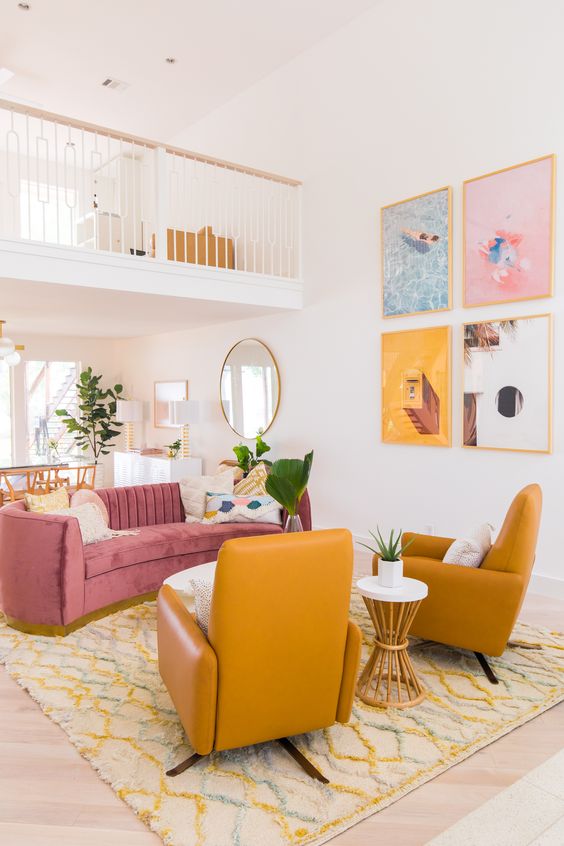 In making the room look colorful, it does not mean you have to present a large number of vibrant colors. You can keep the room looking simple by using only two or three colors. Like the picture above where the pink and yellow colors succeed in making a white room look colorful.
To bring the cloudless atmosphere to the room, you can play on motifs. For example, using rugs with 3D motifs and also decorating the walls with decorations full of bright colors.
15. Attractive Living Room Full of Colors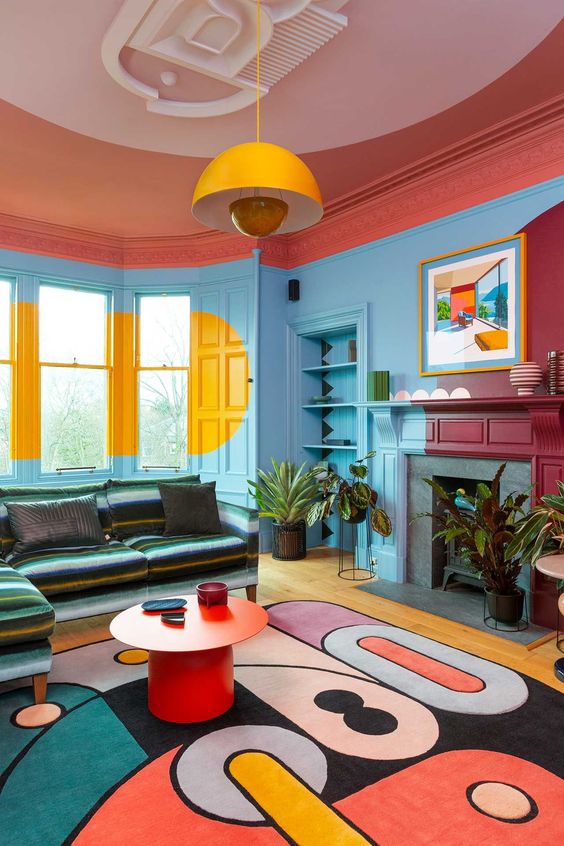 Making a living room full of colors is one way to make a cloudless atmosphere present properly. Besides that, the room also becomes more attractive and different with the predominantly blue color accompanied by maroon and other colors.
Make sure you keep the concept simple so that the room is not too crowded. And for decoration, you can rely on plants. The plants are the best decoration for this room. Besides that, the natural green color can also give a fresh effect on the atmosphere which makes the room more comfortable.
16. Soft Colorful Living Room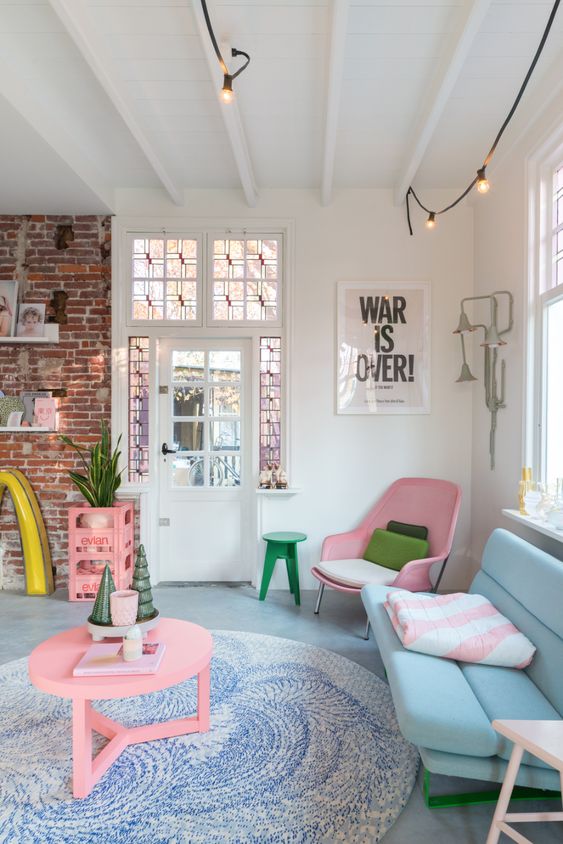 If you want to make your living room look colorful with a soft and simple look, then you can choose this one idea. Make the color pink present more in the room. You can choose chairs, coffee tables, and open shelves in pink pastel colors with the same tone. Present pastel blue because the combination of these two colors will create such a sweet look. You can choose a blue pastel sofa with a white and pink blanket on it.
17. Cloudless Reading Nook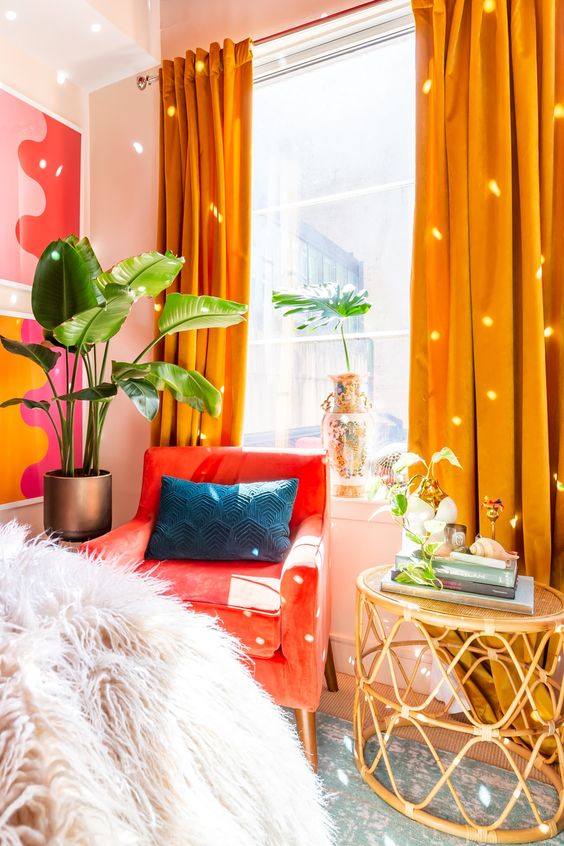 Reddish orange and yellow pumpkins are the right color combination to bring a cloudless ambiance to the reading nook. Make a thicker natural impression to make it fresh and cozy. For example, you can choose a rattan table to place books and other decorations that can add value to the beauty of a reading nook. And in the corner of the room, you can decorate it with green plants. For the chair area, you can decorate it with a navy throw pillow to give the reading nook a bit of a bold effect.
18. Fresh Colorful Bedroom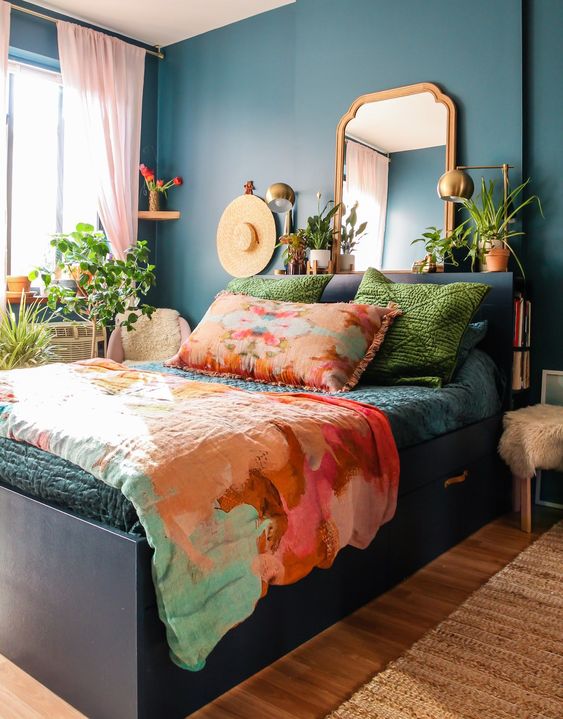 The next of 23 Colorful Room Decor and Tips is a fresh colorful bedroom. With navy as the main color, the bedroom has a darker look. However, natural lighting is maximized to keep it bright and far from cramped and stuffy.
Orange and green bedding looks so blended with the navy color. Indeed, navy is included in the neutral colors group so you can combine it with whatever color you want.
Make this colorful bedroom feel fresh by using plants as decorations. Present medium and small-sized plants in quite a lot.
19. Yellow Bedroom with Cozy and Cloudless Feel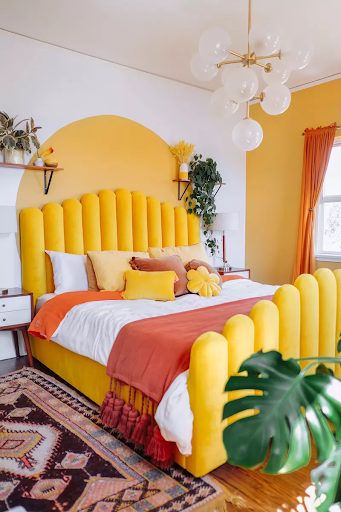 Make your bedroom feel cozy by making white the main color. Make the room naturally bright by lighting it with natural lighting. And decorate your room with a beautiful yellow bed frame like the picture above. You can also make an accent wall with yellow pumpkin paint on the headboard area to make it more attractive. The dominant yellow color will evoke a pleasant ambiance in the room. You just need to make it a little more lively with a boho-patterned rug. And finally, give a natural touch in the form of green plants.
20. Playing with Terrazo in The Bathroom
Being the smallest room in the house, it is impossible to overly decorate the bathroom to make it cloudless and fresh. Therefore, playing with the terrazzo is the perfect solution.
You can choose terrazzo with a white base color to keep the bathroom bright and away from feeling cramped. And for the motif, you can choose orange shades. On the wall area where the vanities are located, you can paint it brick red to give it a more attractive impression. So, when the LED mirror is turned on, the orange color will look bright and beautify the bathroom.
21. Relying on Colorful Wallpaper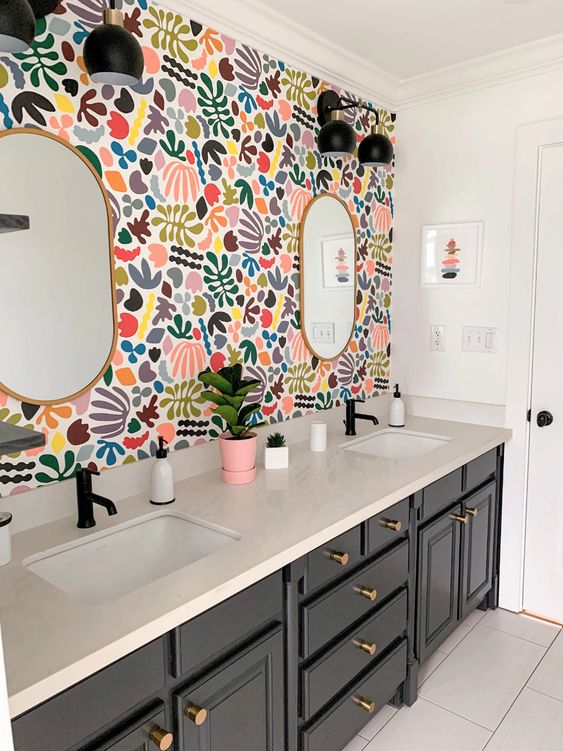 Besides terrazzo, you can also use wallpaper to decorate the bathroom. Colorful wallpaper will make the atmosphere of a white bathroom a little more pleasant.
The vanities area is the main area where you can apply colorful wallpapers. Choose wallpaper with a basic white color to make it look harmonious in white bathroom shades. As a complement, you can decorate the vanities with a small plant. Also, make the bathroom a little firmer with black cabinets and wall lamps.
22. Beautiful Dining Room Ceiling-Painted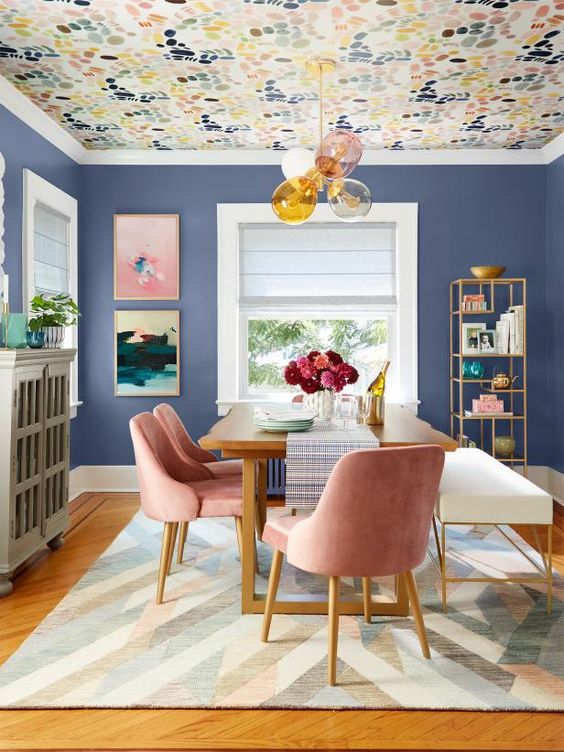 This dining room chose navy as the main color. Actually, it does not matter considering that navy is also a neutral color group. Which means it will blend with any color. And, pink and gold are the colors chosen to make the colorful dining room look elegant. The dining room is also made simpler to make it look more classy. And, what's interesting about this simple colorful dining room is the ceiling-painted with the colors in the interior so that it looks pretty and harmonious.
23. Colorful Kitchen with a Simple Look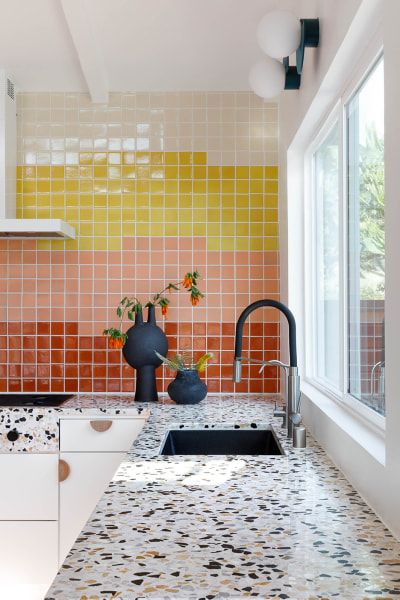 You can choose a terrazzo countertop to make the kitchen look more cloudless. And, you can also add other colors with colorful tiles backsplash or kitchen walls.
Make white the main color to make all the colors in the kitchen stand out. Also, light up the kitchen with natural lighting so the colors come alive. You can also make the kitchen look more elegant, cool and a little firm by using a black faucet and black vases for the plants/flowers.
Final Words
A house with a pleasant atmosphere can make anyone who is there feel comfortable. Moreover, various colors can give a fresher impression to the house. However, not all colors can be combined because collisions between colors can occur which can damage the appearance and atmosphere of the room. And, to help you, we have prepared the points above, namely 23 Colorful Room Decor and Tips for those of you who want to Create A Fresh and Cloudless Home. So, happy trying all!