Olidhomes.com – The coffee table is a must-have piece of furniture for the home. From hundreds of years ago, the coffee table has indeed been used. A wooden table with short legs that is used to put drinks. It's people's way of entertaining guests who come to their homes. However, currently, there are a lot of types of coffee tables that you can find. The coffee table has now evolved into various forms. And wood is not the only material to make a table.
So, for those of you who want to make your living room look great by presenting the right coffee table, here are some types of coffee tables you can choose from. So, let's check it out!
1. Ottoman Coffee Table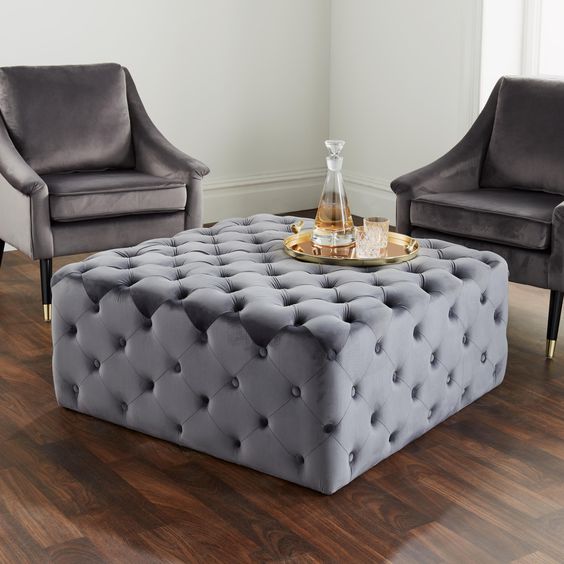 The first of the coffee table types is the ottoman. This is the most popular type of table. People use the ottoman coffee table not only to put drinks or food, but also as a seat, storage area, and footrest when needed.
The luxurious appearance makes the ottoman often the choice for a luxurious or expensive living room concept. The classic design living room is also suitable for this one table.
2. Storage Coffee Table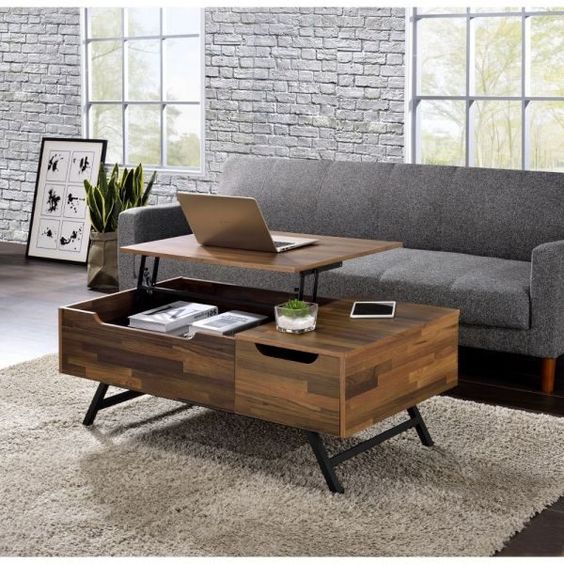 As the main item in the living room, the style of the coffee table will affect the appearance of the room. So, the coffee table is often used to make the room seem attractive. Besides that, people also use the coffee table to put magazines, TV remotes, drinks, food, displays, and so on. However, a storage coffee table will provide more storage space in your living room. This is the right type of coffee table for a small living room or living room with a minimalist design.
3. Marble Coffee Table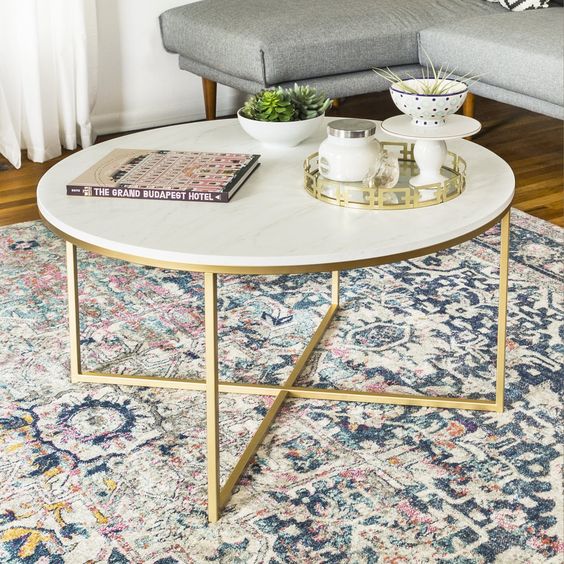 Marble is indeed the material most often applied to countertops, flooring, or walls. Natural abstract motifs from marble are able to give an interesting touch to the room.
An elegant appearance is one of the advantages of this material. Likewise with the marble coffee table which is very suitable for use in a minimalist, simple, or luxurious living room.
4. Mid Century Coffee Table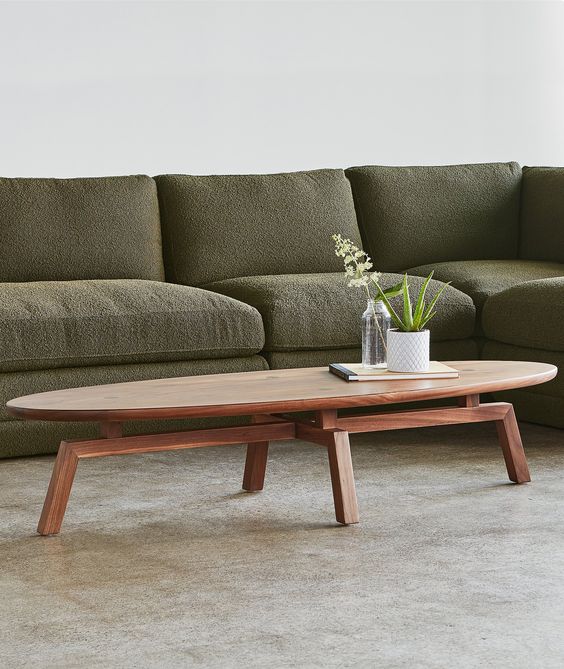 Mid-century became a popular concept in the 1950s. The old look but with a more minimalist style is the main characteristic of the mid-century concept. The coffee table is deliberately made with low legs because it is still an old design. However, the wood has been made smoother and glossy. So the use of this coffee table will make a minimalist living room or mid-century living room look pretty.
5. Lift-Top Coffee Table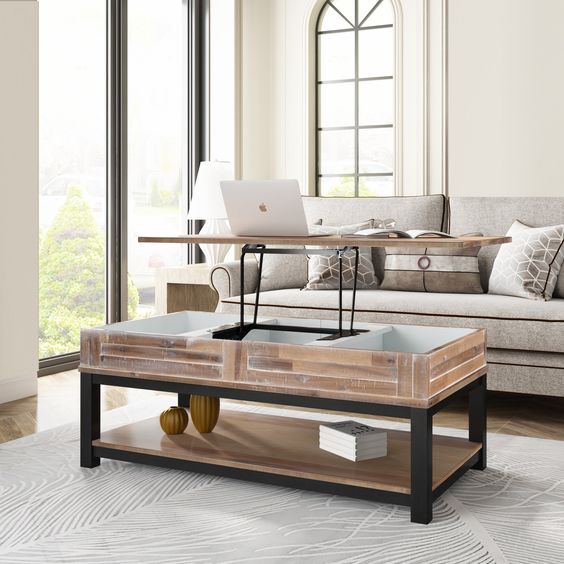 This type of table is very trendy lately. Not only as a place to put things, but you can also make the lift-top coffee table a comfortable workspace. The top that can be raised will make you comfortable in working or reading. Also, there is storage which makes this type of table much more attractive. You can put some scattered objects here. This is a practical way to clean up the clutter in the living room.
6. Square Coffee Table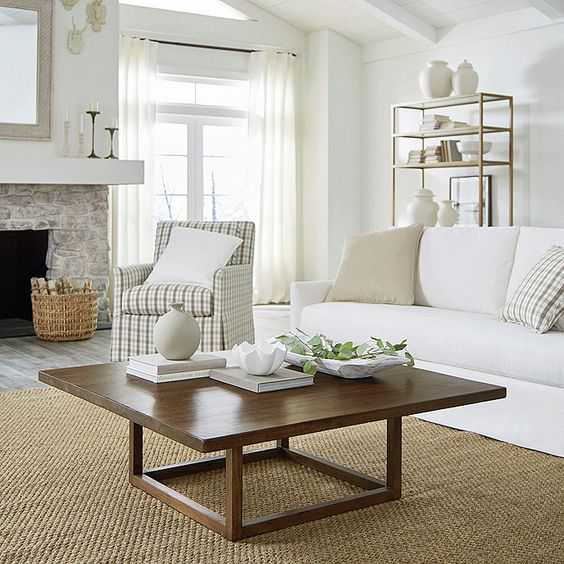 Square coffee table becomes the next of types of coffee table that you can use in your living room. This is the safest type of table. The simple and minimalist design is a mainstay to make the living room look sweeter. With a simple design, this coffee table is suitable for you to use in a living room with any design.
7. Rectangular Coffee Table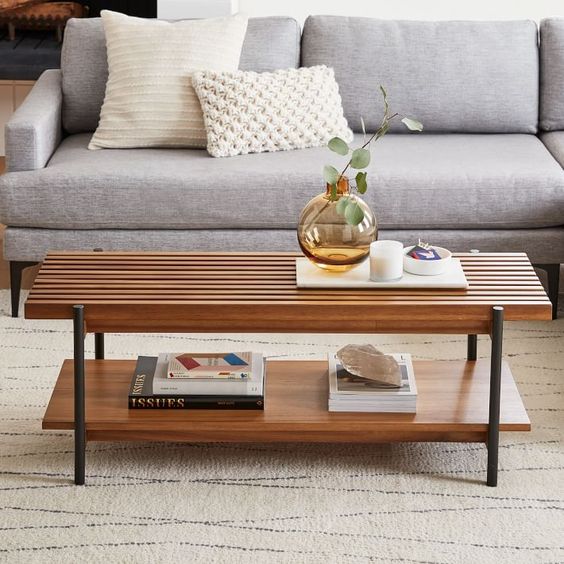 This one table is almost the same as before. However, this type of table is made more elongated, or commonly called a rectangular coffee table.
The design of the table is more minimalist and simple. So you can use this type of coffee table in a living room with any design.
8. Round Coffee Table
It becomes the coffee table that is convenient to use. A simple design can make the living room look sweeter. The use of a coffee table is perfect for a modern concept room. In this concept room, there will be many firm lines that can make the room seem stiff and unattractive. And presenting a coffee table will give a smoother impression for a modern concept living room.
Round coffee table comes with a variety of materials, such as wood, iron, marble, and so on. So, you can adjust it to the theme and appearance of your living room.
9. Wood Coffee Table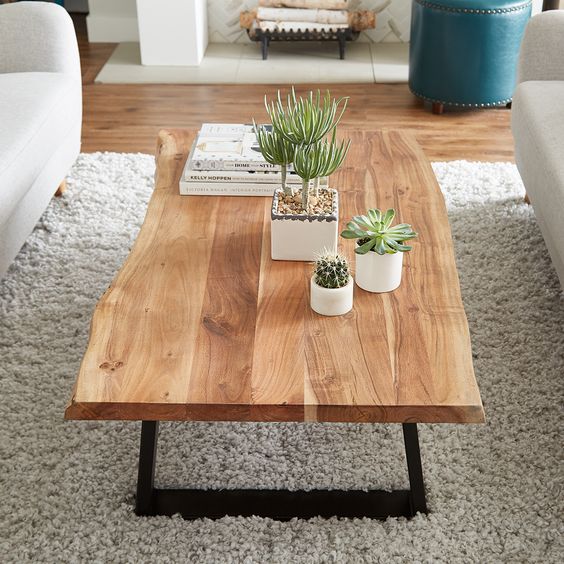 Wood is the material most often chosen for the manufacture of furniture, including coffee tables. The wood coffee table will make living feel warmer. The color and appearance of the wood can also make the living room look more attractive. You can get a natural feel from using this coffee table.
10. Metal Coffee Table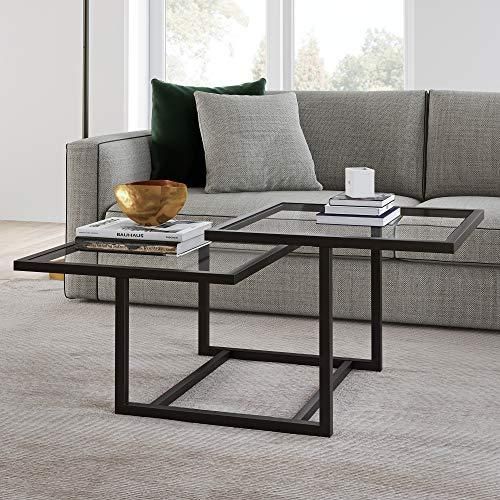 Next, there is a metal coffee table. Metal has become a popular material today. The metal coffee table usually has a more attractive and modern shape.
Metal coffee tables last longer and can even be lighter than wood. So, it will be more practical and easier to move around.
11. Glass Coffee Table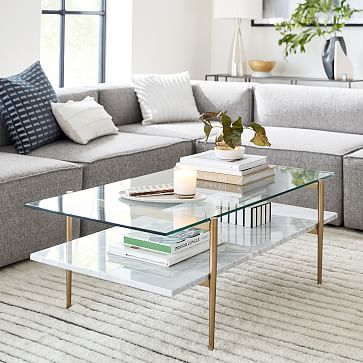 Not only wood and metal, but glass is also a material for making a coffee table, or what is commonly called a glass coffee table. The appearance of the glass coffee table is more minimalist and modern. So, you can use this coffee table to decorate your modern or minimalist living room.
12. Rattan Coffee Table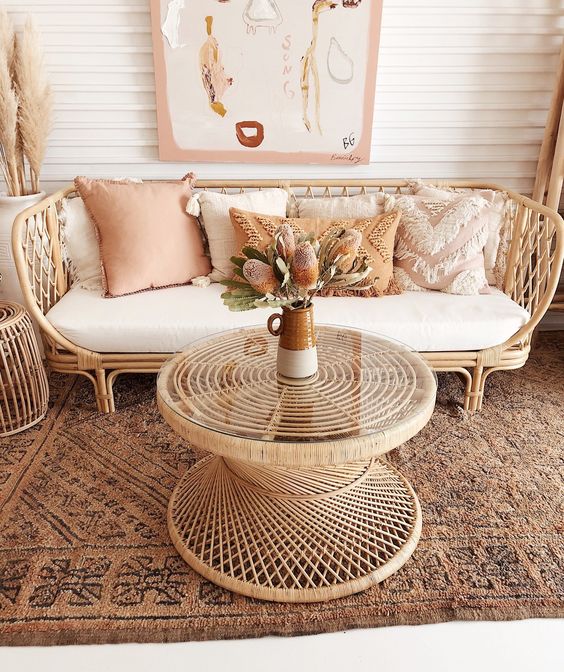 Has an elastic shape, making people creative to make crafts from rattan. Not only that, people even make furniture from this material. One of them is a rattan coffee table.
Compared to wood, rattan coffee tables have various and interesting shapes. So, using a rattan table to decorate the living room is the right choice.
In terms of color, rattan has a lighter color than wood. However, rattan has the same properties as wood, which is able to give a warm and comfortable feel to the room.
13. Acrylic Coffee Table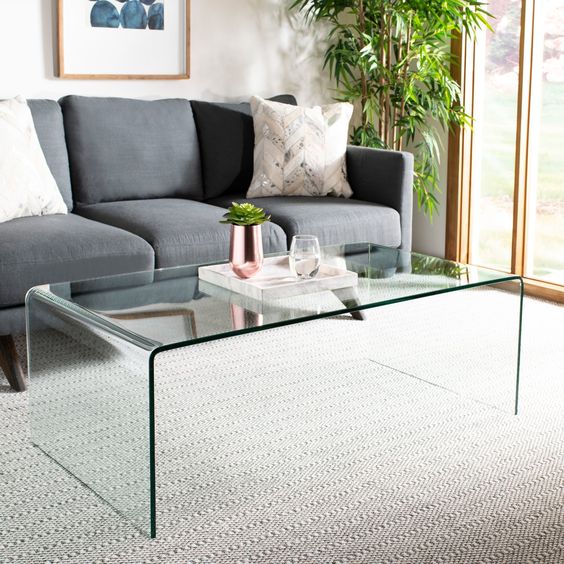 At first glance, it may look similar to a glass coffee table. However, acrylic has properties that are not easily broken. Not only that, but the acrylic coffee table is also lighter. So it's easy for you to move it around.
However, acrylic can turn yellow and make it look unattractive. Therefore, make sure you take good care of it.
14. Leather Top Coffee Table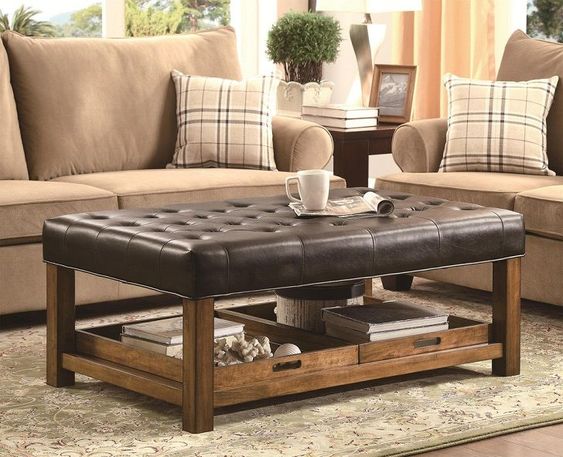 It might look like an ottoman coffee table. However, leather top coffee is only the top surface covered with cloth. For the bottom, there is made of wood or metal.
The fabric material will make the living room atmosphere more calm, soft, and warm. So, besides making the room look attractive, a leather-top coffee table can also make the room feel comfortable.
Its function is the same as an ottoman coffee table. You can use this one table to put drinks, books, and also as a comfortable footrest.
15. Traditional Coffee Table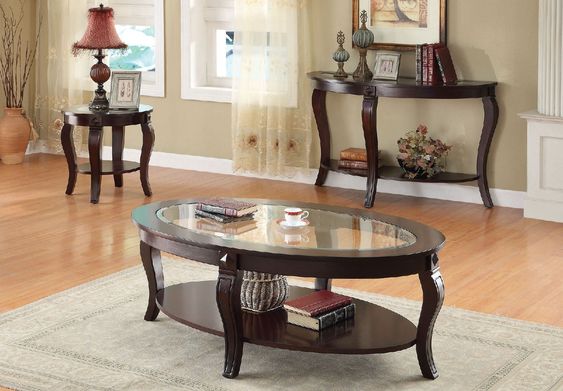 Even though it looks old, it doesn't make this table outdated. In fact, traditional coffee tables are still popular today. Its distinctive appearance, oval shape with curved legs, makes it very memorable. The use of this one table is like taking you to the last century era.
16. Contemporary Coffee Table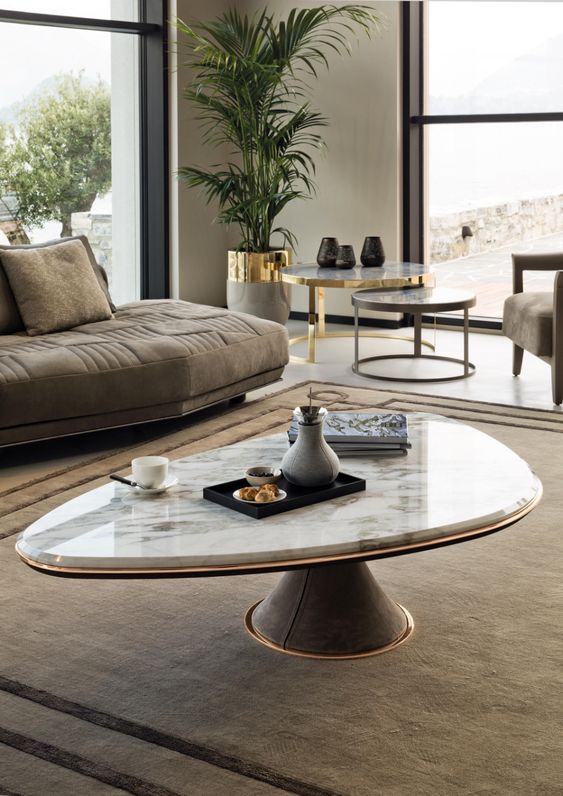 The next of types of coffee table is the contemporary coffee table. Contemporary and modern at first glance are indeed similar. But these two are very different. Contemporary is more focused on what is trending or fashionable at the moment. And modern is more focused on luminous and bright accents. Contemporary coffee tables are usually characterized by a metal base and glass or marble top.
17. Modern Coffee Table
Modern Coffee table seems more free and there are no rules. Thus, the results provided are more interesting and artistic. The modern coffee table is perfect for making your modern living room look charming and bold.
18. Rustic Coffee Table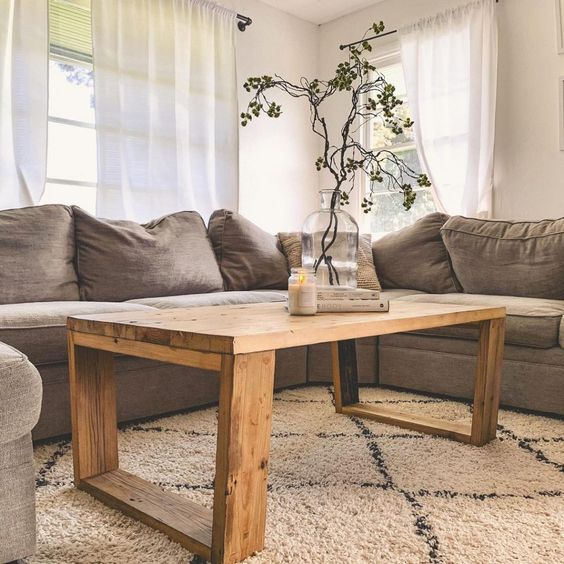 A table with a rough wooden surface does make it seem old. However, this is the characteristic of the Rustic design or style. That way, the natural feel will feel more mental in the room. The atmosphere of the room will also seem more old and warm. So it makes people who are there feel comfortable.
19. Coastal Coffee Table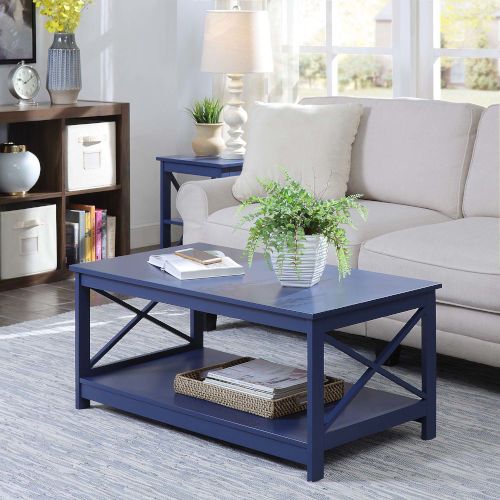 Coastal is a design that focuses on nature and a beach vibe. So the colors used tend to be white, beige, and blue.
The presence of blue in the coastal living room will make it seem more fresh and warm. With this, a blue-painted wooden table, or what we can call a coastal coffee table, is perfect to decorate your coastal living room.
20. Industrial Coffee Table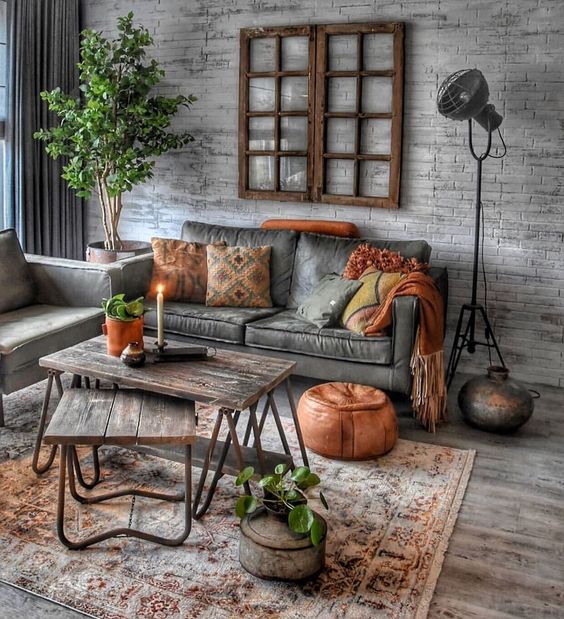 This is the last of types of coffee table, that is industrial coffee table. The rough wood surface with metal makes it look old but smooth. The wood material will look more dominant so that it can make the room smoother. However, the bold side is given from the black metal element.
Final Words
As the main item in the living room, the style and shape of the coffee table will affect the appearance and beauty of it. Therefore, make sure you choose a coffee table that matches the design or theme you apply to your room. To choose which coffee table is suitable for your room, you must first know what the type of coffee table is. And on top of this, we have provide 20 Types of Coffee Table. So, make sure you choose the best one for your living room. Good luck guys!