Olidhomes.com – For those of you who want to have a cloudless room, the orange color can be used as a solution. Having an orange room in the house can give a different yet attractive impression. So, people will feel more comfortable.
Orange is probably the color most people avoid. They think that the orange color can give a quirky impression to the home interior. In fact, if you apply the orange color perfectly, the room will look very attractive and pretty.
In this article, we have provided orange room design ideas. It will really help you in presenting cloudless nuances to your house. So, let's check it out!
Orange, Peach, and A Little Touch of Gold
If you prefer the appearance of a bright room, orange may not be suitable as the main color of the room. Just relying on the orange color will make your interior a little darker. Therefore, give another color that matches the orange color. Combine colors appropriately for an attractive room result.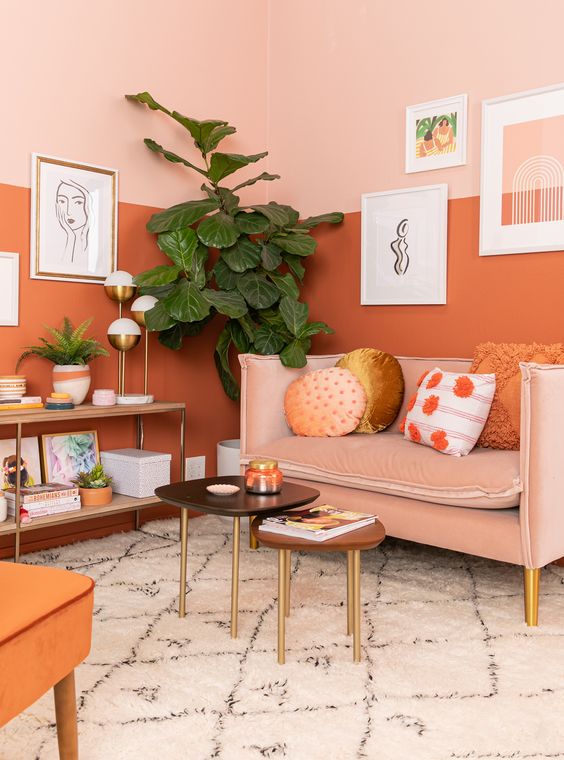 In this orange room idea, you can choose peach as an additional color. The combination of orange and peach colors will give a charming look to your interior. These two colors will give a soft and subtle effect.
For those of you who want to give a slightly luxurious look, you can play with gold. it's perfect to combine with orange and peach colors.
You can apply gold color to some objects made of iron, such as table legs, sofa legs, floor lamps, and so on. With this, the gold color will look shinier. So the room will look more classy and beautiful.
Boho Bedroom with Orange Sandie Mural
For those of you fans of Boho designs, this idea will immediately catch your eye. Boho designs tend to have interesting patterns. Thus, the atmosphere of the room will feel more pleasant. Especially, if there is the presence of the orange color that enlivens the cheerful atmosphere in the room.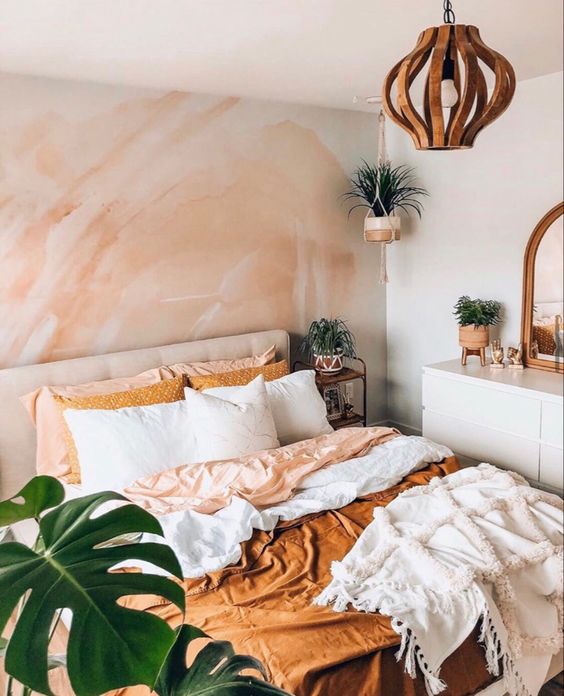 Walls are often relied on to provide an interesting touch. And this one idea also uses walls to bring a cheerful impression to the room.
The Sandie mural was chosen to give a fuller impression of the Boho bedroom. The orange password mural gives a very interesting impression to this simple bedroom. Coupled with some green plants as decoration. Makes the bedroom feel more fresh and alive.
Orange Sofa, Look More Standout
Some of you might prefer to apply the orange color to only a few spots. Or make the color orange as a room decoration. That way, the room will not look too quirky.
However, who would have thought, making orange the main color can make the room look more standout. The room seems livelier and more cheerful. Very helpful in repairing a broken mood.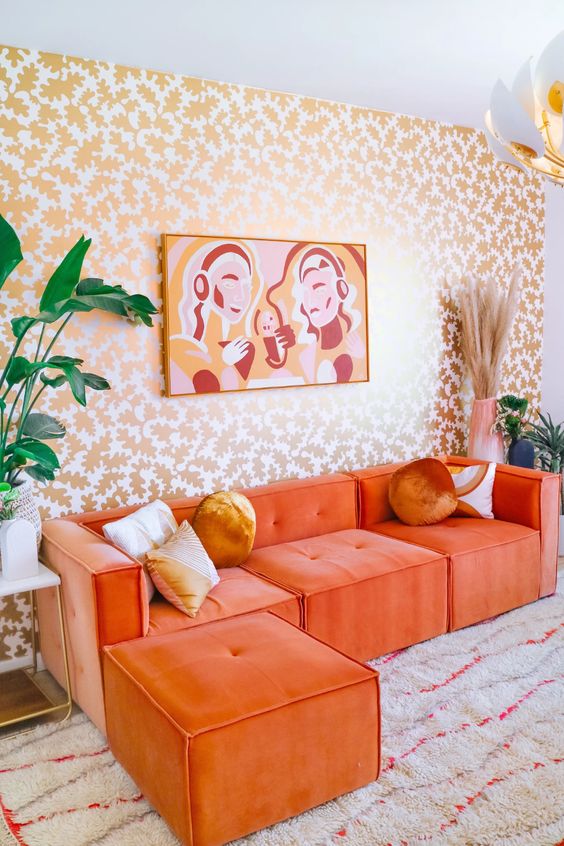 And in this orange room idea, the orange color is applied to the main item. The orange sofa was deliberately chosen to give a different atmosphere to the room. Besides that, the room also looks more interesting and different than usual. It is suitable for those of you who want to dramatically change the atmosphere of the room.
Retro Room Design
Retro design is a design that chooses quirky colors to mix and match. It is very brave to choose this design as the interior of the room.
Actually, you don't have to worry about the room looking tacky. Because, by understanding the technique, the room will look more stunning.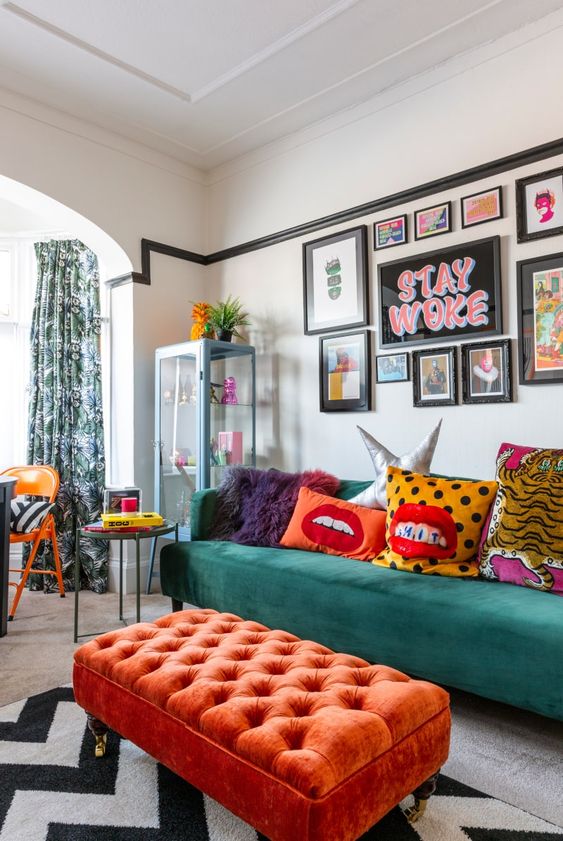 Like in this one idea. The living room looks so attractive. The combination of green, red, purple, brown, pink, blue, and orange looks really charming. The room still looks stable (not tacky) because voters choose white as the main color of the walls. So, even though there are many kinds of colors used, the room still looks attractive and not tacky.
Dazzling Italian Orange Room Style
Who says using orange can make a room look full? In fact, in the image below, we can see the room looks so simple but still charming.
Mediterranean style room looks very attractive with orange color. Also, the Ivory wall with paintings of delicate trees gives a different effect to the room.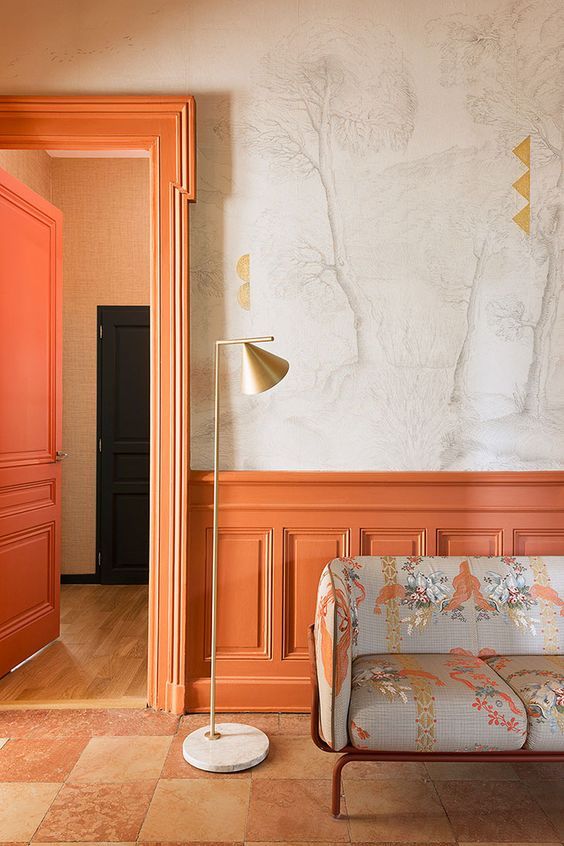 A floral-patterned sofa with a gray base color displays a thick Italian look. Plus, the wood in the room is painted orange, making this simple room look really different.
In this room, you will not feel bored or anything that can. Because the orange color in the room plays the atmosphere. A simple room will feel more alive and cheerful.
Cheerful Corner Room
The corner of the room in your house is empty? Or abandoned? Instead of filling it with plants, it would be better to make the corner of the room a cozy spot for resting.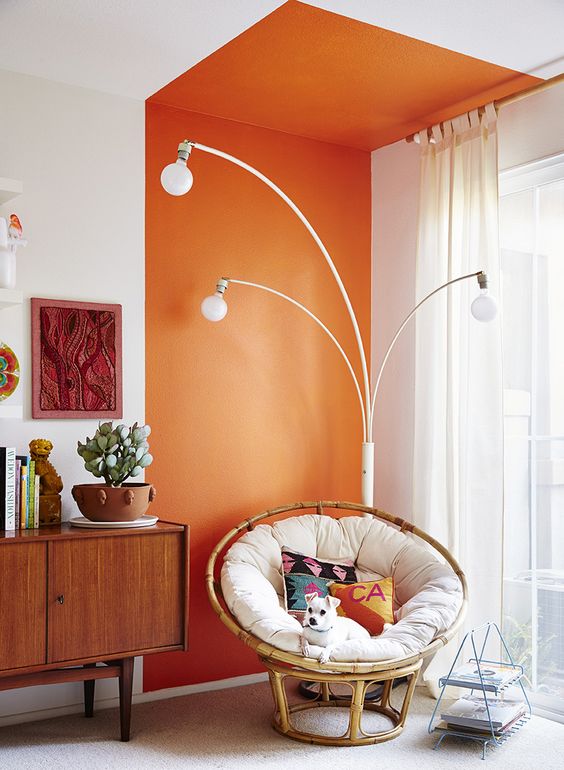 The corner of the room usually has better lighting. Because usually, in every corner of the room there is a window that delivers sunlight to the room. Therefore, it is very appropriate to make this one spot a place to relax in your spare time.
You can paint some corners of the room with orange color. Besides giving a cheerful effect to the corner of the room, this is also a way to provide boundaries. you can paint it from under the wall to the ceiling. Then, give some decorations that can make this spot look attractive. And don't forget, choose the most comfortable seat!
Feel Classy in Orange, Why Not?
A room with a classy look is not only glued to neutral colors. There are still other colors that can be used. One of them is the color orange.
It is rare for the color orange to be present in a room with a classy and elegant appearance. However, with this, the room will look different than usual. It is suitable to give a new atmosphere to your residence.
No need to apply orange in the whole room. Here, you only need to choose one of the main items. As in the picture above, where the orange sofa looks so beautiful in the room.
A large orange sofa with a minimalist and classy design makes the room look charming. Coupled with some decorations, such as a sheepskin rug that makes the sofa look more attractive. A sofa pillow in a darker color is also provided to give a firmer effect to the room.
Orange and Yellow, The Perfect Combination for Bedroom
Does your bedroom look simple? Or is it boring? If so, then this is a sign for you to create a different atmosphere in the bedroom.
As a room to relax, of course, the bedroom should be made as comfortable as possible. Not only that, but the bedroom must also be made to look attractive. With this, you will feel at home in your own room.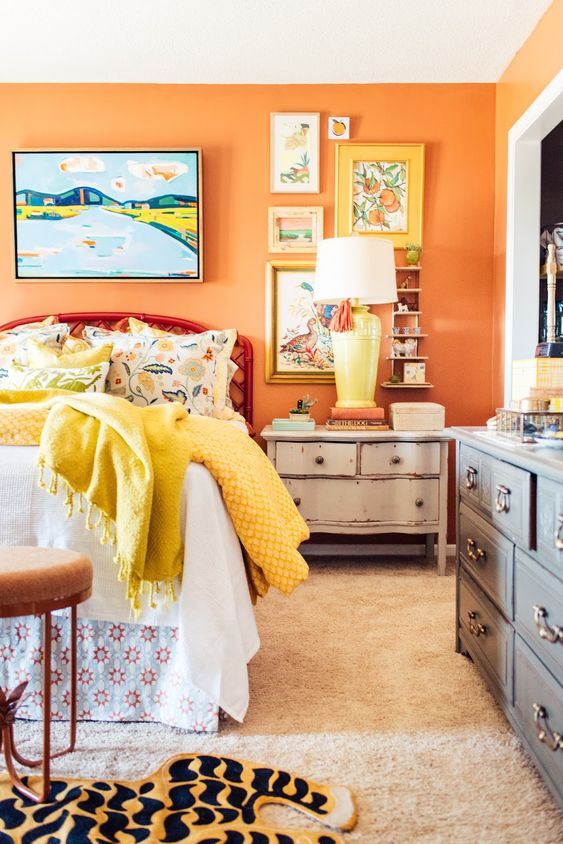 It is an interesting idea to bring a cloudless nuance into the bathroom. With this, your mood in the morning will always be at the top. And, one way that you can apply is to combine the colors orange and yellow.
An orange room is enough to make your mood happy. However, it never hurts to give another beautiful color. The combination of people and yellow will bring a more perfect cheerful atmosphere to the bedroom. So, you no longer need to feel bored lingering in your favorite room.
Final Words
An orange room may still feel foreign to you. Because, at this time we are indeed surrounded by a minimalist design, where the colors used are more likely to be neutral. And the use of orange will make this design a collision.
In a minimalist room, you may feel a more calm feel. This is really good for calming yourself down. However, sometimes boredom comes easily. Therefore, choosing an orange room in your home is a great idea.
And in this article, we have provided Orange Room Design Ideas that you can use as a reference.