olidhomes.com – The garden is a green area that can refresh the house. The number of plants in the garden makes the air fresher. Therefore, it is very unfortunate if the garden is only an area for growing plants. You can use the freshness of the garden to be a place to relax and gather with your family.
The main items needed in the garden are a seat and a table. With this, you can sit and chat with the people closest to you while enjoying the outdoor atmosphere. However, this alone is not enough to make the garden feel comfortable. You also have to decorate the garden as well as possible. And, in this article, we have provided 16 Comfortable Garden Ideas for Gathering with Family that can be your reference. So, let's check it out!
1. Theater in The Garden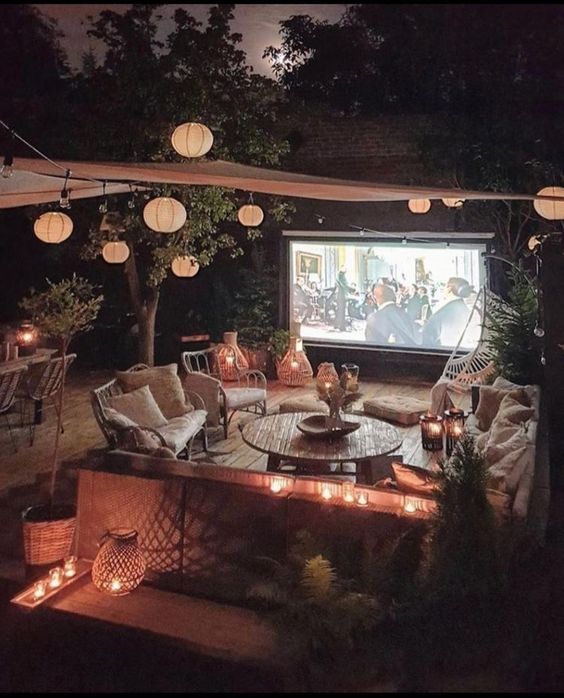 For a fairly large garden, you can make a home theater there. Stretch a white cloth to become a screen when the infocus is turned on. And, right in front of it, you can fill it with several comfortable seats starting from sofas, chairs, and floor mats. Use the table too to put snacks and drinks that will accompany you and your family to enjoy the movies you will watch.
Create a comfortable atmosphere by illuminating the garden with warm lighting. You can hang a few white lamps on the tree or pergola. In the decking area, you can use a lantern that already contains a candle. Or, you can also use aromatherapy candles to relax you and your family.
2. Stunning Pergola for Relaxing Area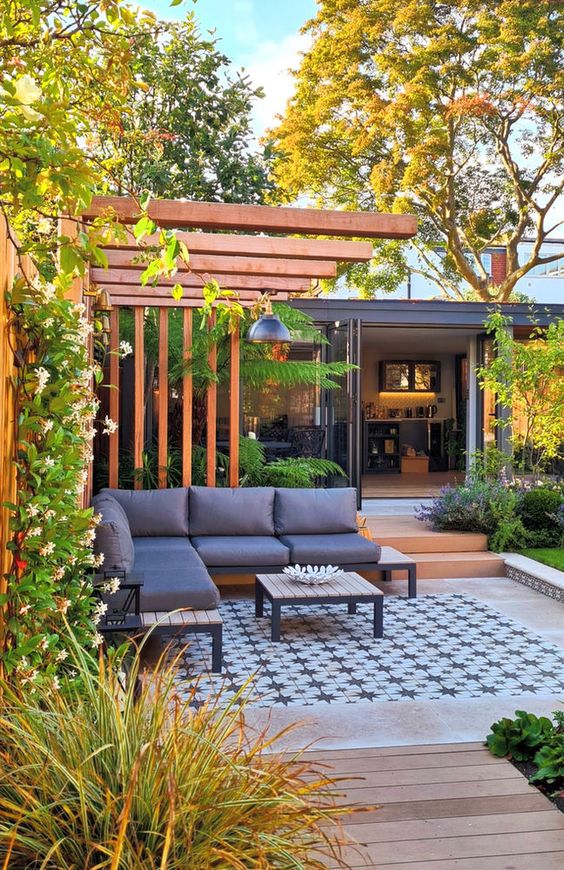 Create a barrier between places for plants and places to relax. In the relaxing area, you can use floor tiles with beautiful motifs so that it looks like you are using a carpet. The motif of the floor tiles is enough as a decoration that gives beauty to the garden.
Besides installing floor tiles, you can also install a pergola. Choose wood material to give a natural effect on the appearance of the garden. With a pergola, you will see which areas are for relaxing and which are green areas to feast your eyes on. And, this becomes the second of 16 Comfortable Garden Ideas for Gathering with Family you can choose from.
3. Small Tent for Your Kids to Play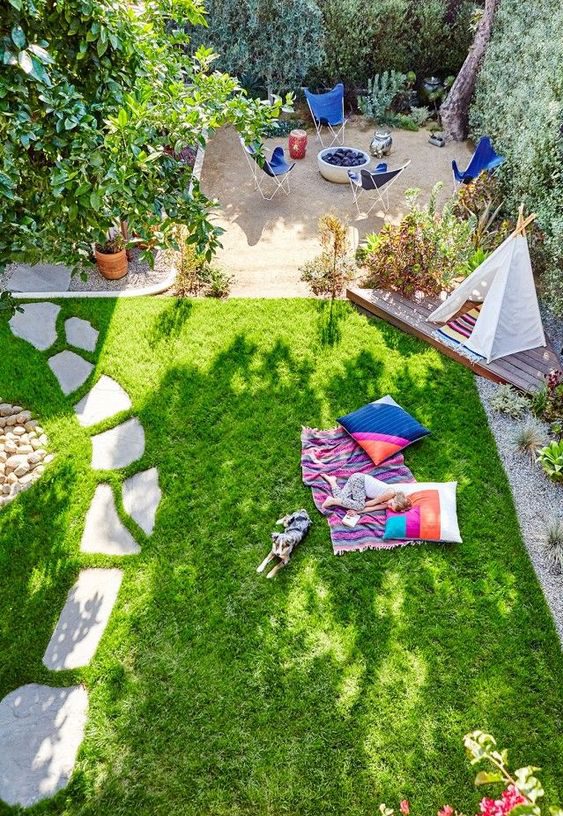 The comfortable garden is not only intended for adults only. As a place for gathering with family, you also have to provide a special area for children to play.
Choose well-maintained green grass as a play area for children. You can roll out a brightly colored rug to evoke a cheerful atmosphere in the garden. There, you can also put a thrown pillow. That way, children can also rest after they play.
In the decking area, you can set up a small tent as a place for children to play. Use a small rug as a base so that children feel comfortable playing in the tent.
4. Build a Playing Area for Kids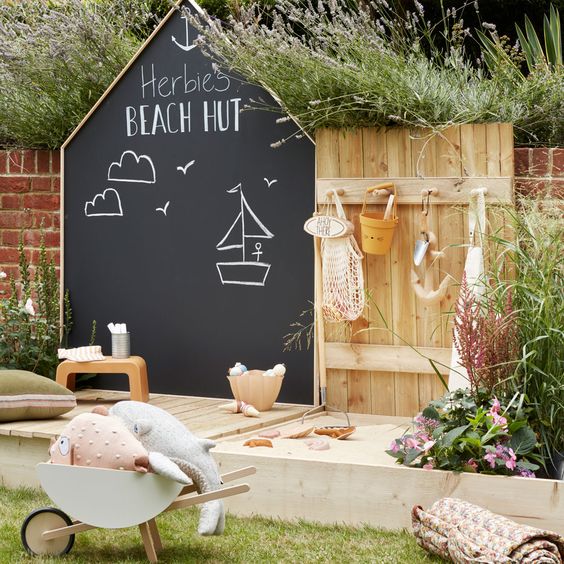 Smart kids are active and creative kids. However, children still do not know where to express their creativity. Therefore, children often draw on walls and fences. What parents have to do here is not to forbid children to stop their creativity but to provide a medium for them to express their imagination.
In the garden, you can make a blackboard in the shape of a large house. Also, provide chalk there. That way, children will draw more comfortably.
Right beside the blackboard, hang some special garden equipment for children. In the garden, you can train children's motor skills by planting some plants and flowers with beautiful colors. You can also use this to introduce children to types of plants and colors.
5. Warm Outdoor Living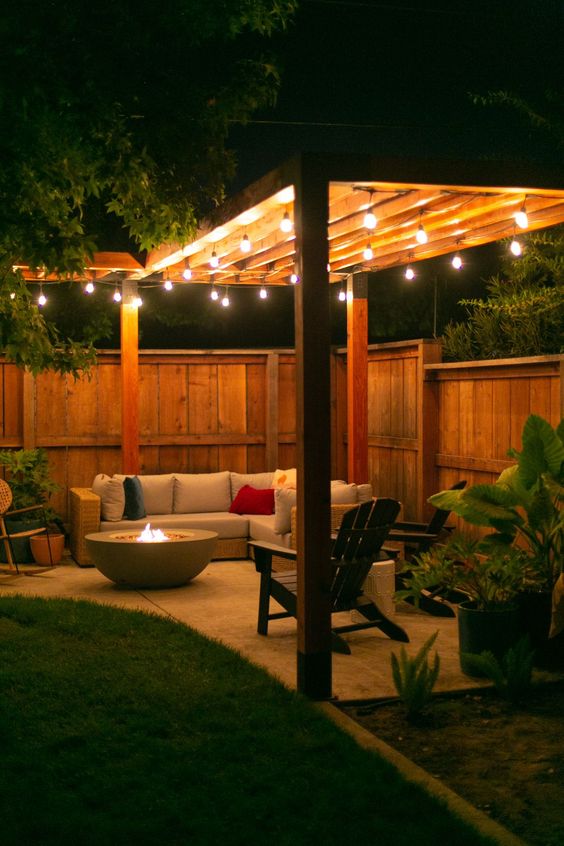 Want to welcome guests in a different way? If so, try to create outdoor living in your house. You can utilize some of the space in your garden to serve as outdoor living.
Wooden fences make a natural look bolded. Besides that, wood also provides warmth which you can use to create an outdoor living room with a warm atmosphere. You can build a pergola out of wood too. And, for the furniture, you can choose a cane sofa with a soft cushion on it. Add a few throw pillows as decoration and make the sofa feel comfier.
Add warmth to outdoor living by placing a fire pit in the middle of the sofa and chair. The light of a fire at night can also make the air around the outdoor living feel warm so that it will make time to gather with family more comfortable. And finally, use outdoor lighting with yellow lighting.
6. Feel So Comfortable with Swing Chair and Sofa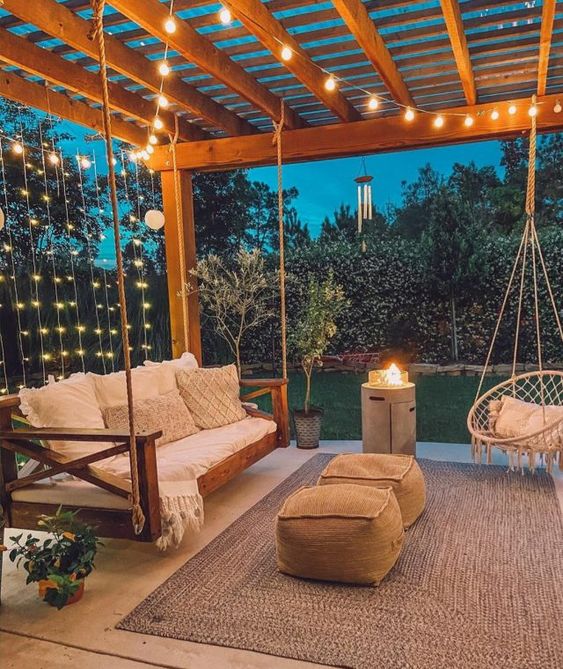 If you are tired of using sofas or chairs for outdoor living, then you can try this one idea. This becomes the next of 16 Comfortable Garden Ideas for Gathering with Family. In this idea, a hanging sofa and hanging chair are used which make the outdoor living room look different and attractive.
To provide warmth to the outdoor living, a gray rug and beige floor cushions are used. For lighting, warm lighting is used to illuminate outdoor living. Besides that, there is also a firepit that is placed beside the chairs and sofas.
Even though it is very simple, outdoor living has beautiful visuals and aesthetics. String lights that are hung on the pergola make the area behind the sofa beautiful. Also installed string lights in the ceiling area. Not only that, fresh green plants that are placed on the right and left of the hanging sofa are also decorations that add value to the beauty of outdoor living.
7. Make The Large Tree in The Garden as Attention Center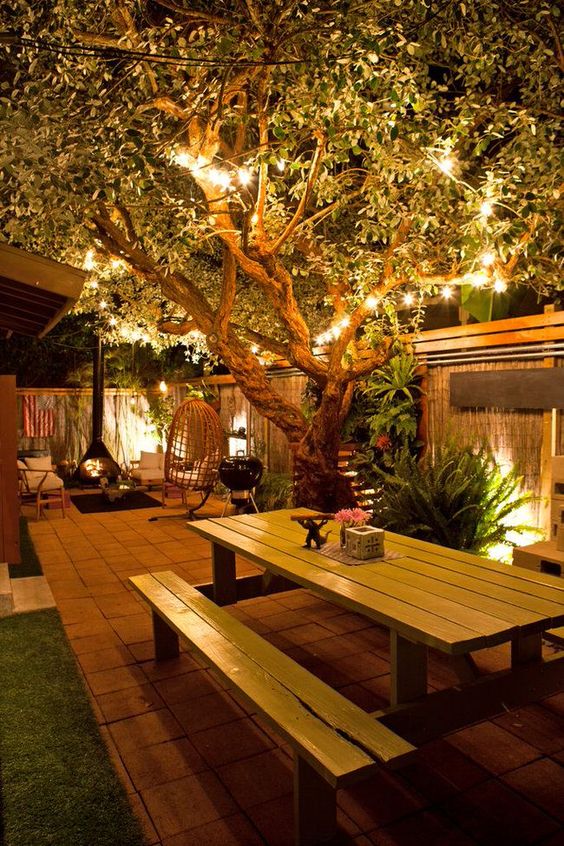 A Garden is an area of various kinds of plants and trees. Large trees will make the area underneath become shady so it is often used as a place to rest and gather with family. However, the function of a large tree does not stop here. Big trees are the main focus of the garden. Therefore, you can use it as an interesting attention center and can provide beauty for the garden.
There is no need for difficult methods to make the large tree become an attention center in the garden. You only need to provide an outdoor string light. You can wrap the outdoor string light from the branch to the tree trunk. When the outdoor string light is turned on at night, it will give a very beautiful effect on the garden. With yellow lighting from the light, the atmosphere of the family gathering place becomes calmer and warmer.
8. Outdoor Dining and Living for Gathering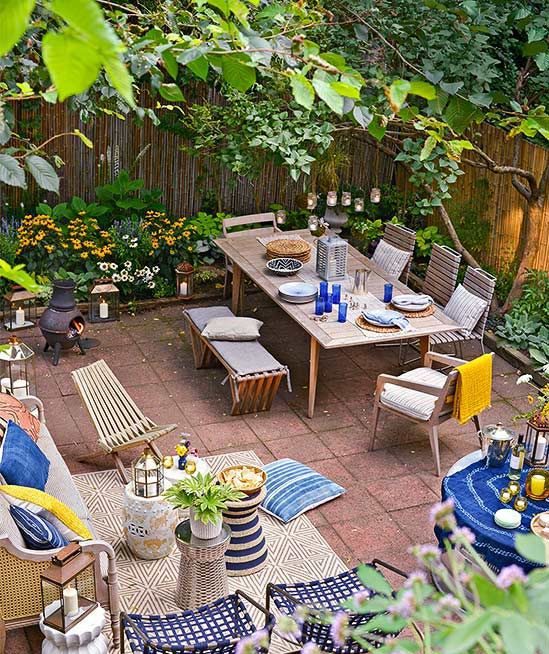 For the large garden, you can use part or even half of the garden area to serve as a gathering place for your family. As in this one idea where the garden is made into outdoor dining and living. There is a wall of tables along with benches and chairs. And on the other side, there are sofas and chairs along with a coffee table. As a separator between dining and living, use a rug with neutral colors and beautiful motifs.
The materials used for outdoor furniture tend to be made of wood and rattan, thus making the natural look more real. The brown color of wood and rattan looks so fresh when combined with blue. The blue color is applied in a scattered way so that it stands out and gives an even freshness to the garden.
9. Enjoy Your Tea Time in The Garden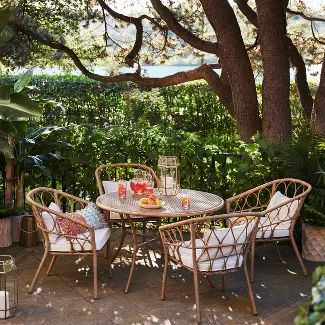 Enjoy your free time by gathering with your family and drinking tea together. Talking while enjoying hot tea will be very pleasant. Especially if the atmosphere is very supportive.
You can create a comfortable place for having tea with your family in your garden. The area under the big tree is perfect for you to choose from. This area is shady so it will avoid the hot and dazzling sunlight.
Here, you can use a round dining table and four chairs equipped with seat cushions and throw pillows. For the rattan chair, seat cushion and throw pillow, white is the best choice. White color will look more natural and prettier for outdoor areas.
10. Bohemian Garden Design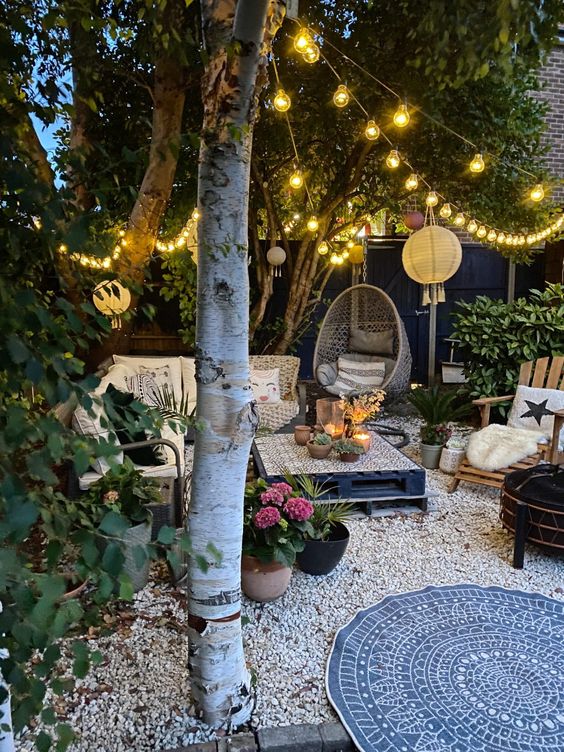 The garden with Bohemian design has a different look. Bohemian tends to present quite a lot of motifs and decorations. This makes the garden look fuller and makes the atmosphere cheerful. It is suitable for the garden which is used as a place to relax with the family.
Choose neutral colors to make the outdoor area look very natural. But, if you want to make the look fresher, you can decorate the garden with blue color. You can choose a blue rug with a Bohemian pattern.
In the area below the gathering place, you can use small white stones so that it looks like white sand on the beach. And, for the upper area, you can hang outdoor lamps with yellow lighting which can make the atmosphere warm. You can also beautify the look of your garden by hanging white lanterns on outdoor lights or trees.
11. Feel The Serenity in Your Garden with Dark Nuances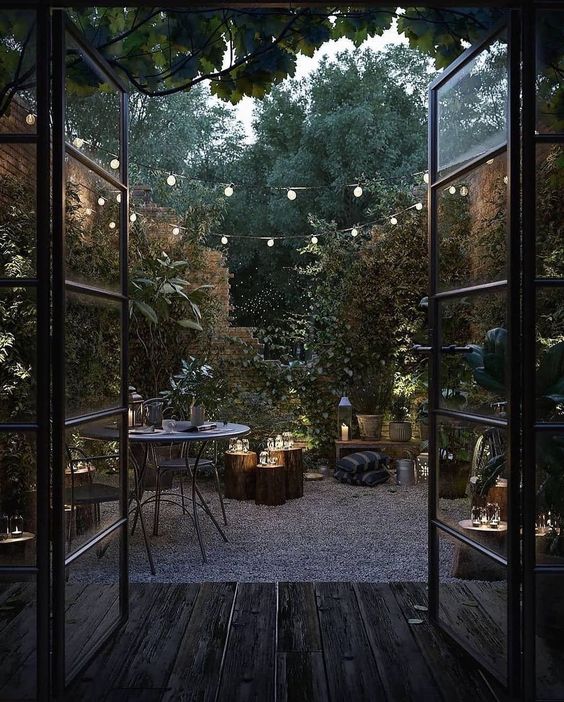 If you do not want to make the garden have a cloudless look, then you can make it look full of serenity. You can make the garden in dark nuances by choosing black as the main color. No need to worry that black will make the outdoors dark and unattractive. When black is exposed to light, be it sunlight or light from a lamp, black will look beautiful.
You can choose exposed brick walls for the garden. Make the wall look old to make it stunning. There, you can use vines to make the appearance look so natural. Besides that, the presence of vines on the walls will eliminate the feeling like there is a barrier in the garden. That way, the garden will feel bigger.
Use outdoor lamps to illuminate the garden at night. Choose white lighting so that the appearance of the garden becomes bright. And, if you want to bring some warmth into the garden, you can put a few candles there.
12. Comfortable Outdoor Dining for Dinner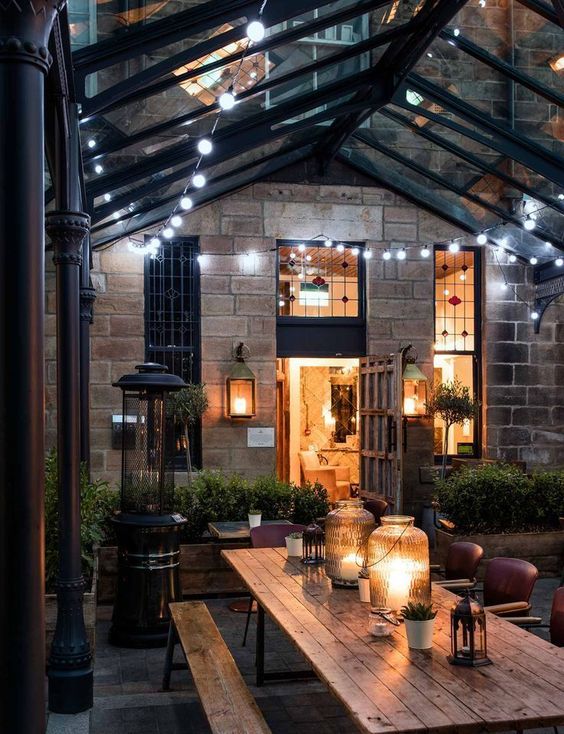 You can use the garden not only as outdoor living. You can also make the garden as outdoor dining. Eating delicious dishes with the family while enjoying the outdoor atmosphere will be very enjoyable. Time together with family will be more quality.
Make a pergola with glass to protect you and your family when it rains. And with glass, you can still see the beautiful stars at night and also the sky.
Choose white lighting as the main lighting for outdoor dining. Considering that outdoor dining is used for eating, it needs to be made bright. But, if you want to use yellow lighting to make the atmosphere in outdoor dining feel warm, you can use a lantern with candles in it and place it right on the dining table. It is also a decoration that adds to the beauty of outdoor dining.
13. Comfortable Small Garden for Gathering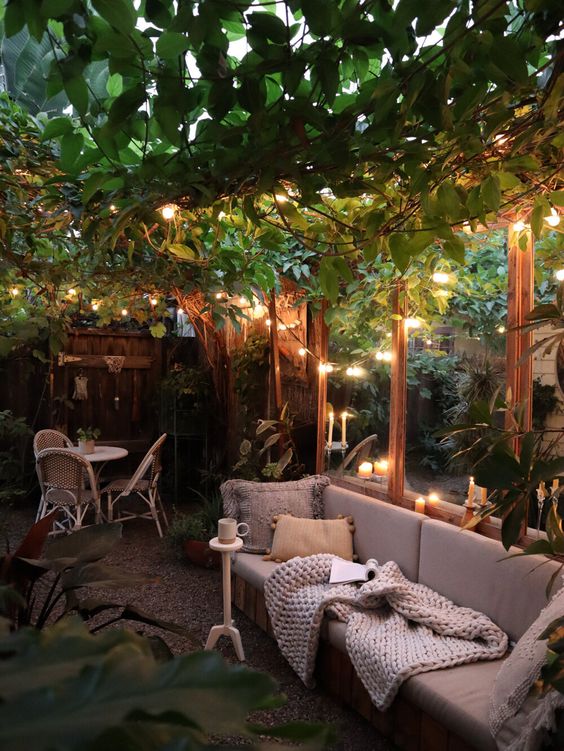 Even though the garden in your house is small, you can still use it as a comfortable place to gather with your family. You can install a large mirror on one side of the wall. Not only that but also plant vines that can cover the solid walls that limit the garden. This method will be very effective to make the small garden look bigger.
You can choose a long sofa as a place to sit with your family. Use a small coffee table to put your coffee there. Right behind the sofa, you can decorate it with a few candles to bring warmth that will make the garden feel comfortable. And, for the lighting, you can use outdoor string lights with bright yellow lighting and hang them on twigs or tree branches.
14. Make It Warm with a Firepit in The Middle of the Gathering Place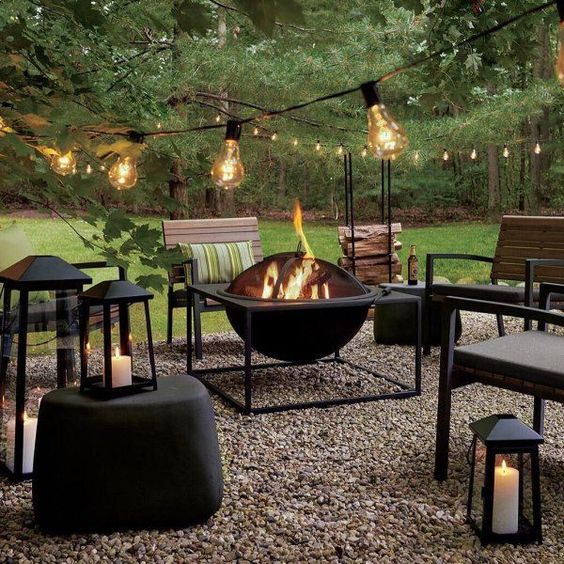 The outdoor gathering place feels like something is missing if there is no fire pit. This one item really helps make us feel like in nature. Besides that, the fire from the firepit also gives warmth to the air around the gathering place.
Choose a firepit with the right size for your garden area. And also, choose a design that matches the other furniture. If you use outdoor furniture with a modern minimalist design, then choose a firepit with the same design. That way, the display will be harmonious.
15. Small Comfortable Garden for Gathering with Your Family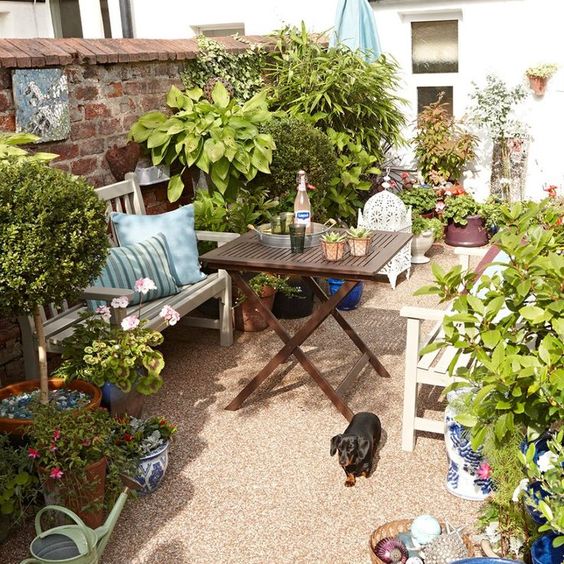 Do not be discouraged for those of you who have a small garden. You can also make your small garden as a comfortable area for gatherings with your family. Here, you need to choose outdoor furniture in a small size. You can choose small outdoor chairs and also a table. Indeed, it looks so simple. Therefore, you need to give a little touch such as decoration to make it attractive. Try not to use too many decorations to avoid the small garden feeling cramped and stuffy. You can simply decorate the bench area with throw pillows in bright colors. The small dining table can also be decorated with small plants.
16. Black Nuances Cozy Garden
Bright neutral colors such as gray, beige, and white are the color groups most often chosen for the interior and exterior of the house. Indeed, the use of these colors is very safe. However, it often gives the effect of boredom. Therefore, if you want to make your outdoor area look interesting, you can choose black as the main color. Do not worry, black will make your garden look dark and unattractive. If you decorate it properly, the garden will be stunning.
You can apply black from the french, outdoor furniture, to the floor. Also, use decorations in the same color as a black rug with white stripes. Likewise with throw pillows and blankets.
So that the garden does not look dark at night, choose white lighting as the main lighting. But, it is okay if you want to present additional lighting in the form of yellow lighting for the garden. You can put the lantern with candles in several spots in the garden.
Final Words
Gathering the family in the garden can be more comfortable. Chatting while enjoying the outdoor atmosphere will be very pleasant. Therefore, you have to make your garden as comfortable as possible. And, the points above are 16 Comfortable Garden Ideas for Gathering with Family you can follow. In choosing one of the 16 points above, pay attention to the layout and size of your garden. Choose the most appropriate and according to your taste. So, good luck!