Olidhomes.com – There are types of beds that you may encounter. Sometimes, this becomes an obstacle in decorating your bedroom. Therefore, you must know exactly what types of bed are. That way, you can choose a bed that fits and matches the interior design of your bedroom.
Being the main item in the bedroom, the bed has an important role to play in the comfort and beauty of the room. So, to have your dream bedroom that is comfortable and pretty, you have to find the right bed.
In this article, we have provided Types of Beds to make you easily Finding The Right Bed for Your Bedroom. So, let's check it out!
Types of Bed Sizes
Before you choose the bed design you want, you must first know the types of bed sizes. That way, you can adjust it to the size of your bedroom. Here are the types of bed sizes you can choose from:
1. Twin Mattress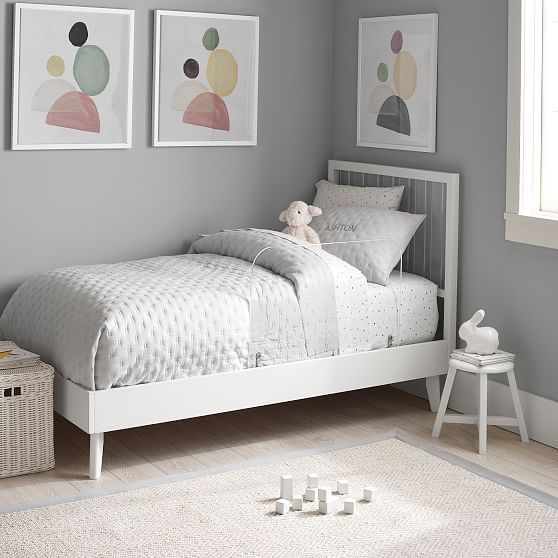 A twin mattress is the size of the smallest bed. With a length and width of 75 x 38 inches, it is very suitable for use in small bedrooms. Usually, a twin mattress is used for the kid bedroom. Their small size fits them perfectly.
2. Twin XL Mattress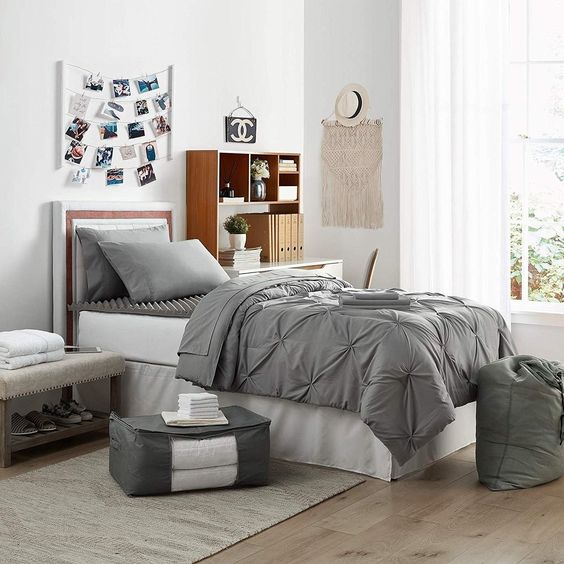 Twin XL mattress has a bigger size. The difference between twin XL and twin is 5 inches. So, the length and width of the Twin XL Mattress are 80 x 38 inches. This bed size is perfect for a teenage bedroom or dorm.
3. Full Mattress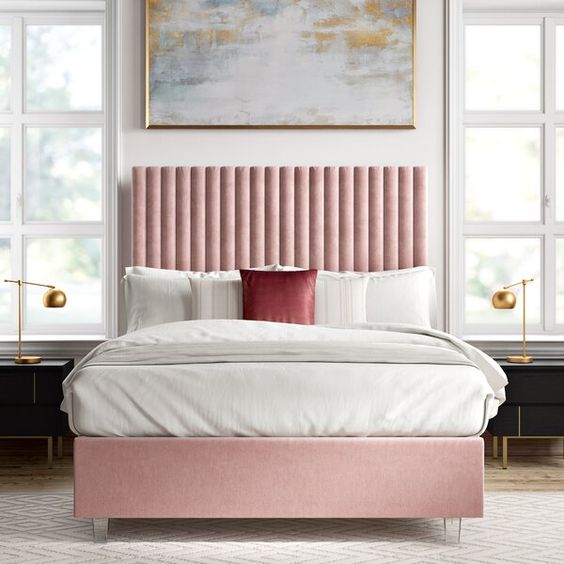 A full mattress or what is commonly called a double mattress is 75 x 53 inches long and wide. Which of these mattresses is very suitable for use in adult bedrooms. The bigger size will make you sleep more comfortably. A full mattress can also be used in the guest bedroom.
4. Queen Mattress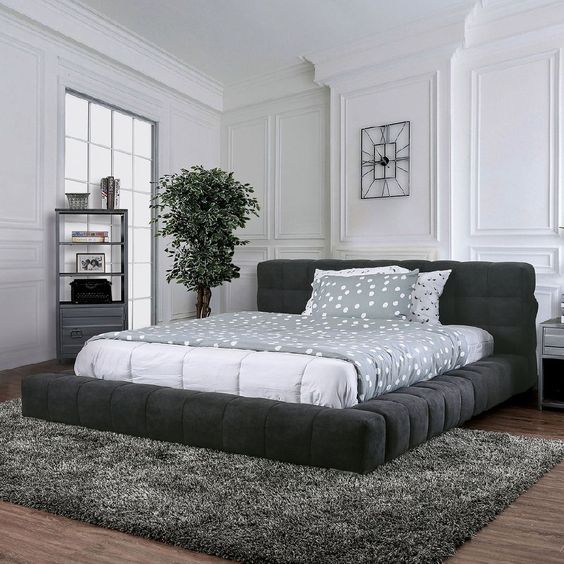 A queen mattress can be used in the master bedroom. With a length and width of 80 x 60 inches, it will make your sleep quality much better. A queen Mattress can be used for one person or two people.
5. King Mattress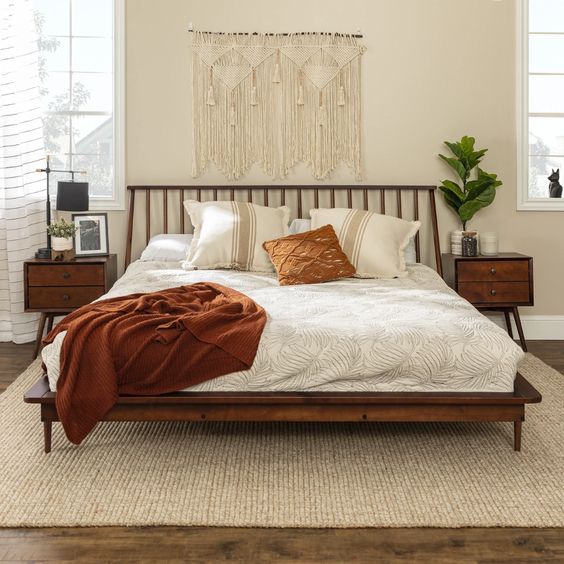 Want to sleep comfortably with your partner? King Mattress is the most appropriate bed size to use. With a length and width of 80 x 76 inches, you can invite your child or pet to sleep together on the same bed. Due to their large size, a king mattress can only be used in a large bedroom.
6. California King Mattress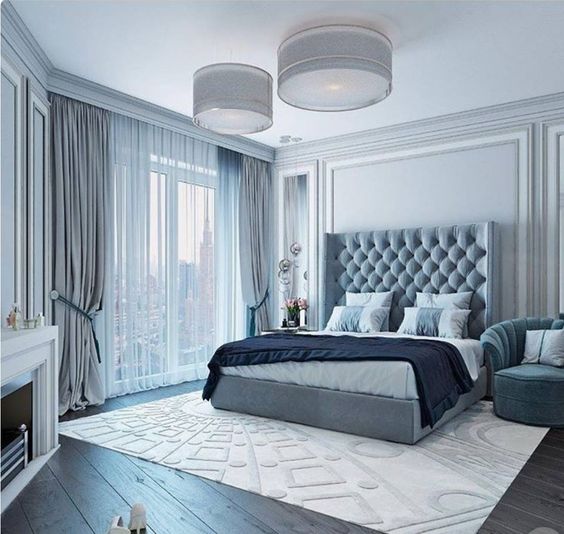 Measuring 84 x 72 inches in length and width, the California king mattress is the largest mattress you will find on the market. This mattress is perfect for use by two people. That way, you and your partner can sleep comfortably without being cramped.
Types of Bed Designs
After you know the sizes of the bed, you can determine which mattress size is right for your bedroom. After that, you can only determine a design that is suitable for the interior of your bedroom. Here are the types of bed designs that you can choose from.
1. Day Bed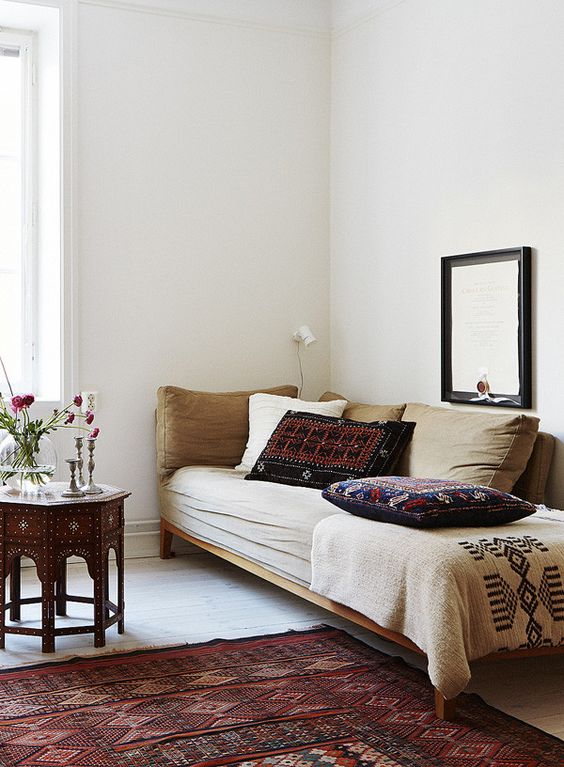 Day Bed is a multipurpose bed design. Its shape is like a sofa so that the daybed can be used as a sofa or bench in the family room, living room, guest room, and patio. The day bed has a three-sided barrier which is great for use in a kid's bedroom. Children can sleep freely and comfortably.
2. Futon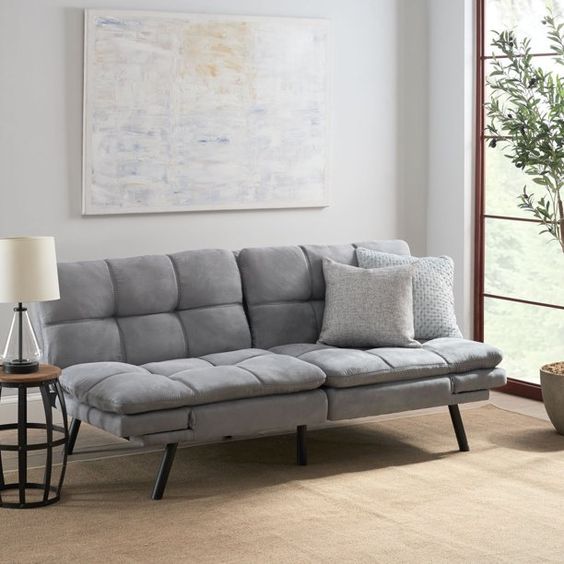 Almost the same as a day bed, the futon can be used as a bed and couch. The futon was first present in Japan for a small apartment or dorm. By using a futon, there will be more space left which can make a small room comfortable.
3. Waterbed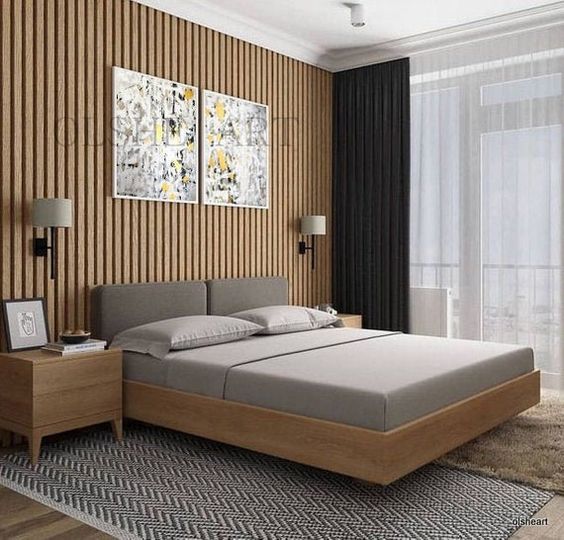 Just as the name suggests, this bed design has something to do with water. You can fill the bed with water. Indeed, this bed is not a bed that is popular and widely used by people. However, the benefits of the waterbed itself are very good for health. Here are the benefits you will get from using a futon as a bed in your bedroom:
Relieves muscle pain when the waterbed is filled with hot water.
Makes your bodies feel calmer.
Eliminate soreness.
Reduces pressure on sore joints.
From the benefits described above, it can be concluded that a waterbed is a type of bed that is very suitable for use by the elderly. And for those of you who have daily activities, this type of bed is also suitable for you to use.
4. Air Bed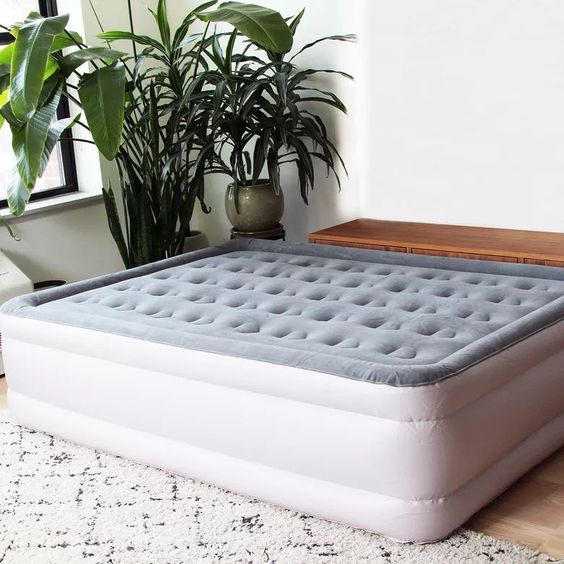 If you think air beds are filled with air, then you are wrong. This air bed is different from the air mattress which is used for camping. An air bed is a permanent bed that is specially designed for home use only. You can use this mattress as a bed in the bedroom or as a place to rest in the family room.
5. Bookcase Bed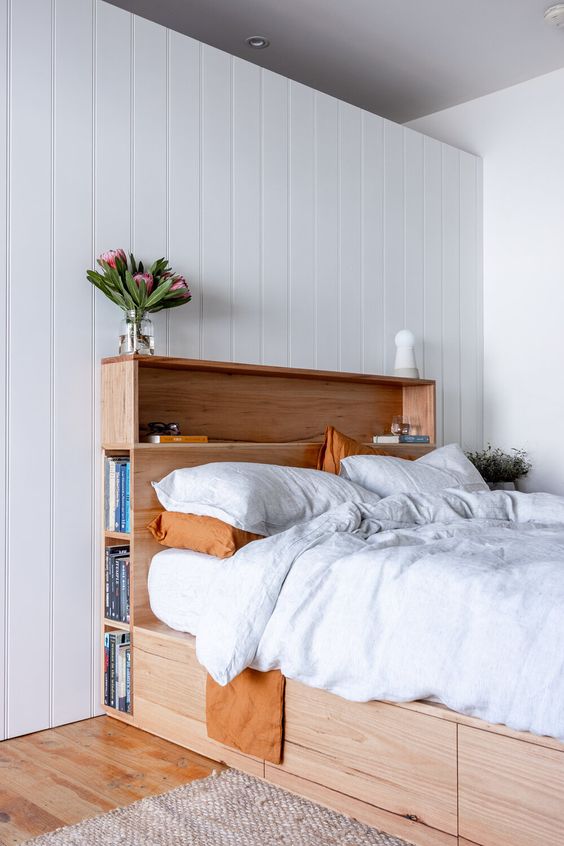 The bookcase bed design is designed for those of you who like to read books when they want to sleep. With the bookcase on the headboard, you can put your favorite books there. After you finish reading the books, you can put the books back easily.
You can also use Bookcase in the headboard to put some of your stuff, such as smartphones, alarm clocks, and so on. That way, you no longer need table-sides which only take up space in the bedroom.
6. Murphy Bed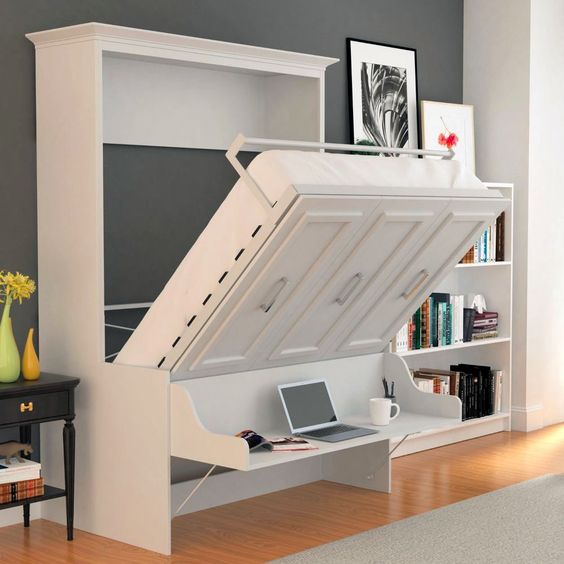 A Murphy bed, or commonly referred to as a wall bed, is a bed designed for small spaces. Using a Murphy bed in your small apartment is an alternative way to spice up your bedroom. At the edge of the bed, there is a hinge that can be folded and stored on the wall.
When the bed has become a perfect wall, you can use this space as another room, such as adding the chair in creating a comfortable workspace, and so on.
7. Convertible Bed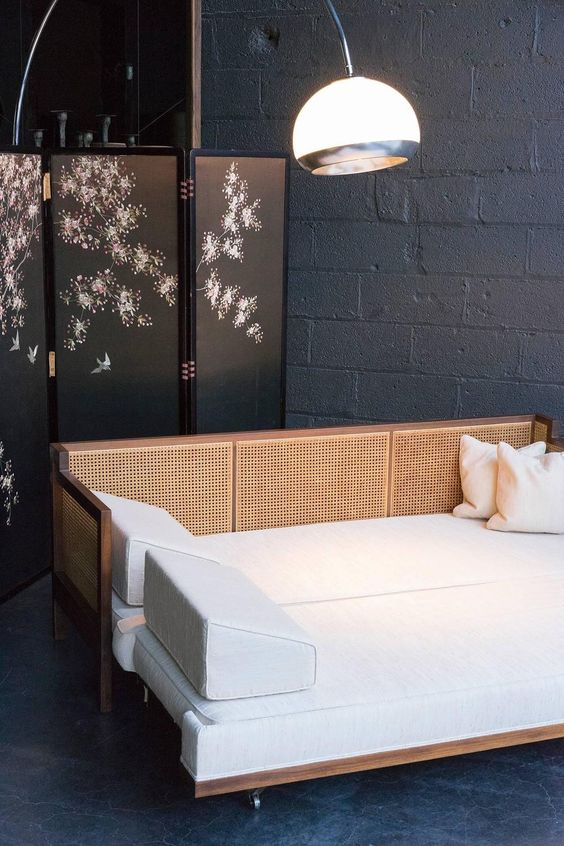 There is nothing more fun than using a single item with two functions. Multifunctional items are perfect for use in small spaces.
The convertible bed is a bed that is designed like a sofa. You can convert the convertible bed into a comfortable bed, or you can also make it a sofa.
Convertible beds will work well in the entire room. This bed design is usually used in guest rooms.
8. Round Bed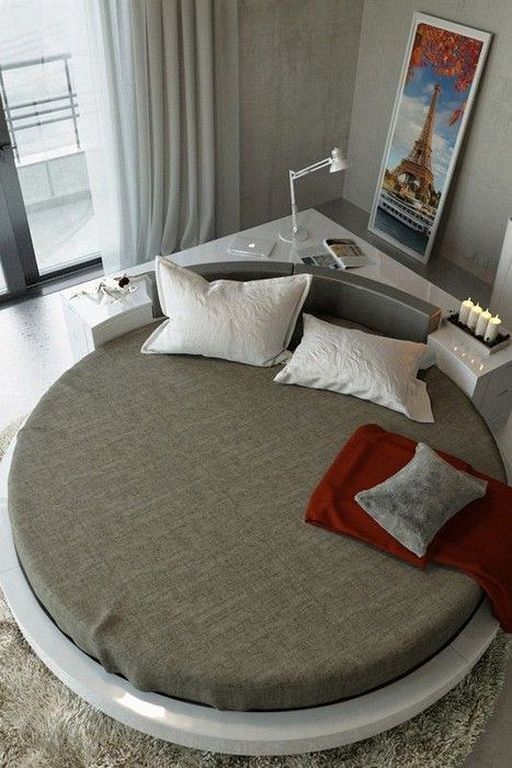 A round bed is deliberately designed in a circle shape to give the room a unique and attractive appearance. The round bed size is usually exactly the same as the king-size mattress. Therefore, round beds should be used in large rooms.
The circular shape makes the round bed can be used to create a cozy spot in a room. The round bed is perfect for use in family rooms, TV rooms, theater rooms, and bedrooms.
Round beds are usually used in large bedrooms. This is an alternative way to make the large room feel not empty. That way, the large bedroom will feel comfortable.
9. Divan Bed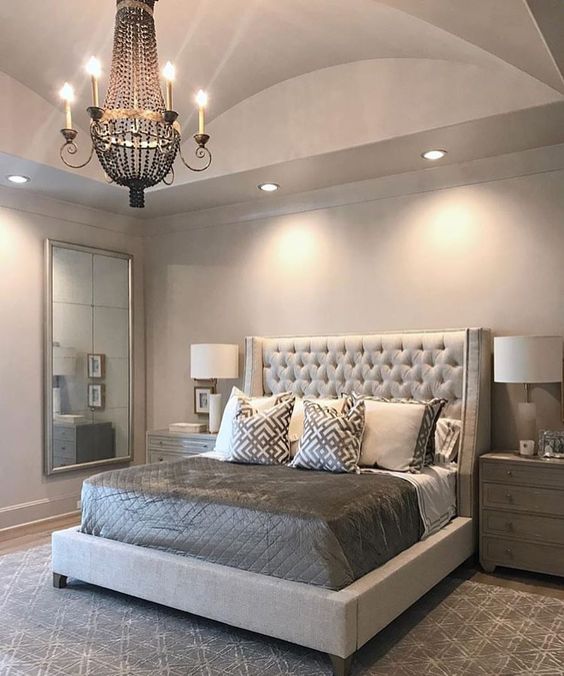 A divan bed is a bed that is designed to be as comfortable as possible. Its appearance can be said to be quite unique. Made from a wooden frame which is then covered with cloth. Usually velvet fabric in this bed design. The appearance of velvet fabric makes this bed is fit to use in a luxurious bedroom.
In a divan bed, the headboard and bed frame are usually made together. And for the mattress, because the divan bed has a unique shape, it is difficult to find a mattress that is just right for a divan bed. Therefore, divan beds are often sold in one package, which is a bed frame with a mattress.
10. Ottoman Bed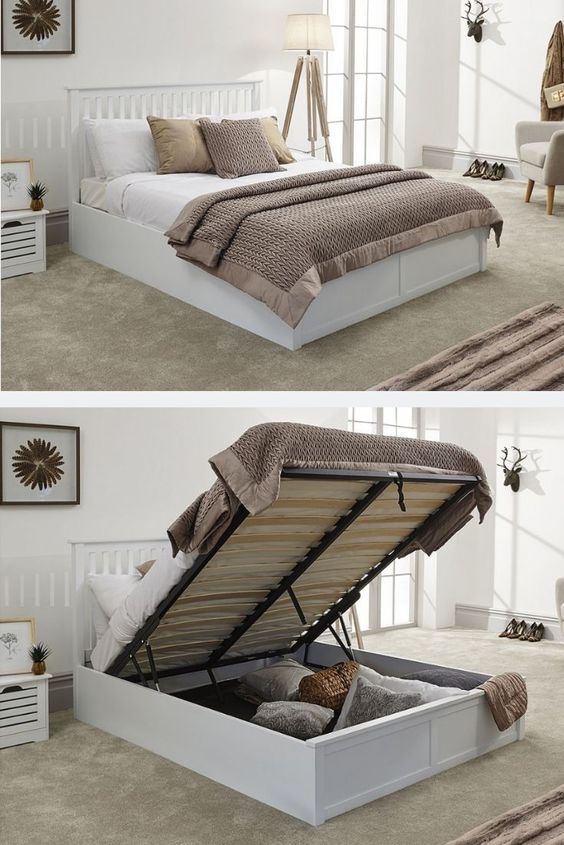 Want to have a more spacious bedroom using a comfortable bed? Try to use a bed that can be used as a storage area.
Ottoman Bed is a bed designed with gas-lifting hydraulics underneath the bed. The existence of this feature on the bed will make the bed lifted easily. You can use the space under the bed as storage.
11. Canopy Bed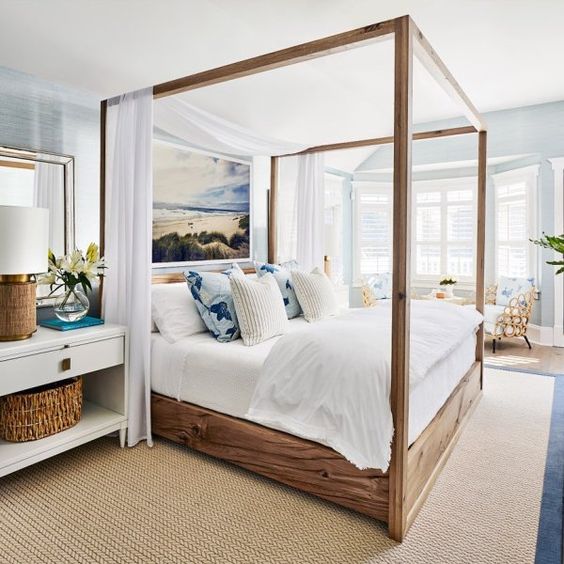 As the name suggests, this bed has a canopy. The canopy bed is equipped with four posters in each corner of the bed. And at the top, there are more posters that are connected to form a canopy.
There are two types of canopy beds that you can choose from:
Traditional Canopy Bed, which has a more traditional shape such as the unique engravings on posters. The traditional canopy bed is usually made of wood.
Contemporary Canopy Bed, which is designed to be more modern, namely a simple design without any carvings. Contemporary canopy beds are made of wood and iron.
At the top of the canopy, you can take the advantages to make the bed feel more comfortable, such as providing a mosquito net to make your sleep more comfortable and free from mosquito bites, or you can also wrap around the canopy with string lights which can bring a warm and soothing atmosphere to the bedroom.
12. Hanging Bed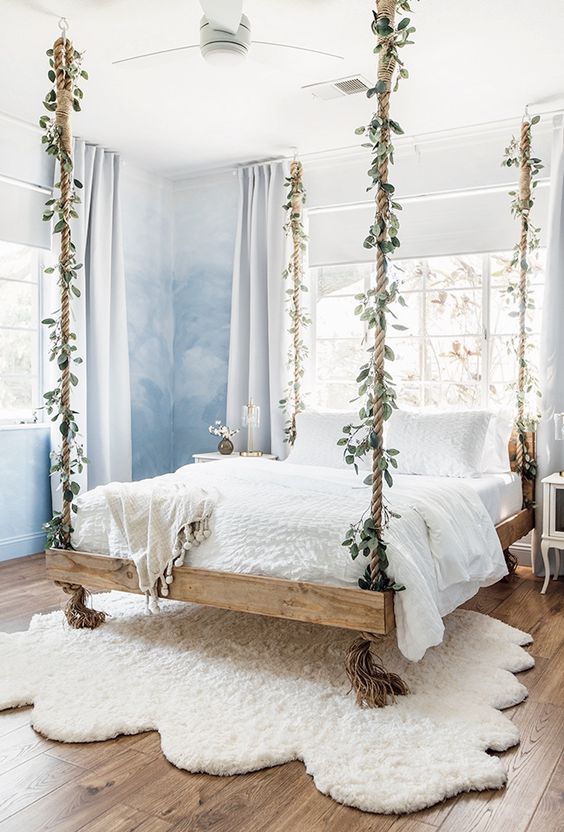 Just like the name suggests, this bed is hung from the ceiling using a rope. At each corner of the bed tied with strong ropes.
The design of this bed is inspired by the swing chair in the backyard which makes the backyard comfortable. So, the comfort of a hanging bed is the same as a swing chair.
Its unique appearance is perfect for applying to the Boho bedroom design. This design has the characteristic of being free and irregular. Therefore, the hanging bed will make the Boho bedroom look unique and attractive.
13. Lighted Bed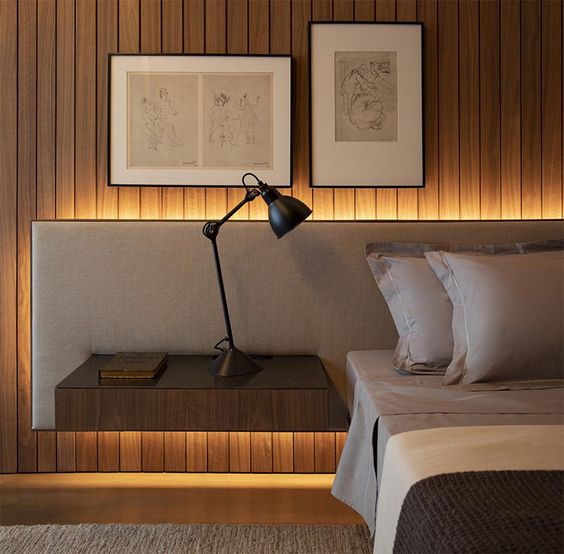 The lighted bed is designed with LED lighting on the headboard. It is suitable for use in modern and minimalist bedrooms. The LED lighting will make the bedroom look more attractive. There are many colors of light that can be used in a lighted bed. Usually, to give a warm feel to the bedroom, warm LED lighting is used as an option.
If you want to provide interesting lighting in the bedroom, you can choose an LED light, which can be changed using an application on your smartphone.
Conclusion
As the main item in the bedroom, the bed affects the comfort and appearance of the room. To create your dream bedroom that is comfortable and beautiful, make sure you choose a bed with the right size and design. Therefore, it is very important to know what the types of the bed sizes and types of bed designs are. And in this article, we have provided Types of Beds that will help you in Finding The Right Bed for Your Bedroom.