Olidhomes.com – Industrial style is often applied to restaurants, cafes, and offices. However, getting here, industrial style is used as an attractive interior design for the apartment. A cool look with natural dark colors and natural elements gives a different effect to the apartment. This is one of the reasons why industrial apartments are loved by many people.
Initially, the industrial style was present in parts of European countries. People take advantage of the used factory as a place to live. The factory view is left exposed, giving it an interesting and different effect from the look of a normal residence. Like exposed brick walls, pipes on the ceiling and wall, and also industrial lamps that soared from the ceiling.
There is nothing wrong with creating an attractive and comfortable place to live. In fact, this is an added value for where you live. So, for those of you who are interested in an industrial apartment, here we have provided Pictures & Ideas of 25 Enticing Loft Industrial Apartment that can be your references. So, let's check it out!
Beautiful Industrial Apartment with Catchy Colors Applied
Industrial style is known for its dark neutral colors, such as black, brown, and gray. Therefore, the nuances of this style are cold and masculine. However, if you prefer a slightly colorful and attractive apartment look, you can use this idea as a reference.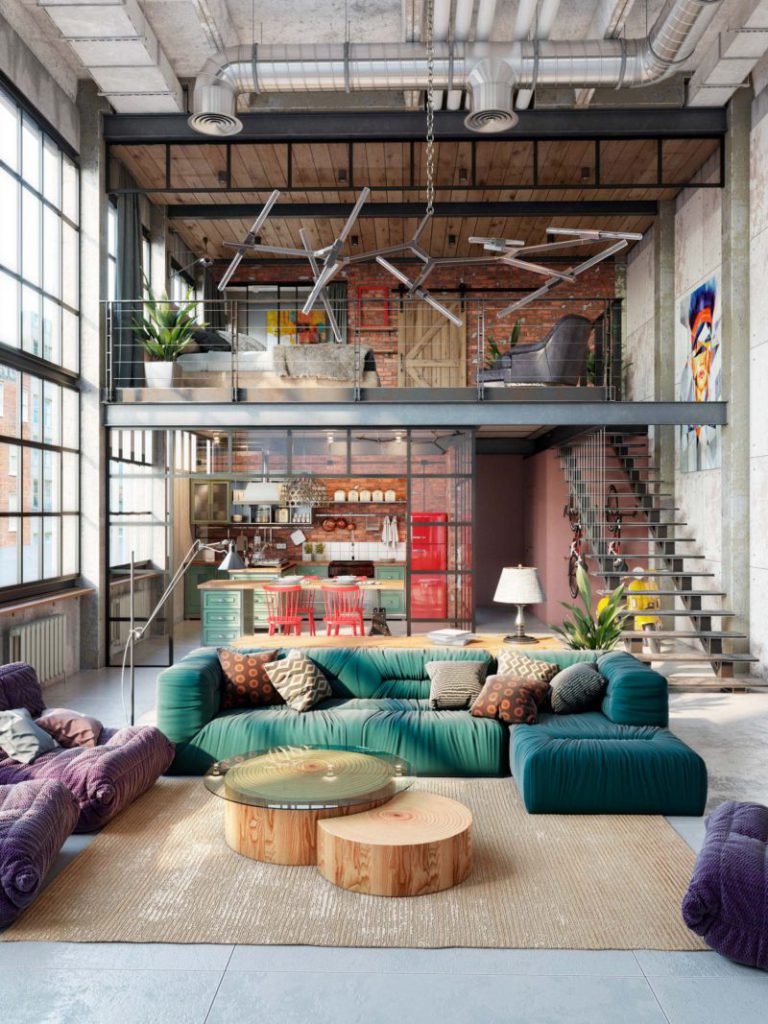 Being an important item, a sofa can indeed grab our attention when entering a room. The appearance and color of the sofa used in the apartment will greatly affect the appearance and comfort of this residence.
For you who want to bring a slightly colorful appearance to the industrial apartment, green and purple sofas look so attractive. The addition of a few pillows with neutral colors makes it look beautiful.
Salmon Pink painted walls
If we look again at the apartment, there are walls that attract the eye. The painted salmon pink walls give an industrial apartment a different effect. An attractive and calmer appearance makes this residence look so attractive.
Apartment Kitchen with attractive colors
Next to the salmon pink painted walls, we can find a kitchen in the apartment. The kitchen is also made more colorful. Pastel green cabinets make the kitchen look more fresh and cheerful. The red refrigerator was chosen to give a little striking effect to the apartment.
On the wall, we can see several kitchen utensils which are used as displays in the kitchen. This one idea can make the kitchen look more filled and enticing.
To determine the size of the kitchen, given a divider in the form of glass with black grills. That way, the small kitchen will not feel cramped. And the black color of the grills gives it a bold look on the apartment.
Lofts are indeed the right idea to implement in order to provide more space to the apartment. Here, the loft is made as a bedroom. Even though it is at the top, the exposed brick wall is quite interesting. Some plants are used as decorations to give an industrial apartment a fresh and natural impression.
Elegant Industrial Apartment
Due to its dark and masculine appearance, industrial apartments are easy to make look elegant. Like this one idea.
Skylight and Circular Staircase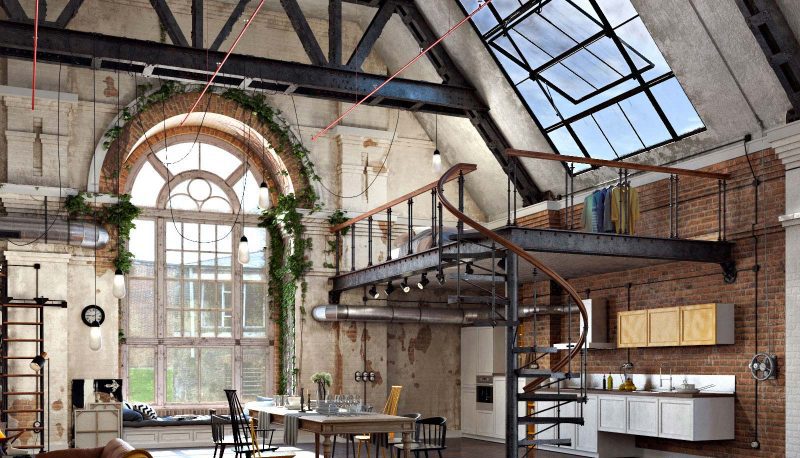 In this one apartment, the industrial apartment looks so spacious. Skylights brilliantly provide maximum natural lighting to make the apartment look more spacious. Not only that, the use of a circular staircase for the loft really saves a lot of space in the apartment.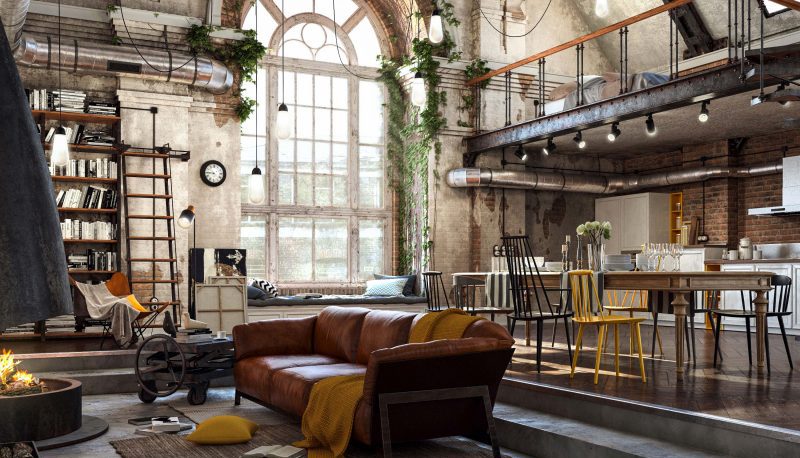 In this idea, the living room is lowered to create a more elegant effect. Give it a slightly interesting look by playing on the floor surface. Made a small staircase to make it appear more expensive.
You can also feel an elegant and expensive appearance from the brown sofa chosen to fill the living room. Several rugs in neutral colors were laid out just below the sofa. Adding a few pillows makes it a very comfortable place to relax.
Next to the sofa, there is a gray table which is so eye-catching. And in front of it is a firepit that is perfect for winter use.
Take The Advantages of Wall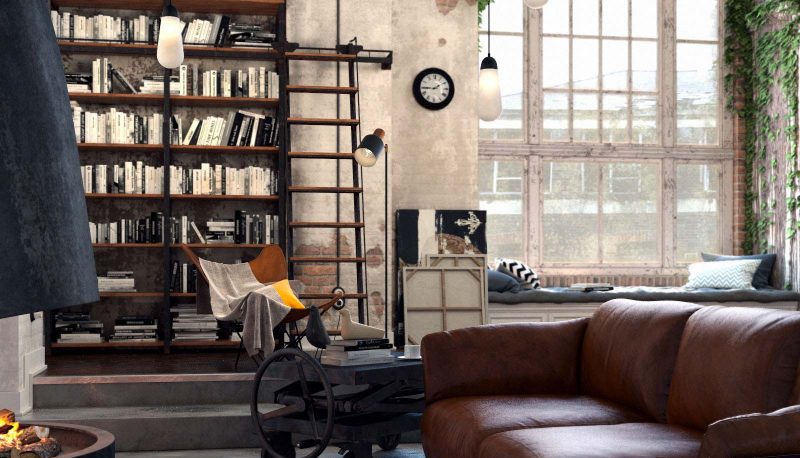 The wall is the first spot our eyes will see. So, using the wall is the right idea.
Like in this apartment, the bookshelf is made so high that it makes the walls of the apartment appear higher. In front of it is placed a comfortable chair for creating a cozy reading nook. Do not forget the floor lamp for reading more comfortable books.
Turning to the right, we can find a large window with a seat. Some pillows and a soft mattress are put on it. It is very suitable to be used as a very comfortable place to relax. Vines on the wall give a fresh impression to this spot.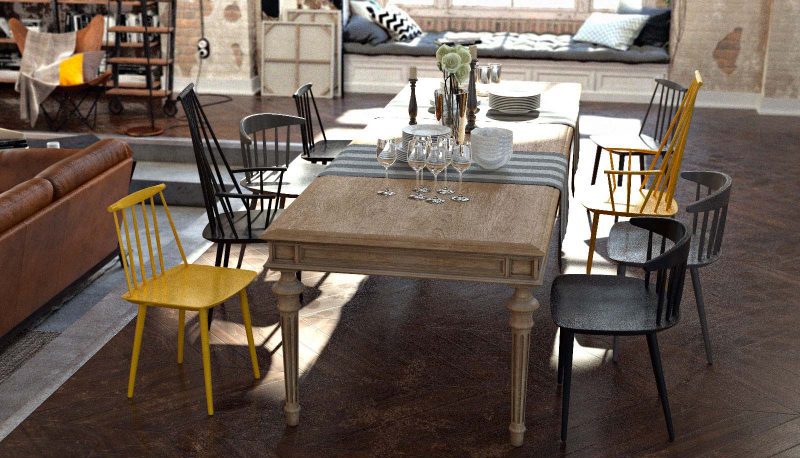 The wooden table was chosen as the dining table so that it is more integrated with the industrial style. The table is also decorated with several plates and glasses which are so elegant. In the center of the table are several candles and a flower vase filled with white roses which are essential to an expensive look at an industrial apartment.
Iron stool with a minimalist design was chosen for the dining spot. The black color, which is the main color in industrial style, makes the dining spot look bolder. Two chairs were chosen in yellow to make it less monotonous.
Yellow and White Kitchen Cabinet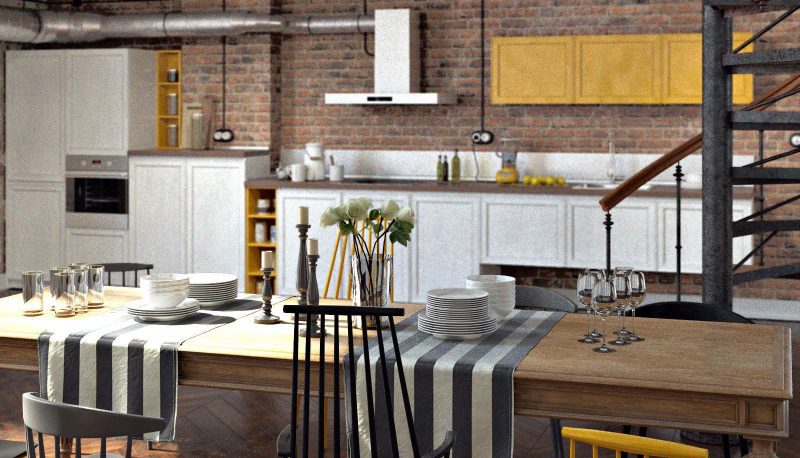 White kitchen cabinets provide a brighter effect on an elegant industrial bedroom. Just like dining spots, some kitchen cabinets have been selected in yellow to make them appear more colorful and less watchful. That way, the minimalist kitchen will look attractive and not stiff.
Luxurious and Masculine Industrial Apartment
In the beginning, the industry took advantage of a used factory that was no longer in use. Therefore, the industrial design usually looks a little outdated. However, nowadays with creative touches, an industrial apartment can be made to look expensive and classy.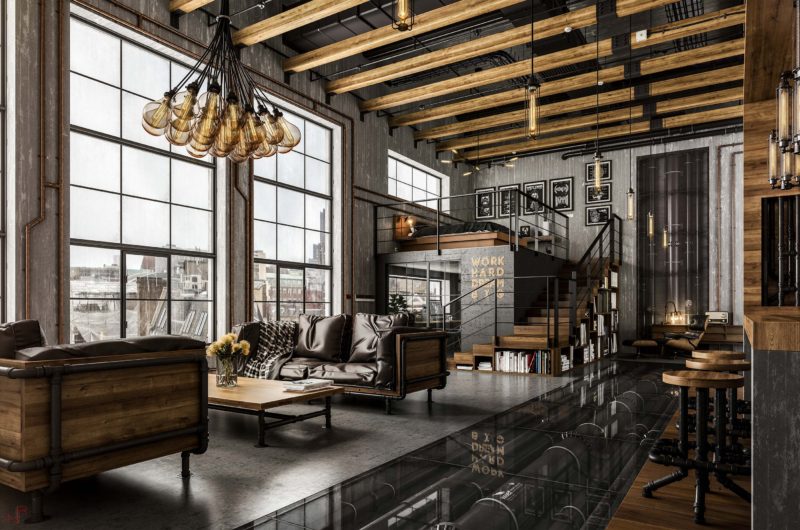 Gray and Black Make It Luxurious and Masculine
Color selection is a major factor in the appearance of the apartment. Gray and black are the perfect combination for a luxurious and masculine industrial look.
Concrete walls and floors create natural gray color. Gives a cool effect to the industrial apartment. Black is applied to the walls, floors, and several items in the apartment.
A black granite floor is made extending to the end of the apartment. Provides a wide effect so that the apartment won't feel cramped. Besides that, the glossy finish gives a luxurious look to the industrial apartment.
The black color is also applied to the iron elements in the apartment. Gives a cool and firm feel to the industrial apartment.
Wooden Element for Little Soft and Calm Look
Gray and black are the perfect colors to make the apartment look masculine and luxurious. However, if it is not accompanied by natural elements, the industrial apartment will look so stiff and monotonous. Therefore, wooden elements are applied for bringing a little soft and calm look to the industrial apartment.
White Industrial Apartment
Industrial design is more restrained with dark colors as the base color. In fact, the colors applied to the industrial style are neutral colors. And white is included in this color group.
This one idea is perfect for those of you who want to apply industrial design to your apartment but want a bright appearance. By choosing white as the basic color of the apartment, it is guaranteed that your industrial apartment will be far from a dark and masculine look.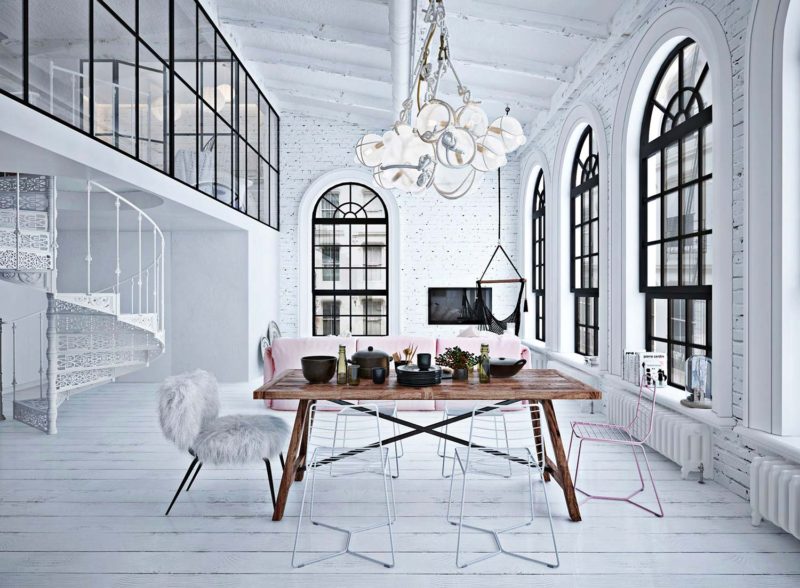 In this idea, almost all the spots on the apartment are applied white. The walls, exposed brick walls, wooden floors, and even the ceiling were painted white.
So that it does not look monotonous, black is the right color to choose. The black color gives a bold effect to the white apartment. Besides that, wood elements are also used to give a little natural feel to the apartment.
Spacious Industrial Apartment
In industrial apartments, there are usually various kinds of furniture and items used. However, this one idea is perfect for those of you who want to have a spacious industrial apartment.
In this idea, the furniture used is only the furniture that is needed, such as a sofa, dining table and chairs, and so on. To make this apartment look attractive, the walls are given eye-catching decorations. The exposed brick wall that is applied to the entire apartment walls is also a factor that makes this apartment not look monotonous.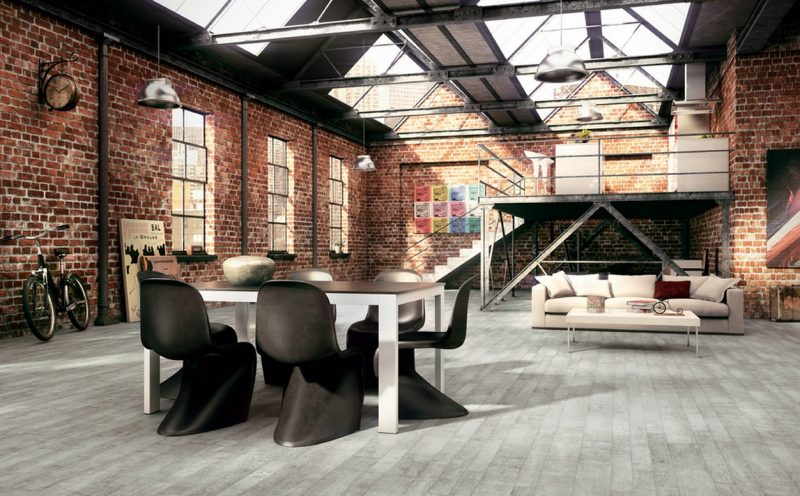 Skylight windows are used to provide maximum natural lighting for the apartment. The effect is, the apartment will feel more spacious and more comfortable.
At the back of the apartment, you can see that there is a loft that is used as a kitchen spot. This is a very interesting idea because the loft is usually used as a private room or bedroom.
Modern Industrial Apartment
Because it takes advantage of an outdated factory, it's no wonder the industrial style look looks more outdated. But getting here, industrial design is experiencing improvements and modifications. Like this one idea, industrial design with a modern concept is perfect for those of you who are still young and contemporary.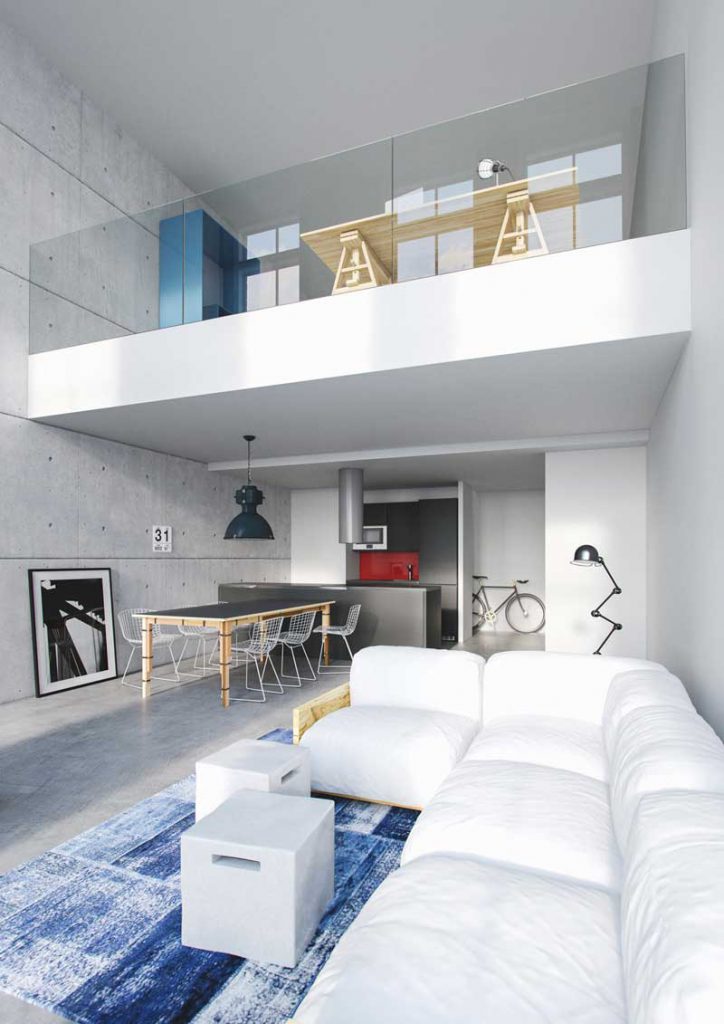 Minimalist Furniture Design
The modern concept tends to be more minimalist in appearance. Sofa, dining table, dining chairs, and kitchen cabinet are chosen with an attractive minimalist design. To make an industrial apartment look bright, a white sofa is a right choice.
Due to its minimalist appearance, this apartment really needs decoration so it doesn't look monotonous and stiff. In this idea, a blue carpet with a simple and attractive motif was chosen to decorate the apartment. Blue carpet placed just under the sofa.
Besides making an industrial apartment look attractive, the carpet also functions as a room divider between the kitchen, dining spot, and living room.
In order for industrial design to dominate the apartment, concrete walls and floors are still selected. The natural gray color of the concrete gives a cool effect to the industrial apartment. Even though it has a modern concept, you can still feel the industrial atmosphere in the apartment.
Conclusion
It does not hurt to create a place to live that is different, attractive, and comfortable. When this you can get it by applying industrial design as an apartment interior. Dominant with a cold, masculine, and dark appearance makes industrial apartments more attractive to people. And if you are one of them, in this article, we have provided Pitcures and Ideas of Enticing Loft Industrial Apartment. Using the loft is an interesting idea to give the apartment more spacious. That way, industrial apartments not only look attractive but also feel more spacious and comfortable.