Olidhomes.com – Because of COVID-19, we have to bring and do our work at home. Or what is commonly called Work From Home. This is why having a cozy home office is so important currently.
With the cozy home office, you can not only work comfortably and quietly. The comfortable atmosphere will certainly enhance your creativity. Plus if your home office is made as attractive as possible. Sure, work will be a fun activity. And you will not easily get bored of being in this room.
Making the home office feel cozy is not enough to make you work comfortably. You also have to add the fresh nuances there. It is good for boosting your mood. In this way, you can do your work in great condition.
So, have you interested in having a comfortable home office? If yes, in this article, we have provided 7 Simple Ways Getting Fresh and Cozy Home Office. Let's check it out!
1. Providing Natural Lighting
In having a fresh and cozy home office, you have to pay attention to the lighting in the room. Make sure you take advantage of natural lighting to light up this room.
Natural lighting is indeed the best lighting that can make your mood good. Not only that, but natural lighting can also make the room feel calmer and more comfortable.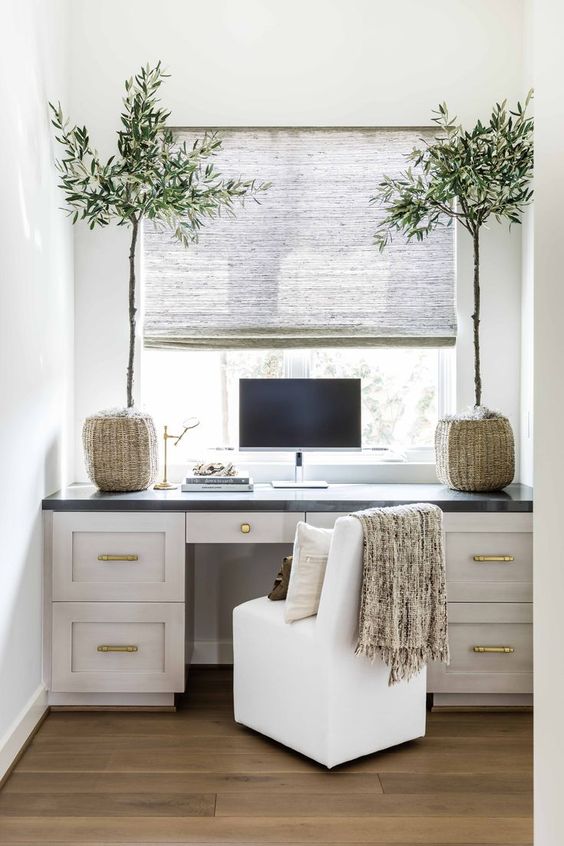 In this tip, place the worktable in a spot exposed to the sun. And don't forget to open the windows in the morning. This will be very good for your health and also boost your mood.
In order for your work not to be too distracted by glare, make sure you don't open the window curtains too wide. With this, you can complete your work comfortably.
2. Adding The Artificial Lighting
In creating a cozy home office, natural lighting and lamps must be balanced. With this, the room will get perfect lighting. And of course, you can work more comfortably.
Recessed lighting is one of the best lights that you can choose. This lamp is a type of lamp that can evenly illuminate a room.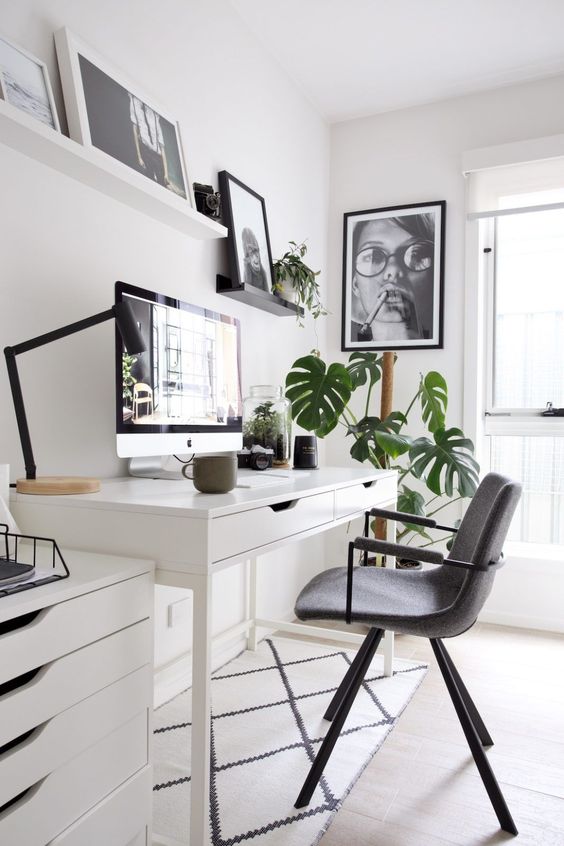 To provide additional lighting, you can also choose table lamps. This is great for providing more light and focus. The use of this lamp really helps to reduce the potential for adding minus to the eye.
3. Make Sure The Air Circulation Runs Well
In providing natural lighting to the home office, you have to install the window there. There are some types of windows that can be chosen. And the best window type that you can use is an open window.
The open window not only presenting the natural lighting to the office. You could utilize it to make the air circulation in this room runs well.
You could open the window in the morning for getting fresh air. It is good for your health yet mood. This is one of the easy ways that you can follow in having a cozy home office.
4. Add Some Attractive Decorations
Applying the minimalist concept is a great idea in having the home office full of serenity. Unfortunately, a display that is too simple is also not good because it can make the room seem stiff and boring. So, the right way to make your cozy workspace look great is by adding some attractive decorations there.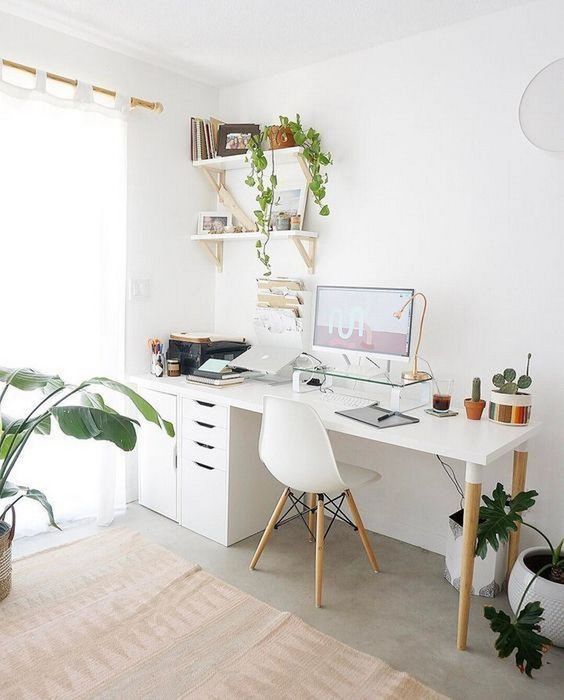 There are several decorations that you can use to make your home office look interesting, such as pictures, photos with loved ones, plants, and so on.
Whatever decoration is used, make sure that it all matches the design and concept you choose for your room. And do not forget to arrange it neatly. So that this room will look neat, clean, and pretty.
5. Make It Fresh with Plants
In decorating your home office, plants are indeed the most appropriate option. The green color of the plants is perfect for making your room feel fresh. Not only that, but some plants also have very interesting benefits. Such as Sansevieria and cactus plants which can absorb harmful substances in the air. You can also use the Peace Lily plant to reduce mold and humidity there. Lavender plants are also perfect for making your workplace smell nice and soothing.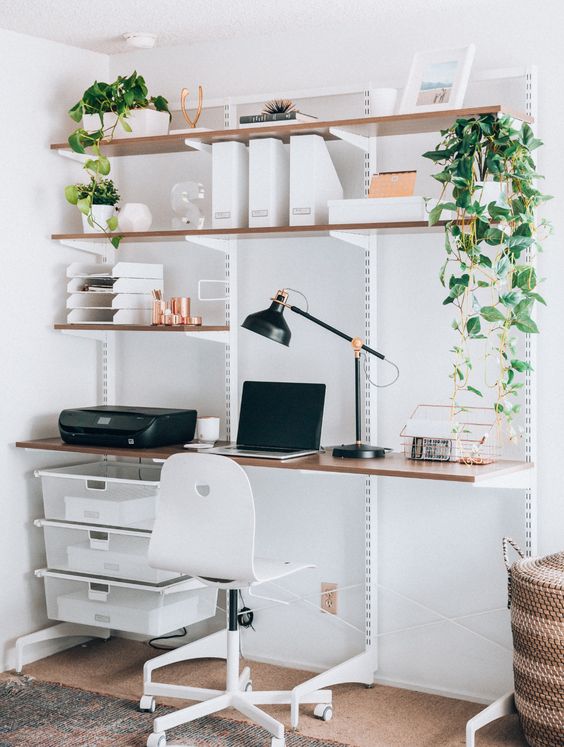 In decorating the home office, there is no need to use large plants. Small plants are also enough to make this room feel so fresh and cozy.
If you don't have more space in your room, you can take advantage of hanging plants. This is the most appropriate way to greenery the room without taking up space. So that your small room will not feel cramped.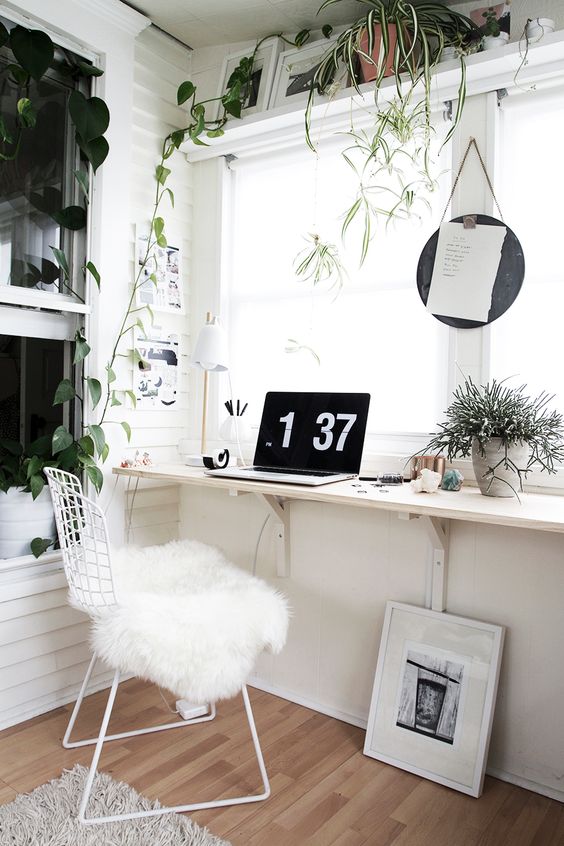 There are some benefits that you can get by decorating your interior with plants:
Make it feel fresh.
You can feel more relax.
The air in the room will be clean and healthy.
The interior will look more pretty.
Can balance the color in the room.
6. Clean Your Home Office Regularly
Every room is never free from dust. Not only that, sometimes because a lot of duties can be a factor that will make the home office look messy. If you leave it just without cleaning or tidying it, of course, the home office will become an uncomfortable room. It can also distract the beauty of this room.
In having a cozy home office, you have to make sure that this room is free of dust and clutter. You can mop and sweep the floor regularly. Don't forget to clean the dust on shelves, displays, laptops, mouse, keyboards, and others. Put back the files that have been used to their place. And lastly, don't forget to take out the trash that is there.
7. Installing Air Conditioner
A hot room is one of the factors that can affect your concentration when working. So, if you wanna have a cozy home office that can improve your concentration, make sure that the room is equipped with air conditioning features.
Maybe the fan is the main choice to make the room cool. This one item is indeed very energy efficient. However, the fan is not enough to make the room cool, especially during the summer with extreme heat.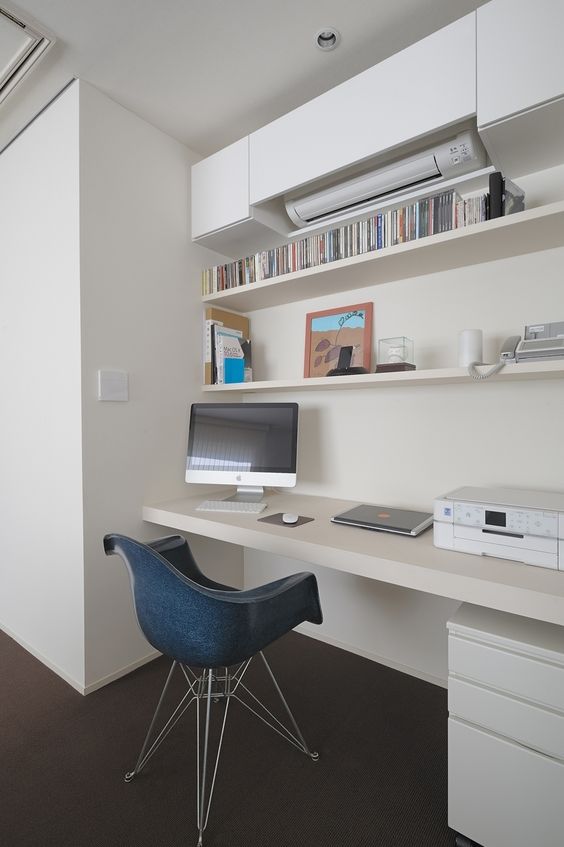 So, compared to using a fan, the air conditioner is much better. Besides making the room cool and comfortable, the air conditioner is also able to fight viruses in the room. Some air conditioners are equipped with a feature that kills germs in the air. That way, the air in the room will be clean and healthy.
8. Add Some Storage
Bringing work home is tantamount to bringing important files to your dwelling. Sometimes many files are brought home. If you put it on the work table, it will certainly disturb the comfort and beauty of the room.
So, to solve this problem, the only way is to add some storage. And here are some storage places that you can choose to fill your home office: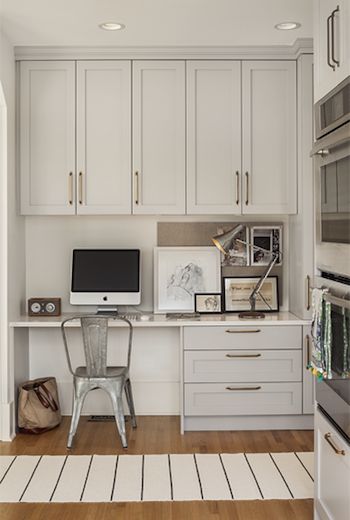 Maybe you are familiar with this one item. Wall cabinets are usually used in kitchens, or so-called kitchen wall cabinets.
By utilizing a wall and also equipped with a door that can hide clutter properly, a wall cabinet is a storage area that you can choose to fill your home office.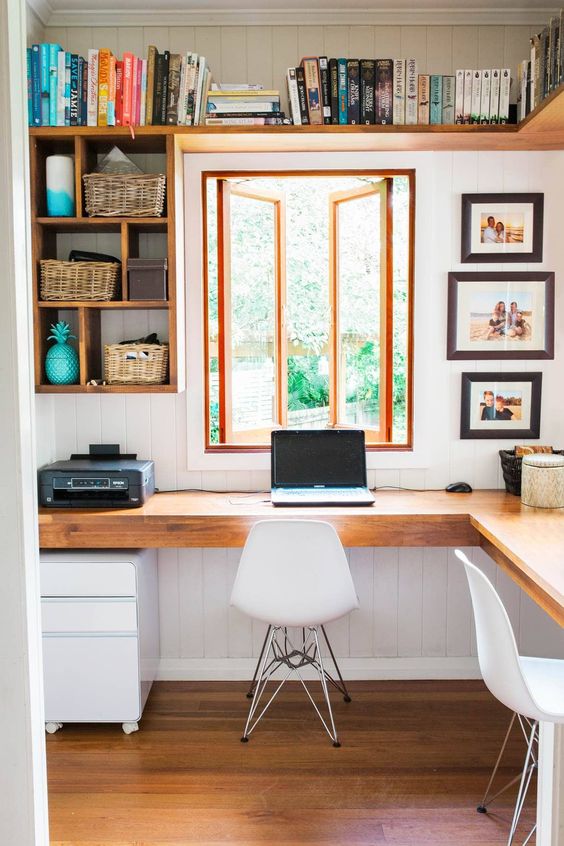 It is better to use the wall area as a storage area. This is an alternative way to present more space in the room, especially a narrow room. And the floating wall shelf is the right item to use.
To put some of your stuff here, make sure you put it neatly. An attractive appearance can also add to the beauty value of your home office.
Conclusion
Currently, having a cozy home office is so important. Because of the pandemic, we have to do our activities at home. And of them is work. Work From Home indeed has been applied since a year ago. And if you have a fresh and cozy home office, we sure that you can do your work comfortably. In addition, a great home office also can improve your concentration and mood. And to have this dream place is not difficult. In this article, we have provided 7 Simple Ways Getting Fresh and Cozy to Your Home Office that you can follow. So, happy trying all!