Olidhomes.com – It is almost fall. This is a great time to relax and hang out with friends and family. The cool air with orange leaves makes the vibe feel so different. So, make sure you have a cozy outdoor space for fall.
The outdoor is the right area to choose as a place to relax and enjoy autumn. You can directly enjoy the fall atmosphere that warms the heart and mind. Therefore, make sure you have decorated your outdoor as comfortably as possible.
In this article, we have provided 15 Decor Ideas in Creating A Cozy Outdoor Space for Fall. So, let's check it out
1. Feel More Dramatic with String Light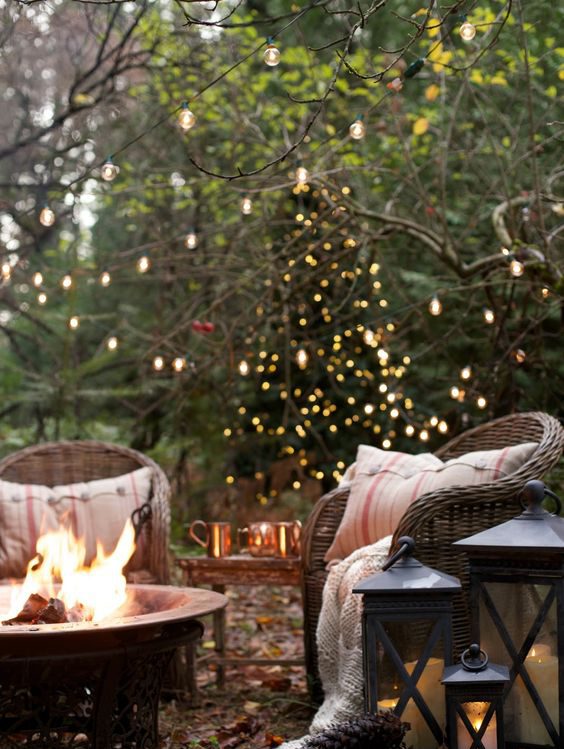 Two comfortable chairs accompanied by a fire pit will make the outdoor a very comfortable area. Presenting warm lighting as decoration is the right idea. It will evoke a sweet and romantic atmosphere to the outdoor. You can use candles or string lights that are hung on tree branches. The light from the string light will make this area look more attractive and romantic.
2. Rocking Chair Around The Bonfire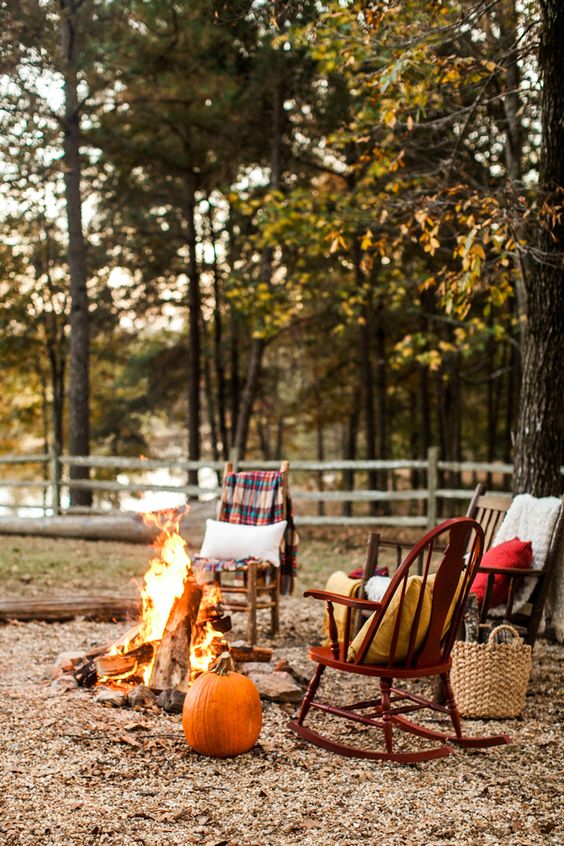 Enjoying the fall in the outdoor atmosphere is one way to heal yourself. Stacked logs for the bonfire and rocking chairs around it. Complementing it with pillows and blankets can make it feel warm to fight the cold air outside. This will be the most comfortable area to enjoy alone or with loved ones.
3. Cozy Chairs, Pillows, and Beautiful Candles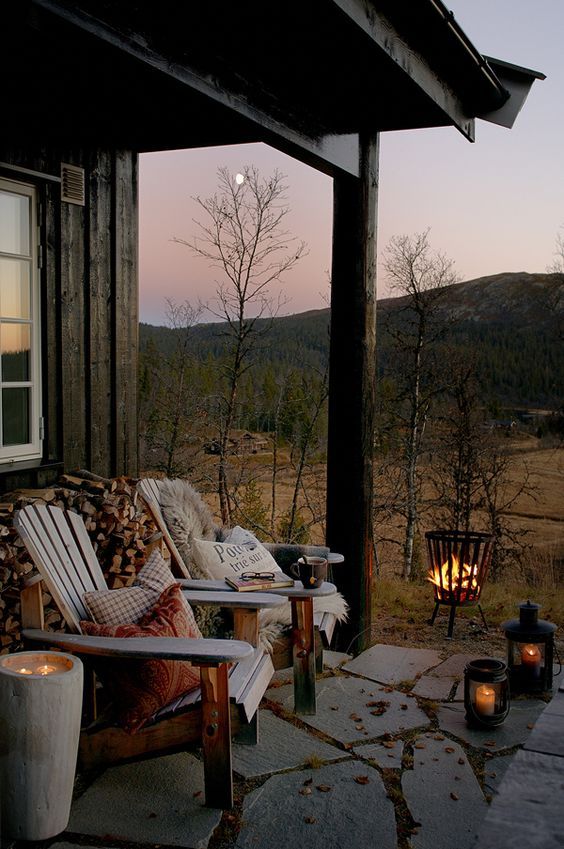 To enjoy the heartwarming fall atmosphere, put some cozy chairs on your terrace. Complete with some pillows to make it more comfortable. To keep you warm, you can use a sheepskin rug or other blanket to the chair.
Some warm light from candles makes a warm atmosphere present in the cold outside air. This is a very comfortable area to enjoy in the afternoon or evening.
4. Pumpkins Decor Emphasize Fall Ambiance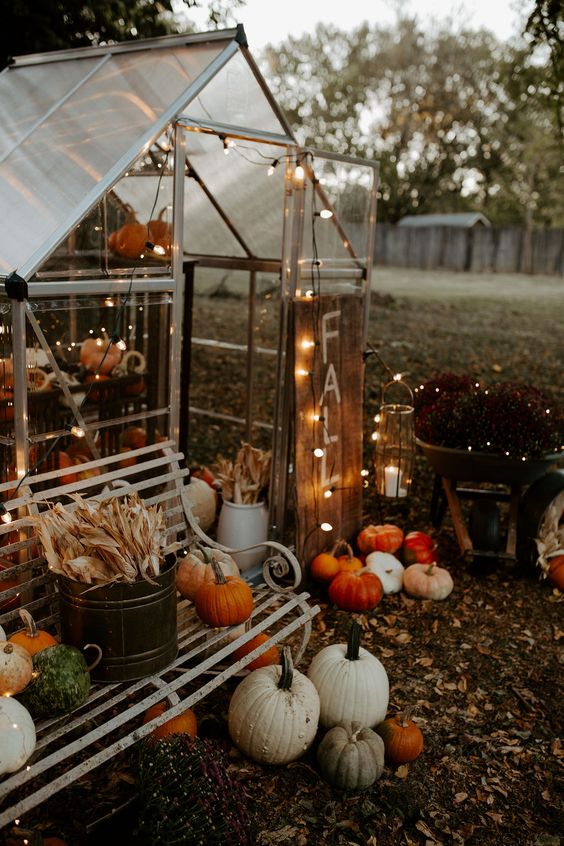 Enjoying the autumn atmosphere does not just have to be sitting on a bench with warm pillows and blankets. You can also enjoy the autumn atmosphere with pumpkin decor which is one of the characteristics of this season. The decoration is also with string lights to bring a warm feeling that makes the outdoor space for fall feel comfortable and calm.
5. Cozy Outdoor Space for Fall in Soft and Calm Nuances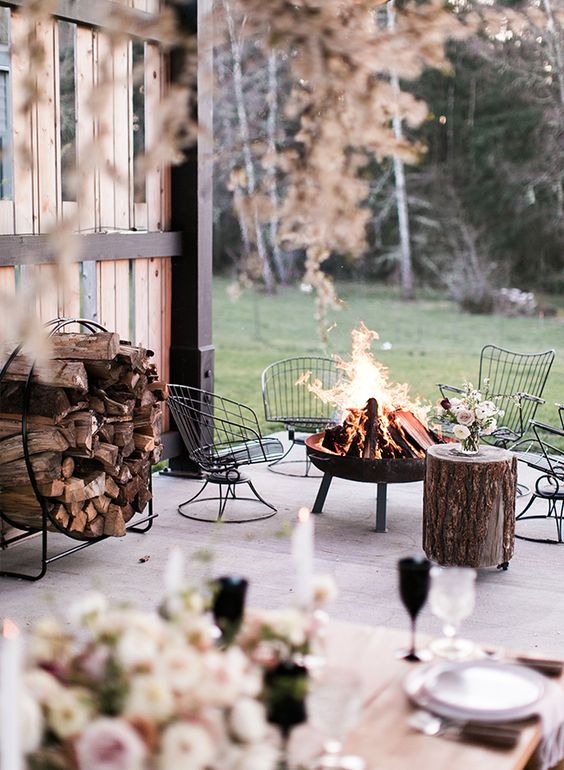 Outdoor space for fall does not just have to be orange. This idea gives a different picture. Outdoor space for fall is made with a calm and soft nuance.
The right fire pit is an important part of making the air around the seat warm. It is just that, for decoration, this idea relies more on flowers with soft and beautiful colors.
6. Beautiful Yellow Flowers Decors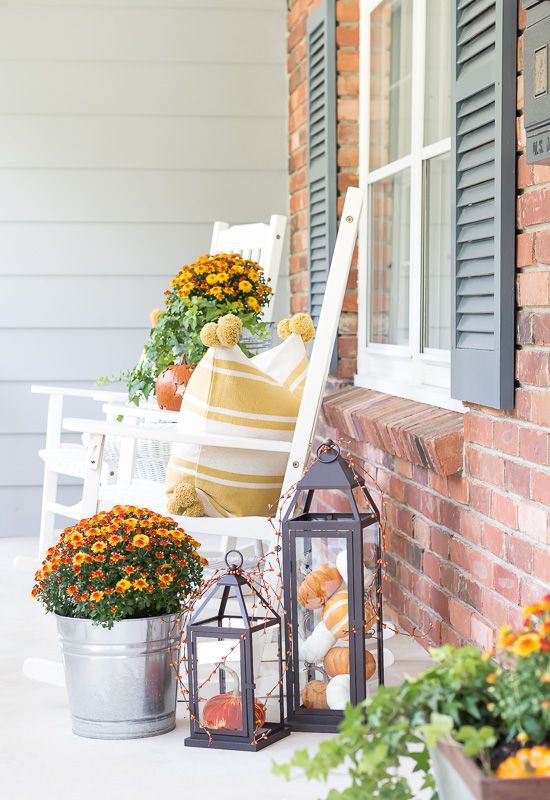 This outdoor space for fall decoration is wrapped with a feminine, fresh concept. Two white-painted benches look so beautiful with yellow pillows as decorations. Some yellow flowers also make this area look so pretty. Flowers are placed on the table and also beside the seat. Another decoration that is no less interesting is a lantern filled with small pumpkins.
7. Cozy Swing Chair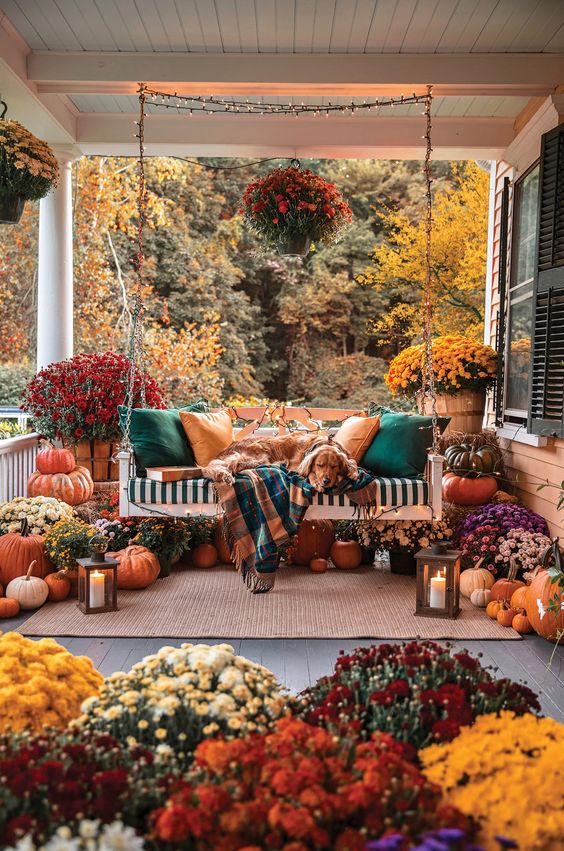 There is nothing more relaxing and comfy than sitting in a swing chair. Plus, the fall atmosphere gives warmth to the heart and mind.
The swing chair with a soft couch accompanied by several pillows makes it a very comfortable area to relax. Also, Additional blankets can keep you warm in the midst of cold air.
This outdoor space also looks very attractive, fresh, and pretty with a variety of beautiful flowers that surround the porch. You can also feel the clearer fall atmosphere with the pumpkin and lantern as additional decorations.
8. Cozy Reading Nook in Porch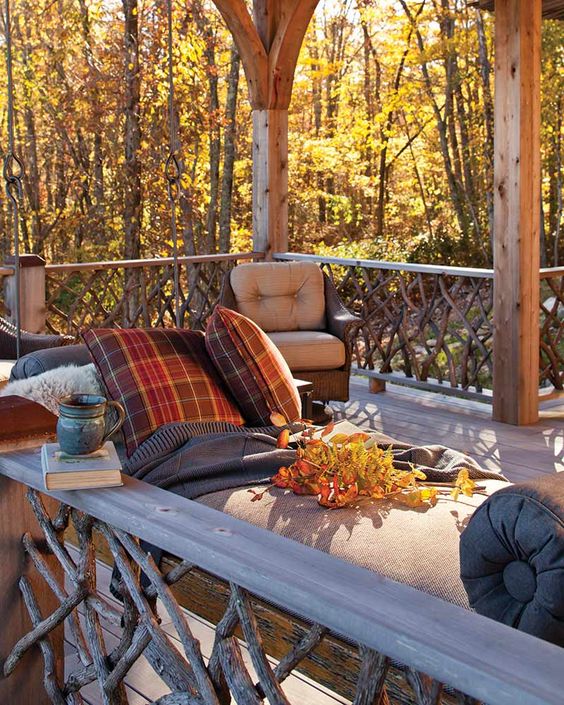 Reading books is a fun activity. Especially if your house has a very comfortable reading nook.
You can use the Porch as an area as a cozy reading nook in the fall. You can place the bench there and decorate it with a soft couch, some pillows, and a blanket.
Enjoying the fall atmosphere by reading a book is indeed the right way for you to spend your free time. Reading will be much more fun especially if accompanied by a cup of hot chocolate.
9. Cozy Patio for Fall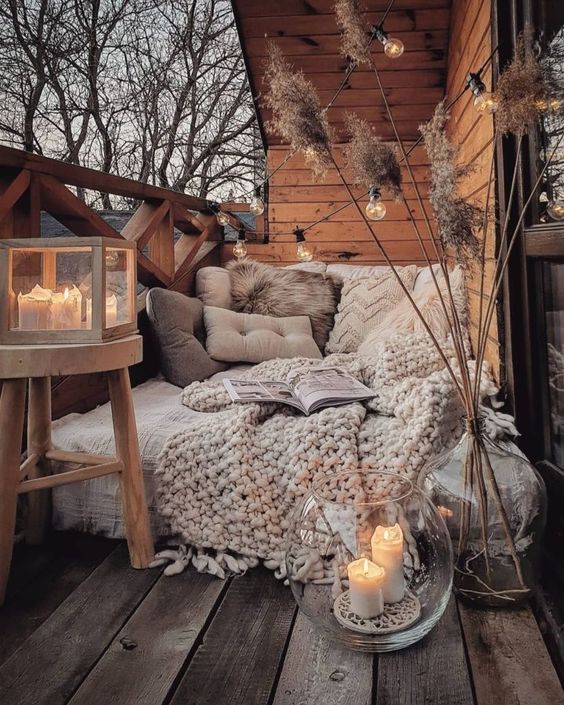 The patio is also an outdoor space that you can choose to make a comfortable place for fall. There is no need for a difficult way to decorate in making the patio feels comfortable. Here, you only need to rely on a soft couch and some pillows. Also, use a wall blanket to make you feel warm on the patio. And, in evoking a warm and romantic atmosphere in this space, take advantage of candle lighting and string light.
10. Cozy Outdoor Dining Area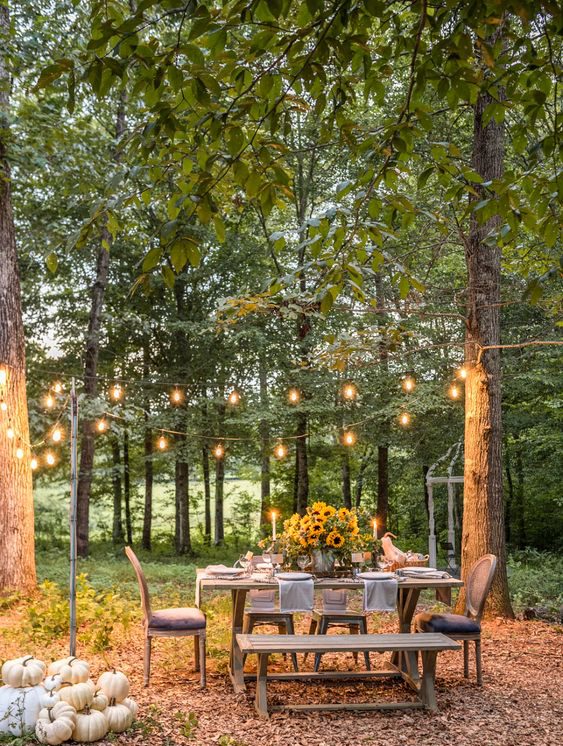 The dining room is often in the house. However, what if you create a dining area in your outdoor?
Enjoying a romantic and warm atmosphere while enjoying delicious food is an interesting way to enjoy autumn. No need for complicated decorations to create a cozy outdoor dining area. You can use a wood table, bench, and some chairs. Then, decorate the table with beautiful flowers and candles. Add another warm lighting with a string light that hangs just above the dining table.
11. Cozy Couch in Backyard Deck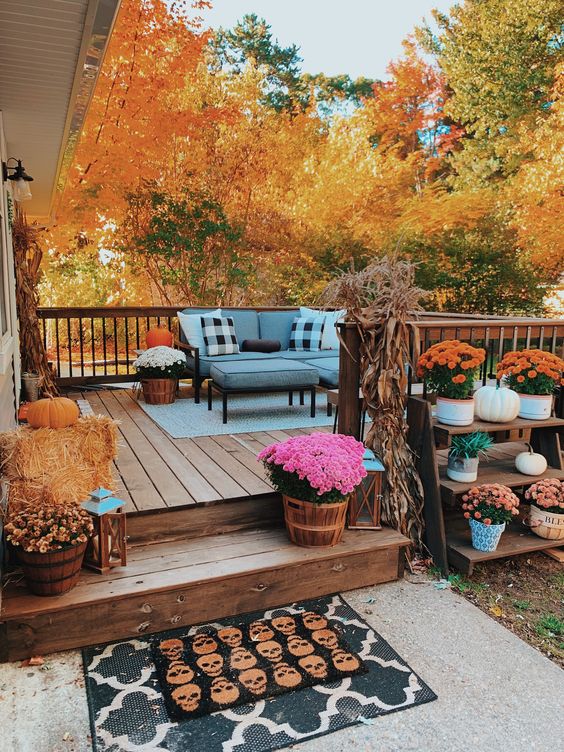 The backyard is indeed the right place to enjoy the fall atmosphere. When fall will come, you can decorate it with a cozy couch. And do not forget to put some pillows on it to make it feel cozier. It will be more complete if you relax and talk with a warm drink. Therefore, also present a coffee table to this deck.
If you feel that your backyard deck feels small and cramped, you can decorate it with a rug or carpet. This will really help to give the illusion of breadth to the deck.
12. Simple Swing Chair Decor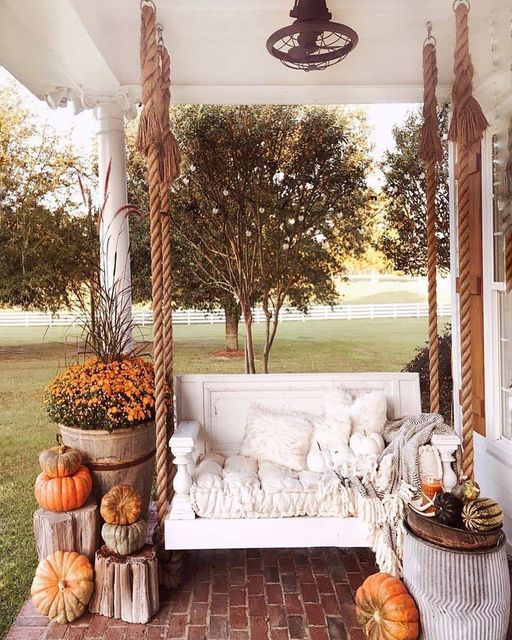 To make a swing chair as a comfortable outdoor space for fall, there is no need for complicated decorations. As in the picture above, which only relies on a cozy couch, three pillows, pumpkin dolls, and blankets. You can also decorate around the swing chair with pumpkin and some flowers to emphasize the fall vibe in it.
13. Comfortable Porch for Fall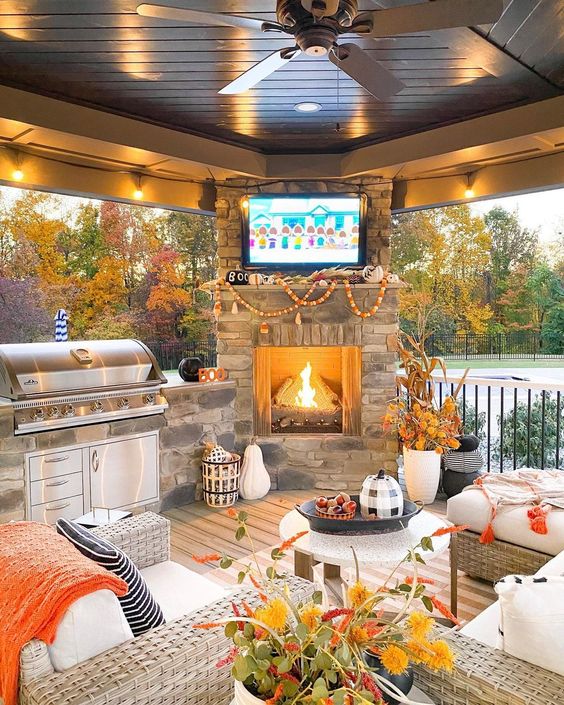 There is nothing wrong with making the porch a place to gather with family and friends in the fall. You can make the porch as comfortable as possible. Place the cozy couch there is equipped with pillows and blankets. Also, do not forget the pumpkin and flowers decorations to decorate the porch.
The porch would be much more fun if there was a fireplace and television on it. Barbeque equipment is also an addition that can make the porch a more pleasant place to gather.
Natural stone on the walls presents a calmer natural feel. Some string lights are also important in making the porch feel warm, calm, and romantic.
14. Cozy Patio in Boho Style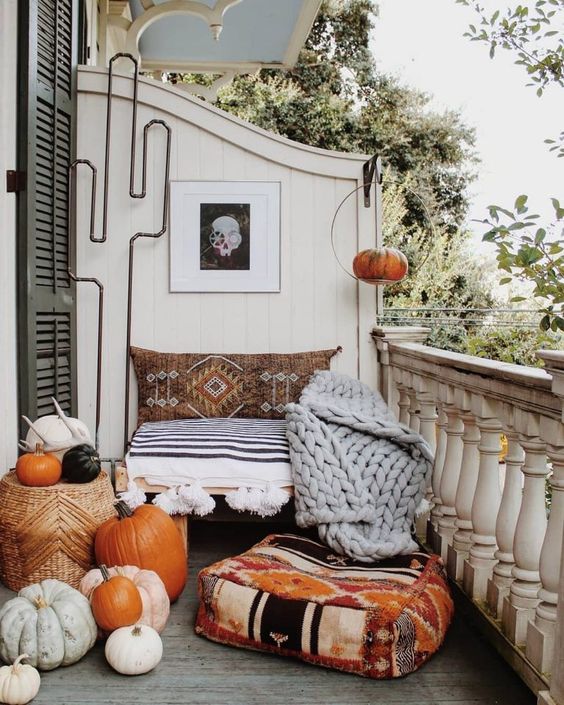 Applying boho style to the patio is the next decor and idea of creating a cozy outdoor space for fall. The distinctive boho motif will make the patio look attractive.
In the picture above, the boho patio style is indeed made more simple. Only rely on boho motifs in beautifying the patio. For the color, this idea is still using neutral colors that are safe to use. The fall ambiance can be clearly felt from the pumpkins used as decorations.
15. Cozy Outdoor Space for Fall in Old Look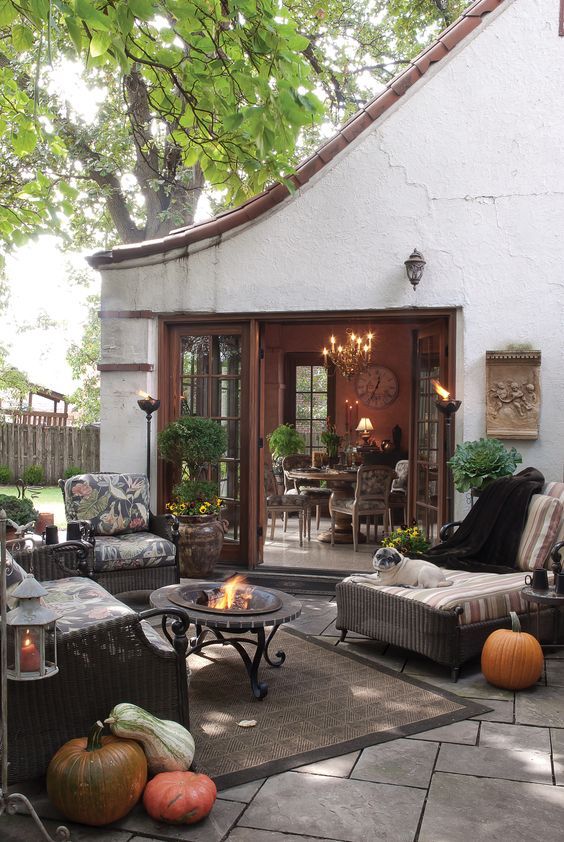 Traditional style may look old. However, this can make the outdoor look interesting and different. As in the picture above, where the couch on the bench has a picture of flowers, it brings us to the old century era. Another old look that you can find is the foot of the firepit. The curvature of the legs really illustrates the traditional impression in the backyard.
16. Resting and Dining Area in One Place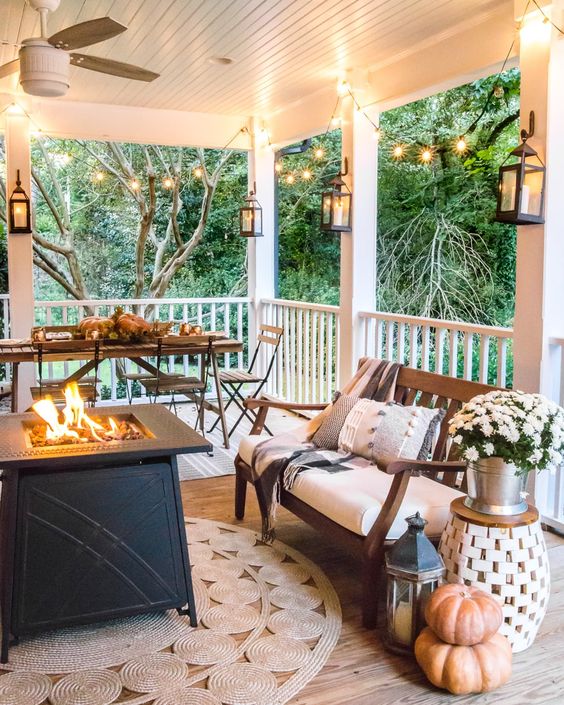 The porch can be used as a small area to entertain guests. This is a different way of entertaining your guests.
There is a small comfortable sofa near the fire pit as a place to sit and chat casually. If we look deeper, there is a simple but sweet dining area. The decoration of pumpkins on the table really describes the fall in the porch atmosphere.
17. Cozy Terrace for Fall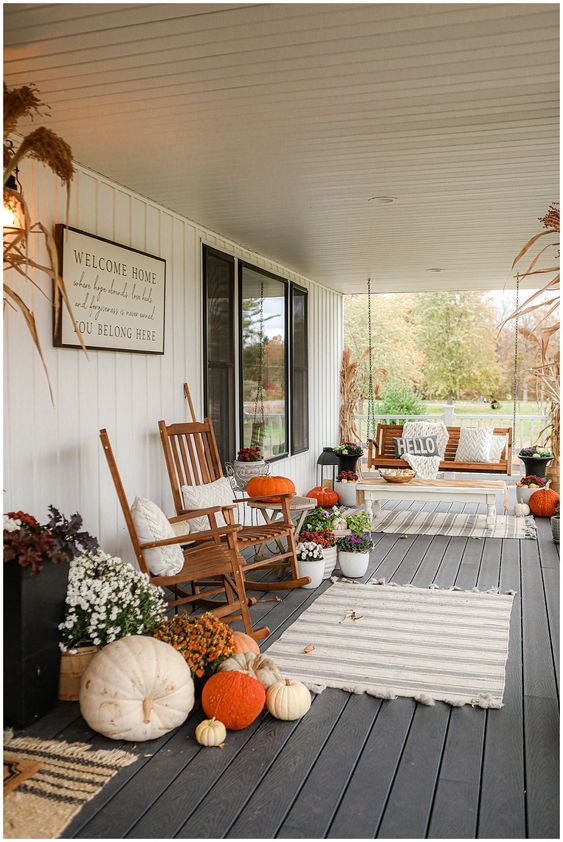 It is better to enjoy the fall in your outdoor atmosphere. Here, you can feel the cool air more in autumn. And the terrace is a place that you can use as a relaxing area this season.
A rocking chair accompanied by pillows will be a very comfortable place to relax. If you feel bored sitting on a chair, you can also enjoy your afternoon on a comfortable swing. The existence of a rug as decoration will be very helpful to make the terrace look wider.
Final Words
Want to enjoy a fall ambiance in your outdoor? If so, then you should make your outdoor as comfortable as possible. Make sure the outdoor is comfortable enough for you to relax or gather and chat with loved ones. Present a warm feel in the cold air. And provide calm and comfort to make yourself much more relaxed. This article has provided 17 Decor Ideas in Creating A Cozy Outdoor Space for Fall. So, make sure you choose the right one for your home. Good luck everyone!