olidhomes.com – Having a swimming pool at home will increase the value of your home. So, if there is enough vacant land, make it a cozy swimming pool is a great idea. You can also use this one place to relax or have a party with your family or friends.
In creating a cozy swimming pool, you must know in advance, the right design and decoration for your home. And to help you in getting references, in this article, we have provided Pictures & Ideas of Beautiful and Cozy Swimming Pool for Parties or Relax. So, let's check it out!
Shady Cozy Swimming Pool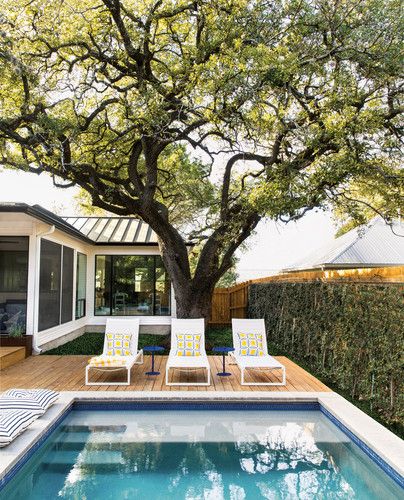 Disturbing the view and taking up too much space, these are the reasons why people cut down big trees in their yards. In fact, large trees can be put to good use. Like this one idea.
Making a swimming pool near a big tree is the right thing. Shady trees will make the swimming pool feel shady. You can also put some cozy chairs to enjoy the afternoon atmosphere.
Fire Pit Make it Feel Warm
In making a swimming pool, it does not mean you spend all the empty land. Set aside land to be used as a gathering area.
Add the fire pit to make the swimming area feel warm and comfortable. Present some wooden chairs to add a warm and soft impression to this area. Provide a thick cushion so you feel comfortable when sitting for a long time. However, bring back the cushion to warn against rain or snow that can make it wet and damp.
Tropical Swimming Pool Theme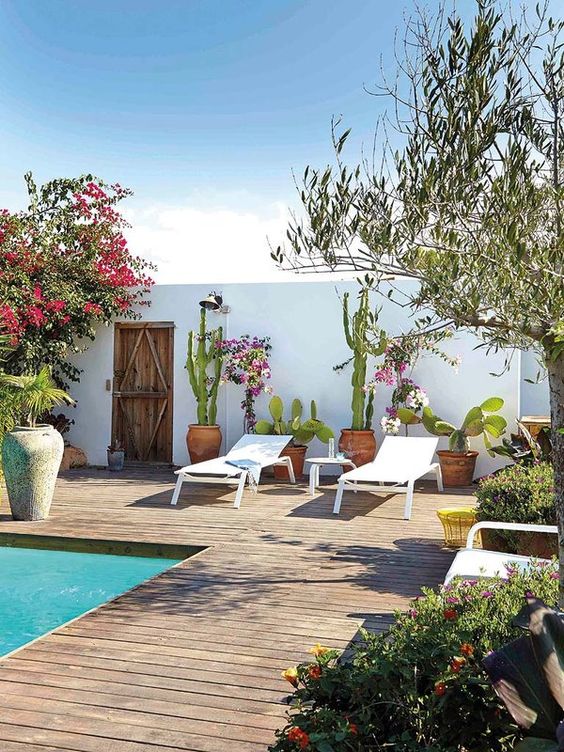 For those of you who are in a region with hot climates, it is most appropriate to apply a tropical theme to your swimming pool. This theme will make the swimming pool suitable as a place to rest or having a party with your friends.
Cactus plants are the main decoration that gives a tropical atmosphere to the swimming pool. Its attractive shape also adds value to the beauty of this place. Also, present some other plants to make this place feel fresher. Flowers that have beautiful colors can make the ambiance feel more cheerful and fun.
Dine-in in The Swimming Pool, Why Not?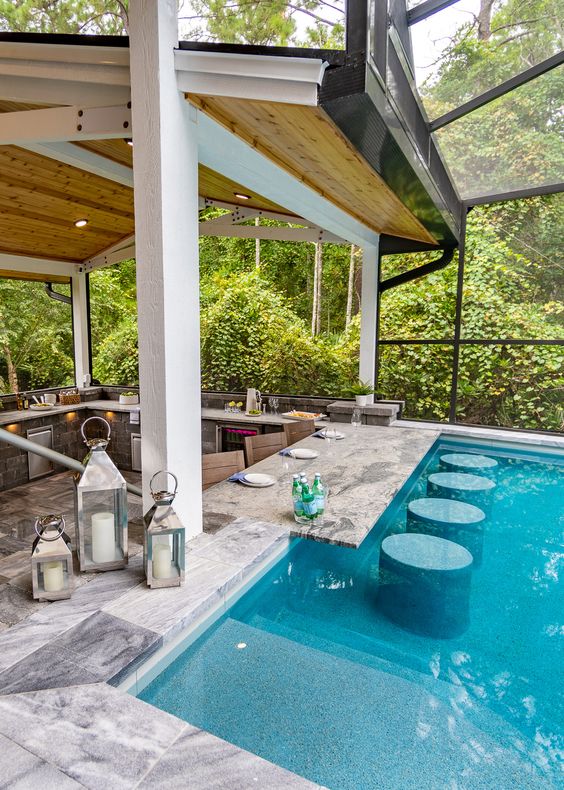 This idea is quite interesting and anti-mainstream. Where the swimming pool is not only a place to swim but also a place to eat.
The presence of concrete chairs in the pool makes you more comfortable when eating in the pool. And for the table, marble is made more protruding into the swimming pool area.
This idea will be perfect for those of you who prefer to make a party at home. Very interesting, right?
Feel Calm in Nature Nuances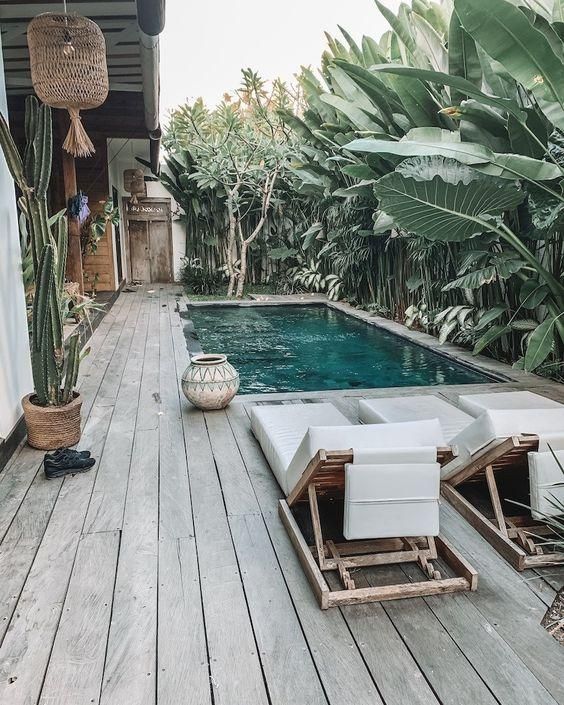 The natural atmosphere is very good for the body and soul. Seeing green in plants can make the mind feel more relaxed and calm. Coupled with the presence of water that delivers a much more perfect calm. So, for those of you who want to get peace like this, this one idea is perfect for you.
A swimming pool with a natural feel will have a calmer atmosphere. So, you can use it as a place to rest or relax.
The edge of the wall around the swimming pool is the right space to serve as a green area. Besides, this is an effective way to make this area feel wider. The walls will be covered with plants, so it feels like nothing is limiting the area.
Swimming Pool without Barriers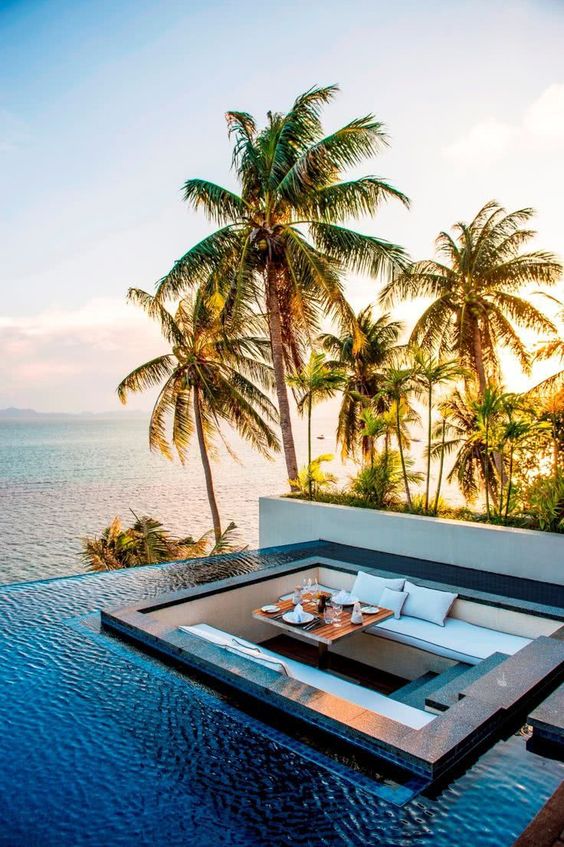 The beautiful view is a bonus to add to the comfort of the swimming pool. Therefore, not making boundaries is the most appropriate thing.
This one idea describes a swimming pool that stretches indefinitely. The sea view will make the swimming pool the most comfortable area. You can enjoy the sunset at the end of the sea while swimming.
Having a place to relax in the middle of the pool makes this area look even more attractive. You can enjoy this area with loved ones because the atmosphere created is really romantic.
Attractive Spot to Watching The Movie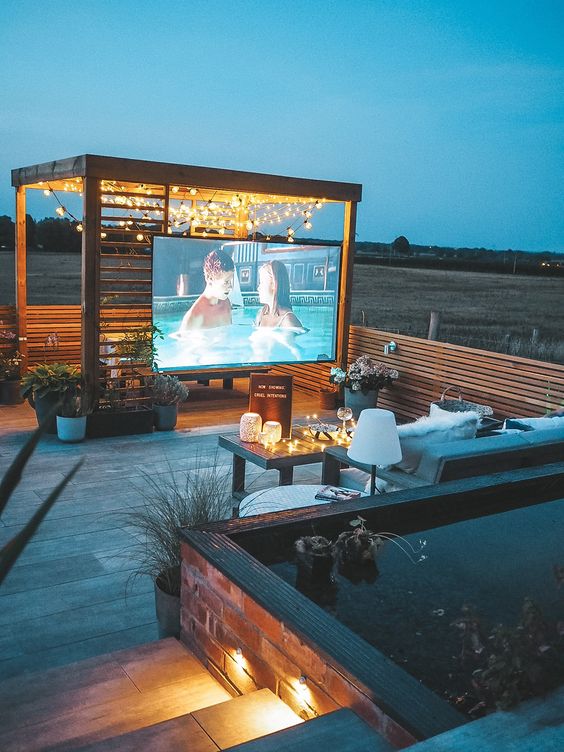 Have you ever imagined swimming while watching a movie? Or the pool area as a comfortable place to watch a movie? This one idea is indeed very interesting for you to apply.
With an infocus and a white screen that stretches out, you can play your favorite movies. To make this area more comfortable, decorating it with a cozy seat or sofa.
Warm lighting is the right lamp to choose. This will decorate the pool area at night and create a romantic atmosphere. With this, you can invite your loved ones to enjoy a movie together at night.
Swimming Pool Like in Balinese Villa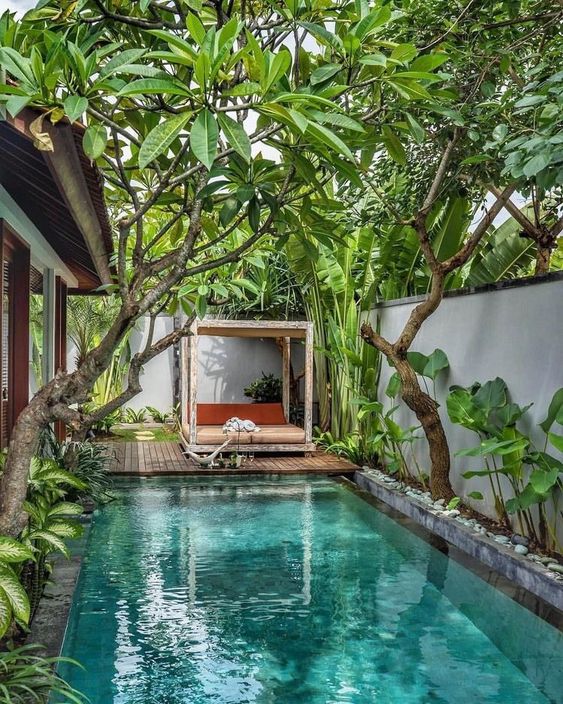 One of the islands in Indonesia, Bali, is a very popular tourist destination. Not only the beaches are beautiful, but the villas and residences on this island are also full of warmth, tranquility, and comfort.
So, if you want to have a comfortable and quiet swimming pool, you can try this one idea. A small swimming pool where each edge of the pool is decorated with beautiful green plants. Natural stones also decorate the edge of the pool and emphasize the natural feel of this place. And the most characteristic is the frangipani tree which makes the swimming pool feel so shady and calm.
Near the swimming pool, a very comfortable resting place is also made, a canopy bed without knee. So, you can lie down and enjoy a calming atmosphere without having to worry about the glare of the sun.
Simple but Feel So Cozy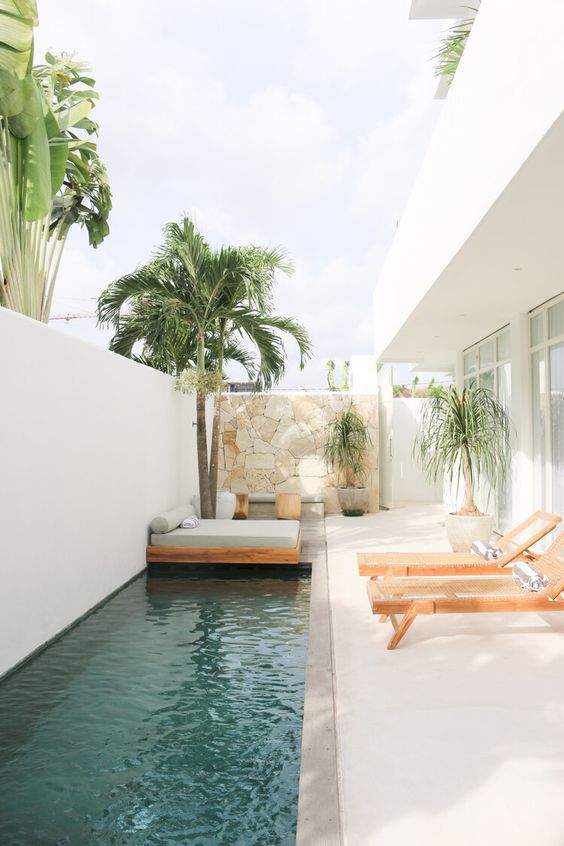 In making a swimming pool at home, it does not only have to be with a large area. As in this one idea that utilizes a small land in the backyard.
The small swimming pool in the backyard is enough for you and your family to swim. And a little decoration leaves more space which makes it feel wider. And do not forget some cozy pool seats to cool down and enjoy the calm atmosphere at the swimming pool.
Indoor Swimming Pool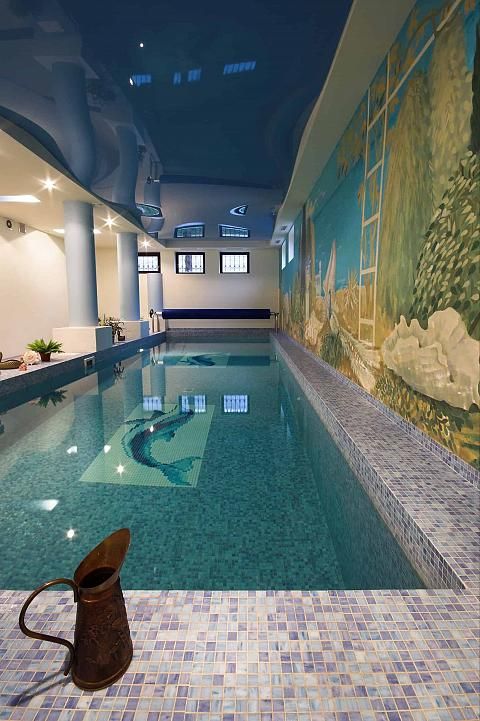 When viewed, this one swimming pool is like being outdoors. But in fact, this swimming pool is indoor.
At the top of the swimming pool, the ceiling is made of blue and glossy. So you will see it like a cloud. And the reflection of the light makes it look more attractive.
On the walls are also made wall murals depicting plants. So you will still feel like in the wild with green plants and grass.
Shady and No Limits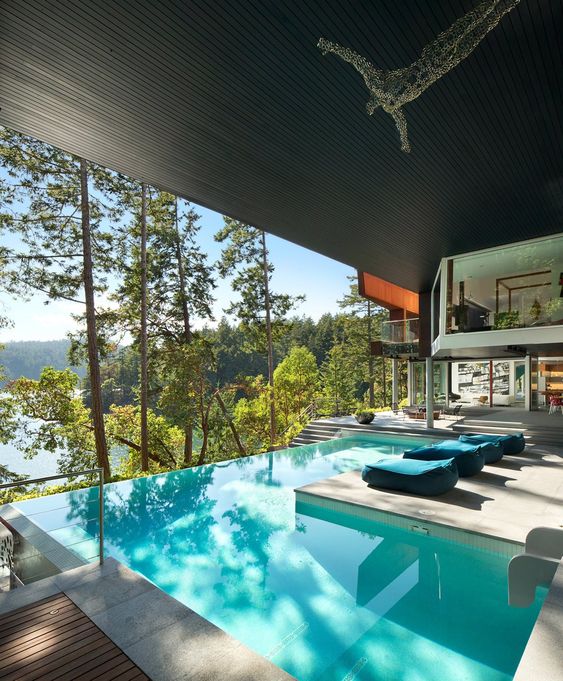 This one idea may seem like being indoors. However, in fact, the concept applied to the swimming pool is an open concept.
At the top of the swimming pool, a ceiling is made to make it feel shady. However, on the edge, there is no limit so that the swimming pool directly faces the outdoors.
Several longe pool chairs are exposed to the wild. With this, you can relax and enjoy the beautiful scenery outside.
Fresh and Cozy Indoor Swimming Pool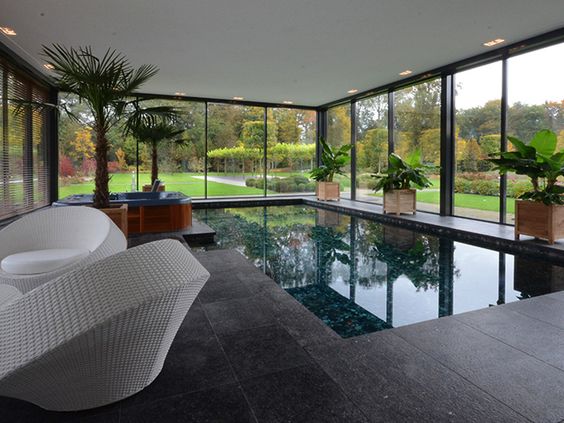 The indoor swimming pool is indeed the right choice for those of you who want to swim but are still protected from the sun. Making a swimming pool in the room and decorating it with some green plants will make it feel more fresh and natural.
The glass facade is also preferred to expose the beautiful green plants. So, the atmosphere of the swimming pool will still feel fresh like you are not in the room. And you can still enjoy the outside atmosphere from inside here.
Small Home Bar and Swimming Pool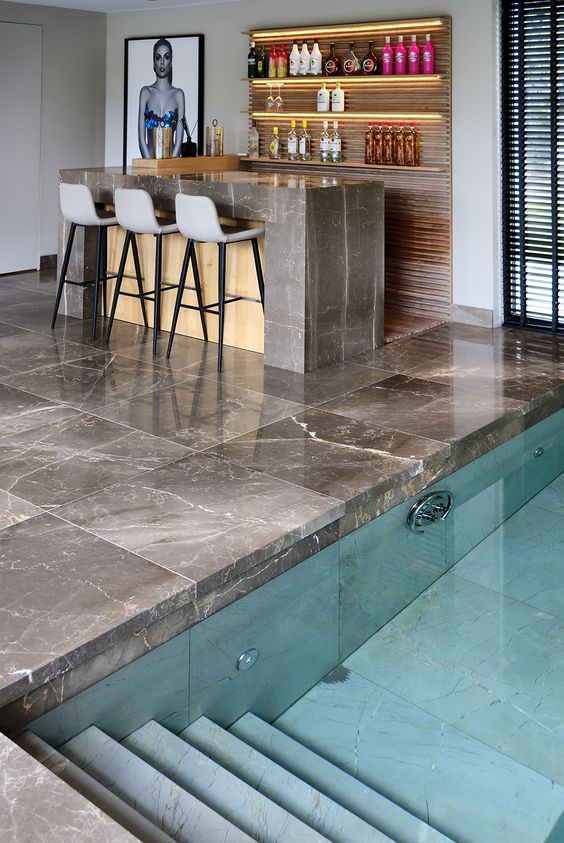 The swimming pool is indeed the most appropriate area for parties. And a party with cocktails is the most fun. So, combining a swimming pool and a home bar is the most attractive idea.
The existence of a small home bar in the swimming pool area will make it easier for you to make a party. You and your friends don't have to go back and forth into the house and pool just to enjoy a cocktail. Just party in one place and enjoy the moment.
Modern Swimming Pool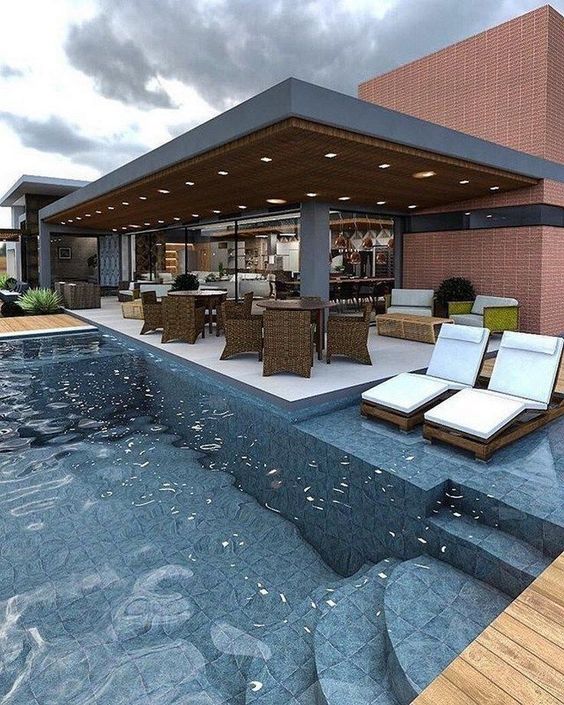 A cozy swimming pool wrapped with a modern concept, really very interesting! In some swimming pools, a pool chair is presented to cool your feet and enjoy the atmosphere of the swimming pool. It is perfect for relaxing and calming yourself down.
And in the other part, it is used as a cool place to eat and gather. The modern concept makes it look very pretty. Neutral colors, wood elements, and recessed lighting provide a more natural, calm, yet impressive atmosphere.
Swimming Pool and Outdoor Living Room, So Perfect!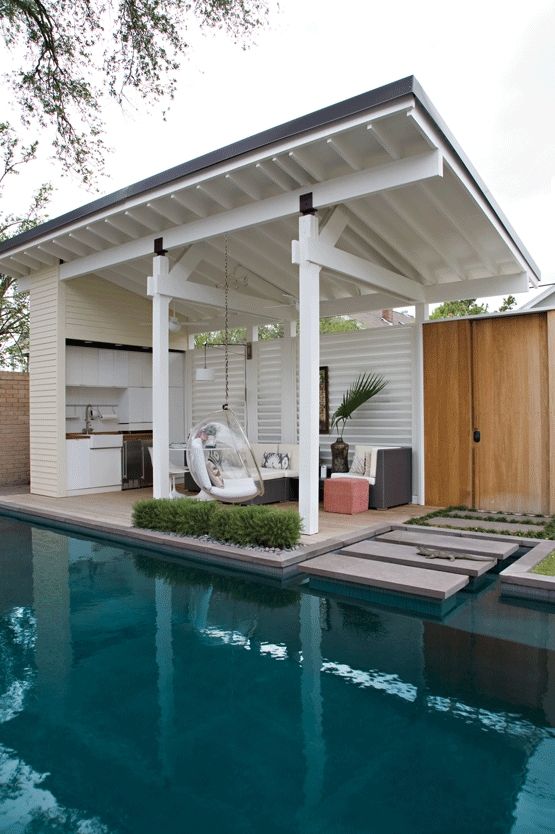 Usually, the land near the swimming pool is often used as a place to relax or party. However, in this idea, the land is made into an outdoor living room. This is one way to entertain your guest in another nuance.
Cozy sofas with pillows that make it comfortable to chit-chat with your guests. Plus there is a hanging chair that makes it seem very comfortable and fun.
There is also a small kitchen to make drinks to welcome your guests. So, you do not need to go into the house to make drinks or other simple dishes for guests.
Conclusion
The existence of a swimming pool can indeed increase the value of your house. However, the benefits are not only that. The swimming pool can also be a cozy place if you want to relax or have a party. Maybe it can be said that making a swimming pool is one way to realize your dream house. And to help you realize it, in this article, we provide Pictures & Ideas of Beautiful and Cozy Swimming Pool for Party or Relax. Hope this will help you a lot!