Olidhomes.com – Outdoor dining area will be an enjoyable and fun place. You do not have to go out and buy expensive food in the restaurant just for getting a natural atmosphere that will make you feel relax. In addition, the outdoor dining area such a great place for a party or gatherings with your family.
If viewed from its function, it may be the same as the dining area in general, which is a place to eat food. However, the atmosphere is certainly very different.
Outdoor dining areas are usually made on the balcony or in the backyard. So that this place will be accompanied by the natural green color of the plants and also a soothing breeze. You will get abundant serenity from staying and relaxing in your outdoor dining area.
For those of you who are interested in having or renovating your outdoor dining, here we have provided Enjoyable and Fun Outdoor Dining Area Decor Ideas that you can steal. So, let's check it out!
1. Kitchen Bar Like in Beach
For those of you who like a beach atmosphere, you can make this an inspiration to decorate your outdoor space. Maybe we can take from the design and style of the bars that are there. One of them is the kitchen bar.
Having a kitchen bar in your outdoor not only makes it look attractive and adorable. But this also makes it easier for you. Because here you do not need barbeque tools because your kitchen and outdoor space will be connected.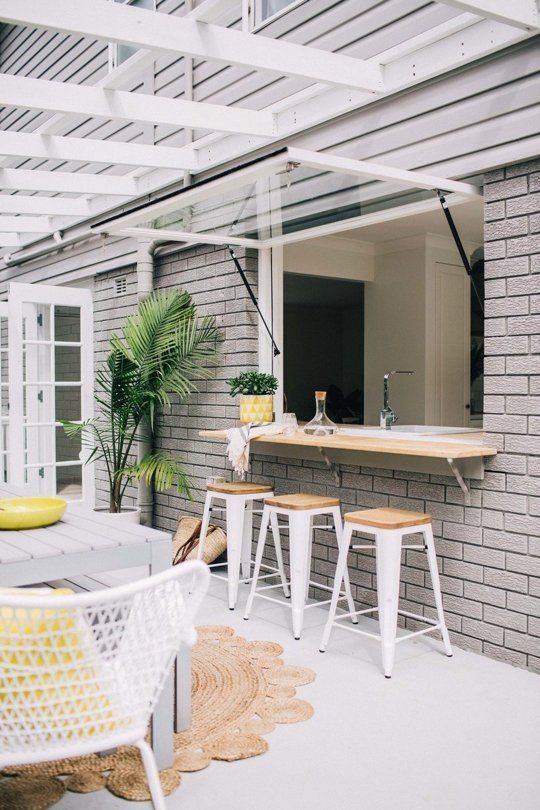 You can use the window as a link between the kitchen and outdoor space. Simply decorate the lower part of the window with a floating table. And do not forget to place a few bar chairs.
Also, put the dining table and chairs to the outdoor. To make it look like a beach, decorate your outdoor space with natural hues and some green plants. And done. Your outdoor dining area is ready to use.
2. Feel Romantic in Your Outdoor Dining Area
It will be summer soon. This is the time for you to improve the comfy of your backyard for welcoming summer. You can make a backyard as a picnic hub a fun and enjoyable one. That way, you can spend your summertime with friends and family at home.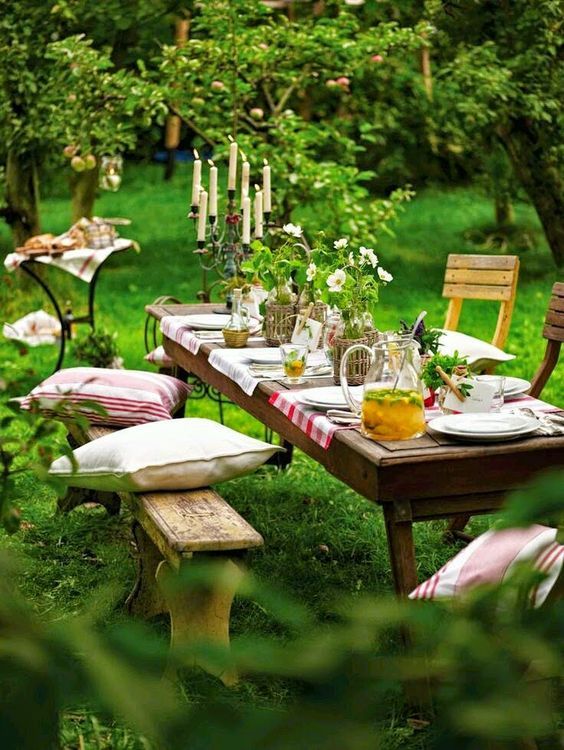 Decorating the backyard by placing the dining table and bench in the middle of a sea of green grass is an interesting idea to create a fresh and calm atmosphere. Don't forget to add some decorations to make your own alfresco dining space look enticing.
A little shabby chic style will make it look so attractive. The atmosphere created is also sweeter. With a vase containing white flowers placed on the table, it looks simple but also beautiful. The atmosphere is much more romantic with the candles burning on the table.
3. Pergola in The Backyard
In having an alfresco dining space, you don't have to provide a large space. Even though it's narrow, you can still create an attractive and modern outdoor dining area.
The backyard corner can be used as space to create an attractive outdoor dining space at home. Here, you need a pergola to make it look more standout.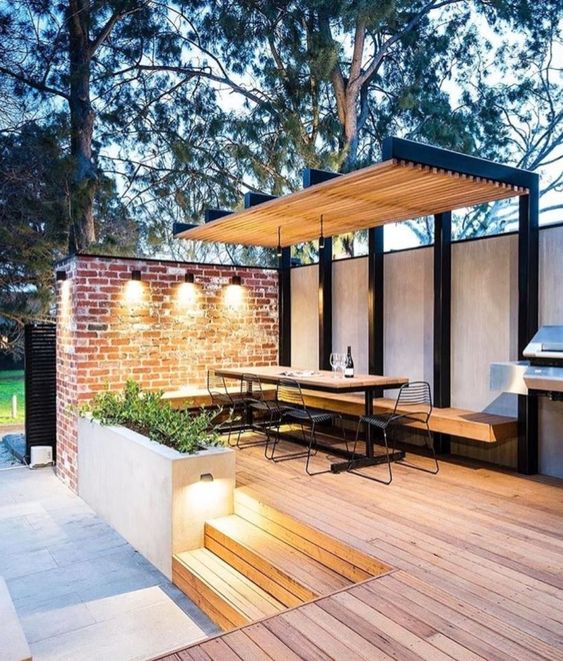 For the edges, use a floating bench to save more space. And don't forget to add outdoor lamps to make it look beautiful at night. The light assistance also allows you to use the outdoor dining area at night.
Warm lighting is the right choice to make wood colors look perfect. You can feel the calm atmosphere clearly.
To give it a bit of a modern look, you can install the exposed brick wall on the wall. Also, apply black to give a firm and calm impression to your outdoor space.
4. Rustic Outdoor Dining Area
The outdated look of the rustic design might make it look even more dated in today's applications. However, due to the warmth and sweet impression created from the rustic design, this design is still popular with many people. Not only that, but the thick rustic style is also a characteristic that many people like.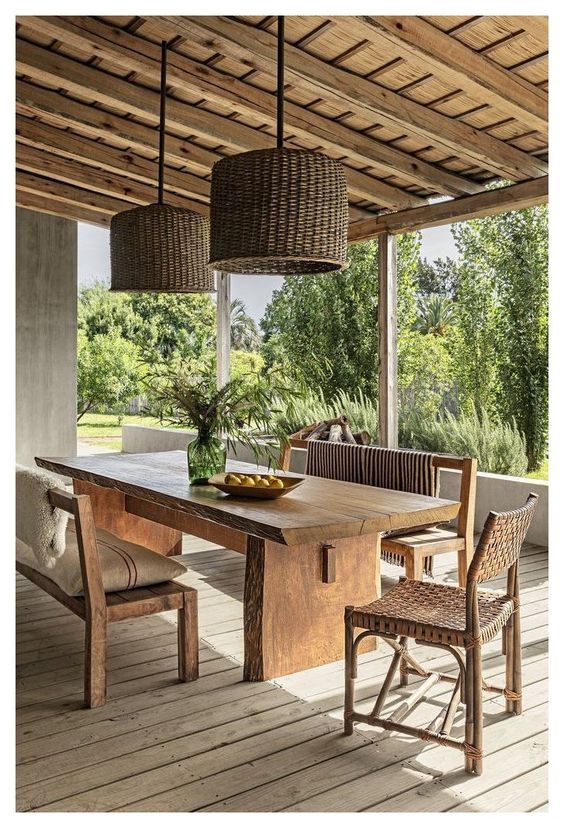 The rustic outdoor dining area is the next interesting idea that you can apply to your backyard. The combination of natural hues and wooden material provides the perfect warmth and serenity.
The decking and wooden ceiling are actually enough to make your backyard the right place to relax. Coupled with wooden dining tables and chairs with a rustic design that emphasizes the soft look of this place. With this, the backyard will become a comfortable outdoor dining space to gather or just spend time alone.
5. Bringing A Romantic Atmosphere with String Light
For loved ones, we certainly want to give something special as a sign of our love. Usually, dinner will be the most appropriate activity. The atmosphere at night will make the atmosphere more intense.
To prepare a special dinner venue, you don't spend a lot to rent a restaurant. Because here you can take advantage of your backyard or balcony to make it a special place.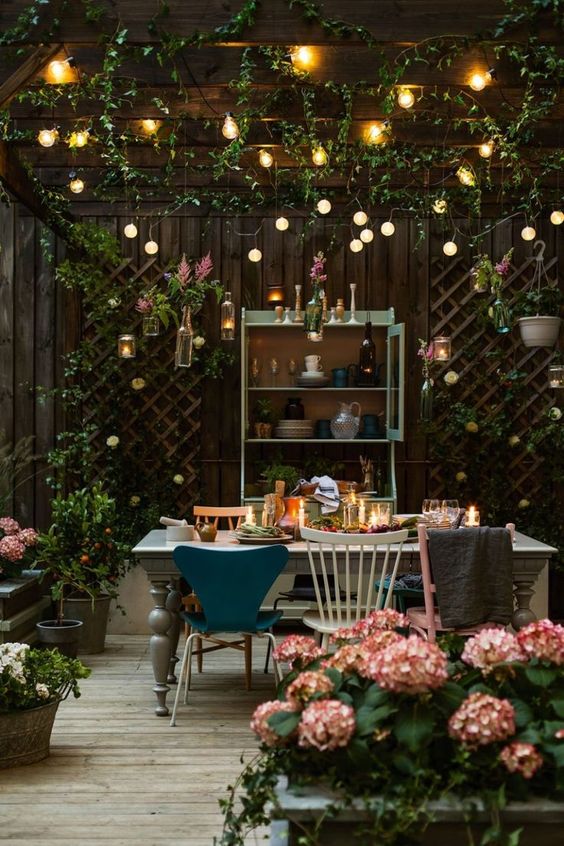 The decor is quite simple. You only need to hang the string light right above the dining table. Warm lighting from the string light will bring a romantic atmosphere to the outdoor dining area as a whole. The added light from the candle on the table also makes the atmosphere feel warmer. You can also add some beautiful flowers to make it look more romantic and pretty.
6. Sweet White Nuances
White is indeed an alternative color that can be chosen to make your interior and exterior look naturally bright. Besides that, white is the best neutral color which can make other colors look more vibrant. And of course, this will affect the beauty of the exterior and interior of your home.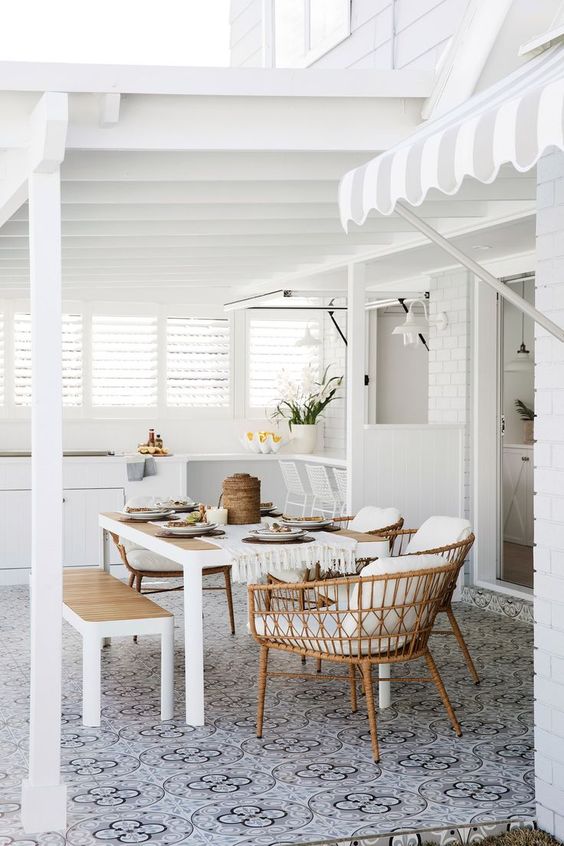 The outdoor dining area with white nuances will give you a sweeter appearance. Coupled with a touch of vintage-style decorations there. The exposed brick wall painted in white gives it a texture that makes it look very attractive. Vintage tiles are also a less interesting take to make the outdoor dining space look so beautiful. The wood elements used in the outdoor dining area are the right choice to make it look softer, calm, and sweet.
7. Minimalist Outdoor Dining Area
Untuk kamu yang menyukai konsep minimalis, ide-ide di atas tentu tidak akan menarik perhatianmu. Memang, untuk membuat outdoor space terlihat menarik, kamu tidak perlu mendekorasinya seramai mungkin. Sebab, tampilan yang sederhana juga dapat menarik perhatian mata.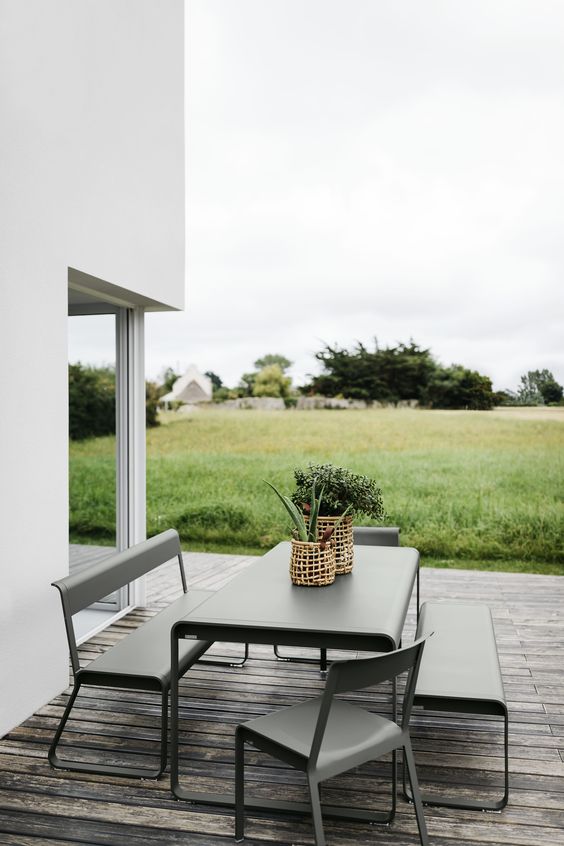 Like in this one idea, the outdoor dining area looks so beautiful even though it is decorated so minimalist. Only with a dining table and bench with a minimalist design, is enough to make it blend with the natural atmosphere of the backyard. The black color gives a more assertive impression. The small plants on the table are the decorations that make it look perfect.
8. Barbeque Hub
The barbeque and outdoor dining area is the perfect place for those of you who really like to enjoy the outside while eating. The existence of a bbq hub can make outdoor space a cool place to hold parties or gather with family and friends.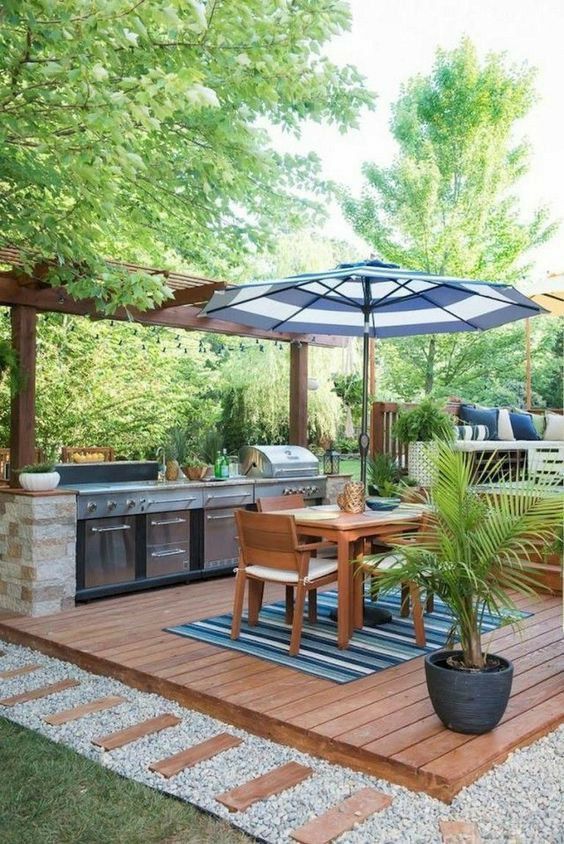 Build a decking is the best solution to be able to enjoy bbq hub after rain. You don't have to worry about your feet getting dirty because of the dirt. Also, create a pathway to connect the house with outdoor space.
To make this place look adorable, you can add some decorations such as plants, a rug, table displays, and so on. If there is still free space there, you can add a sofa and a pillow as a cool place to relax.
9. Connected to Rooftop Swimming Pool
The swimming pool on the rooftop is a spot that can be used to make the outdoor enjoyable and fun. Especially in summer, where people would have summer parties.
The taste is not perfect if there is no food available at party time. Therefore, the outdoor dining area beside the swimming pool will make the outdoor space a pleasant place.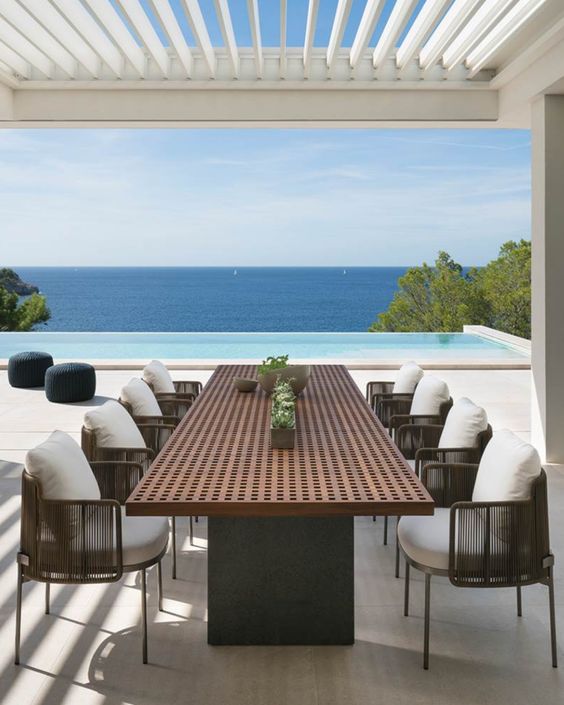 In making the outdoor dining area, not only using dining tables and chairs. You can also make modifications here. Like using a low-profile ling table. Then replace the dining chairs with a soft long sofa. In this way, the outdoor dining space is not only a place to eat food, but also a place to relax and enjoy the time.
10. Outdoor Dining Area Look Modern and More Elegant
Today's dwellings are indeed more modern concepts. With a minimalist design and natural hues make it look attractive. Coupled with a touch of black which emphasizes the appearance of the house area.
If your backyard is already in a modern and minimalist design, then you don't need to change from a garden design just to create an attractive outdoor dining area. You only need to follow the existing design. Due to its minimalist appearance, give it a touch of elegance and luxury to make your outdoor space look enticing.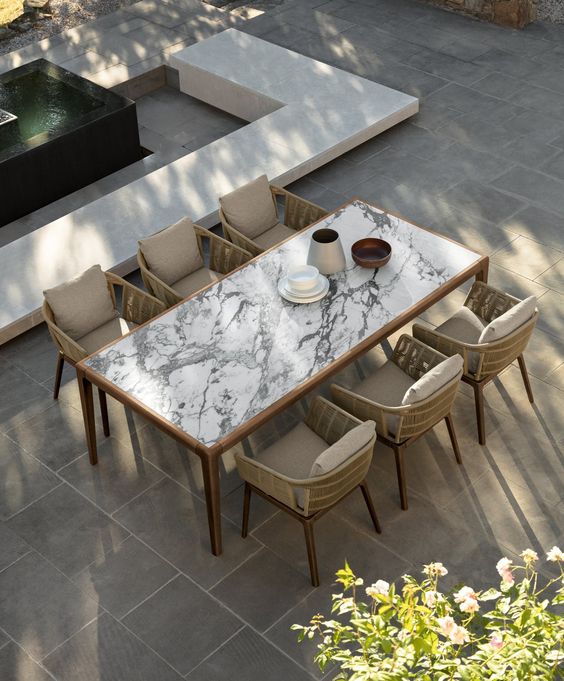 In having an elegant outdoor dining area, it doesn't require complicated decorations. It even seems simple because you don't need any display to make it look attractive. What you need here is a table with marble material. The gray color of the marble itself gives off dining to the backyard impression. Not only that, but marble motifs also have an important role in making the backyard look more elegant.
Conclusion
The outdoor dining area will certainly be the most enjoyable place at home, whether it's for gathering with family and friends or just to relax and spend free time. When viewed from the function may be the same. Outdoor dining is still used to eat delicious food. However, eating in outdoor dining will give a different impression. Especially if the appearance of the outdoor dining space looks very attractive. So that the atmosphere will support you even more. Probably, it is tricky to turn your backyard or balcony into a comfortable outdoor dining area. However, if you have read the ideas above, it will be easy for you to create your dream area in your home.