Olidhomes.com – Playroom may not be a prioritized room. Even some people prefer not to have this room because the space or space of the house is limited. However, if there is more space or space in your house, it never hurts to make it a playroom. Because this is one way to love our children. And in this article, we have provided Playroom Ideas to Make Your Kids Happy at Home. So, let's check it out!
1. Short Cubies for Kid's Toys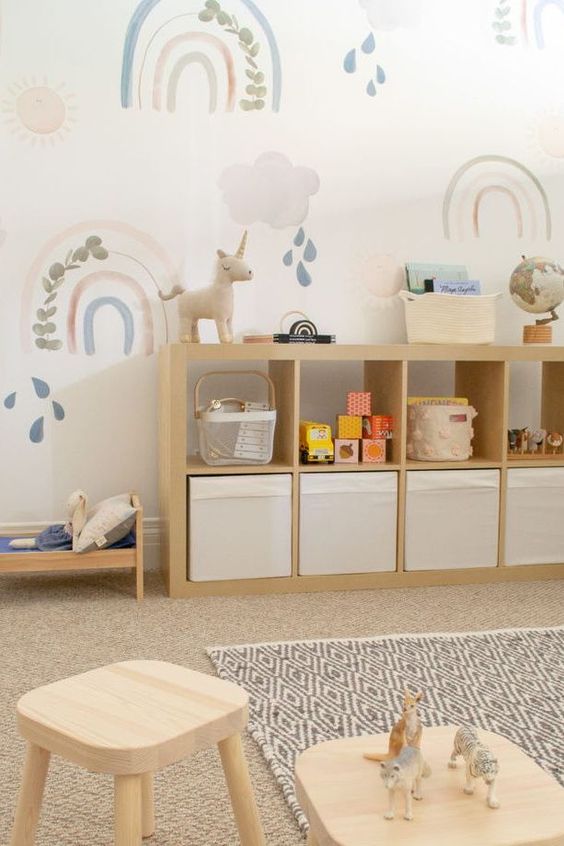 In the playroom, there will be lots of children's toys of course. Therefore it is very important to present a storage space there. That way, the tidiness of the playroom will be maintained.
Cubbies are one of the storage places to choose from. However, make sure to choose low cubbies. We have to adjust the height of the cubbies to the height of our child. With this, children can pick up their toys more easily.
2. Slide-in The Playroom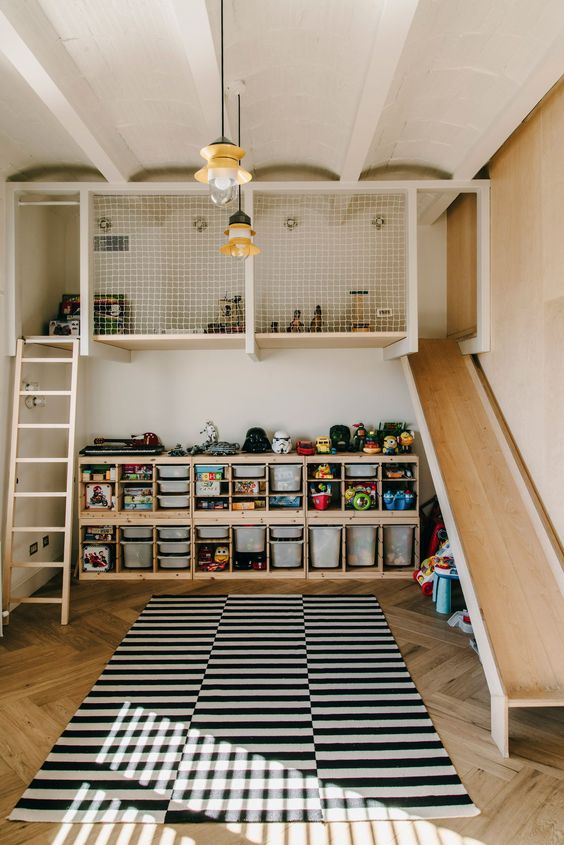 We all know that children love to play in the park. This is because there are many toy rides that they like. And one of them is a slide. With this, presenting a slide in their favorite room becomes the next of playroom ideas you can apply to.
Choose wood with a smooth surface to avoid injury when children are playing. And make sure not to make the slide too high. Because child safety is the most important thing.
3. Boho Playroom Ideas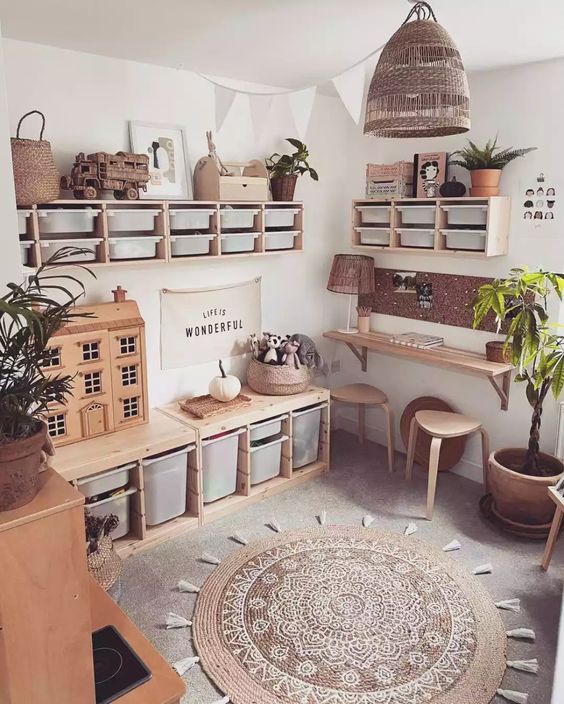 Having a lively feel and atmosphere, boho is the right design to be applied to a playroom. This will evoke the mood and atmosphere to play more cool. Rattan, wood, and plant elements present a natural feel that makes the room feel fresher and more comfortable. The distinctive boho motif on the rug also makes the room look more attractive and pretty.
4. Cozy Seating Place for Resting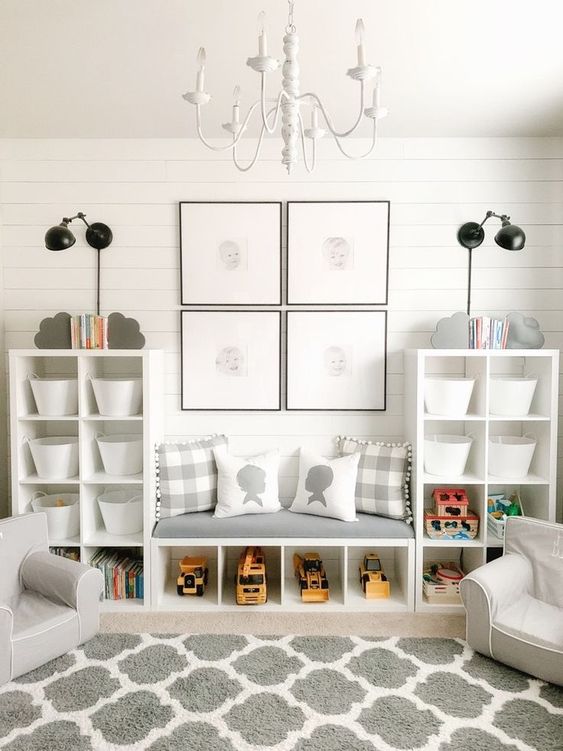 We can not predict when children want to play and rest. Sometimes, their energy is so full that they play too long. However, children also get tired very easily. Therefore, provide a comfortable place for them to rest. You can decorate the playroom with two cozy small couches or soft benches. Also, decorate it with some pillows to make it feel more comfortable.
5. Fresh It with Plants
To create a sense of comfort, you must give a natural fresh feel to the room. Bringing plants into the playroom is an important step. There is no need to decorate a room with lots of plants. Just use a large or medium plant and put it in the corner of the room.
Plants in the playroom are also very important to keep the air clean there. Therefore, make sure you choose plants that have the property of absorbing harmful substances in the air, such as Sansevieria.
6. Table for Craft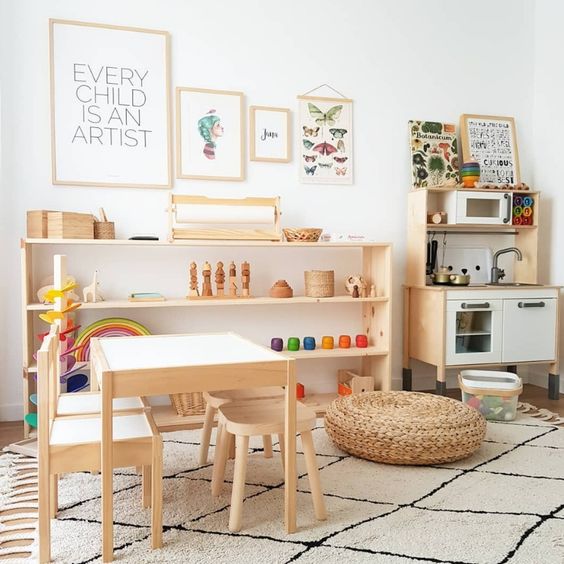 No matter how small the room, the table is an important piece of furniture for a playroom. This is where children will pour their creativity. With a table, they can study, draw, put together puzzles, and more. Also, give them a plate of snacks to accompany them doing a craft.
7. Attractive Wall Decorations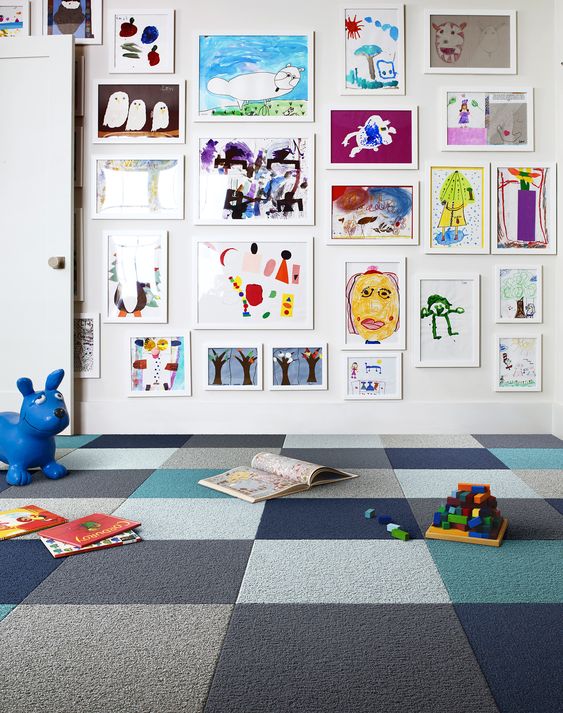 The playroom is a room where children play and also express their creativity. So, make sure that the room is decorated properly and correctly. Decorate the room with things that can increase their creativity. For example, displaying their drawings on the wall. To make it look more interesting, give a white frame for each image.
8. Playroom in Bright Colors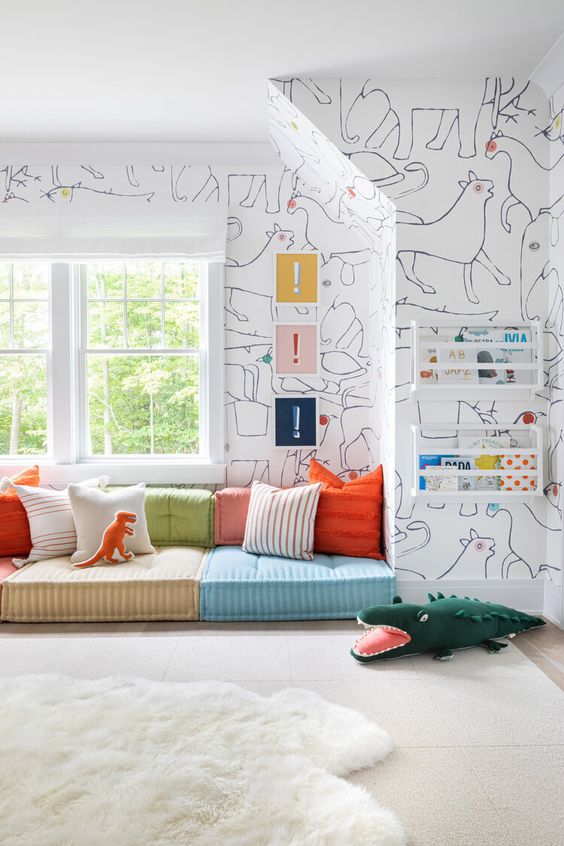 Color is the key to everything. To make the room feel fun, bring bright colors to it. It is okay not to think about whether the colors can blend or not. Most importantly, the room is made as bright as possible.
In making the room look bright, make white the basic color. Then choose some items with attractive bright colors. In order to make these colors look more vivid and beautiful, maximize natural lighting for the playroom.
9. Keep The Room Cool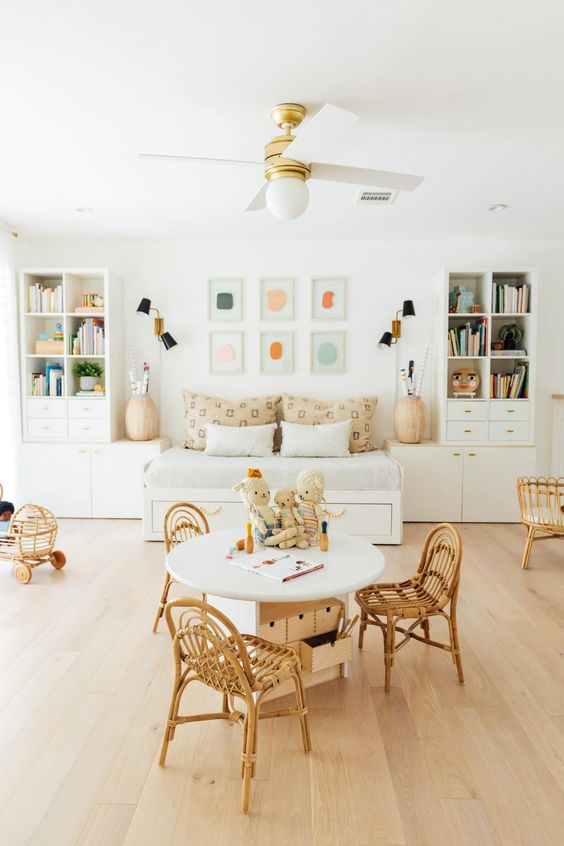 Active children will sweat easily. If the air in the room is not maintained, the children will easily feel uncomfortable. Using an air conditioner all day is certainly not good for skin health. This will make the child's skin dry.
Compared to the air conditioner, the fan is much better to use. Place the ceiling fan right in an area where children often doing activities, for example on their desk. With this, they can do their activities with a sense of comfort.
10. White Nuances Playroom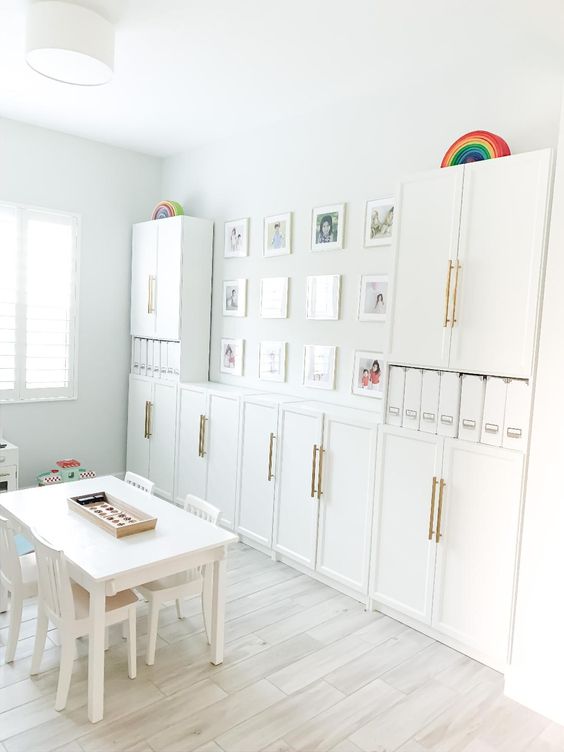 Small rooms are indeed an obstacle to having a comfortable playroom. However, you do not have to be sad. Because if you decorate it properly, the playroom will be a fun place for kids to play.
White is the main color that you should choose. Apply white dominantly in the room. With this, the room will look bright. And also illuminate the room with natural lighting. This will really help the small room feel more spacious.
11. Mini Book Rack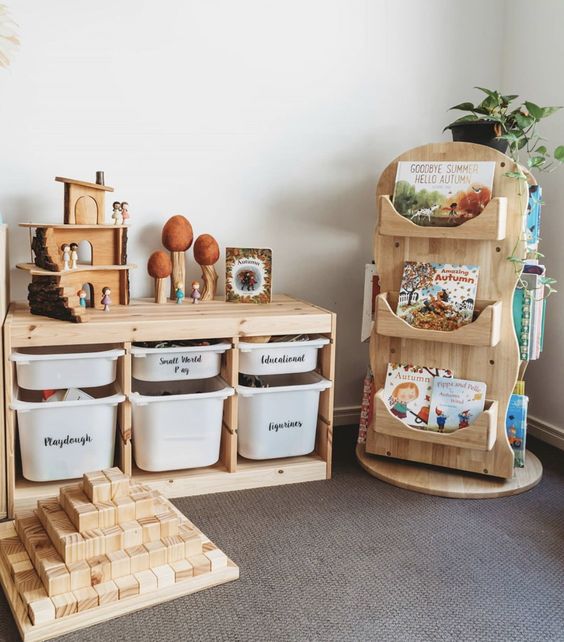 Bringing books in the playroom is important. Children may prefer to play, however, teach them to read fun children's stories. Folktales will make them more likely to read.
Use the mini-book rack to put some children's storybooks. This will make it easier for children to pick up the books they want.
12. Chalkboard Wall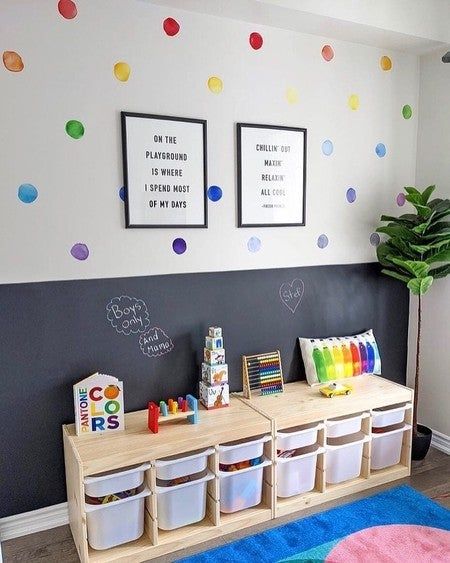 Children really like to draw on the walls. However, this will be very difficult for parents to clean. Often spend several cans to repaint the walls.
Instead of repainting the walls, it would be better for us to apply a chalkboard wall. With this, parents no longer worry about dirty walls. It is also an interesting way to let the kids draw on the walls.
13. Additional Rug
The safest floor for children is of course carpet flooring. However, to make the children feel more comfortable in the playroom, provide an additional carpet in the middle of it. Use bright soft colors to make children feel happy. The existence of an additional rug can also be used as an area for children to play.
14. Dino Decors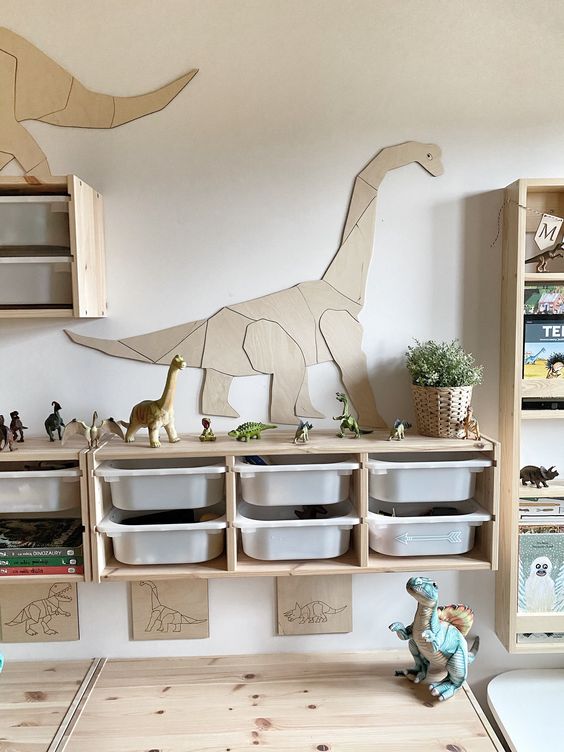 Dinosaur story who does not know? Almost all children love this extinct animal. Many children prefer dinosaur toys. So from that, as parents, it never hurts to make their playroom according to what they like. We can give dinosaurs decorations on the walls of the playroom. And also some dinosaur toys can be used as displays by putting them on the shelf or cubbies.
15. Swing in The Playroom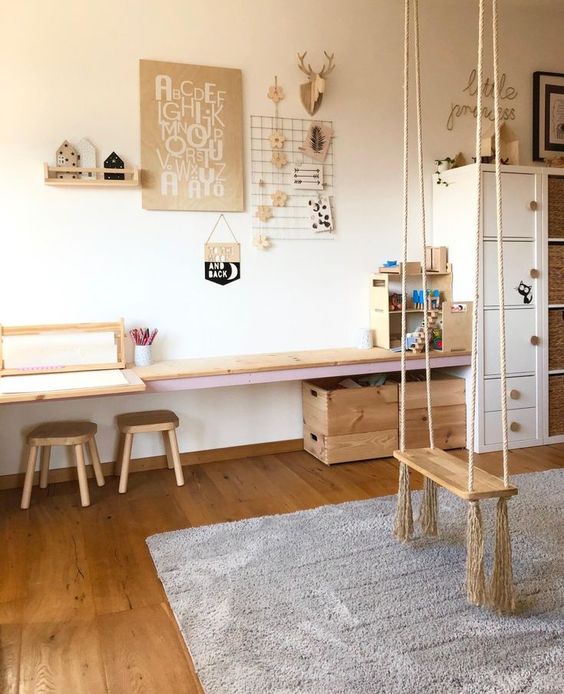 The last of playroom ideas is a swing in it. As previously explained, children really like to play games. So, it never hurts to bring a swing to the playroom.
The main thing to pay attention to is how strong the pedestal you choose to tie the rope. Make sure the pedestal is strong enough and the rope is tight. With this, we can avoid unwanted things. Also, give a smooth carpet right under the swing. Just like the sand used for swing mats. This will be very helpful to avoid injury when the child falls.
Final Words
Children really like to play. So, if there is still space in the house that is empty, making it a playroom is the right choice. This is one way to make children happy and comfortable at home. In addition, make sure if the playroom is decorated according to the wishes and what the child likes. And in this article, we have provided 15 Playroom Ideas to Make Your Kids Happy at Home that you can use as a reference.