olidhomes.com – Home is not only a place of rest but also a place where you can unwind and stress. When going through various kinds of tiring activities, home will be the last place for you to charge energy. Therefore, creating a comfortable and calm home is very important. And by knowing Calm Interior Decors & Tips, it will be easier for you to create the comfortable home you want.
There are several important things that affect home comfort, such as layout, room lighting, interior design, concepts, colors, materials, and others. We have summarized all of this in the article entitled "16 Calm Interior Decors & Tips for You to Relieve Stress". So, let's check it out!
1. Mountain Home with Large Window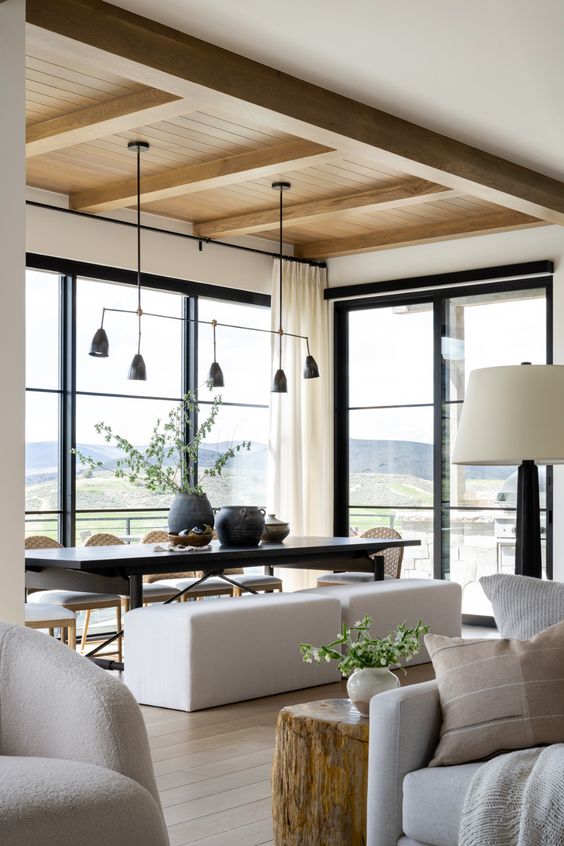 The first of 16 Calm Interior Decors & Tips is a mountain home with large windows. As the name suggests, a mountain home is a house located in a mountainous area. The mountains are a beautiful sight which would be a pity to miss. You can use this beautiful view to add to the comfort and tranquility of your home.
The most appropriate way to make the interior feel calm by taking advantage of mountain views is to install large windows. Choose a spot that has the most beautiful mountain views.
Avoid using window decorations that can cover the beauty of the scenery outside the house. If you want to use a curtain, try to always open it in the morning.
2. Indoor Garden at Home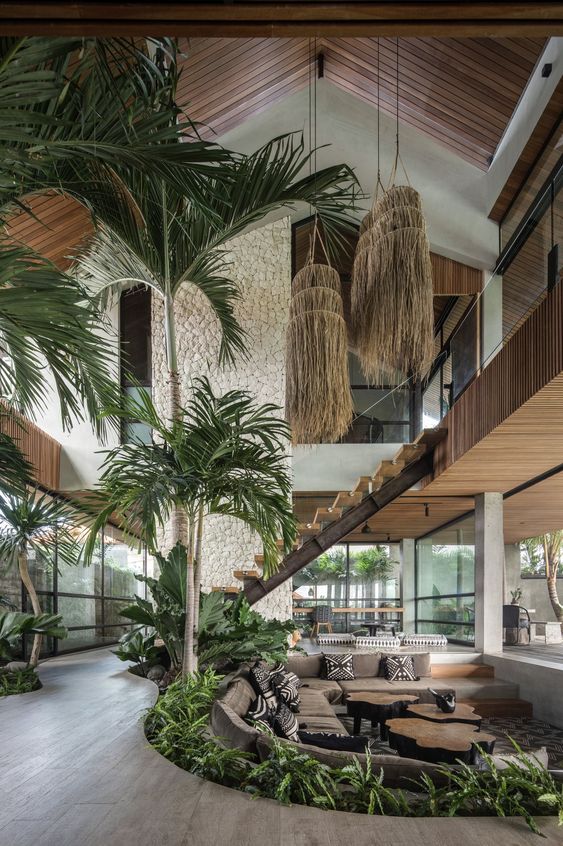 The next of 16 Calm Interior Decors & Tips for You to Relieve Stress is an indoor garden at home. As we know, the green of the garden will make us feel calmer. Not only the body, but the mind as well.
An indoor garden is the best strategy for those of you who do not have more land outside the house. However, because the sunlight is not optimal and the air is more humid, then you need to choose plants that can survive indoors (indoor plants).
Even though it is an indoor plant but it is still a plant. And of course, it still needs sunlight even though it is a little. Therefore, you have to install large windows at home. And let the sunlight into the room freely.
3. Open-Plan Concept for Spacious Feel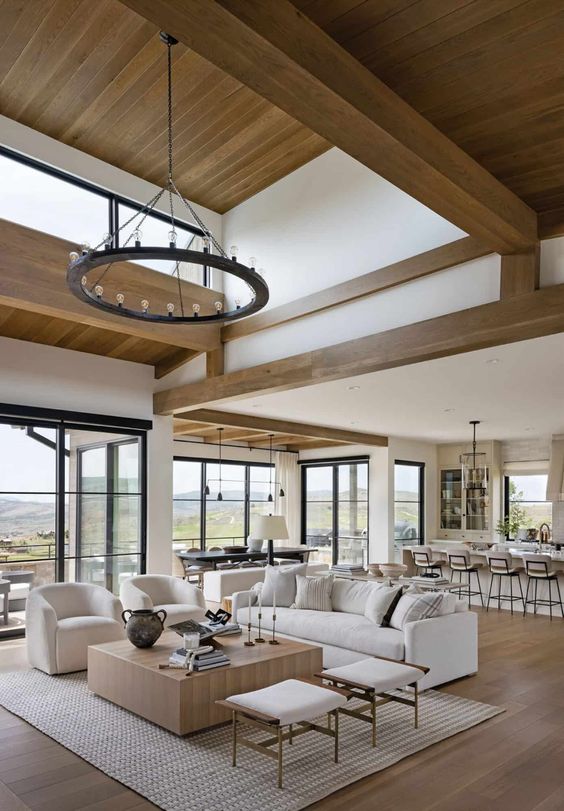 One of the factors that make the house uncomfortable is the annoying cramped feeling. Usually, this often happens in small houses. Therefore, if you want to feel comfortable and at the same time calm in your home, you can apply the open-plan concept.
The open-plant concept is a way to make several functions of a room look unified without being limited by walls. With this, the house will feel more spacious and more comfortable.
You can make the interior look bright by relying on white and natural lighting. This will really help reduce the cramped and stuffy feel at home. Also, apply a minimalist design for a clean and tidy interior.
4. Warm and Full of Tranquility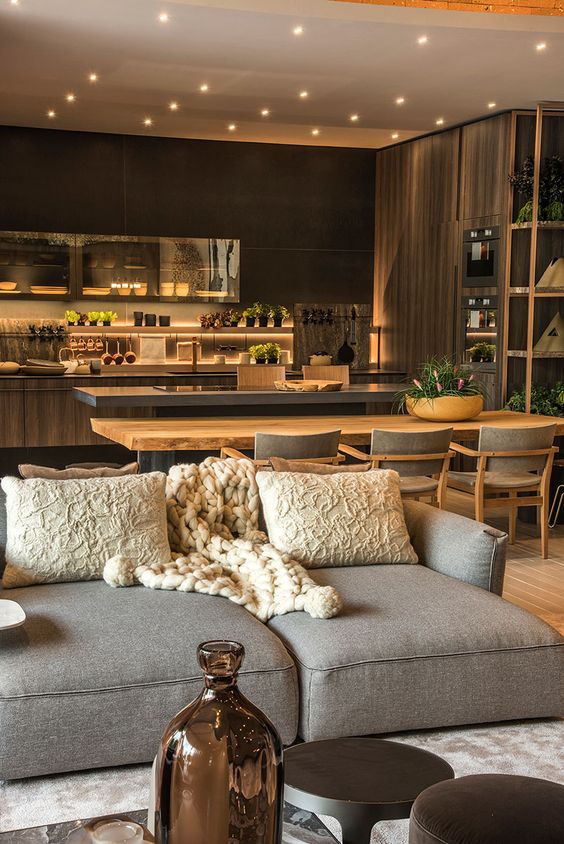 Creating a warm ambiance and full of tranquility is the right tip for you to try. You can rely on the wood element here. The texture and color of the wood will bring maximum warmth to the room. Don't forget to provide additional decorations such as warm lighting for each spot.
It will look much better if you can add some small plants as decorations. The fresh green of the plants will greatly affect the comfort and freshness of the room.
5. Presenting Natural Feels with Natural Materials
For those of you who want to present the natural feels in the interior of the house, then relying on natural elements is the right choice. Natural elements can drastically change the atmosphere and ambiance in your home.
There are several natural elements that you can choose from, namely:
Wood,
natural stone,
Rattan,
Bamboo, and
Bricks.
To find out more about using natural materials and interesting ideas, you can click here!
If we look at the picture above, the natural materials used are wood and natural stone. Because you want to create a bright interior, the wood chosen is a bright color. Wood gives a warm effect to the ambiance of the room. While natural stone is just the opposite. Natural stone gives a cool side. However, the combination of these two natural materials creates a natural feel that is full of serenity.
6. Create a Clean Look with a Minimalist Concept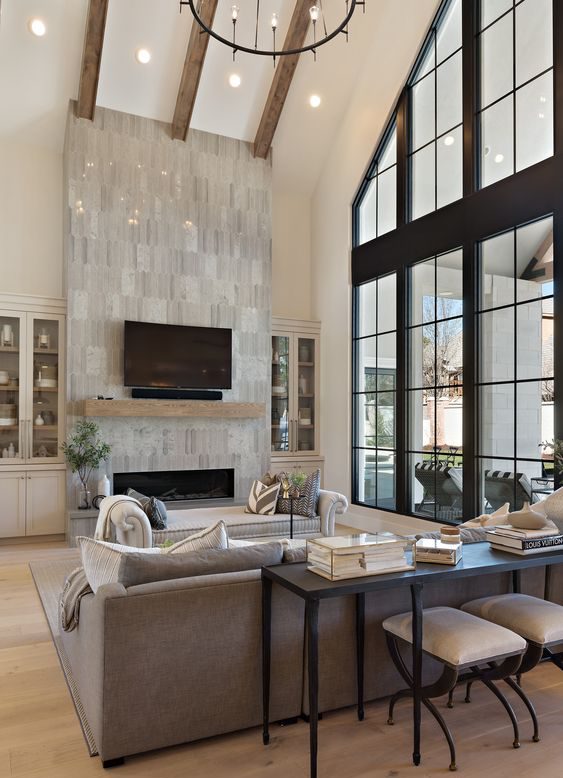 A clean room of course will feel comfortable. In fact, a clean and tidy room will bring you a peace. And, to create this kind of room, you need to apply a minimalist concept to your home interior.
Minimalist concept will purge all of the clutter in the room. There are no small items scattered on the table. Because everything is stored properly in a drawer or cabinet.
If you want to create an interesting spot by displaying some small displays, you can install open shelving there. Arrange all these displays very neatly.
7. Dominant White for Bright Look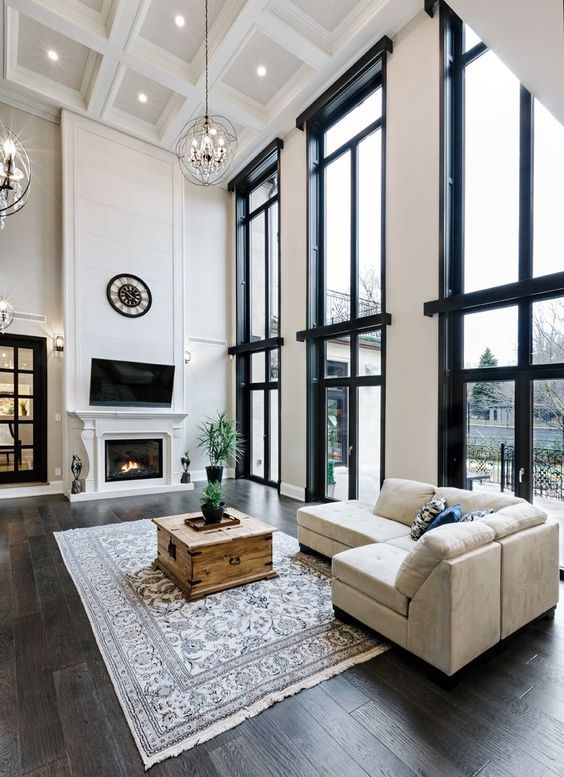 White is an alternative color that you can choose to make the interior look naturally bright. Here are some benefits that you can feel from making white the main color of the room:
The room feels more spacious
Removing stiff corners in a room that makes it feel more comfortable,
The room becomes brighter,
Eliminates the cramped and stuffy feel that is often annoying, and
And, the benefits of this white color is that will make the room feel calm. To make the tranquility of the room more leverage, you can illuminate the room with natural lighting and apply a minimalist concept.
8. Feel Serenity in Dark Shades Interior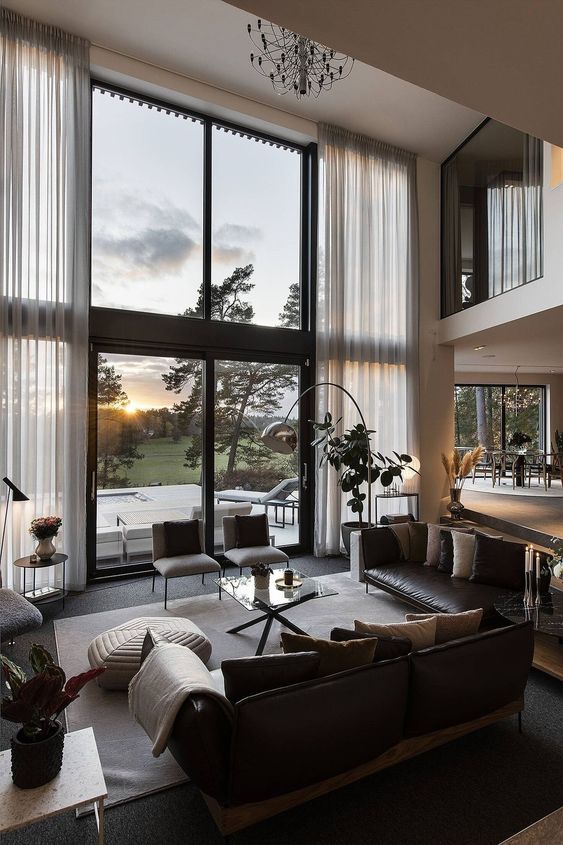 Wanting to create a room full of serenity does not only have to apply bright colors. You can also make the room feel calm by choosing dark colors like black and grey.
A black sofa combined with dark gray chairs and carpet will give a dark effect to the look of the room. The view from the room will look more masculine, mature, and cool. However, the combination of these dark colors will create a calm that can make you feel comfortable there.
Keep the room balanced by maximizing natural lighting. Choose large windows and glass doors for the room. Finally, give a refreshing touch in the form of plants at several spots in the room.
9. The Combination of Neutral Colors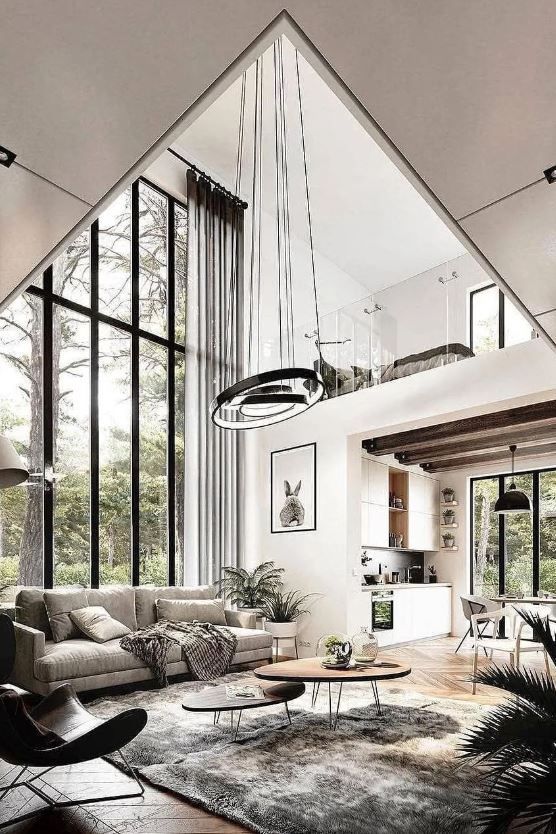 Neutral colors are the safest colors for the room. The combination of these colors will not make the room look crashing. So, this will make it easier for you to decorate.
Not only that but another benefit of combining neutral colors is that it can make the room feel so calming. Such as white which makes the room bright and fresh, gray color gives a calm effect, and black color which gives a bit of a firm but still calm side.
To make these colors look more alive, you can illuminate them with natural lighting. Make this lighting maximum by installing large windows.
10. Make It Bright Naturally by Installing Skylight Window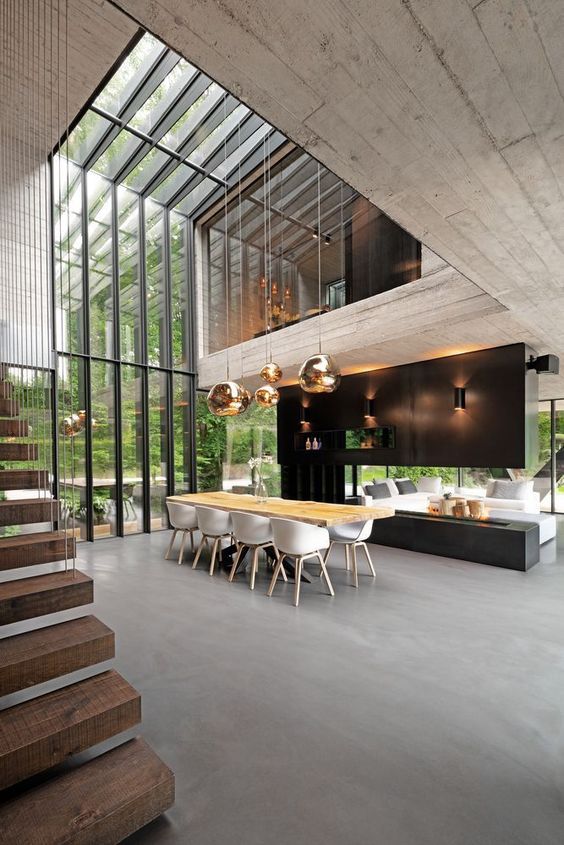 Skylight windows are windows that you can rely on to make the room naturally bright to the maximum. Lighting from above will certainly be much more perfect than from the side. Also, lighting from above can illuminate the room better. Almost all parts of the room get lighting which can reduce the shadows of the items in it.
There are many designs and types of skylight windows that you can choose and adjust to the interior design of your home. The skylight window that blends with the window on the wall is perfect for a modern and contemporary style house. This window design looks more minimalist and simple but still attractive.
11. A Little Touch of Industrial Design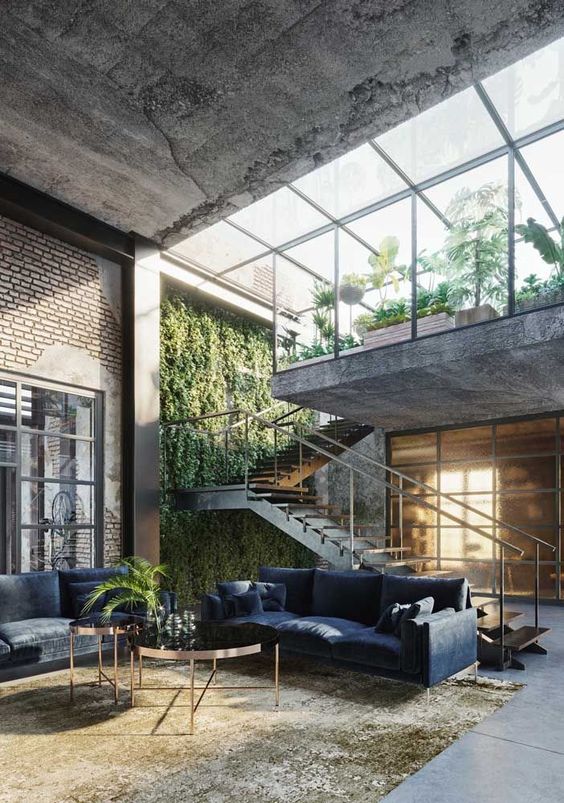 The next of 16 Calm Interior Decors & Tips for You to Relieve Stress is a little touch of industrial design. Besides the exposed brick wall that displays a natural orange color in the room, wood and concrete also make it look more natural.
Other characteristics in industrial design such as natural lighting and plants as decorations also contribute to making the atmosphere in the room feel calm. Here you just need to make the room look simpler so you feel more comfortable when relaxing.
Combining it with a modern design will make the interior look more attractive. You can also apply a vertical garden in the room like the picture above for a fresher room.
12. Minimalist, Clean, and Modern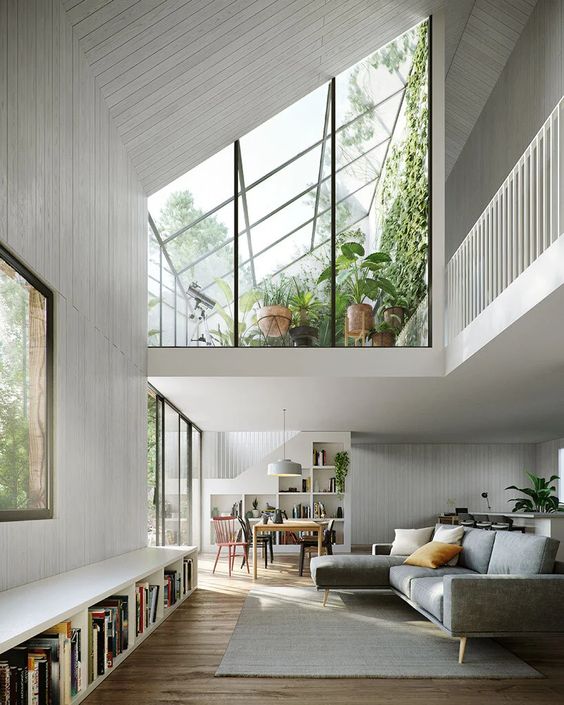 Minimalist, clean, and modern is the perfect combination. These three points will create a house full of tranquility. And of course, your rest time will be of better quality.
Minimalist concept creates a clean and tidy interior appearance. Modern concept provides beauty that makes the room attractive. So, this not only makes the room feel comfortable but also looks beautiful.
It will be more perfect if you make natural lighting as the main lighting of the house. Install large windows and skylight windows. Replace the wooden door in the house with a glass door to maximize incoming sunlight.
Do not forget to provide freshness that can make the room feel calmer and more comfortable. Decorate several spots in the room with fresh green plants.
13. Contemporary Home with Modern Interior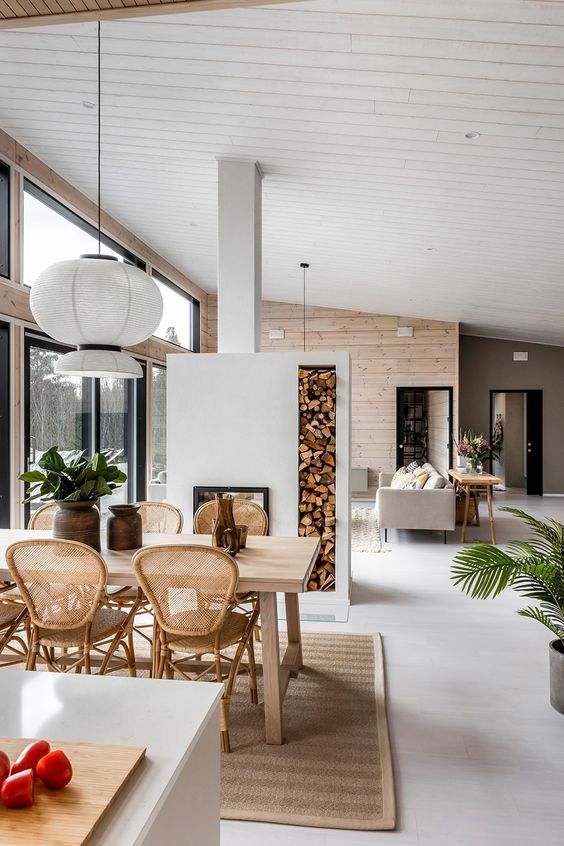 Contemporary homes are more likely to apply clean and natural concepts. So, usually contemporary-style houses have their own characteristics such as interiors that look more minimalist, the use of large windows, neutral colors, and dominant natural materials.
Inserting a modern design into a contemporary home for a more beautiful appearance is actually fine. Given the modern design, it also has a clean appearance so that it is in harmony with contemporary homes.
Contemporary homes with modern interiors will look a little more different. Sleek and mature will dominate in this house. Some furniture with modern designs also makes the interior look much more attractive.
14. Light Up Your Living Room with Glass Door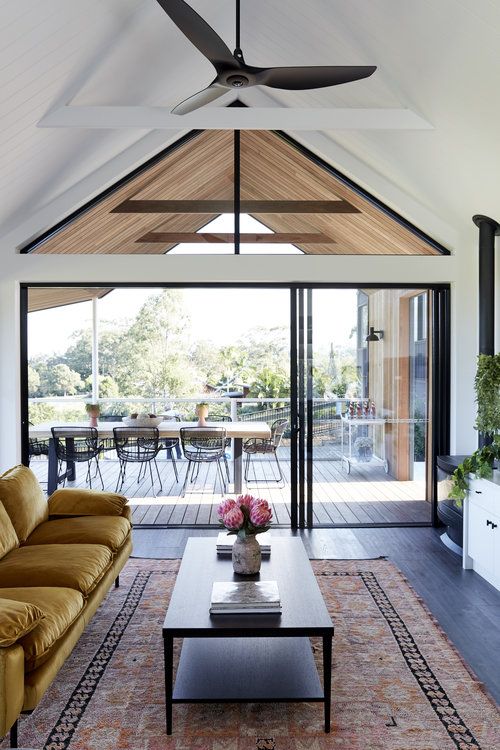 Living room is a room that serves to welcome guests. However, the current living room is also often functioned as a family room. Also, You can use this room to relax on the sidelines of your free time.
Being a place to relax and a place to release stress, you have to make the living room as comfortable as possible. Try to light up your living room by installing a glass door like the picture above.
Sunlight can directly enter the living room freely. Besides that, you can see beautiful views or green gardens that refresh your eyes more clearly. Relaxing while enjoying the view is certainly more enjoyable, right?
15. Natural and Bright Kitchen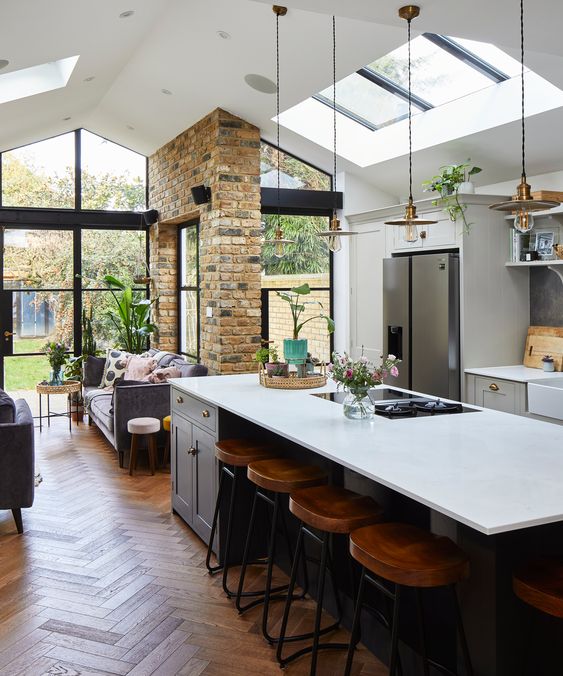 Applying white as the main color of the kitchen will make it appear brighter. A more natural look will also make the kitchen feel calmer. Make the white color look more alive and bright by lighting the room with natural lighting. Besides the use of glass doors and windows, you can also install skylight windows there.
Make the calming atmosphere in the kitchen more assertive. Also present natural materials in the room. Hardwood floors, wooden furniture, and exposed brick walls are perfect for the kitchen.
And finally, give it a refreshing natural touch. Decorate several spots in the kitchen with simple small plants.
16. Cozy Coastal Bedroom Decor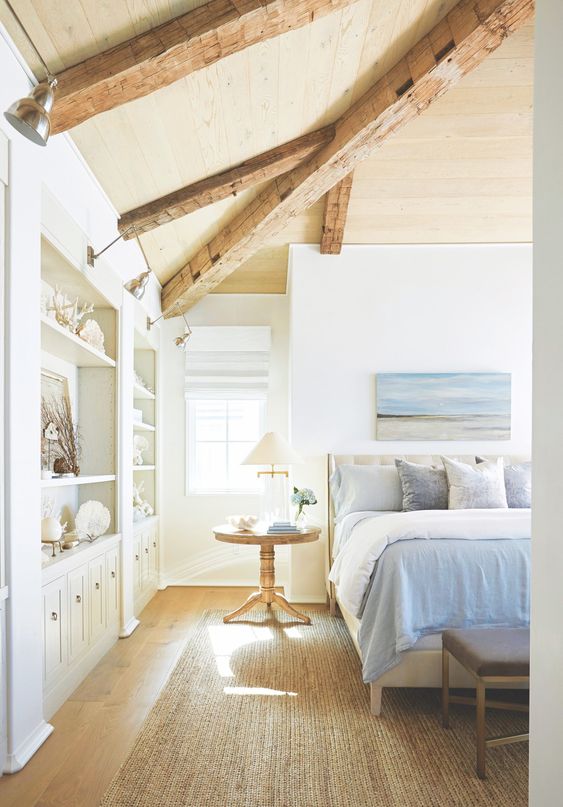 The last of 16 Calm Interior Decors & Tips for You to Relieve Stress is a cozy coastal bedroom. The combination of white and blue will make the bedroom feel fresher. Not only that, the freshness in the coastal bedroom also comes from displays related to the sea such as shells and others.
Wooden beams on the ceiling is one of the characteristics of the coastal design that makes the atmosphere in the bedroom feel warm. Warm ambiance also comes from the rattan rug as a floor decoration in the bedroom.
Final Words
Aside from being a place of refuge from the heat and rain, the house is also a place to relax to release stress and make yourself fresh again. So, in addition to beauty, the comfort of the house is also an important thing that you must pay close attention to. In this article, we have provided 16 Calm Interior Decors & Tips for You to Relieve Stress. You can choose one or combine several decors and tips to your liking. Also adjust to the interior and layout of the house. And done! It's time for you to start enjoying the comfortable home you want.