Olidhomes.com – The Scandinavian bathroom is perfect for those of you who want to get calm wrapped with a minimalist concept. Not only that, but Scandinavian will also make the bathroom look naturally bright. By relying on white, the bathroom will be far from a cramped and stuffy feeling.
Scandinavian style has been booming lately. A minimalist appearance gives a neat and clean impression to the interior of the house. Not only that, the neutral colors used can convey a soothing natural feel. In this way, your bathroom will be a cozy place for resting and unwind.
So, are you already interested in Scandinavian Bathroom? If so, here we have provided Scandinavian Bathroom Ideas That Will Inspire You. So, let's check it out!
Terrazo Floor is Perfect to Bring Colorful Look to The Scandinavian Bathroom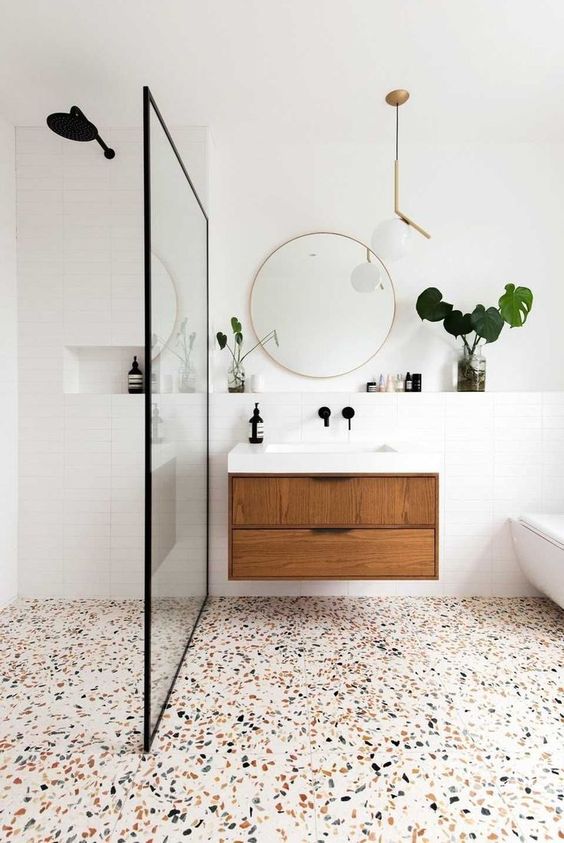 In Scandinavian design, white is the mainstay color. Indeed, making white as a base color is great for making a room look naturally bright. Besides that, white can also work well in giving the illusion of space to a small bathroom.
Even so, making white as the base color sometimes makes a room look stiff. So, the Scandinavian bathroom needs a touch of interesting colors. And the Terrazo floor is the perfect idea to apply to any bathroom.
Rely on Natural Lighting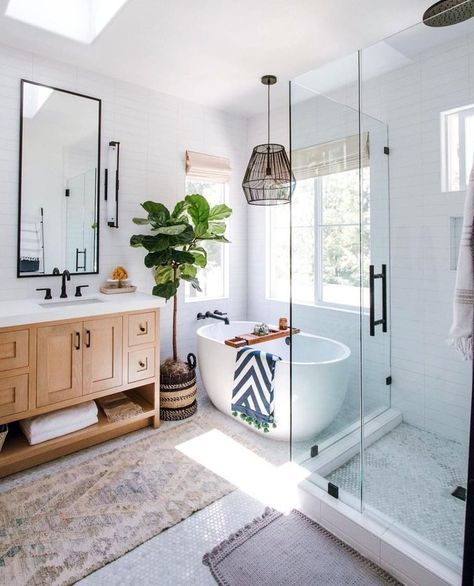 Making natural lighting the main lighting is one of the characteristics of Scandinavian design. Indeed, it may feel strange to use the window in the bathroom. However, to make a Scandinavian bathroom feel alive, natural lighting is very important.
It s okay to use a window in the bathroom. You can choose a window that is not too big. And so that your privacy can be maintained properly, try to provide a curtain.
The use of curtains can not only cover the window, but you can also use it to add value to the beauty of the bathroom. Besides that, hanging the curtains closer to the ceiling can also give a spacious illusion for your small bathroom.
Luxury Scandinavian Bathroom
One of the advantages of Scandinavian Design is that it is very easy to make it look classy and luxurious. In this one idea, marble material is installed on the bathroom wall. Right in the bath area, the floor is also given marble accents.
The glossy marble appearance makes the bathroom look so beautiful and expensive. The marble pattern also gives an attractive impression to the bathroom. So, you no longer need a display for the wall.
Japandi Bathroom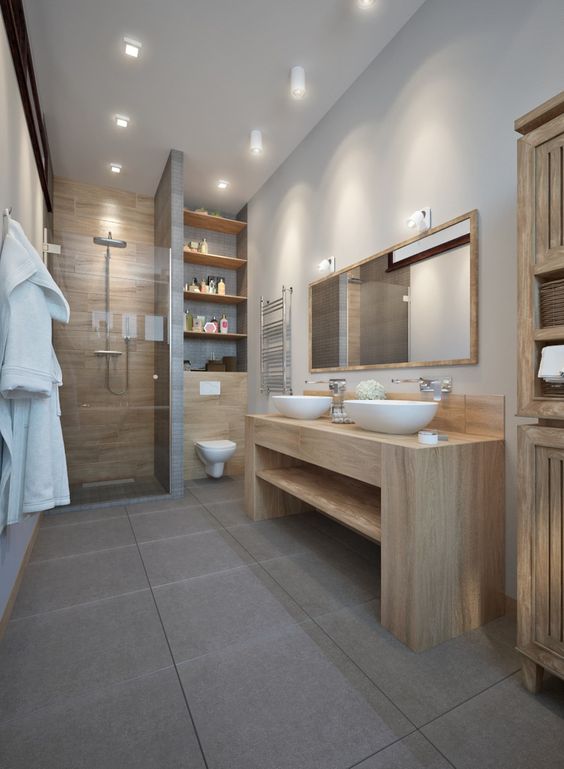 This one idea is for those of you who want to get maximum serenity in the bathroom. Scandinavian and Japanese style designs are an interesting mix that can inspire you in remodeling your bathroom.
In Japandi design, wood is the main material. The use of wood with a smooth surface gives a simple, minimalist, and warm impression. However, because bathrooms are related to water, make sure to choose high-quality wood or waterproof wood. That way, wood is not easily weathered and damaged.
No need to apply wood to the entire bathroom. You can select only a few spots there. And try to apply it scattered to make the wood appear more dominant.
The Use of Rug Gives A Dramatic Look on A Minimalist Bathroom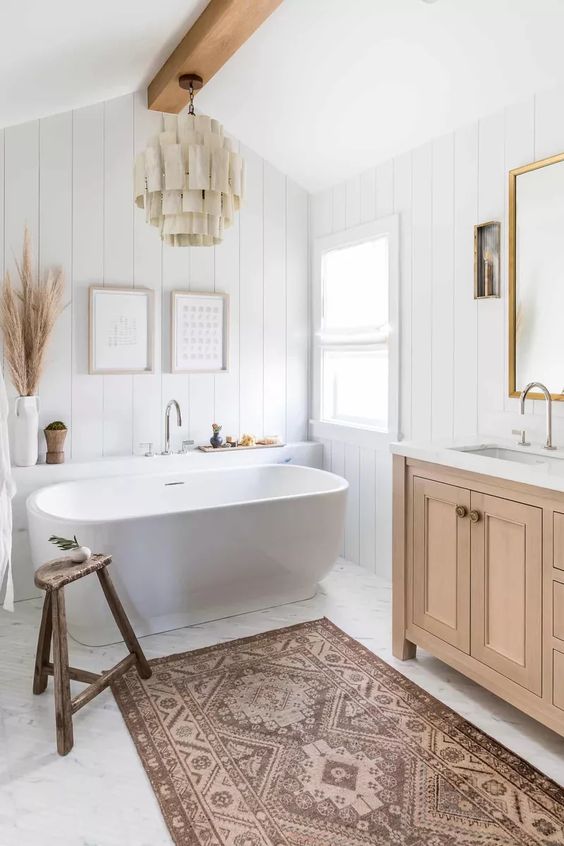 The minimalist view is indeed good for making the bathroom feel quieter. Several wall displays were removed to create the perfect atmosphere to relax and calm the mind. However, a too minimalist appearance sometimes makes the room look so stiff and unattractive. Therefore, try to choose the floor as a spot to be decorated.
No wall decoration is not a problem. Here, you can use a rug to decorate the bathroom. The beautiful rug will give a dramatic look to a minimalist bathroom. With this, the Scandinavian bathroom will look minimalist and also beautiful.
Fresh Scandinavian Bathroom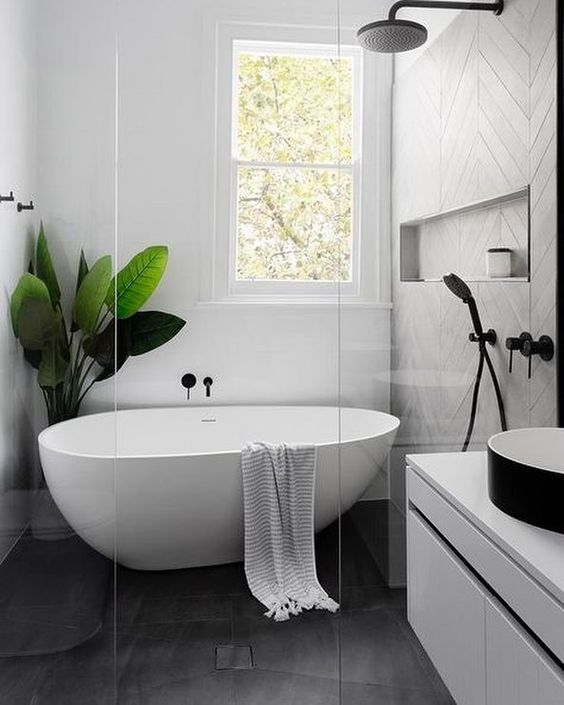 Natural nuances are a major part of Scandinavian design. And this is what makes this design feel so calm, warm and cozy. Besides applying neutral colors and natural materials, this design also uses plants to give a fresh impression to the room.
In this one idea, a fresh Scandinavian bathroom, bringing green plants into the bathroom is very important. The green color of the plant is great for neutralizing whites in a bathroom.
Some plants have the ability to absorb harmful substances in the room, such as aloe vera, cactus, sansevieria, and so on. By placing these plants in the bathroom, it is guaranteed that the bathroom will be the room you visit most often to rest. Because the green color of plants can make you feel more relaxed.
Getting Relaxed and Warmth with Aromatherapy Candles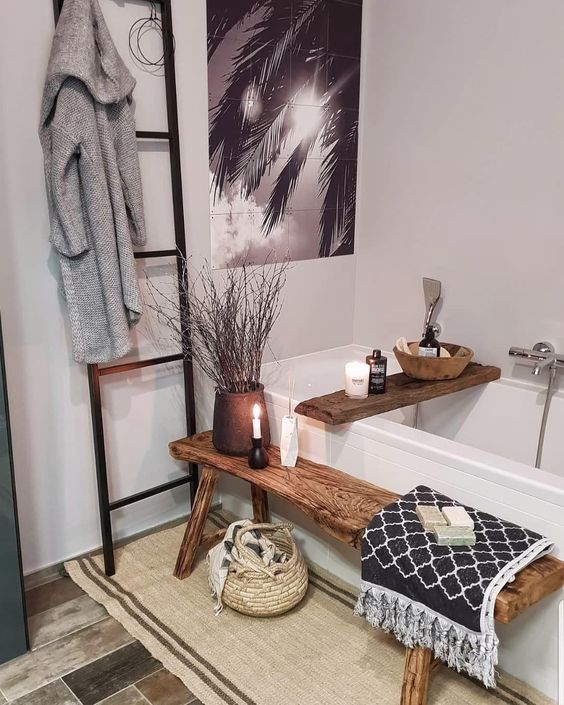 There is nothing more pleasant than soaking in warm water and enjoying the serene and comfortable ambiance of a bathroom. It is very helpful to protect yourself from feeling tired because of the busy daily activities.
In this idea, aromatherapy candles are a very important item. The scent of candles can make your bathroom smell good and also make you feel relaxed. In addition, the light of candles also bring a warm nuances that make the bathroom feel so cozy.
To put these candles, you can add a bath board to your bathtub. Besides that, the bath board can also be used to put some of your stuff, even your snacks or drinks.
Scandinavian Bathroom with Glass Shower Enclosure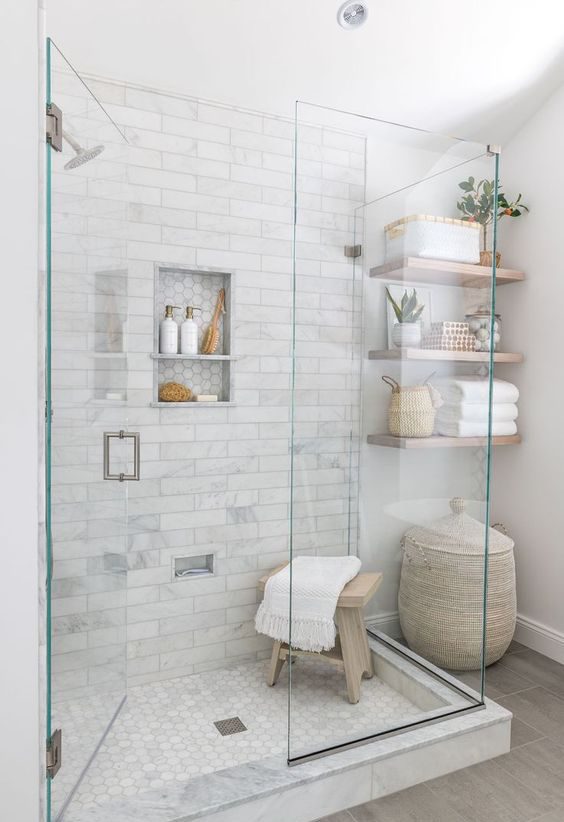 In Scandinavian bathrooms, the bathroom not only has to look minimalist but also has to look clean and tidy.
Often when taking a shower the water wets the floor and makes the floor dirty. To solve this, a glass shower enclosure is a right idea to apply in the bathroom. The use of glass shower enclosures can only be used for bathrooms with showers.
The use of a glass shower enclosure can provide boundaries but does not block or create space in the bathroom. That way, the small bathroom will not feel cramped.
Small Scandinavian Bathroom with Big Mirror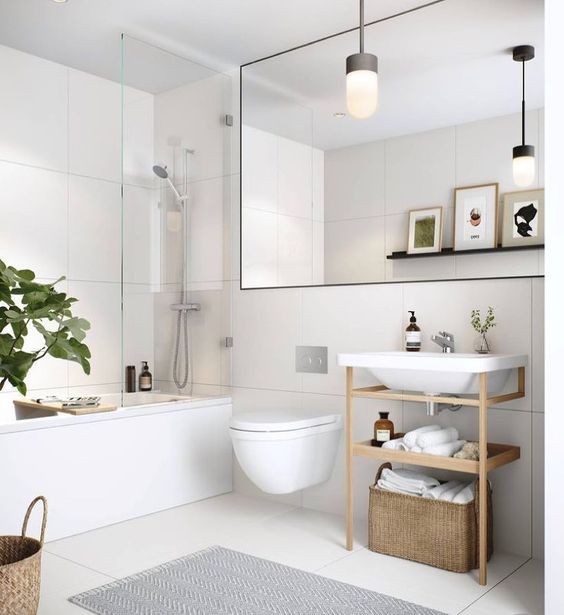 Scandinavian design is very fitting to be applied to small bathrooms. The use of white in conjunction with natural lighting is very helpful to make the bathroom feel more spacious. Besides that, the minimalist concept in the bathroom can eliminate the feeling of cramped and stuffy, which is a disease in small rooms. With this, a small bathroom will feel infinitely comfortable.
If you want a small bathroom to feel more spacious, hanging the big mirror on the wall is the next idea that can inspire you. Try to choose a mirror with a black frame to make the bathroom wall look attractive.
Conclusion
Applying a Scandinavian design to the bathroom is the right idea. The minimalist concept combined with neutral colors can give a natural impression that makes this room feel so calm. There are plenty of ideas of a Scandinavian bathroom that can be chosen to make this room look pretty and feel cozy. And in this article, we have provided the best Scandinavian Bathroom Ideas That Will Inspire You.