olidhomes.com – There are two factors that influence the development of children's creativity. The first is the psychic environment in the form of the spirit of the closest people. And, the second is the physical environment in the form of an interior space that supports them to channel their potential. Therefore, knowing kids room decor ideas that will increase their creativity is important.
Although each child's creativity is different, as parents, of course, we must support their creativity. The potential they have will not arise by itself. They also need to be given encouragement and opportunities to channel their potential or creativity.
For those of you who want to make your kids room feel comfortable also will increase their creativity, here we have provided 17 Kids Room Decor Ideas that can be your references. So, let's check it out!
1. Creative Paint for Walls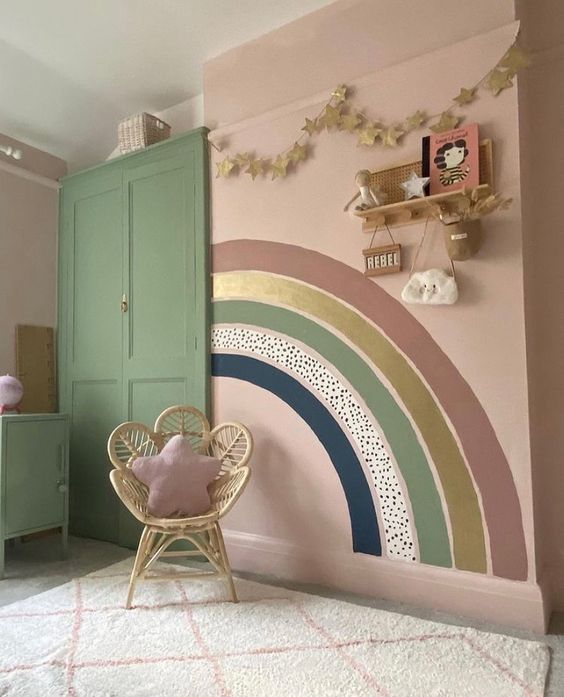 Do not let the wall of your kids room empty. Because you can take advantage of this spot to be an area that looks creative. Try to find out in advance what your kids like. That way, it will be easier for you to create the room they want.
For girls usually like a rainbow, clouds, unicorns, or characters of Disney princesses. So, you can draw the characters or pictures they like on their bedroom walls like the picture above.
Some colors and pictures in the room will be very helpful in creating their imaginations. They seem to be in their own world.
2. Kids Rooms in Jungle Theme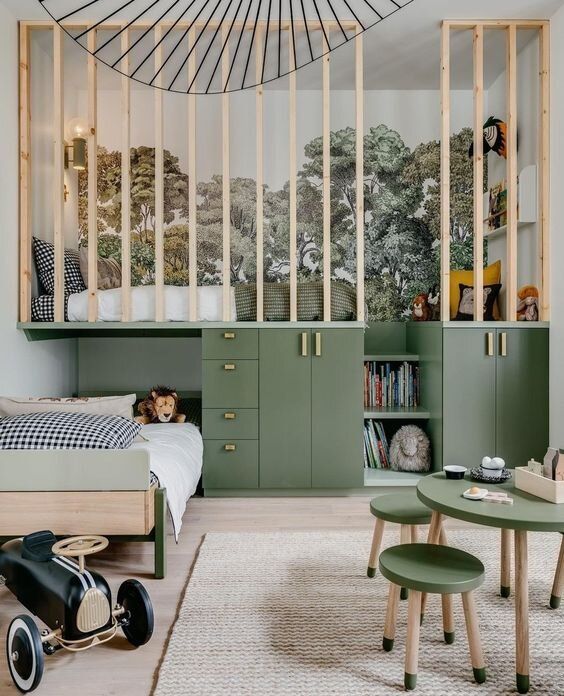 Boys usually like adventure. And if your child is one of them, then this idea is worth a try.
You can make their room as if it were in the forest. In the wall area, a wall mural with pictures of trees can be applied. And then make green the dominant color in this room. It also helps in making the room feel fresh and more comfortable.
To make the jungle theme feel bolder, add some stuffed animal characters, such as lions, sheep, monkeys, and so on. This method will make their imagination more real and perfect.
3. Stylish Kids Room Decor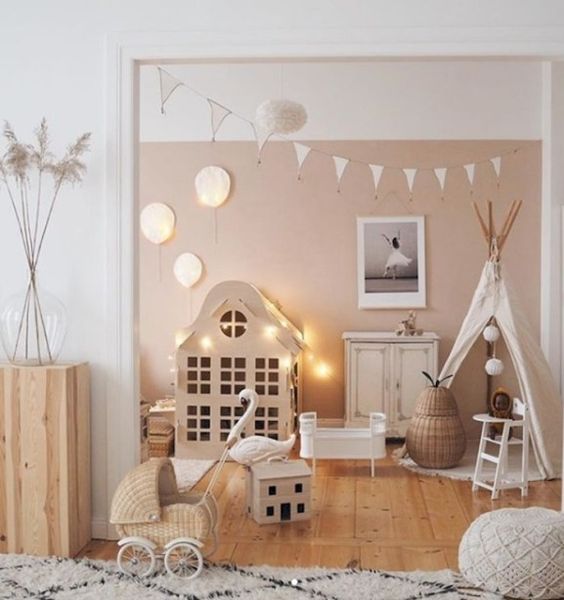 Making the kids room feel comfortable is the main thing. However, maintaining a stylish appearance is equally important. An attractive room will also provide comfort for the child.
The idea this time is to use extra lights to make the room look aesthetic. Balloon-shaped lights so pretty adorn the walls. There is also a string light with a more striking light placed above the dollhouse.
Yellow lighting from extra lamps also affects the atmosphere of the room. The room feels more fun to play with but still warm. So that children will feel much more comfortable in their private room.
4. Kids Tent for Playing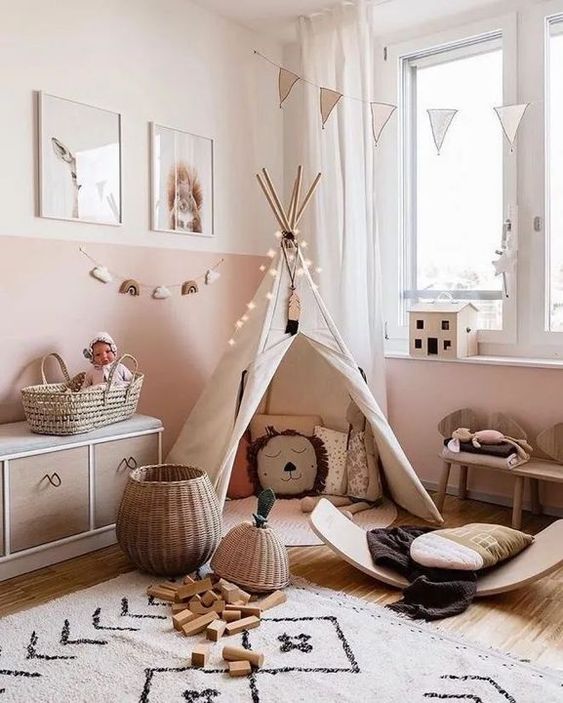 Because children love to play in the garden, there is nothing wrong if we also bring their toys into the bedroom. For example, a kids tent where they spend all day playing and resting.
Provide a rug with a soft and cushioned surface as a base for the tent. Don't forget to decorate it with some comfortable pillows. You can also add dolls with children's favorite characters to make it more attractive and fun.
To make the kids tent look prettier in the room, add a string light above it. This one decoration will make the room look more attractive at night.
5. Attractive Elephant Chair and Table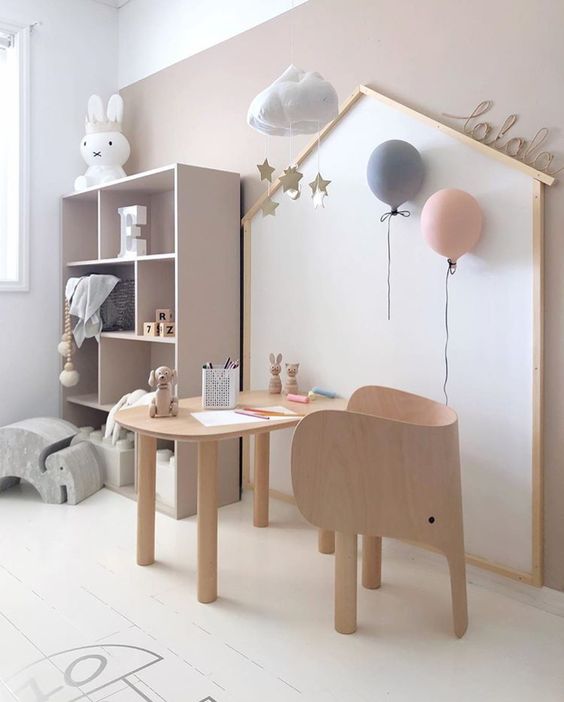 Children not only like to play, but they also sometimes like other activities such as reading, writing, and also drawing. So, in making a room to support children's creativity, do not just present toys. You also have to present a place for them to learn and express their imagination in the form of pictures.
Create a spot for them to be creative. Choose tables and chairs that match the child's height. For tables and chairs made of wood, try to have a smooth surface. And, there are no sharp corners that can hurt your child.
Add some decorations that can make children feel happy to be in their study area. For example, hanging clouds with stars and also decorating the walls with balloons or other displays.
6. A Board for Them to Draw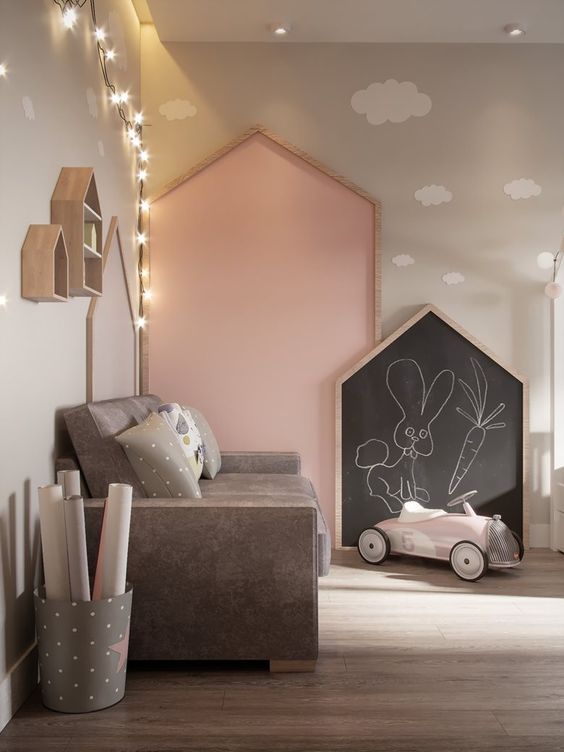 Add a board for them to draw is the next of 17 Kids Room Decor Ideas to increase your kids creativity. This one idea will be very helpful in making the walls free from children's graffiti.
As we know, children often make the walls dirty with drawings from colored pencils and crayons. As a parent, of course, prohibiting is a wrong action. All you have to do is give them a proper place to pour their imagination.
Choose a blackboard with an interesting shape, such as a house shape, circle, and so on. Avoid hanging the blackboard on the wall because it can make it difficult for children to draw. So, you can just lean it on the wall so that children can draw comfortably.
7. Open and Close Storage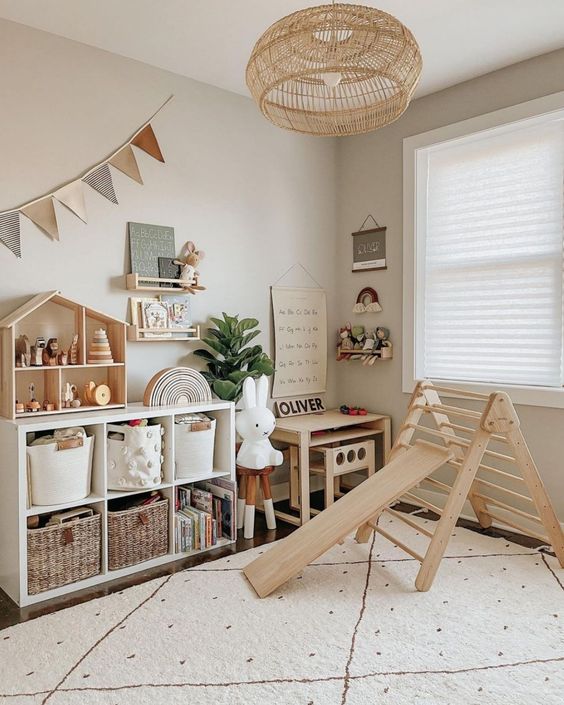 There will be lots of toys or other children's tools such as drawing books, reading books, stationery, drawing tools, and so on. And if not arranged neatly, of course, the room will look so messy. The impact not only disturbs the beauty of the room but also makes the room uncomfortable.
So, what you need to do to keep the room comfortable and look great is to bring storage there. Use open storage and close storage.
Close storage is of course to put some drawing equipment and children's writing tools. Try to close storage in a location that can be reached. And open storage is for displaying children's work, such as puzzles, drawings, and so on. That way, children will be happier in creativity.
8. Kids Rock Climbing Wall in The Room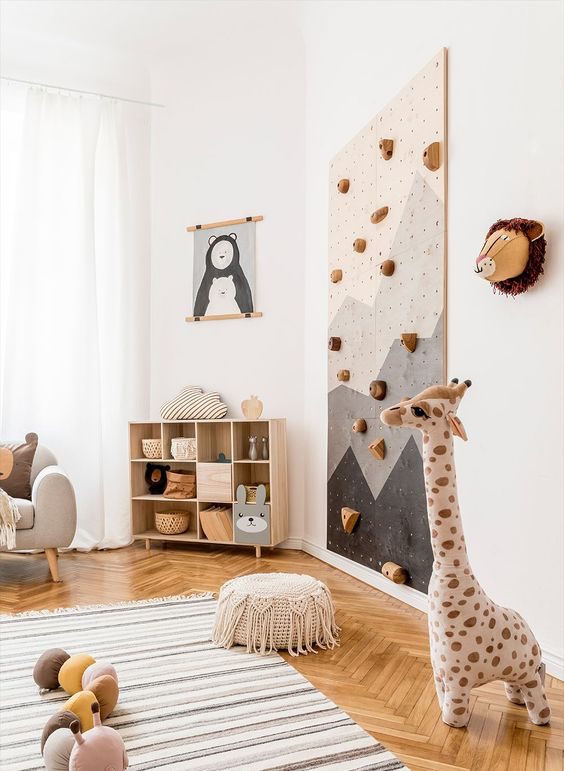 We really do not understand how much energy a child has. Children can play without feeling tired. And as parents, it would be very wrong if you forbid your children to do what they want. Especially told them to be quiet.
Active children are an advantage. And of course, encouraging them to channel their activities through positive activities is a very appropriate thing.
In their room, you can build a kids rock climbing wall. For an active child, this will be the area they enjoy the most. Make sure the material used is safe for the child. Do not make the rock climbing wall too high to keep the child safe.
9. Rug as a Play Area Limit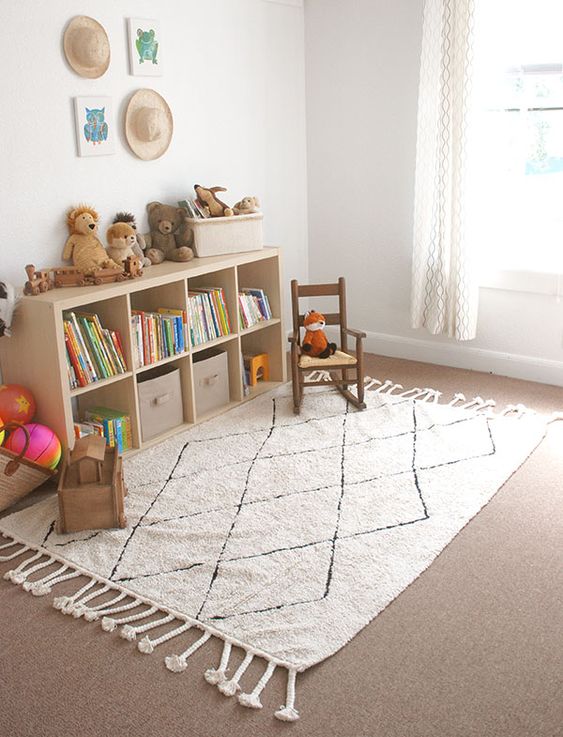 Usually, children will play and make the whole room messy with their toys. So, this will make it difficult for you to tidy up the room.
What you need to do here is not scold the child. Rather it creates a limited area for children to play.
You can use a rug as a barrier. Teach and guide children to play around the rug. Besides creating an area to express their creativity, this method also helps to make children more disciplined.
10. Make It Fresh with Synthetic Plants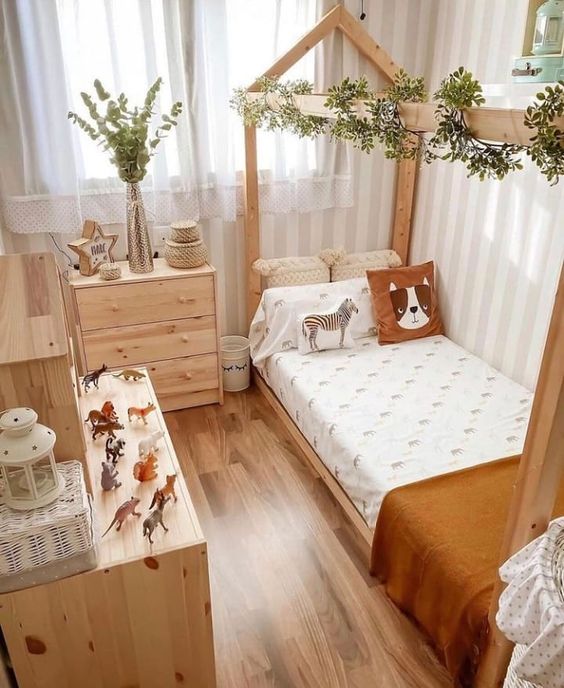 In decorating a kids room, it is important to bring something natural there such as plants. If using real plants is too troublesome, then you can switch to synthetic plants.
Use synthetic plants as room decorations. Put green plants in a vase made of safe materials. Then put it on the table. You can also use synthetic vines to decorate their bedframe. That way, the bedframe will look more attractive.
The presence of plants in the room will have a big enough impact. Both in the beauty and comfort of the room. Plants can make a room feel fresh. This will make children feel more comfortable channeling their creativity in the room.
11. Wall Painting Display to Develop Imagination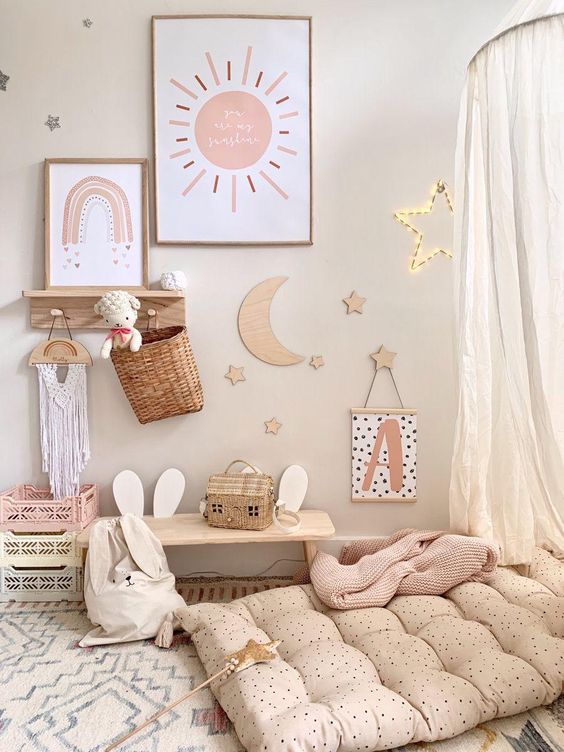 The next of 17 Kids Room Decor Ideas to increase your kids creativity is to decorate the room with wall painting displays to develop imagination. Because we never know what children are thinking or imagining, so it never hurts to introduce children to things that smell like art. One of them is painting.
Put the painting in the area where they are creative and express their thoughts. The existence of painting can be able to provide inspiration when they are drawing. That way, your aspiring artist will find their talent faster and easier.
12. Presenting Indoor Swing for Them to Play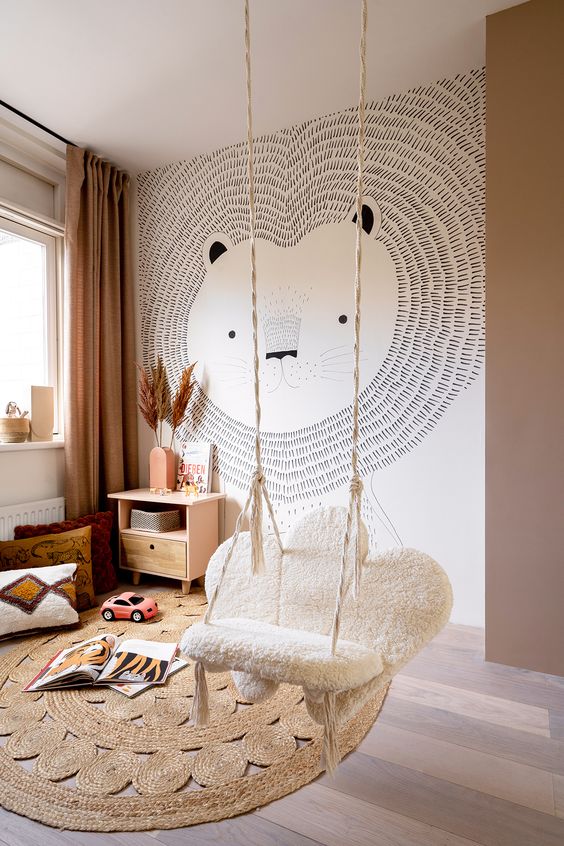 Not only kids rock climb, but you can also make a swing in a kids bedroom like the picture above. Instead of using wooden planks, it would be better to use a swing with a cloth surface. Avoid sharp corners that can injure children when playing.
An important point that you should pay attention to in this idea is how strong the ceiling is in the child's bedroom is. Because the swing rope will be installed on the ceiling or beams. So, before you install it, make sure the ceiling is strong enough for you to hang it on a swing.
Since children fall easily when playing, you can put the rug right under the swing. This will reduce pain and also avoid injury when the child falls from the swing.
13. Various Animal Pictures to Increase Creativity and Knowledge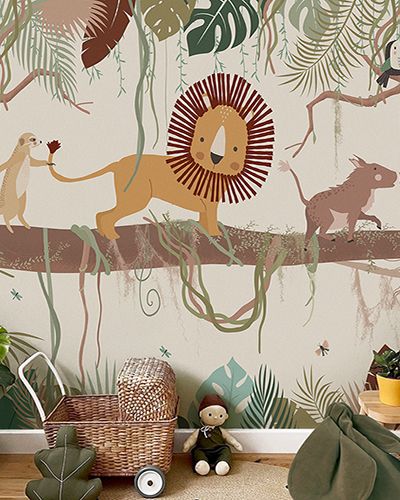 Increasing animal characters in the kids room can make children more creative. Not only that, but this is also an easy way to introduce children to animal names.
Having pictures of animals in their room can make them imagine better, whether they imagine being in a zoo, forest, or other. Not infrequently some children also redraw the animals they like on drawing paper.
You can make a wall mural with animal pictures like the picture above. Make animal characters look cute like dolls so that children will have more fun in their room.
14. Various Bright Colors for Kids' Room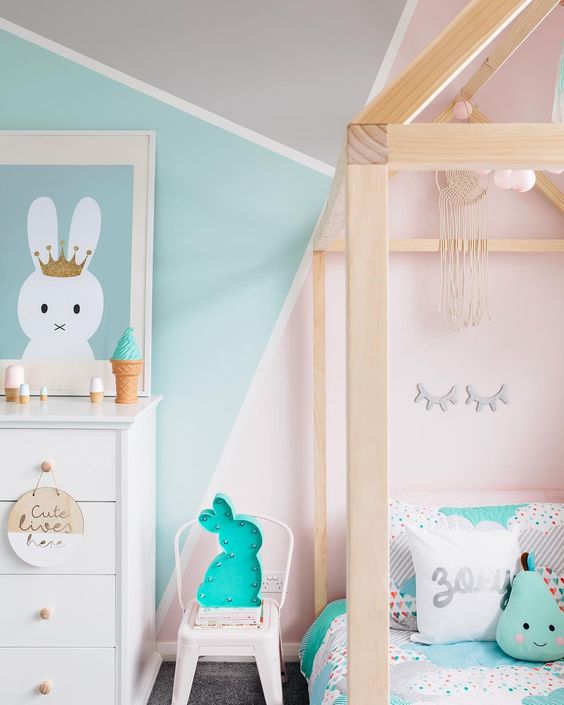 Various bright colors for kids' room becomes the next of 17 Kids Room Decor Ideas to increase your kids creativity. Color selection is indeed an important step for a room. The colors you apply will affect the appearance and the ambiance of the room.
Avoid using dark colors that can make the room gloomy. You can bring some bright colors here. So that the atmosphere of the room will feel more fun for them to play.
Try not to choose colors that collide. Because it is important to keep the room looking charming. For a safe way, you can choose pastel colors to fill the room like in the image above.
15. Separate Sleeping Area and Playing Area
Because the sleeping and playing areas become one, it is important to create boundaries in the kids room. And, the idea this time is to use a bunk bed to separate the play area and the resting area.
The bunk bed area above is made into a comfortable bed. Additional LED lighting on it makes the atmosphere feel warm and soothing. With this, the child will easily fall asleep soundly.
The area under the bunk bed is made as an area for children to play or read. The bottom area is like a comfortable sofa for them to rest for a while. Adding some pillows and stuffed animals will make it feel more comfortable.
16. Dedicated Area for Channeling Creativity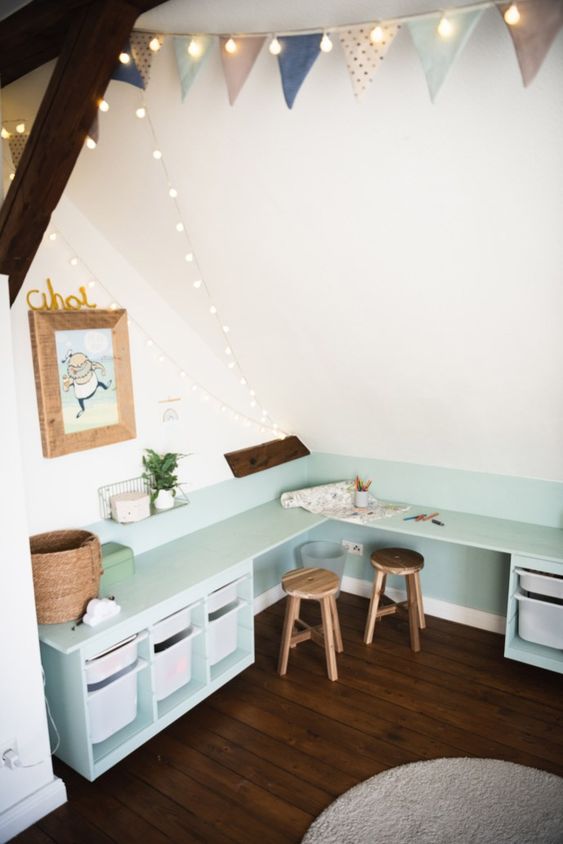 Not only creating a play area, but you also need to create an area where they can concentrate on expressing their imagination in their room. For example, create a study area or draw like in the image above.
You can make a comfortable table along with the chair. Try to choose a table that has drawers or storage areas. This will make it much easier for children to pick up and put back their drawing or writing utensils. In this way, the tidiness of the room will be well maintained.
17. Kids House Bed Frame
The last of 17 Kids Room Decor Ideas to increase your kids creativity is a kids house bed frame. Even though the bed is an area for them to rest, you can still make it feel fun. Like making it like home.
To make the bed frame look more attractive, try decorating it with synthetic vines or string light. Vines wrapped around the top will give a fresh effect to the room. And, string light with warm lighting will provide a calm ambiance which makes children feel more comfortable in their room.
The decoration is also a bed with some of the children's favorite dolls. Besides making the bed look more aesthetic, this will also make the child feel happier in the room.
Final Words
For children, the bedroom is not only a place for them to sleep or rest but also a room for them to play. And as a parent, of course, you have to support and help children to develop their potential and creativity. Therefore, there are several things you need to consider when decorating a kids room. And the points above we listed are 17 Kids Room Decor Ideas to Increase Your Kid's Creativity. You can choose one of several ideas that suit your child. So, good luck all!