olidhomes.com – A window seat means a miniature sofa or comfy bench to fill the spot near the window. It is a popular element in a house in the 18th century. The window has various designs, from the classic to the modern era. Most people use this interior to add a comfy accent near the window. So, they can enjoy the fresh breeze or sit peacefully. In this article, We have provided 18 Window Seats with Bookshelf for those of you who want to Create A Comfy Corner at Home. So, let's check it out!
1. Classic Window Seats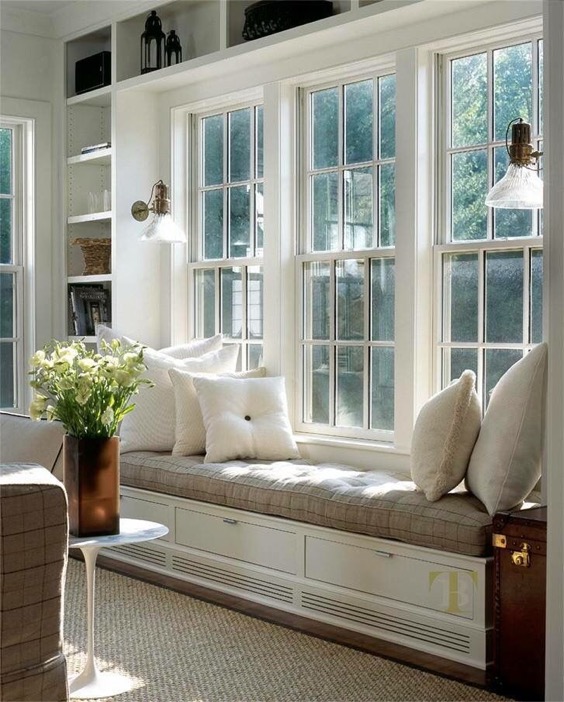 The classic design is a favorite interior to revive the old style. It uses old elements for furniture and wall color. Here, is the classic window seat with a large window and small frame. It represents the popular design in the past. Also, this room has a classic vibe with a white theme.
Besides, there are vertical bookshelves on both sides and a horizontal shelf on the top wall. This window seat has a comfy bench. Also, it has the right position as if it is the center of a bookshelf. You can enjoy the breeze on this seat while reading your favorite book. It has two wall lamps, so you can do a night's reading without worry.
1 of 18
2. Eclectic Window Seats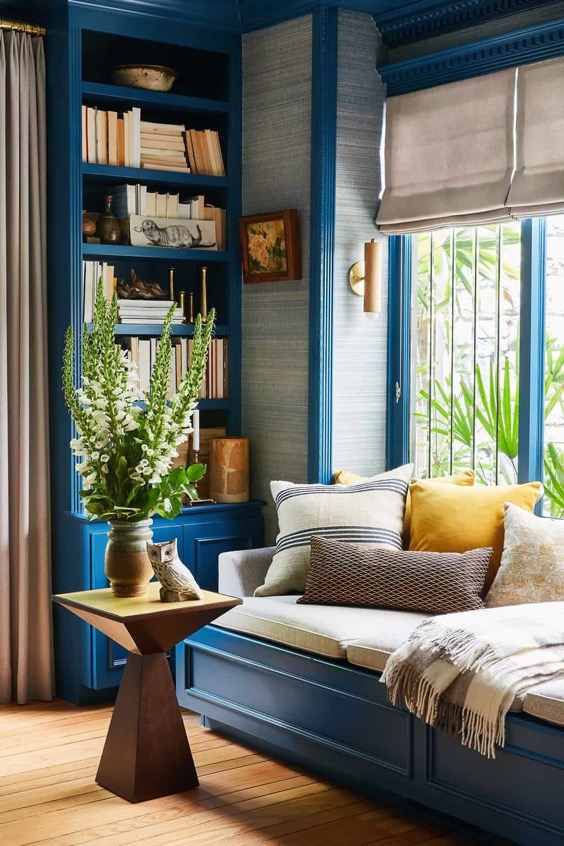 An eclectic style is one of classic interior design. It uses bold colors to bring an old-fashioned design. Also, it fits any room. Look how it fits well in this window seat. The bold blue color is stunning on the cabinet. It can be the focal point in this room.
Furthermore, there is a striking yellow pillow on the window seat. This seat looks like a sofa. Yes, you can use it as a sofa, if you design a window seat in the living room. Moreover, this window seat gets a large cabinet. This vertical storage can load books and ornaments. In addition, there is a small countertop on the cabinet as a table.
2 of 18
3. Window Seats x Cheerful Colors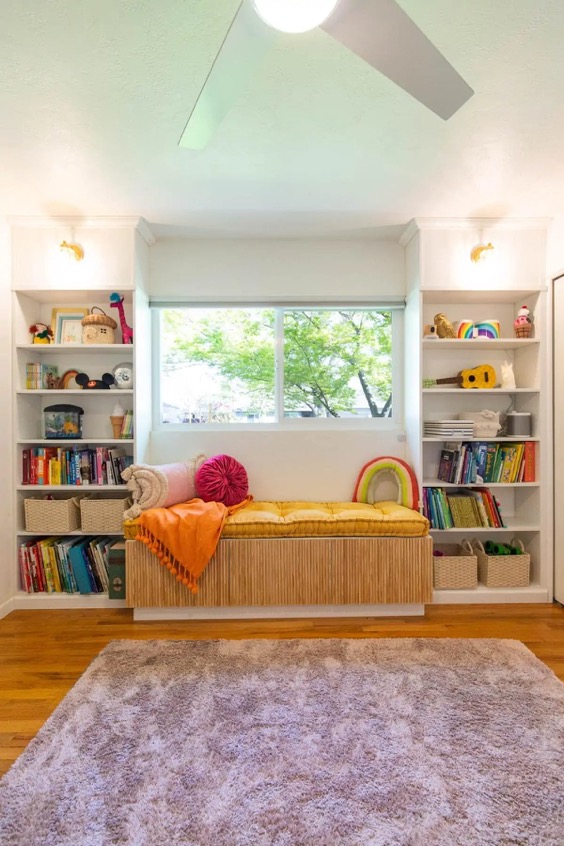 The cheerful color is interesting. It offers myriad shades with different colors. For example, this white room has a window seat with a bookshelf. Many colorful accents on the shelves, such as ornaments, books, toys, and dolls. Yes, this is a bookshelf for kids.
Meanwhile, this room has a comfy seat near the window. It uses a soft mattress to cover the top bench. The mustard mattress is striking. It matches a rainbow pillow. In addition, you can put more colors by adding a comforter or a decorative pillow. These items will improve the colorful nuance in this room.
3 of 18
4. A Dreamed Window Seat Full of Books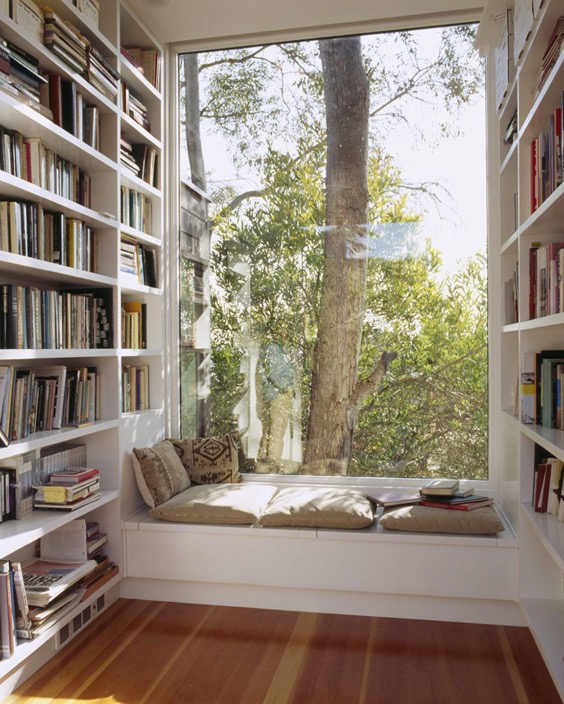 Let's have a favorite design for a book lover. This is a catchy window seat. The lower window seat is comfortable to relax while reading a book. Also, it offers beautiful scenery from the outside. You can see nature and feel warm sunlight while sitting in this comfy spot.
Moreover, this window seat gets a big cabinet around it. There are shelves with many books. It is easy to access before enjoying the reading time. During rainy days, this place will be a favorite spot to sit. It will create a cozy nuance for people who love tranquility.
4 of 18
5. Wooden Window Seat for A Minimalist Room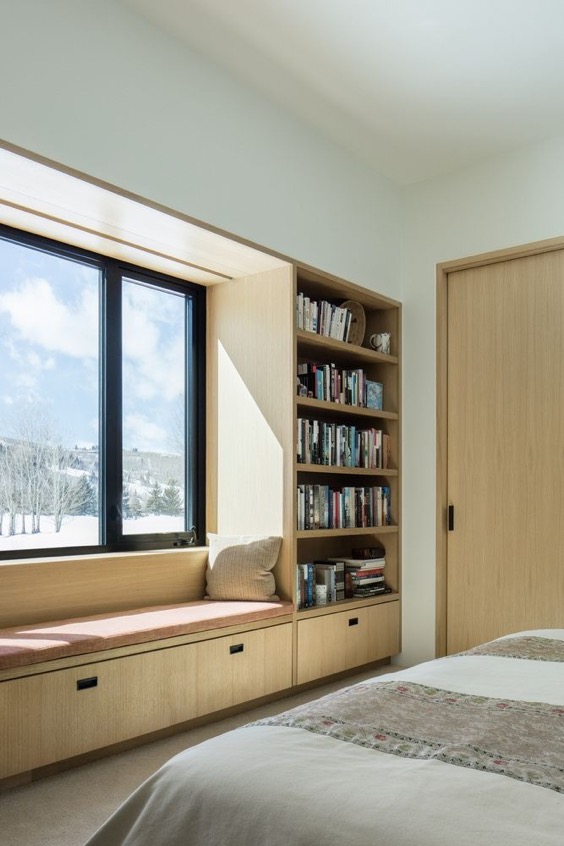 A simple design will not clutter the interior. Take a look at this idea. It is a minimalist bedroom. There are wood accents and a natural white theme. The white wall is the best part of this room. It has a long window seat with a comfy mattress.
It is on the large window that gets exposure to sunlight. Thus, you can enjoy the warm sunlight while sitting on this seat. Meanwhile, it has a few drawers under the seat and a bookshelf. The storage is useful to load your favorite books. All of them are minimalist and catchy
5 of 18
6. Simple Window Seats for A Cozy Nook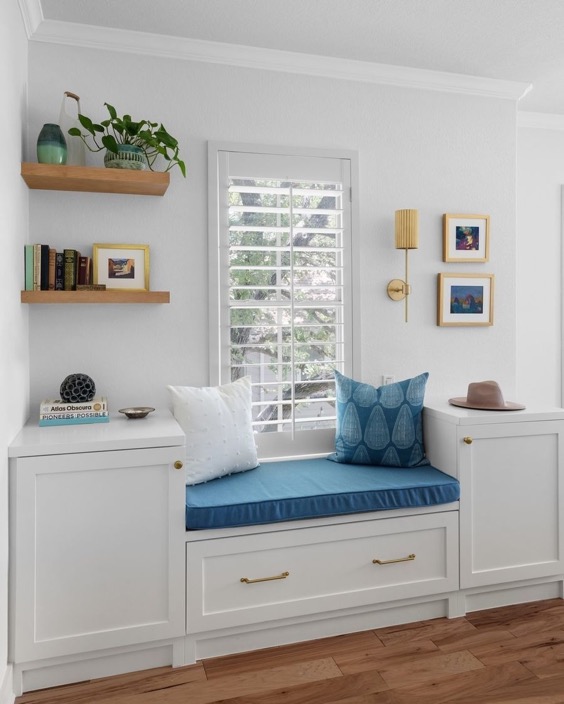 Designing a window seat is easy. Even you can use a cabinet as the sitting area. Let's this idea. The white cabinet is useful in three parts. The mid part is a window seat. Thus it has no vertical storage and prefers to use cabinets.
This window seat has a blue small mattress. It creates a striking accent on the white cabinet. Then, it gets a sweet decor like blue and white pillows. Meanwhile, two wall shelves load the ornamental plants. This simple window seat is a nice idea for a practical homeowner.
6 of 18
7. Window Seats with A Built In Bookshelf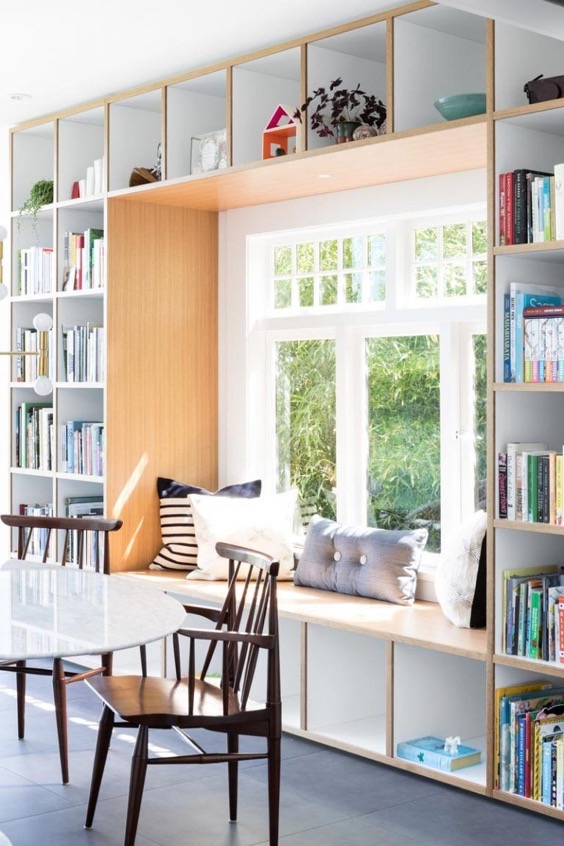 A built-in bookshelf is important for a home library. It fills the whole wall with shelves. As you see in this idea, the bookshelf is big and loads many books. In the mid of the bookshelf, you will find an interesting window seat. It is a cozy place to read books.
It has many comfy pillows with different patterns. This window seat has a calming white frame. So, it will invite sunlight to warm this room. In addition, it is okay to put a chair and table near this room. Despite this all, the window seat and built-in bookshelf are stunning for a home library.
7 of 18
8. Add Bold Accent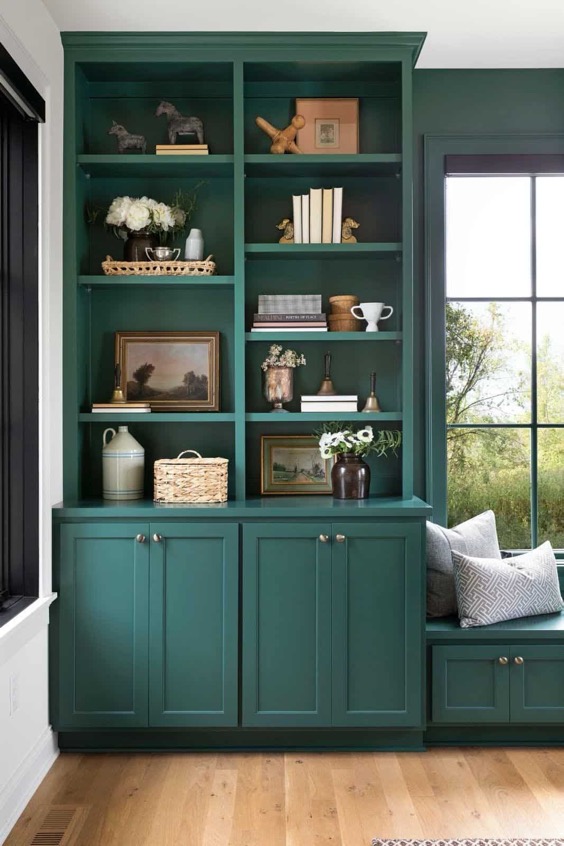 Using a bold accent will enliven the classic nuance in your room. This window seat is interesting to match a bold cabinet. It has storage, such as doorless shelves. As you see, this design uses this storage you put ornaments. Despite this, you can fill them with books instead of ornaments.
Then, look at the window seat. It is part of a cabinet, so it gets the same color. The bold green color is interesting to cover the window frame. This bold color is suitable for a classic window style. Thus, you will feel a bit classy when sitting on this window seat.
8 of 18
9. Modern Classic Style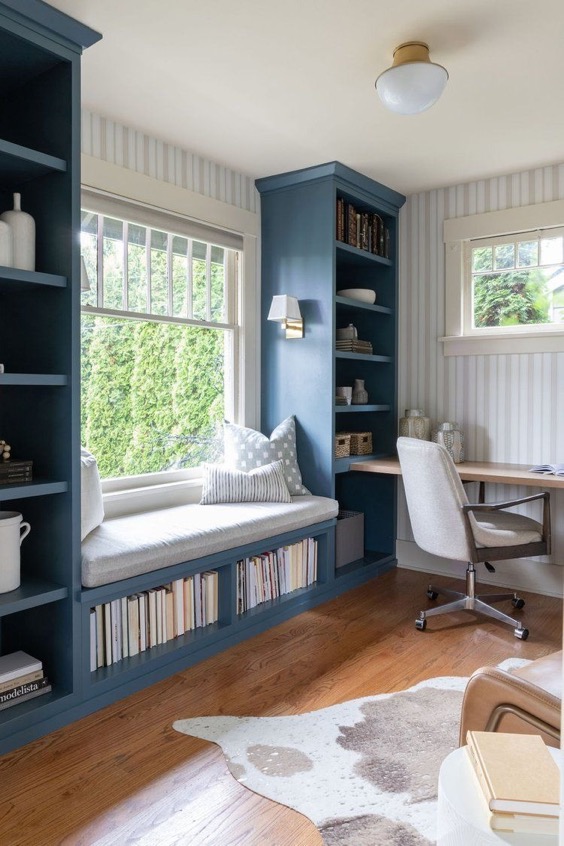 Combining modern and classic accents is a nice duo. Both are interesting to introduce their characteristic. Just look at this idea. This modern room has a classic window seat. The dark blue cabinet is a combination of classic colors with a modern design.
Moreover, the cabinet is high and fills the wall. It even has storage under the seat. This window seat is interesting if they have a nice view. So, you can relax your mind after reading books or doing your homework. In addition, the classic accent like a geometrical pattern on the wall is helpful for nuance.
9 of 18
10. Cozy Window Seats for A Lower Sitting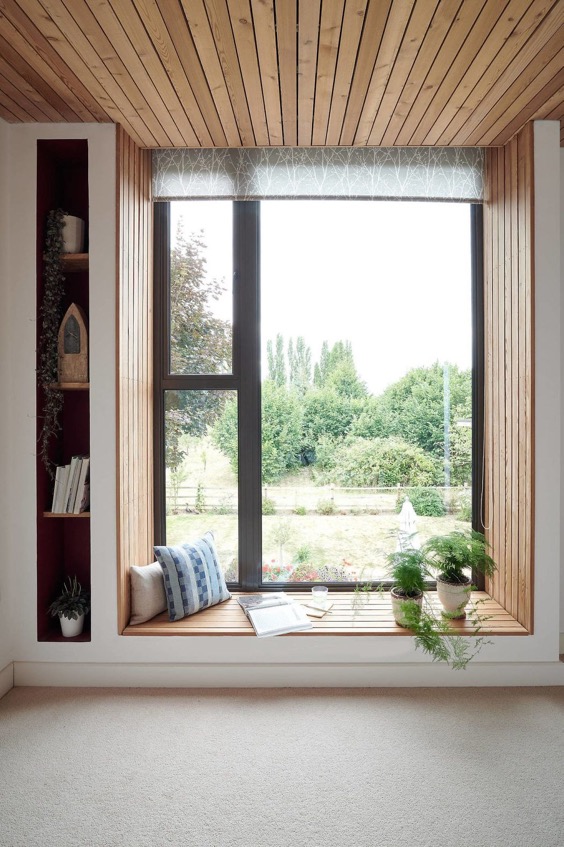 A large window has many benefits. The first function is seeing the outdoor view. Here, is the stunning window seat with a large window. There are at least two vertical windows and a large window. You can enjoy the outdoor view by sitting on this window seat.
Moreover, this window seat has a natural design from wood. It has two pillows near the wall. Even though it has no comfy seat, this window seat can bring a natural nuance. Even indoor plants will complete the natural atmosphere. Meanwhile, there is a vertical bookshelf next to the window seat.
10 of 18
11. Natural Wood for Bookshelf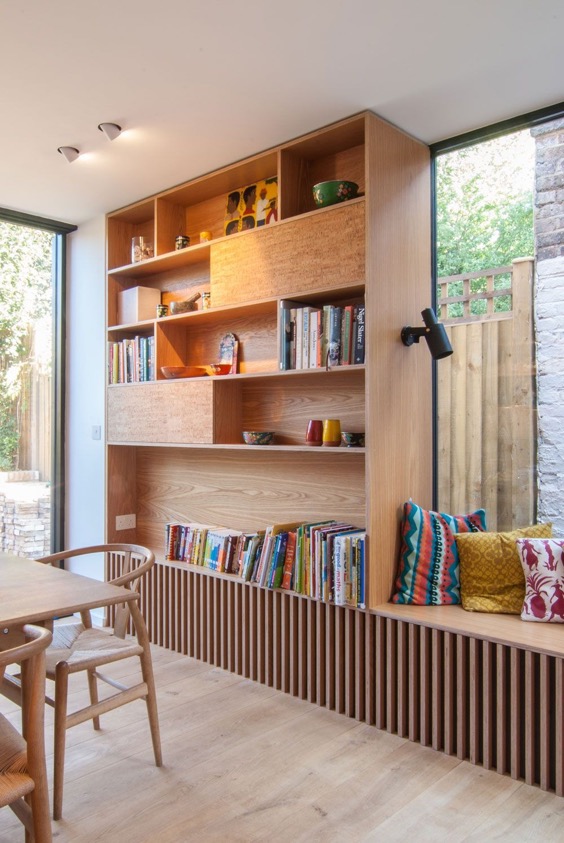 Many wood pieces of furniture decorate a room. You will many wood accents in this idea. There is an iconic wood bookshelf on the wall. This storage has many shelves. So, it can load many books. This bookshelf is useful to hold a few ornaments as well.
This bookshelf brings a natural accent to the wall. It is a focal point in this window seat. At least, you can use all the shelves from top to bottom shelf. Besides, this bookshelf matches the window seat. Both are using the same wood because the window seat is a part of the bookshelf.
11 of 18
12. White Window Seats with Cabinet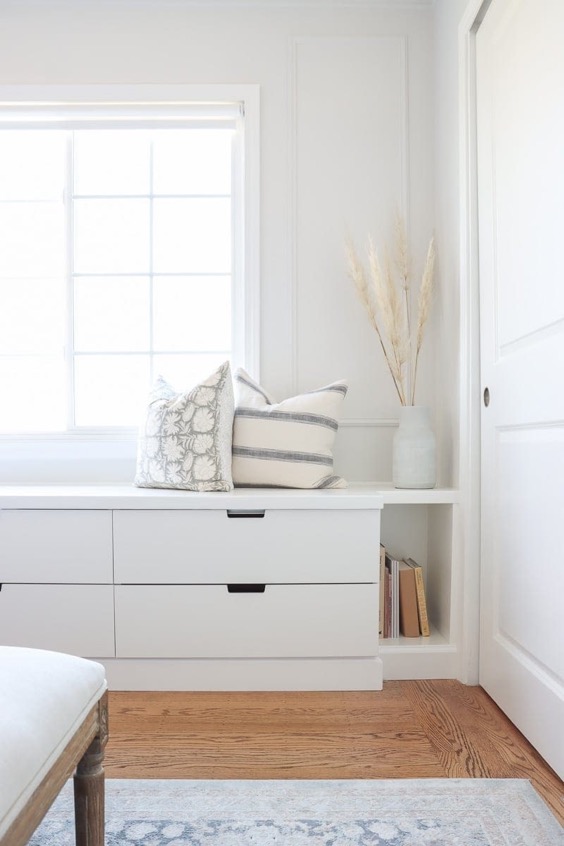 White color is versatile. It fits any design and room. The white theme is not a bad idea for a window seat. Just look at this idea. The white window seat is calming and easy to design. This sitting area uses the same color as the wall. It is perfect with a sunny window.
Besides, this window seat has a useful cabinet. It has no door knobs because it is uncomfortable to feel the protruded accent behind the leg while sitting. Here, you will see some drawers and a doorless cabinet. It can load some books and hide some items in drawers. Meanwhile, the window seat has a comfy design with a soft seat.
12 of 18
13. Narrow Window Seat for A Cozy Reading Nook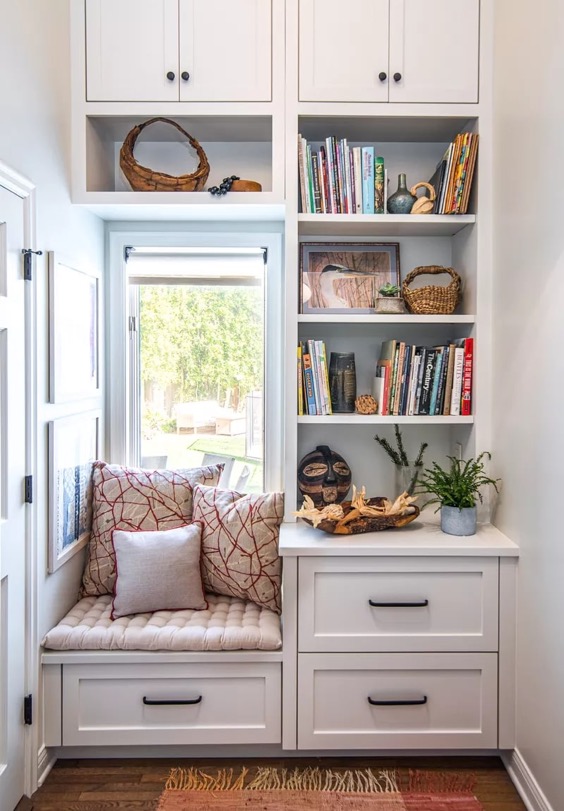 A narrow space is useful as a large room. This limited room is stunning as a reading nook. It has a small window seat with a vertical window. The seat has three comfy pillows. Also, a mini tufted mattress is interesting as the seat.
Meanwhile, this narrow room has a big bookshelf. It takes half part of a wall, right to the seat. The bookshelf fills the wall to the top. Even though this room is narrow but the bookshelf can load many books. Also, it has a little countertop to put food or a glass of water. This design will complete your comfort.
13 of 18
14. Add A Natural Blind on the Window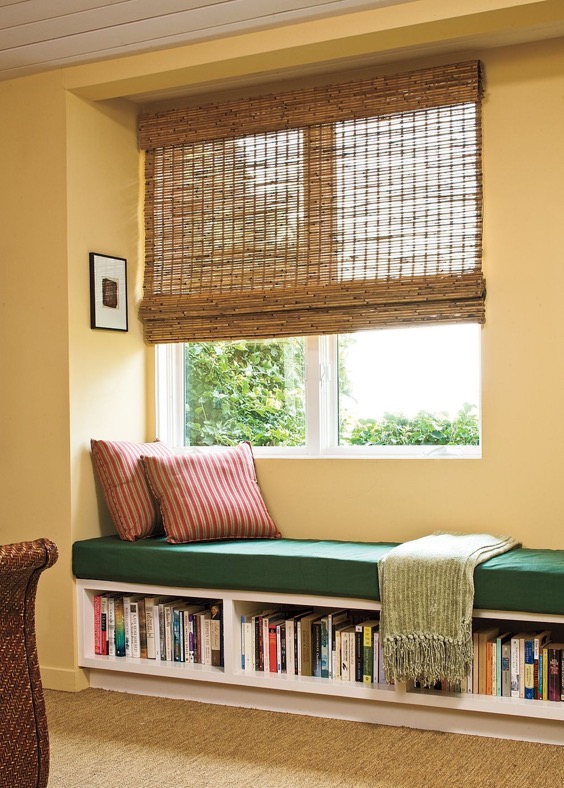 Many types of blinds to install in a window. The blind is useful to add privacy and protect the room from exposure to sunlight. Thus, you can add a blind for your window seat. Take a natural blind from a piece of bamboo or wood. It matches the classic design you see in this idea.
This is a window seat with a green comfy seat. The large window will invite sunlight into the room. During a hot day, you can shut the blind on the window. So, exposure to sunlight won't bother your reading time. Meanwhile, this window seat has a horizontal bookshelf on the bottom seat. It is a practical design because you do not need to add a bookshelf on the wall.
14 of 18
15. Cozy Nook with Vertical Bookshelf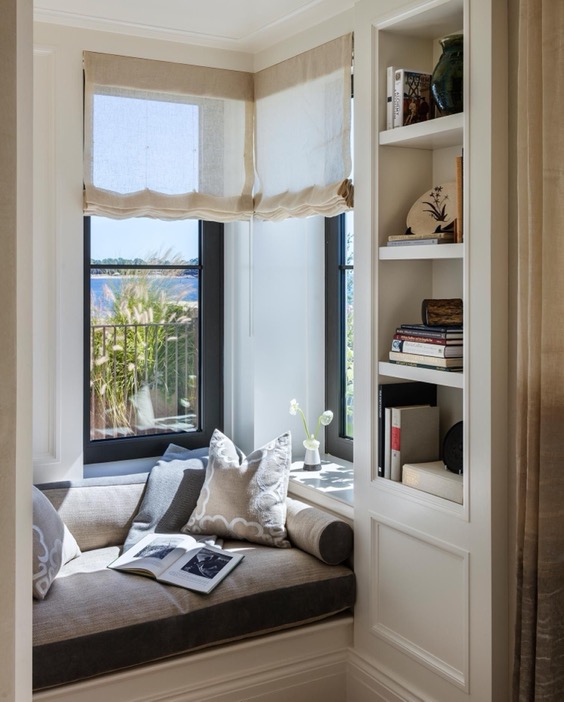 An empty nook is a comfortable spot. You can remodel it as a window seat for a reading nook. If you have two windows, then install the blinds on them. This blind will help you to control brightness in this spot and add privacy. Ensure that you match it to the wall or window's frame color.
Then, remodeling the cabinet is important too. It is a storage to put all your books. Then, it is easy to get your favorite book. Meanwhile, the window seat gets a miniature comfy sofa. There are pillows and a blanket. Next to the seat, you will see the white flower in a vase.
15 of 18
16. Mid-Century Window Seat x Bookshelf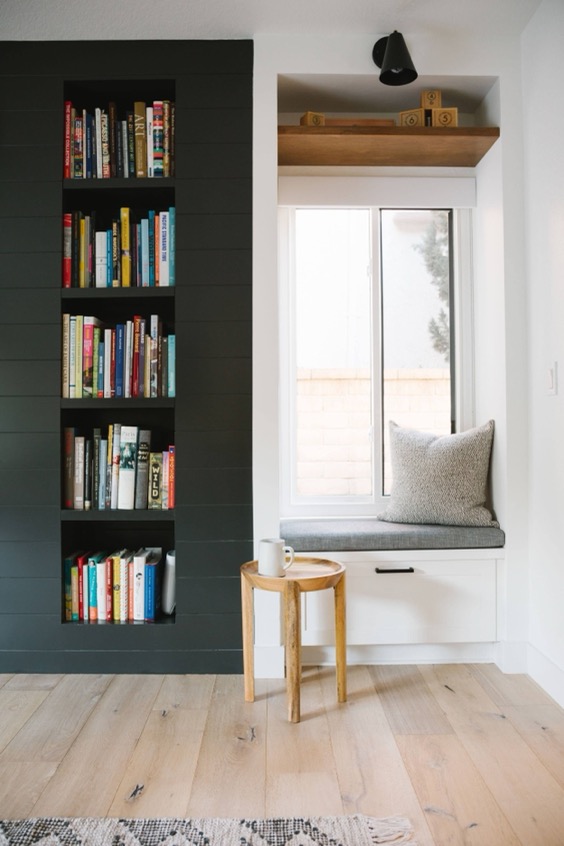 The mid-century design is an elegant design for the interior. It revives the past design with its furniture and colors. Let's see this idea. The striking cabinet is a focal point in this room. It stands vertically and fills the whole wall.
The deep green cabinet is useful to load books and some ornaments. Its clean impression is stunning to match the window seat. There is a narrow window seat with a grey seat. Then, it gets an interesting wooden stool as the table. In addition, there is an additional bookshelf above the window.
16 of 18
17. Victorian Window Seats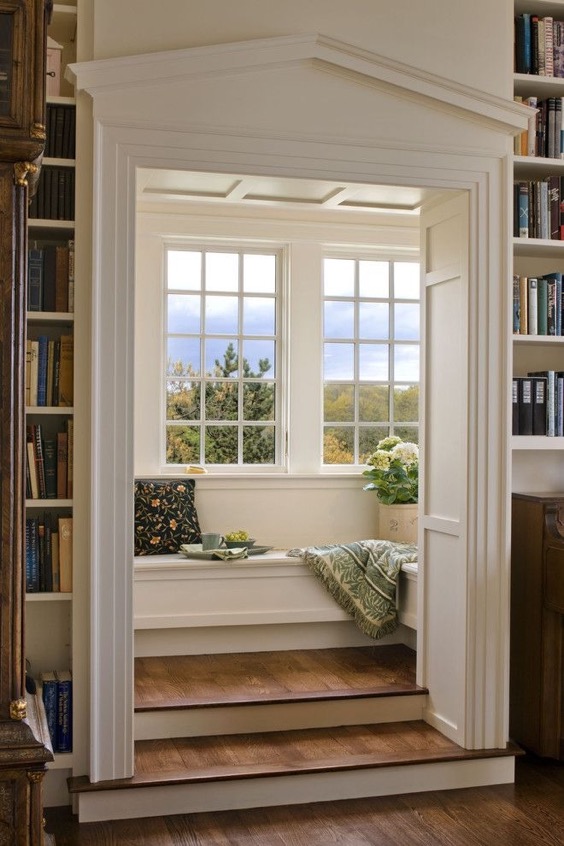 Do you like a private room? This idea will fit people who love a private window seat. It is a Victorian window seat. It looks like a private room, but it is just a window seat. This design is similar to the indoor balcony with a narrower version.
This window seat has classic windows and decorations. There are no comfy seats and just a few pillows to make a comfortable design. A green indoor plant will complete this design. Meanwhile, the bookshelf is outside the room. There is a big bookshelf on the wall.
17 of 18
18. Inspiring Window Seat with Outdoor View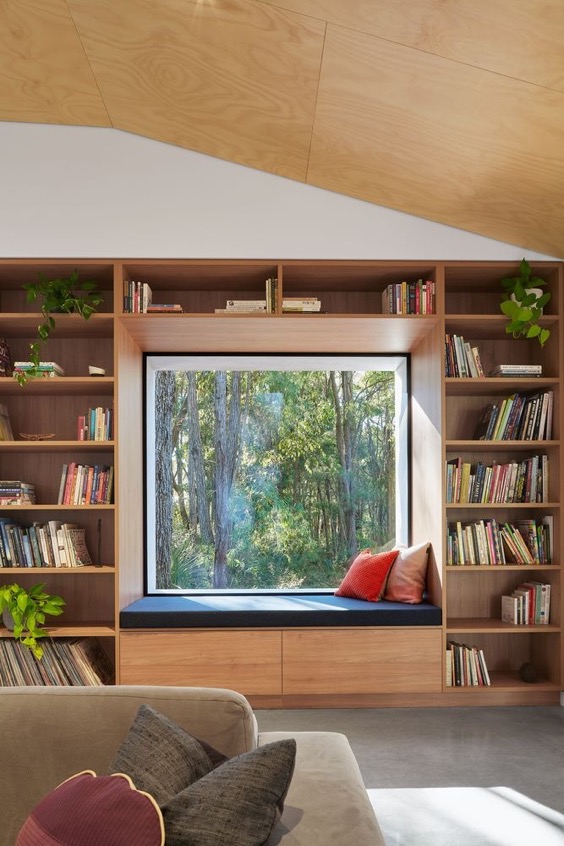 Having a large window will provide an outdoor view. It will refresh your mind if there is nature outside the window. Look at this inspiring design. The window seat gets the best spot. It uses a large window to bring the natural view from the outside. The seat is comfortable with pillows and a soft mattress.
Meanwhile, there is a large bookshelf that contains many books. You can arrange the books vertically or horizontally. Then, fill the shelf on every side, from top to the bottom. In addition, there are a few ornaments that beautify the room. It is interesting to have an ornamental plant on this shelf.
18 of 18
Final Words
It's important to have a cozy spot at home for you to just relax, read a book, enjoy free time, or enjoy tea or coffee. And, the window seat is an interesting decor. You can utilize the empty corner as a window seat. With only a bench, seat cushion, and throw pillow, you already can use a window seat. However, of course, you need to give more touches to make it more attractive and comfortable. And, the points above are 18 Window Seats with Bookshelf for those of you who want to Create A Comfy Corner at Home. So, happy decorating!