Olidhomes.com – Do you want to create more space in your home? Probably this trick suits you. Utilizing space under the stairs is an interesting way for you to have more space at home. There are plenty of interesting ideas that you can choose from. And in this article, we have provided 15 Clever Ideas in Utilizing Space Under The Stairs for your reference. So, let's check it out!
1. Smart Storage for Shoes and Slippers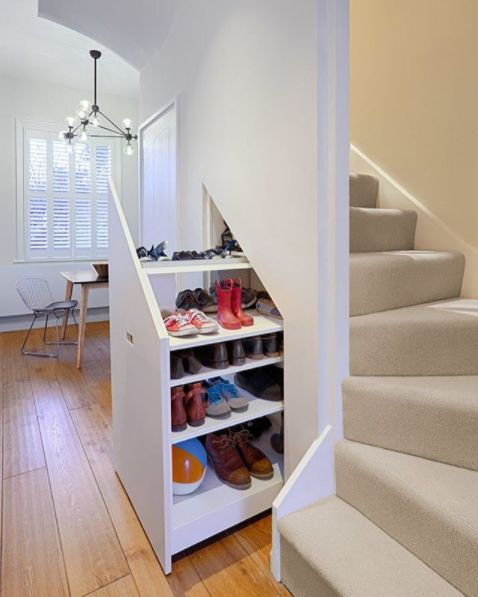 There will be many pairs of shoes and sandals in a family. Usually, shoe racks are a mainstay item to put shoes and sandals at home. However, due to the large number of them sometimes make the shoe rack look so messy. So, for those of you who want to keep your home clean and tidy, you can utilize the space under the stairs as smart storage for shoes and slippers. It is also a practical way to purge all the clutter in your house.
2. Attractive Bookshelf
Life is never separated from reading. So, do not be surprised if there will be a lot of books in your house. Usually, books will be stored in warehouses or inboxes. However, this may change once you see this one idea.
You can use books as decorations that can add to the beauty of the room in your home. You can make a bookshelf under the stairs like in the picture above. Then, arranged a few books there. You can also add some other decorations like small plants, trophies, and so on. So that it looks a lot more attractive.
3. Cozy Small Workspace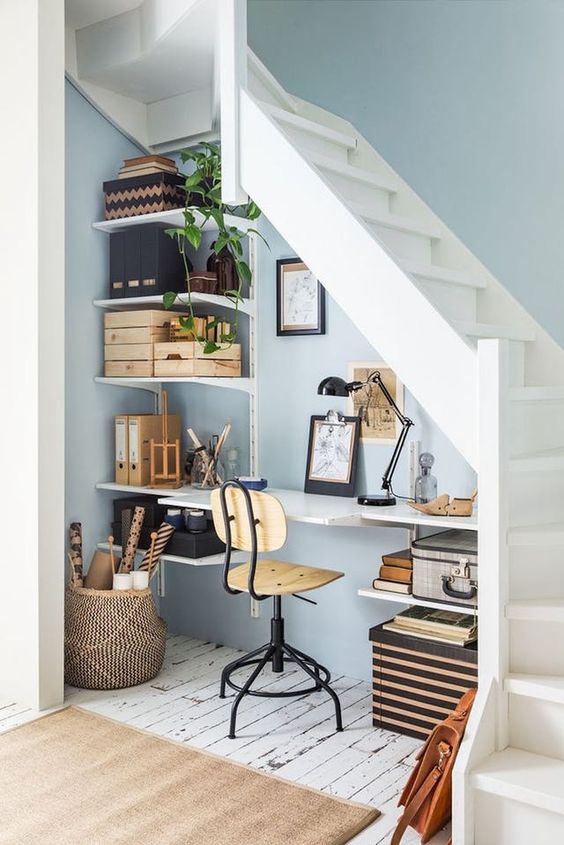 No need to provide a special room for your workspace. Or, you also do not need to provide more space in your bedroom in order to have a comfortable workspace. Because under the stairs can be an area that you can turn into a workspace. Although small, this workspace is quite comfortable.
You can choose a floating table to fill the space under the stairs. Do not forget the floating shelf to utilize the wall area as storage. Give decorations such as plants to make the workspace feel fresh and not stuffy.
4. Elegant Home Bar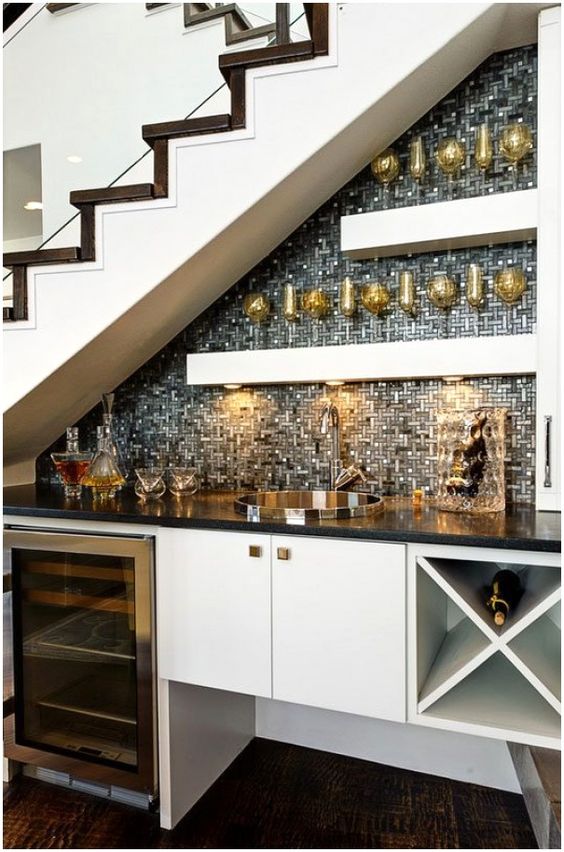 Do you wanna add the value of your house? Presenting a home bar is the most appropriate way. The home bar may not be something essential for the home. However, it can be an interesting place for entertaining your guest.
No need to make room or force a small kitchen as a home bar. You can utilizing space under the stairs as an area to have a home bar. Decorate this area with black and gold for an elegant result. Also, add LED lighting with yellow lighting so that the black color seems warmer and calmer.
5. Comfy Reading Nook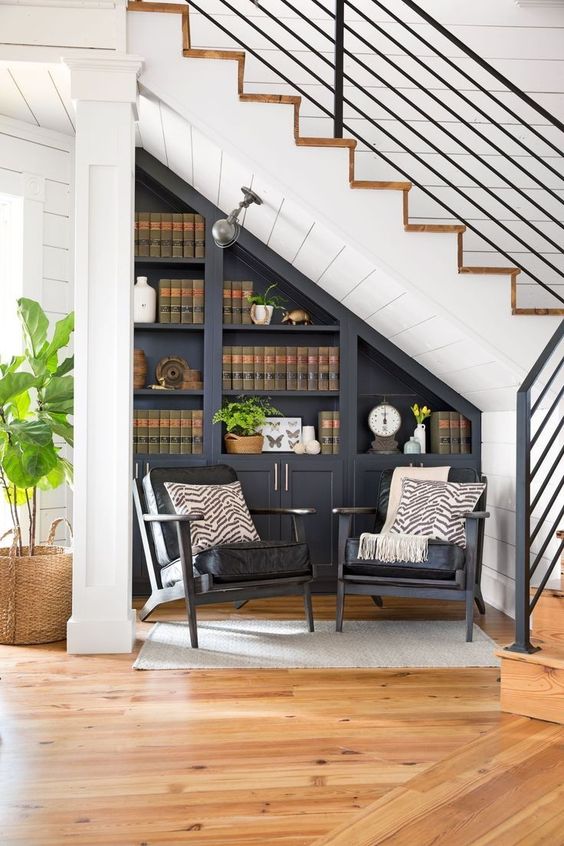 The next of 15 Clever Ideas in Utilizing Space Under The Stairs is a comfy reading nook. You can make this small area a bookshelf in black. So the display will look more assertive but calming. The two comfortable benches for reading provide extra comfort for space under the stairs. You can also make this place a place to chat with your loved ones. Plus pillows with interesting motifs make the bench feel more comfortable to sit on for a longer time.
6. Small Bathroom for Guest
The bathroom is the room with the least amount of space in the house. Therefore, it would be the right idea for utilizing space under the stairs as a small bathroom for guests.
You can fill this small area with a toilet seat and also a sink. Make a small bathroom feel more spacious and comfortable with a rug. You can also use wall displays to make a small bathroom not seem stiff. So, guests will feel more comfortable in using this small room.
7. Small Space for Relax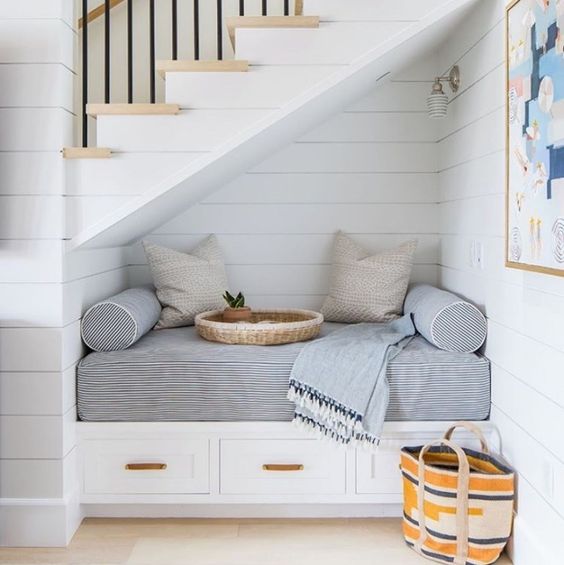 Although it is relatively small and narrow, in fact, the space under the stairs can make you comfortable to rest and calm down. You just need to add a soft cushion there. Also provide some pillows and blankets so that this place feels more comfortable to relax.
8. Small Interior Garden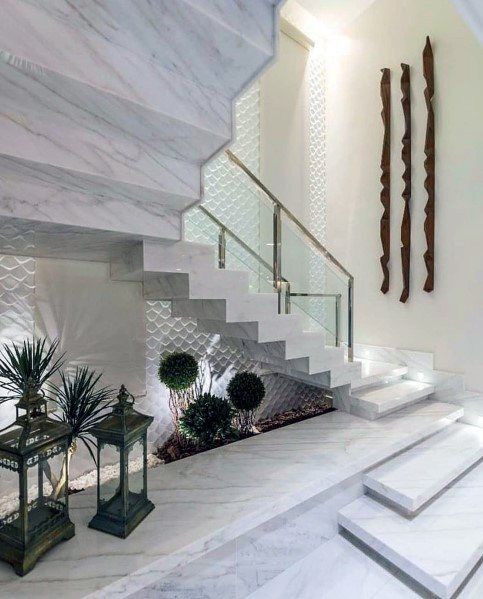 Gardens do not just exist outside the home. You can also create an interior garden to help the interior of your home look fresh and calm.
You can give the natural stone to make it look attractive and natural. For the plants, indoor plants are much better for you to choose. Do not use large plants so that you can more easily take care of them.
To make it look stand out in your house, you can add additional light such as LED lighting or a small garden lamp there.
9. Interior Pet House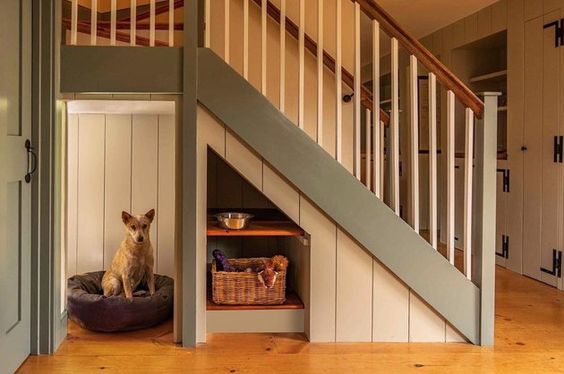 Pet comfort must also be considered. Give them a comfortable place to sleep or rest. And here, you can use the space under the stairs as a pet house.
You can make a small room like in the picture above and give the animal the most comfortable bed. Also, add a lamp there for lighting at night.
Right next to the pet house, you can make a small shelf. Put some of your pet's toys along with a pet bowl. With this, the cleanliness and tidiness of the house are maintained properly.
10. Small Laundry Area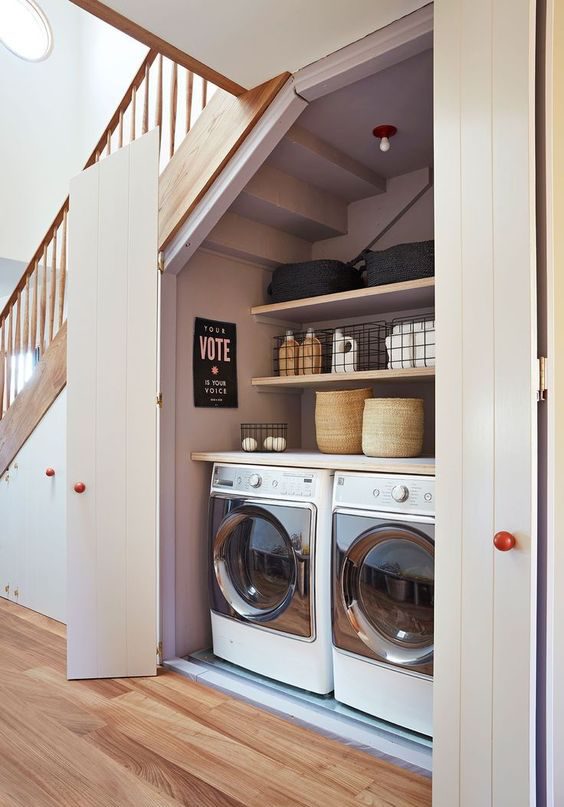 The limited space sometimes makes us confused about how to create a laundry area at home. If you are in this case, then the space under the stairs is the only solution to create a laundry area.
You can use a front load washing machine to save more area. Because at the top you can install a floating shelf for storage of laundry soap or perfuming clothes.
Giving a door is an interesting idea to hide the laundry area when it is not in use. Thus, the room will not be disturbed by the appearance of the washing machine and other equipment.
11. Beautiful Small Kitchen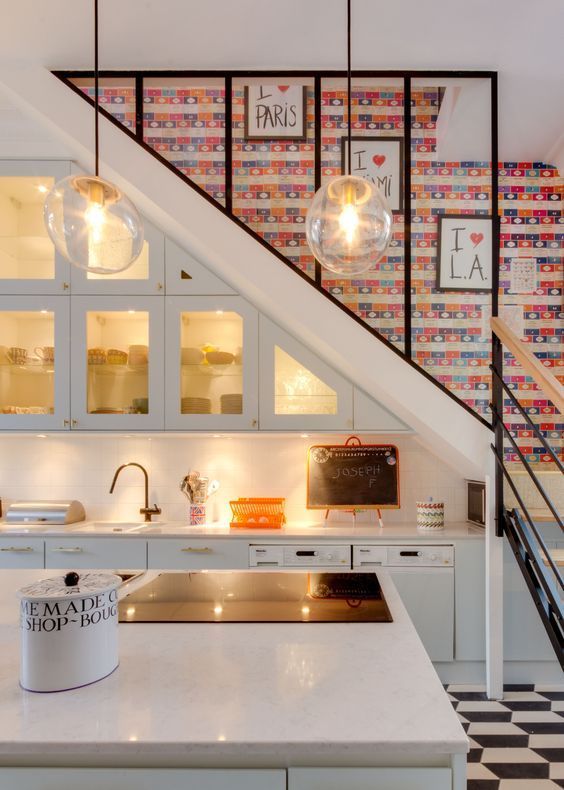 You can also turn the space under the stairs into a very beautiful kitchen area. With shades of white make this small area feel more spacious. Warm lighting as additional lighting gives a more calm and elegant impression.
You can choose a kitchen cabinet with a glass door. So, the beautiful plates and glasses that are arranged there can give an attractive impression to the area under the stairs.
12. Television Cabinet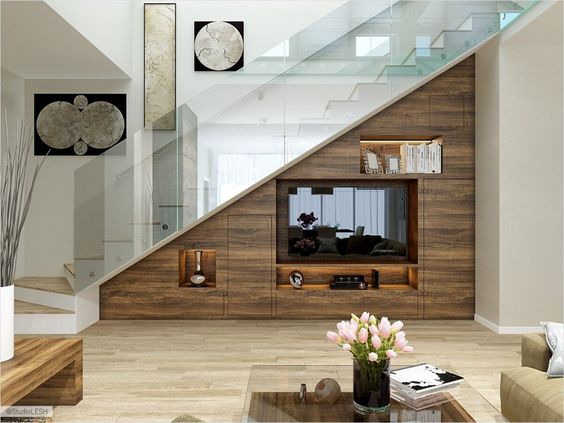 Especially for the stairs that are near the living room, you can use it as a TV cabinet. You can use wood as the main material for the cabinet to give a warm and calm ambiance to the living room. Also, provide a small space at the cabinet as a place to store books and displays. This is very important to make the area under the stairs not seem stiff.
To make this cabinet look more attractive, you can add LED lighting with yellow light. This lighting can make the wood material exude a calm and warm side.
13. Stunning Room for Wine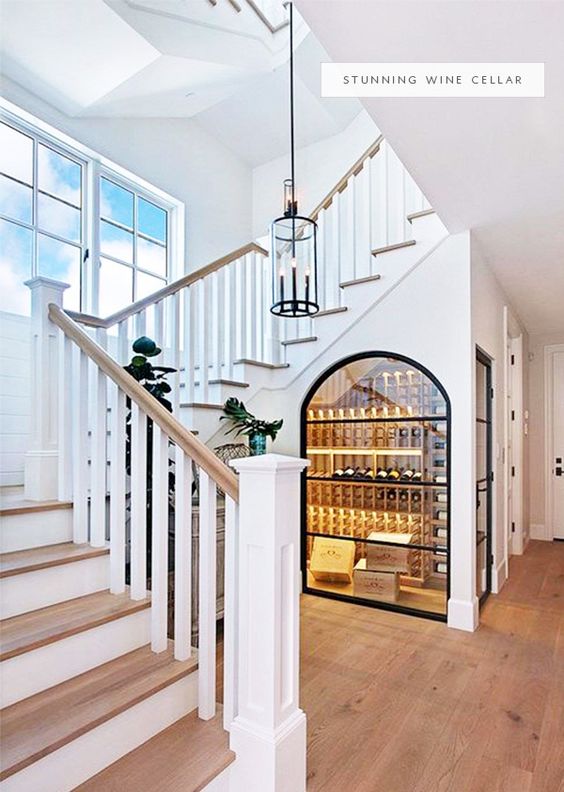 Have a hobby of collecting wine? Maybe this one idea will immediately captivate you. You can make the space under the stairs a stunning room for wine.
You can install glass windows and glass doors. So, the wine that is arranged there can be directly seen in other rooms. Also, provide additional lighting to make this stunning small room look stand out at home.
14. Beautiful Display Area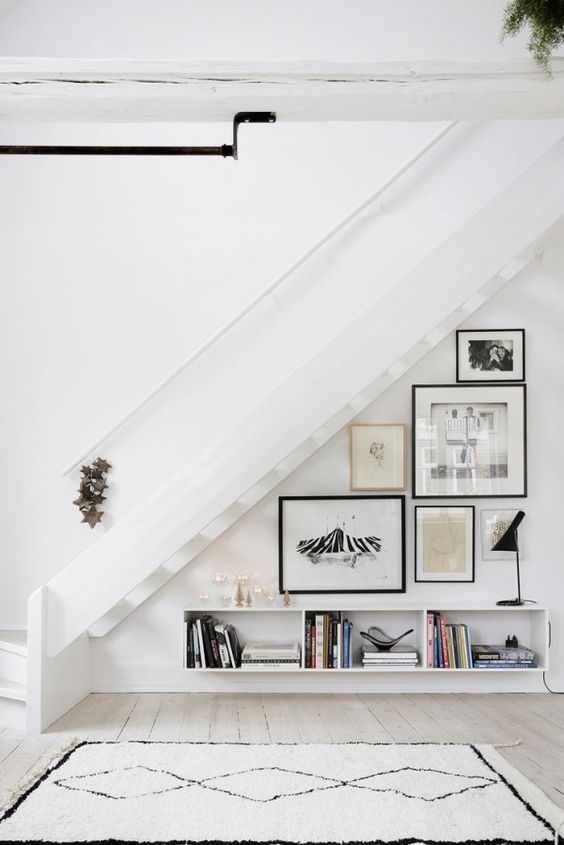 The decoration is needed to make the interior of the house look beautiful and attractive. And to realize it, you really need the empty wall.
You can choose the area under the stairs as a beautiful spot at home. You can beautify the empty walls in this area with some stunning wall decorations. Also, use the floating wall shelf as storage and other decorations that cannot be hung on the wall.
15. Relaxing Area yet Cozy Reading Nook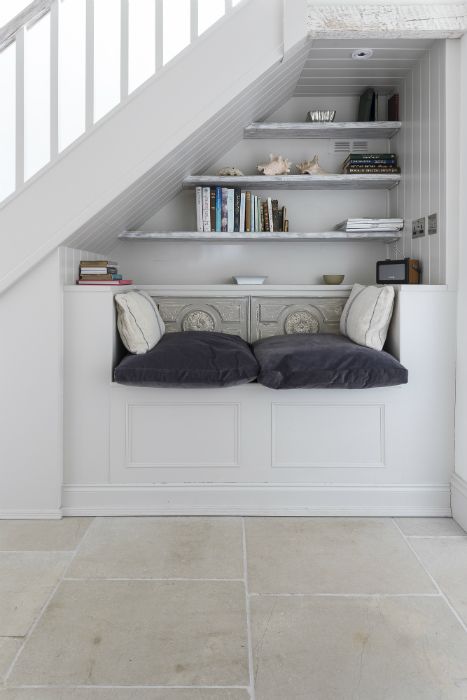 Make a cozy reading nook an area to relax, why not? With a soft cushion and several pillows make the area under the stairs feel so comfortable. You can also rely on a floating wall shelf to create a storage area for your books. That way, when you want to read, you can immediately take the book you want. Really practical and simple, isn't it?
Final Words
Space under the stairs is often left blank. In fact, you can turn this area into a very comfortable and interesting place. Therefore, we created this article to give you a reference on how to make the space under the stairs a useful area. And the points above are 15 Clever Ideas in Utilizing Space Under The Stairs. You can follow one of these ideas for your home. Make sure you choose an idea that fits your needs. So, good luck!